10 Best Pregnancy-safe Skincare to Use When You're Expecting
Check out the best pregnancy-safe skincare products to nourish and pamper your skin when expecting. Shop for belly oils, moisturizers, sunscreens, and more.
Updated on Feb 24, 2023 | 11:31 AM IST | 1.1M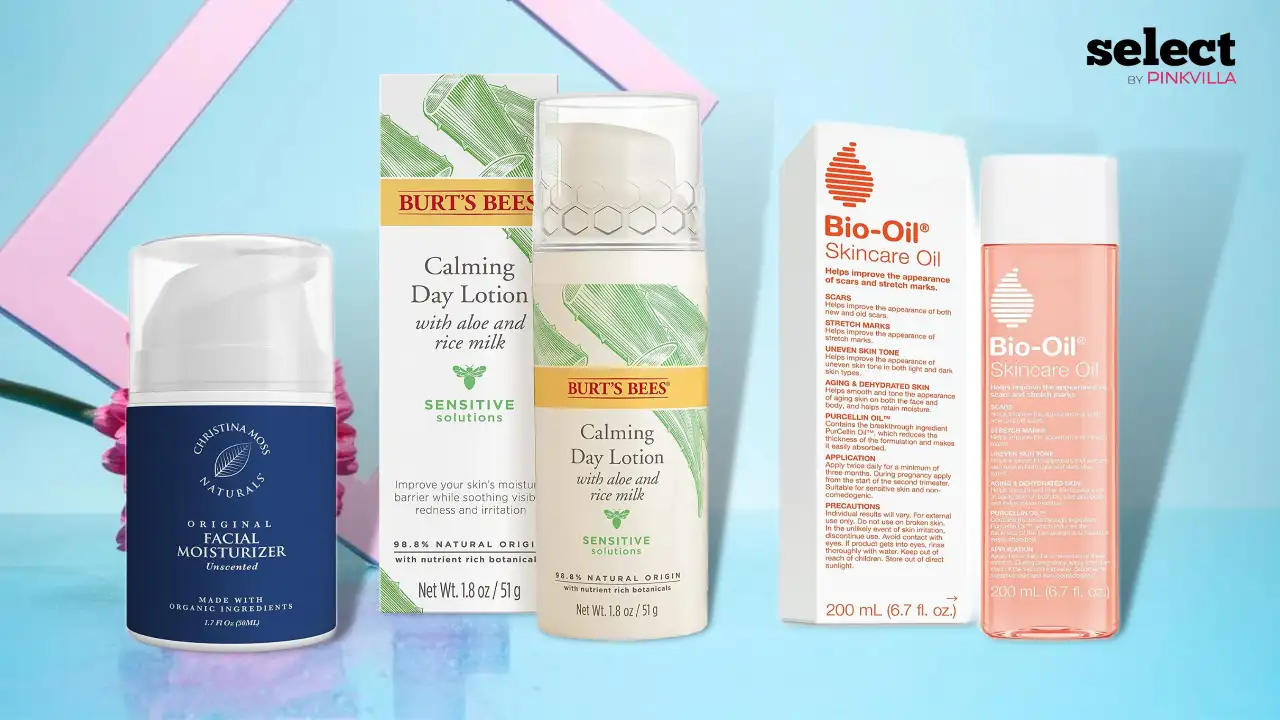 The products curated for this article are independently chosen by the editorial team. If you make a purchase through the
links
mentioned below, we may receive a commission. Check out our
product research & curation process
Pregnancy is a beautiful period where you wait for the new member of your family with hopes and dreams. It is also that period of time when you need to be extra careful before using any product, to ensure the safety and care of your baby. Best pregnancy-safe skincare products come to your rescue during this delicate period and allow you to take care of your skin along with ensuring that none of the products harm your skin. 
Talking about skincare ingredients to avoid during pregnancy, board-certified dermatologist Dr. Jenny Liu says, "Most topical things are going to be safe, with the exception of topical retinoids and hydroquinone. Along with these, I personally recommend avoiding arbutin, which is a derivative hydroquinone". In addition, you must look for products that suit your skin type and provide preventative care for postpartum skin issues. 
However, finding the right products can be a daunting task, especially with the upsurge in hormones and constant fatigue. To assist you in making a better skin care choice, we have curated a list of the 10 best pregnancy-safe skin care products that will be a delight for you to use. Take a look.
Our Top Picks:
1. Bio-oil Skincare Oil - Best Overall
2. BURT'S BEES Sensitive Solutions Calming Day Lotion  - Best for Soothing Properties
3. babo Botanicals Clear Zinc Sunscreen SPF 30 - Best Sunscreen
4. mustela MATERNITY Stretch Marks Cream - Best for Preventative Care
5. evereden golden belly serum - Best for Versatile Use
10 Best Pregnancy-safe Skincare Products to Nourish Your Skin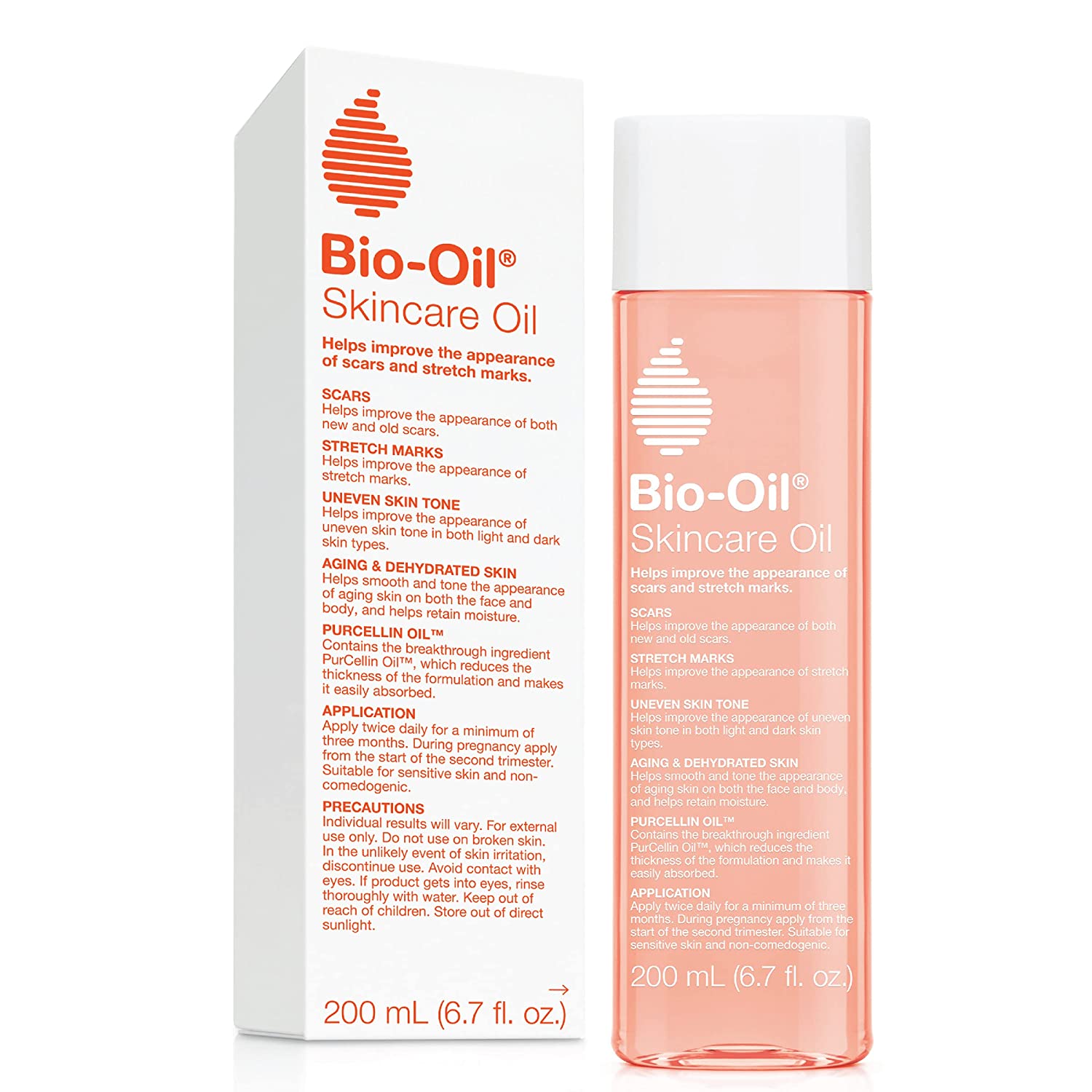 Bio oil is one of the best pregnancy-safe skincare brands and this body oil has a plethora of benefits. To begin with, the product is enriched with rosemary and lavender oil that purify and condition the skin while tightening enlarged pores. The micronutrient contents help increase skin's elasticity by catalyzing collagen production, making your skin look plump and youthful. Most importantly, the product is formulated to prevent and reduce the appearance of stretch marks and scars, while providing smooth, supple and healthy skin. What makes the product safer to use is that it is free from parabens, phthalates, preservatives, steroids, and other harmful ingredients.
Key Ingredients:
- Vitamin A
- Vitamin E
- Rosemary oil
- Lavender oil
Pros:
- Cruelty-free
- Absorbs easily
- Non-comedogenic
- Suits all skin types
- Anti-aging benefits
- Improves complexion
- Intensely moisturizing
- Antioxidant properties
- Soothes inflammation
- A little goes a long way
Cons:
- Contains mineral oil
2. BURT'S BEES Calming Day Lotion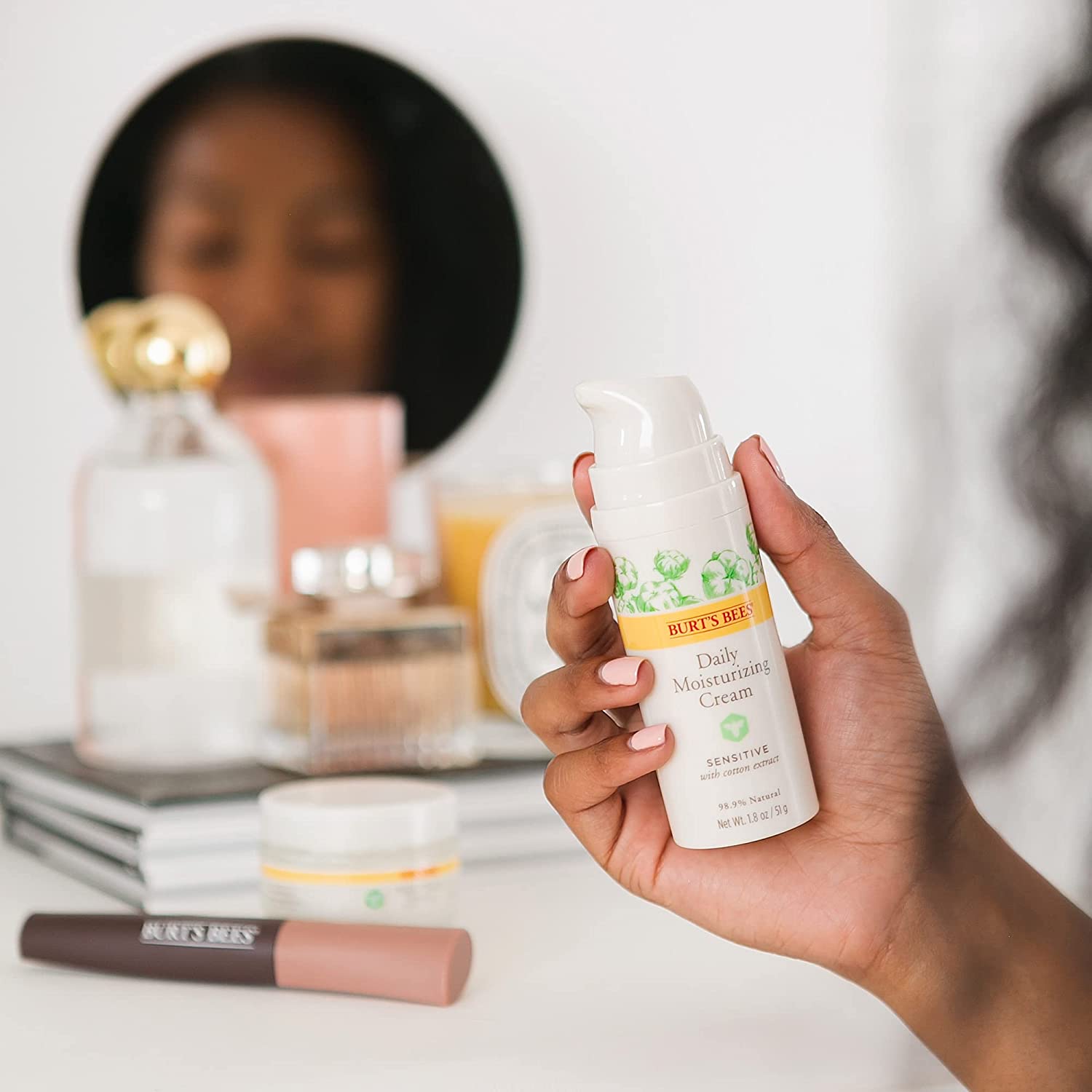 With 98.8 percent natural ingredients, this pregnancy-safe moisturizer by BURT'S BEES is a gentle formulation that suits all skin types, especially sensitive skin. It is fortified with humectants like aloe vera extract, shea butter, and hydrolyzed jojoba esters that condition the skin, smoothen its texture and help seal in the skin's natural moisture. The rice extract in it provides anti-aging benefits by reducing the appearance of fine lines and wrinkles. As the name suggests, the product's calming effects help reduce the effects of postpartum eczema. Adding to the benefits, the product is free from parabens, phthalates, SLS, and petrolatum.
Key Ingredients:
- Rice milk
- Aloe vera extract
Pros:
- Cost-effective
- Hypoallergenic
- Feels refreshing
- Doesn't clog pores
- Alleviates UV damage
- Award-winning product
- A little goes a long way
- Anti-inflammatory benefits
- Prevents skin dehydration
Cons:
- Feels a bit sticky
3. TriLASTIN Maternity Stretch Mark Prevention Cream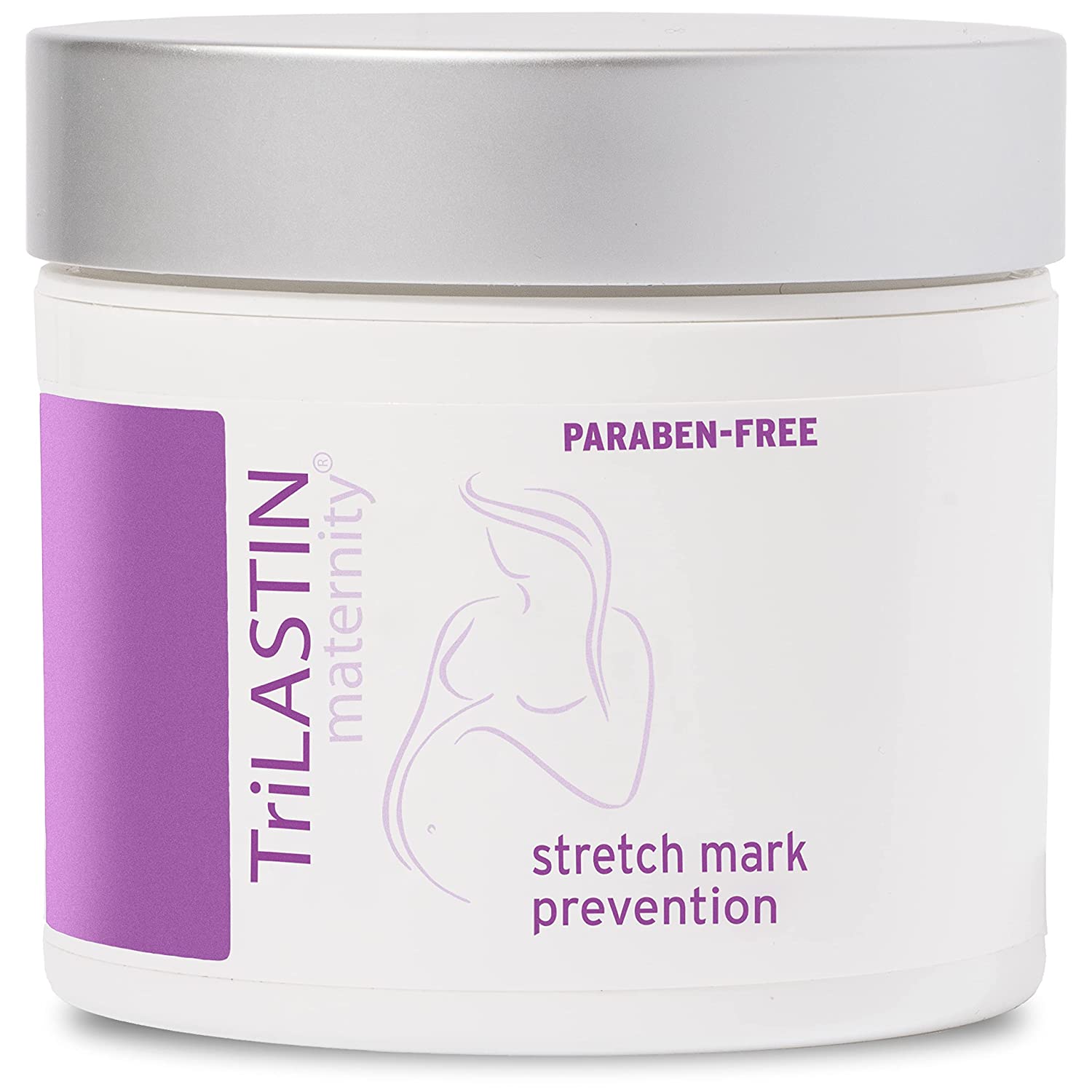 Formulated specifically for stretch marks, this pregnancy-safe cream by TriLASTIN provides incredible preventative benefits. When you apply this product twice a day on the area experiencing weight fluctuations, it boosts collagen production, improves cell turnover, and in turn improves skin's elasticity. Also, it helps reduce itchiness and irritation by soothing and conditioning the skin. The product is an excellent moisturizer, has a delightful citrus scent, and is adequately pleasant for smell-sensitive pregnant women.
Key Ingredients:
- Vitamin E
- Apricot oil
- Shea butter
Pros:
- Toxin-free
- Non-greasy
- Paraben-free
- Hypoallergenic
- Absorbs easily
- Emollient properties
- Gives soft, plump skin
- Seals-in natural moisturize
Cons:
- Expensive
4. Babo Botanicals Zinc Sunscreen Lotion SPF 30 
This mineral sunscreen by babo Botanicals not only provides excellent protection against broad-spectrum UVA and UVB rays but also numerous other skincare benefits. It is a nourishing blend of avocado oil and jojoba oil that provides intense moisturization to your skin and smoothes its texture. The organic watercress extract and Nutri-soothe Complex help reduce eczema inflammation, which is common during pregnancy and postpartum. What makes the product special is that it is unscented and free from allergens such as gluten, nuts, dairy, soy, and other irritants that might seem repulsive during pregnancy.
Key Ingredients:
- Avocado oil
- Sunflower oil
- Jojoba oil
- Watercress extract
Pros:
- Sulfate-free
- Cruelty-free
- Reef-friendly
- Paraben-free
- Phthalate-free
- Prevents sunburns
- Gets absorbed easily
- Long-lasting hydration
- Seals in natural moisture
Cons:
- Leaves a white cast
5. mustela MATERNITE Stretch Marks Cream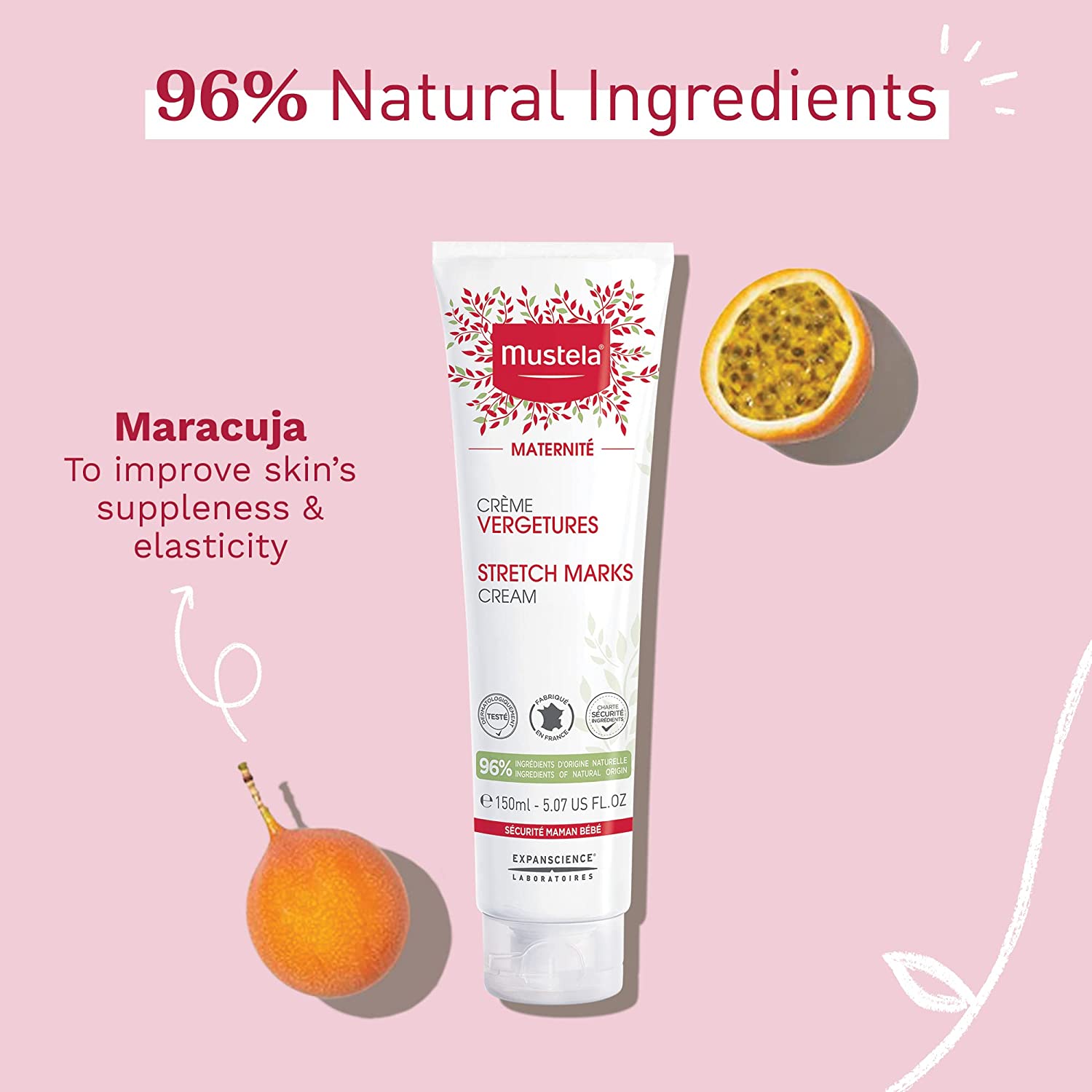 Specially crafted for pregnancy-safe skincare, this stretch marks cream by mustela is excellent to prevent your skin from dehydration. It is fortified with highly-effective emollients like avocado peptides, shea butter, and marajuca oil that prevent the skin's natural water content from getting evaporated while conditioning the skin and boosting its health. The product has a luxurious formula, which spreads easily, helps prevent and reduce the appearance of stretch marks.
Key Ingredients:
- Maracuja oil
- Shea butter
- Avocado peptides
Pros:
- Vegan
- Toxin-free
- Non-greasy
- Hypoallergenic
- Fast-absorbing
- Safe ingredients
- No phenoxyethanol
- Intensely moisturizing
- Nourishing botanical base
- No parabens or phthalates
- Professional Beauty badge
Cons:
- Not for sensitive skin
6. Acnomel Adult Acne Medication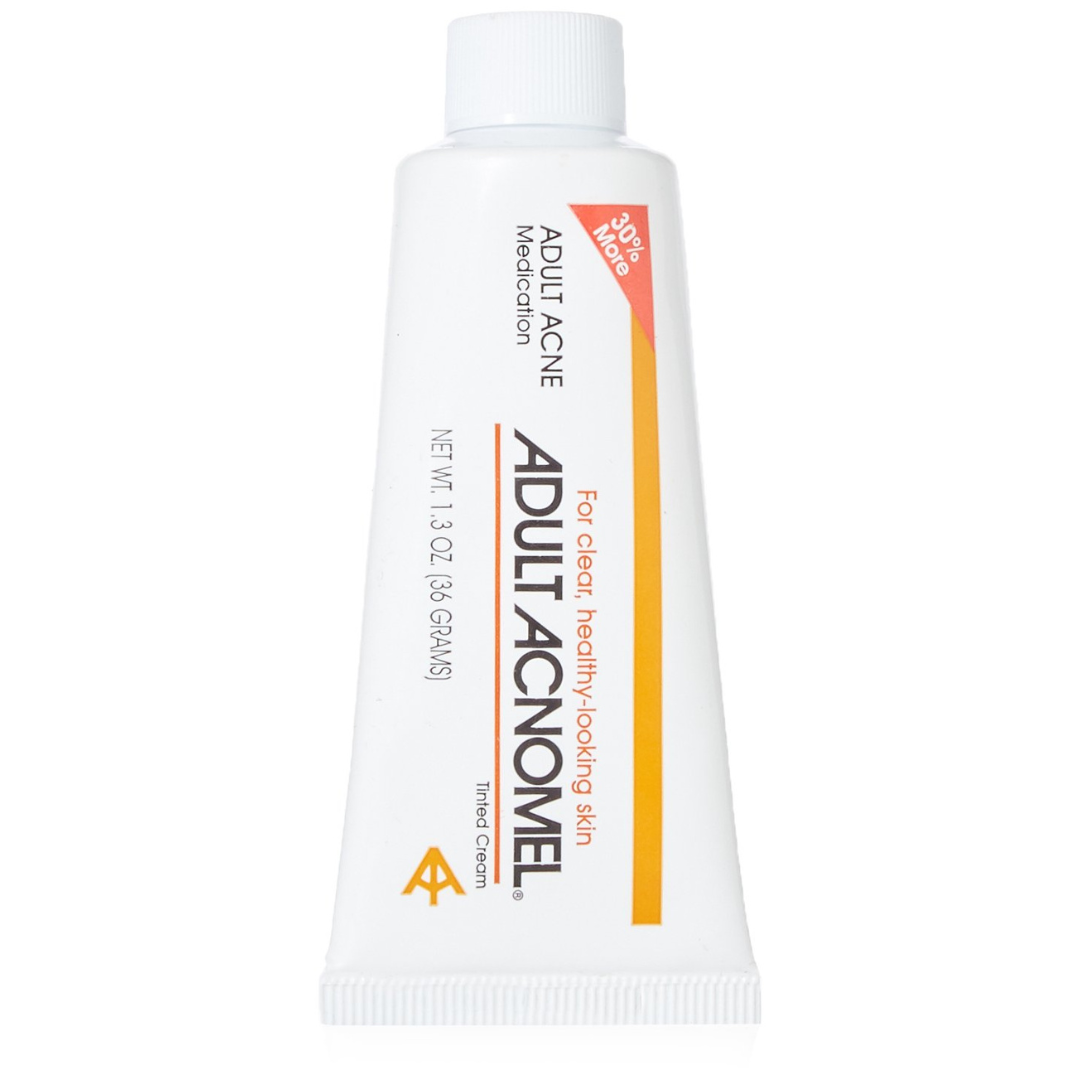 Many women get breakouts when they're expecting, and this acne treatment by Acnomel is an effective product to reduce acne and enhance skin's appearance. This face cream for pregnancy contains actives such as resorcinol and sulfur that fight pimple-causing bacteria, exfoliate dead skin cells and control sebum production for a clear skin texture. These ingredients are also favorable in reducing postpartum skin issues such as eczema and other issues such as rosacea, dermatitis, etc. In addition, its iron oxides form a protective barrier on the skin against environmental aggressors.
Key Ingredients:
- Sulfur
- Resorcinol
Pros:
- Anti-bacterial
- Purifies the skin
- Conditions the skin
- Subtle sun protection
- Treats cystic pimples
- Moisturization benefits
- Ideal for skin with melasma 
- Controls sebum production
Cons:
- Not ideal for frequent use
7. CHRISTINA MOSS NATURALS ORIGINAL FACIAL MOISTURIZER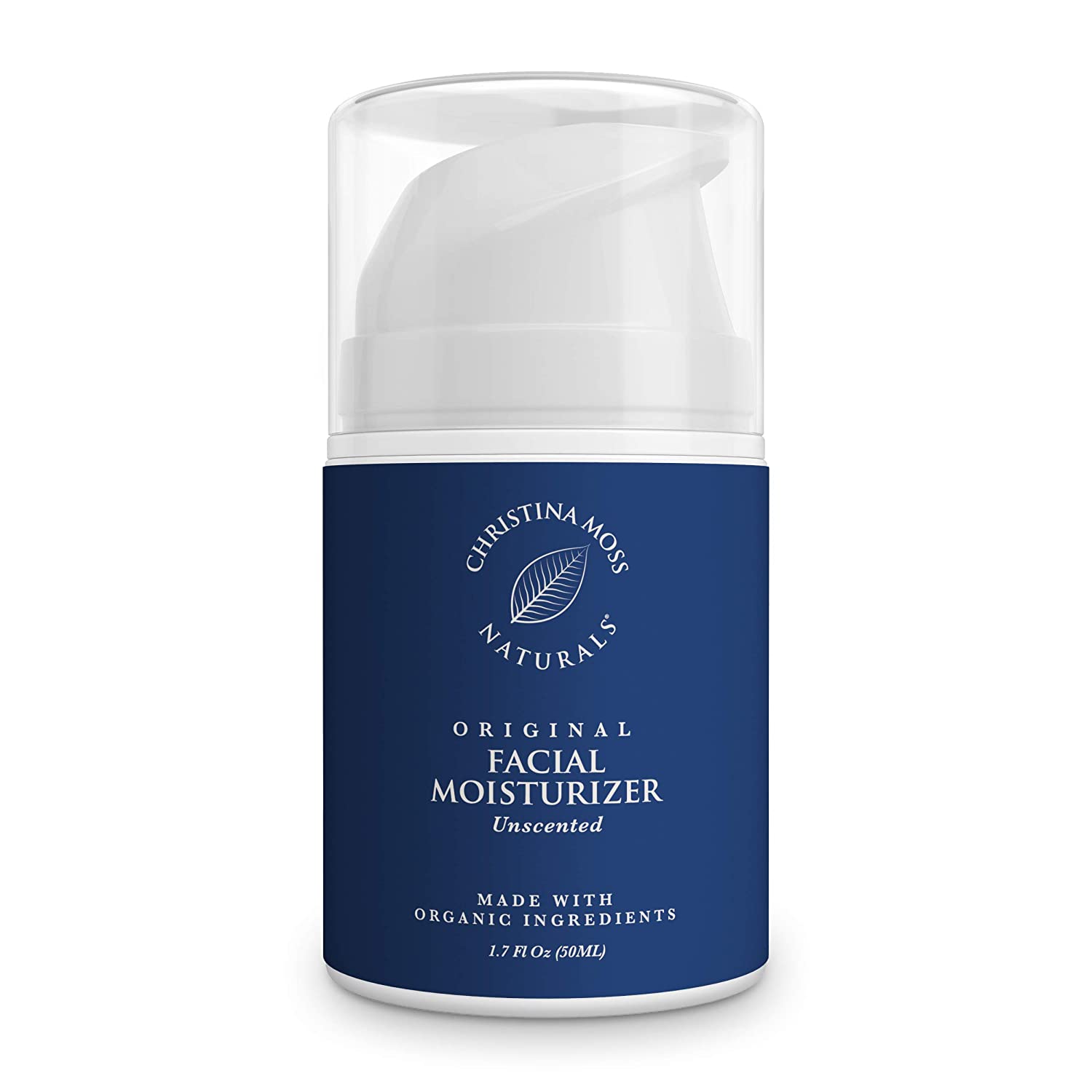 Infused with aloe vera extract, this pregnancy-safe moisturizer by Christina Moss Naturals has a nourishing water-based formulation that makes it suitable for all skin types. It has a nourishing blend of botanical emollients such as avocado, grapeseed, apricot seed, coconut, and almond oils that prevent your skin's natural moisture from getting evaporated. The product gives a beautiful texture to your skin and combats the root causes of aging such as dry skin, wrinkles, and free radicals. What makes it safe for frequent use is that it is free from parabens, dues, preservatives, or synthetic fragrances.
Key Ingredients:
- Avocado oil
- Grapeseed oil
- Apricot seed oil
- Organic aloe vera
Pros:
- Cruelty-free
- No SLS or SLES
- Clean ingredients
- Non-comedogenic
- No petrochemicals
- Long-lasting hydration
- Hygienic pump container 
- Gives soft and supple skin
- Certified organic ingredients
- Ideal choice for sensitive skin
Cons:
- Very little quantity
- Takes time to get absorbed
8. evereden golden belly serum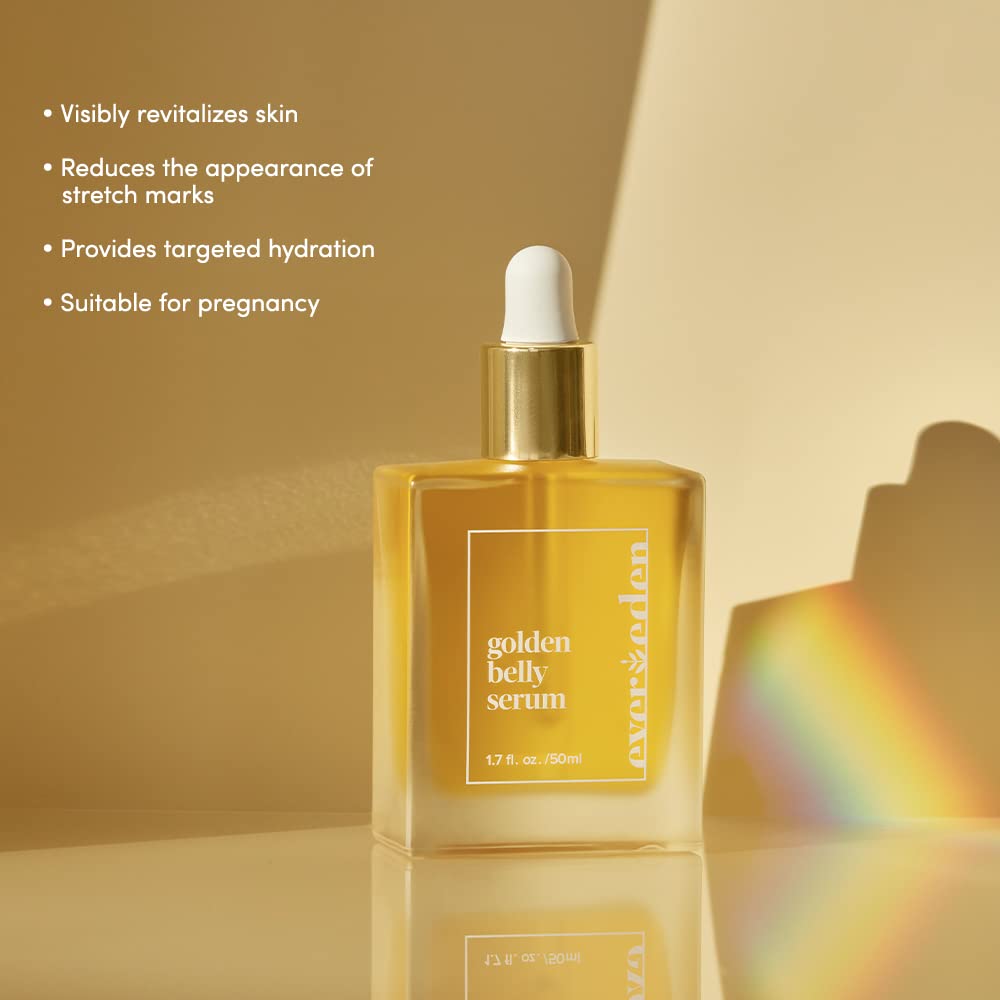 This golden belly serum by evereden helps reduce the appearance of stretch marks by stimulating your skin and making it supple. Fortified with marula oil, rosehip oil, and Centella Asiatica, the product is rich in emollient properties that nourish, condition and soothe your skin. Also, the passion fruit oil in it revitalizes the skin and boosts its overall health. You can use a dropper-full of the product to massage onto your skin, as many times as you need to. What makes this oil special is that you can apply it to your body, face, or hair and reap its benefits. The product is free from parabens, sulfates, phthalates, and other harmful ingredients.
Key Ingredients:
- Marula oil
- Rosehip oil
- Centella Asiatica 
- Passion fruit seed oil
Pros:
- Versatile use
- Boosts elasticity
- Rich in antioxidants
- Pleasant, mild scent
- Prevents dehydration
- Intensely moisturizing
- Climate-pledge friendly
- Convenient application
- Seals in natural moisture
Cons:
- Overpriced
9. Belli BEAUTY Eye Brightening Cream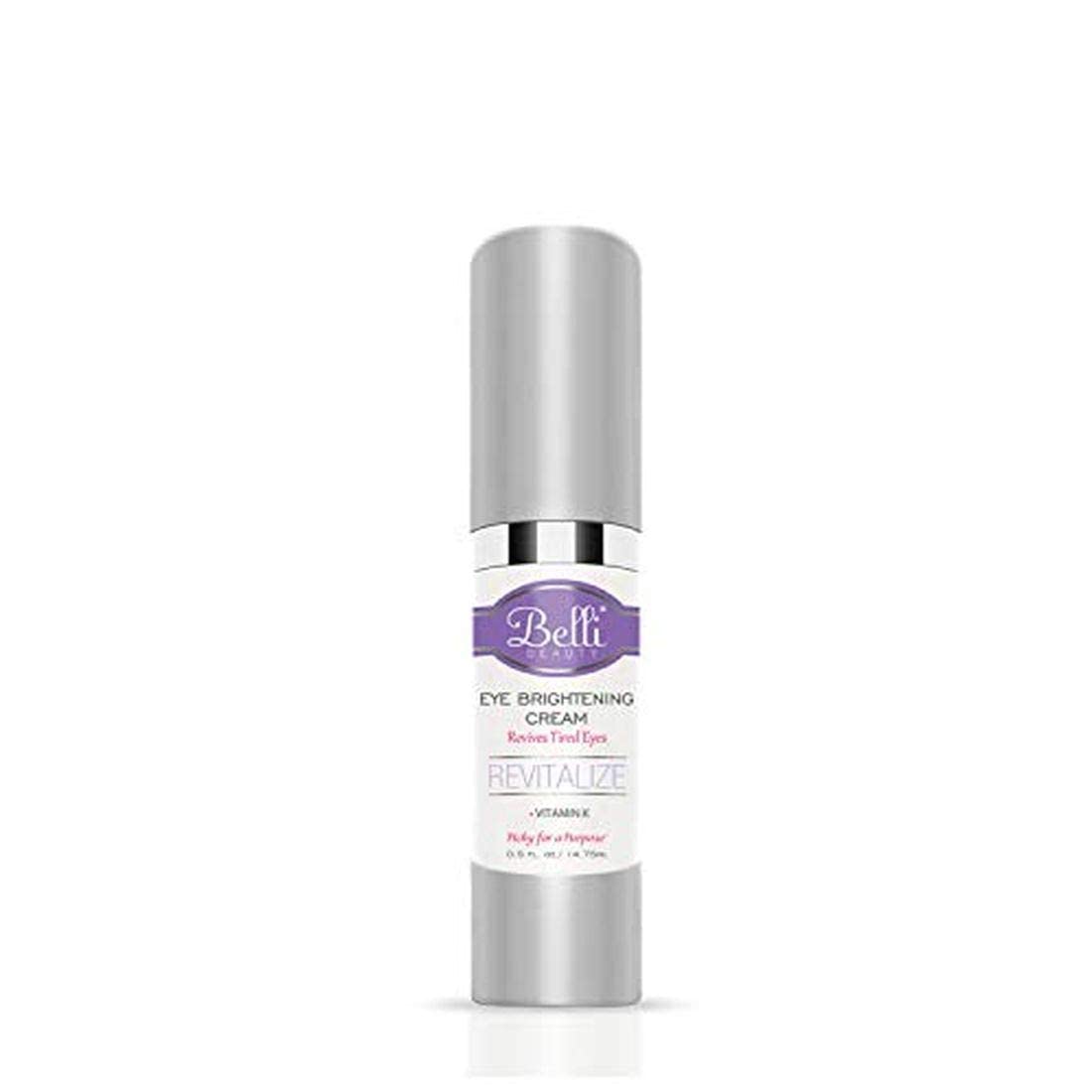 While pregnancy can seem exhausting, this miraculous eye brightening cream by Belli BEAUTY will prevent its effects from showing under your eyes. The product has a dynamic formula consisting of water-based skin conditioners and emollients that not only nourish your under-eye area but also prevent it from getting dehydrated. Additionally, it contains hydrolyzed protein that boosts skin's elasticity and prevents wrinkles around the area. It is effective at reducing puffiness, dark circles, and fine lines. For best results, gently pat a little cream onto the skin around the eyes using the tip of your ring finger. You can also store the product in the refrigerator to cool your under-eye region.
Key Ingredients:
- Olive oil
- Vitamin E
- Hyaluronic acid
- Arnica montana flower extract
Pros:
- Vegan
- Gluten-free
- Cruelty-free
- No phthalates
- Ideal for sensitive skin
- No dyes or fragrances
- Gives a hydration boost
- Improves skin's resilience
- Revitalizes under-eye area
Cons:
- Overpriced
10.  evereden botanical facial sunscreen SPF 30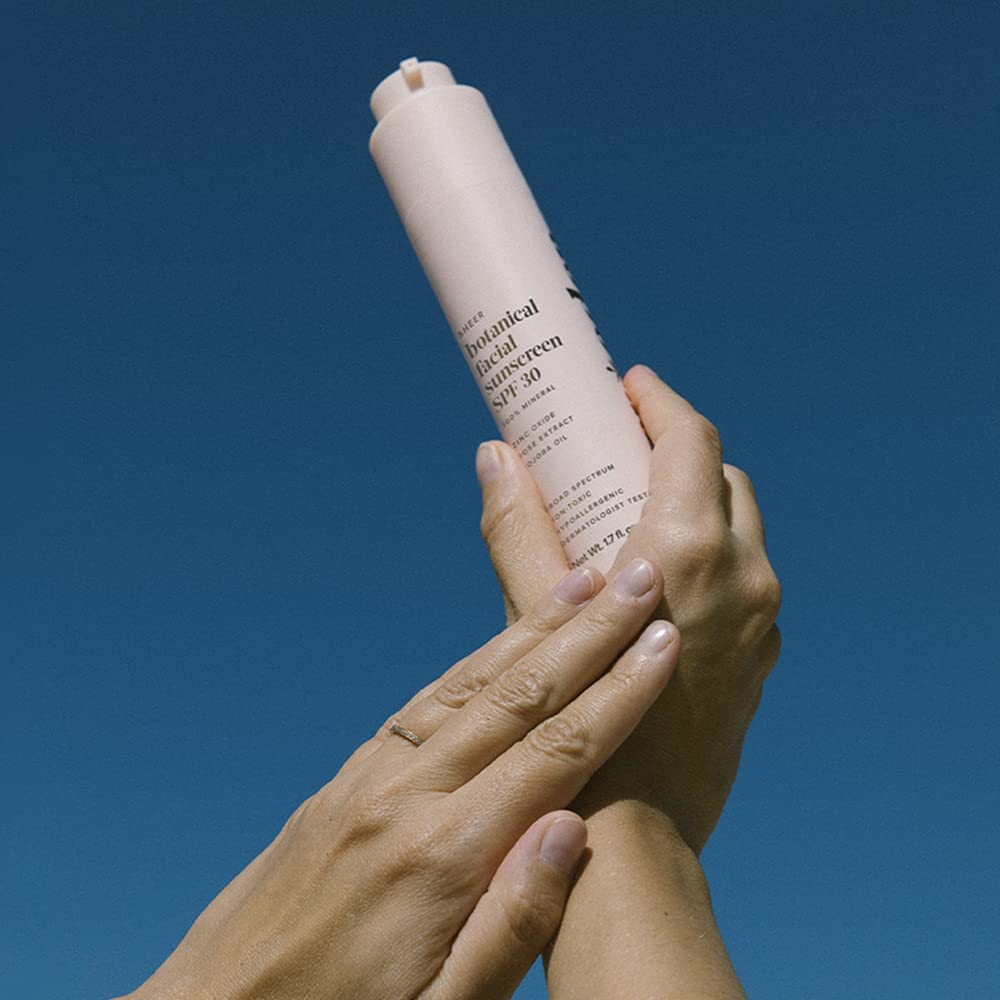 This mineral sunscreen by evereden is an effective formula to provide protection against the harmful UV rays of the sun. It is a natural blend of rose extract, jojoba oil, and mineral-based SheerTech ZincTM technology that is gentle and has a soothing effect on the skin.  Unlike cheap-quality sunscreens, the product does not trigger comedones such as whiteheads, blackheads, and papules. Zero oxybenzone content makes the sunscreen safe for pregnant or breastfeeding mothers, and others with sensitive skin.
Key Ingredients:
- Jojoba oil
- Rose extract
- Sunflower seed oil
Pros:
- Reef-friendly
- Blends easily
- Pleasant scent
- Clean formulation
- Sheer consistency
- Rich in antioxidants
- Efficient pump packaging
- Protects from UVA and UVB
- Works as a makeshift primer 
Cons:
- Might leave a residue
Now that you've seen our product recommendations for the best pregnancy-safe skincare products, let us go through the following buying guide and learn more about them. 
How to Select the Best Pregnancy-safe Skincare?
Pregnancy-safe skincare products are different from regular products as certain ingredients are strictly avoided in them. Also, such products are specifically crafted to target skin issues that arise when you're expecting. 
Acne Treatments: With hormonal changes, acne and breakouts are common during pregnancy. While retinoids are effective to treat breakouts, they should be strictly avoided as they are not safe during pregnancy. Instead, opt for acne treatments containing sulfur, AHAs, and azelaic acid as they are pregnancy-safe ingredients. These ingredients help in drying out the papule/pustule/comedone, control excess sebum production, and exfoliate dead skin cells to resurface the skin and give an even texture. While certain essential oils for acne treatment, such as lavender oil, are not considered harmful during pregnancy, their overpowering scent can cause nausea to some. If that is the case with you, avoid products containing essential oils. 
Stretch Mark Creams/Oils: While topical creams and body oils are important skincare products during pregnancy, there is no absolute prevention formula for stretch marks. With significant weight fluctuations, stretch marks are inevitable. Nonetheless, regular massage and deep moisturization are pivotal in tightening, resurfacing, and improving the appearance of your skin. Look for stretch mark creams or body oils that are hypoallergenic, botanically based, emollient, and adequately soothing so to counter the itching caused by stretch marks. 
Sunscreens: While chemical sunscreens are effective for sun protection, they are easily absorbed into the skin. To prevent exposing the fetus to such chemicals, pregnant women should strictly avoid them and opt for physical/mineral sunscreens. Such products are fortified with minerals such as zinc oxide or titanium dioxide that form a protective barrier against UVA and UVB rays without penetrating the skin. Because of the mineral particles, it is likely that your pregnancy-safe sunscreen may leave a white cast. Nonetheless, ensure that their formulations are non-comedogenic and blendable. 
Eye Creams And Moisturizers: While these products don't typically consist of ingredients that are particularly prohibited during pregnancy, avoid other harmful ingredients such as phthalates, parabens, sulfates, mineral oil, formaldehyde, and petroleum. It is best to look for moisturizers and eye creams with a botanical base and fewer filler ingredients. For best results, look for products with humectants to hydrate, emollients to seal in natural moisture, and natural extracts to soothe and revitalize your skin. 
Benefits of Using Pregnancy-safe Skincare:
The following are some benefits of using pregnancy-safe skincare products:
1. Prevents Skin from Dehydrating: Using good quality moisturizers with humectants and emollients not only hydrates your skin, but also prevents its natural water content from evaporating. This gives us soft, supple, healthy, and beautiful skin. 
2. Prevents Penetration of Harmful Chemicals: Pregnancy-safe skincare products are free from hydroquinone, retinoids, oxybenzone, phthalates, and chemicals that penetrate the epidermal layer of the skin and risk the safety of the fetus. 
3. Nourishes And Conditions the Skin: Best moisturizers for pregnancy are formulated with naturally derived ingredients that boost the skin's hydration and deeply nourish it. Such products are fortified with antioxidants, hydrolyzed proteins, fatty acids, and peptides that protect the skin, stimulate collagen production, improve cell turnover and smoothen its surface. 
4. Reduces Acne And Breakouts: Retinoid-free products are enriched with skincare actives and purifying natural extracts that cleanse pores, control sebum production, get rid of dirt and bacteria, and dry out the blemishes. Some products are fortified with AHAs that gently exfoliate dead skin cells to resurface the skin for an even complexion. 
5. Revitalizes the Under Eye Area: Certain botanical ingredients such as green tea, white tea, caffeine, floral extracts, pregnancy-safe essential oils, etc. help rejuvenate the skin and wake up the under-eye area. They also help reduce dark circles and puffiness around the eyes for a bright look. When blended with humectants and hydrolyzed proteins, under-eye creams help improve skin elasticity and provide anti-aging benefits.
6. Soothes Itching Caused by Stretch Marks: Ingredients such as aloe vera extract, watercress extract, rose extract, etc. have soothing properties that ease itches caused by stretch marks. They also help reduce inflammation on eczema and acne-prone skin.
Due to the hormonal changes during pregnancy, you may sometimes experience a beautiful glow on your skin, while at other times you may experience breakouts, dullness, dark circles, and other skin problems. Hence, to boost the health of your skin while keeping you and your baby safe, it is important to invest in the best pregnancy-safe skincare products. The above-mentioned products are botanically derived, nourishing, effective, and safe for pregnancy and postpartum. Make sure you go through our buying guide before making a purchase. Happy shopping!
FAQ's
Is it okay to have skin care while pregnant?
Good skincare products are not only okay but necessary during pregnancy to nourish and rejuvenate the skin while targeting skin concerns that arise specifically during pregnancy, such as eczema, melasma, breakouts, stretch marks, etc.
---
Is hyaluronic acid OK for pregnancy?
While topical hyaluronic acid serums are safe during pregnancy, always ensure that the other filler ingredients that you are using are safe as well.
---
Can I use salicylic acid while pregnant?
hile products containing a small percentage of salicylic acid are safe to use, it is important to understand that they are strong chemical exfoliants. Hence, switching to AHAs like glycolic acid is a safer choice.
---
When can I start using belly oil during pregnancy?
As belly oils are essentially emollients, you can start using them at any point of time and continue usage during your postpartum.
---
How can I moisturize my skin during pregnancy?
To moisturize your skin during pregnancy, ensure that your product is free from hydroquinone, retinoids, phthalates, and other harmful chemicals that can affect the health of your baby. After that, take your skin type into consideration and opt for products that are suitable for it. During pregnancy, you need to moisturize your skin several times a day, as it gets dried frequently. Take a generous amount of the product and massage well in circular motions. This way, you will improve the blood flow in your skin, tighten it and help prevent stretch marks.
---
About The Author
Anoushka is certified in Professional Skincare and is a Mass Media (Journalism) graduate from Mumbai University. As a...n experienced writer, she is an advocate of sustainability in skincare, haircare, fashion, and lifestyle. She loves mind-stimulating conversations, trivial or intense, which fuel her creative ideas. In her leisure time, she enjoys yoga, sitcoms, reading, early morning beach walks, and cafe hopping.
Read more
Top Comments
There are no comments in this article yet. Be first to post one!