10 Best Body Razors for Women for Painless Hair Removal
Finding the best body razors for women that will remove body hair without any pain can be a little tricky! Search no more as we have curated a list to help you!
Updated on Mar 21, 2023 | 01:46 PM IST | 549.5K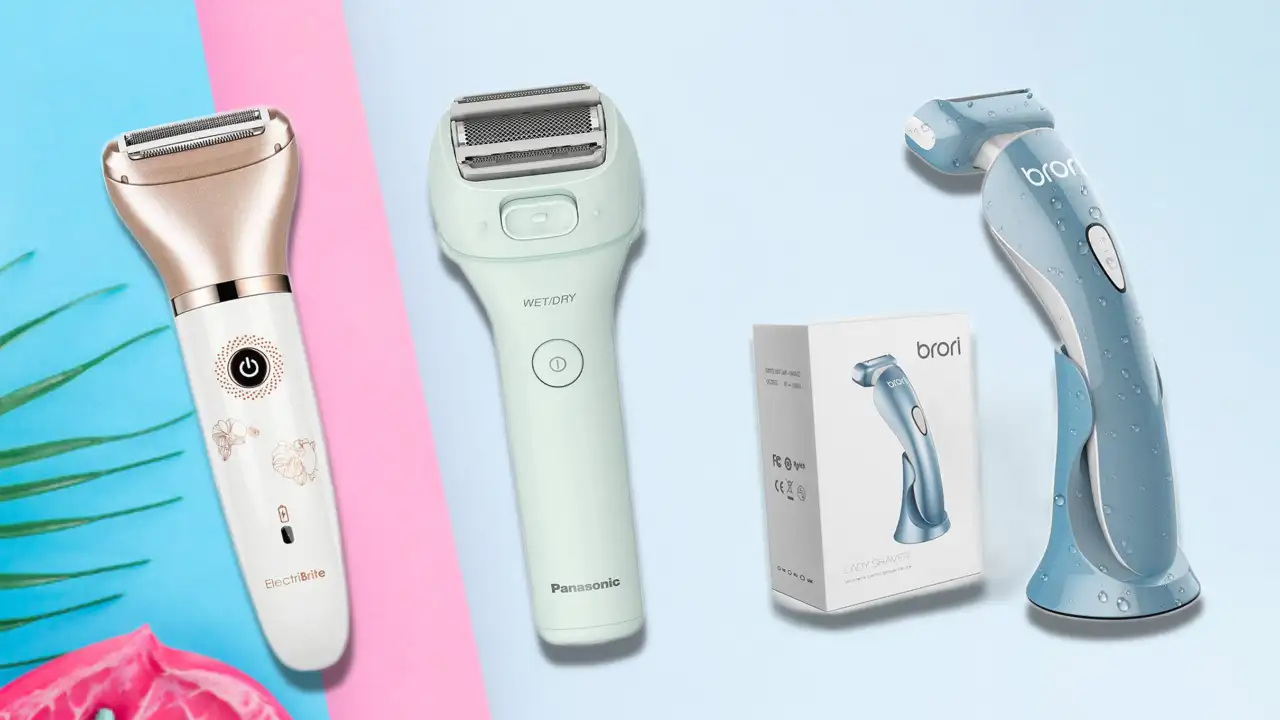 The products curated for this article are independently chosen by the editorial team. If you make a purchase through the
links
mentioned below, we may receive a commission. Check out our
product research & curation process
We all have gone through painful ways of hair removal and let us admit that we have never been really big on those methods. Plus, each time we are in a hurry, going to the salon or heating wax to remove body hair may not sound like a really good option. Enter the best body razors for women that will save you from all the trouble! Small, compact, and result-oriented, body razors take up very little time to reveal hairless skin and they are one of the most painless ways of hair removal. While razors do ensure that you go through minimum hazards, using the wrong razor can cause cuts, nicks, and bumps.
Although there are plenty of other ways to remove unwanted hair, shaving is considered to be the most convenient and painless method. Dermatologist Rachel Ward, MD affirms, "Using a razor represents the easiest and most convenient way to remove unwanted hair,"
To help you pick the right ones, we have made a list. Take a look.
Top Picks
1. Panasonic Close Curves Electric Razor for Women- Amazon's Choice
2. Brori Electric Razor for Women- Illuminating
3. Krovena Electric Shaver for Women- Best for Bikini Area
4. Gillette Venus Intimate Grooming Razors for Women- Dermatologist-tested
5. RenFox Electric Razors for Women- Hypoallergenic
 10 Best Body Razors to Achieve That Smooth Skin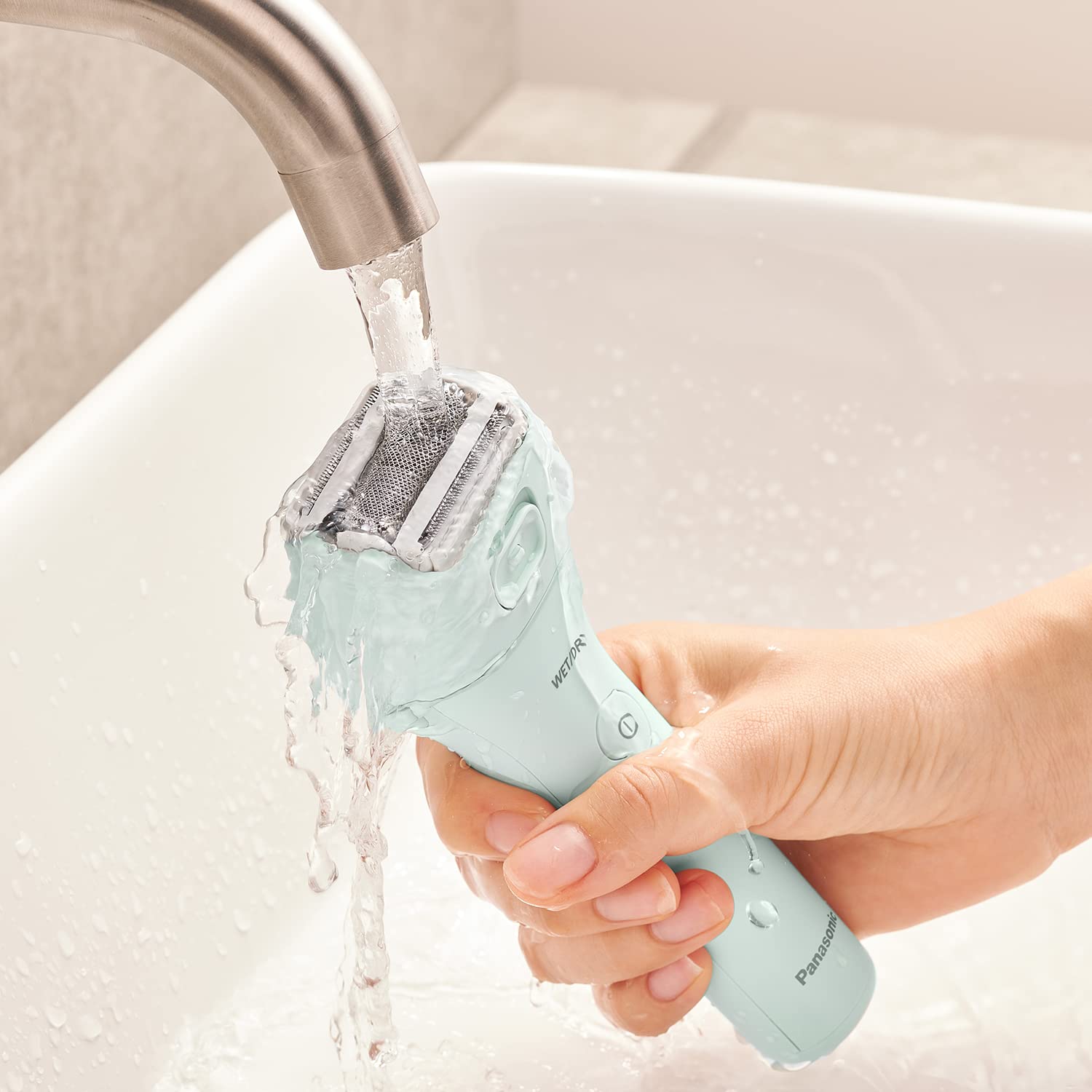 Say adios to the painful waxing procedure and lay your hands on this Panasonic Close Curves Electric Razor for Women that comes with a 35 minutes battery life to serve you smoothly during the process. The 3-ultra sharp floating blades allow you to go back and forth while covering a large area at a time and shaving your body quickly. The hypoallergenic stainless steel minimizes irritation possibilities for sensitive skin and doesn't cause razor bumps. The waterproof razor goes a long way without catching rust or any chances of corrosion.
Pros
1. Curve-hugging
2. Gentle on sensitive skin
3. Waterproof body
4. Rechargeable
5. Dual ultra-thin outer foil
6. Easy-to-use
Cons
1. Overpriced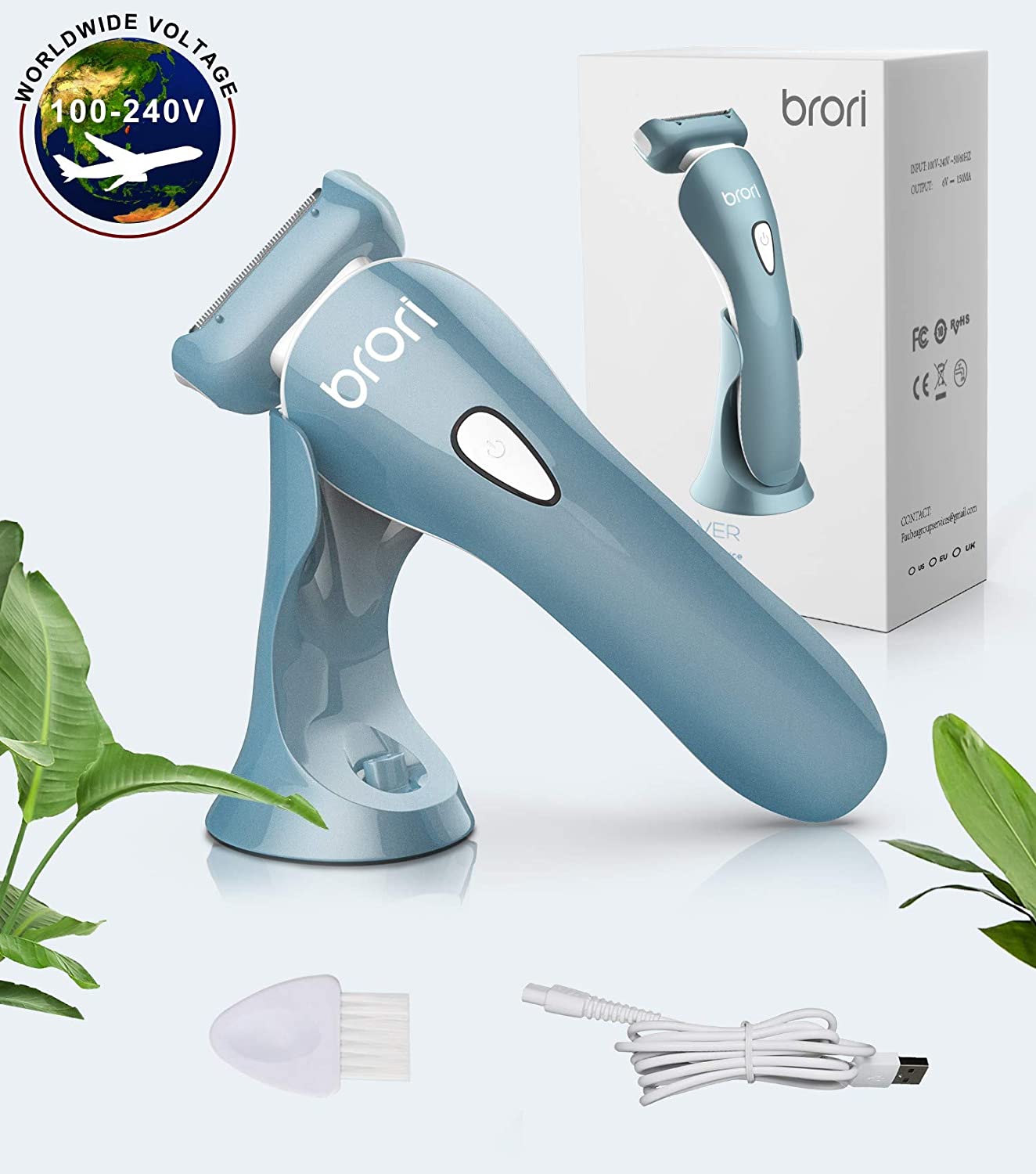 Brori electric body razor for women offers a high-performance shave and helps you easily and quietly trim away and remove any unwanted hair on your arms, legs, back, armpits, and intimate bikini lines without any hassle. The hypoallergenic blades gently glide along your body curves and contours without any irritation or worries about sensitive skin. It comes with detachable shaving heads and a long enough cleaning brush making this body razor easy to maintain and safe to use even in a bath or shower.
Pros
1. Low noise
2. Hypoallergenic 
3. Washable body
4. Blind spot illumination light
5. USB quick charging
6. Glides gently on your body
Cons
1. Not sturdy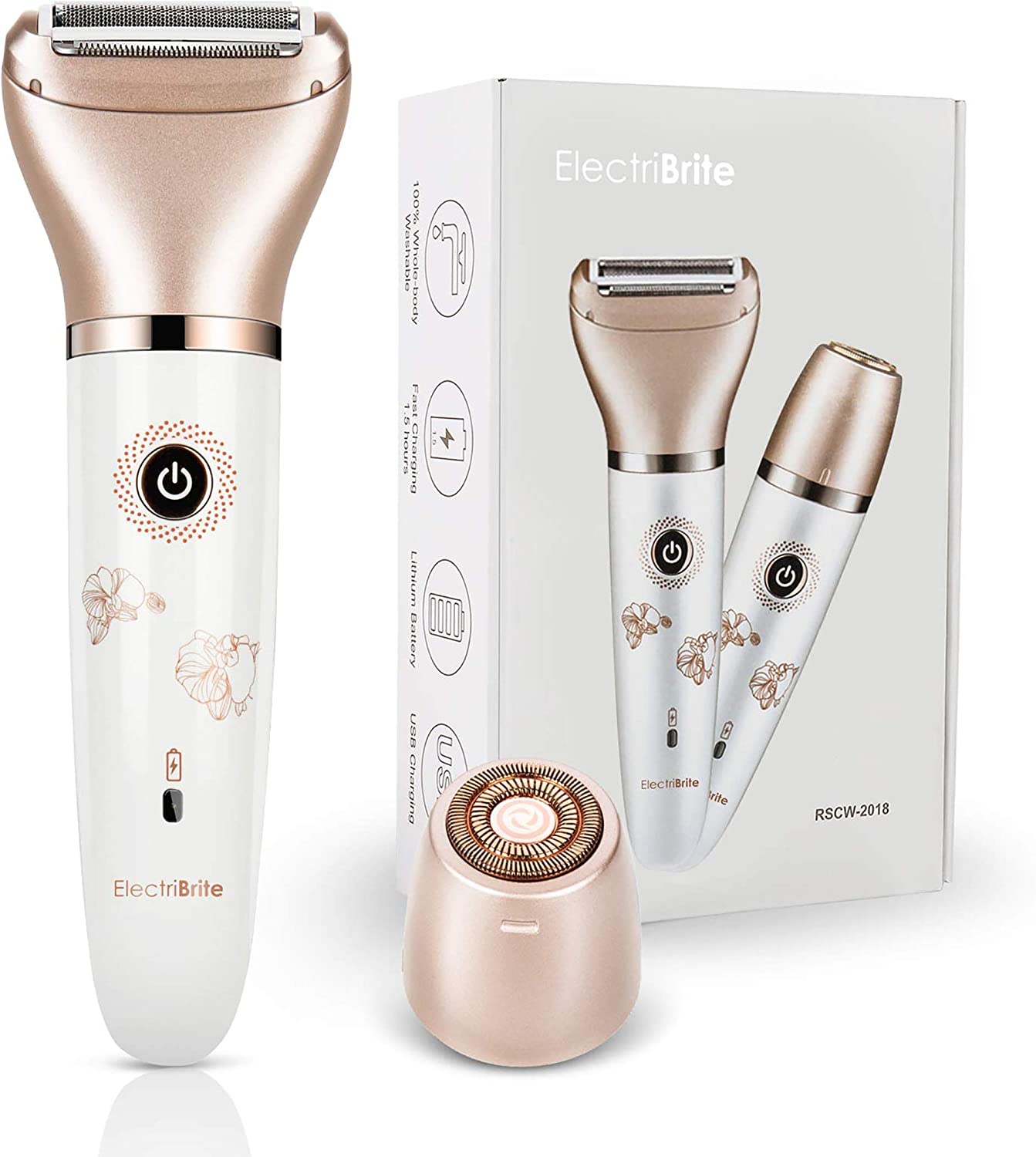 ElectriBrite Electric Razor for Women helps customize your shaving experience for your face, body, arms, legs, armpits and bikini lines, etc in minutes without any residue. It is a multi-functional body shaver for women that helps you get rid of facial hair and body hair without any pain. The hypo-allergenic stainless-steel blades and floating foil head ensure you achieve close and safe shaving with no pain or irritation. It works effectively even on sensitive skin.
Pros
1. Detachable razor head
2. Micro USB fast charging
3. Portable
4. Painless hair removal
5. Ergonomic design
6. 50 minutes of shaving time
Cons
1. Could be smoother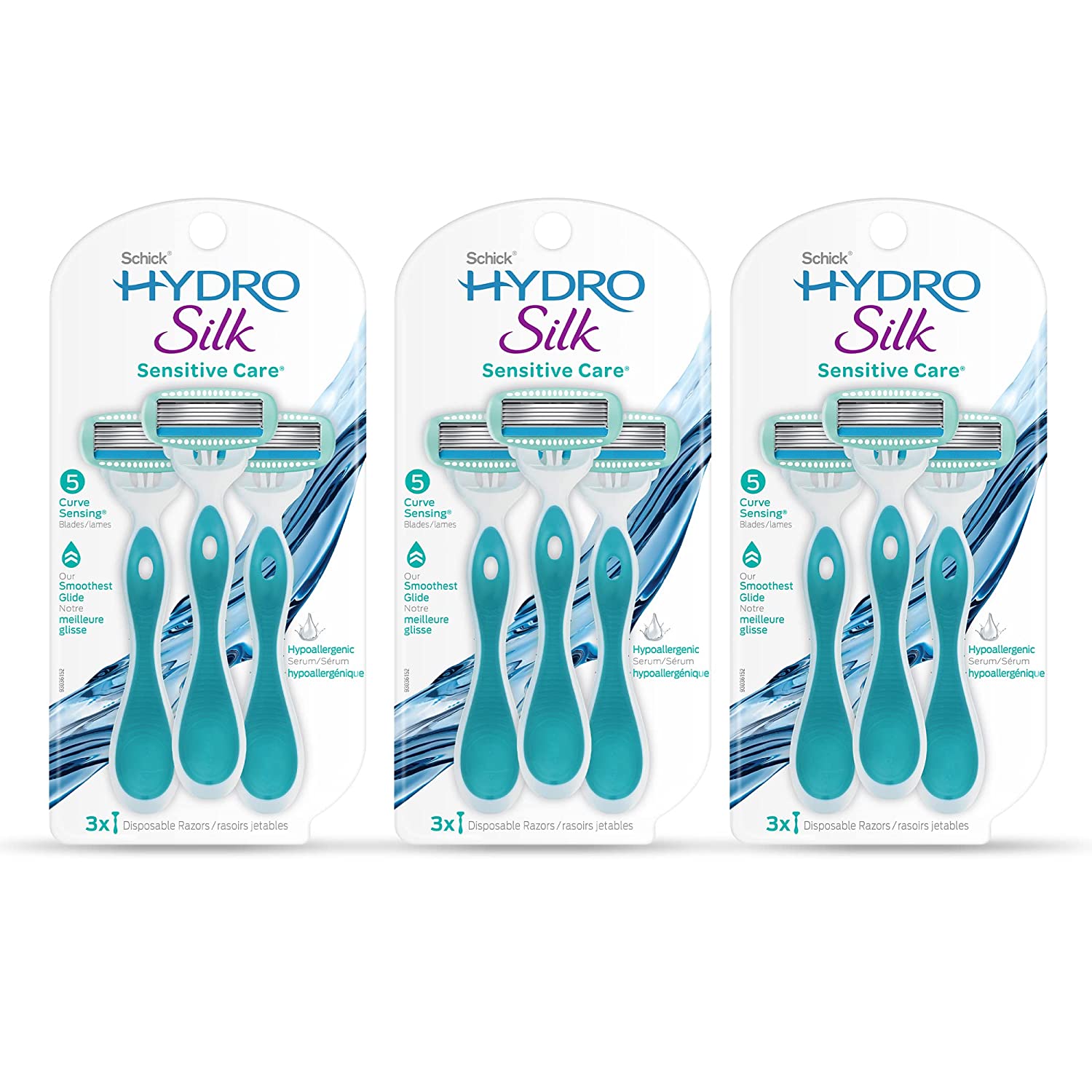 If you are looking for a pack of the best disposable razors for women, you can opt for the Schick Hydro disposable razors. The 5 blades that come in the product have a hypoallergenic moisturising serum that helps reduce irritation and protect sensitive skin. It has curve-sensing blades that are perfect for precise closeness. The ergonomic design consists of a soft touch handle and a comfortable rubber grip for you to allow easy handling.
Pros
1. Hypoallergenic
2. Moisturising for up to 2 hours
3. Reduces skin irritation
4. 5 blades
5. Paraben free
6. Hydra boost serum
Cons
1. Not for stubble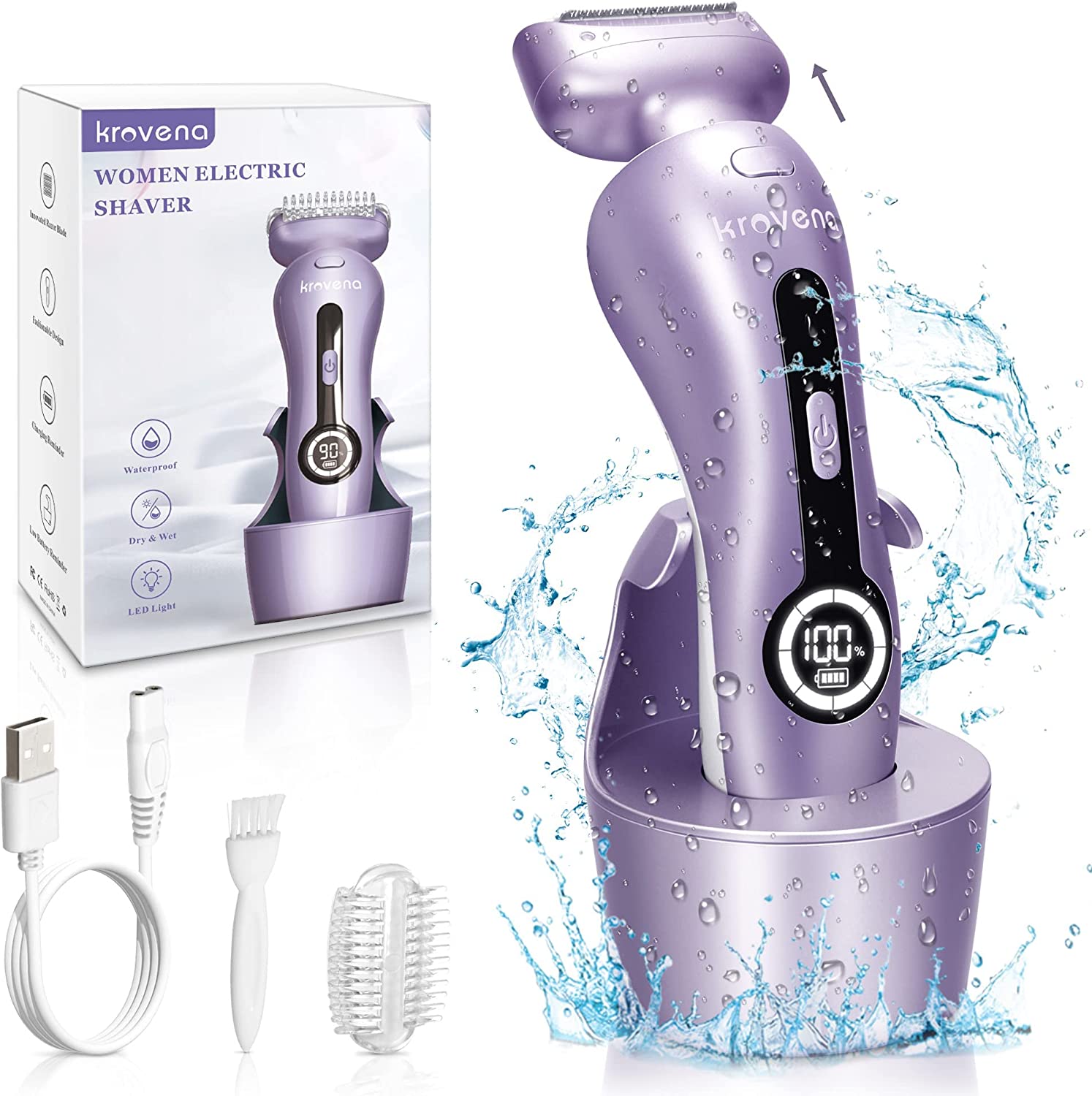 The revolutionary product comes with an upgraded design that consists of a detachable head so that you can clean it thoroughly after use. The visible display is an added advantage as it shows the electricity capacity while you use it. If you charge it fully for one time, it serves you 20-30 times throughout the month. Getting a flawless bikini wax in the comfort of your home could not be easier than this! It has a 3D floating foil and 3 high-speed and sharp blades which makes it one of the best razors for females' private areas.
Pros
1. IPX7 waterproof
2. Built-in LED light
3. 3-in-1 high-speed blades
4. Floating foils
5. Hypoallergenic6. Safe-to-use
Cons
1. Uncomfortable to hold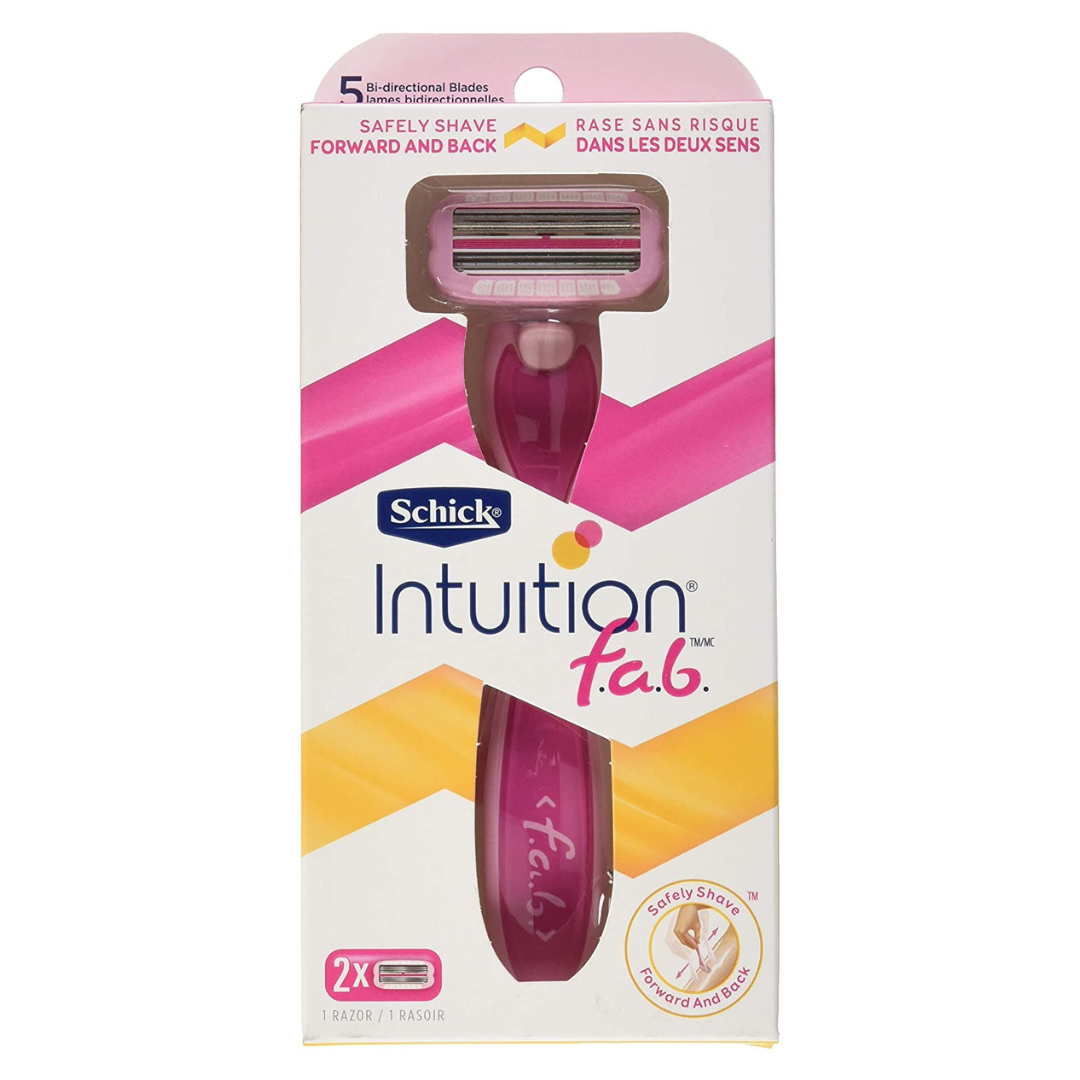 The Schick Intuition range provides a whole lot of convenience for busy bees! Experience an effortless way of shaving which allows you to go easy up and down, back and forth without irritating your skin. The revolutionary bi-directional technology ensures the hair is shaved properly irrespective of the direction. It is one of the best armpit shavers that glide smoothly and effortlessly and prevent cuts and nicks. The advanced moisture gel further infuses enriching properties into your skin for a better result.
Pros
1. Skin guard 
2. Glides smoothly
3. No razor burn
4. Easy-to-handle
5. Works on sensitive skin
6. Lasting sharpness 
Cons
1. Slimy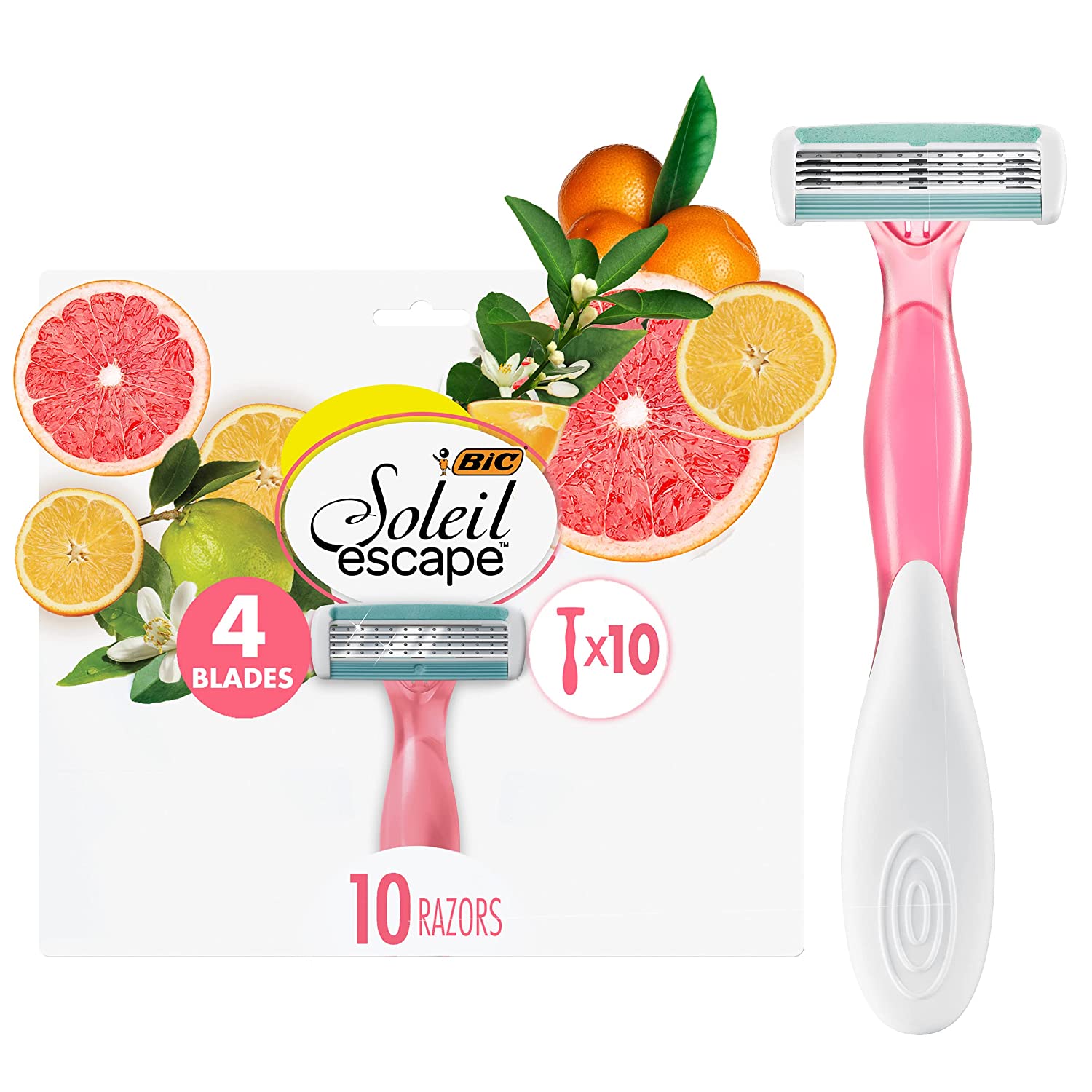 It is one good disposable razor for women that comes in a set of 10. Each of these scented disposable razors has 4 blades and an intoxicating citrus aroma to boost your mood. The flexible blades allow you to shave smoothly in every curve without causing any cuts and nicks. Enriched with coconut oil, the blades of the disposable razors are truly long-lasting that let you experience super soft skin for a long time. Not to miss, the ergonomic design is another added advantage for your comfort.
Pros
1. Disposable
2. Lasts long
3. Scented
4. Flexible blades
5. Adjust to your curves
Cons
1. The grip could be better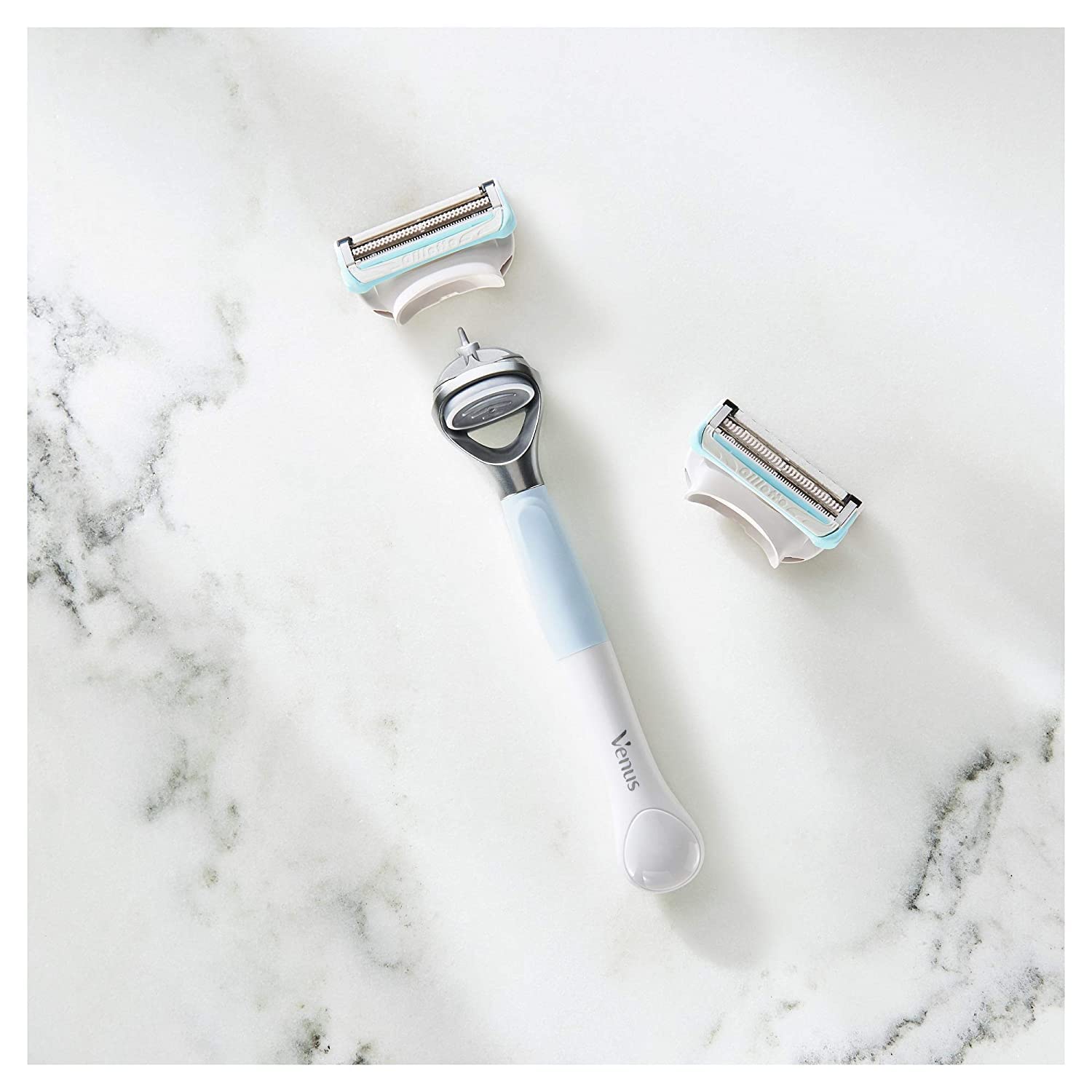 The female razor brand, Gillette Venus, comes with an intimate grooming range to prevent shave bumps and clean ingrown hair effortlessly. This razor has an irritation defense bar to smoothen the shaving process with blades that gently touch the skin while the sharpness easily cut through hair. While the small head and the precision trimmer on the back help reach tricky areas, the ergonomic handle with rubber grip lets you have a good hold in the shower. 
Pros
1. Rubber grip
2. Ergonomic design
3. Irritation defense bar
4. Smooth shaves
5. Sharpest blades
6. Dermatologist-tested
Cons
1. May cause razor burns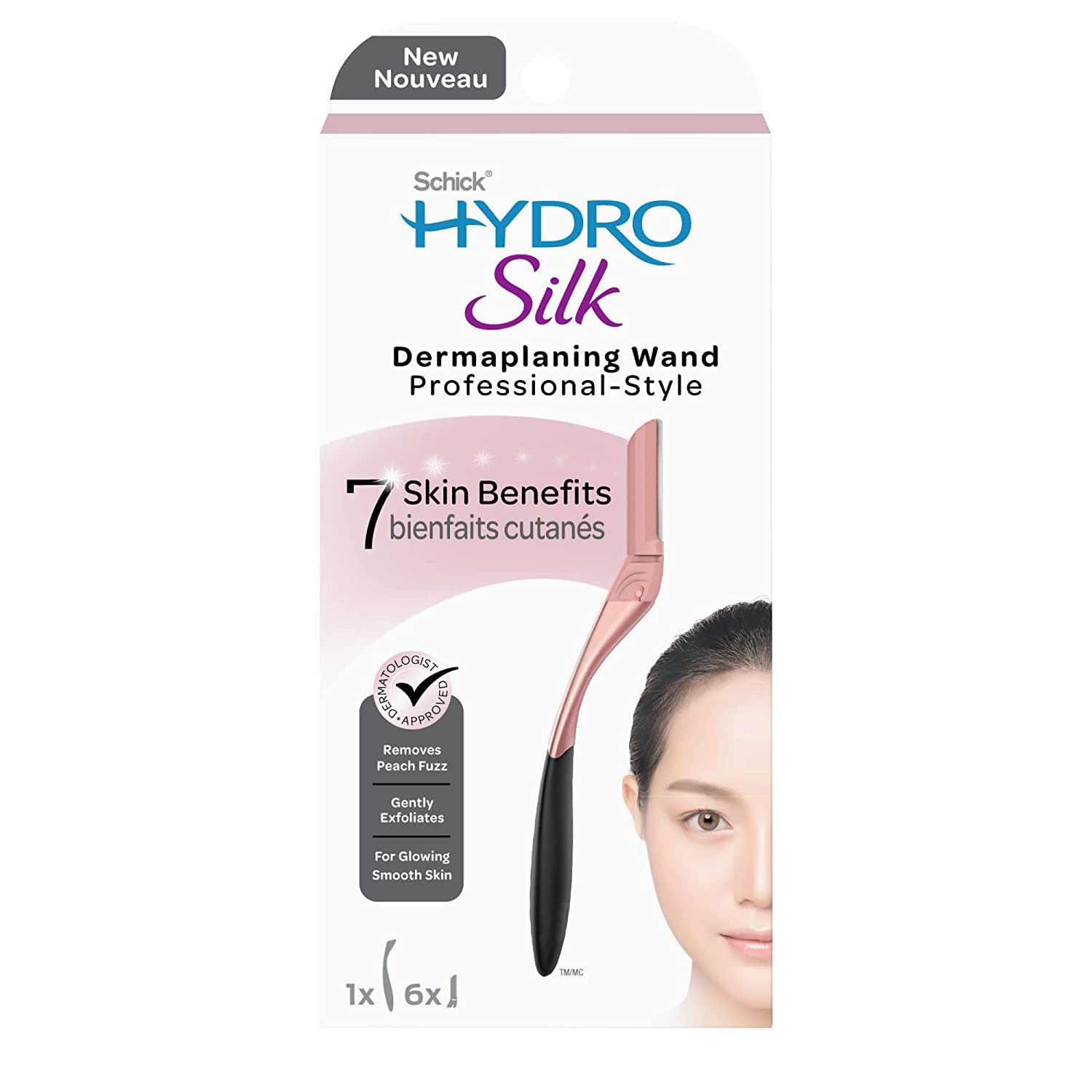 If you are looking for a pack of the best disposable razors for women, you can opt for the Schick Hydro ones. The hypoallergenic moisturizing serum present in the blades helps reduce irritation and protects sensitive skin. The five curve-sensing blades are perfect for incredible closeness to the curves and tricky parts. On the other hand, the ergonomic soft-touch razor handles come with a soft rubber grip for easy handling and better reach. The best part is that it is dermatologist-approved.
Pros
1. Gently removes dead skin
2. Smoothly glides over dull skin
3. Unique micro guards
4. Durable metal
5. Clinically proven
6. Exfoliant edge
Cons
1. Too rough for microblading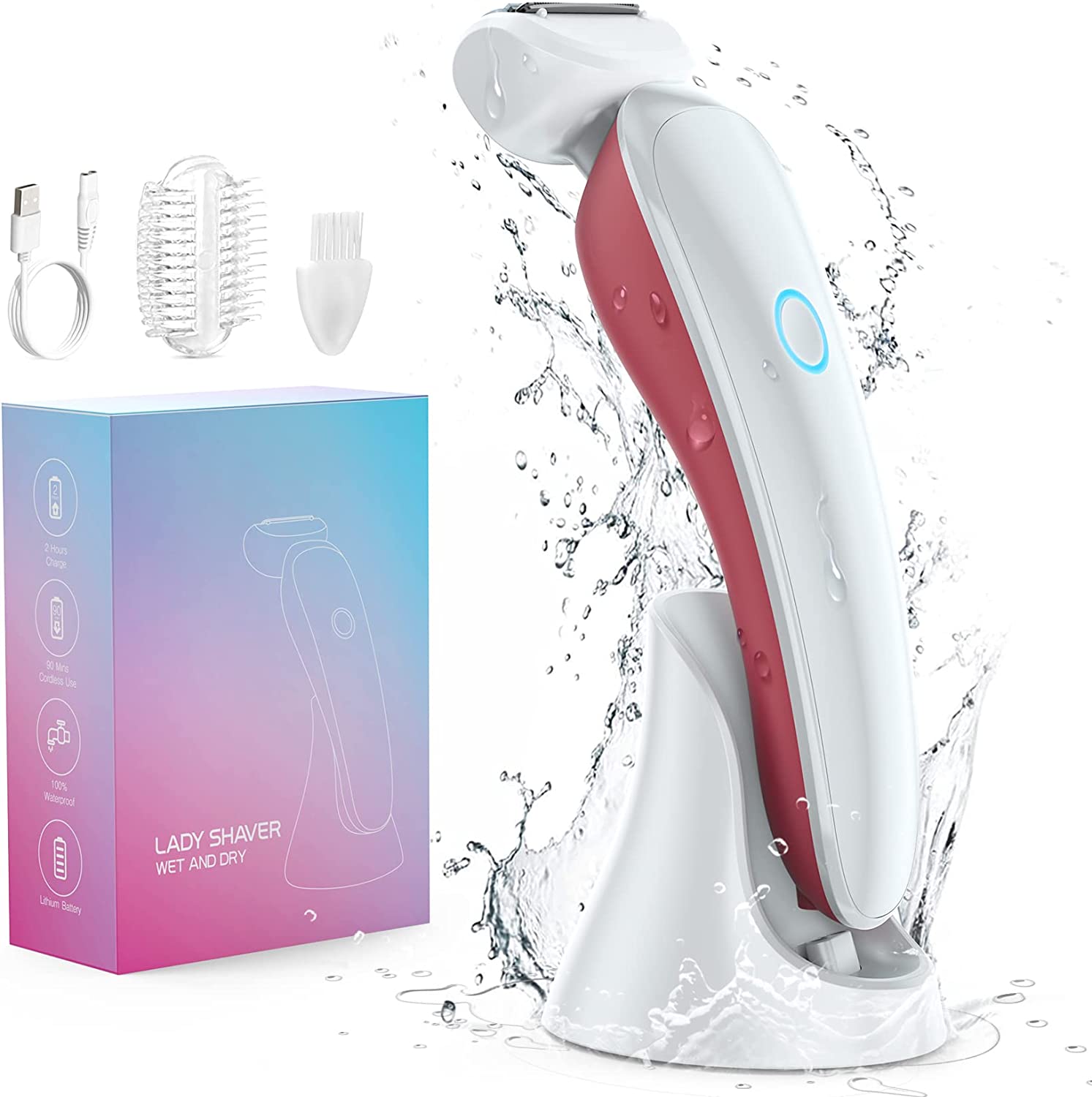 This women's electric razor is specially designed to remove unwanted hair without leaving any residue, and it is one of the best razors to prevent ingrown hair. It helps in customize shaving hair from your face, arms, legs, armpits, and pubic hair in a few minutes. It is made of hypo-allergenic stainless steel blades so that it leaves no tingling effect after using the shaver. The shaver even works for people with sensitive skin. You can charge the device by the stand or connect it with an adapter to the power socket directly for the same and it wil ensure the charge lasts for 90 minutes!
Pros
1. Ergonomic design
2. In-built LED light
3. Rechargeable USB
4. Waterproof
5. Only a charging cable
6. 45-degree angle blades
Cons
1. Quite painful
How to Choose the Best Body Razors for Women?
Before you lay your hands on it, let us guide you—
a) Skin type- If you have dry skin, it's better to go for a formula that provides moisture in your skin, while sensitive skin beauties can go for dermatologist-recommended products that are less prone to cause razor burn or irritation.
b) Moisture- You can easily skip applying gel or shaving cream before you start the process if your razor has an inbuilt moisture bar. Save your time and money!
c) Grip- The grip plays a great role in the outcome! If the product has an ergonomic design and is easy to hold, it will become much easier and hassle-free to reach every corner and get the desired smoothness.
d) Portability- Carrying a razor on your vacation is mandatory! Because you don't know when you need a good clean shave. Opt for lighter ones so that you can fit them in a corner of your bag.
How to Use Best Body Razors for Women?
Below are the steps you should keep in mind before shaving.
a) First thing first, wet the hair for at least 5 minutes to soften the root.
b) An exfoliation is a good choice if you want to keep the ingrown hairs at bay.
c) Apply any shaving gel or cream so that your process becomes much smoother and you can avoid further cuts and nicks.
d) Gently start the shaving with a light touch without pressing against the body. For a better result, first, do it in the direction of grown hair, and later in the opposite direction.
e) Wash the area thoroughly and pat it dry before applying a generous amount of moisturizer to keep your skin hydrated.
These best body razors for women have been proven to be skin-friendly and work effectively with regular use. Always ensure that you go for gentler ones and don't pick a razor that doesn't suit your skin. Shaving your body hair is still the best method to get smooth and clear skin in a jiffy and without any pain or hassle. These razors are value-for-money, easy to use, and reliable for their availability. Get your hands on them today!
FAQ's
How often should a woman change the blade on her razor?
It is recommended that every 5 to 7 shaves, a woman must change the blades on her razor. A sharp blade makes the process much smoother while dull ones are prone to cause nicks.
---
How many blades are best for women's razors?
Three-bladed razors are proven to be the best ones as they help prevent ingrown hair while giving a smooth and supple finish.
---
Is it better to shave your body wet or dry?
Well, wet shaving is better than dry ones to minimize the chances of irritation. However, dry shaving allows you to shave in any direction, plus, it saves time.
---
How do you shave without clogging pores?
Exfoliation is the key! It will remove the dead cell and thus avoid any clogging or further bumps.
---
About The Author
Sayantani is a certified hair and makeup professional turned writer with 2+ years of experience in the same genre. Ap...art from being passionate about imparting knowledge on the things she is enthusiastic about, Sayantani also has a knack for all things creative and aesthetic. When not working, she relies on binge-watching beauty videos and social media surfing for her daily dose of entertainment.
Read more
Top Comments
There are no comments in this article yet. Be first to post one!