Benefits of Allspice: A Multi-Purpose And Flavorsome Jamaican Spice
After learning about the benefits of allspice, from its culinary magic or numerous health advantages, you will want to store this exotic spice right away!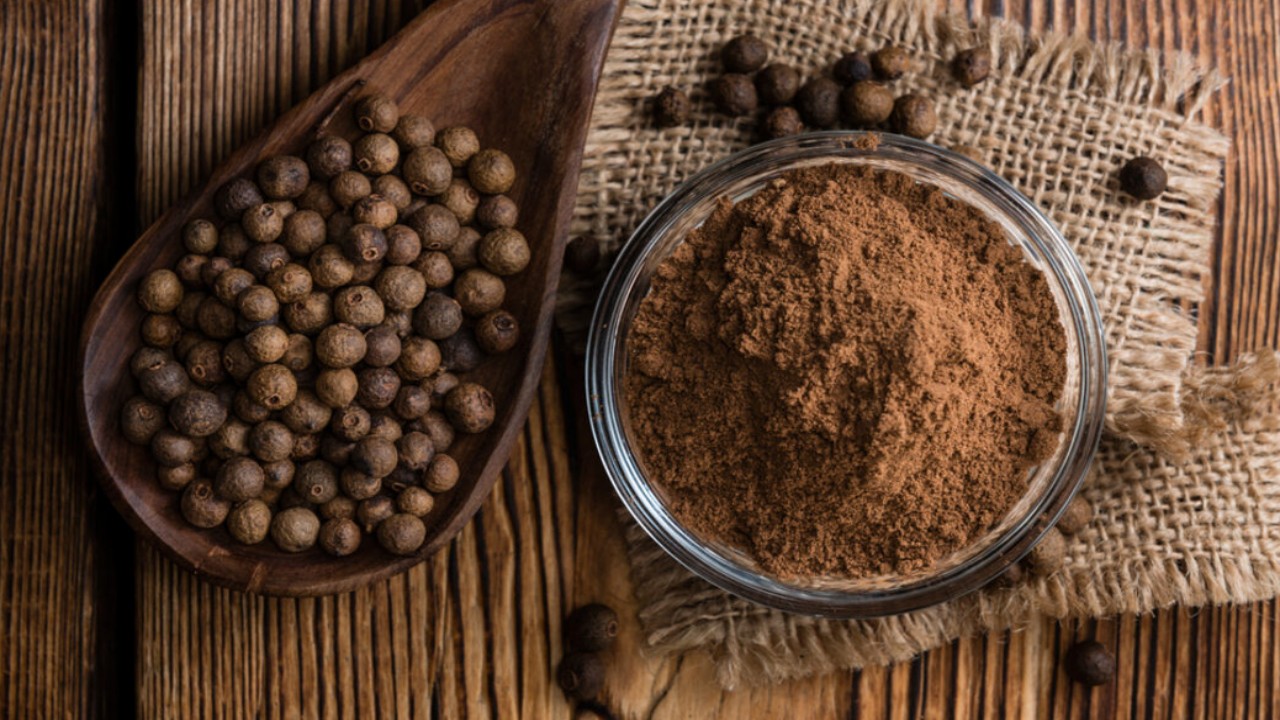 Similar to most of the exotic spices, allspice has traveled across the world through voyages. This sweet and spicy ingredient, first discovered in Jamaica, is native to Central and South America, Mexico, and West Indies. Also known as Jamaican pepper, pimienta, myrtle pepper, or newspice, allspice is a culturally rich spice ingredient. There is a bevy of benefits of allspice which has earned it global recognition for culinary and folk medicines. It has a unique aroma and flavor of multiple spice-blends into one. Without delay, let's quickly hop onto the ins and outs of allspice. 
What is Allspice?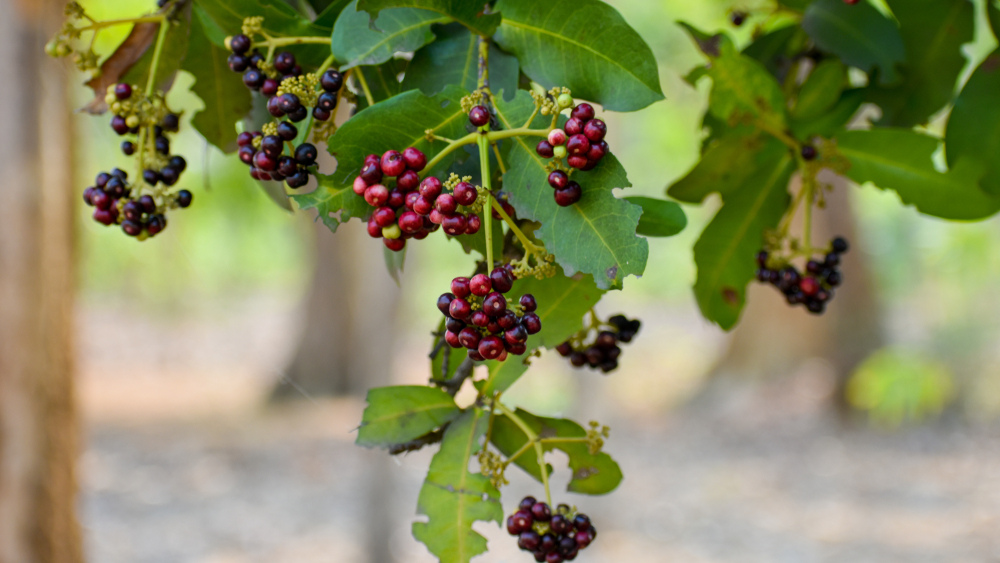 Pimenta dioica is a tropical Caribbean tree and the dried, unripe berries from these trees are known as allspice. Oozing a perceived blend of multiple flavors and aromas like cloves, pepper, cinnamon, and nutmeg, allspice is a single spice, used for centuries for their medicinal, culinary, and other favors. The berries of the tree are extracted while still green and dried under the sun, which later becomes allspice, resembling a larger peppercorn (1). From folk medicinal usage to dish seasoning and perfumery, allspice has been popular for an assortment of uses and benefits. Let's take a look at its nutritional values and health-related perks. 
Nutritional Value of Allspice
The following values are based on 100 grams of allspice. The exotic spice is totally devoid of cholesterol while being a rich source of iron, calcium, vitamin C, and a lot more (2).
Water: 8.46 g
Energy: 263 kcal
Protein: 6.09 g
Total Lipid: Fat 8.69 g
Ash: 4.56 g
Carbohydrate, by difference: 72.1 g
Fiber, total dietary: 21.6 g
Calcium: 661 mg
Iron: 7.06 mg
Magnesium: 135 mg
Phosphorus: 113 mg
Potassium: 1040 mg
Sodium: 77 mg
Vitamin C: 39.2 mg
Fatty acids: 2.55 g
The highly revered nutritional values of allspice lend to the many benefits of allspice. Owing to its long list of health properties, allspice has been used in several ways in different parts of the world for centuries. The berry spice is often used as a home remedy to treat certain health conditions as well. 
The following section discusses the holistic benefits of this flavorsome spice and some of its traditional Jamaican uses. Whether in its powdered form, as an essential oil extract, or as a whole, allspice is employed as a multi-purpose ingredient. 
Health Benefits And Uses of Allspice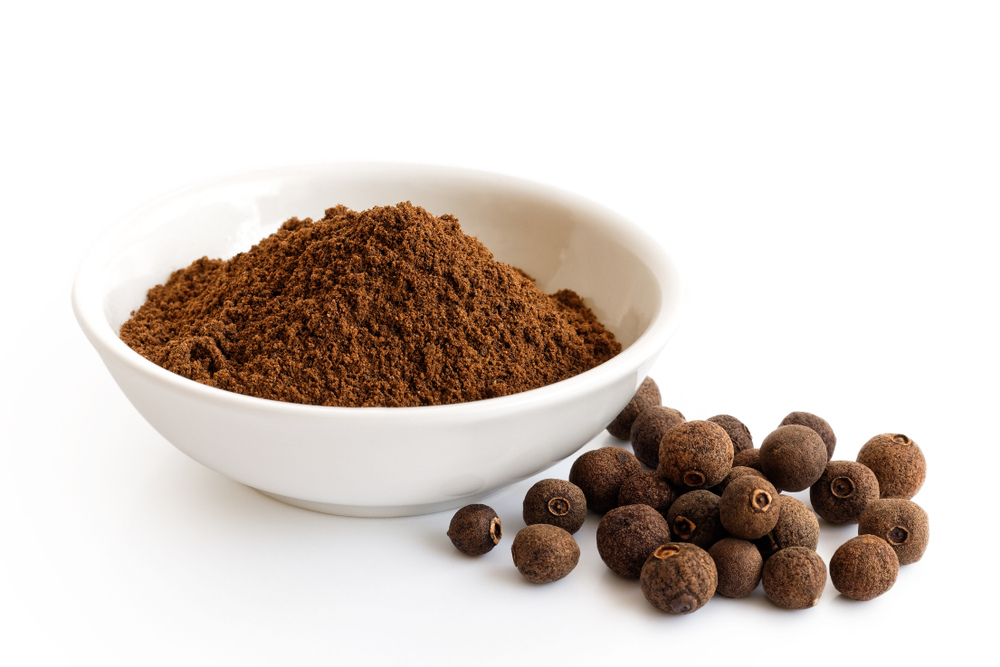 Relieves Aches And Pains: One of the major uses of allspice stems from its pain-relieving characteristics. It contains eugenol, which is an antiseptic and anesthetic ingredient. This property has made allspice tea and essential oil a go-to for relieving headaches, menstrual cramps, and muscle pain or strains as it promotes blood circulation and better blood flow (3), (4). It is also traditionally used in dentistry as a local anesthetic (1). Owing to its antimicrobial properties, it is recommended to incorporate allspice in your dental routine for healthy gums and teeth. 
Cancer-Fighting Properties: Several studies have shed light on allspice's anti-cancer and cancer-fighting properties. Eugenol, gallic acid, and quercetin found in allspice have potential antiproliferative and anti-tumor properties on cancerous cells (1). Allspice extracts aid in autophagy, which is the body's mechanism of mitigating damaged cells and cancerous cells — this is especially effective for breast cancer, as per research (5). Among the list of other anti-cancer effects, allspice has been found beneficial for prostate, gastric, duodenal, and colon cancers (6). It's essential to note that further study is required in this field. 
Antimicrobial, And Anti-inflammatory Properties: The presence of eugenol in allspice has also shown antimicrobial and antifungal effects, and antioxidant activities (1). Allspice has been used traditionally for treating infectious diseases owing to its antimicrobial properties, which have made it relevant in recent times too (7). The anti-inflammatory properties of allspice also make it a potent wound-healing agent (7). 
Helps in Digestive Disorders: Consuming allspice may also aid in managing symptoms of indigestion and a weak metabolism like gas and bloating. Eugenol stimulates digestive enzymes while inhibiting bacteria that may cause indigestion (1). Some of the other stomach-related concerns that can be aided via allspice include diarrhea, constipation, and vomiting. Weight management is another use of allspice. It may activate certain hormones that are responsible for reducing appetite and making one feel full (8). 
Menopause Treatment: When a woman goes through menopause, the body deals with a decline in estrogen and progesterone levels. This hormonal imbalance may lead to hot flashes, disturbances in sleep, mood swings, and weight gain. With regard to herbal remedies, allspice extracts may bind to estrogen receptors which works like a placebo. It makes the body believe that estrogen levels are adequate, which eventually calms the symptoms (1), (6). 
Read on to learn about some popular and traditional ways of consuming allspice. 
How to Use Allspice in Aromatic Recipes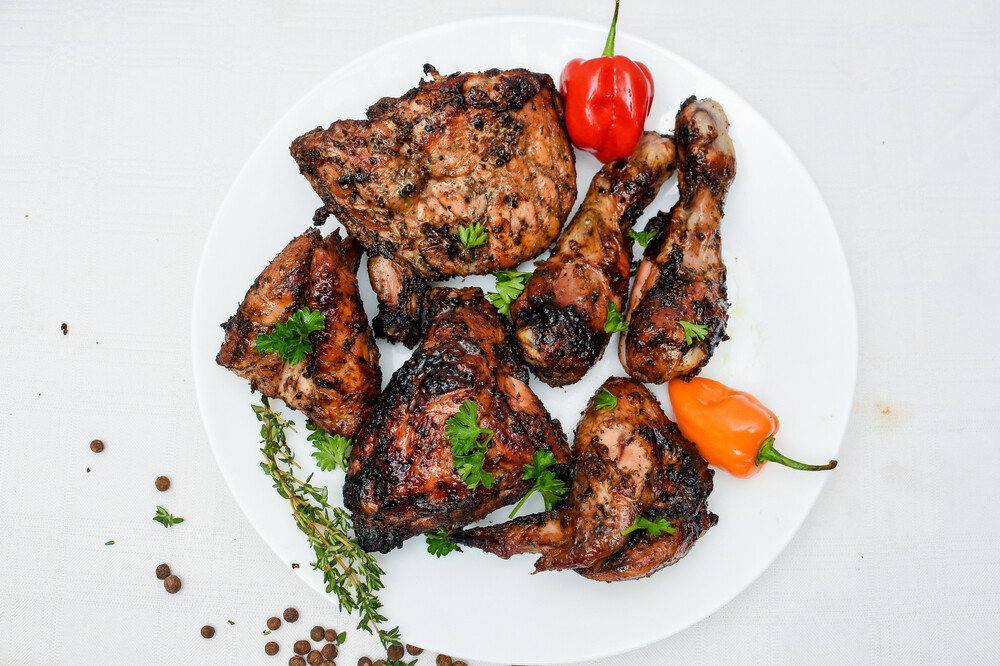 The spice aisle in a supermarket or grocery store is where you will most likely find some allspice berries or powders. You can also find its essential oils or teas all over Central America, Europe, and the Middle East. As a cult favorite, allspice is for Jamaican jerk and in mole sauces, stews, and pickles. Another allspice version is found in certain beverages, like the Jamaican liqueur which has rum-soaked berries. Spicy desserts like pumpkin pies, bread cakes or puddings, and gingerbreads are some of the baked items that use the piquancy of allspice (1).  
With the autumn breeze around us and the festive season knocking up our doors, what's better than prepping the home with some warm aromatic compounds of pumpkin pies and a hint of magical allspice? Check out the fuzziest and fudgiest recipe for a wholesome bite of pumpkin pie. It has a light crust as a base, with creamy pumpkin filling in the center, topped with a crusty layer and some sweet whipped cream. 
Recipe for Pumpkin Pie with Allspice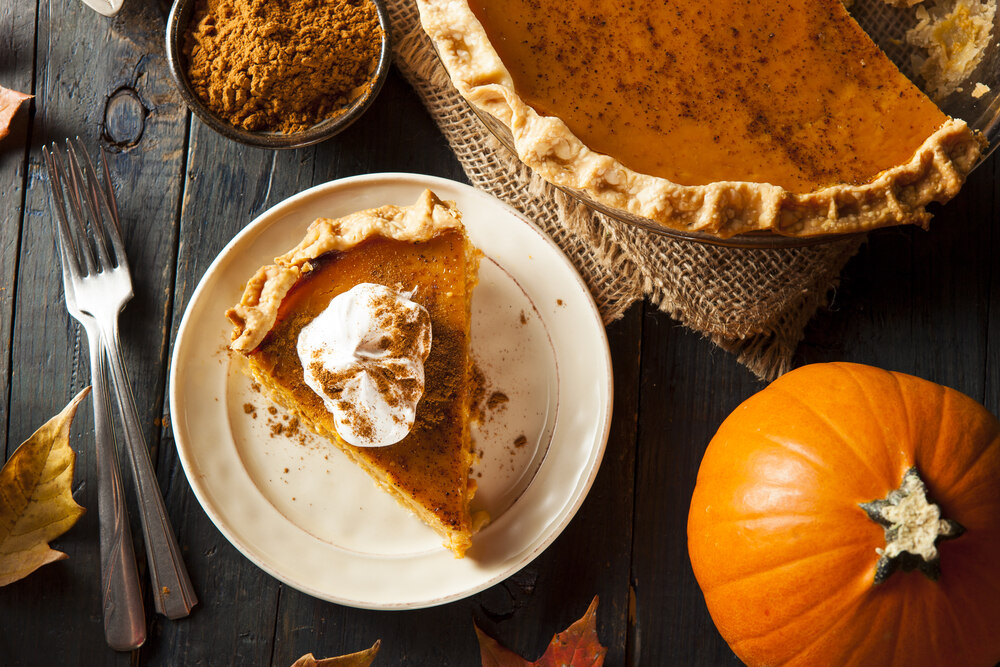 Key Ingredients:
1/2 cup all-purpose flour
3/4 teaspoon baking powder
1/8 teaspoon salt
1 teaspoon ground cinnamon
1 teaspoon ground all-spice
1/2 teaspoon ground ginger
1/2 teaspoon ground nutmeg
3/4 cup granulated sugar
3 tablespoons butter, softened
2 eggs, beaten
1 (15-ounce) can of pumpkin puree
1/2 (12-ounce) can of evaporated milk
How to Prepare:
1. The first step would be some prepping! Preheat the oven to 350 degrees Fahrenheit and grease a 9-inch deep pie plate. You can use some melted butter or cooking spray for greasing.  
2. Now mix the dry ingredients in a bowl. You will need sifted flour, baking powder, salt, and spices — cinnamon, allspice, ginger, and nutmeg. Keep this mixture aside. 
3. Take another bowl and carefully beat sugar, butter, and eggs until perfectly combined together. To this batter, add the pumpkin puree, evaporated milk, and vanilla. Beat this mixture until you get a soft, velvety consistency. 
4. Next, let your dry concoction into the wet mixture. Beat these ingredients until everything is combined thoroughly without lumps or flour streaks.
5. Finally, pour the batter uniformly into the greased pie pan and let it bake for 50 to 55 minutes. 
6. The best way to check your pie is to give it a jiggle. Its sides must be dry and crusty while the middle should be slightly wobbling and tender. 
7. After almost an hour, the pie will flatten and cool down. Follow this up with around three hours of refrigeration for it to completely set. 
8. When it's time, cut some beautiful slices and serve with sweet whipped cream or a scoop of vanilla ice cream.
Conclusion
The benefits of allspice and its variety of uses are bound to make it a new entree on your kitchen shelf. Derived from the evergreen plant, these dried berries have swooned the culinary experts and traditional medical connoisseurs, across the world since ancient times. The pungent yet pleasant aroma of pepper, nutmeg, clove, and cinnamon along with allspice's intrinsic health perks, makes it the perfect addition for regular consumption. However, it is important to note that there might be some side effects of allspice. It may cause allergic reactions like rashes and trigger seizures, in hypersensitive people. Make sure that you are allergy-tested for this spice and consult a healthcare professional immediately if you see any symptoms of allergy post-consumption.
ALSO READ: 10 Benefits of Cardamom: Beyond Its Aromatic And Culinary Offerings
FAQ's
What does allspice have in store for your body?
Allspice has pain-relieving properties and cancer-fighting features. It is also anti-inflammatory, antimicrobial, and anti-fungal.
---
Can allspice raise your blood pressure?
On the contrary, allspice reduces elevated blood pressure and enhances blood circulation in the body, while also boosting cardiovascular health (9).
---
Is allspice a blood thinner?
Allspice slows blood clotting. Consuming allspice along with certain medications can increase the risk of bruising and bleeding.
---
---