Amazon Great Republic Day Sale 2023: 10 Must-have Kitchen Essentials for a Hassle-free Experience
From fundamental cookware to necessary gadgets, replace all your worn-out kitchen utilities with brand-new ones from this Amazon Great Republic Day Sale 2023!
Updated on Jan 31, 2023 | 04:12 PM IST | 255.2K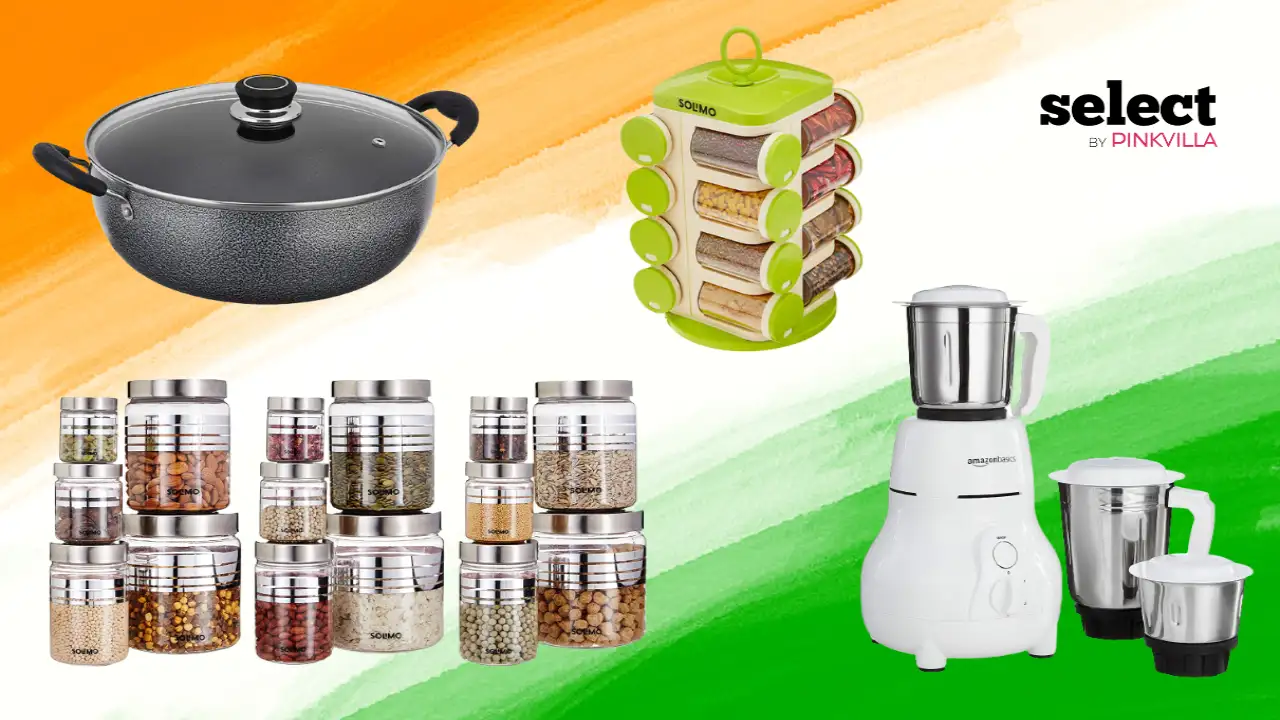 The products curated for this article are independently chosen by the editorial team. If you make a purchase through the
links
mentioned below, we may receive a commission. Check out our
product research & curation process
Whether you are a beginner cook or a professional chef, having the right kitchen essentials can make all the difference in how successful your cooking is. Having the right tools for prepping and cooking can help you create delicious meals with utmost ease — like a renowned chef.  Plus, let us be honest! How many more years will you be able to use your old items? So, from mixer grinders to pots and pans, anything you are thinking about replacing, the time is now!
So, without further ado, let us explore some essential kitchen items that will make your culinary journey easier. Hurry to make the most of the  Amazon Great Republic Day Sale 2023 and their tempting maha bachat deals that will be on between the 14th and 20th of January!
10 Necessary Kitchen Items to Make Your Cooking Experience Stress-free
1. Solimo Plastic Storage Containers With Metal Finish Lids
This durable and sleek set of 15 storage containers from the Amazon Brand - Solimo is one of the ultimate solutions to messy kitchen shelves. Not only will these containers help you organize all your pulses, namkeens, biscuits, dry fruits, etc., but also make your kitchen shelf look more spacious. Moreover, the combination of BPA-free plastic and metal lids will keep your food items fresh and moisture-free for months! These containers come in diverse sizes ranging from small, medium, and large and are best for multi-purpose storage.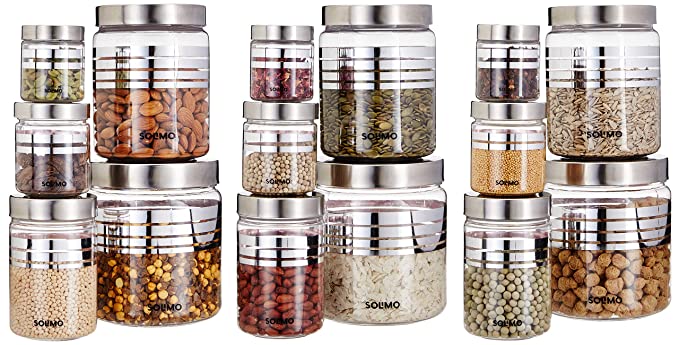 (as of 19/1/2023 10:35 IST)
2. AmazonBasics 500-Watt Mixer Grinder
This durable and user-friendly mixer grinder from Amazon Basics is perfectly apt for both dry and wet grinding. The mixer jars are made from a stainless steel material and have razor-sharp blades giving super fine mixing for every use. Moreover, the copper motor operates quietly and smoothly with no leakage. This surely means one thing — delicious chatni, crisp bread crumbs, the finest powder for idlis and dosas, and everything else you need to use them for!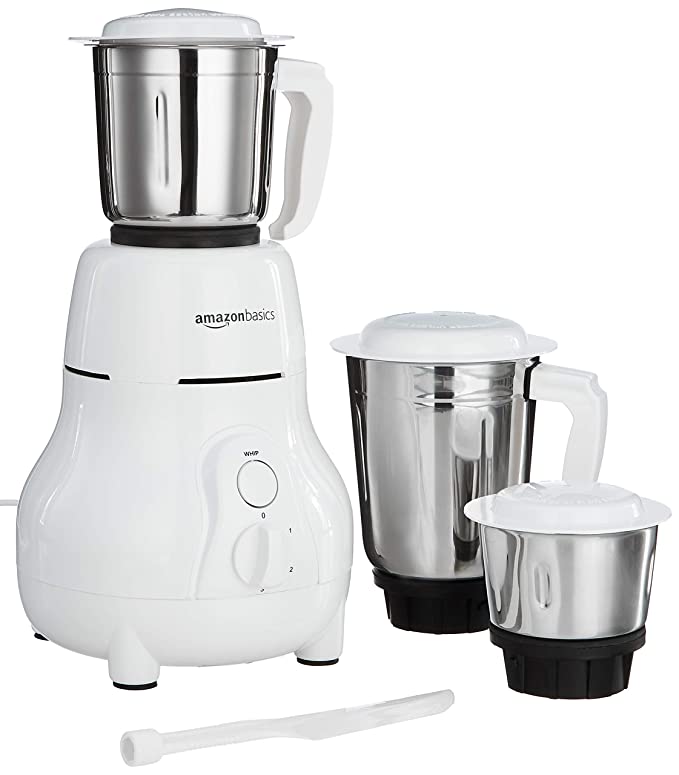 (as of 19/1/2023 10:35 IST)
3. Solimo Revolving Plastic Spice Rack set
We understand how chaotic kitchen cabinets can be if not taken care of timely. This is where a revolving spice rack set from the Amazon Brand - Solimo comes into the picture. This set of 16 small spice jars is an effective utility product to declutter your cabinet while organizing all your spices in one place where everyone can easily access them. Furthermore, these jars are made from BPA-free plastic, which helps to prevent the spices from going stale. All you need is one corner on your countertop and space enough to rotate the set to get the spices you want to pick!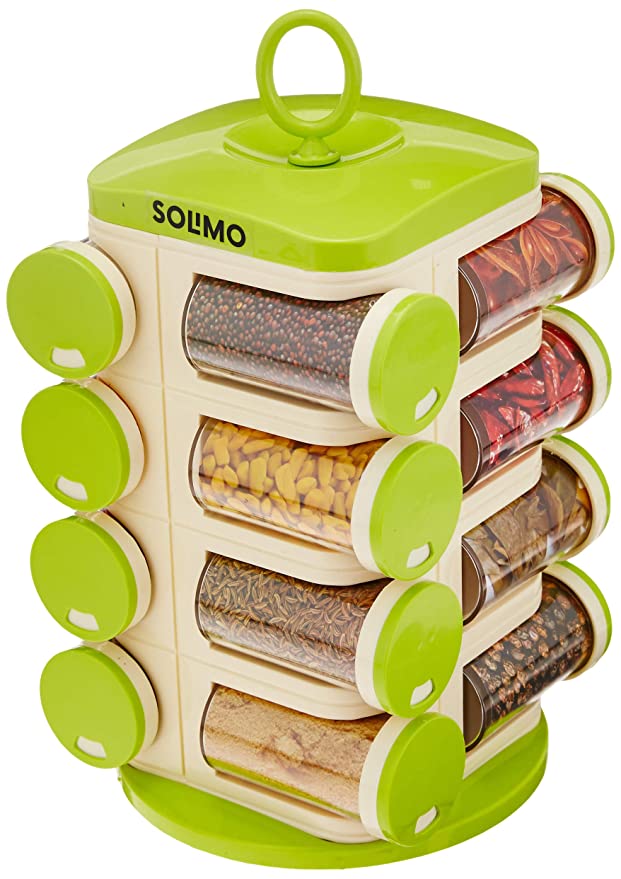 (as of 19/1/2023 10:35 IST)
4. Solimo Non-Stick Kadhai With Glass Lid
What will we even do without kadhais and cookers? And nothing beats a non-stick aluminum kadhai from the Amazon Brand - Solimo. With a 2.9 mm thick body, cool-touch handles, and a glass lid, this kadhai is unbeatable for Indian cooking. Buy it now at the best-discounted price from the Amazon Great Republic Day Sale 2023, and enjoy a seamless cooking experience every day!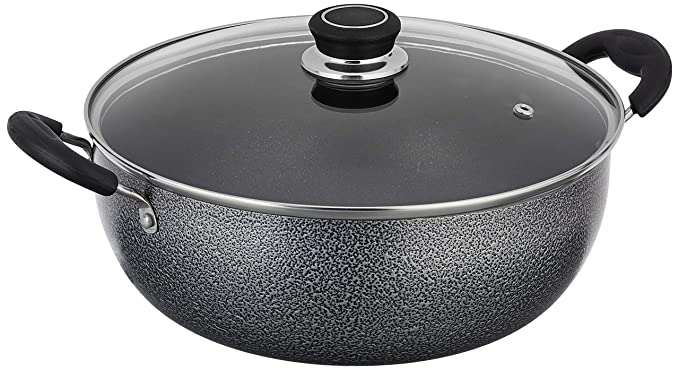 (as of 19/1/2023 10:35 IST)
5. Pigeon By Stovekraft Induction Base Aluminium Pressure Cooker
Simmer away your worries with this 2-in-1 base pressure cooker by Stovekraft Pigeon. This cooker, crafted from high-quality aluminum, has a capacity of 3 liters and comes with a 5-year warranty. Moreover, with a 2-in-1 base feature, it works well on both stovetops and induction cookers, making it a worthy purchase for bachelors and families alike!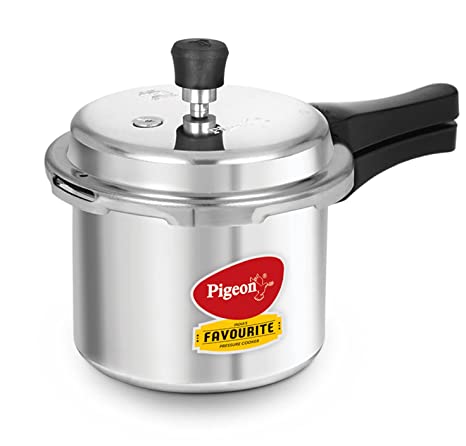 (as of 19/1/2023 10:35 IST)
6. Solimo Plastic Compact Vegetable Chopper
No person on this Earth has not cried while chopping onions or mistakenly rubbed their eyes while cutting chilies! Oh, the pain. It's time to put this tragedy behind us with this cute vegetable chopper from Amazon Brand - Solimo. Made from BPA-free and premium quality plastic, this chopper has sharp blades crafted from stainless steel that finely dice veggies within seconds. It is manually operated, easy to wash, and immensely handy!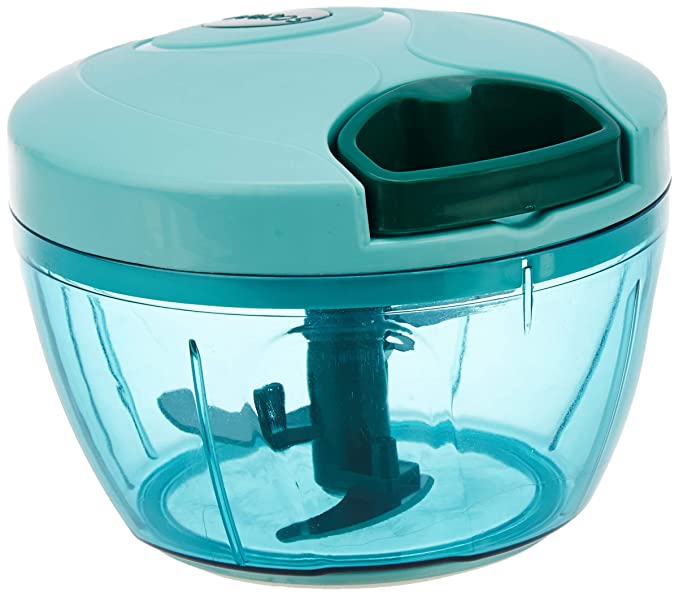 (as of 19/1/2023 10:35 IST)
7. Amazon Brand - Solimo 3-Piece Aluminium Cookware Set
Don't we all love it when we get great combinations in cookware sets? So, no more frantic searching at multiple places, because we bring you the ideal cookware set of tawa, kadhai, and fry-pan from the Amazon Brand - Solimo. Induction-friendly, non-stick coating, high temperature resistant, metallic finish, firm handles, and sleek design — check-check-and-check! Moreover, it is durable, long-lasting, and has a 1-year warranty! As if all that was not enough, you get to buy it at a special discount during this sale!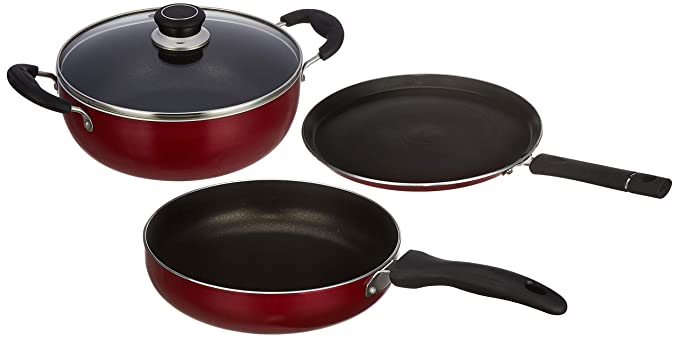 (as of 19/1/2023 10:35 IST)
8. Solimo Stainless Steel Kitchen Press/Noodles/Murukku Maker
With the number of impurities found in the marketed food items, isn't it better to prepare food at home as much as possible? So, what if it is Chinese food you desire? From pasta and noodles to sevai and chakli, this noodle maker from the Amazon Brand - Solimo is the solution to all your continental cravings. It is made from stainless steel material and has 15 sieves to help create interesting shapes Additionally, it comes with 6 extra nozzles to decorate your cakes or muffins. You can even use it to gulp down the delectable icing (though we would advise against doing that)!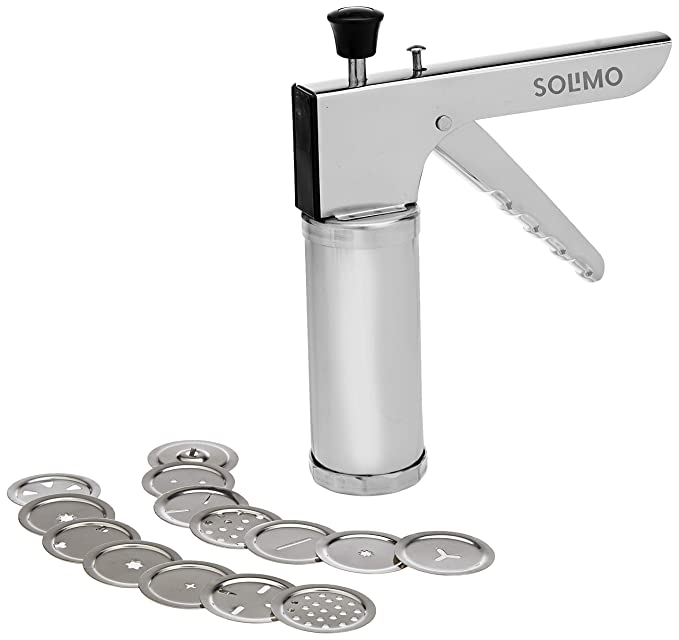 (as of 19/1/2023 10:35 IST)
9. Lifelong Glass Top 3 Burner Gas Stove
This glass gas stove from Lifelong is worth grabbing during the Amazon Great Republic Day Sale 2023. With manual ignition, spillproof design, compact style, anti-slip legs, and heavy-duty support, this burner fits all the criteria any Indian kitchen needs. Moreover, the company provides a 1-year warranty and door-step service.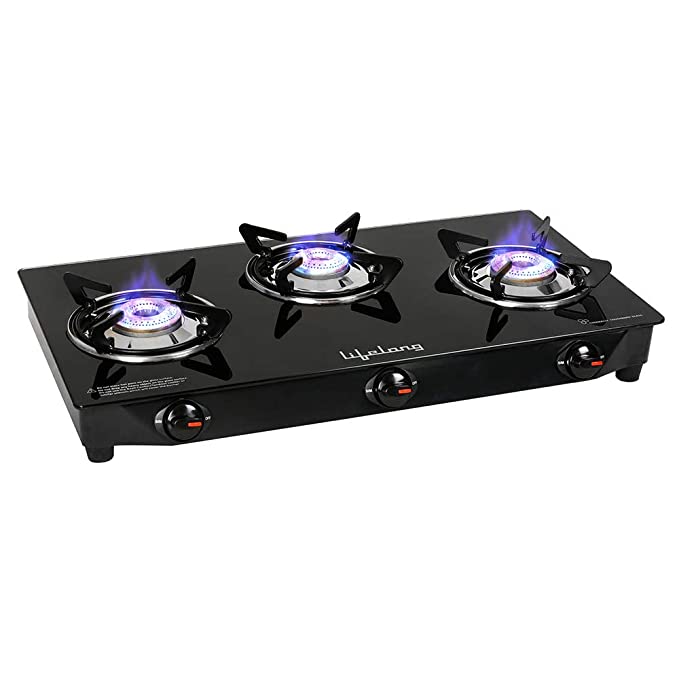 (as of 19/1/2023 10:35 IST)
10. Pigeon by Stovekraft Cruise Induction Cooktop
This 1800-watt induction by Stovekraft Pigeon is one the best kitchen essentials to own, especially if you are a bachelor living away from home. You can also buy it as an additional cooking appliance in case you ever run out of gas and need to cook urgently. This induction comes with a high-temperature resistance, making it immensely durable while cooking. Moreover, it has a timer, which will prevent your food from getting burnt or overcooked - not to forget no spilling of boiling milk! Although it operates on electricity with a 1.3-meter cord, it has an in-built energy-saving technology that makes it super eco-friendly.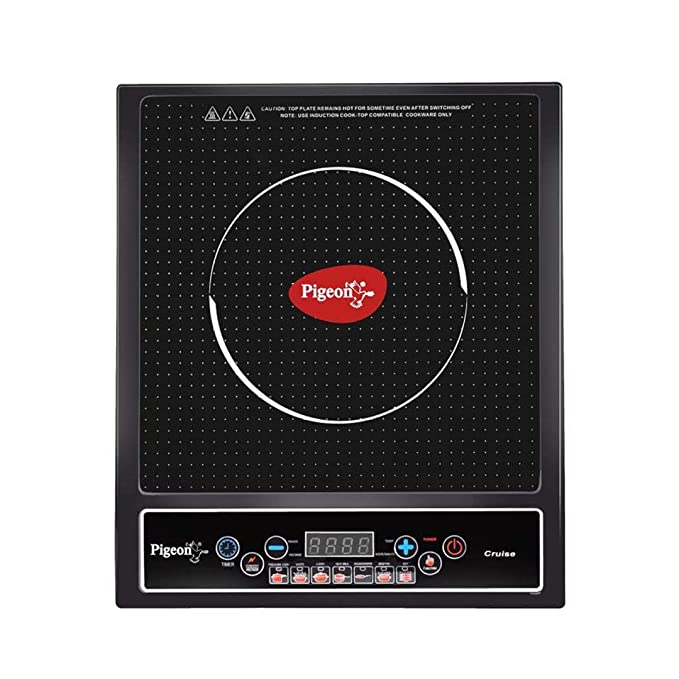 (as of 19/1/2023 10:35 IST)
Whether you enjoy cooking or merely prepare food because you must eat to survive, you cannot deny the importance of having the right kitchen essentials. Having the right tools in your kitchen can make all the difference when it comes to cooking delicious meals. And while there are many items that you should include in your kitchen, we bring you a curated list of some of the must-have kitchen essentials for optimal cooking results. Moreover, can you imagine a more appropriate time than the Amazon Great Republic Day Sale 2023 to buy them?!
About The Author
With a marked inclination toward Interiors and a Post Graduation degree in Interior Design from VIFT Bangalore, Anubhuti... became a certified Home Decor writer to help people design their dreamy homes. With 4+ years of experience, she found her passion and solace when penning content backed with creativity, spice, sarcasm, fun, practicality, and a cup of strong coffee. Anubhuti is an ambivert, dog mom, traveler, critic, epicure, selenophile, nyctophile, bibliophile, and orophile! Read more
Top Comments
There are no comments in this article yet. Be first to post one!