7 mug recipes for the lazy days you're craving comfort food on
For the days where even getting out of bed seems a task, do yourself a favour and cook up these scrumptious mug recipes full of comfort food.
Updated on Mar 21, 2018 | 03:33 PM IST | 823.6K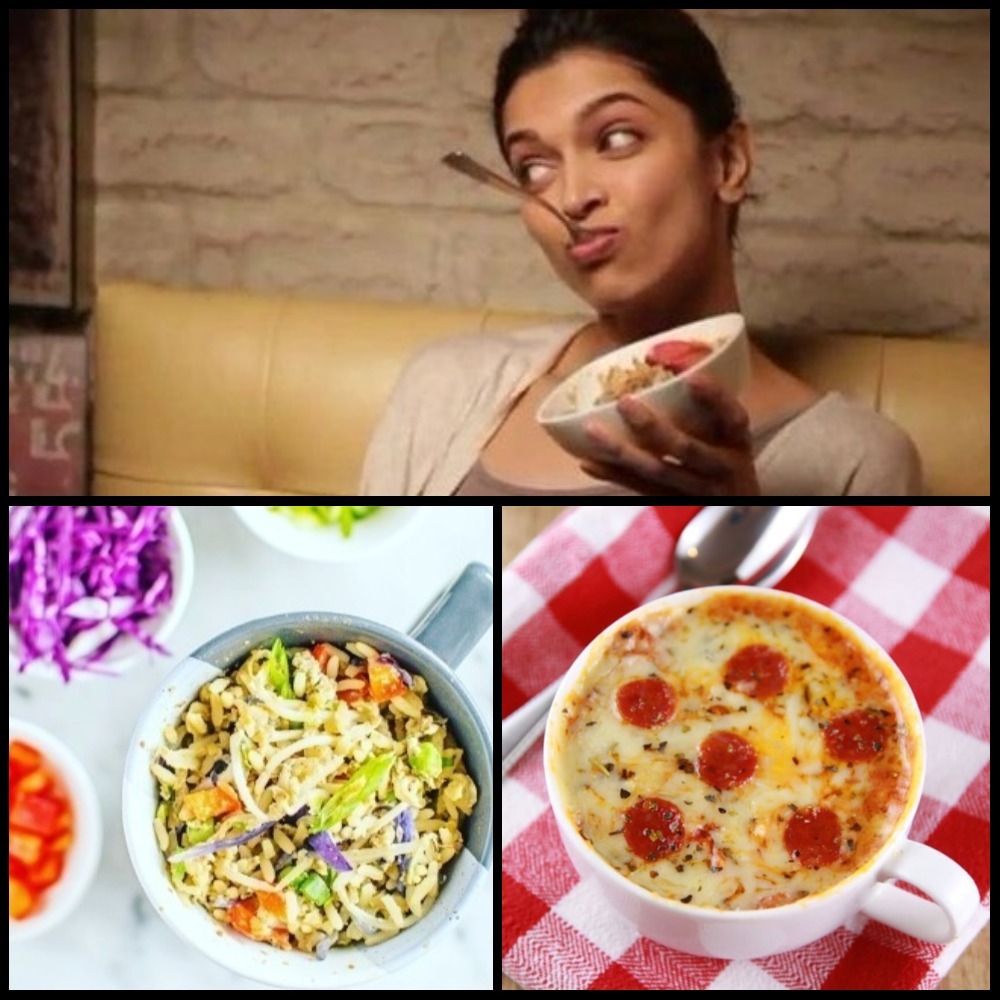 We all have those days where even getting out of bed takes effort. It's worse when we're alone, cannot order for whatever reason and are hungry. It is for these days that mug recipes were created. Not only are they cute and easy to make, they also require little effort and time but offer the same wonderful taste. These are seven of the recipes you must try out on dull days to make them a bit brighter.
Pizza in a mug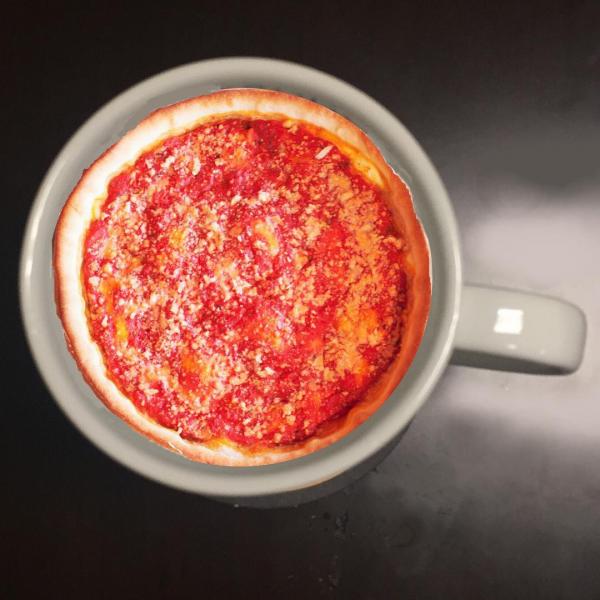 Ingredients:
4tspall purpose flour,
1/3 tsp baking powder,
1/16 tsp baking soda,
1/3 tsp salt,
3 tsp milk,
1 tsp olive oil,
1 tsp marinara sauce,
1 generous tsp shredded mozzarella cheese,
5 mini pepperoni,
1/2 tsp dried Italian herbs (basil or oregano will work)
Method:
Mix the flour, baking powder, baking soda and salt together in a microwavable mug.
Addin the milk with oil and mix together. A lump or two is okay.
Spoon on the marinara sauce and spread itaround the surface of the batter.
Sprinkleon the cheese, pepperoni and dried herbs.
Microwave for 1 minute, 10-20 seconds, or until it rises up and the topping is bubbling. The timing may vary according to what your microwave specifications are.
Omelet in a mug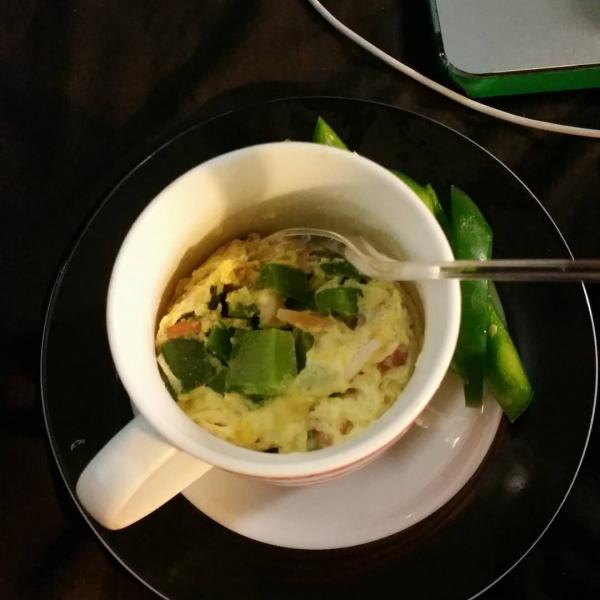 Ingredients:
1 egg,
2 egg whites,
2 tsp of shredded cheddar cheese,
1 tsp of diced green bell pepper,
Salt and pepper as per taste,
Cooking spray.
You can add any other vegetables or ingredients as per your taste. That is the best part about omlettes- they can be customized as per your preference and no experiment ever really turns out badly.
Method:
Combine egg, egg whites, cheddar cheese, bell pepper, salt, ground pepper in a microwave-safe mug coated with non-stick spray.
 Microwave on high for 1 minute and give the contents a stir.
 Return to the microwave and cook until the eggs are completely set, 1 to 2 minutes longer. Here again, time varies according to the microwave you're using.
 Sprinkle cheddar cheese on top or any other ingredient you want and dig in.
Egg Fried Rice in a mug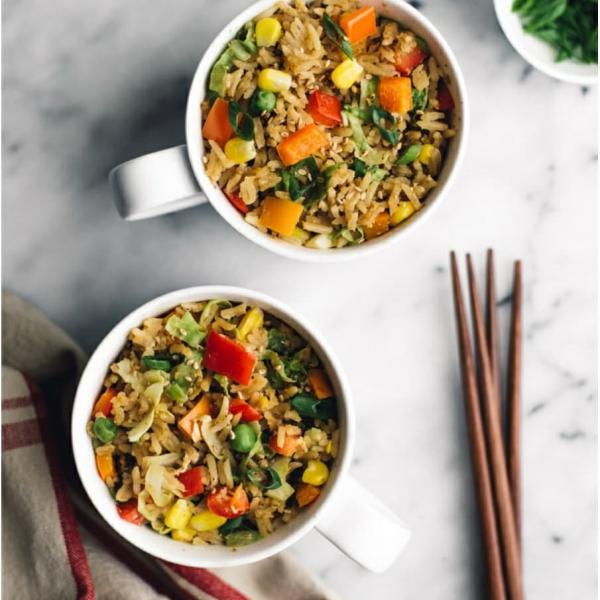 Ingredients:
1 cup cooked rice,
2tsp frozen peas,
2 tsp chopped red pepper,
1/2 stalk of sliced green onion,
Small pinch of bean sprouts,
Small pinch of shredded purple cabbage,
1 large egg,
1 tsp soy sauce,
1/2 tsp sesame oil,
1/2 tsp onion powder,
1/4 tsp five-spice powder.
Method:
Place the rice into a large mug. Lay the peas, red pepper, green onion, mung bean sprouts and cabbage on top. Cover the mug with cling film. Using a knife, puncture one or two small holes through the film. Don't miss this step under any cirumstances. Microwave on high for 1 minute 15 seconds.
In the meantime, beat the egg and mix in the seasonings (soy sauce, sesame oil, onion powder and five-spice powder). Pour the egg mixture into the mug, and stir with the vegetables and rice.
Cover the mug with cling film again, and microwave for 1 minute 15 seconds to 1 minute 30 seconds. Take the mug out of the microwave, and give everything a good stir. Let the fried rice stand for a minute to finish cooking. Use a fork to fluff up the rice and serve.
Lasagne in a mug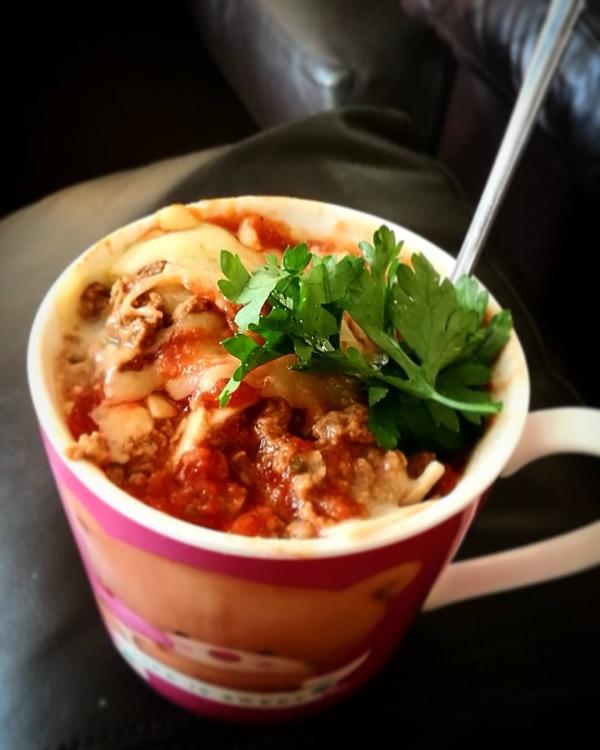 Ingredients:
1/2 fresh lasagna sheet,
2 1/2 cups baby spinach, roughly chopped,
1/4 diced medium yellow bell pepper,
1/4 cup part-skim ricotta cheese,
3 finely chopped large basil leaves (optional),
Salt as per taste,
1/8 tsp granulated garlic,
6 tsp pasta sauce or tomato sauce,
1/3 cup grated mozarella cheese.
Method:
Cut the lasagna sheet in half, and cut each strip in half again. Place the pasta sheets into a bowl, and pour very hot water in it, until it covers all the pieces and set it aside.
Chop the spinach and place it in a microwave-safe bowl. Cover the top with plastic wrap and poke a few holes in it for ventilation. Microwave for 1 minute. Take out the spinach and let it rest. Mix the spinach with the ricotta, pepper, granulated garlic, and salt. Set mixture aside.
Pour 2 tablespoons of pasta sauce at the bottom of the mug. Top with a piece of softened pasta sheet. Add some spinach mixture, 2 tablespoons of mozzarella, and a pasta sheet. Continue building the lasagna, ending with a layer of pasta sheet at the top. Sprinkle mozzarella over the pasta.
Microwave everything for 1 minute 30 seconds. Check to make sure that the mozzarella is melted. If it isn't, continue microwaving at 15-second intervals until the cheese is fully melted.
Brownie in a mug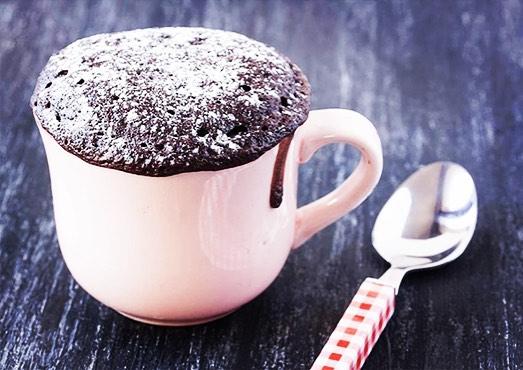 Ingredients:
2 tsp melted butter,
2 tsp water,
1⁄4 tsp vanilla extract,
1 dash salt,
4 tsp granulated sugar,
2 tsp unsweetened cocoa powder,
4 tsp all-purpose flour.
Method:
In a mug combine the water, butter, dash of salt and butter. Whisk well.
Addin the cocoa powder and sugar and whisk well. Lastly, add in the flour and whisk until evenly combined.
Microwave for 60 to 90 seconds. Microwave times may vary. The center will be slightly molten. Be careful, the brownie will be hot. 
Mac and Cheese in a mug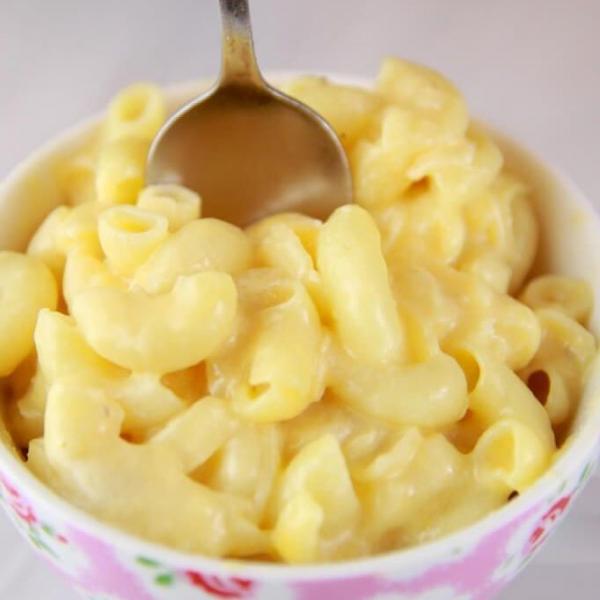 Ingredients:
1/3 cup elbow macaroni,
1/2 cup water,
1/3 cup shredded cheddar cheese,
Splash of milk.
Method:
Put the macaroni in your microwave safe mug or bowl. Add in the water, you may need a little more if you have a strong microwave.
Microwave for 6 minutes, stirring at every 2 minutes. The pasta should be cooked with just a little bit of water at the bottom of bowl or mug.
Add the shredded cheese to the cooked pasta and place in microwave for 30 seconds. After the cheese has melted, stir well and add in a splash of milk. The milk will help make the pasta extra creamy. 
Tell us in the comments below which of these mug recipes would you like to try!
About The Author
Journalist. Perennially hungry for entertainment. Carefully listens to everything that start with "so, last night...". C...urrently making web more entertaining place Read more
Top Comments
There are no comments in this article yet. Be first to post one!