30 Best Pantry Organization Ideas to Efficiently Organize Your Kitchen Space
Despite the size and shape, you can keep your kitchen tidy and optimized with these clever pantry organization ideas. Time to bid goodbye to a messy kitchen forever!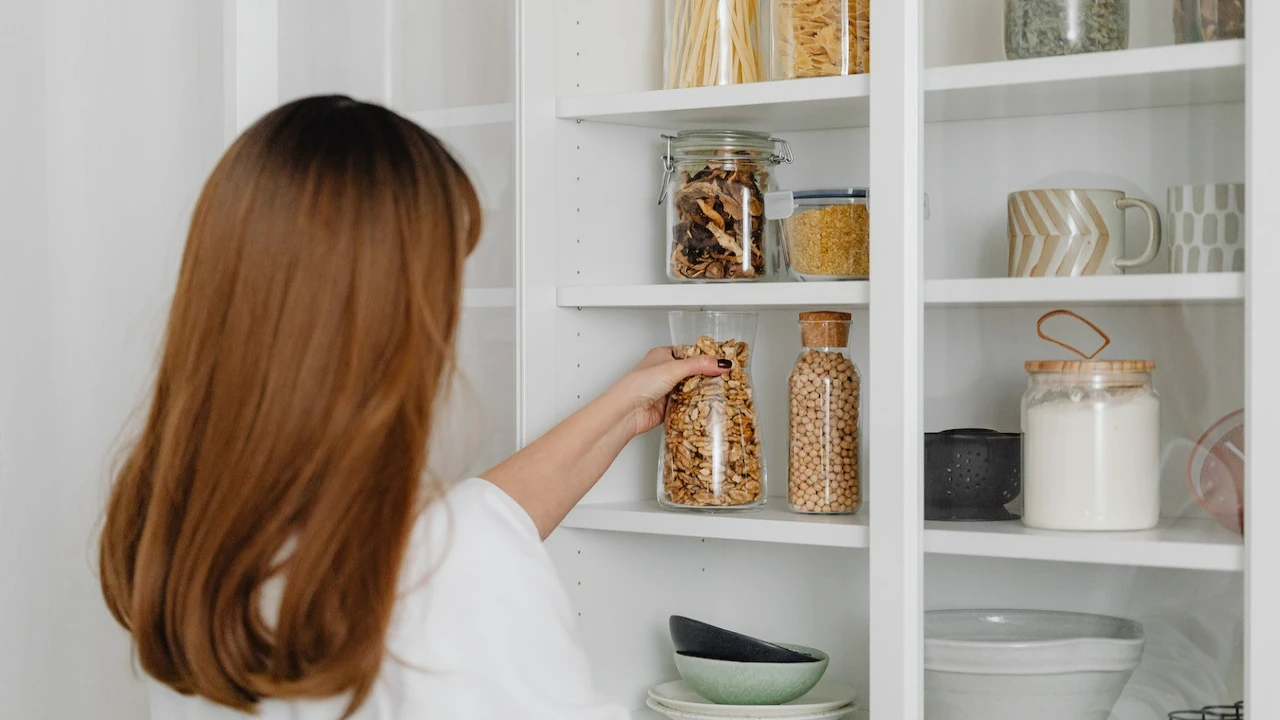 A well-organized pantry can help you save time and money by keeping your kitchen items organized and easily accessible. Moreover, multiple pantry organization ideas can help you make the most of the space in your pantry and maximize its efficiency. Whether you are dealing with a small or large pantry, plenty of creative solutions can help you maximize your kitchen pantry space and make it easier to find what you need in the future. Moreover, from using baskets to labeling containers, these clever space-saving ideas will help you create an organized and functional pantry that is sure to make meal preparation easier.
Without further ado, let us look at some of the best pantry organization ideas to help make your kitchen more efficient and organized. Ready for some pantry makeover?
30 Best Pantry Organization Ideas for a Neatly Optimized Kitchen And a Hassle-free Cooking Experience
1. Use Ziplock Bags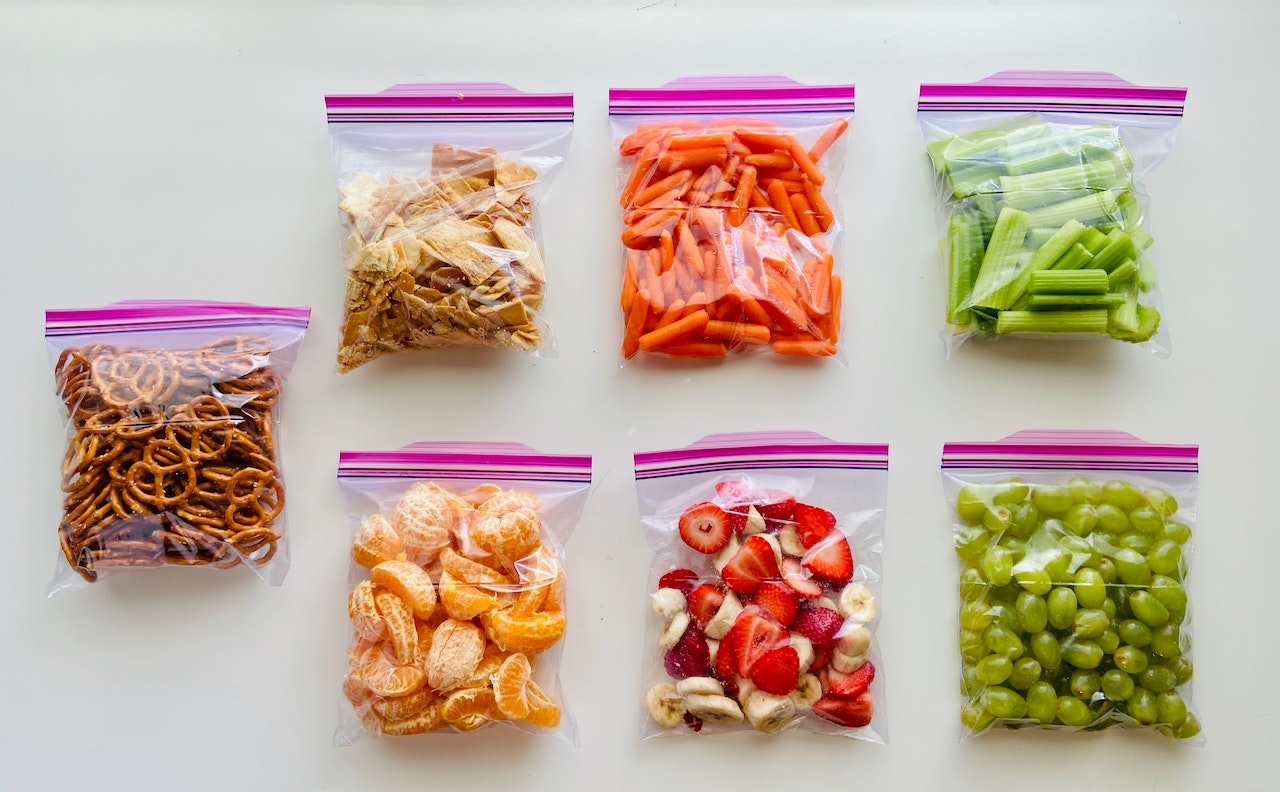 Ziplock bags are immensely cost-effective and convenient items when it comes to organizing your household stuff or your favorite snacks. They provide moisture-free storage of things and are equally suitable for both wet and dry ingredients. You can safely seal your pantry items in separate ziplock bags, and place them in cardboard boxes or inside drawers. This way you can organize all your items in the most efficient and neat way possible, without having to worry about your things going haywire.
2. Use Wicker Baskets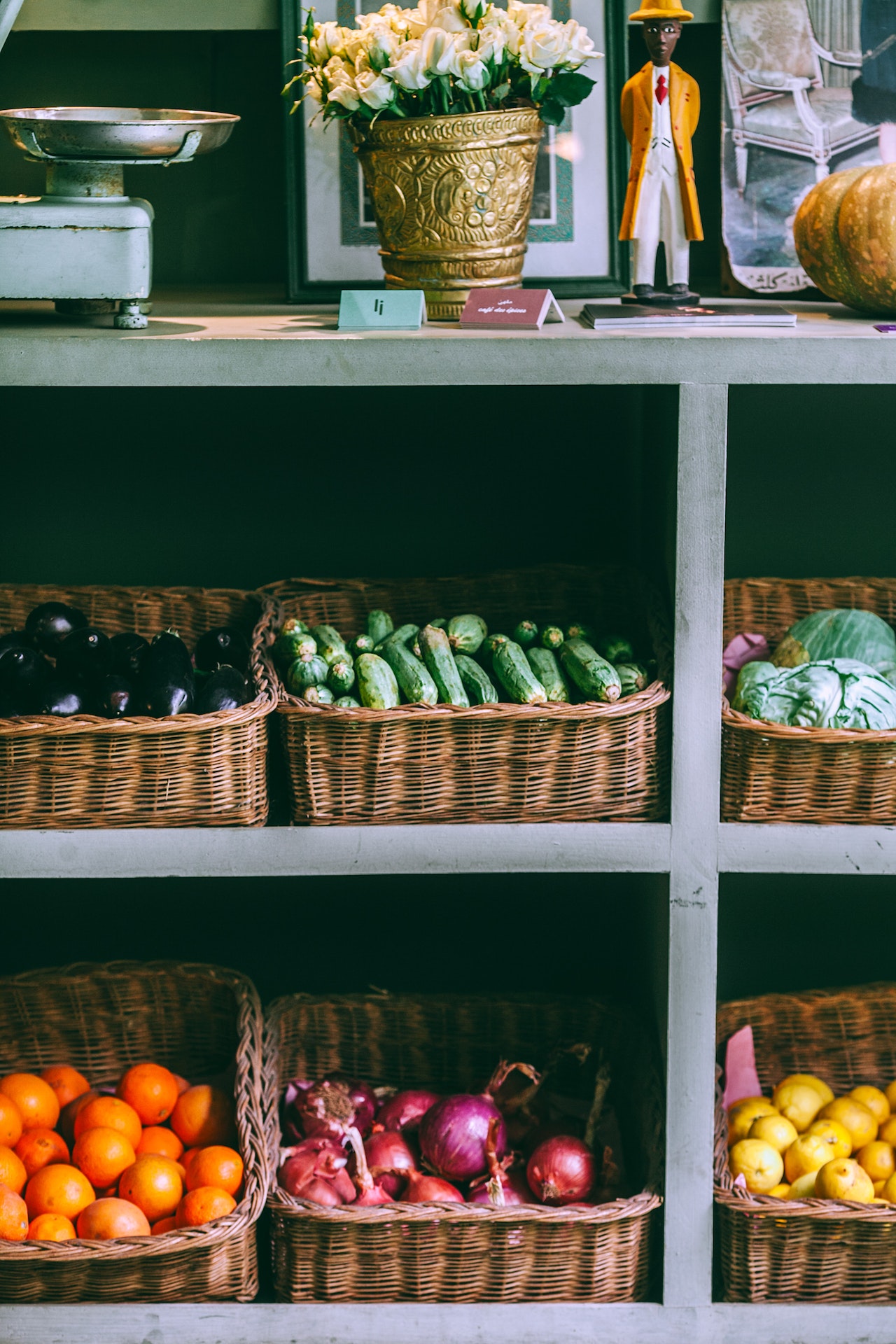 Wicker baskets are another authentic and one of the best pantry organization ideas that not only optimize space but also enhance aesthetics. The wicker basket is a basket that is woven with bamboo stems, straws, reed, willow, rattan, and synthetic fibers. These baskets are firm enough to hold anything from loads of fruits and vegetables to other pantry items. Also, the wicker baskets come in several shapes and sizes, so you can take your pick as per your needs, preferences, and space. You can store loads of dry veggies like potatoes and onions. You can even place rice bags in it and keep the basket in a corner rather than occupying space in your pantry cabinet – as a result, you get more free kitchen cabinet space to organize other kitchen items!
3. Use Stackable Baskets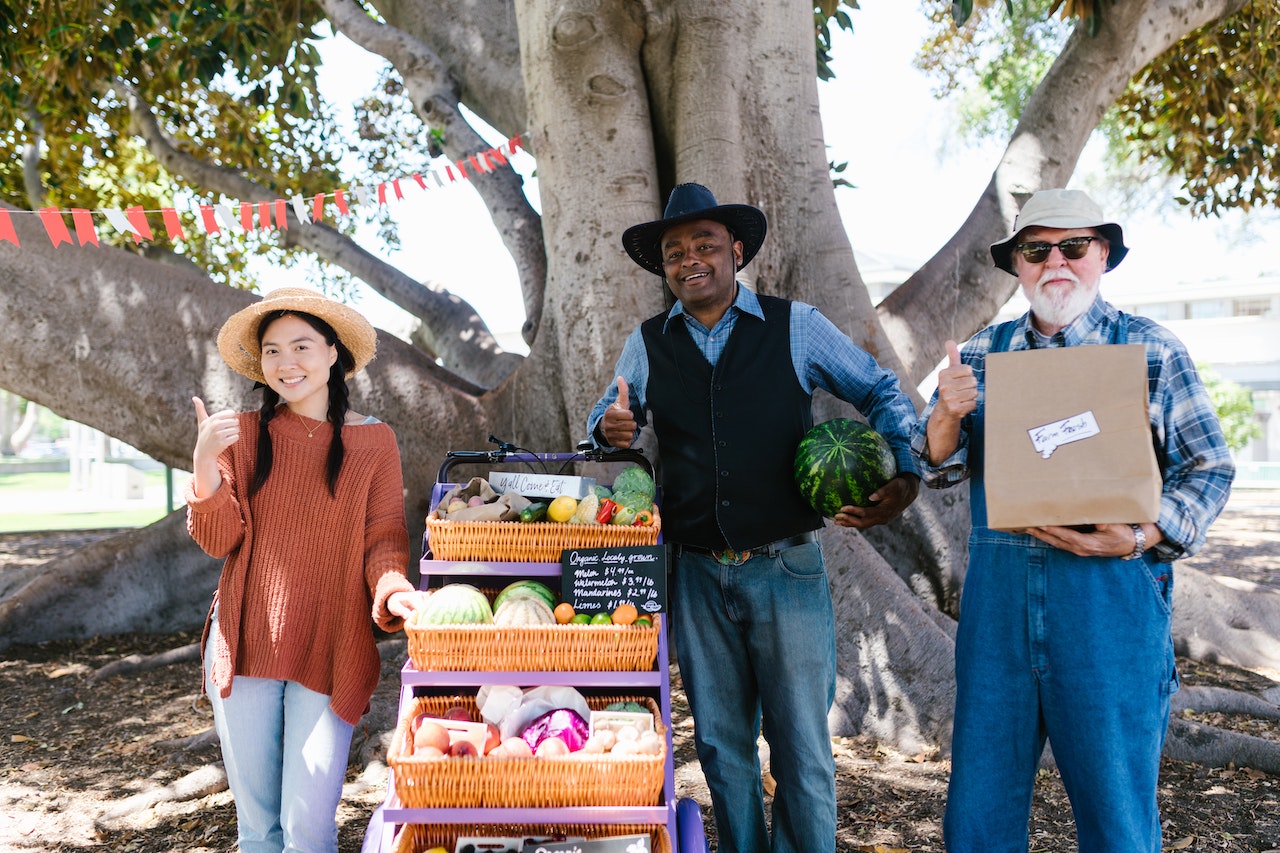 Investing in stackable baskets is yet another great pantry organization idea because it saves you a lot of shelf space. You can arrange these stacks as per your preference. For example, you can differentiate your pantry items color-wise. So, one stackable basket can contain all orange-colored items, and the other can contain all white-colored items. Alternatively, you can arrange items based on their usage. The more frequently used items can go in basket number one and the less used items can go in basket number two on the pile. This way you will also be aware of which items are stored where without having to look for stuff haphazardly every time you step foot in the pantry.
4. Use Cloth Hangers to Hang Opened Packets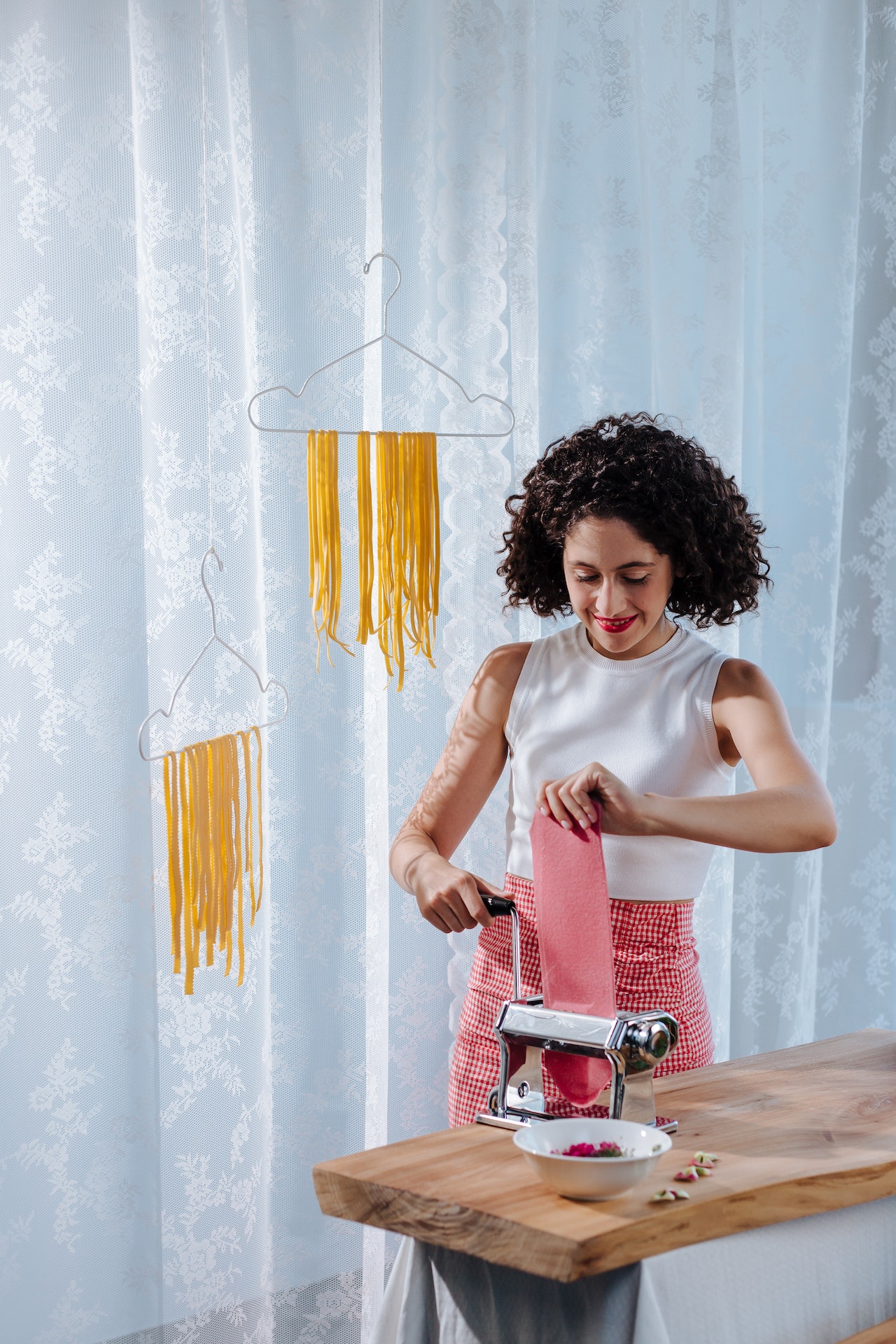 How often do we have extra cloth hangers just lying in our wardrobes without being used? Yes, we all have a set of hangers that we do not use and are simply in our wardrobes "just in case". Why not let that case be to organize your pantry more effectively? All your leftover packets, reusable grocery bags, or rigid plastic covers will finally have a dedicated place rather than lying around in every nook and corner of your kitchen or bedroom! All you have to do is use your cloth hanger and clips, hang those packets, and arrange them in your pantry as you arrange clothes in your wardrobe. Moreover, you can also use these hangers to hang your ziplock bags in case you are short of drawer space!
5. Stack Mini Baskets as a Replacement for Drawers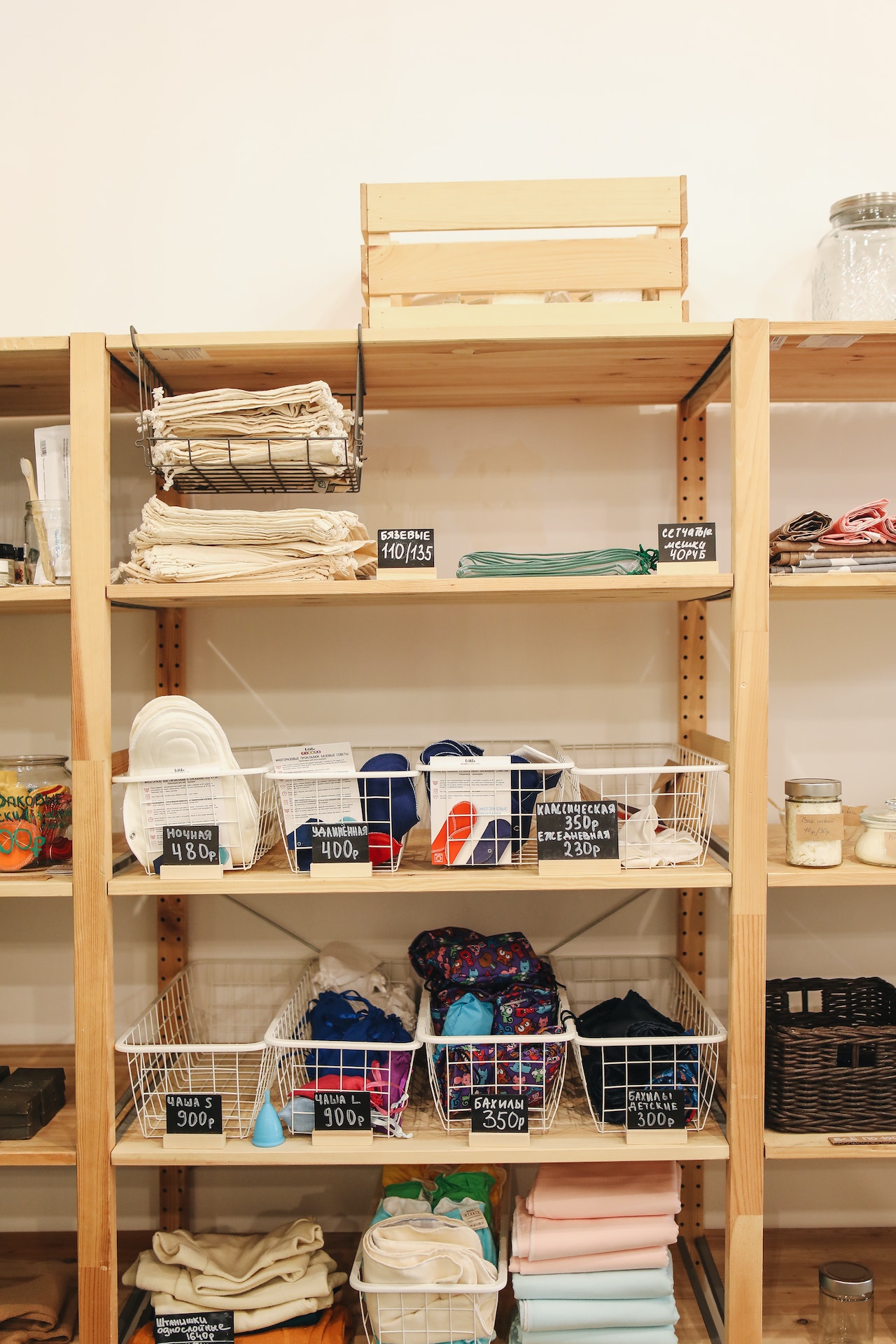 We understand how costly it can be to incorporate numerous drawers in your kitchen and pantry for storage – and somehow you still fall short of space (sigh). So, how to efficiently replace drawers? Incorporating mini baskets as a replacement for drawers is yet another best pantry organization idea. From wicker to mesh or durable plastic to stainless steel – you can pick any basket of your choice to arrange all your pantry items neatly.
6. Incorporate Multipurpose Built-in Cabinets
You can invest in three kinds of multipurpose built-in cabinets – lazy Susan, s-carousel, and d-carousel – to make the best use of the otherwise dead space in your pantry corners. From stainless steel material to metal and wood, these storage solutions are sturdy and durable wherein you can even store your kitchen appliances. Moreover, not only are these one of the best ways to utilize the plenty of space in the corner of your kitchen and pantry, but they are also highly efficient to store lesser-used items, dry fruits or spice packets, baking essentials, and pots and pans.
7. Use Shelf Risers or Corner Shelves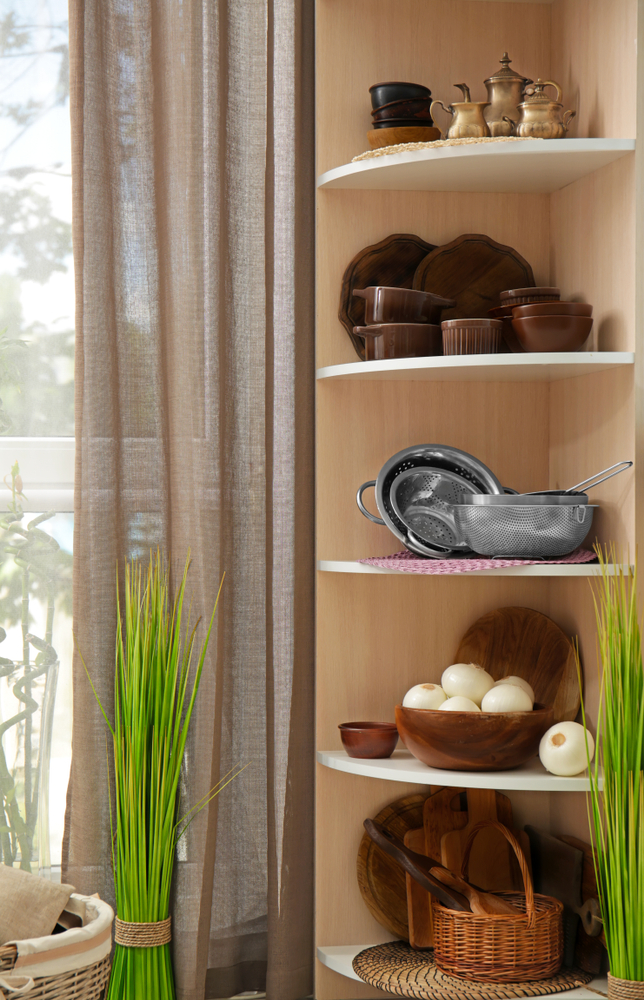 In case you are not looking to install multipurpose cabinets, alternatively, you can opt for corner shelves or shelf risers. You can indulge in some fun DIY time with your partner and install corner shelves in your pantry. Moreover, these shelves come in various designs, styles, and shapes for you to select the ones that go best with your kitchen interiors and aesthetics!
8. Hang Mesh Baskets on Hooks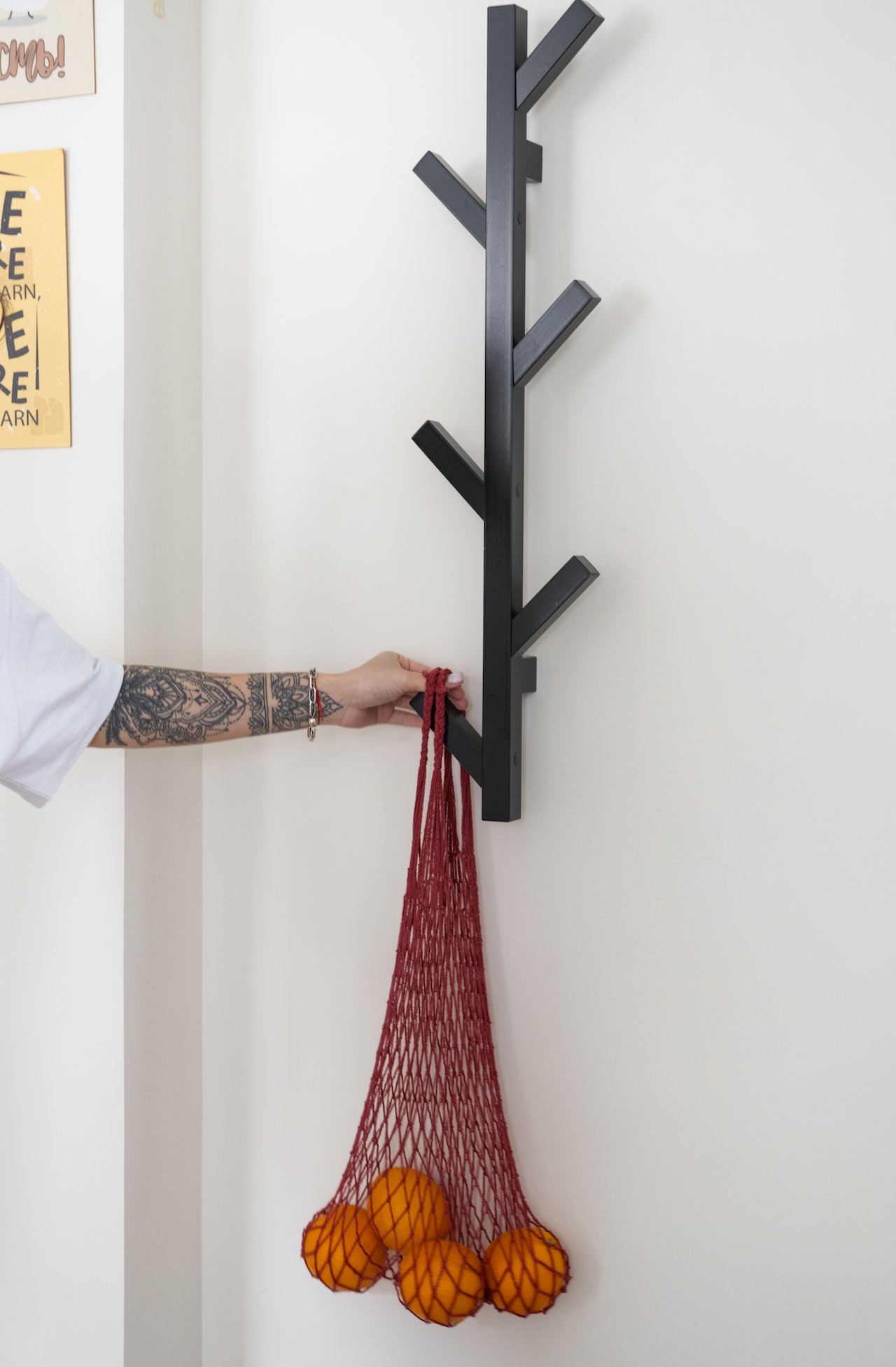 Hooks like these are yet another fun DIY for you when organizing your pantry items. Immensely budget- and user-friendly, these hooks are best to hang mesh baskets and durable plastic or mesh bags. Plus, you can install these hooks in any small corner or behind your pantry door for maximum space utilization. Besides, you can choose from a wide range of colors and styles and place them artistically on walls to enhance your pantry decor!
9. Reuse Jars, Bottles, And Cans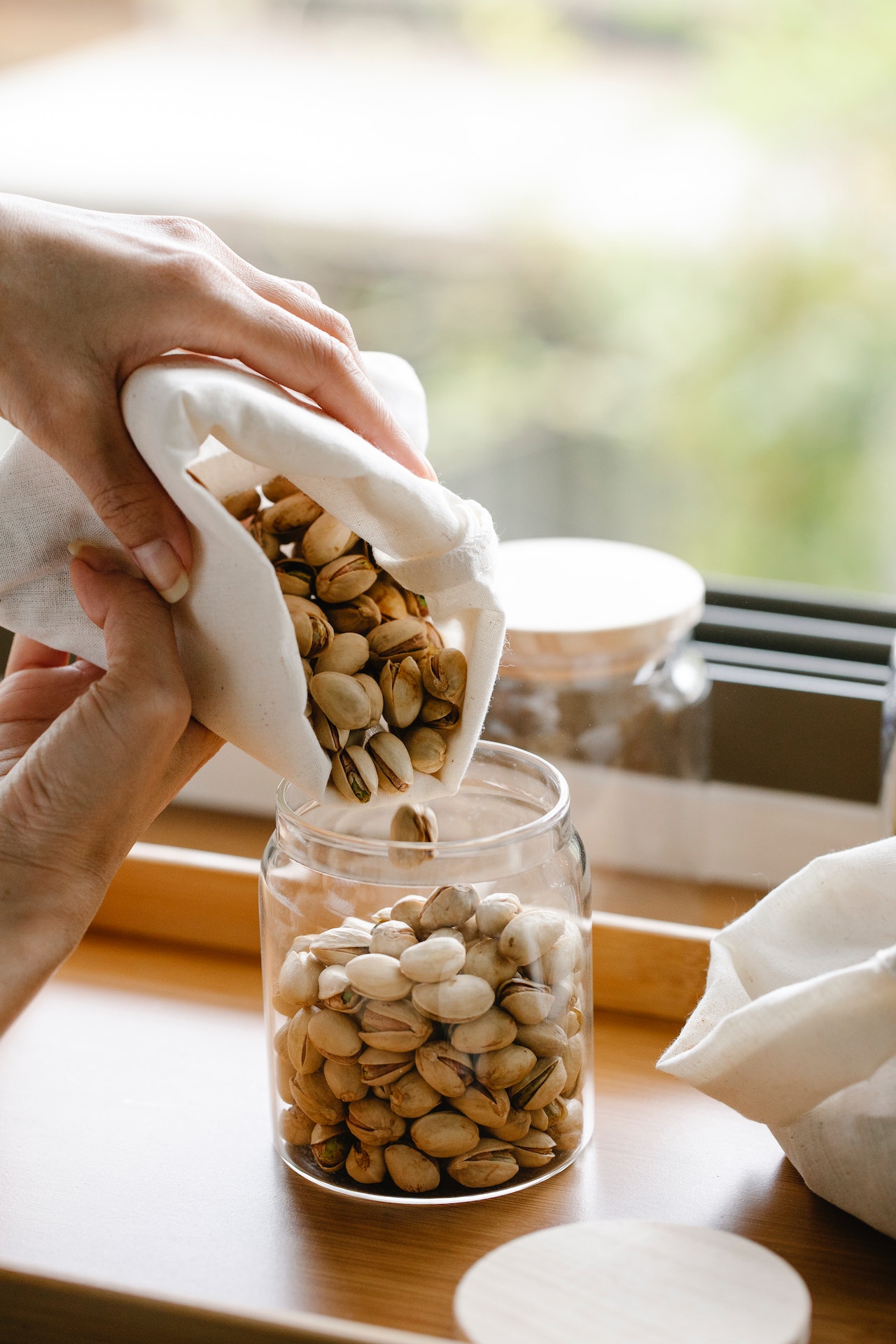 Sustainability has become a necessity in today's era. What better way to incorporate it in your home than reusing old yet durable plastic bottles, cans, and jars? Instead of throwing away all your old bottles, wash them, and reuse them as custom containers to store your dry fruits, grains, spices, pulses, etc. You can even get creative and stack cans to form a base to keep your baskets or glue jars to create a spice rack!
10. Incorporate Modular Storage Solutions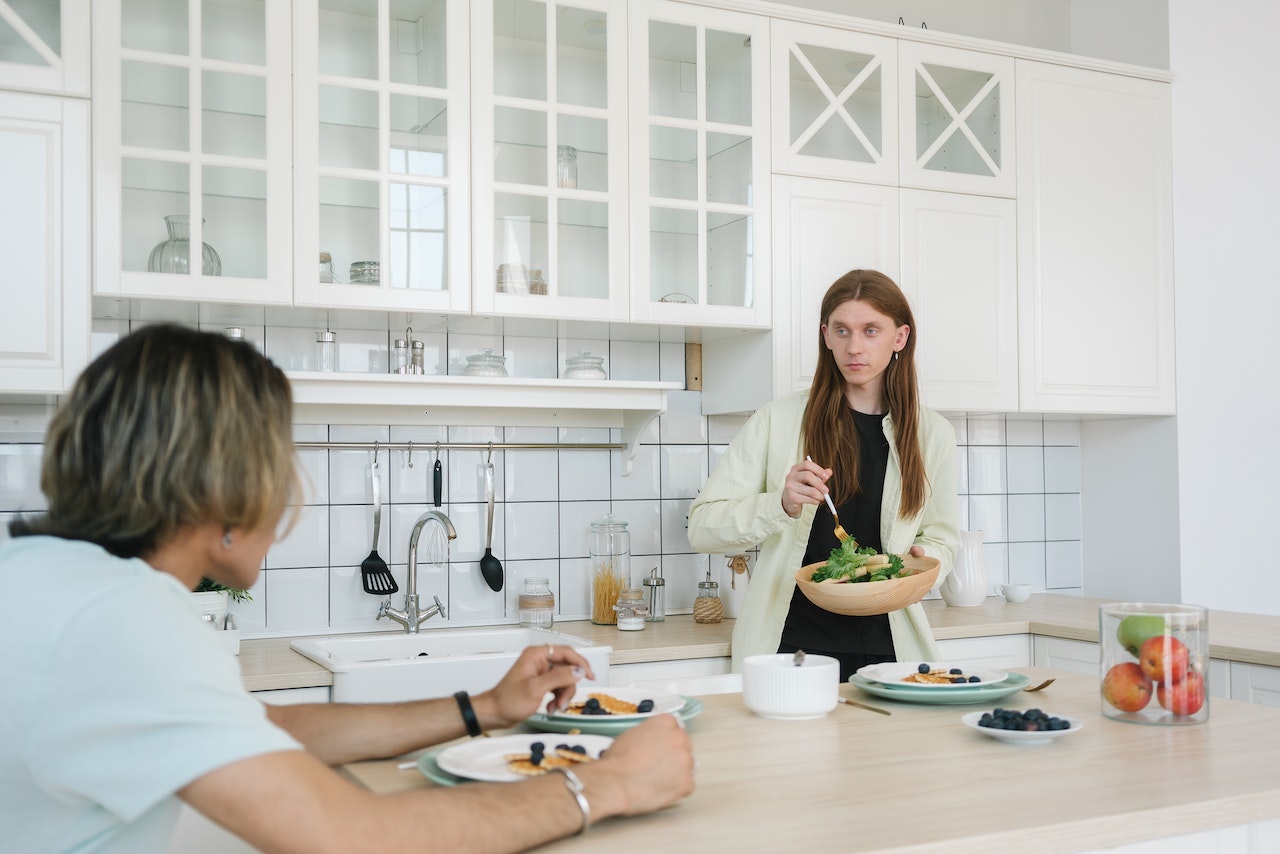 Modular storage solutions are undoubtedly one the best pantry organization ideas in modern home interiors. From open shelves and cabinets to rods and hooks, there are numerous ways to optimally organize your kitchen to make way for maximum storage without having to worry about ruining the overall aesthetics. Moreover, you can also include loads of hidden storage ideas like a double cabinet, pull-out unit, push-to-open skirting, etc. to make the best use of the available carpet area of your kitchen and pantry.
11. Label Your Storage Containers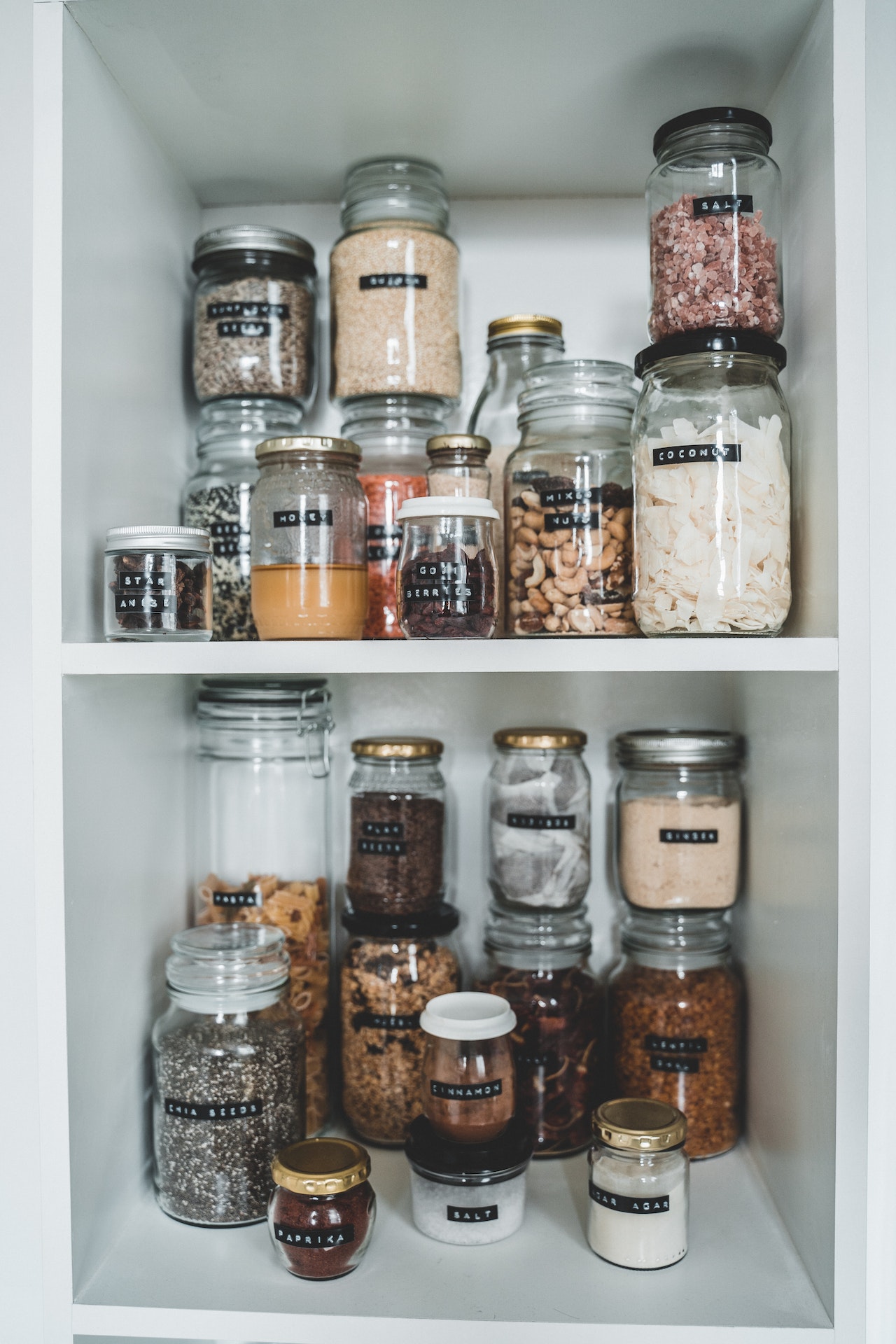 One of the finest ways to keep every kitchen item at your fingertips is to label all your necessary food storage containers. It may take you a while but once you are done labeling all your containers, you will experience a hassle-free and worry-less cooking experience all your life! Alternatively, instead of investing hours in labeling your jars manually, you can also invest in a label maker to quickly finish up the task. Moreover, you can simply refill the containers whenever required.
12. Create Zones to Separate Items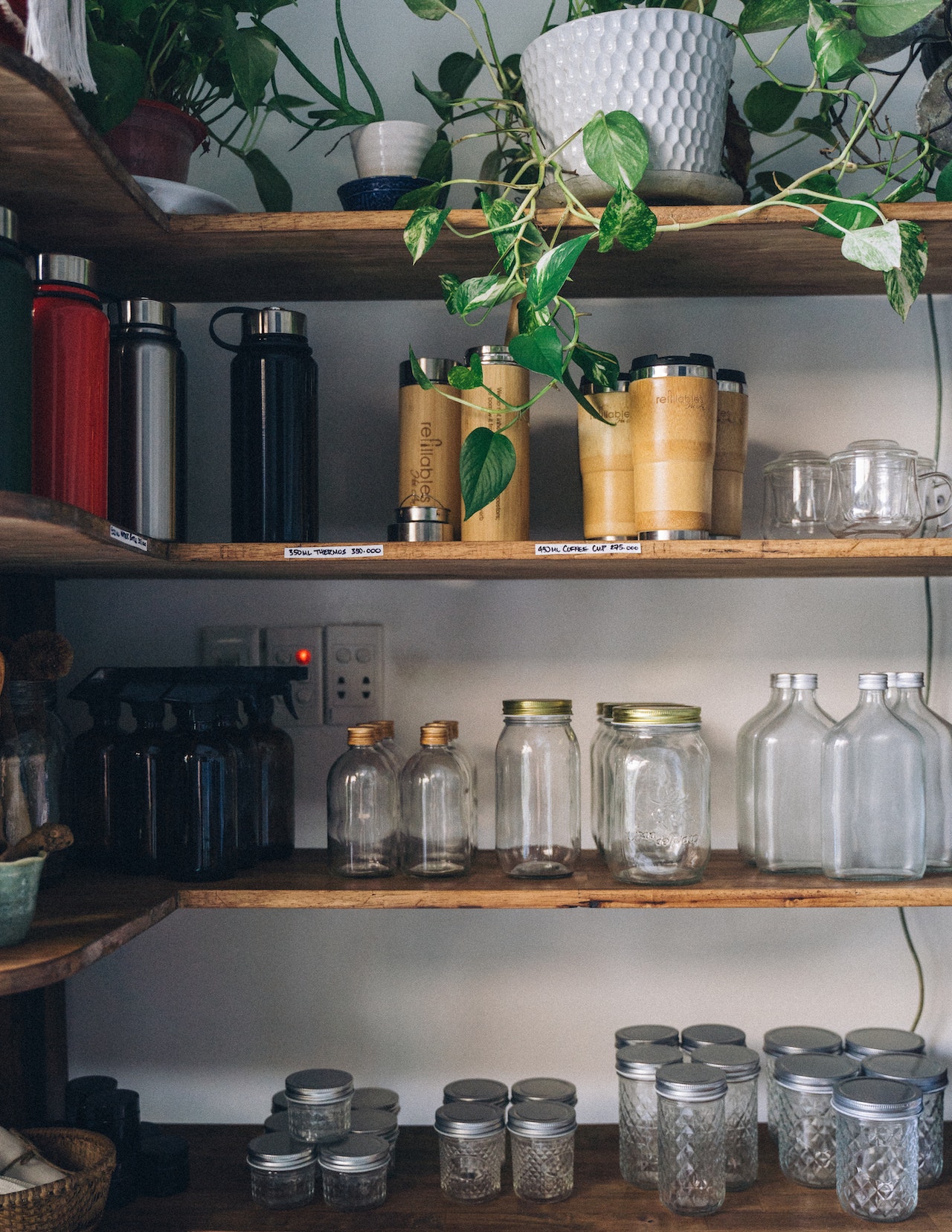 To further ease your cooking experience, create separate zones in your pantry once you are done labeling your containers. Store all the one-of-a-kind containers or jars in one drawer only. You can also create zones based on the usage of items. For example, you can fill one drawer or shelf with your daily usage pantry staples, one with only dry fruits, and the other with pulses. Separating zones will allow you to neatly organize your pantry without having to panic trying to find different items when you start cooking or baking!
13. Include Organizers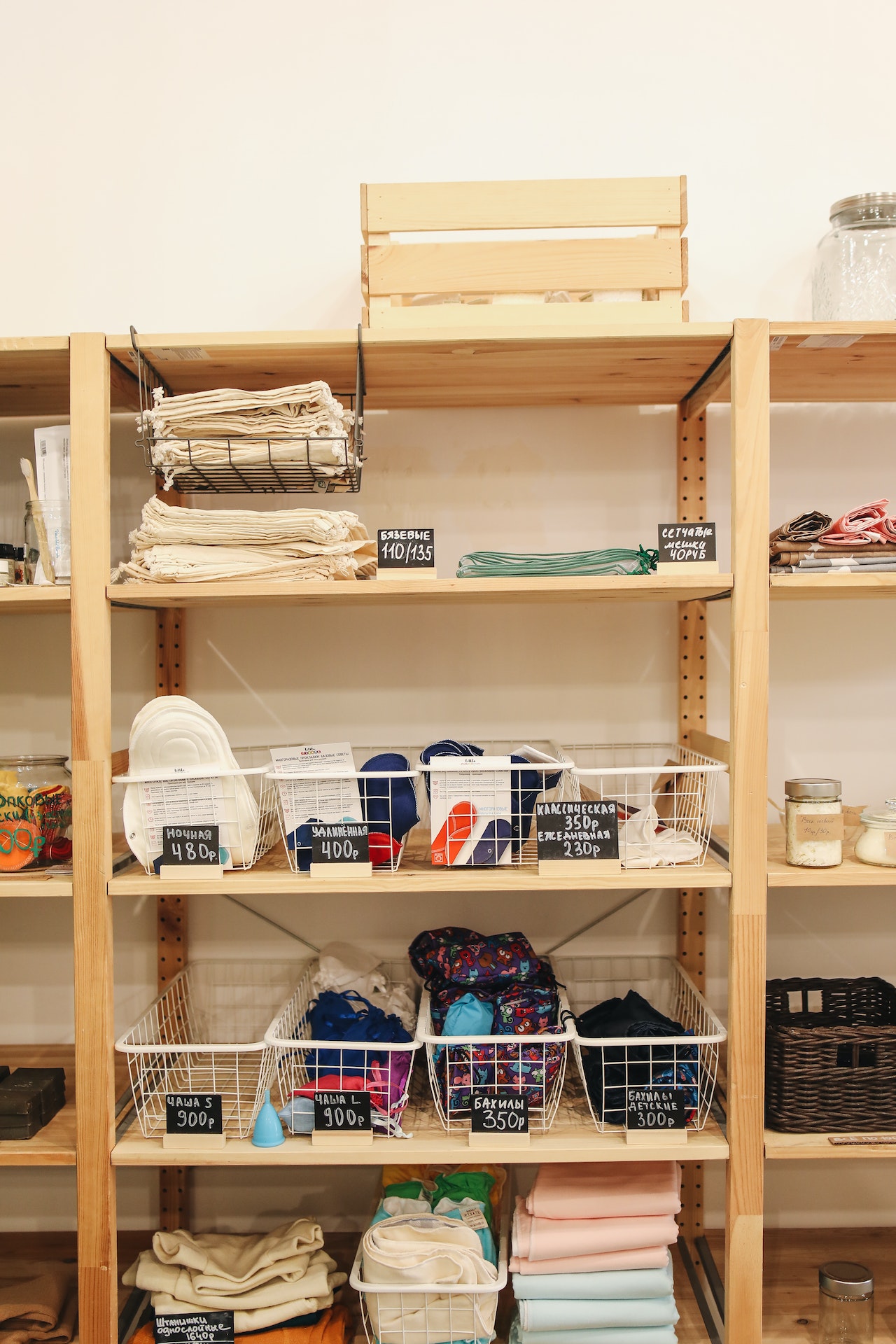 Not every drawer or shelf is optimized perfectly as per your pantry storage needs because of the set standards and measurements required to create them. So, what you can do is invest in some drawer or shelf organizers. These organizers come in various shapes, sizes, and materials allowing you to place them as per your needs. Besides, you can put these organizers in all the huge drawers that have leftover space for best utilization and optimization. As a result, you will get much more storage space than earlier!
14. Make Use of Magazine Holders for Under Bench Items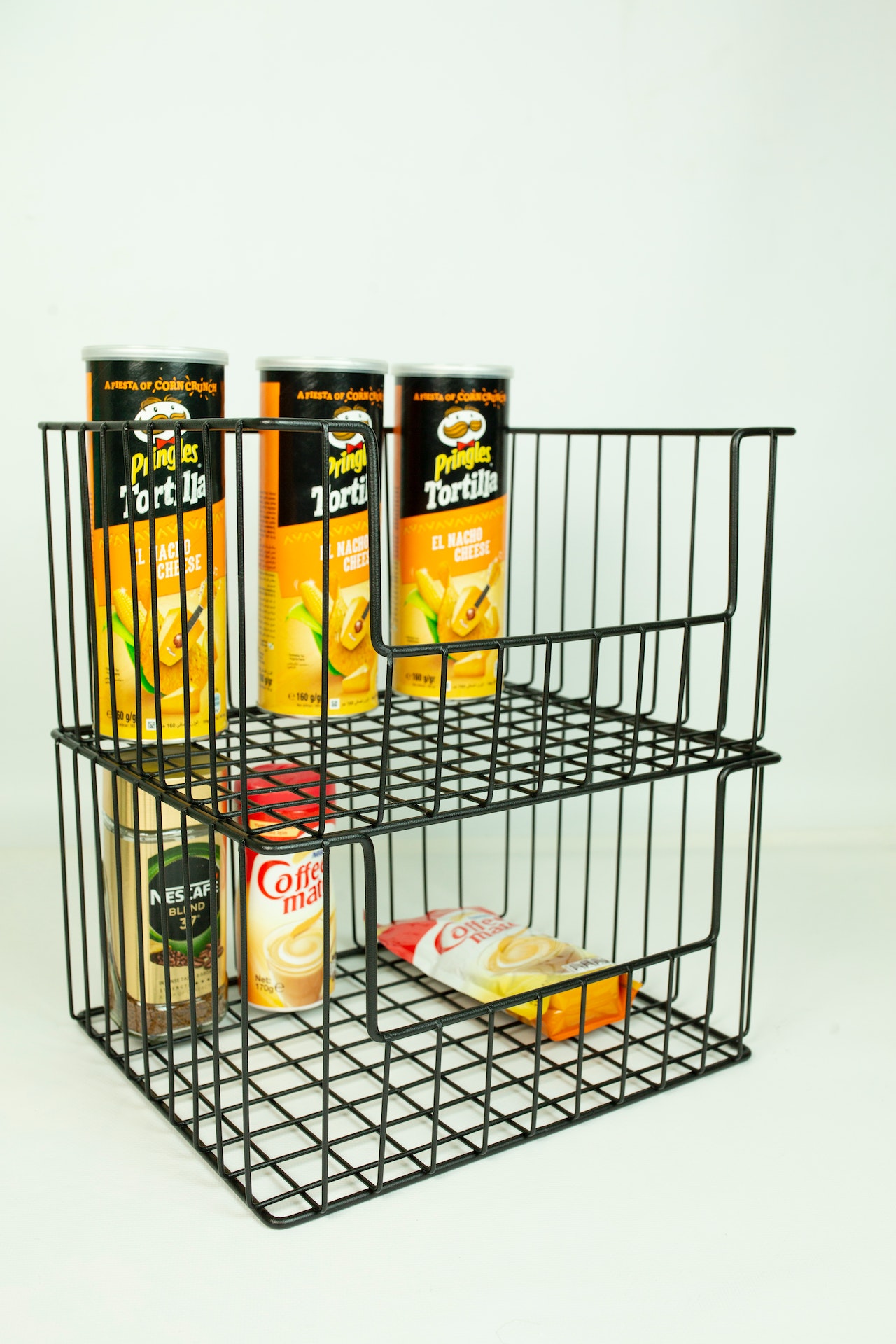 Magazine holders are yet another brilliant pantry organization ideas that you can incorporate to increase your storage space. There are a couple of ways that you can use magazine holders. For example, you can hang them on your cabinet door and place your under-bench items in them. Or you can use them as stackable baskets on your counter or shelf and store all the pantry essentials in them. All you have to do is be a little creative and give wings to your ideas!
15. Invest in Spice Racks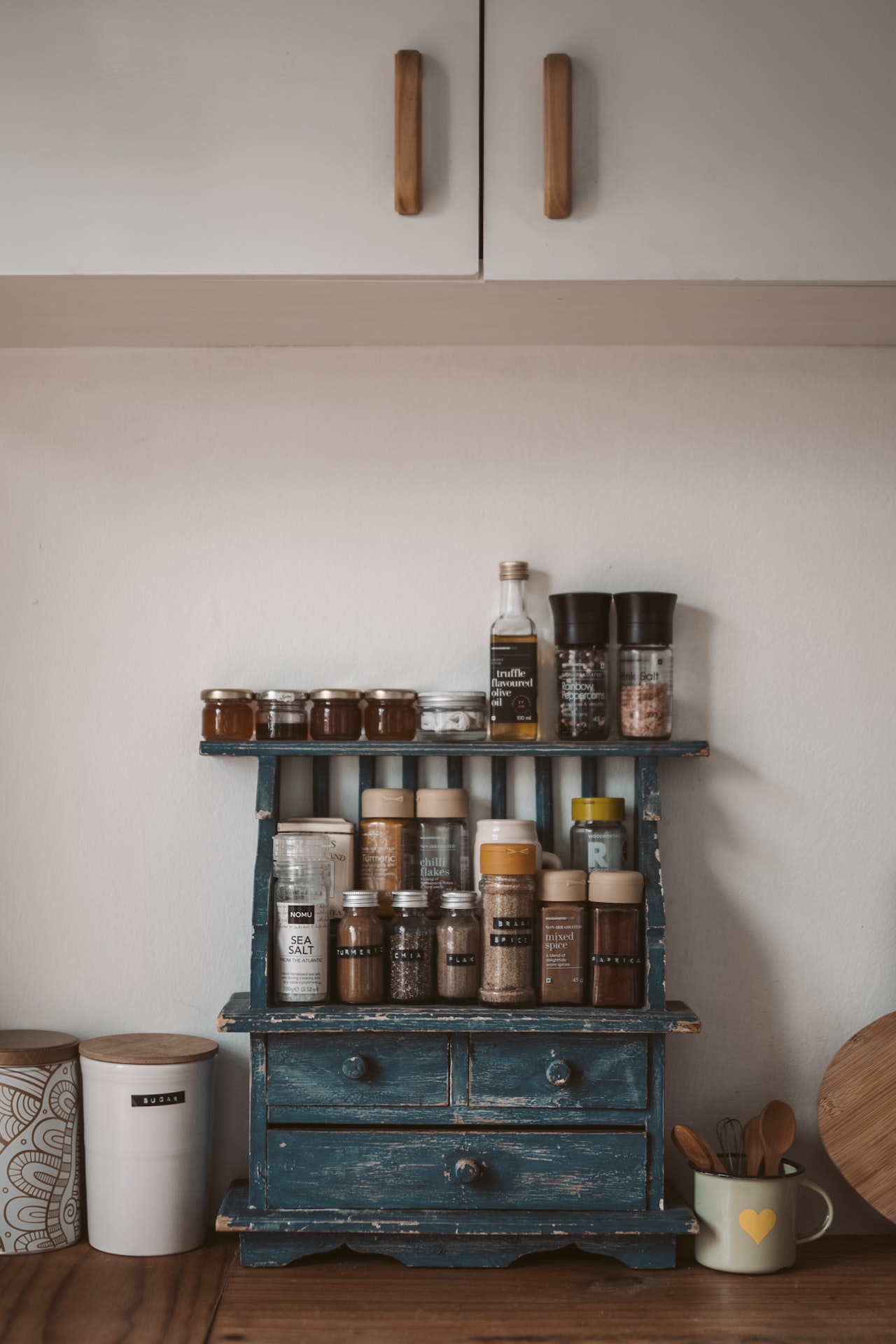 There is no point in buying and storing several spice packets, only to realize that they are expired or soggy because you could not store them properly or forgot where you kept them after opening them. Fret not, it happens to the best of us! So, probably the most suitable solution to this is to invest in spice racks or holders. You know that you already have numerous containers or jars at home. Use them to store your spices and other items, and store them in a place they are visible at one glance. Moreover, you can even label those jars or arrange them as per their expiry date to prevent wastage of your items!
16. Opt for Rotating Racks for Spice Jars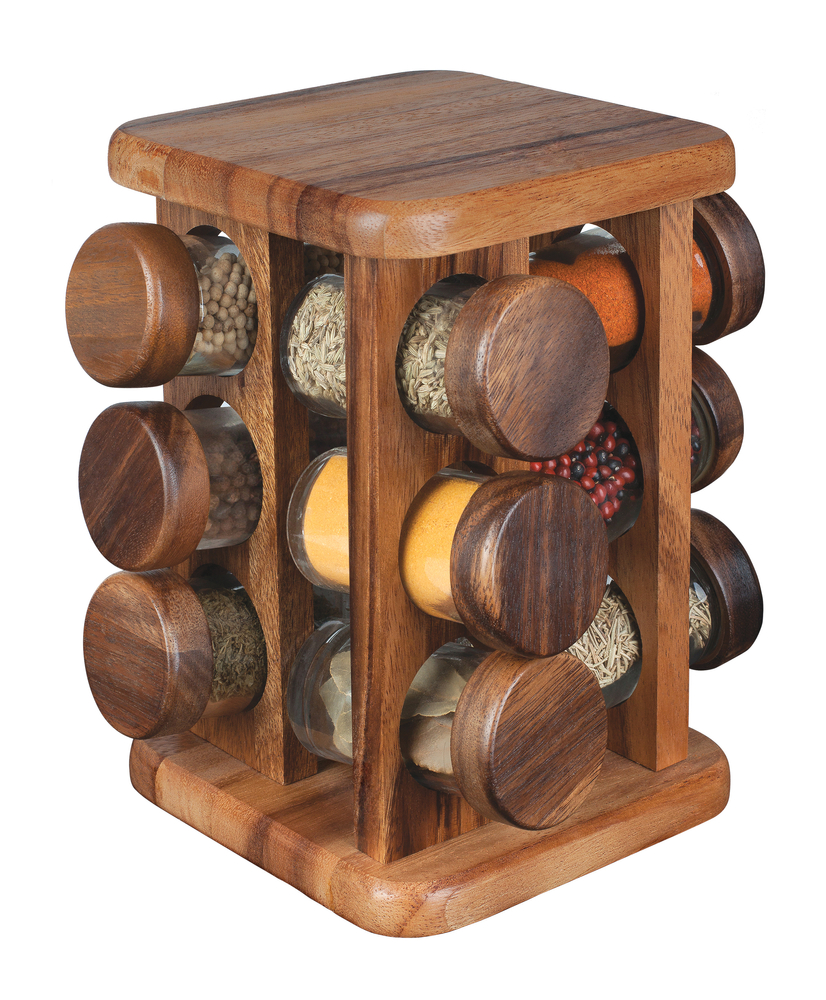 Racks also come in diverse styles. So while you are willing to invest in racks or holders, make sure you give a thorough thought about how and where you are going to place it in your pantry. While some pantry spaces are enough to include a heavy-duty rustic rack, others are not equipped for so. Here the best pantry organization idea is to get a rotating rack so that you can store all your necessary spice jars in it without having to lose out on a lot of counter space!
17. Get Creative When Using Can Corrals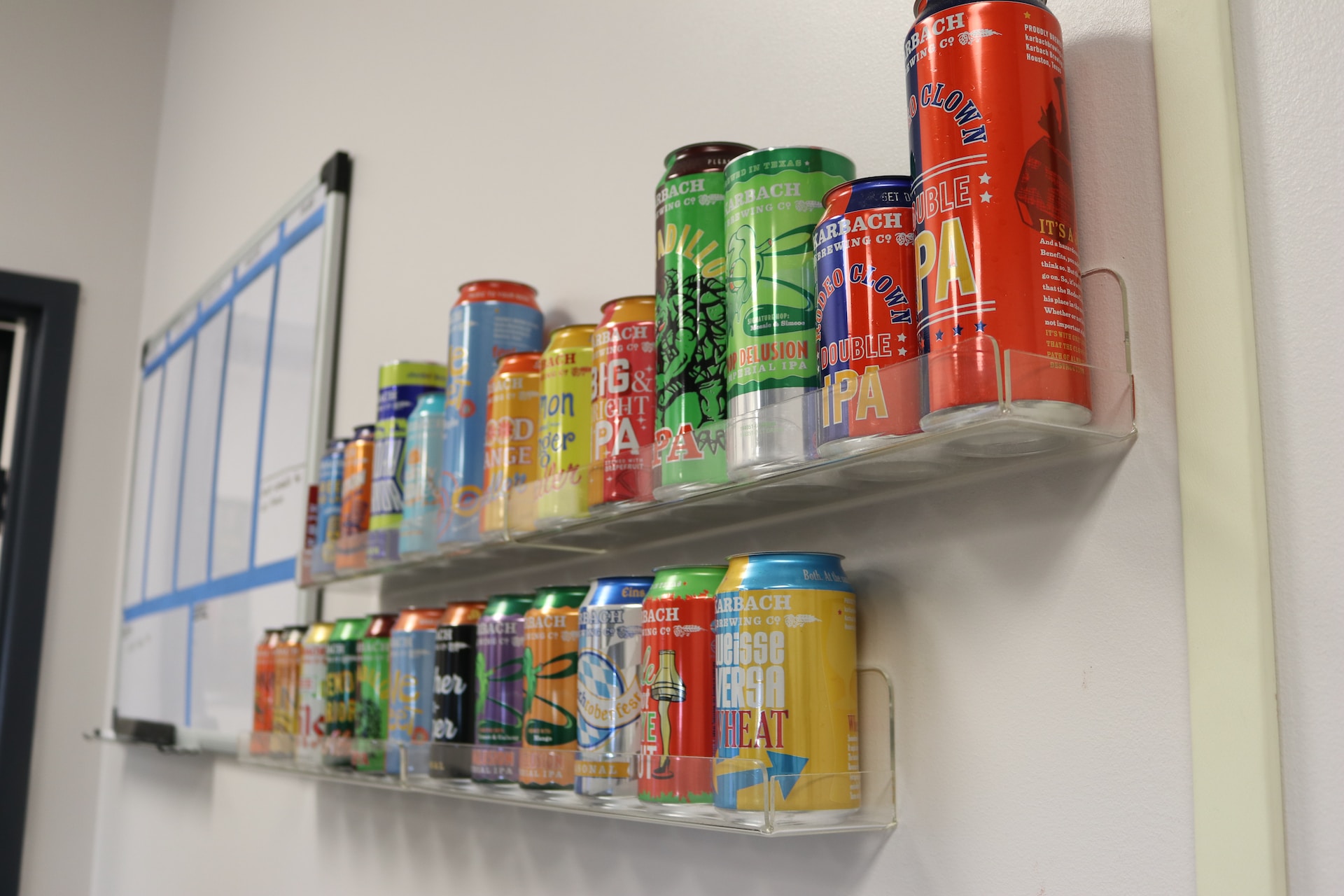 Can corrals are basically vertical organizers to store cans of soda. However, a clever hack to use those is by placing them horizontally. By placing them horizontally, you can efficiently organize your canned goods as per their expiry dates. Once you use a can, the other one will automatically roll to the front. So, no more losing cans at the back of the shelf and no more stressing over remembering their expiry dates. Plus, placing them horizontally – either on your counter or mounted on walls – will also make it more convenient for you to use them!
18. Incorporate Pro Shelves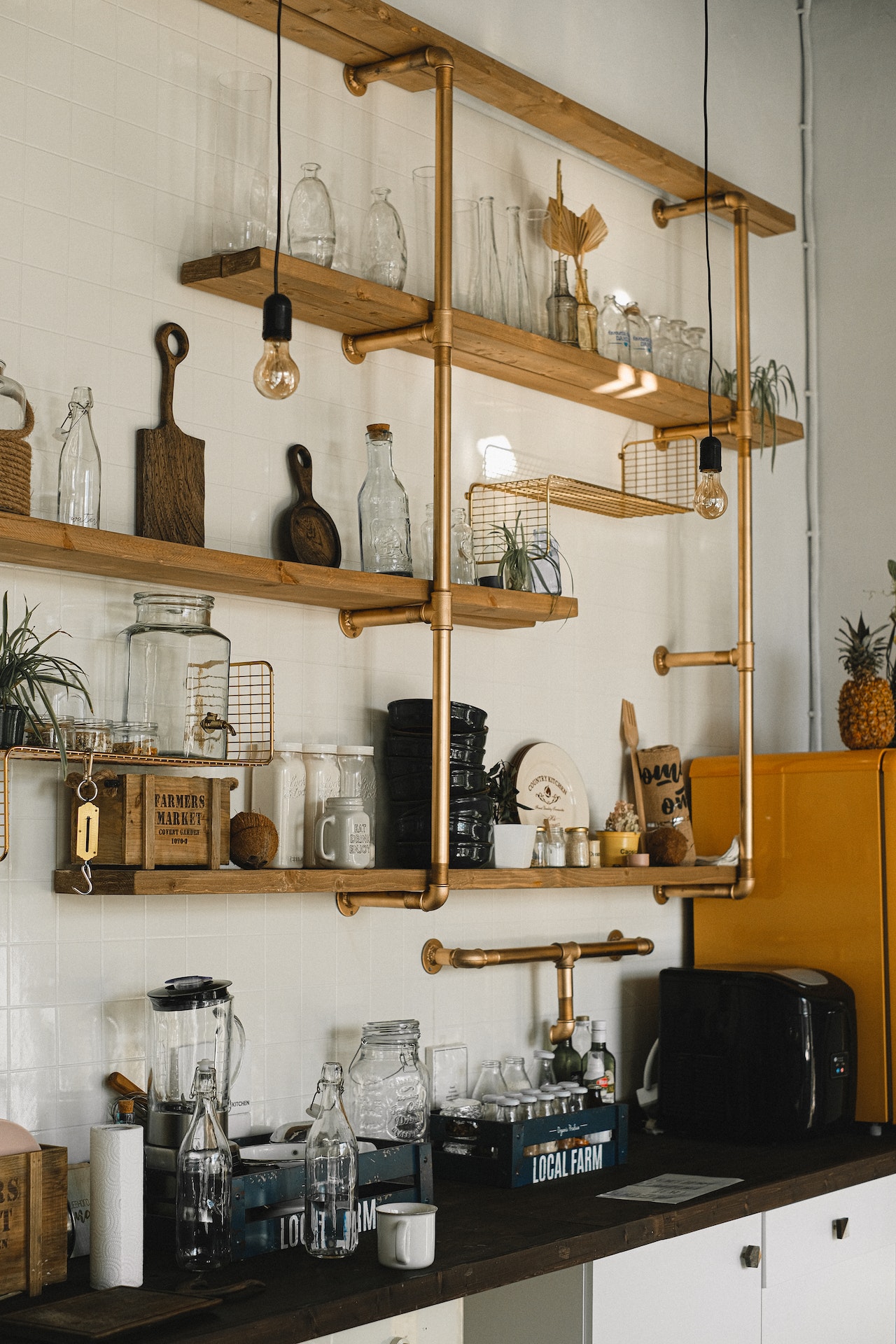 Incorporating pro pantry shelves is the best pantry organization idea to effectively optimize your pantry and kitchen space. From small to large, hooked to hanging, or curved and upside-down – you can invest in all sorts of shelves for various purposes and corners to store items. Moreover, shelves are not only more budget-friendly but also provide more open space than closed cabinets or drawers!
19. Incorporate Horseshoe Shelves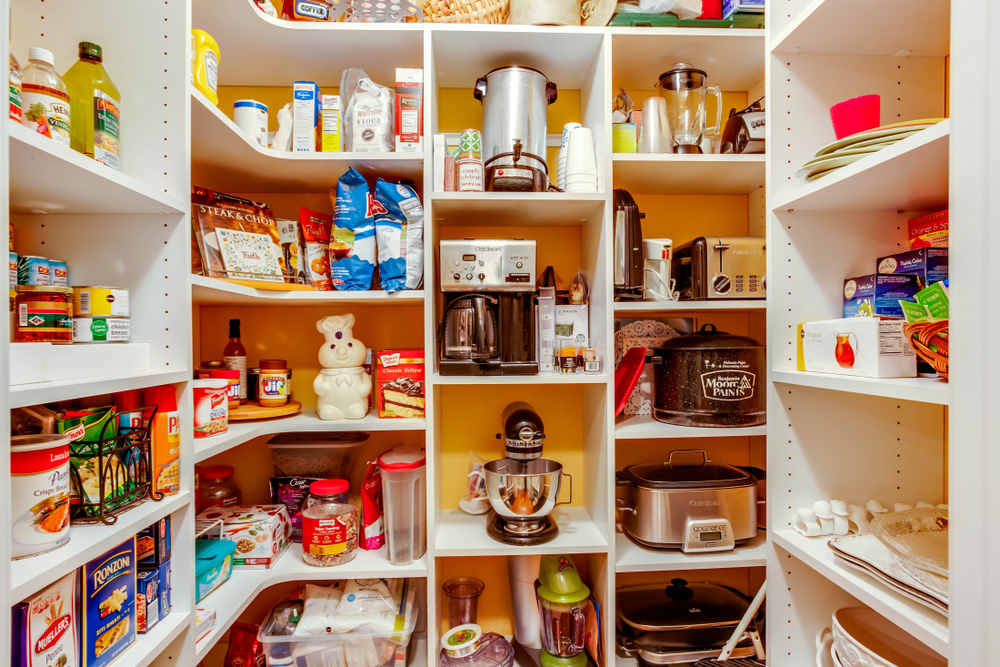 Horseshoe shelves in layman's terms are nothing but U-shaped shelves. These shelves are another good pantry organization idea when you have a lot of corner space. While corner shelves can cover those areas, investing in one U-shaped shelf is comparatively better than investing in multiple corner shelves. Also, the installation is much easier for the horseshoe shelf and you still get to effectively use your pantry corner space to store your stuff!
20. Reuse Old Cardboard Boxes as Drawers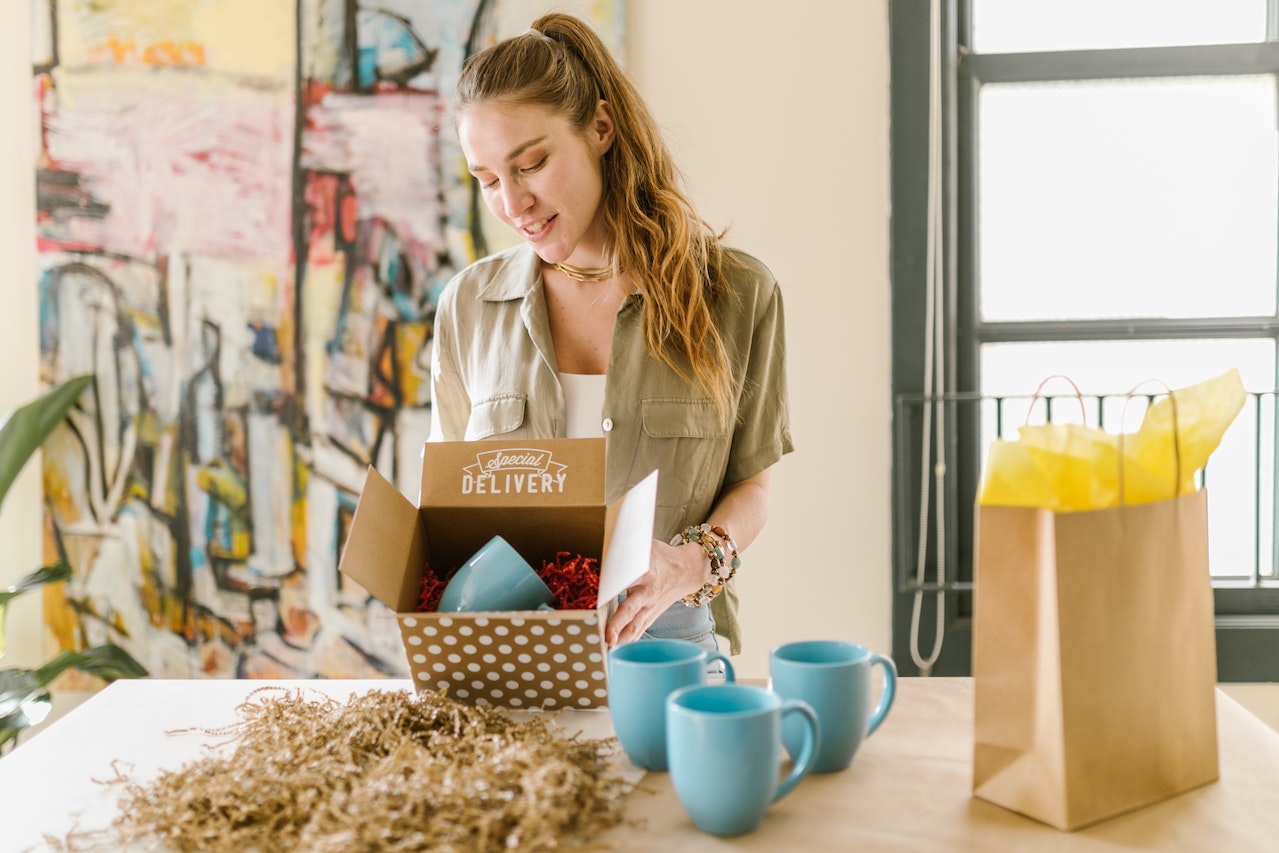 None of us can deny the fact that you have unused cardboard boxes stacked in your store rooms – maybe you recently shifted to a new home or bought something online. Whatever the reason, you may be having those undiscarded boxes that will help you in your pantry organization. All you have to do is label them as per your requirements, store your items, and place them on the pantry shelves. Alternatively, you can also glue the boxes one on top of the other to create a stackable and portable lightweight drawer. Furthermore, to make them slightly appealing you can either paint them or wrap them in colored sheets. Now, not only do you have a clean store room, but you also have a new set of super affordable drawers to organize your pantry essentials!
21. Use Drawer Organizers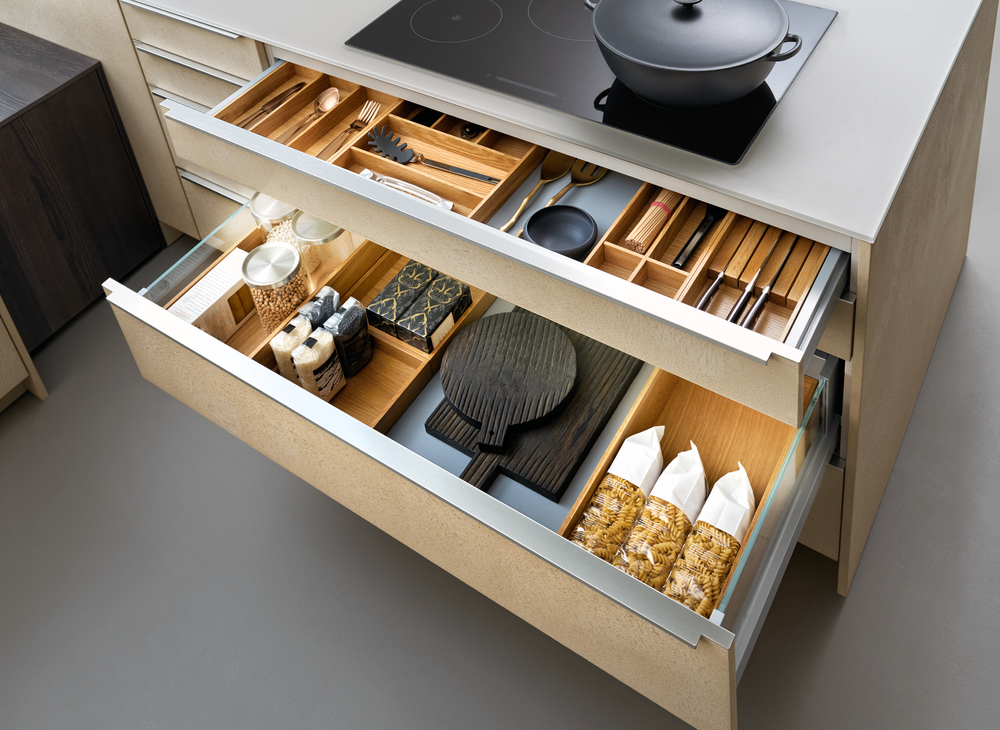 Similar to your wardrobe drawers, you can invest in professional organizers for your pantry drawers to sort out your kitchen items, including spoons, forks, knives, spatulas, bowls, glasses, etc. These organizers will help you effectively divide your drawers to make them more uncluttered and spacious while sorting all your everyday items in one place!
22. Invest in Pull-out Cabinet System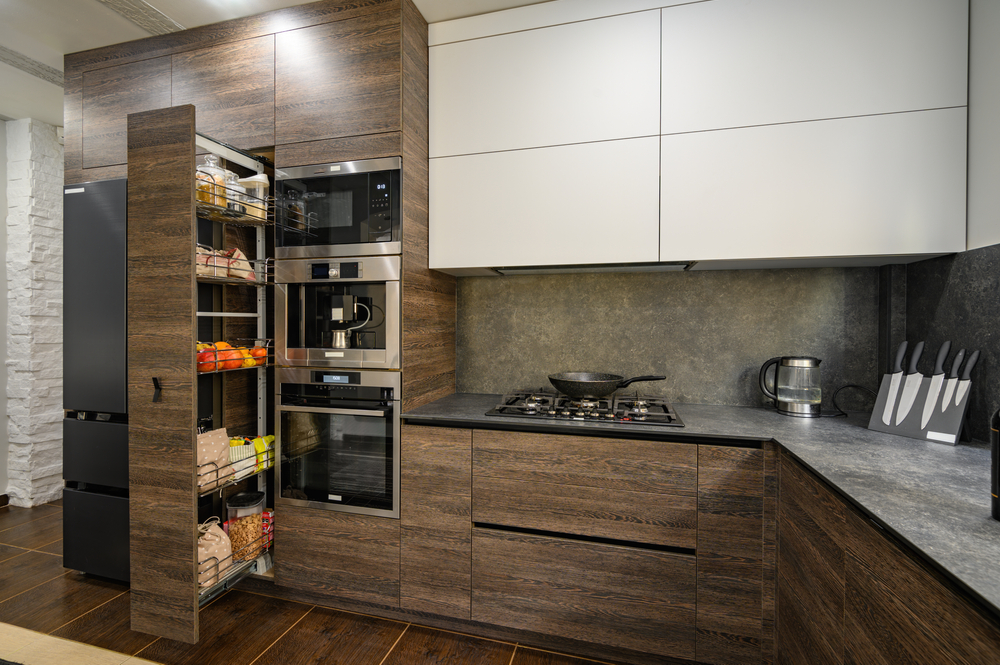 Another one of the best pantry organization ideas is to consider investing in a pull-out cabinet system. A pull-out unit comes in diverse styles including a tall slide-out unit, pull-out drawers, or a corner pull-out. Moreover, you can customize all of these units with built-in shelves or drawers (or a combination of both) as per your requirements. For example, if you wish to store your mixer as well as baking supplies in a corner pull-out unit, you can get a tailor-made design with both shelves and a drawer. Or if you need a tall pull-out unit to store all your grocery items in one place, you can opt for only in-built shelves. Although this unit may cost you slightly, it will definitely be worth it to organize your pantry or kitchen!
23. Incorporate Wine Racks to Store Bottles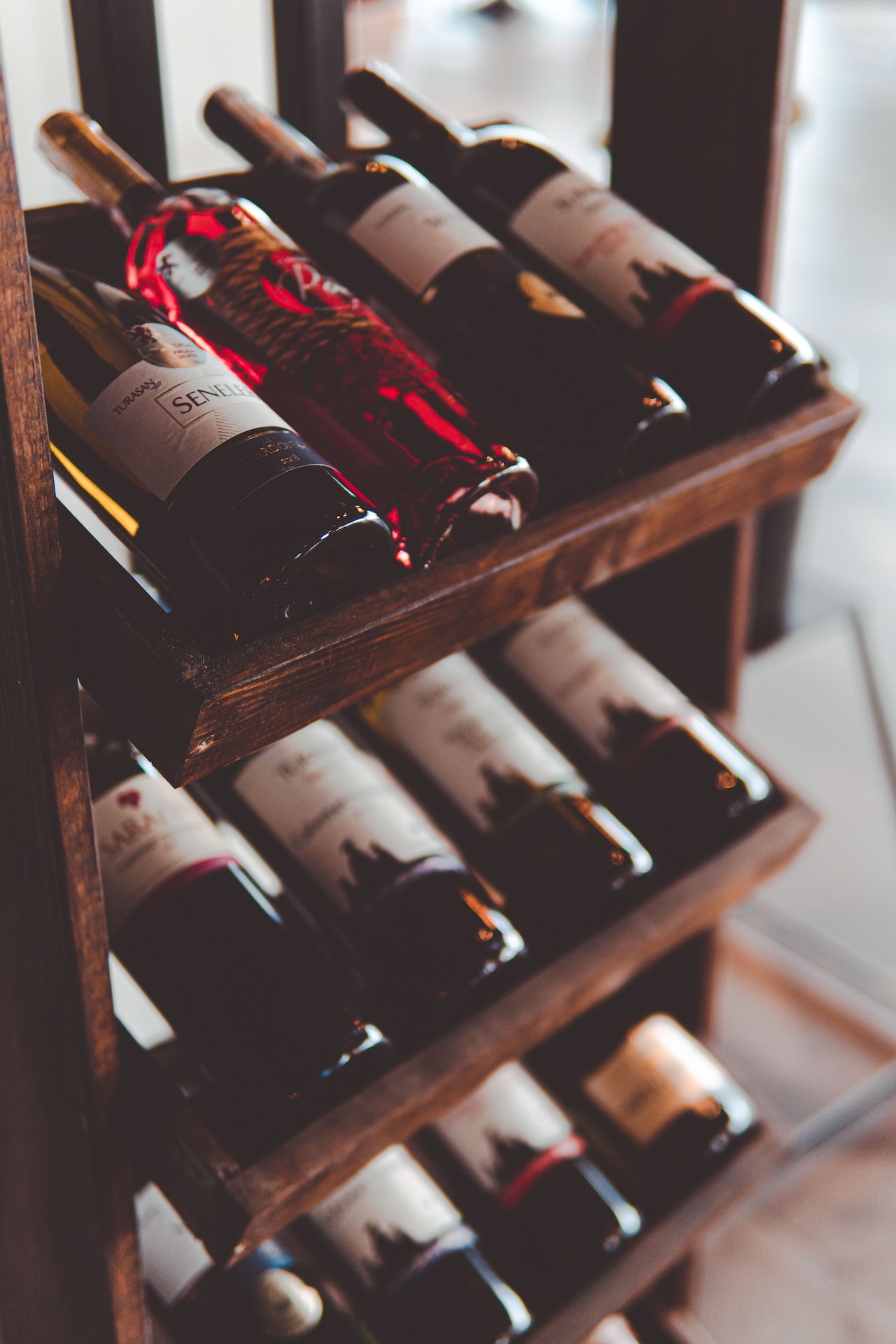 Almost all of us are guilty of leaving bottles everywhere in the house or forgetting them on the kitchen countertop – the result is a messy kitchen. Investing in wine racks is one of the best pantry organization ideas to avoid any such chaos. From small to big, you can select the rack as per your requirements and install them in a place that is easily accessible to everyone. You can also buy a couple of small racks instead of a bigger one and install one inside the pantry and the other in your kitchen or dining hall. This way, you can secretly hide the bottles you do not want your kids to find out about!
24. Build a Wall-mounted or Tier Shelf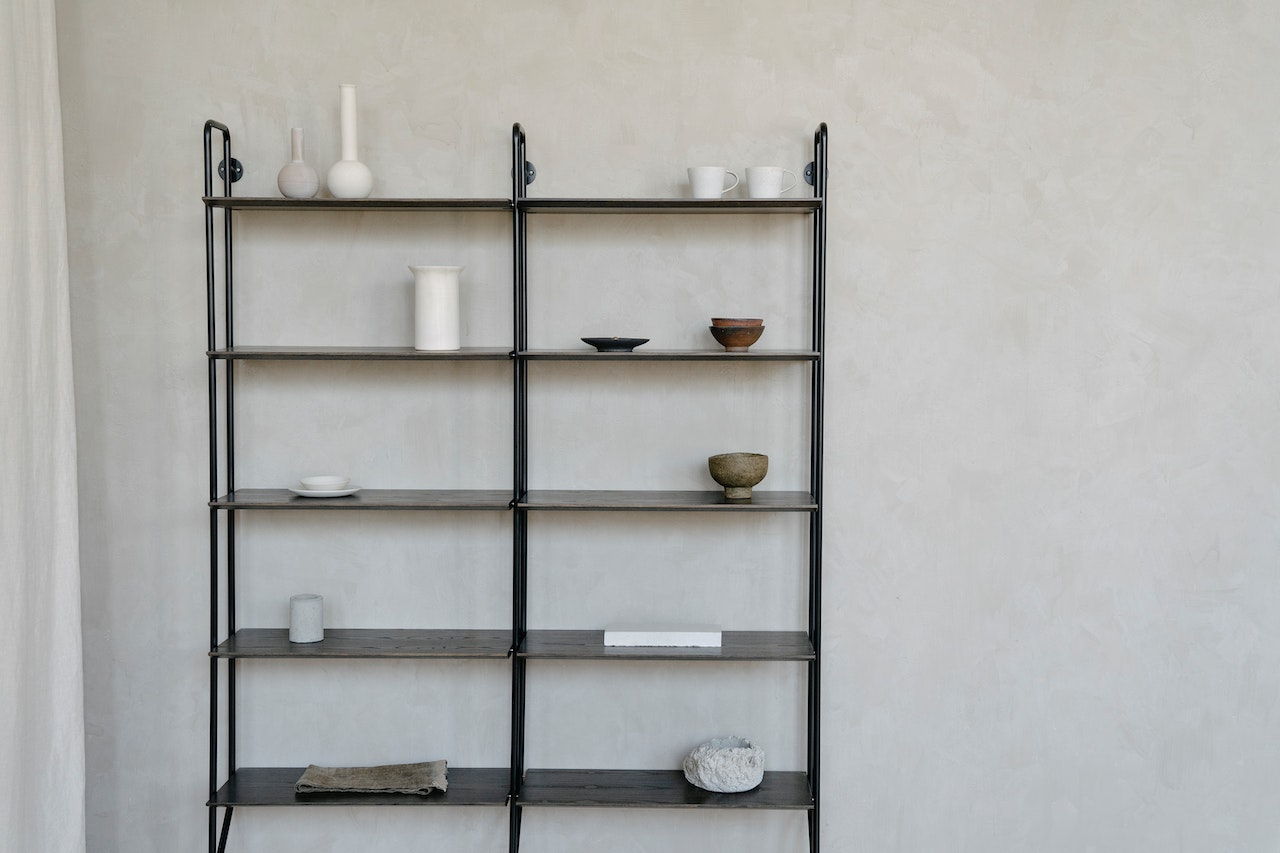 A wall-mounted tier shelf is another great pantry organization idea to manage your pantry essentials while keeping in mind the available vertical space. Often you have a pantry that may not be that wide but has a good height, this is where a wall-mounted tier shelf comes in handy. Here again, you can go a little creative with ideas and invest in a modern, sleek design. Whatever you choose, make sure that it is accessible to everyone. So, try keeping kids' stuff and munchies at the bottom and other items on the top tiers.
25. Use Under Shelf Basket for Larger Drawers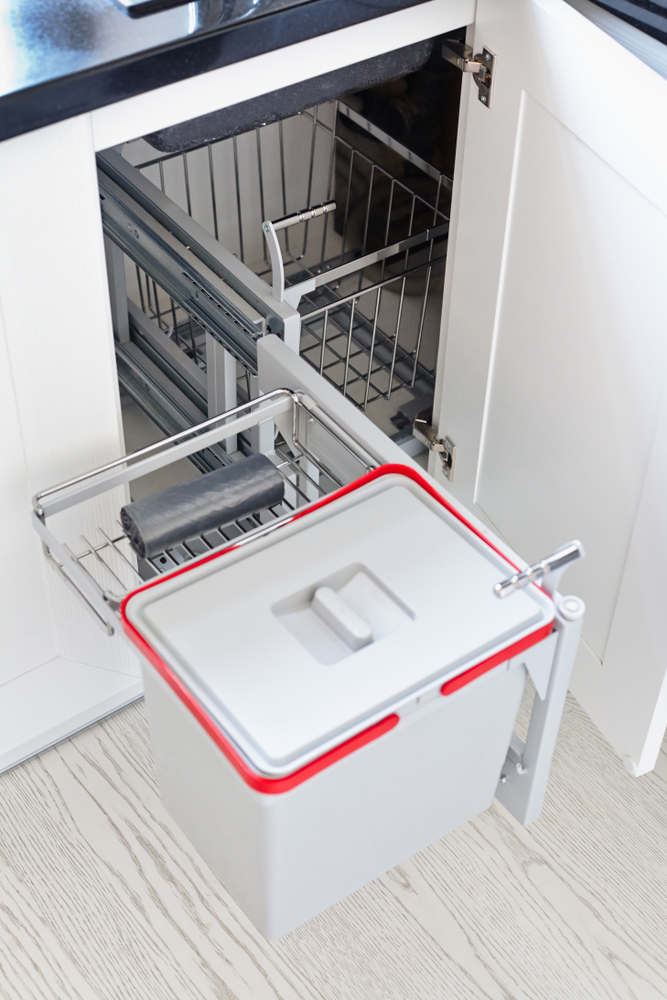 Generally, all of us have large drawers in our kitchen and pantry to put our bulky items and utensils. However, you can also use those drawers to store rice and grain bags. Moreover, if you have larger drawers but you do not own any such heavy-duty items, you can use opaque baskets to store your regular pantry items in them. This means that in one large drawer, you can stack a couple (or more) baskets and store double the items, leaving you more space in your pantry to organize the other stuff!
26. Use Stick-on Crates Behind the Cabinet Door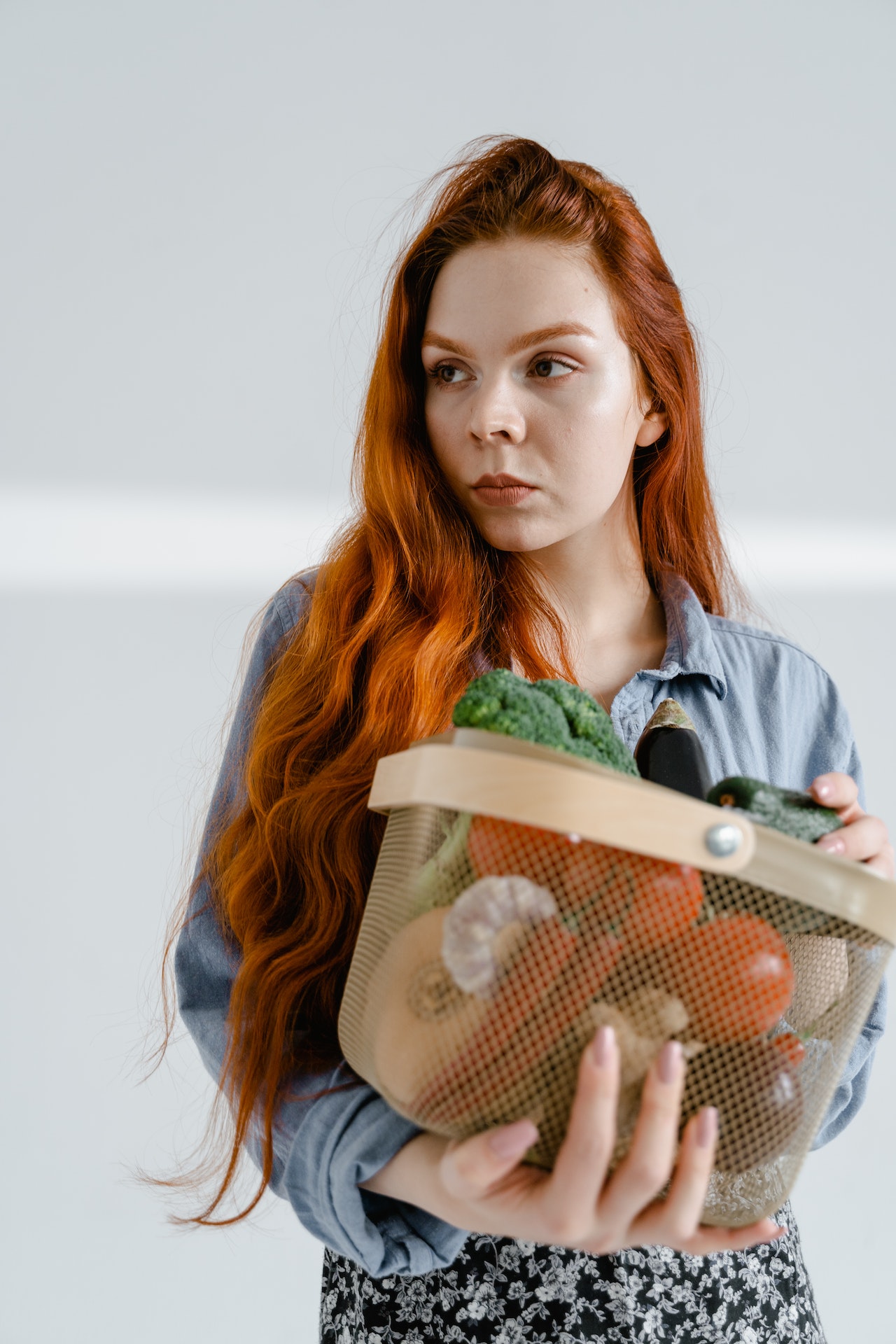 Believe it or not but double-sided tapes are a blessing in disguise for all homeowners! From crates to plastic baskets, you can use those double-sided tapes to stick them to your pantry or cabinet door. Store as many items as you want in different baskets and make space for other important items on your shelves. Another great reason to incorporate stick-on crates is that they will help you avoid spending on extra shelving while effectively utilizing your doors!
27. Organize Smartly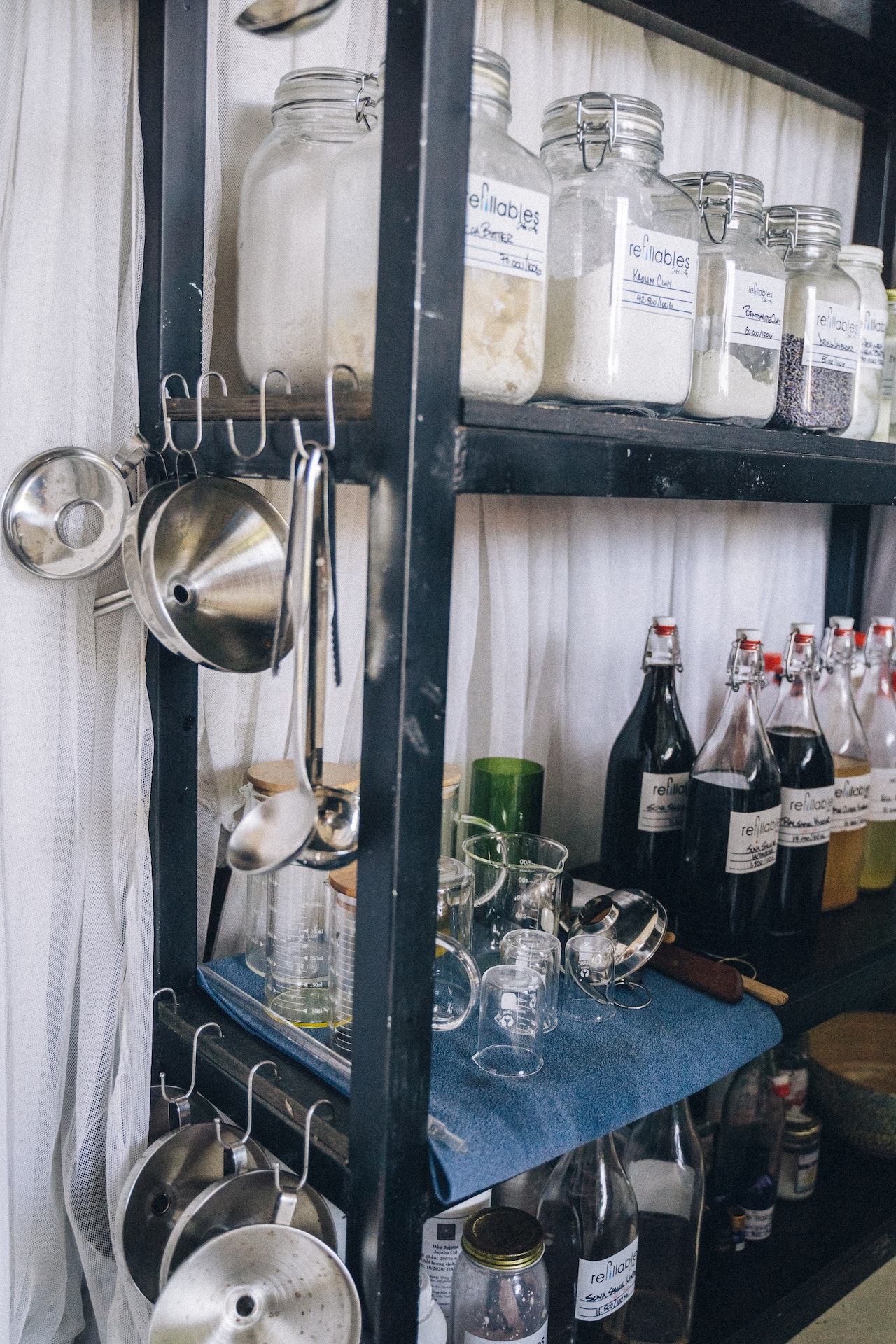 Smart and creative are two terms when thinking about your dedicated pantry makeover. You need to take into consideration your pantry floor space, vertical space, pantry essentials, accessibility for kids, hooks, and shelves, wet and dry items, etc. to aptly organize your pantry neatly and efficiently. Take some time to think, plan, and sort your pantry. So, the next time you come home after a hefty grocery shopping, you can effectively arrange all your pantry essentials in their respective areas without having to worry about cluttering the place!
28. Stash Containers Strategically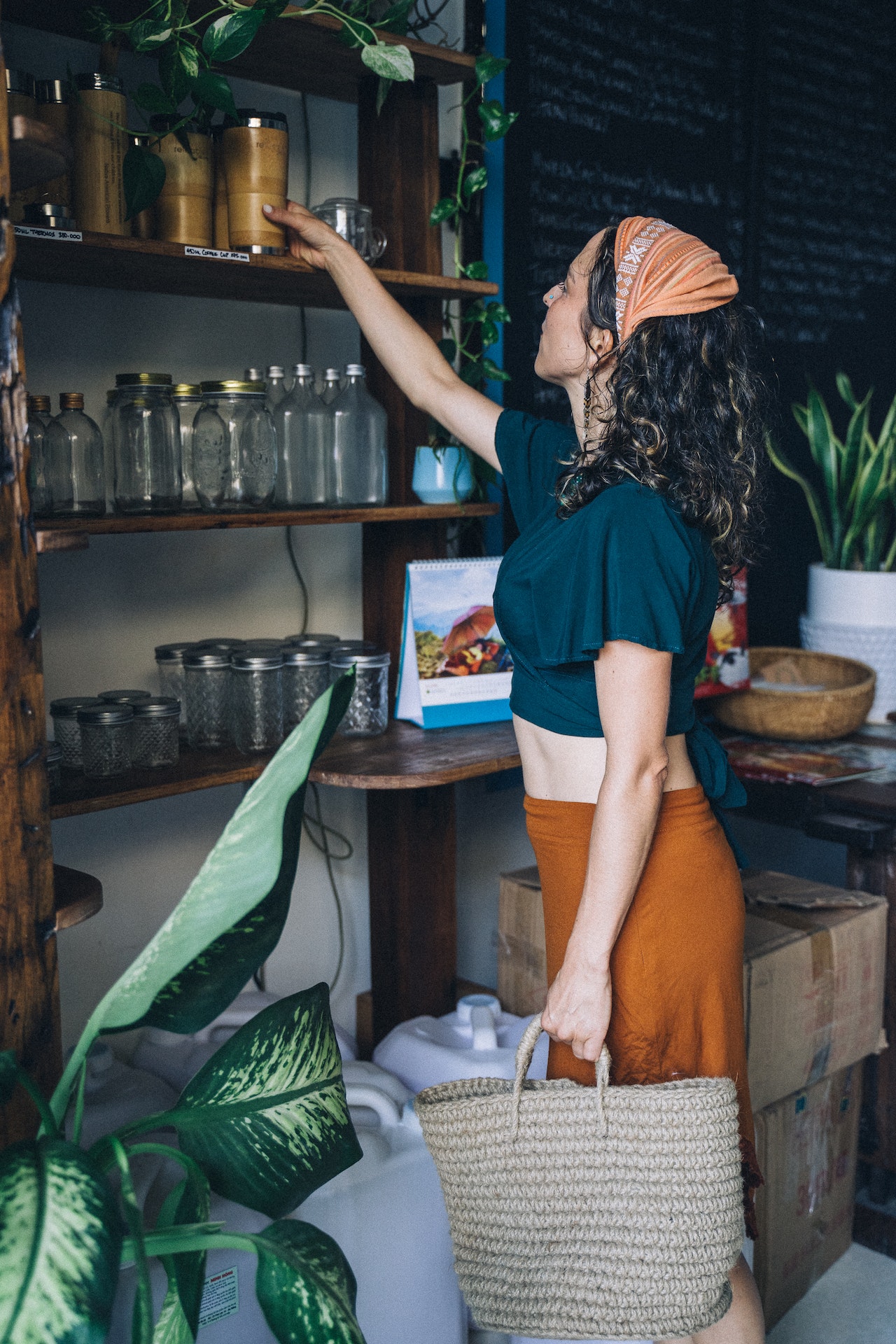 Merely putting essentials in jars and placing them on the shelves will not declutter your pantry. After a couple of days or a week, things once again will become chaotic because you may not remember where you put which container. So, the foremost thing when beginning to arrange your pantry is to calmly strategize. Do not displace all the items at once and panic. Make sections and work on them one at a time. Choose either wet or dry items, and work accordingly. Do not forget to label them (even add the expiry date) and place them alphabetically. It is bound to take time but once you are done, you can enjoy a neatly and carefully organized kitchen for a long-long time!
29. Make Category Baskets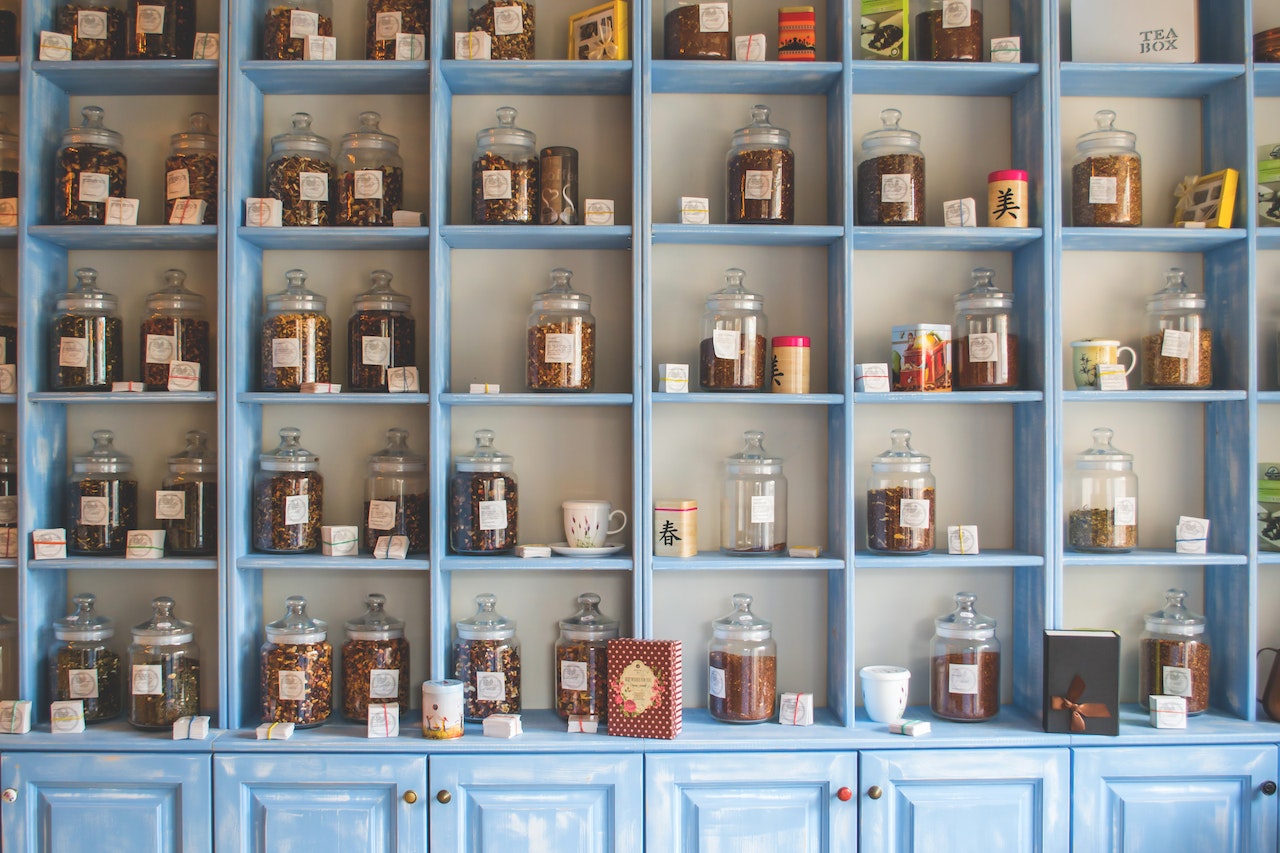 Category baskets are another incredibly helpful pantry organization idea to divide your pantry items. For example, make a kids' basket and include their favorite snack pouches, chips, meal ingredients, medicines, etc. Similarly, you can make one category basket to store fruits or vegetables, another for wet items, and a third for picnics. Moreover, you can also use these baskets as your go-to bags for Sunday brunches, parks, or late-night dates!
30. Incorporate Rotating Baskets in Deep Shelves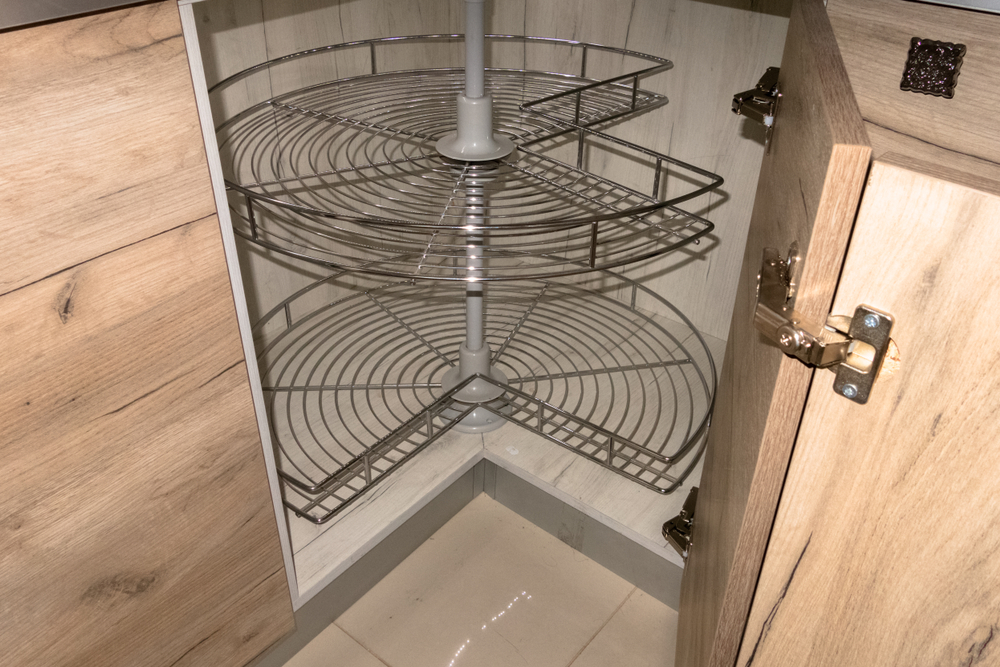 Not every space can have costly fixtures. So, how to use those spaces efficiently? Incorporate rotating baskets, especially in deep shelves and corner cabinets. You can store your half-opened chip bags, baking essentials, granola bars and other snack bars, canned foods, snack pouches, favorite beverages, etc. in each of those rotating baskets and place them in places where you do not have anything built in.
Conclusion
Pantry organization is a crucial part of running a household. It can help you save extra time and money by ensuring that all your food items are appropriately stored and easy to find. With the right pantry organization ideas, you can create a well-organized pantry that will make mealtime preparation much more effortless. From using labeled airtight containers to creating zones for different types of food, there are many ways to keep your dedicated pantry organized. Take inspiration from our list of 30 pantry organization ideas and take time to plan how to organize your pantry to ensure that your kitchen is always running smoothly!
What tricks do you follow while organizing your pantry and kitchen? Let us in on your secrets in the comments section below!
FAQs
In what order should a pantry be organized?
One of the easiest ways or orders to organize your pantry efficiently is to start from the middle shelf. Since the middle shelf is at your eye level, most of the cluttering happens on that shelf. Once you organize the middle shelf, move to the bottom one as we humans tend to look at the lower level first before rising on our toes to reach the top shelf. So, the correct order to organize a pantry is middle, bottom, and top.
---
How do you organize a pantry so you can see everything?
There are a lot of ways to organize a pantry so you can see everything. Firstly, you can use transparent jars or containers. Secondly, you can label your items. Thirdly, install shelves at eye level or within arm's reach. Lastly, take an inventory to make yourself aware of all the eye-friendly, blind, and kid-friendly spots, and then organize your pantry items accordingly.
---
How do I organize my pantry with limited space?
Organizing your pantry with limited space will never be an issue if done correctly. You can invest in hardware, including lazy Susan, pull-out cabinets, and carousels. Alternatively, you can make use of under-sink storage space, behind-door space, and wall space to make maximum use of your pantry area.
---
How does Martha Stewart organize a pantry?
Firstly, remove everything from your pantry shelves and go through which items are worth keeping. Then start dividing, labeling, and categorizing your items in separate baskets. Once done, think about how often you use which item – make a priority list. Start restocking your pantry shelves as per the usability and categories. Install extra shelves and baskets wherever needed or opt for organizers. Lastly, do not forget to keep a check from time to time. Make a habit of weekly clearing your shelves and changing the order in case your priorities change. And that is how Martha Stewart suggests organizing a pantry!
---

---