Leo to Aries: 4 Zodiac Signs Who Are Always Planning Their Dream Destination Wedding
A few zodiac signs dearly wish to marry their boo at a breathtaking location. They plan stunning destination weddings to share their happiness with loved ones.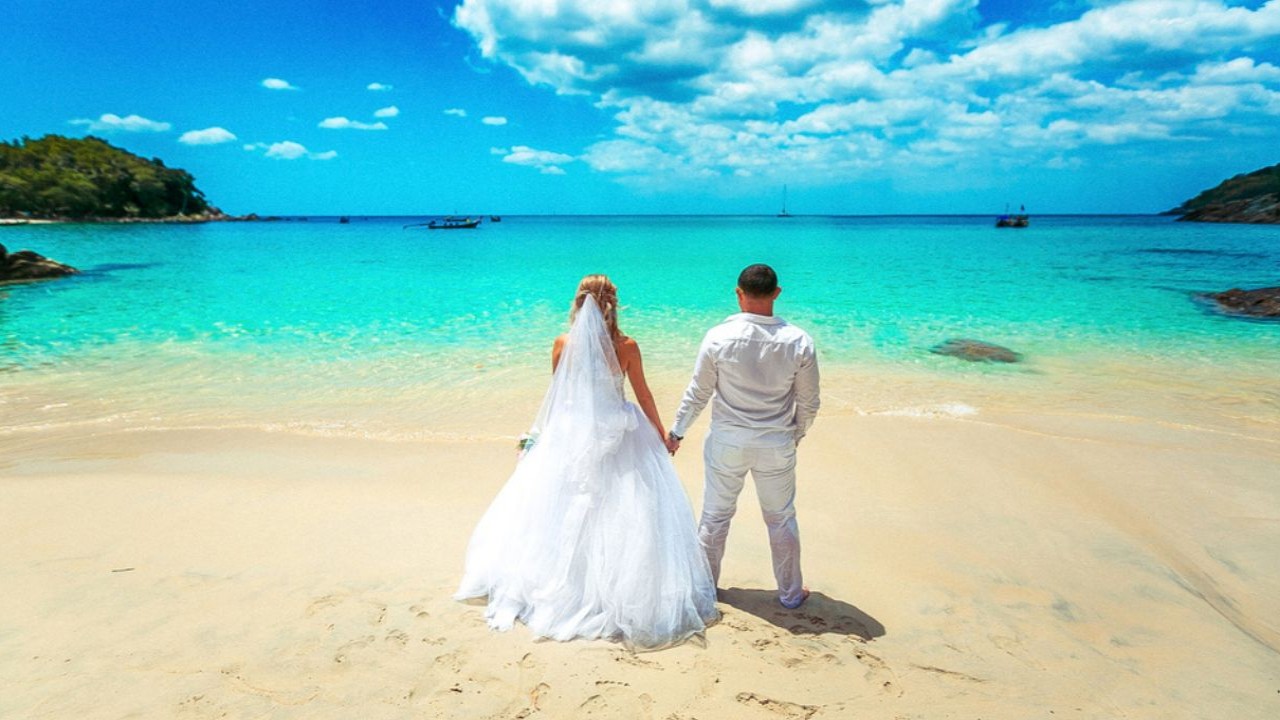 The desire for an intimate destination wedding has become a growing trend among couples seeking to exchange vows in a setting that transcends the ordinary. In fact, some star signs feel that these celebrations are not just a union of two souls but a symphony of love. So, they plan the backdrop of breathtaking landscapes for their nuptials to leave an indelible mark on the hearts of all who attend. Right from the moment they meet their soulmate, these individuals plan their dream weddings. Their thoughts are driven by a vision of perfection, where the union of love is elevated to a remarkable and unforgettable experience. Take a sneak peek at who they are:
They see a destination wedding as not just the ceremony but also about the journey. Leos with adventurous spirits often opt for unique and remote locations that offer an exciting blend of celebration and exploration. The wedding becomes a grand adventure, symbolizing their shared love for new experiences and the uncharted. Moreover, Leos love the spotlight and enjoy being the center of attention in a foreign location with their bae. They might opt for a destination wedding as a way to make their special day truly memorable and grand, surrounded by loved ones on an exotic island or even a snowy paradise. They fancy gathering their friends and family from different parts of the world to fly them off to a stunning place. Leos favor a global celebration that adds a dimension of cultural diversity and shared experiences, creating a unique and memorable event.
Read more about Leo' Horoscope Here
Sagittarians are known for their romantic spirit and may be drawn to the idea of a destination wedding that combines both traditions with travel. This fire sign might choose a location that offers unique and exciting experiences for themselves and their guests. Moreover, they believe that planning a dream wedding allows them to create a personalized and intimate experience for themselves and their fiancé. From customized ceremonies to unique local traditions, every detail is carefully curated to reflect their lover's personality and preferences. Sagittarians like the fact that this level of personalization adds depth and meaning to the nuptials. They are often driven by a quest for uniqueness, which makes them wish to ensure their engagement and wedding stand out from their cousins' nuptials. So, they often consult with their parents before they plan a gorgeous ceremony.
Read more about Sagittarius' Horoscope Here
Aries individuals are known for their energetic and bold nature. They may dream of a wedding set in a magical and dreamy destination, perhaps by the beach or in a fairytale-like setting. So, they might opt for a venue that allows them to celebrate in a vibrant and lively setting, perhaps with adventurous activities for the wedding party and guests. At their core, these Rams frequently possess a deep appreciation for love and aesthetics. They envision a celebration surrounded by natural beauty or cultural richness, reflecting their romantic ideals. The allure of saying 'I do' against a backdrop of sunsets, mountains, or ancient architecture appeals to their sense of visual poetry. Moreover, they are likely to want to head to a place that holds emotional significance for them and their beau. It can be anything from their grandparent's hometown to the place where Aries' dad may have popped the question to their mom. They like to ensure everyone has happy tears in their eyes during their ceremony.
Read more about Aries' Horoscope Here
Geminis are known for their creativity and sociable nature. They are captivated by the idea of a destination wedding because they seek a celebration that transcends traditional norms. For Geminis, the allure lies in the uniqueness of the chosen location — be it a tropical beach, a historic castle, or a scenic mountain retreat. They hope to stand out and create lasting memories. This desire fuels the meticulous planning that goes into selecting the perfect destination. Furthermore, they might be interested in ideating an exotic wedding that reflects their dynamic personalities and provides a diverse and enjoyable experience for everyone involved. Additionally, Geminis often have a keen sense of aesthetics and might be inclined to propose a wedding in a picturesque location, surrounded by elegance and charm. They are not afraid to jump the gun and start thinking of their ideal ceremony the moment they begin dating someone who could be their soulmate.
Read more about Gemini' Horoscope Here
These star signs believe that in the realm of weddings, destination ceremonies represent a fusion of dreams and reality. The meticulous planning and attention to detail invested in them reflect a commitment to making their special day an extraordinary experience for their loved ones.
Disclaimer: These attributes are generic and may not necessarily hold true for you.

---