Saturn transit into Aquarius - Impact for India and 12 Zodiacs
Saturn's transit into Aquarius is among the most anticipated transits, and January 17, 2023, will witness this movement. This transit will bring some major changes to all the 12 zodiac signs.
Updated on Jan 16, 2023 | 03:02 PM IST | 381.1K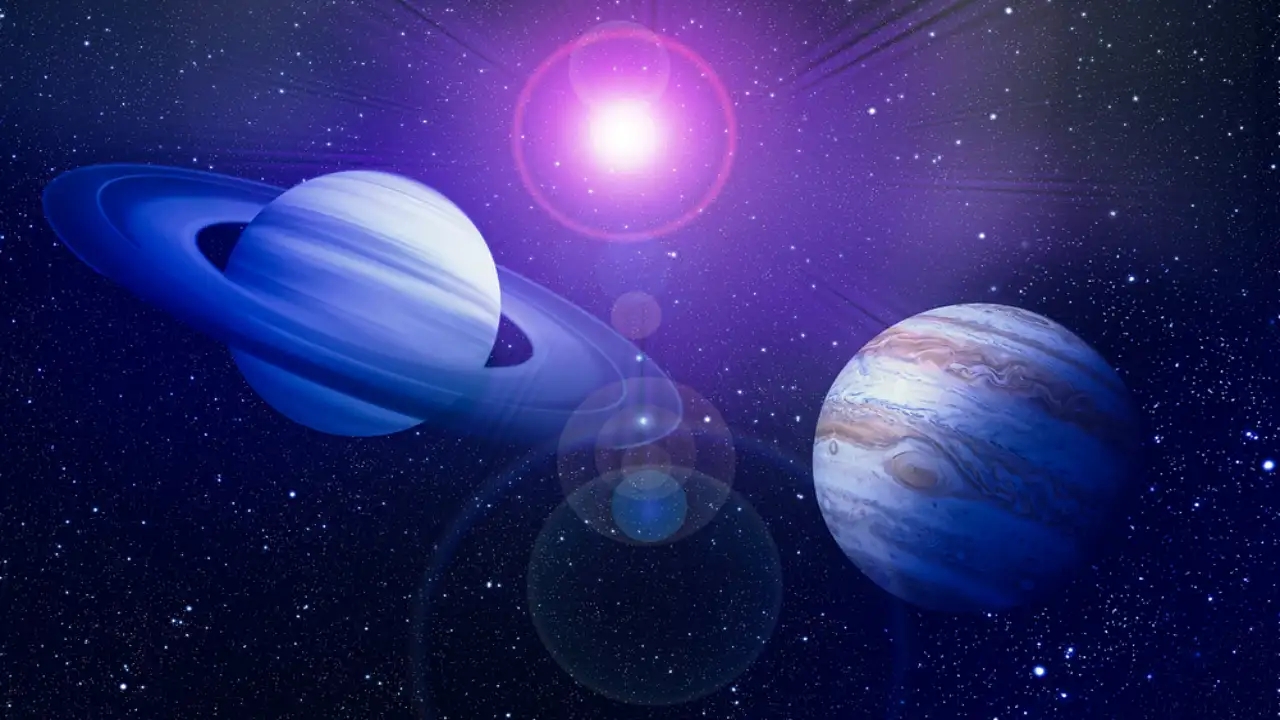 The lord of karma and gains, the planet Saturn governs your actions and provides the most accurate outcomes of your mortal doings. In 2023, Saturn will transit from Capricorn and enter its own sign, Aquarius, on Jan 17, 2023.
The Aquarius is the ruler of the 11th house of Kal Purush Kundali and will bless the person with rewards for their deeds. This transit of Saturn would also witness the coincident presence of Jupiter in the sign of Aries, ruled by Mars, and will have a long-lasting influence on the world and our thought pattern. The period would be a year of transformation and self-reflection. One needs to watch out for own deeds and would be able to reap the deeds as well during the time.
The period could see some difficult decisions from the government, which may face a big public uproar. The weather would be of extreme summers and extreme winters and unexpected weather patterns with water and land-related natural disasters. The keyword to brave out this time would be to focus on deeds and align self-aura to the cosmic energy of the universe.
Expert Astro Numerologist Sidhharrth S Kumaar will help you understand what you should expect. Below are your career, finances, relationships, and health predictions based on Numerology Positioning System (NPS), Karm Positioning System (KPS), and zero numerologies that you must be aware of during this transit:
Saturn Transit 2023: Impact on each zodiac sign
1. Aries
The Saturn transit will require you to be disciplined, strategic, and consistent. Given that the ram moves in this path, great success in terms of career and income is guaranteed. Past financial issues will settle now. Also, keeping your ego under control will help in the long term.
Being honest with your partner will shower you with love and peace. Your relationship with elders will strengthen. Besides all the good news, health issues may not leave your side. 
2. Taurus
Victory will kiss your feet, Taurus. As a result of the transit, your hard work will finally be reciprocated with recognition and stability. Business owners, employees, and job seekers will touch new heights.
On the contrary, a busy schedule will imply you spend less time with family. Your spouse and children will feel ignored. Hence, put effort into spending quality time with them as well.
3. Gemini
A lot of ups and downs are coming your way. You will be burdened with debts and pending invoices. Fortunately, you will overcome them by the end of it. Stay wary of making unfruitful expenses.
Chances are your relationship with your father will deteriorate. It is advised to avoid conflicts with him as it will affect his health. A smooth relationship with your partner will require more concern than before.
4. Cancer
Affected mental health due to business and job issues will continue to trouble you. The good news is that you will triumph over the difficult time with consistency, routine, determination, and hard work.
While your love life will be turbulent, your relationship with your children or parents will be fruitful. You will even get the chance to come closer to your in-laws and strengthen the bond.
5. Leo
Entrepreneurs, it's finally time to make your name known. Your business will flourish, and your life partner's support will play a prominent role in it. Working professionals and job-seekers will also taste success.
Your love and married life will go sour if you don't stop with the dictatorship. Allow your partner to breathe and understand their concerns. Maintaining healthy relationships with family members will require exceptional efforts.
6. Virgo
Taking loans when not absolutely necessary will result in huge long-term losses. The times are favorable to pay your past debt. Professionals will hone their skills and enjoy prosperity.
Having a healthy relationship with siblings will be profitable for your emotional health. Don't cut ties with friends until it becomes mandatory. Short trips are likely.
7. Libra
Your work responsibilities will skyrocket. With it, you will improve your finances, glory, and recognition. Be cautious in rechecking all the conditions before investing in, or signing a business deal.
You will go through a rough patch in your relationships. Love life will add more drama than peace. Be careful with your health, as digestive issues will emerge. Avoid alcohol at all costs.
8. Scorpio
A crazy workload will burden your growth and productivity. Conflicts with higher-ups or the boss can further elevate the negative consequences. Try sticking to a schedule to finish work before the deadline.
Finally, your partner will begin understanding you but issues may still flare up. You will enjoy the support of your mother and friends. However, the relationship with the father will need patience.
9. Sagittarius
For working professionals, job-seekers, and entrepreneurs, the transit will be a rollercoaster ride. You will face obstacles but will be able to overcome them with the will to stay strong, your skill set, and the support of higher-ups and co-workers.
Happiness in married and family life will fill you with contentment. Relationships with friends and siblings will also improve. Practicing meditation, yoga, or any other physical workout and eating healthy will keep you in your best health.
10. Capricorn
Profits from past investments will enter your bank account. The times are lucky to invest in real estate. Entrepreneurs, working professionals, and job-seekers will transform to accomplish their goals.
Being empathetic and generous in your conversations will save multiple relationships. Avoid using harsh words to sidestep conflicts with your partner and siblings. Following a workout and diet plan will conserve your health.
11. Aquarius
You will handle more tremendous duties than before which will positively impact your confidence, self-image, and fame. Do not forget to take proper breaks and rest periods to avoid burnout. Don't indulge in speculative investments.
Apart from work, making time for your partner, children and family should be your topmost priority. A healthy diet and regular exercise should keep you fit and thriving.
12. Pisces
The overwhelming workload will keep you restless. Plus, harsh words from the boss will force you to think of changing jobs. Practicing relaxation techniques and accepting flexibility will bring success to both employees and business owners.
Spending quality time with family and friends will take away some of the stress. Issues related to the eye, knee, and joints will demand you to be serious about following proactive health measures.
ALSO READ: Here's The Truth About Taurus Man and Cancer Woman Compatibility
Understanding the compatibility between a Virgo Man and a Libra Woman
Here's The Truth About Sagittarius Man and Leo Woman Compatibility
About The Author
Journalist. Perennially hungry for entertainment. Carefully listens to everything that start with "so, last night...". C...urrently making web more entertaining place Read more
Top Comments
There are no comments in this article yet. Be first to post one!