Shop High-Quality 3-Burner Gas Stoves at Impressive Deals from Amazon's Live Sale
Whether you're looking to upgrade your burner or want to get a new one, make the most of the Amazon Great Republic Day Sale and grab great deals on gas stoves!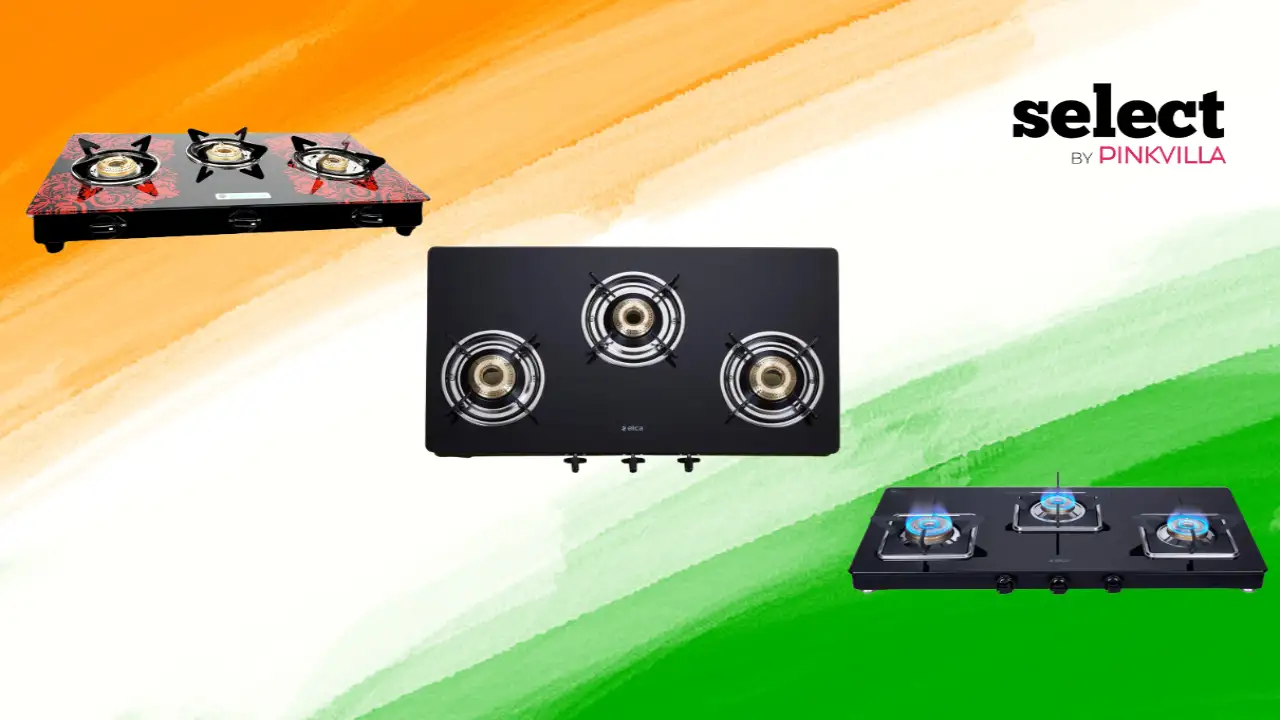 The products curated for this article are independently chosen by the editorial team. If you make a purchase through the
links
mentioned below, we may receive a commission. Check out our
product research & curation process
Gas stoves are the most essential cooking appliance in almost every Indian household. Powered by natural gas or propane, they offer a convenient and efficient way to cook food quickly and easily. However, depending on the number of burners, they can be relatively expensive to buy. Worry not! When looking for a reliable and efficient 3-burner gas stove to make your cooking experience more convenient, you can make the most of amazing deals from the Amazon Great Republic Day Sale that's live now.
This sale offers discounts on a wide range of 3-burner gas stoves from leading brands such as Prestige, Butterfly, Pigeon, Sunflame, etc. Hurry up and seize the best deals on burners before they run out!
10 Best 3-Burner Gas Stoves on Sale at Amazon Now
Elica Vetro Glass Top 3 Burner Gas Stove
This premium 3-burner gas stove from Elica is best known for its long-lasting performance. The black-tinted toughened glass top not only looks luscious but also delivers durability, safety, and rust resistance. With 1 small and 2 mid-sized brass burners, and smooth functioning knobs, this gas stove is the most popular choice for Indian families.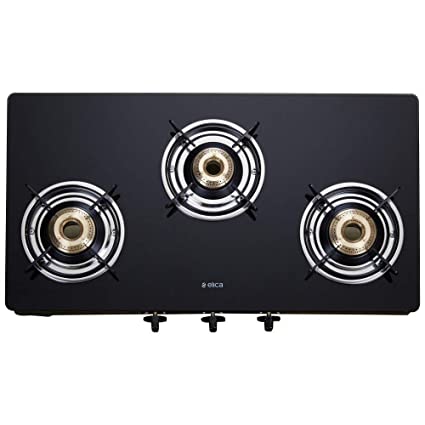 Thermador Toughened ISI Certified 3 Burner Gas Stove
Built by combining a steel body with a toughened glass top,  this 3-burner gas stove from Thermador is a great option. While the heavy-duty brass burners can effectively accommodate big utensils, the turnable knobs help in a slick operation. Moreover, the mirror finish on the stove makes it super easy to clean, maintain, and remove even the toughest of masala stains!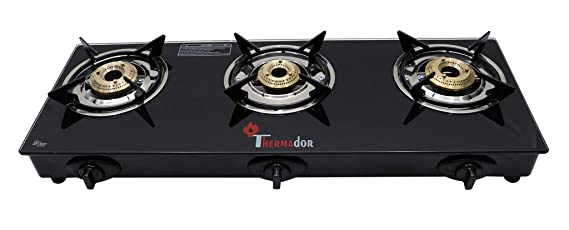 MILTON Premium 3 Burner Black Gas Stove
With a premium finish of black toughened glass, this 3-burner gas stove from MILTON is yet another popular choice for Indian households. Moreover, the high-quality knobs offer a firm grip leading to smooth operation. Bonus: you get a flat 52% discount!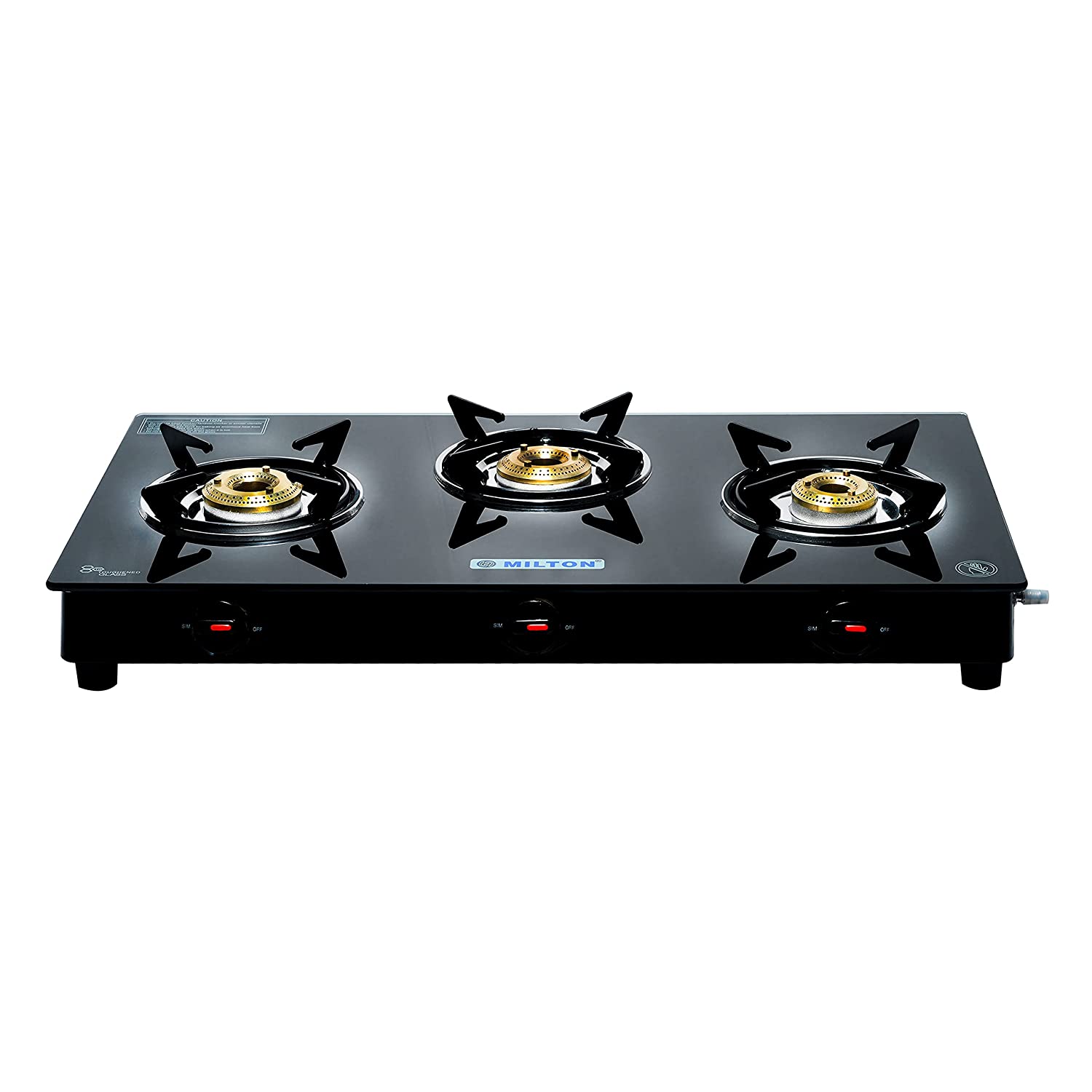 MILTON Premium 3 Burner Red Glass Top Gas Stove
Gone are the days when the only acceptable colors for gas stoves were black or steel. Today,  along with functionality, style rules every sphere, including kitchen appliances. This 3-burner gas stove with a red and black fused glass top from MILTON is best suited to enhance your kitchen aesthetic and is definitely worth considering. Apart from the glass top looking exquisite, it is also shatterproof, making the stove super durable, easy to clean, and long-lasting.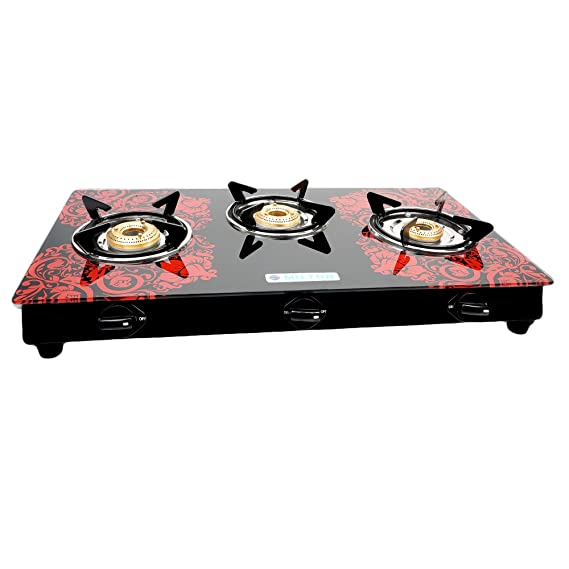 Prestige IRIS 3 Burner Gas Stove
No list of Indian kitchen appliances or cookware sets is complete without the mention of at least one Prestige item, and this collection of gas stoves is no exception. This 3-burner stove by Prestige is equipped with a toughened black glass top and a spill-proof design that can accommodate different sizes of utensils. Moreover, this made-in-India stove also provides scratch resistance, easy handling, high efficiency, and effortless maintenance!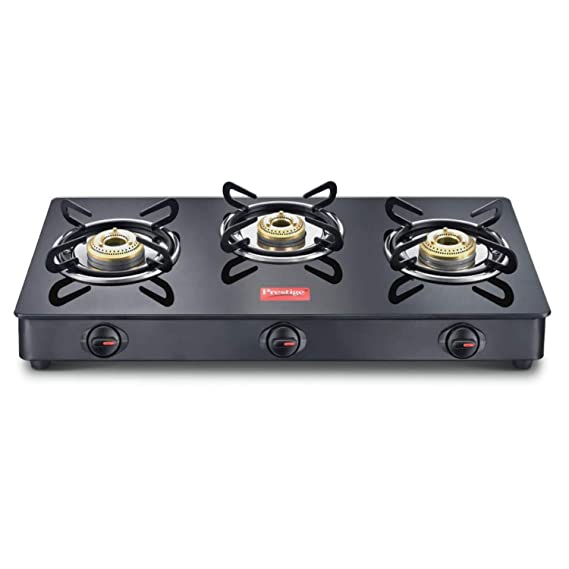 Prestige Marvel Plus 3 burner Glass top Stove
One of the best features of this 3-burner gas stove by Prestige is that it comes with 3 distinct sizes of the burner - small, medium, and large. Add toughened powder-coated glass top and ergonomic knobs to the mix and this stove becomes one of the most popular and streamlined choices that are worth investing in!
BLOWHOT 3 Burner Auto Ignition Gas Stove
With the conventional combination of stainless steel frame and toughened glass top, this 3-burner gas stove from BLOWHOT is another must-have appliance for an effortless cooking experience. Moreover, the printed pattern glass top oozes elegance and style, making it stand out from its competitors. What's more, you get a surprising discount of flat 54% off during the Amazon Great Republic Day Sale!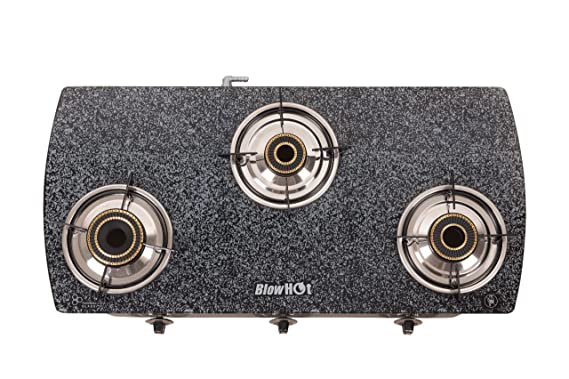 Reliable, safe, efficient, and ergonomic, this 3-burner gas stove from Vidiem ticks all the boxes to suit Indian cooking standards. While the heavy-duty stainless steel body and brass burners offer a hassle-free cooking experience, the knobs ensure smooth operation. Moreover, the mirror finish boasts a luxe appearance!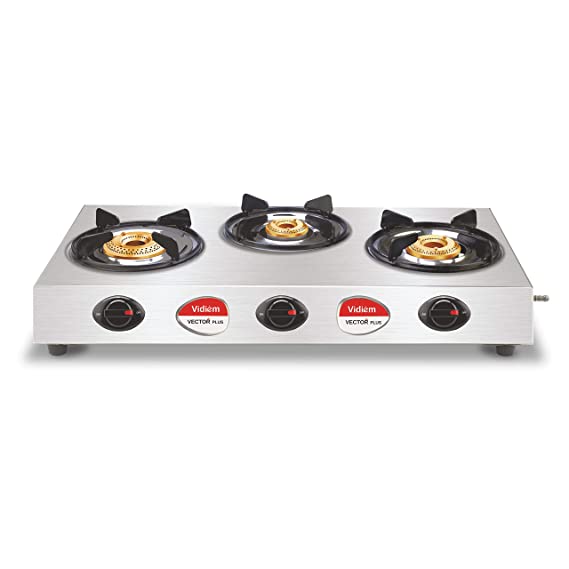 Elica Slimmest 3 Burner Gas Stove
If you prefer chic style, ultra-modish looks, and elegance, this 3-burner gas stove from Elica is the one for you. Contrary to the age-old round burners, this stove flaunts brass burners enclosed in refined square grids and a sleek stove design. These features make it a perfect fit for all contemporary and minimalistic kitchens. Moreover, the compact design makes this gas stove ideal even for smaller kitchen shelves!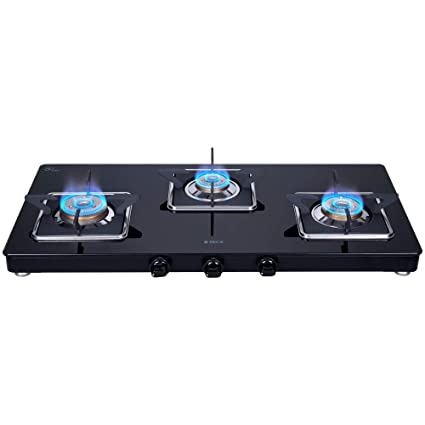 Sunflame Crystal Nova 3B BK 3 Burner Gas Stove
This metal base 3-burner gas stove from Sunflame is a best-selling product and makes a great option for you to pick. With a toughened glass top, black powder-coated finish, and brass burners, this stove makes a highly efficient, heavy-duty, and reliable addition to your kitchen. While the overall design exhibits elegance and class, it is also safe, user-friendly, and ergonomic, thus proving to be a worthy investment!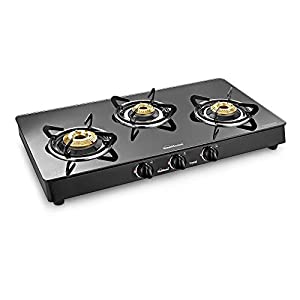 Gas stoves provide precise temperature control, allowing you to adjust the heat you need to prepare different types of dishes. Boil, fry, grill, bake, or roast — you can perform various culinary functions on it. Explore a wide range of 3-burner gas stoves from top brands such as Prestige, Pigeon, Sunflame, Butterfly, and more. These stoves come with features like auto-ignition, flame control knobs, ergonomic design, and much more. Wait no more and shop now to avail yourself of fantastic discounts on your preferred brand!

---