Decoding the Wedding Guest Dress Code: Your Ultimate Guide
Discover the perfect wedding guest dress code for a memorable celebration. Explore your ideal outfit and make your loved ones' special day even more magical.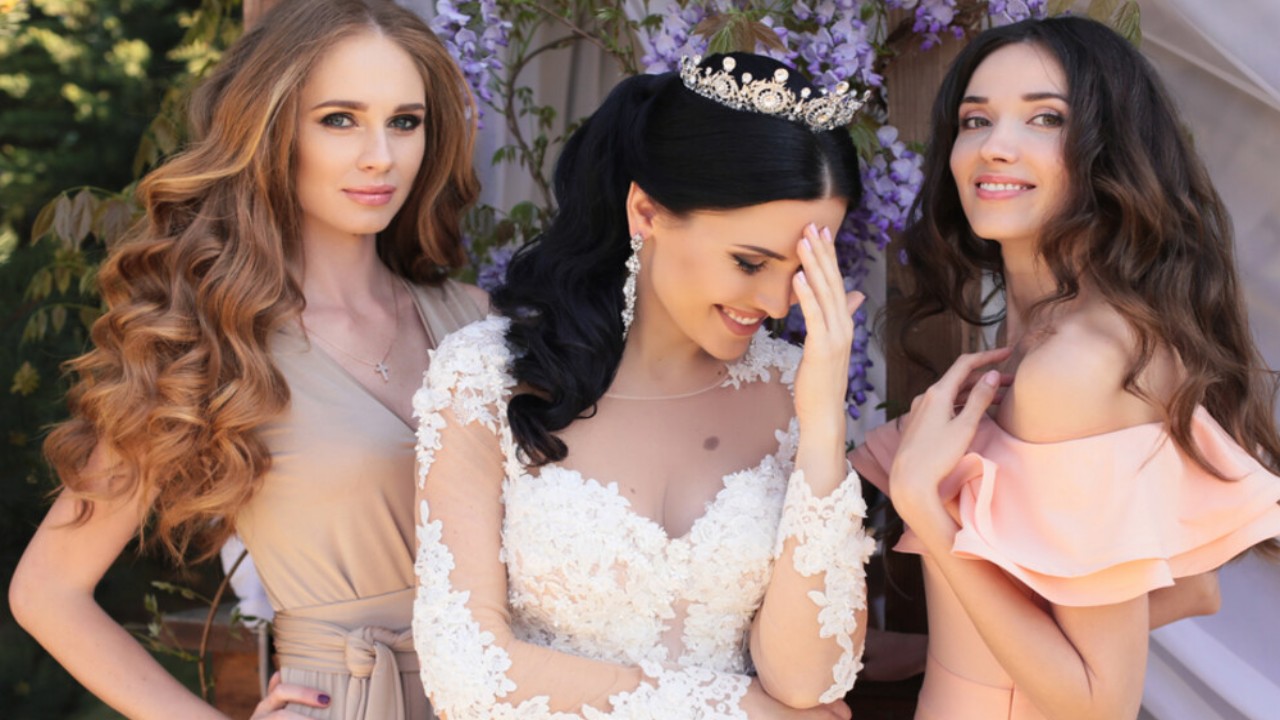 You could be worried about what you will be wearing as soon as the ceremony invitation arrives. However, this is not just about your attire code; it's an emotional journey through the world of wedding guest dress code. The perfect outfit goes beyond simply following wedding dressing rules; it's about feeling confident and beautiful and making the couple's special day even more memorable. Finding the ideal dress is only one aspect of this journey; others include expressing your personality, accepting love, and savoring special occasions that will live in your memory forever.
Let your heart guide you as you uncover the magic hidden within the folds of a gown or suit. Every outfit choice is a chapter in the love story that unfolds that day, adding to the canvas of memories that the couple and their loved ones will cherish. So, exhale deeply, allow your feelings to soar, and start your search for the ideal wedding guest clothing.
Demystifying White-tie Formal Wear for Wedding Guests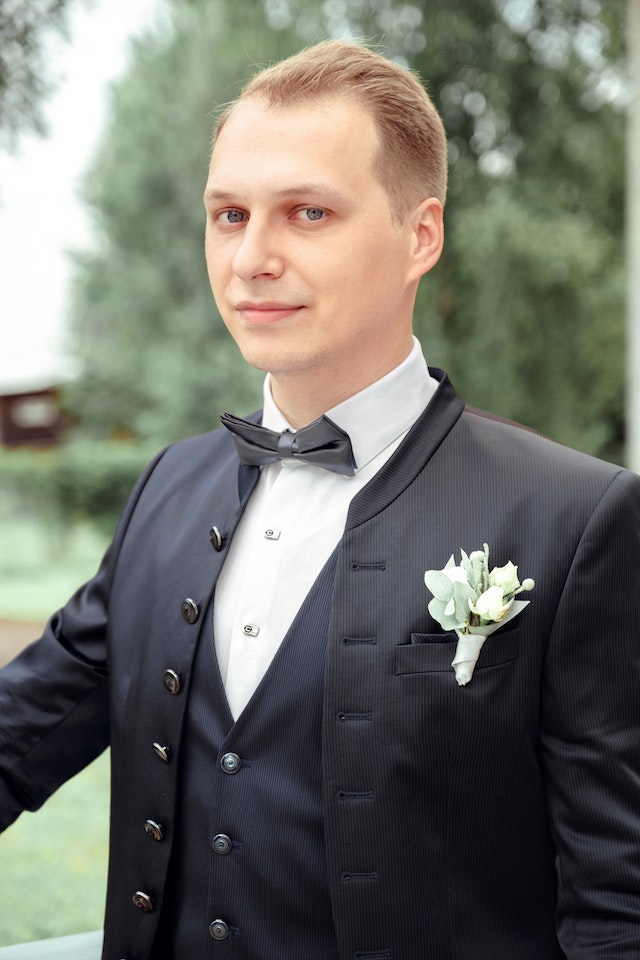 White-tie attire is the epitome of formal elegance and luxury, and as a guest, it demands the utmost sophistication. For men, this formal dress code for weddings requires wearing a black tailcoat, black trousers, a crisp white wing-collared shirt, a white bow tie, and black patent leather shoes. Women are expected to wear full-length formal gowns, preferably with elegant embellishments and accessories like gloves and statement jewelry. White vest apparel is traditionally saved for the most important ceremonial occasions, such as opulent gala dinners and royal meetings.
From Classic to Contemporary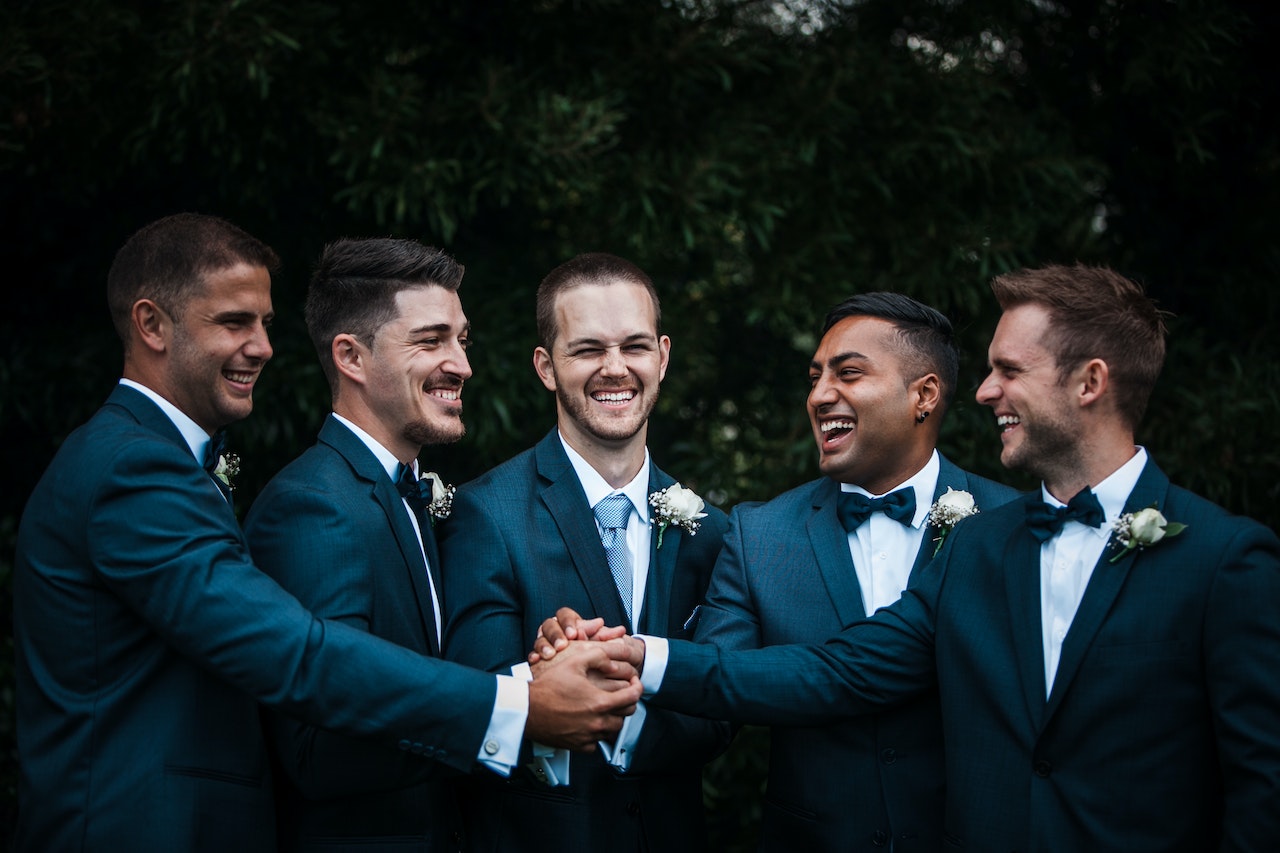 Black-tie attire exudes timeless class and is a popular dress code for weddings and formal evening events. A dark color tuxedo with a bow tie, a white dress shirt, and black dress shoes are a perfect choice for males per this dress code. Women can choose between elegant floor-length gowns or chic cocktail dresses, often paired with stylish accessories and heels. Black-tie weddings balance formal and sophisticated, allowing guests to look their best while celebrating the couple's special day.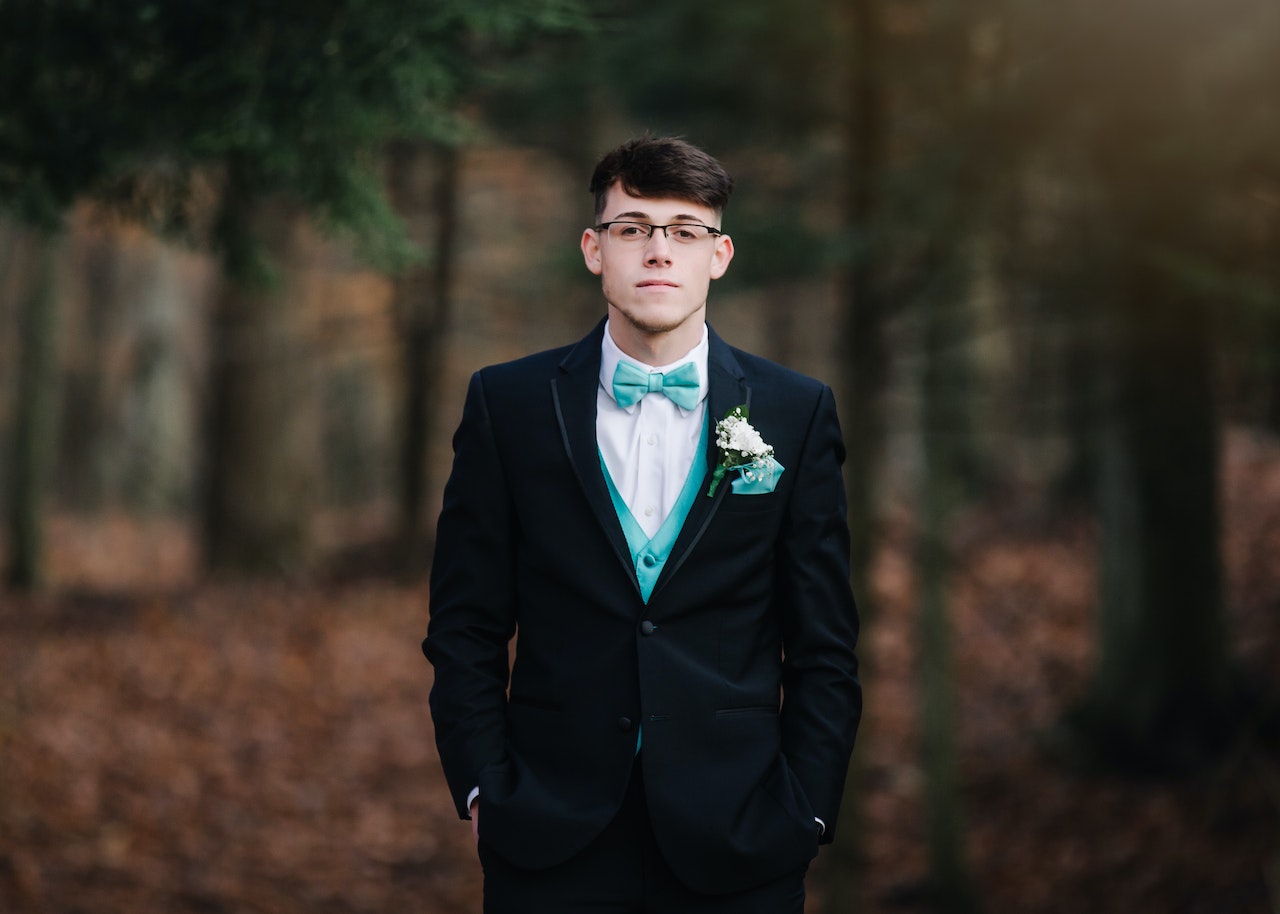 Black-tie dress codes are optional, also known as a black-tie invitation, which offers guests more flexibility while maintaining a formal tone. Male attendees must adhere to a black tuxedo, matching bow tie, a white shirt, and black shoes. Women can choose between elegant floor-length gowns, stylish cocktail dresses, or dressy separates. Black-tie optional allows guests to showcase their style while adhering to the event's formal atmosphere.
What Is Formal Attire for a Wedding?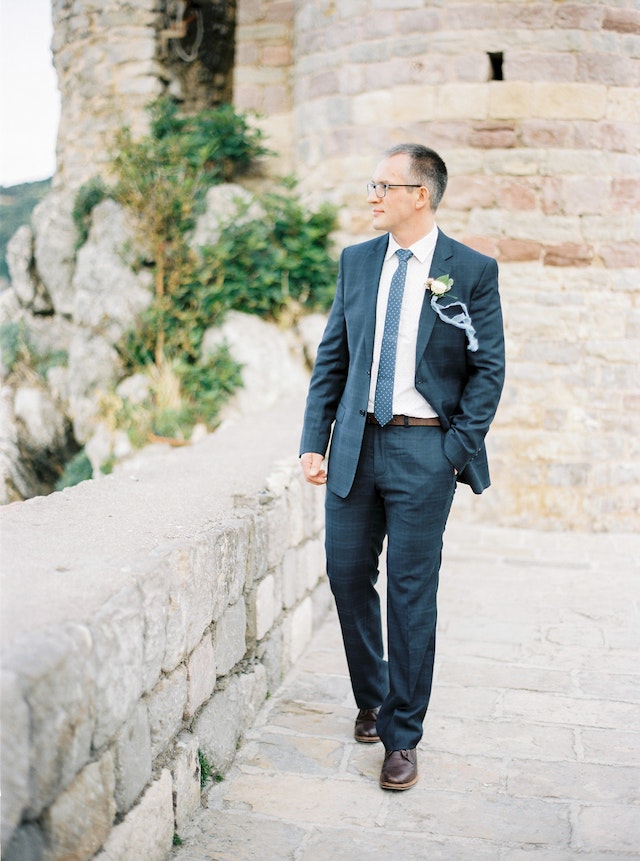 This attire calls for a polished and elegant look, making it suitable for many wedding parties. A well-tailored suit, dress shirt, and tie are ideal for guys. In contrast, women have many choices, including floor-length gowns, stylish cocktail dresses, and formal pieces. Formal attire lets guests look sophisticated and chic while celebrating the couple's special day.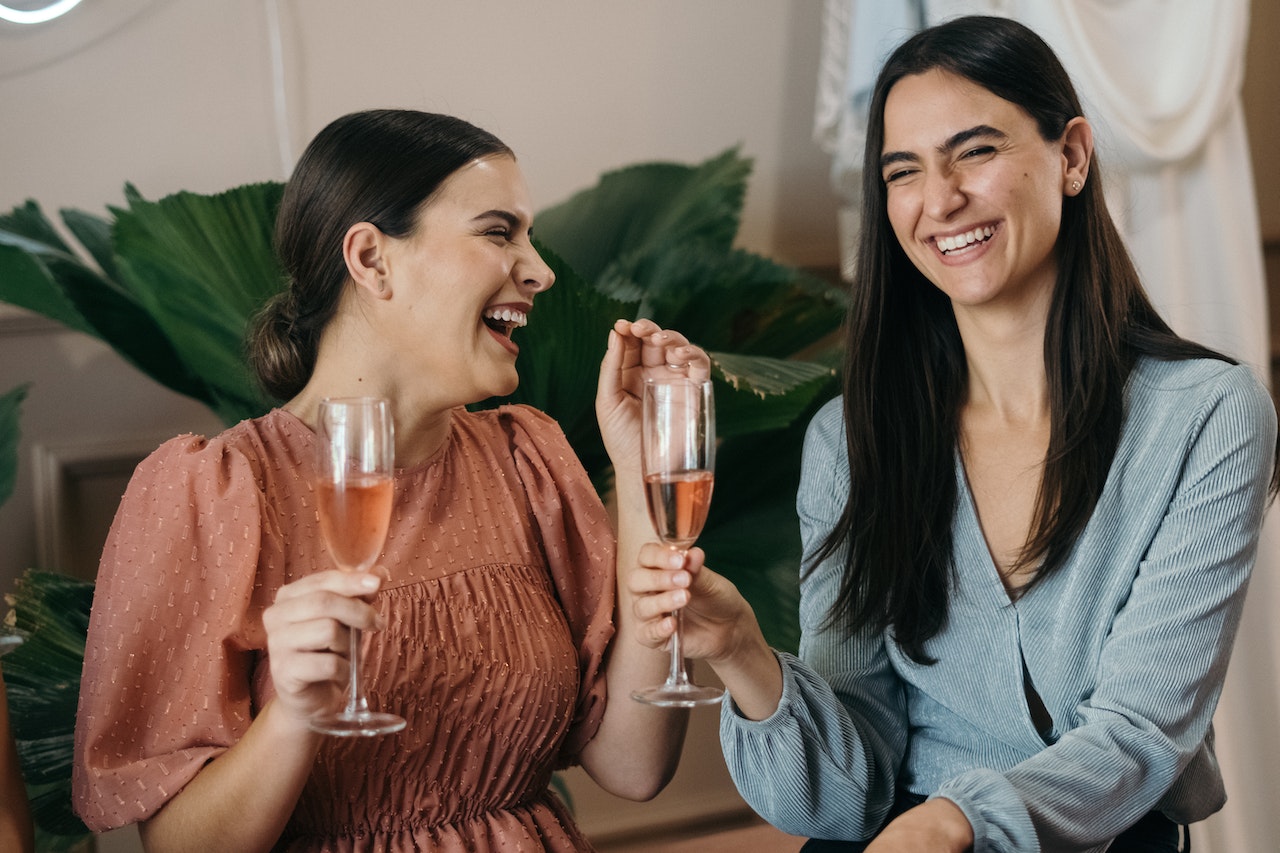 The cocktail dress code balances formal and semi-formal, allowing guests to be stylish and comfortable. Men can wear suits or dress shirts with dress pants, while women can choose chic cocktail dresses or elegant separates. Cocktail attire is a popular dress code for weddings, receptions, and evening gatherings, where guests can embrace their fashion-forward side without being overly formal.
What is Semi-formal Wedding Attire for Ceremony Attendees?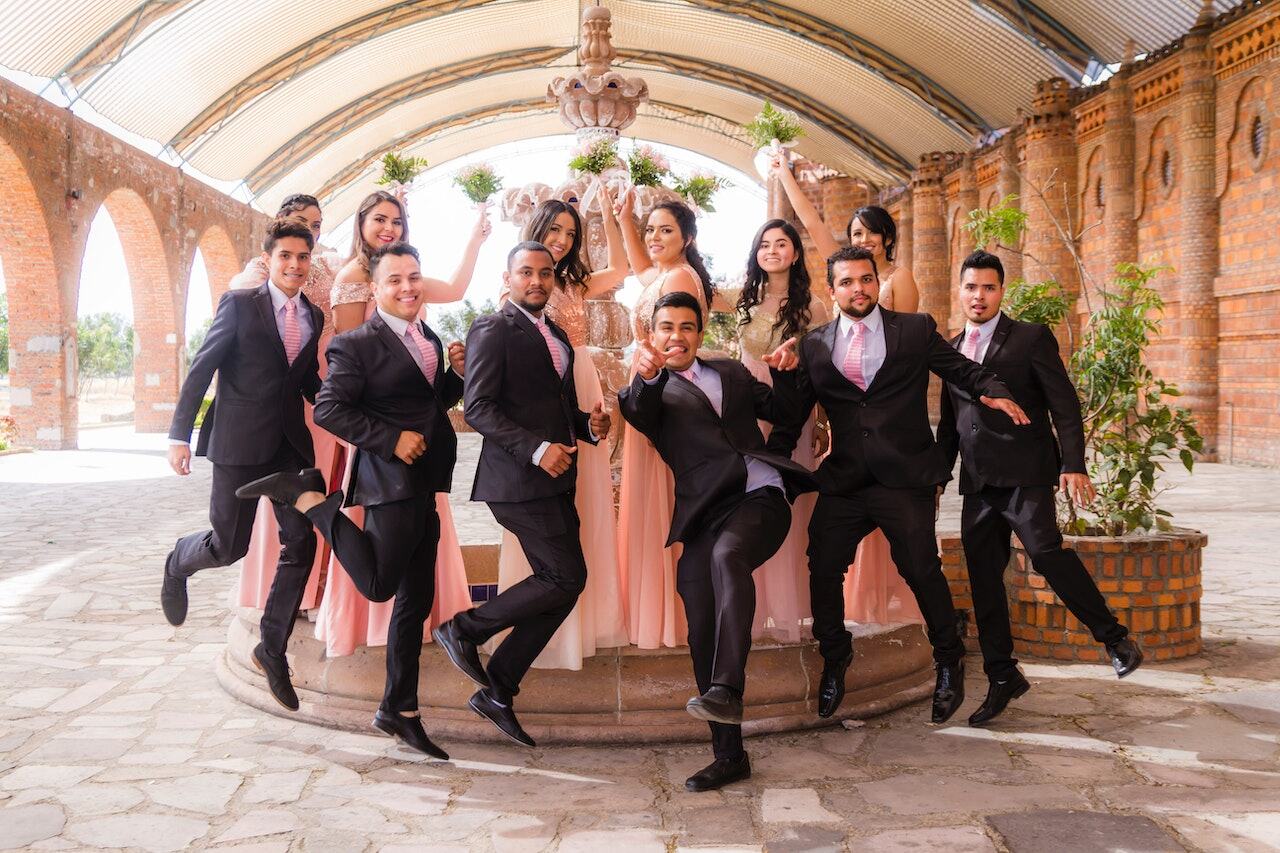 Dressing in a semi-formal or dressy-casual manner balances the formal and the informal.  For men, this dress code typically involves wearing a suit or dress pants paired with a dress shirt. A tie is optional, and men can also opt for a stylish blazer with dress pants for a more relaxed look. Women have a range of elegant alternatives to pick from, such as knee-length dresses, smart skirts with blouses, or fancy jumpsuits. The key is to look polished and put together without being overly formal. Semi-formal wedding attire suits many weddings, particularly those with evening or cocktail receptions.
Casual Attire to Dress Down for a Wedding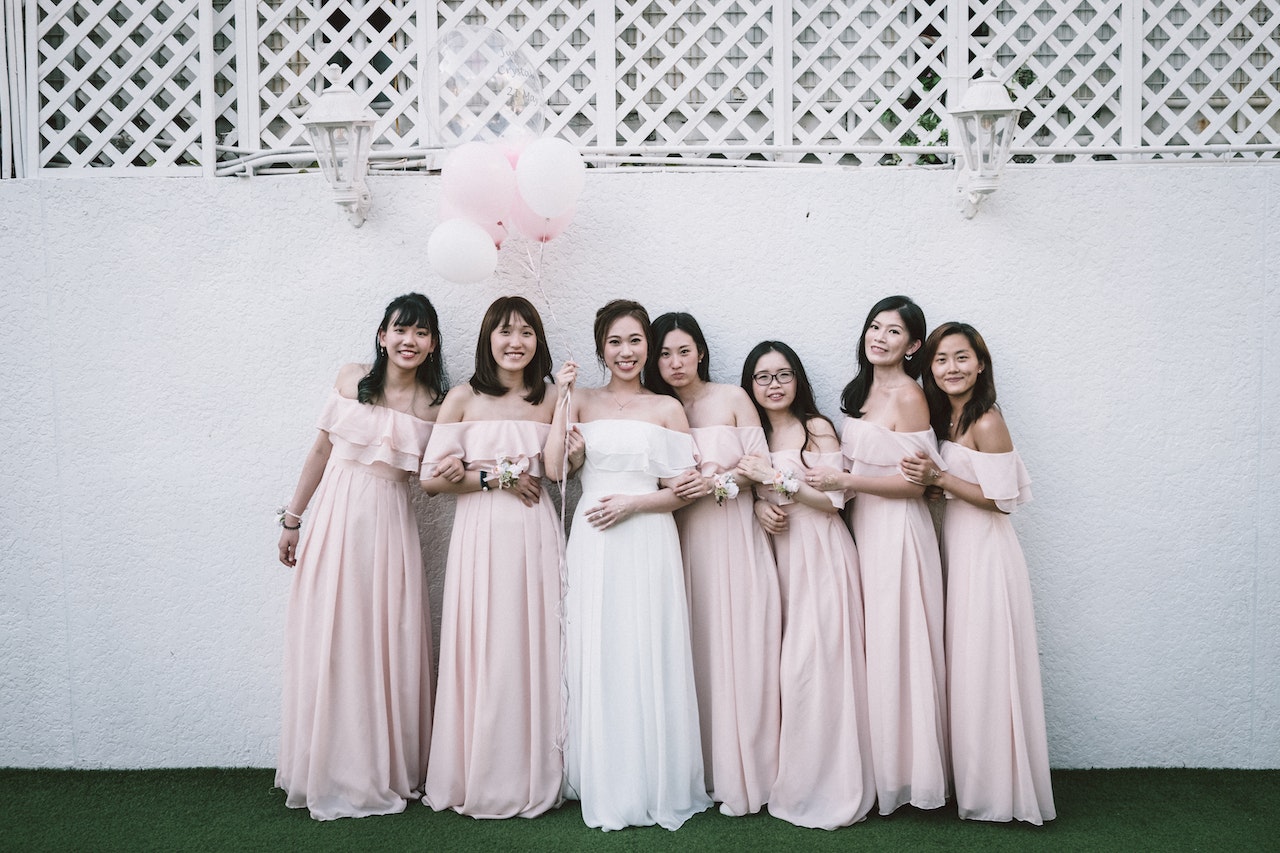 Casual attire for a wedding is the most relaxed and comfortable option for guests. For males, this can entail donning chinos or dress slacks and a polo shirt or button-down shirt. You might choose to forego wearing a blazer for a less formal appearance. Women can opt for sundresses, flowy maxi dresses, or casual skirts with ethnic tank tops. Casual attire suits daytime and outdoor weddings or events with a more relaxed atmosphere.
Daytime Attire from Casual to Chic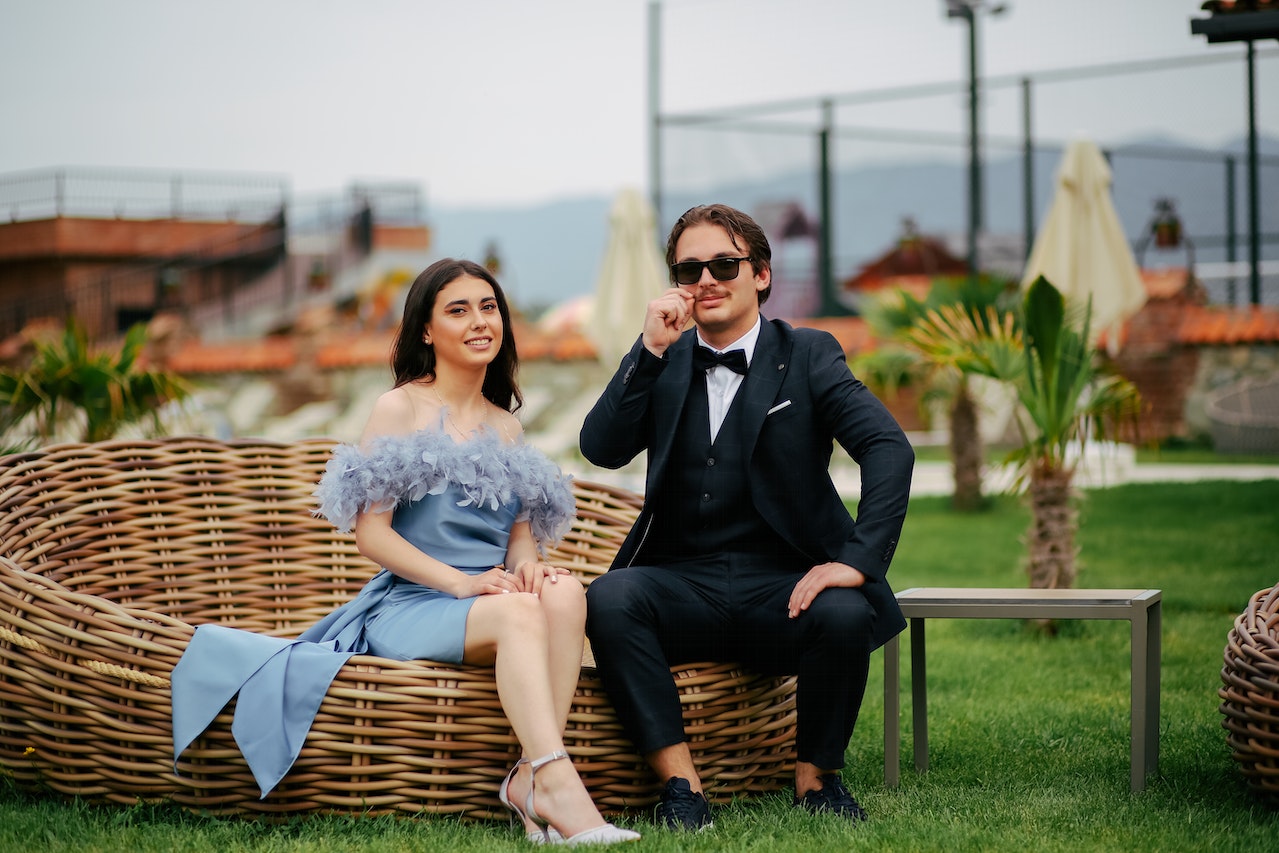 Daytime attire for a wedding calls for light and breezy outfits that suit the sunny and cheerful ambiance. For men, lightweight suits or dress pants with a dress shirt are appropriate. Ties are optional, and men can opt for lighter colors and fabrics to stay comfortable. Ladies can opt for various stylish options, such as floral dresses, pastel-colored outfits, or chic skirts with blouses. Sun hats and sunglasses are a stylish addition for outdoor daytime weddings.
Country And Western Attire to Explore the Fusion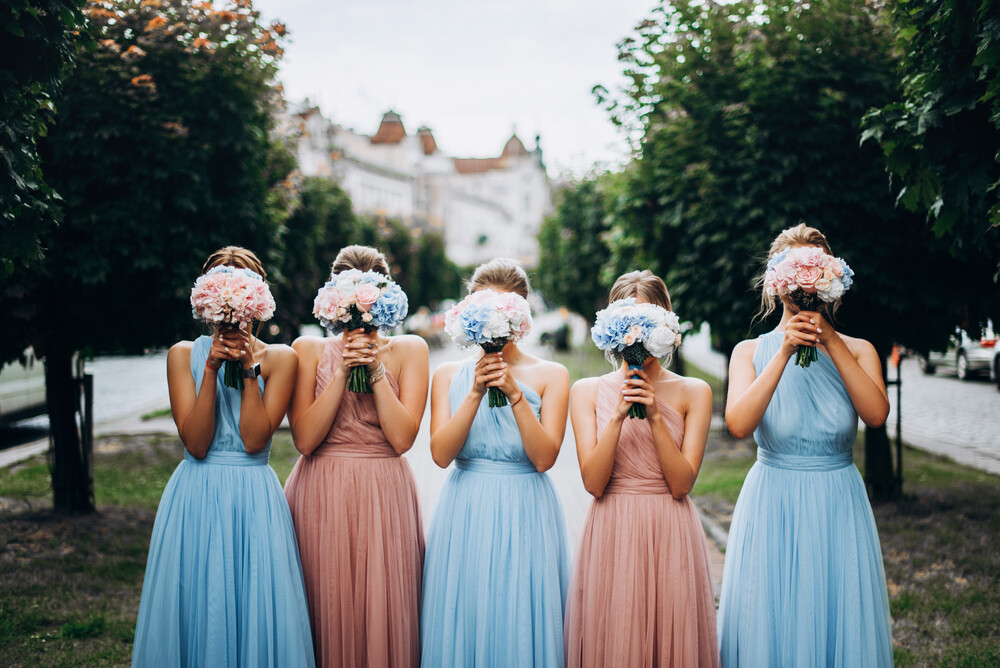 Country and Western attire for a wedding embrace the rustic charm of a country-themed celebration. For guys, this may go with a pair of well-fitting jeans or formal pants, a button-down shirt, a vest, and cowboy boots. Bolo ties or Western-style belts can add a touch of authenticity. Women can opt for flowy dresses with western-style prints or patterns paired with cowboy boots and a stylish hat. Embrace the charm of the countryside with this fun and unique dressing twist.
Unveiling Wedding Dress Codes And Colors That Are Appropriate for Guests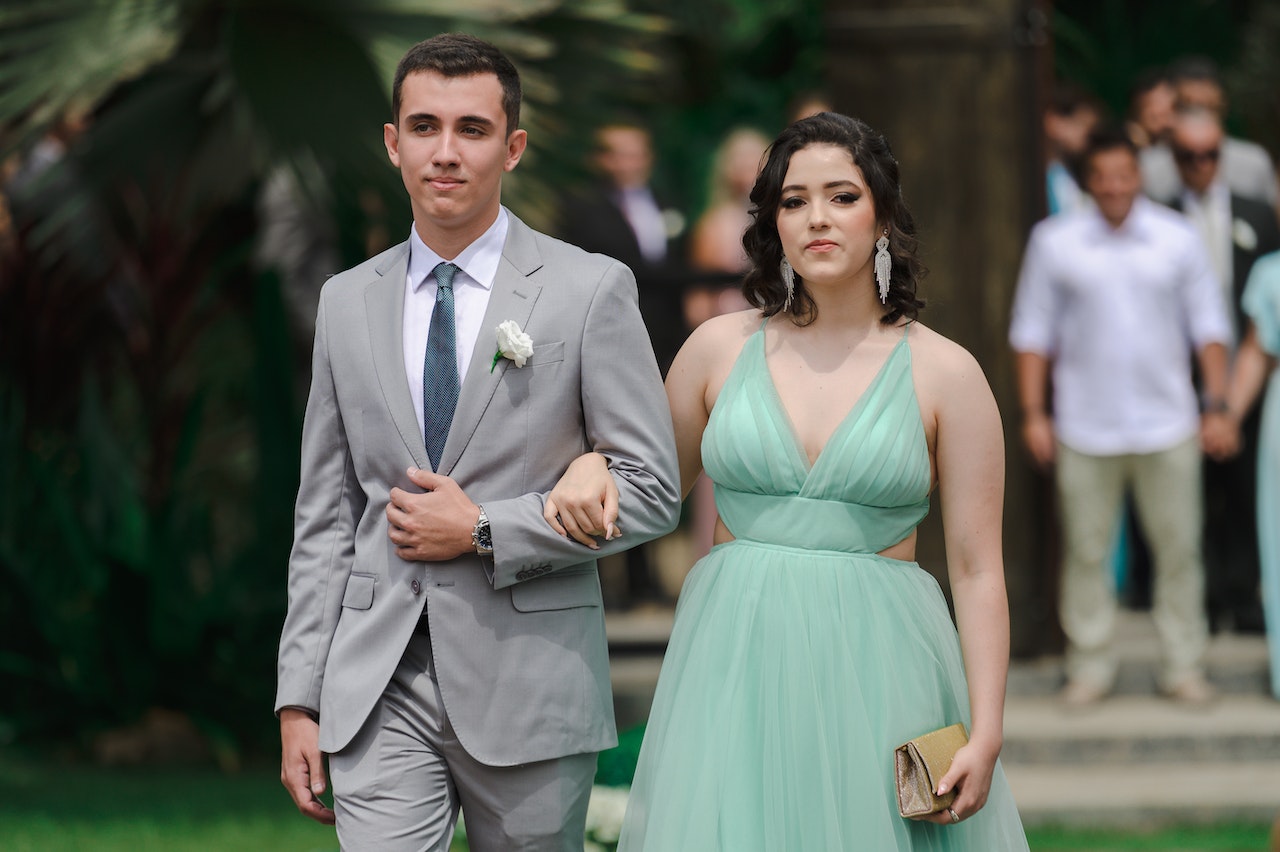 Once you've determined the level of formality, venue, and theme, the next challenge is choosing the perfect color palette. As a guest, you want to balance looking fabulous and adhering to the attire protocols. Let's explore the world of wedding attire options and discover the most suitable colors to enhance your ensemble.
Formal Attire for Wedding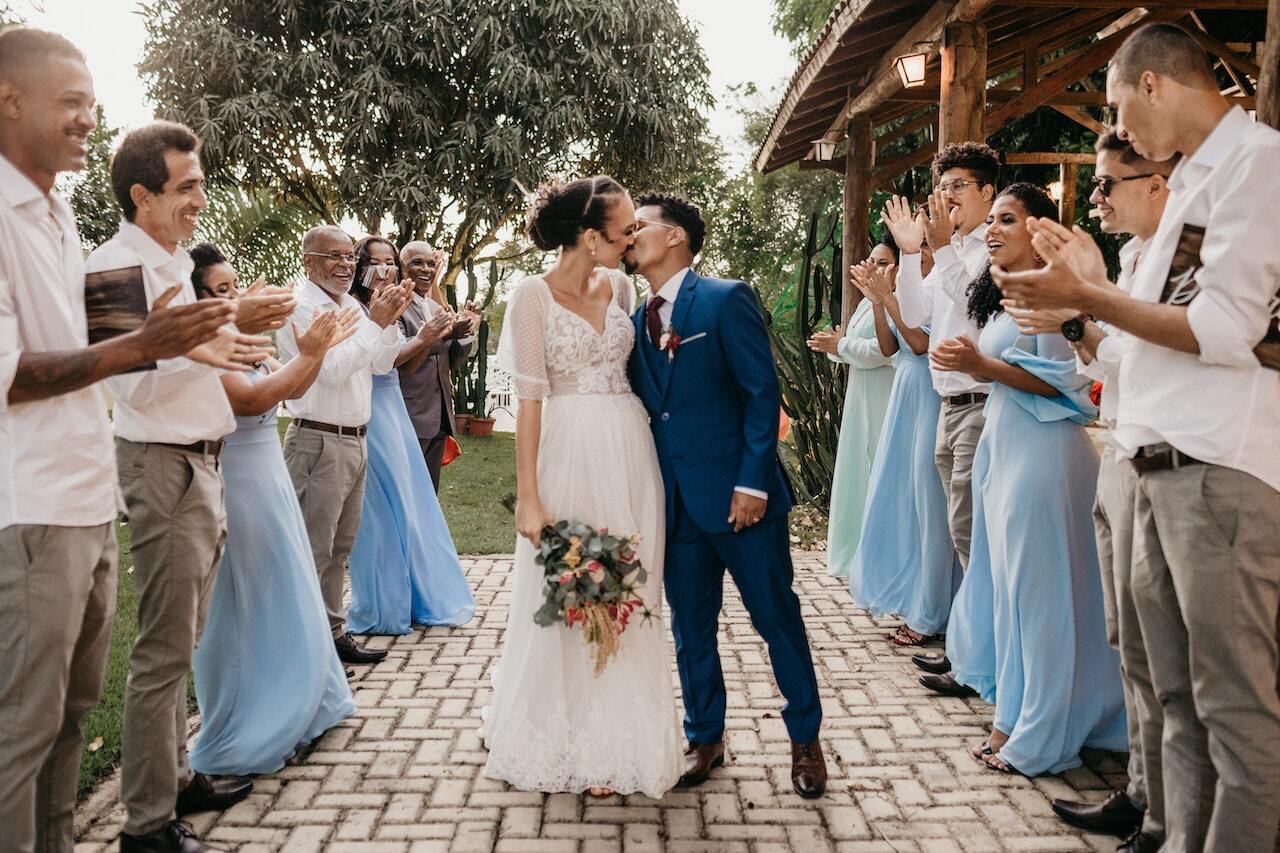 For formal weddings with black-tie or white-tie dress codes, opt for classic and sophisticated colors. In contrast to women, who can opt for rich jewel tones like emerald, sapphire, or ruby, males can select from classic black, navy, or charcoal suits. Comprise the elegance of muted colors like deep burgundy, dusty rose, or midnight blue for an enchanting touch.
Cocktail Attire for Wedding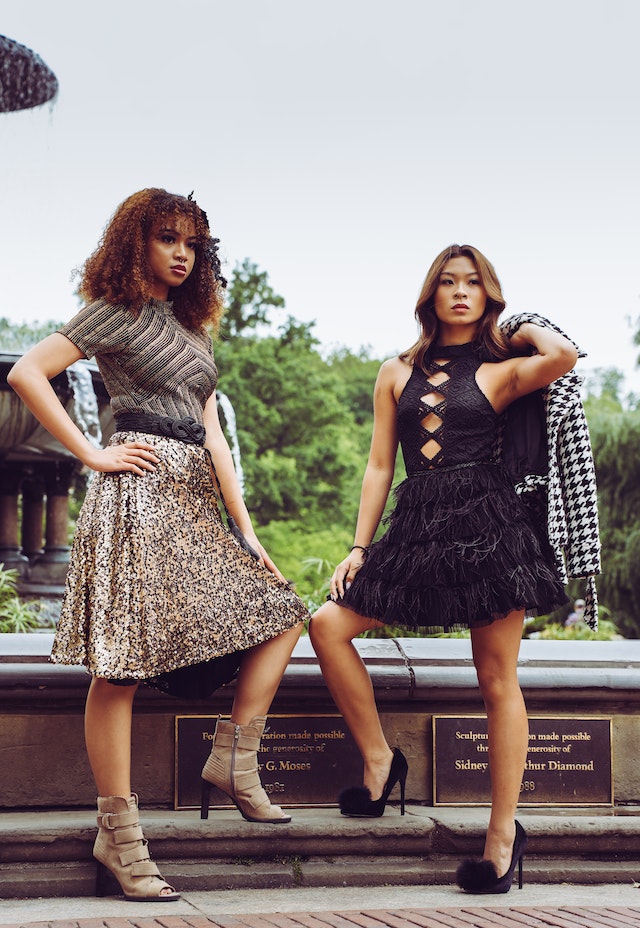 Cocktail attire calls for a chic and semi-formal look. For men, versatile dark colors like navy, charcoal gray, or deep burgundy will complement this dress code. Ladies can showcase their style with playful pastels, soft blush tones, or bold jewel shades. Involve the celebration with vibrant colors like emerald green, royal blue, or rich plum.
Semi-Formal Attire Or Dressy Casual Attire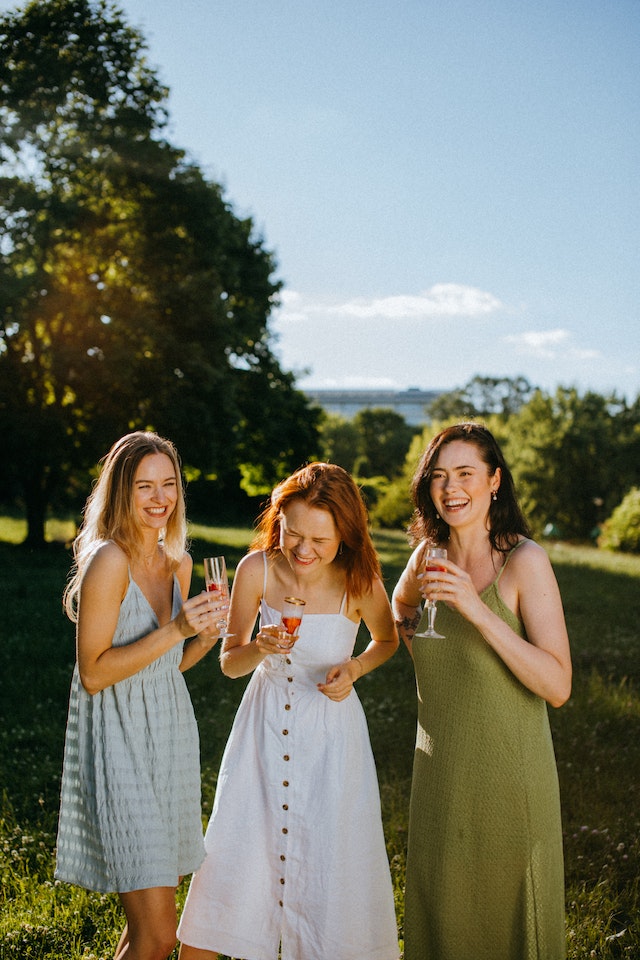 Semi-formal or dressy casual weddings open the door for more flexibility. Men can play with earthy tones like tan, light gray, or olive green. For women, opt for stylish patterns, floral prints, or pastel shades. Stand out with fun colors like mustard yellow, coral, or lavender for a lively and modern touch.
Casual Attire for Wedding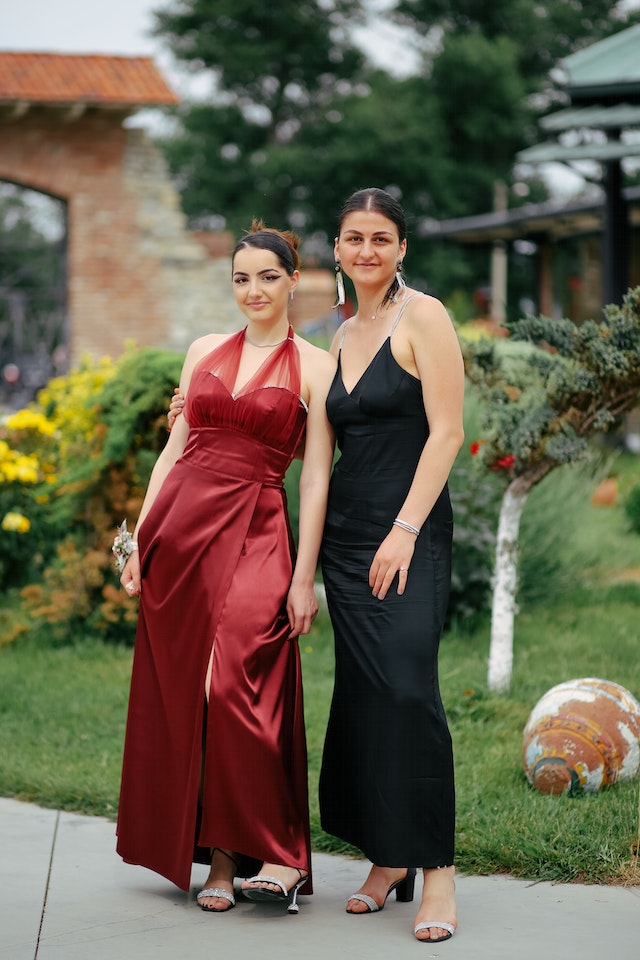 Casual weddings dress calls for relaxed and comfortable outfits. Men can choose light colors like beige, light blue, or soft green. For women, flowy maxi dresses or breezy sundresses in fun prints and bright colors will be ideal. Embrace cheerful hues like pastel pink, sky blue, or mint green to capture the casual spirit through the standard wedding dress code.
Discover Wedding Guest Outfits for Women as Per the Location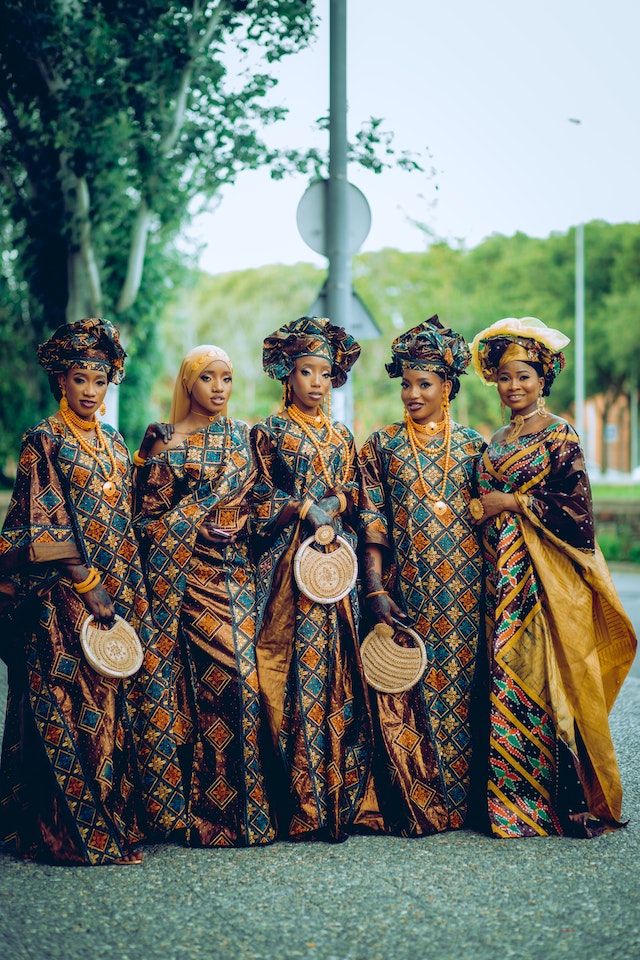 When choosing the perfect wedding guest outfit, consider the location as your fashion muse. 
Formalwear Elegance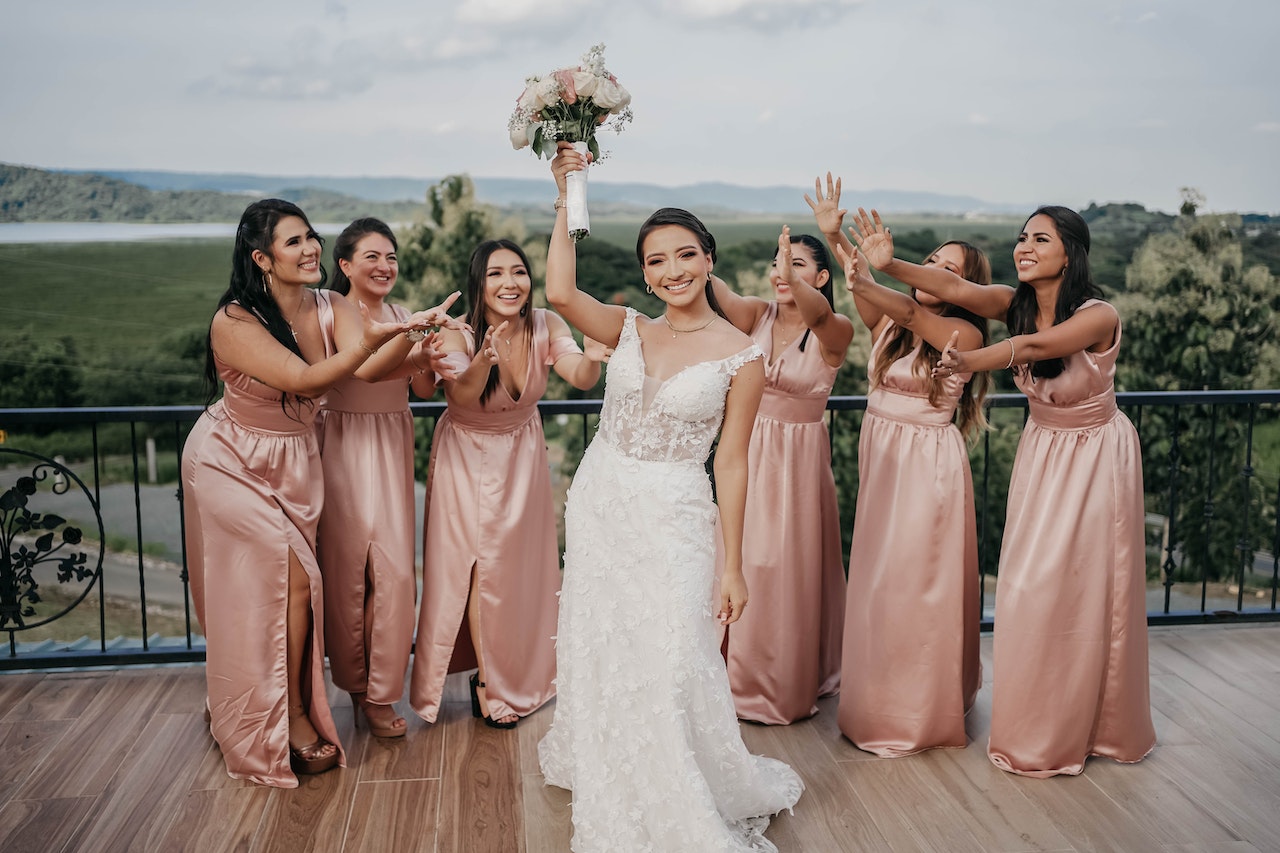 For grand ballrooms and elegant venues, embrace the timeless charm of vintage-inspired wedding guest outfits. Ladies, slip into a glamorous floor-length dress with intricate lace details and a flattering silhouette. Opt for soft pastel hues or classic shades like navy and burgundy. Pair your dress with sophisticated heels and statement jewelry to complete your sophisticated look.
Semi-casual Chic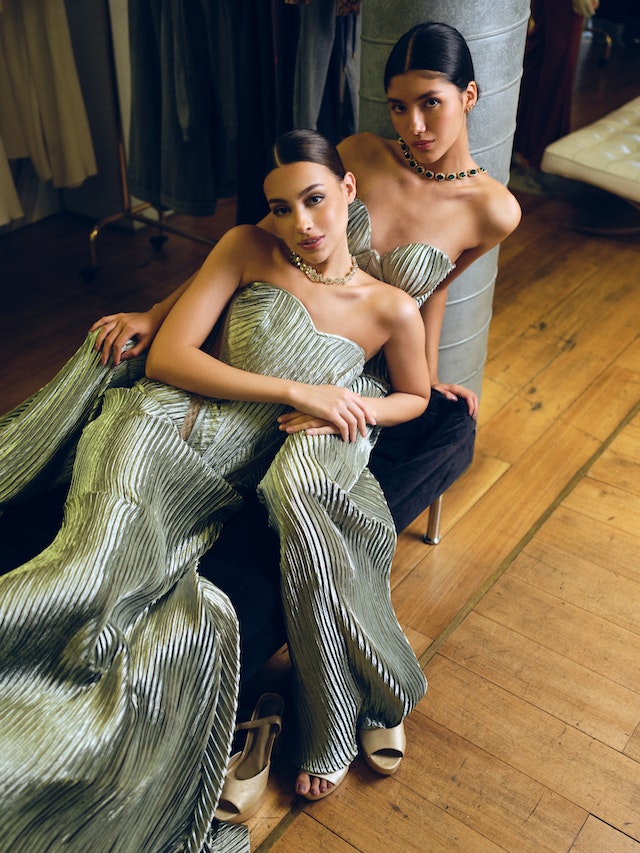 Garden weddings and outdoor affairs call for semi-casual yet stylish ensembles. Consider donning a chic midi dress in flowy fabrics with playful floral prints or soft, dreamy patterns. Opt for soft shades like blush, lavender, or mint to complement the natural surroundings. Complete your look with comfortable block heels or stylish sandals for an effortless and elegant touch.
Pantsuit Perfection
For fashion-forward and modern wedding settings, embrace the power of the pantsuit. Ditch the traditional dresses and opt for a well-tailored pantsuit for a wedding in a bold color like deep red, electric blue, or even a chic pattern. Balance the look with statement accessories, elegant pumps, and a stylish clutch. This contemporary twist will make you stand out while exuding confidence.
Beach Bohemian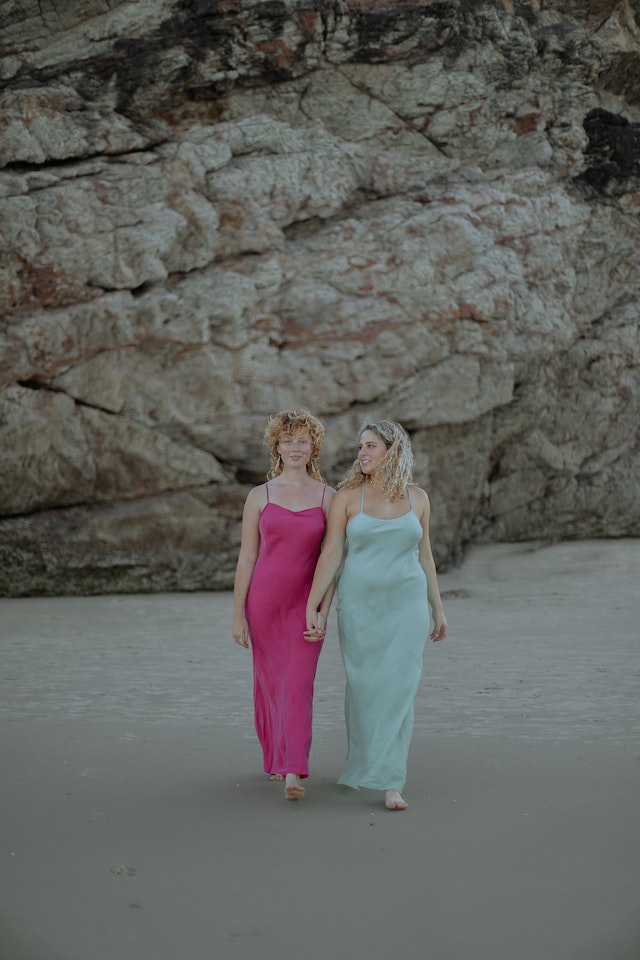 Beach weddings offer a canvas for bohemian-inspired wedding guest dress code. Embrace flowy maxi dresses with light and breathable fabrics adorned with playful patterns or tropical prints for destination weddings. Opt for soft, sandy hues like coral, aqua, or sun-kissed yellow to match the ocean vibes. Don't forget to accessorize with beachy jewelry and comfortable wedges or sandals for a carefree and effortless look.
Urban Chic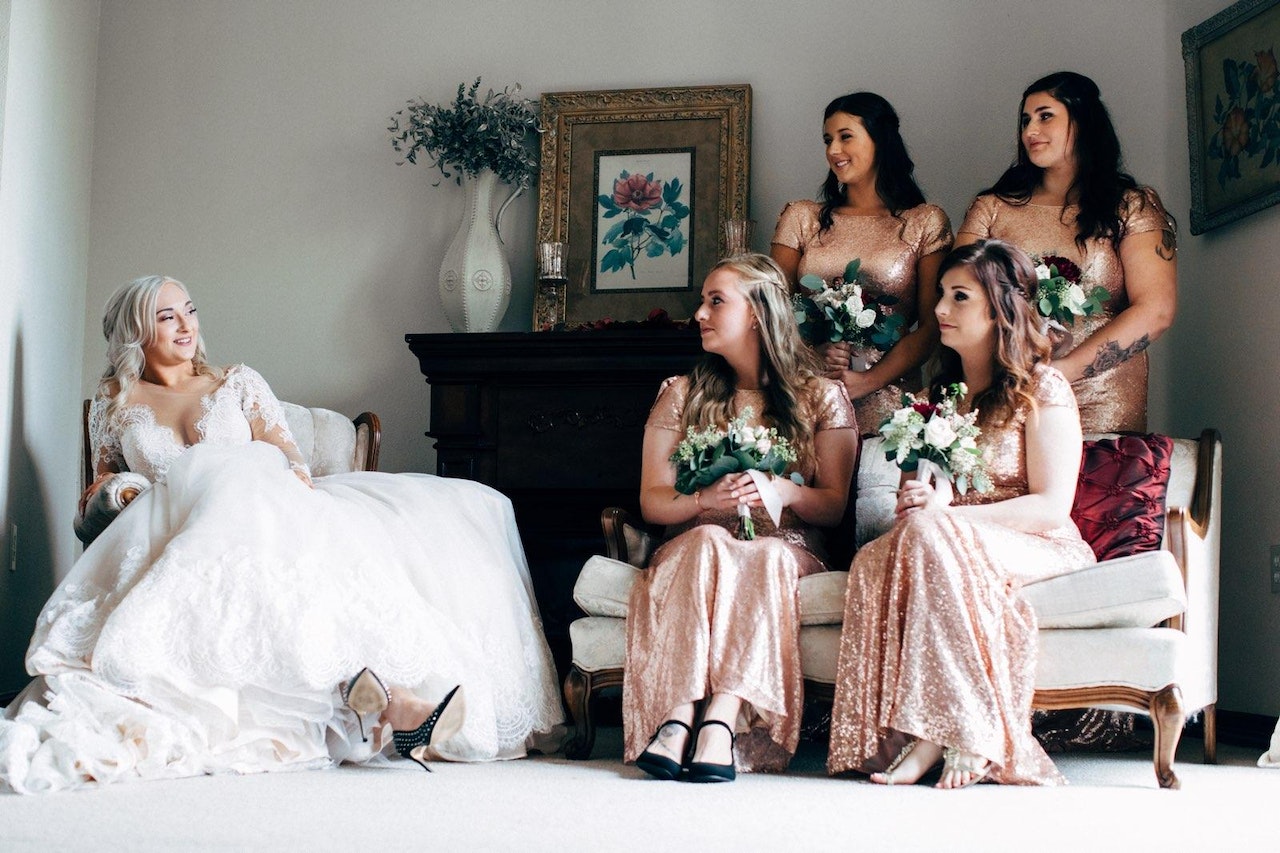 City weddings call for urban chic and contemporary casual wedding attire. Consider a stylish knee-length dress with architectural details or bold color-blocking. Embrace modern shades like metallics, deep emeralds, or urban gray. Complete your city-chic look with trendy stilettos and a sleek clutch to make a statement that blends seamlessly with the cityscape.
Dressing the Part: Exploring Cultural Wedding Wear for Guests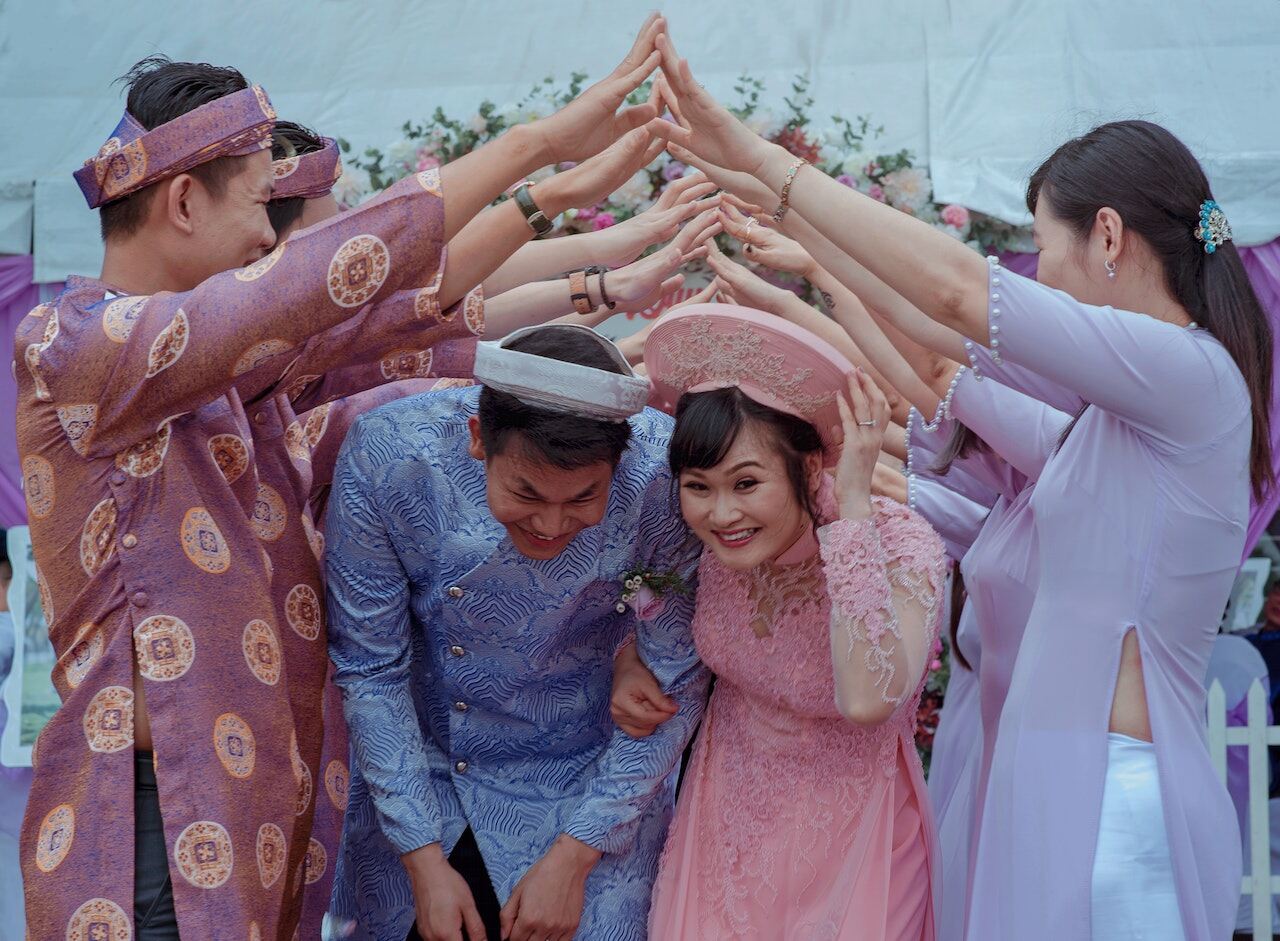 As a wedding guest, respecting and embracing the event's cultural significance extends to your attire. Let's discover how to dress for a wedding in a way that honors and celebrates the couple's heritage.
Traditional Indian Weddings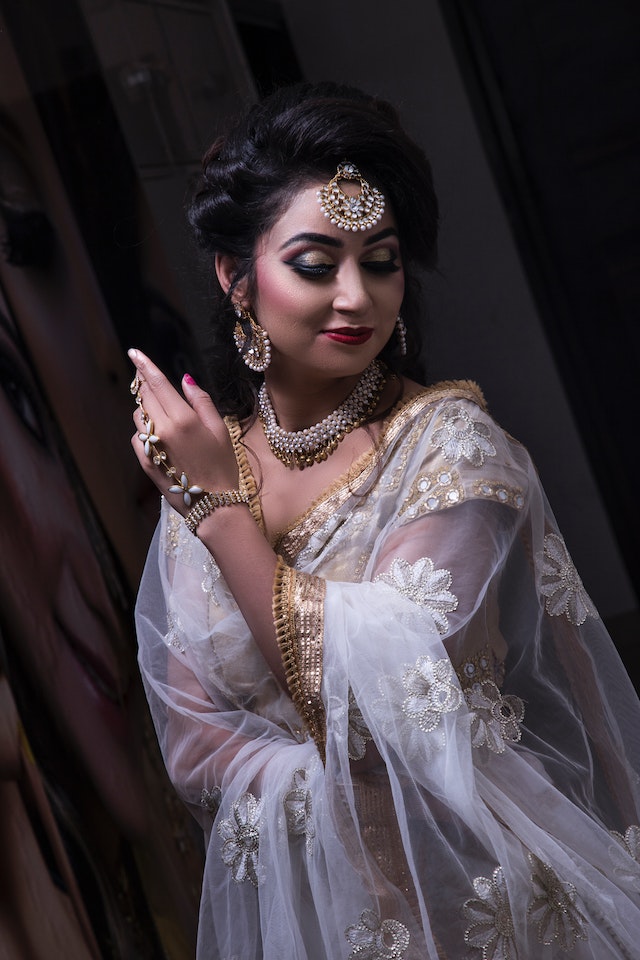 For Indian weddings, vibrant colors and intricate designs take center stage. As a guest, consider donning a stunning saree with exquisite embroidery or a dazzling lehenga adorned with embellishments. Embrace the palette of jewel tones like ruby red, royal blue, and emerald green. Accessorize with elegant jewelry, including statement earrings and bangles, to complete your traditional Indian wedding guest look.
Chic Chinese Weddings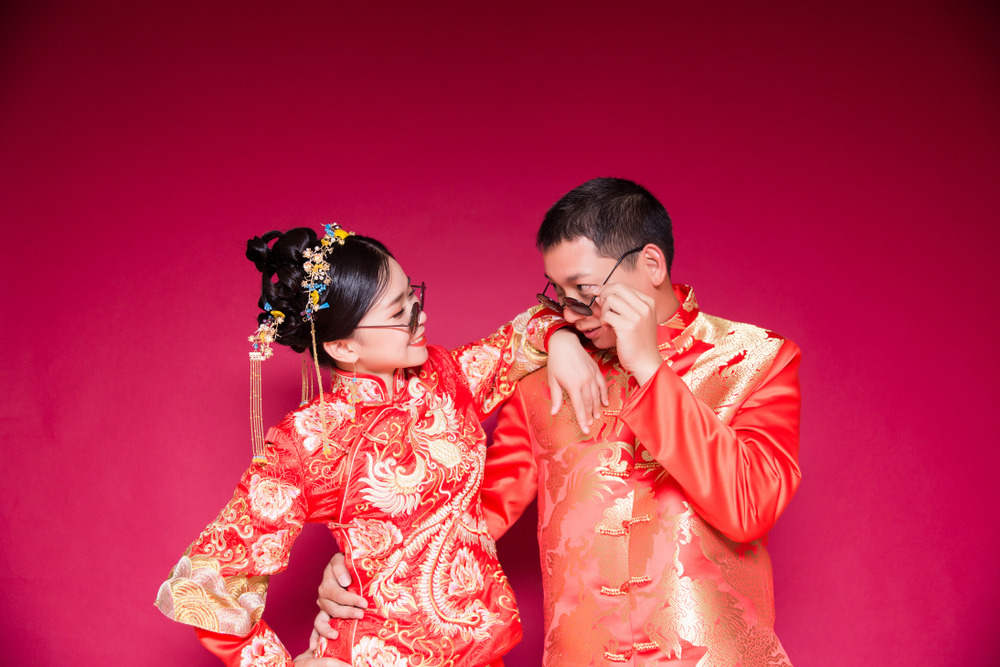 Chinese weddings exude elegance and grace, focusing on auspicious colors and symbolism. As a guest, opt for a stylish qipao or cheongsam in vibrant hues like red or gold, representing luck and prosperity. Embrace the intricate detailing and sleek silhouette for a modern touch. Nicely pair your attire with delicate accessories, and consider adding a red envelope with a monetary gift as a customary gesture.
Joyous Jewish Weddings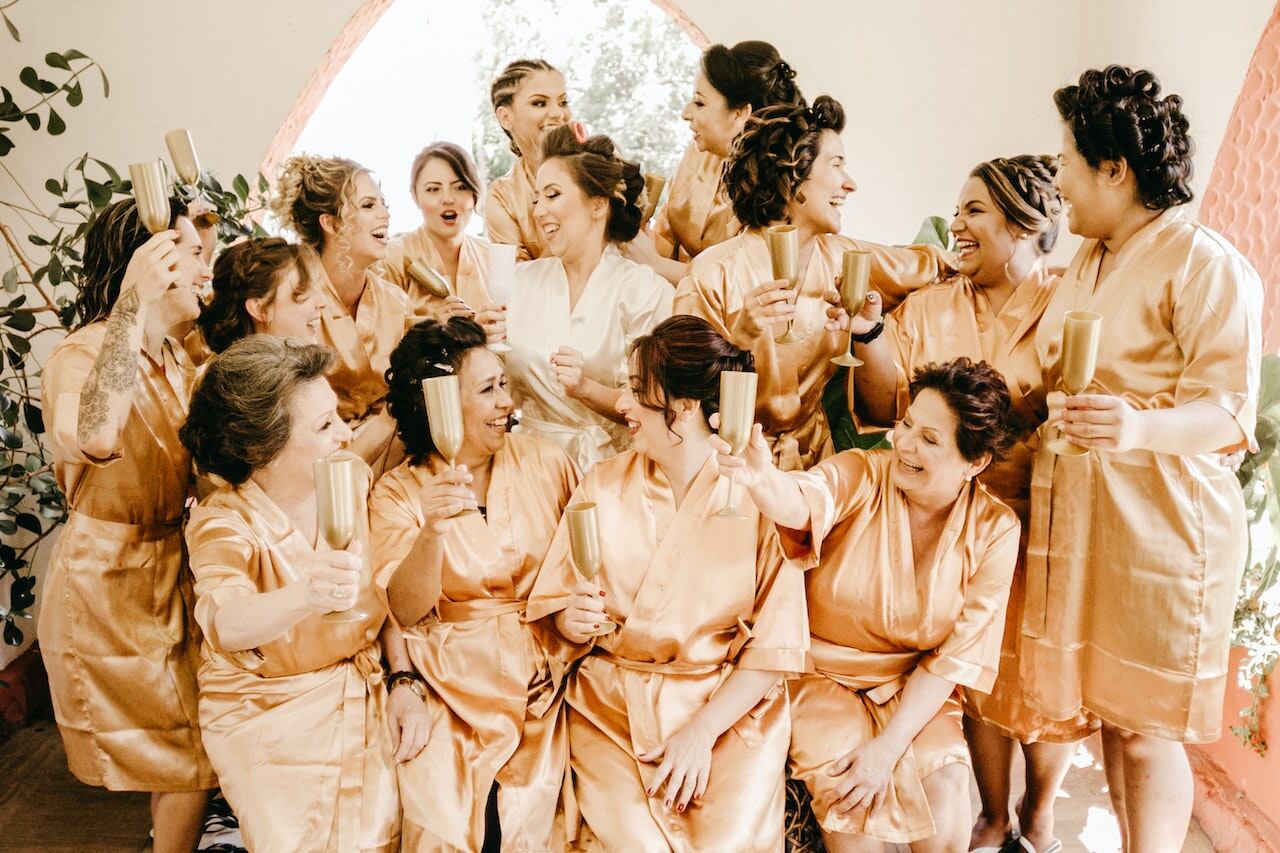 Jewish weddings are filled with joyous celebrations, and as a guest, your attire can reflect this happiness. For women, choose a modest yet stylish knee-length dress or a chic skirt and blouse ensemble. Opt for colors like navy, blush, or lilac, and consider covering your shoulders as a sign of respect. Men can choose a well-tailored suit with a dress shirt and tie, completing the look with polished shoes and a warm smile.
Captivating African Weddings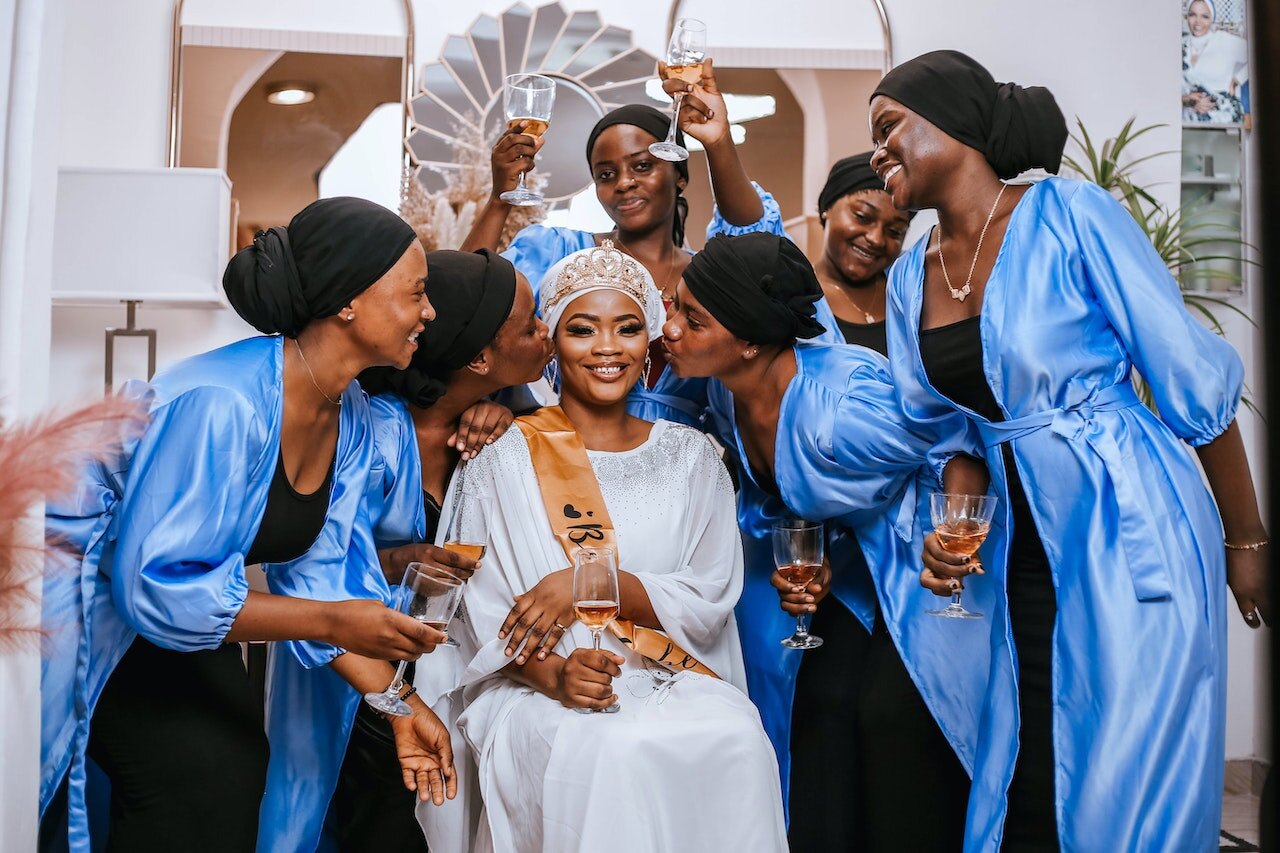 African weddings celebrate culture and heritage, and as a guest, you can embrace the vibrancy and diversity of African attire. Choose from a colorful array of prints and patterns, such as Ankara or Kitenge fabrics. Go for bold and bright shades like orange, yellow, or turquoise. Accessorize with beaded jewelry and a gentle or headwrap for an authentic African touch to your guest attire for the wedding.
Western Fairytale Twist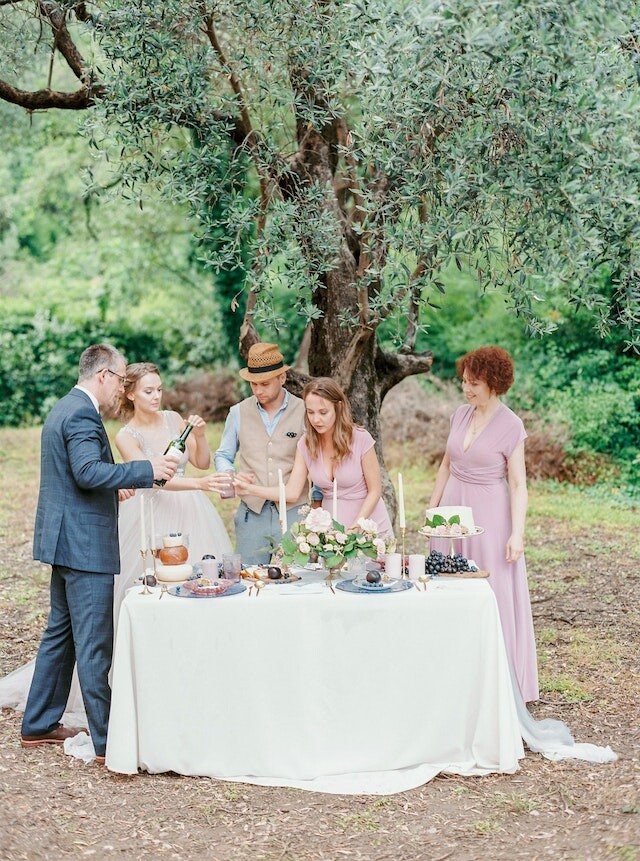 Western wedding attire varies depending on the event's formality. Women can wear a chic cocktail dress, sophisticated knee-length dress, or elegant gown, while men wear dark suits or tuxedos with ties or bow ties. In the United States, guests often choose attire that complements the season and theme. For outdoor summer weddings, flowy dresses or skirts in soft pastels are popular, while for fall and winter weddings, richer colors and fabrics like velvet or satin are preferred.
Harmonious Blend of Korean Tradition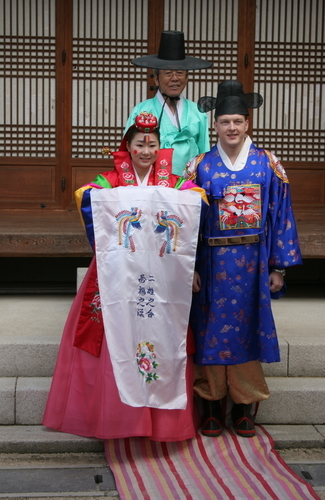 Korean weddings blend modernity and tradition, resulting in an elegant hanbok. These vibrant, graceful silhouettes are characterized by bold floral patterns for women and simple lines and colors for men. Dressing appropriately for a cultural wedding requires respect and mindfulness of customs. Embracing cultural wedding wear not only adds beauty to the celebration but also demonstrates appreciation for the couple's heritage. 
How to Nail Wedding Guest Attire: Do's And Don'ts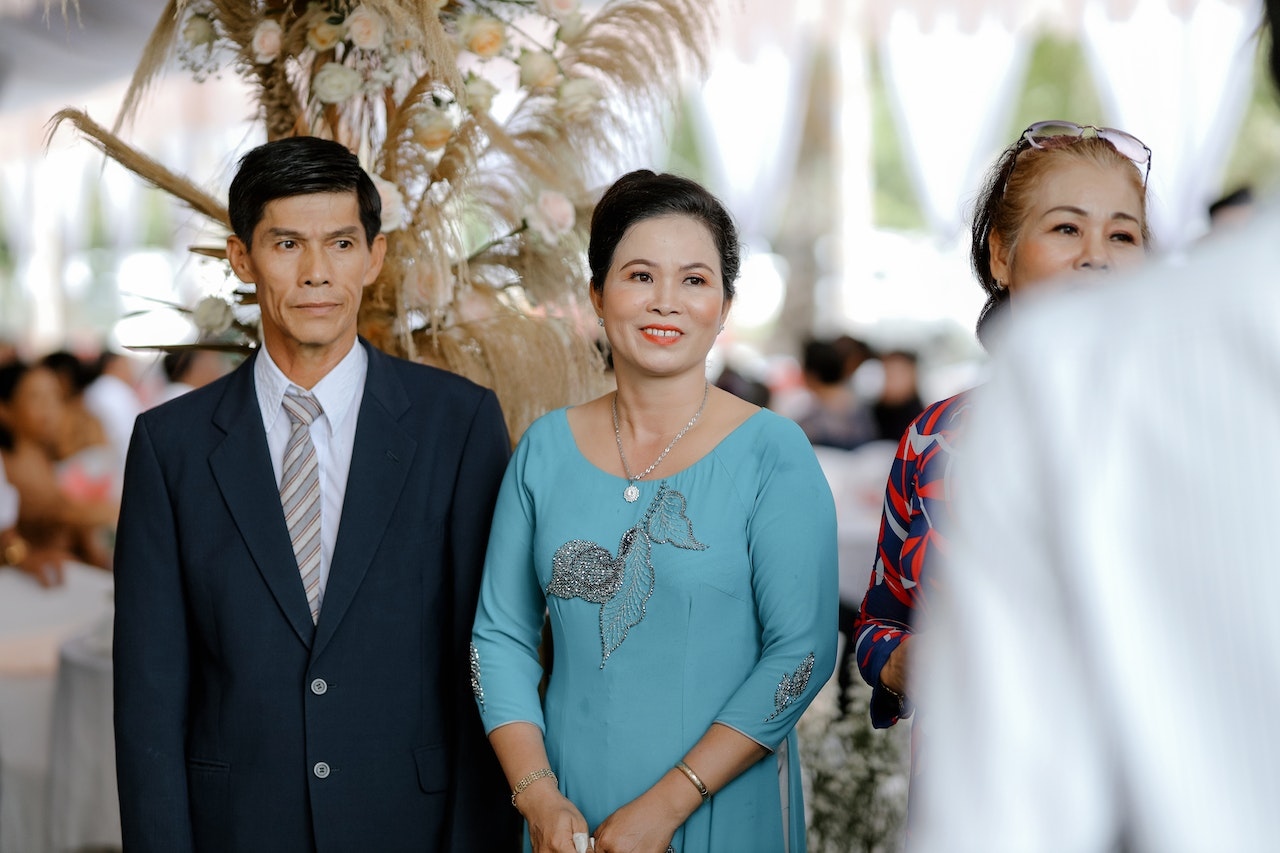 To ensure you look your best and avoid any fashion faux pas, here are some do's and don'ts of wedding attire for guests.
Do's: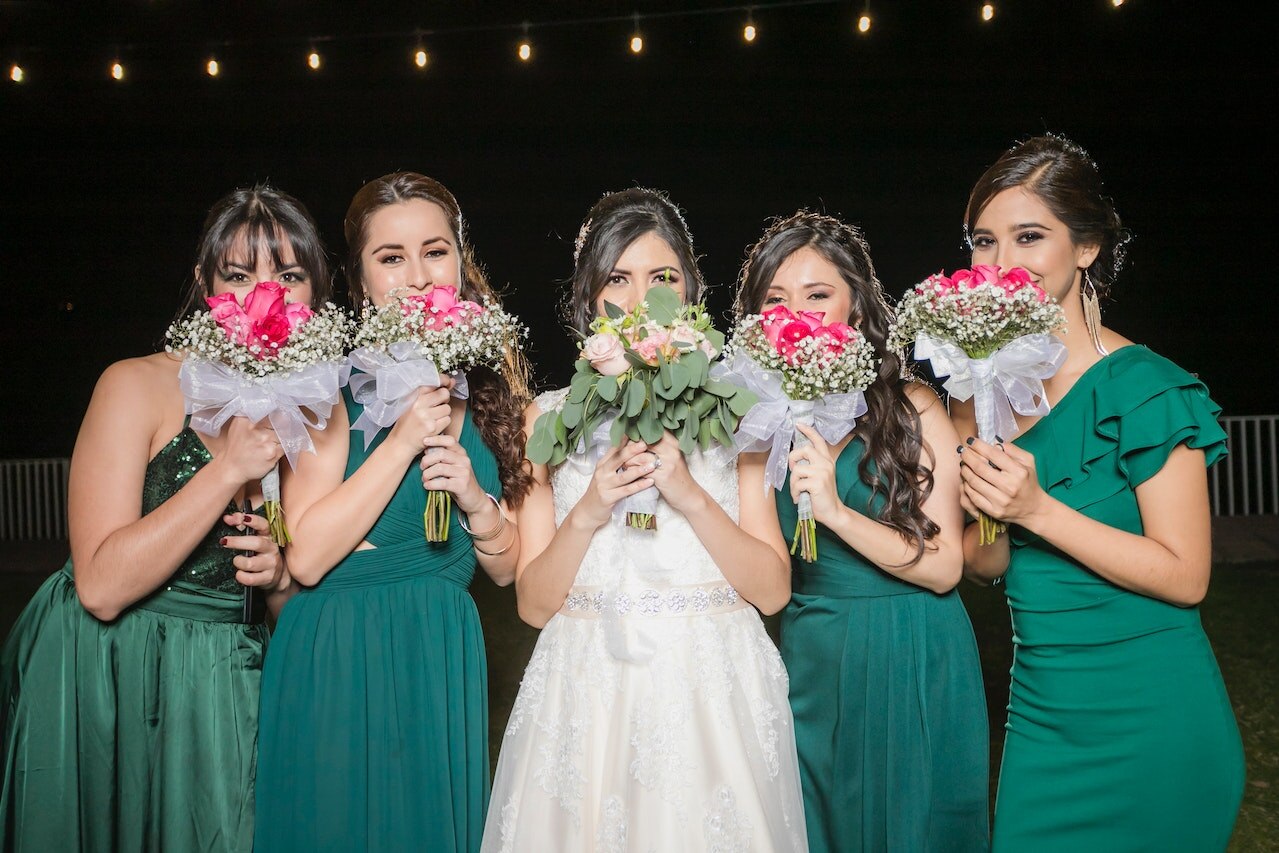 1. Follow the Dress Code
Pay attention to the dress code specified on the wedding invitation and adhere to it. It sets the tone for the event and helps you choose the right outfit.
2. Dress According to the Venue
When choosing your clothes, look at the setting and hour of the wedding day. Opt for more formal attire for evening weddings and outdoor-appropriate outfits for garden or beach weddings.
3. Choose Elegant And Sophisticated Outfits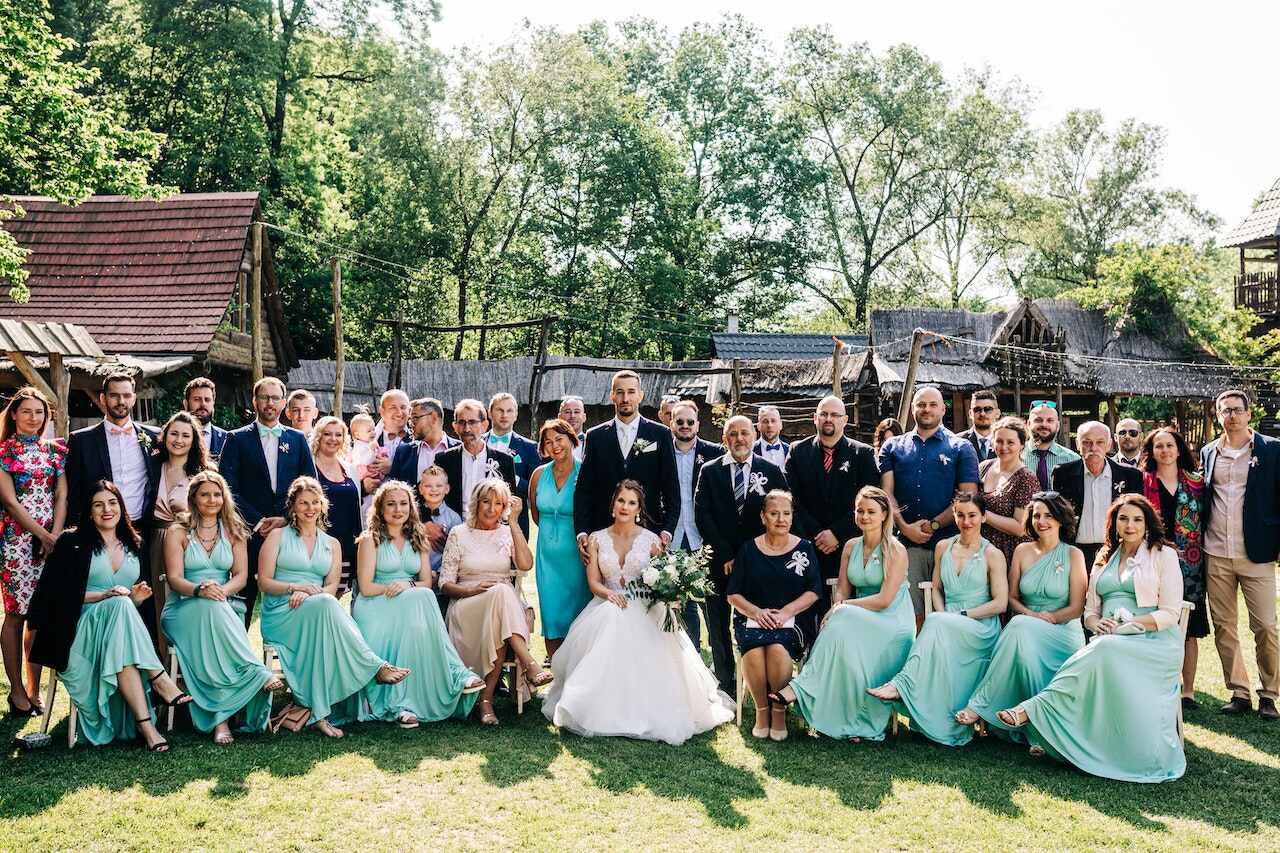 Weddings are a time to dress up, so choose elegant and classy pieces suitable for the occasion. Opt for well-tailored suits or stylish dresses that flatter your figure.
4. Embrace Color And Patterns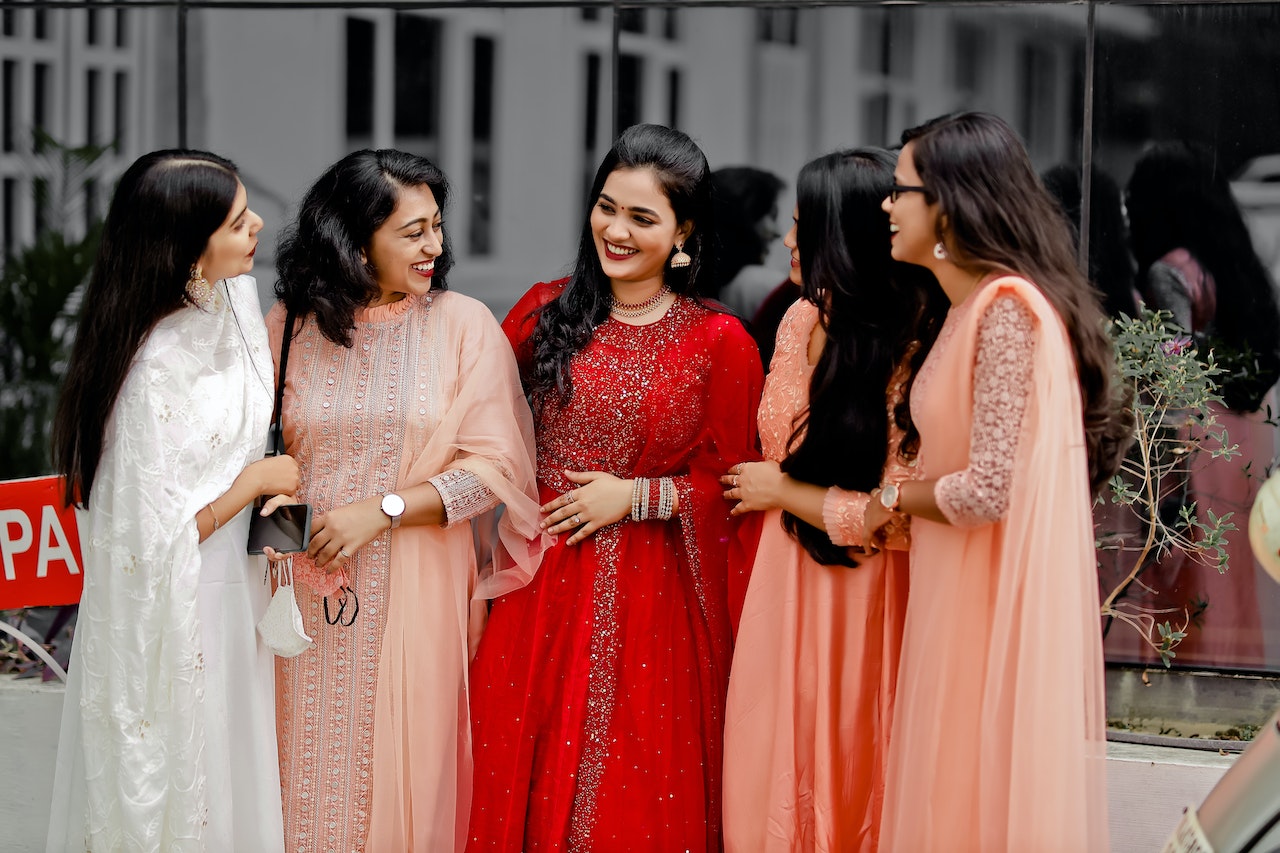 Don't be afraid to wear colors and patterns, especially for daytime or semi-formal weddings. Vibrant hues and tasteful prints can add a touch of personality to your ensemble.
5. Accessorize Thoughtfully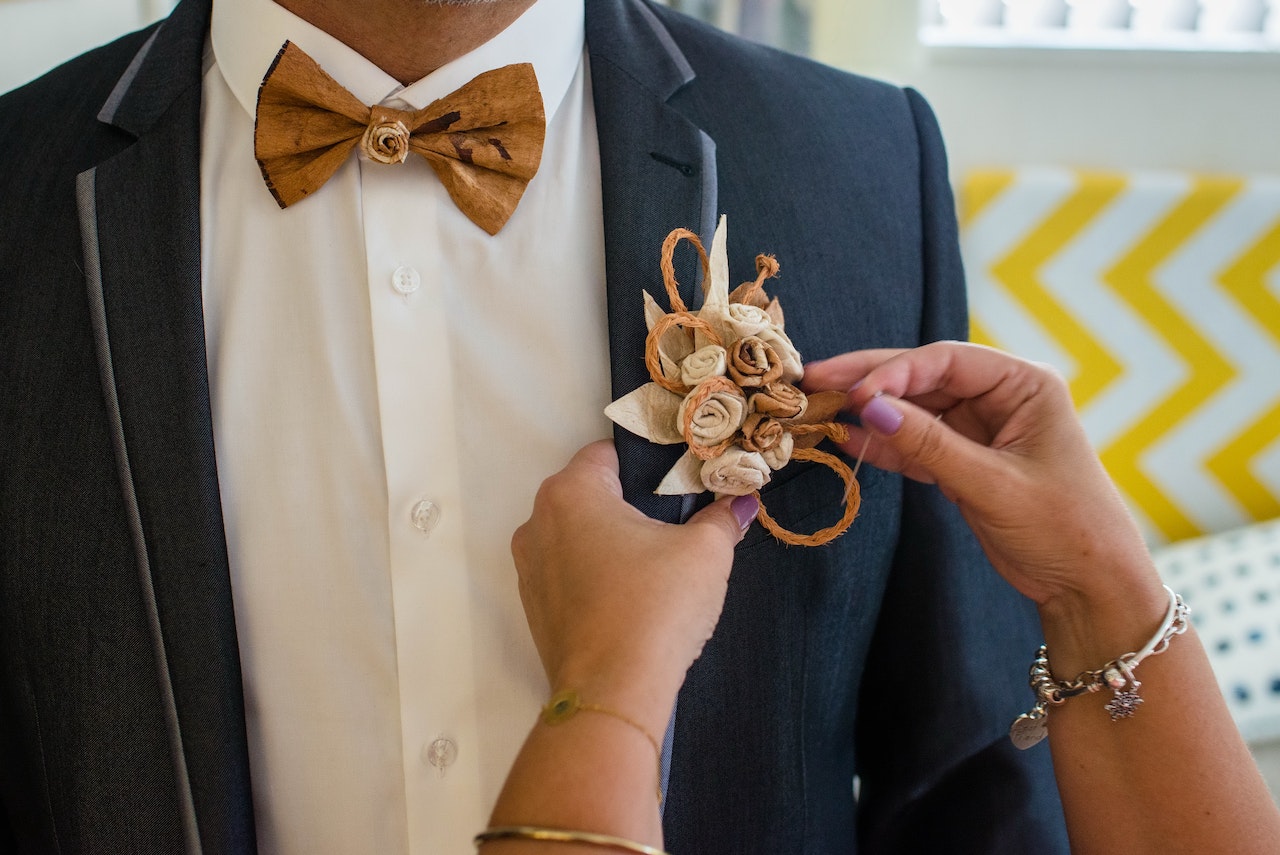 Pick jewelry that matches your attire and adds to your overall appearance. Chic jewelry, a stylish clutch, and appropriate footwear can elevate your appearance.
Don'ts: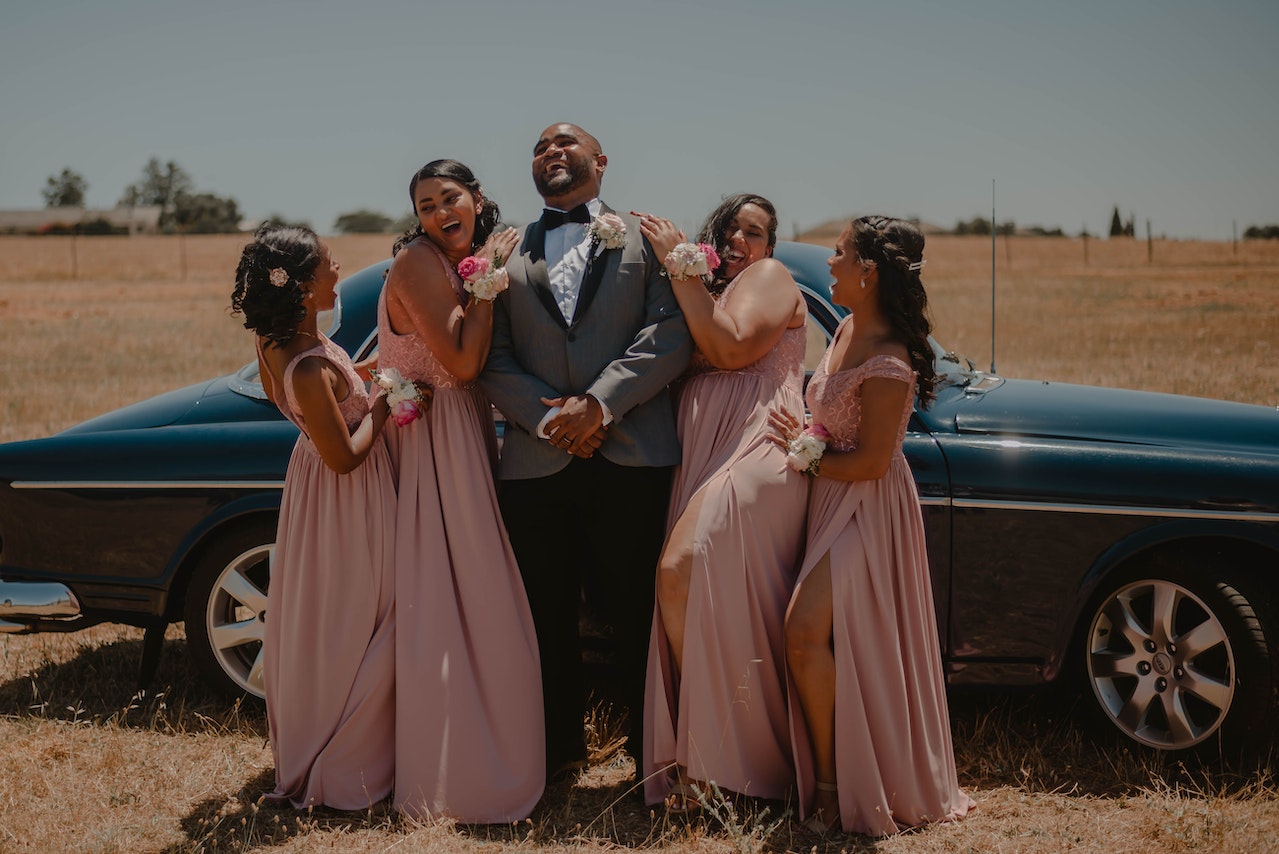 1. Don't Wear White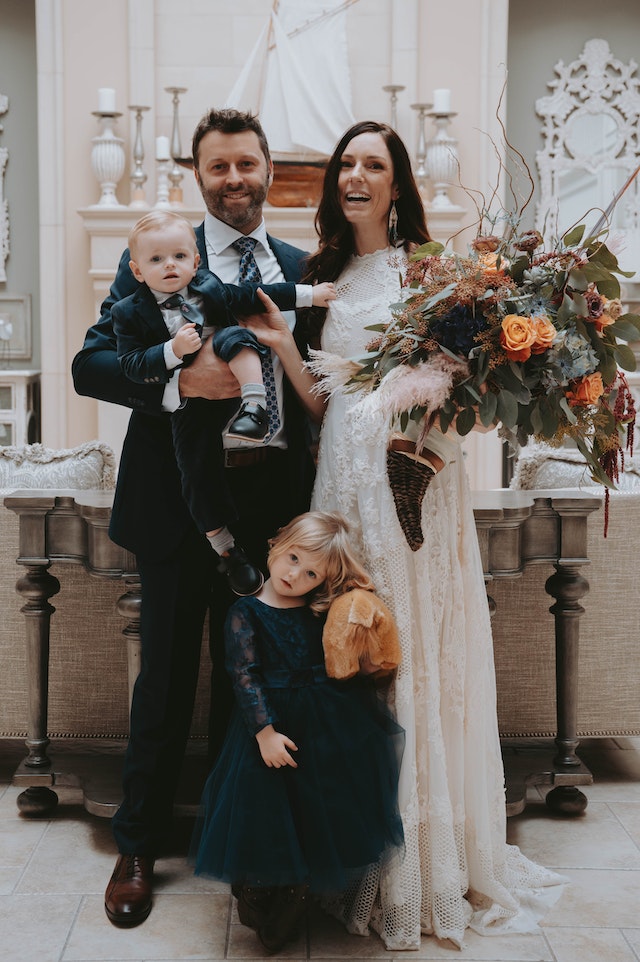 Avoid wearing white or any outfit resembling the bride's wedding dress. White is reserved for the bride, and wearing it can be seen as disrespectful.
2. Avoid Revealing Or Inappropriate Outfits
Wedding ceremonies are family events, so avoid wearing anything too revealing, casual, or inappropriate. Respect the sanctity of the occasion by dressing modestly.
3. Don't Outshine the Couple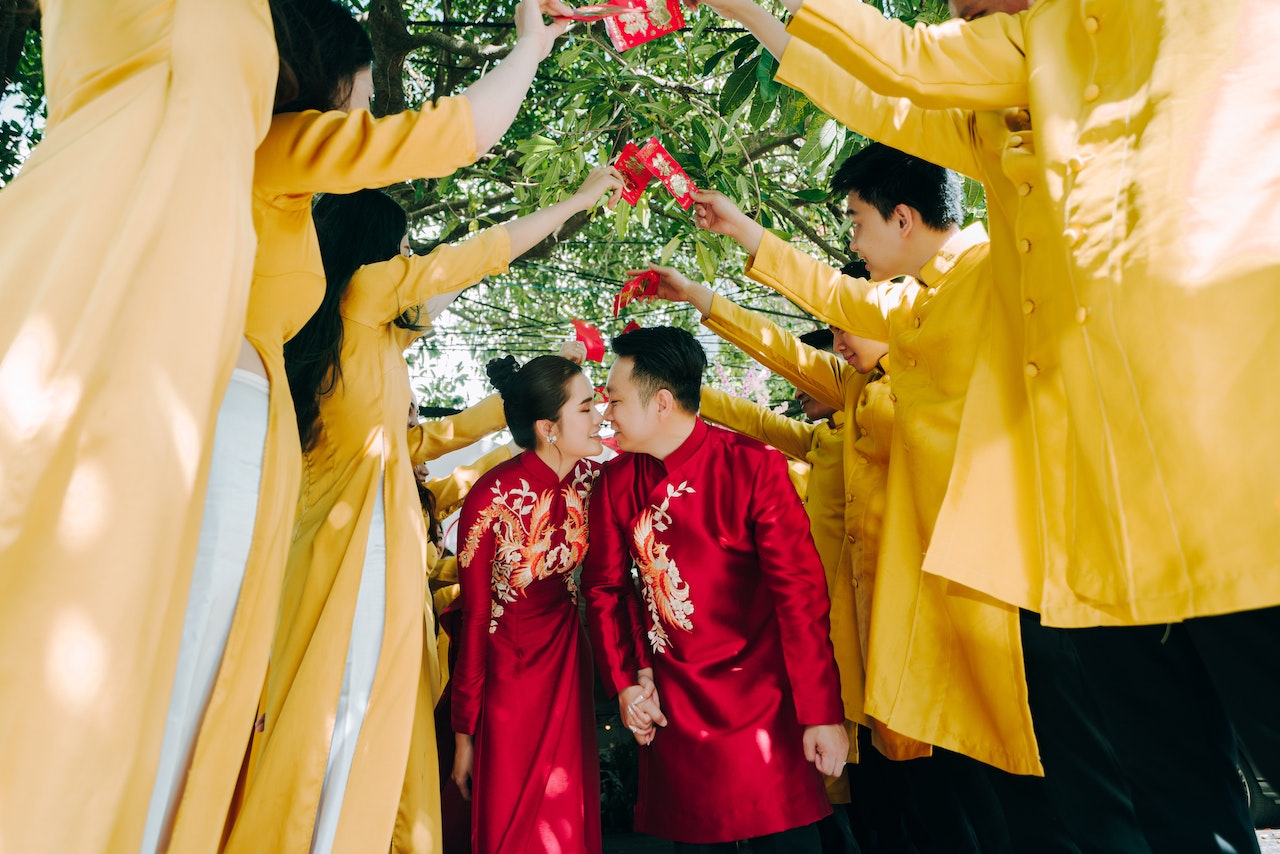 While you want to look your best, remember that the focus should be on the couple. Avoid wearing overly flashy or attention-grabbing outfits that may overshadow their moment.
4. Skip Overly Casual Attire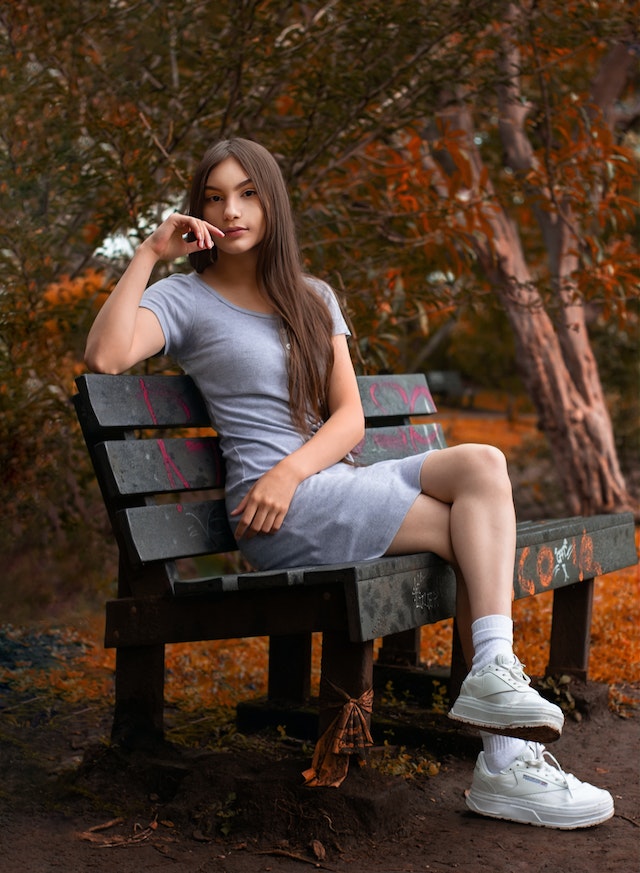 Unless the wedding specifies a casual dress code, avoid wearing jeans, sneakers, or overly casual clothing. Show respect for the couple's special day by dressing up appropriately.
5. Don't Be Underdressed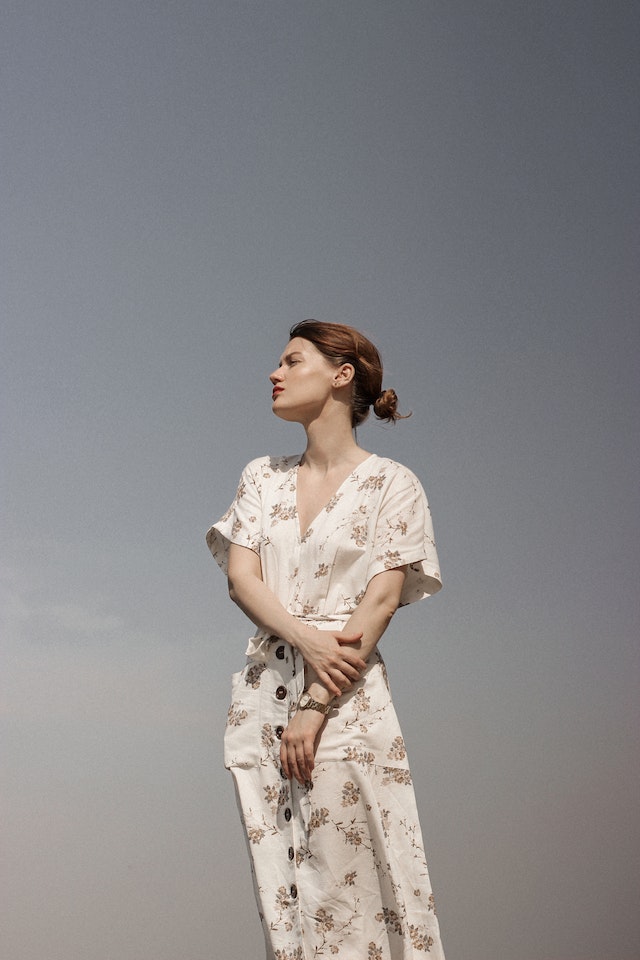 Always err on the side of being slightly overdressed rather than underdressed. It's better to show up looking elegant and sophisticated than feeling underdressed and uncomfortable.
By following these do's and don'ts, you'll ensure that your attire perfectly reflects the love and joy surrounding the couple's union. Dressing appropriately not only shows respect for the occasion but also allows you to fully enjoy the celebration with confidence and style.
Conclusion
As you embark on your journey as a wedding guest, armed with the knowledge of wedding guest dress codes and a sprinkle of creativity, you're ready to shine at any celebration. Remember, weddings celebrate love, so your attire should reflect that joy and warmth. Now, go forth and dance the night away, making memories that will last a lifetime!
ALSO READ: 20 Chic Wedding Guest Outfit Ideas to Make a Statement This Season
25 Bollywood-approved wedding guest outfits to ensure you're the best dressed
FAQs
How do you mention a dress code for a wedding?
As a happy couple planning a wedding, you can include the dress code on the invitation. Use phrases like black tie, cocktail attire, or casual dress to guide your guests appropriately.
---
Can you wear regular clothes to a wedding?
It's best to avoid wearing overly casual or everyday clothes to a wedding. Choose attire that reflects the event's formality so you look and feel like a welcomed guest.
---
---