10 Best Aerobic Steppers to Level up Your at-home Workouts
Written by
Ankita Kandade
| Updated on
Nov 25, 2022 |

32.1K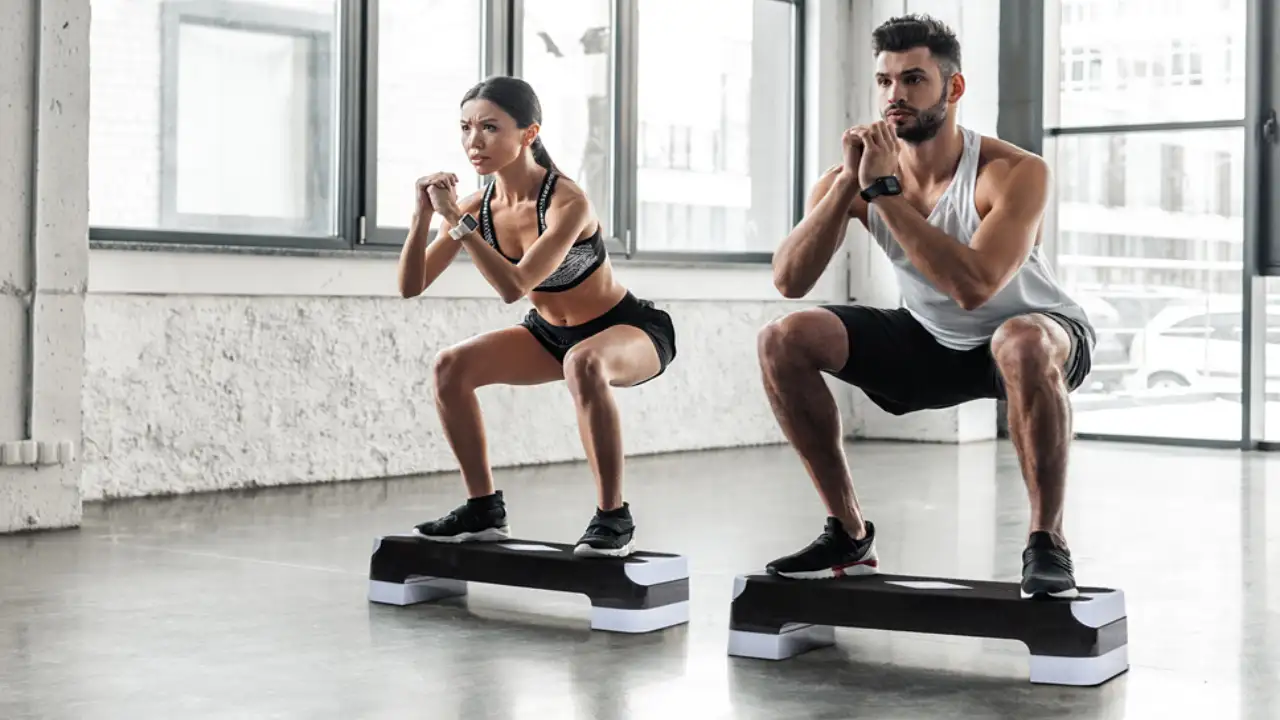 The products curated for this article are independently chosen by the editorial team. If you make a purchase through the
links
mentioned below, we may receive a commission. Check out our
product research & curation process
Aerobic steppers are phenomenal fitness equipment that serves you with multiple health benefits. These steppers aid in improving your muscular strength, burn calories and allow you to pay more heed to your lower body workouts. Not just that, these steppers are also mood-changers as they help you to unwind from your stress and combat hypertension. Easy to use and store, these aerobic steppers are adjustable and the best workout companions one can ever have. Who says you cannot engage in high-intensity workouts at home just like in the gym? Scroll down to find an aerobic stepper made absolutely for you!
Best Aerobic Steppers to Intensify Muscular Strength
This aerobic stepper from Balacefrom Fitness is the best addition to your already-existing gym equipment. And trust us, this stepper will be your go-to tool to amplify your workout session at home. This stepper's textured surface will give you enough stability while stepping on it. Exercising with an aerobic stepper is not only fun but also exciting. So, strengthen your lower body muscles and joints with this shock-absorbing workout equipment that is constructed with durable ABS material.
Specifications
- Portability: Yes
- Adjustability: 4 inch and 6 inch
- Size: 26.77-inch long and 11.02-inch wide
Pros
Non-slip
Lightweight
Easy to store
Easy to assemble
When wondering how to maintain your desired body weight, getting your hands on the Aerobic Step Platform from Tone Fitness is convenient. It does not just help you in burning your calories and fat but also aids in building endurance. This functional bench is for fitness freaks and beginners of all ages. And guess what? This adjustable aerobic stepper also comes with a workout chart to engage in gym-like exercises and high-intensity workouts.
Specifications
- Weight: 5. 5 pounds
- Portability: Yes
- Adjustability: 4 inch and 6 inch
- Size: 26. 77" long x 11. 02" wide x 5. 91" tall
Pros
Durable
Easy to store
Easy to carry
Non-slip surface
This aerobic step platform comes with two risers to ensure that you never fall short of training. This aerobic stepper or training step from The Step is also great for recreational use. If you wish to follow youtube tutorials or indulge in Zumba sessions, then this stepper can be your go-to tool to reach peak performance. It is a grooved platform that prevents scratches and sliding. This stepper is thus multi-functional and can be used for varied cardiovascular exercises.
Specifications
- Weight: 8 Pounds
- Portability: Yes
- Adjustability: 4 inch and 6 inch
- Size: 28.5 l x 14.5 b x 4 w inches
Pros
Grooved top
Compact size
Non-skid feet
Supports up to 400 pounds
Wish to engage in a high-intensity cardio workout without stressing your muscle joints? Check out this Adjustable Aerobic Stepper from Balancefrom that comes with 4 removable raisers. To refine your overall fitness, you need to build strength, reduce body fat, and magnify cardiovascular health. Well, this isn't difficult to achieve if you own the best aerobic stepper. This stepper from Balancefrom is constructed with round corners and edges to prevent injuries. With anti-slip rubber feet, this stepper is clearly the winner.
Specifications
- Portability: Yes
- Adjustability: 4-inch, 6-inch, and 8-inch
- Size: 31 inches long and 11. 5 inches wide
Pros
Lightweight
Easy to carry
Non-slip surface
Shock-absorbing surface
This Adjustable Aerobic Step from The Step is the perfect workout equipment for cardio, toning, and strength training. It is light in weight and also easy to carry. Now, you need not skimp on your workouts as this stepper can accompany you anywhere. The risers lock in place and make sure you carry out all of your exercises without any interruption. Buckle up and get ready to boost your metabolism, agility, flexibility, and muscle endurance with these steppers.
Specifications
- Portability: Yes
- Adjustability: 4 inch and 6 inch
- Size: 26 inches long and 11 inches wide
Pros
Ultra-durable
Shock absorbing
Non-slip platform
Supports up to 400 pounds
This is an apt aerobic stepper with risers for beginners and experts alike. If you are looking for that perfect workout tool for low as well as high-impact exercises, then let us tell you that this is what you need to vouch for at the earliest. Yes4All Adjustable High Step Aerobic Platform will aid in making your at-home exercises challenging and fun. Both the 4 stackable risers and sturdiness of this platform are worth appreciation.
Specifications
- Weight: 6 kg
- Portability: Yes
- Size: 16.14 l x 16.14 w x 3.94 h inches
- Adjustability: 4, 6, 8, 10, and 12 inches
Pros
Lightweight
Space efficient
Shock-absorbing step
Supports up to 275 pounds
Your frantic search for the best cardio equipment for your home comes to an end today. Snatch a glimpse of this Adjustable Workout Aerobic Stepper from KLB Sports. It helps you in targeting the hamstrings with alternating lunges. In addition, it also aids you to strengthen your chest and back with pushups. So, are you ready to improve and take your cardio workouts to a whole new level? If yes, grab this aerobic stepper that comes with 4 risers and 4 additional rubber feet.
Specifications
- Portability: Yes
- Adjustability: 4-inch, 6-inch, and 8-inch
- Size: 12.2 x 5 x 31.5 inches
Pros
Non-slip
Lightweight
Shock absorbing
Supports up to 550 lbs.
The adjustable design and heavy-duty construction of this aerobic step deck from GAIAM Essentials is what you will surely love. It is one of the best workout equipment that makes you focus on your overall well-being and fitness. It is a multi-use training platform crafted especially for cardio and high-intensity strength training. Yes, you need not hit the gym to carry out your heavy cardio, with this step deck you can easily work out at home.
Specifications
- Portability: Yes
- Adjustability: 6 inches
- Size: 26" x 10.5" x 6"
Pros
Anti-slip surface
Premium traction
Non-skid floor pads
Durable construction
Wish to perform all of your exercises effectively? Bring home Xn8 Aerobic Stepper today itself. It is the best aerobic stepper which offers excellent traction. It is crafted from high-grade plastic and keeps this workout gadget of yours in working condition for years. If you wish to get into some cardio sessions, then snag this tool right away and enhance the strength of your arms, legs, ankles, and knees.
Specifications
- Weight: 115 kg
- Portability: Yes
- Adjustability: 0, 15, and 20 cm
Pros
Lightweight
Compact shape
Stackable risers
Non-slippery surface
Cardio sessions are not easy especially if you do not own an apt gym tool. For an intensive and effective workout, you need to get your hands on an aerobic stepper or an aerobic platform. GYMMAGE Adjustable Workout Aerobic Stepper is one such stepper that will ensure that you stay dedicated and determined to hit your targets. To boost your muscular strength and enhance your metabolism, incorporate this stepper into your workout regime. Trust us, you will love this workout equipment like no other.
Specifications
- Portability: Yes
- Adjustability: 4 inches and 6 inches
- Size: 26.5 x 10.5 inches
Pros
Sturdy
Compact
Stackable risers
Weight limit 400 pounds
So, which is the best aerobic stepper that is making its way to your home? Can't decide? Not to worry! We are here with everything that you need to know. Scroll down and check out our buying guide to make correct purchasing decisions.
How to Select the Best Aerobic Stepper?
Choosing the best aerobic stepper for yourself can be a task especially if you have no clue about it. Be it a beginner or an expert, one should be aware of its key features and results. Keep scrolling if you wish to select the best aerobic stepper.
1. Size: Always check for the size of the stepper. Choose a stepper according to your height and shoe size.
2. Surface: Make sure that the stepper has a non-skid surface.
3. Foot pads: An aerobic stepper with anti-slip foot pads are recommended for high-intensity cardio workouts.
4. Adjustable: Check whether the height of the stepper is adjustable. There are aerobic steppers that come with stackable risers to serve you with your necessities.
5. Weight limit: Always check the weight limit that the aerobic stepper can hold. The majority of the steppers come with a 400 lbs weight limit.
6. Edges: Pay heed to the undersides and edges of the stepper. The sharp edge can hurt or lead to scratches. So, pick one that has round edges.
Get ready to engage in jump step-ups, offset-pushup crossovers, Bulgarian split squats, and squat-pop overs, with the best aerobic steppers. Believe us, this economical gym equipment will not just cut your time and energy to visit the gym, rather it will keep you motivated to maintain a healthy well-being. If you wish to elevate your cardiovascular strength then seize the best aerobic platform, bench, or desk into your cart. We bet you won't regret it.
Author BIO
Ankita is a budding journalist and a certified fashion expert. If the Fashion police were an official organization, A More
FAQ's
Can you lose weight with an aerobic stepper?
Yes. An aerobic stepper is one of the best solutions to lose weight as it allows you to burn fats by engaging in high-intensity workouts.
Which brand stepper is best?
Balancefrom, Tone Fitness, and The Step are the three brands that offer the best aerobic stepper.
What is the best height for an aerobic step?
Beginners should begin with a 4-inch step height whereas professionals can set the height of an aerobic stepper to 10 inches
Are steppers as good as walking?
Since steppers are meant for high-intensity workouts, they tend to burn more calories as compared to walking.
Is a stepper better than a treadmill?
Yes. If you aim to strengthen your legs, muscle joints, and cardiovascular health then a stepper is better than a treadmill.
Does step aerobics damage knees?
If you engage in extremely excessive and high-intensity step exercises, it may cause too much pressure on your motor system. This overload may lead to knee damage or pain.
Why Trust select
Our product experts study the specifications of every product we suggest and try them out to bring what's proven to be worthy of your money, time, and energy. We also have subject matter experts from various fields like Fashion, Skincare, Haircare, Home Decor, and Health & Fitness onboard to make sure our suggestions are credible and trustworthy. You can trust select to be your faithful shopping guide for all the right reasons!