11 Best Leg Stretching Machines to Magnify Muscle Flexibility
Written by
Ankita Kandade
| Updated on
Dec 29, 2022 |

107.8K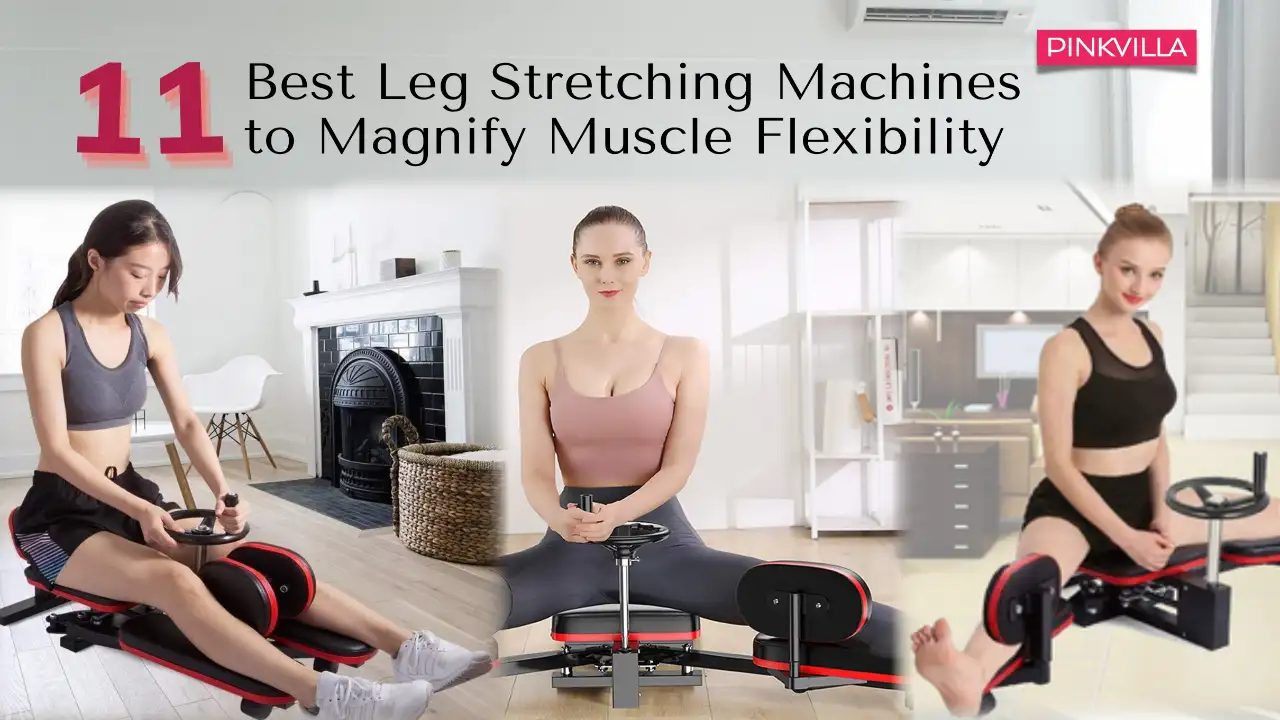 The products curated for this article are independently chosen by the editorial team. If you make a purchase through the
links
mentioned below, we may receive a commission. Check out our
product research & curation process
To improve your overall body flexibility and enhance the endurance of your muscles, shop for the best leg stretching machines. Trust us, they are worth it.
Let us tell you that with stiff muscles, it is difficult to win fights and accomplish self-set fitness goals. But, with the best leg stretching machines, you can not only enhance your metabolism but also level up your endurance effortlessly. Be it at the gym or at home, this workout equipment will be your go-to machine to flex your legs, calves, joints, and several other muscle groups that ultimately help you reach your peak performance.
Stretching machines ensure that you carry out your stretches in the right way possible and without the help of any partner. They also aid in widening your range of movements and thereby relax, and strengthen, the muscles of your lower body.
Arnold Schwarzenegger, one of the most popular fitness icons, fitness trainer, and bodybuilder states, "Flexibility is as important as weight training." Be it a 90° or 180°leg stretch that you wish to accomplish successfully, you ought to own a leg stretching machine. This one machine takes you a step closer to sculpting your body like an elite athlete, sportsperson, martial art practitioner, or dancer. Most importantly, it reduces the risk of injuries and helps to improve your body posture and balance. So, shop for the best stretcher machine and incorporate it into your workout routine immediately.
Best Leg Stretching Machines to Amplify Physical Fitness
This Leg Stretcher from AmazeFan weighing 2 kgs is one of the best three-leg split stretching machines. Constructed from high-grade stainless steel, this stretcher features a comfortable non-slip handle. It can be adjusted up to 6 levels and thus offers you a wide range of stretching experiences. You can easily manipulate its length as per your height. The ends of this bar have thick wear-resistant sponges that prevent floor damage. Plus, you get a yoga stretching strap along with this stretcher to enhance your flexibility and stretch as much as possible. This product is one of the most useful gym equipment that will help you improve your flexibility along with balance.
Pros
Sturdy
Portable
Anti-rust
180°stretching
Abrasion resistant
Corrosion resistant
Anti-scratch protection
Air-permeable handles
Comes with storage bag
With Champs MMA 3 Bar Leg Stretcher, you can reduce muscle soreness, prevent the risk of injuries, and boost your recovery time. It features bars made of stainless-steel and heavy-duty construction. This leg stretcher will bring out your potential and give you a chance to flex and stretch to the maximum. It features 5 hole adjustments so that you can easily adjust the bar according to your needs and necessities. As it comes with non-slip memory foam handles, it helps you keep good control over it. The bar can also be adjusted to up to 21.8 inches short and 40.27 inches long.
Pros
Durable
Affordable
Easy-to-use
Anti-rust coating
Stretches up to 180°
traightforward setup
Renowned as a leg-split machine, ALAMATA Leg Stretcher is a highly effective leg stretching equipment. It is durable, sturdy, and features strong mechanisms. It is constructed from stainless steel and treats muscular pain with ease. It facilitates mobility and flexibility. You can easily adjust its length from 22 inches to a maximum of 41 inches. Each pole comes with 9 holes, thus making this machine suitable for children, adults, as well as senior citizens. This workout essential is apt for beginners as well as professionals.
Pros
Easy-to-use
Non-slip feet
Soft foam grips
Easy-to-assemble
Withstands great force
This stretcher from DOMINITY permits you to carry out your stretches without any risk of injuries, cramps, chronic pain, etc. It is crafted from welded stainless steel for added flexibility and strength. The stretcher features EVA foam grips so that you can easily enhance your stamina and expand the range of your motions. This 3-leg stretcher comes with 6-hole adjustments so that you can use this bar according to your height. You can keep the length of the bar to 21 inches short and 40 inches long.
Pros
Sturdy
Inexpensive
Stretch belt
Yoga stretching strap
Designed for all body types, this Leg Stretcher Machine from Vue Pro has a heavy-duty construction and adjustable backrest chair, making it a highly effective yet comfortable workout equipment. The PU seat has foam padding and is constructed from thickened steel to help you carry out your stretches without any interruption. It comes with a 0°to 180° steering wheel and a strong bearing capacity. With this premium machine, you can seamlessly stretch your inner thighs and groin area.
Pros
Stable
Easy to assemble
Handles up to 150 kg
Ideal for all fitness levels
Featuring an impeccable handbrake design, Leg Split Machine from SEEN LEE CORE has an easy opening and closing design. It comes with silent scroll wheels that are mobile. The square stainless steel and sponge-padded legs prevents injuries and discomfort. Plus, it has a leather cushioned seat to carry out your stretching exercises comfortably. This machine meets all levels of training that you have set for yourself. Its 6-speed adjustment settings are designed skillfully to help you find your stretch length and level.
Pros
Sturdy
Easy to assemble
Convenient to use
Excellent for stretching hips
For improving the flexibility of your leg muscles to the maximum, you need to snag this Loyesm Leg Stretcher Machine. It is one of the best heavy-duty machines that you look up to. It features a thickened steel frame and a 360° rotating wheel. The adjustable handle and backrest are the two reasons why you should invest in this machine. Plus, its high-quality PU leather seat with foam cushion padding, and its rugged and durable structure, make it an ideal workout tool to rely on for a prolonged period of time.
Pros
Occupies less space
Easy to disassemble
330 lbs load capacity
Stretches inner thighs
Wear-resistant leather
Prevents ligament strain
95 percent preassembled
Ideal for gym and home use
Pro-Leg Stretcher from Tiger Claw is something that you will really love for its decent quality. It has padded footrests and a seat that will keep you comfortable throughout your stretching sessions. The steering wheel ensures that you carry out effective stretches. This stretcher extends to 180°. You can set the seat at different levels to maintain an appropriate posture while you stretch. It needs no assembling efforts and can be placed on a carpet floor as well.
Pros
Lightweight
Easy-to-use
Sturdy construction
Good quality cushioning
Cons
No gear-locking mechanism
A lightweight stretcher crafted from high-quality stainless steel makes OLUXA 3 Bar Leg Stretcher a little unique. It has a black powdered coated finish that makes it a long-lasting workout equipment. The 6 adjustable holes will easily help you stretch up to 180°. The three built-in Allen screws keep this stretcher in good condition for years to come. Plus, it comes with two additional foam handles and a yoga mat with a D-ring handle.
Pros
Storage sack
Easy-to-set up
Travel-friendly
ABS plastic finish
Quick adjustability
Features like a solid backrest, reinforced steel pipe structure, a 360° steering wheel, and PU seat foam padding sums up the goodness of BotaBay Pro Leg Stretcher. The heavy-duty steel frame and thick padding make your stretching time comfortable and effective. All you need to do is, place your legs on the padded mat and turn the wheel. The extension arms begin to drift away and thus amplify the flexibility of your legs and hamstrings.
Pros
Easy-to-use
Easy-to-store
330 lbs load capacity
Prevents muscle sprain
95 Percent pre-assembled
This easy-to-store Leg Split Stretching Machine from HOLSM-III is a 3-bar stretcher but comes with a seat. It is one of the best gym tools to enhance your stretching potential. It also has a distinctive controller and sliding construction and an automatic lock setting. The slide controller is easy to adjust with minimal effort. The internal gear structure and 6-speed adjustability make this machine suitable for kids as well as adults. The non-slip sponges lend you a good grip and keep your ankles protected while stretching.
Pros
Foldable
Soft leather seat
Stable and sturdy
Sealed protective shell
Super strong steel cable
These top-notch leg stretching machines serve as outstanding workout equipment to train yourself to split your legs without anyone's help. You can seamlessly stretch from 45°, 90°, 135°, and 180° tactically. These machines are also the best to generate heat in your body and warm yourself up for the next sport or physical activity in your training session. Scroll down and get to know how you can choose the best leg stretcher machine for everyday use.
How to Select the Best Leg Stretcher Machine?
Following are a few aspects considered important while selecting the best machine for everyday use.
Construction: Make sure the stretcher has heavy-duty construction. It should be stable and sturdy. At the same time, the machine should not be too stiff or bulky. It should permit you to carry out exercises in a smooth and trouble-free manner. There are stretchers with backrests and padded seats. Such machines are beneficial and help you maintain a correct posture.
Easy to Assemble: Always choose a leg stretcher that is really easy to set up. This will not only save time but also energy. It is recommended to vouch for machines that are pre-assembled or require minimal effort to assemble. Some machines come with an at home user/manual to help you assemble the machine to perfection.
Stretchability: Make sure that your machine can stretch up to 180°. You may choose a machine with steering wheels that rotate a maximum of 360°. Such machines will help you reach your peak performance and boost flexibility.
Padding And Cushioning: Always choose a machine that features padded/cushioned seats, non-grip handles, sponge knee pads, and padded footrests. Such construction reduces the risk of injuries and aid in stretching without any interruption or discomfort.
Guarantee/Warranty: Make sure that your product comes with a guarantee or warranty card. In case of any breakage or damage, you can easily ask for a replacement.
Easy to Store: Always invest in a machine that is easily foldable and occupies less space. There are many 3 bar leg stretchers that come with a storage sack that may extend the durability of the product as a whole and make storage convenient.
After the machine ticks off all boxes, slide it into your cart without any second thoughts. Read further to know a few advantages of bringing one home.
What Are the Advantages of Having a Leg Stretcher Machine?
After you invest in the best leg stretcher, kickstart your workout sessions and gradually level up your stretches. Here are a few benefits of investing in one.
- It promotes mindfulness.
- It improves your body posture.
- It prevents the loss of stamina.
- It helps in boosting metabolism.
- It relieves stress and headache.
- It increases blood circulation levels.
- It shortens recovery time at the time of injury.
- It improves your range of movements/motions.
- It encourages appropriate alignment of muscles.
- It amps up your performance during athletic activities.
- It amplifies the overall flexibility of joints and muscle groups.
- It reduces the soreness of muscles and musculoskeletal pain.
These best leg stretching machines can do wonders to your lower body muscles. But, make sure you begin with 45° and train yourself slowly for a 180° leg stretch. Maintain a comfortable posture to prevent the hunching of your spine and back. Once you are done stretching, inhale and exhale deeply to calm down heart palpitations and your body's temperature. Train yourself every day for at least 15 to 30 minutes and we are sure, after a span of 30 days, you will be surprised to look at the fruitful results.
Author BIO
Ankita is a budding journalist and a certified fashion expert. If the Fashion police were an official organization, A More
FAQ's
Do leg stretching machines work?
Yes, leg stretching machines enhance flexibility to the fullest. They permit you to carry out your stretches without anyone's help.
How long should you use a leg stretching machine?
One should use a leg stretching machine minimum for 15 minutes and a maximum for 30 minutes.
What happens if you stretch your legs every day?
It will improve the blood circulation levels of your body and keep you fit.
How do you loosen tight legs?
You can loosen tight legs by engaging in a few warm-ups or light aerobic exercises.
What causes tight muscles in the legs?
Excessive exercising/ stretching, change in the exercises, or lack of physical activities can tighten your leg muscles.
Why Trust select
Our product experts study the specifications of every product we suggest and try them out to bring what's proven to be worthy of your money, time, and energy. We also have subject matter experts from various fields like Fashion, Skincare, Haircare, Home Decor, and Health & Fitness onboard to make sure our suggestions are credible and trustworthy. You can trust select to be your faithful shopping guide for all the right reasons!