7 Best Lipstick Sealers for Lasting Color
Written by
Sayantani Deb
Updated on
Jul 18, 2023 |

647.2K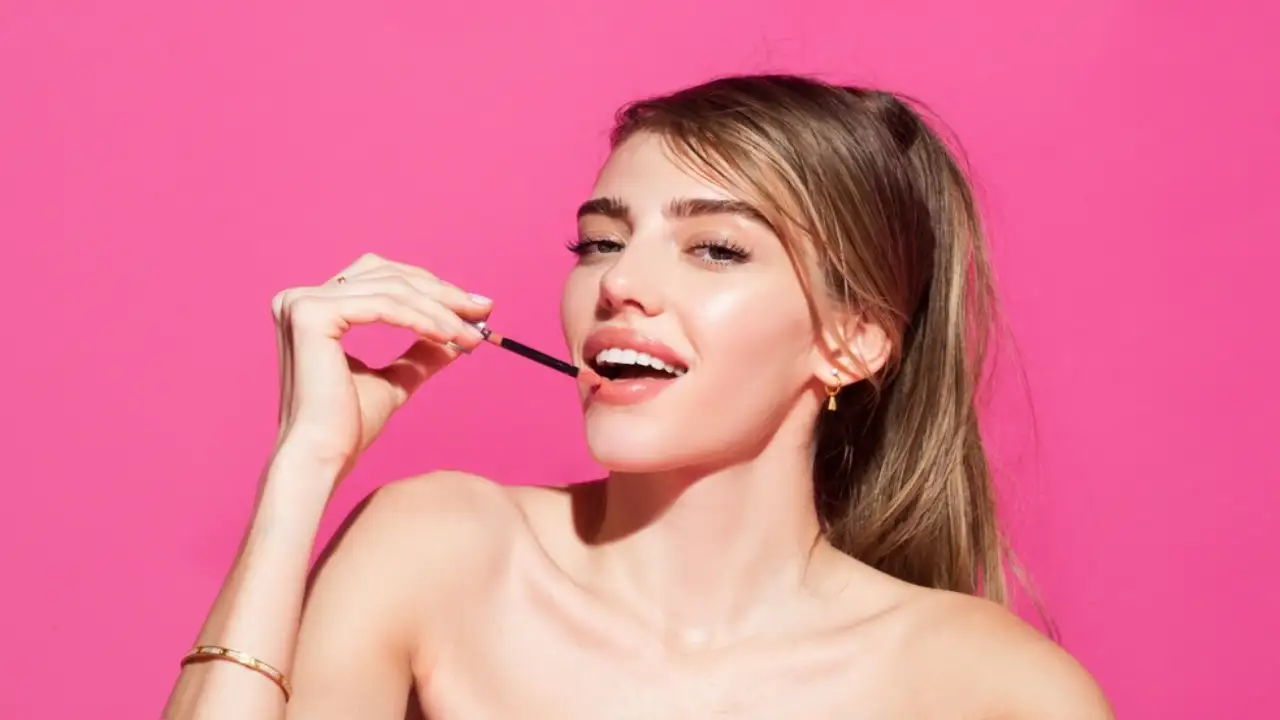 The products curated for this article are independently chosen by the editorial team. If you make a purchase through the
links
mentioned below, we may receive a commission. Check out our
product research & curation process
Smudges, color bleeding, and stains are common problems faced by every lipstick wearer ever. Hence, to prevent these problems, it is essential to use the best lipstick sealers. While the beauty market offers a plethora of lipsticks, what we need are long-lasting lipsticks that are transfer-proof. And lipstick sealers are the best way to do that.
A lipstick sealer is a colorless product that is applied over the lipstick, to ensure it does not get smudged and stays on for a long time. Hence, smudge-proof is a non-negotiable feature of this product. Other ways lipstick sealers help is by preventing feathering and wrinkling of the lips, as well as bleeding of the lipstick. A good lipstick sealer enhances your lipstick color and makes it eat-proof, drink-proof, oil-proof, and kiss-proof, so you can go on about your day without having to reapply your lipstick. So without further ado, let us take you through our recommendations for the best lipstick sealers.
In This Article
7 Best Lipstick Sealers for a Smudge-proof Color
Color stains are a common nuisance if you wear lipstick under your mask. Lipcote Original Lipstick Sealer is a transfer-proof veneer that prevents your lipstick from staining the mask so that you don't have to keep reapplying your favorite lip color. It also keeps your lipstick from fading or the color from distorting as you eat or drink. The product does not contain any harmful ingredients and is 100 percent vegetarian. You can easily remove the lip sealer with a swipe of a micellar-soaked cotton pad.
Pros
Cruelty-free
Long-lasting
No feathering
Does not fade
Cons
Expensive
Not moisturizing
Does your makeup keep you from eating what you want when outdoors? Or do you re-apply your lipstick after every meal? In such cases, Lipchic By Ella Transparent Sealer is the perfect product for you as it is eat-proof. A single application lasts over eight hours, and the product quantity sustains over 120 applications. It is clear and free from any dye or ink so that the product does not tamper with the lipstick color. What makes the product special is that you can moisturize your lips with chapstick without making the product ineffective.
Pros
Long-lasting
Smudge-proof
Prevents bleeding
Prevents feathering
Cons
Not oilproof
Not waterproof
If you prefer your lip sealer to have a creamy consistency, then Mehron Makeup Lipstick Sealer is a good choice for you. The product beautifully complements bold lip colors and has a slightly glossy finish. The glycerin in the product hydrates the lips and has a slightly minty scent. All you need to do is apply a thin layer over your favorite lipstick, tint, or gloss and let it dry for 30 to 60 seconds for the best results.
Pros
Non-tacky
Non-sticky
Prevents peeling
Smooth consistency
Cons
Takes time to dry
Tingling Sensation
Lip Elegance Lip Sealer is a good quality product made with minimal ingredients to prevent allergies through chemical overuse. The product is free from any ink or dye and hence does not tamper with the color of your favorite lipstick. While the product lasts all day and prevents your lipstick from bleeding, you can take it off with a swipe of micellar-soaked cotton pad or water and soap. The product prevents peelings or feathering.
Pros
Flake-proof
Smudge-proof
Natural ingredients
No harsh chemicals
Model in a Bottle Lipstick Sealer has a safe, nourishing botanical formula with minimal ingredients to prevent allergies. The veneer prevents the need to reapply lipstick, as it keeps your lip color secure and makes it last longer. It also keeps your lips from cracking or bleeding for a beautiful pout. The clear product sits comfortably on your lips, has a low-profile matte finish, and works with any lipstick type.
Pros
Non-flaking
Cruelty-free
Smudge-proof
Natural ingredients
Prevents feathering
If you want a glossy finish on your lips, Your Name Pro Lip Lock is an incredible choice for a lip sealer. It is a sheer veneer, free from any ink or dye that can change the color of your favorite lipstick. It is eat-proof and kiss-proof, so you can stay worry-free and rock your favorite lipstick on special occasions. The product does not have any repulsive taste or smell, which is common with many lip sealers. Overall, the product is a great addition to your makeup kit.
Pros
Smudge-proof
Sits comfortably
Does not wrinkle
Minimal ingredients
If you don't like products that are heavy on the lips, then Simplexion Stay On Lipstick Seal is the way to go. The product has a secure grip and a hygienic bottle for easy application. It is a low-profile, clear veneer that does not change or alter the color of your lipstick. It contains glycerin that hydrates the lips while maintaining their gorgeous color for long hours. The product is free from fragrance or harmful chemicals.
Pros
Lightweight
Greaseless
Smudge-proof
Pocket-friendly
Suitable for all skin types
Lipstick sealers are quick-to-use cosmetics that give long-lasting results. Here is all the information regarding how you can use a lipstick sealer.
How to Use a Lipstick Sealer?
Lipstick sealers are liquid formulas in a tube that can be applied with a built-in brush or a roll-on. To use a lipstick sealer, all you need to do is apply a single coat on top of your favorite lipstick/tint/gloss. A thin coat is recommended, as too much product can make your lips peel or stick uncomfortably. Once applied, leave the product to dry for 20-40 seconds, depending on the instructions on the package.
There are some key features to keep in mind when looking for the best lipstick sealers. Here are some buying tips that will help you make an informed decision.
How to Find the Best Lipstick Sealers?
Lipstick sealers are essentially a veneer in a bottle, and finding the best product among the lot can be a bit challenging. Hence, we have listed some important shoulds and should-nots that distinguish the best lipstick sealers from others.
The product should:
1. Last long hours
2. Hydrate your lips
3. Contain nourishing and natural ingredients
4. Be clear and free from dyes
5. Sit comfortably on the lips
6. Be lightweight
7. Work well with all lip colors
The product should not:
1. Feather, crack or peel
2. Wrinkle the lips
3. Stick uncomfortably
4. Contain harmful chemicals
5. Contain animal-derived products
6. Be tested on animals
7. Contain allergens
8. Irritate your lips
Smudges, color bleeding, or staining are irritating nuisances that keep us from enjoying our favorite lipsticks. Hence, lipstick sealers are a useful product to prevent such hassles. You go for a good-quality, smudge-proof, matte lipstick, or seal the deal with our product recommendations for the best lipstick sealers.
FAQ's
Which is the best lipstick sealer?
Chic By Ella International Lipstick Sealer is one of the best lipstick sealers for long-lasting lip color.
Do lipstick sealers work?
Lipstick sealers work well when you apply a thin layer over your lipstick. Nonetheless, the performance depends upon the quality of the product you're using.
How long does a sealed lipstick last?
Depending on the quality, a lipstick sealer may last about 4-5 hours.
What can I put on my lipstick to make it stay?
A good-quality, sheer lip sealer is the perfect product to put on your lipstick and make it stay for long hours.
Why Trust Pinkvilla
As someone who understands the frustration of lipstick smudges through the day, our certified makeup expert Sayantani wanted to find a solution that would help everyone extend the wear time of their favorite lip shades. She considered factors such as longevity, finish, and compatibility with different lipstick formulas and compared the performance of various products. She prioritized those that effectively locked in color and prevented smudging or feathering. By combining research with hands-on evaluation, she came up with a comprehensive review to guide others in finding the best lipstick sealer for long-lasting, flawless lip color.
Our product experts study the specifications of every product we suggest and try them out to bring what's proven to be worthy of your money, time, and energy. We also have subject matter experts from various fields like Fashion, Skincare, Haircare, Home Decor, and Health & Fitness onboard to make sure our suggestions are credible and trustworthy. You can trust Select to be your faithful shopping guide for all the right reasons!
Author BIO
Sayantani is a certified hair and makeup professional turned writer with 2+ years of experience in the same genre. Ap More