10 Best MAC Pink Lipsticks for Every Occasion
Written by
Sayantani Deb
| Updated on
Mar 15, 2023 |

434K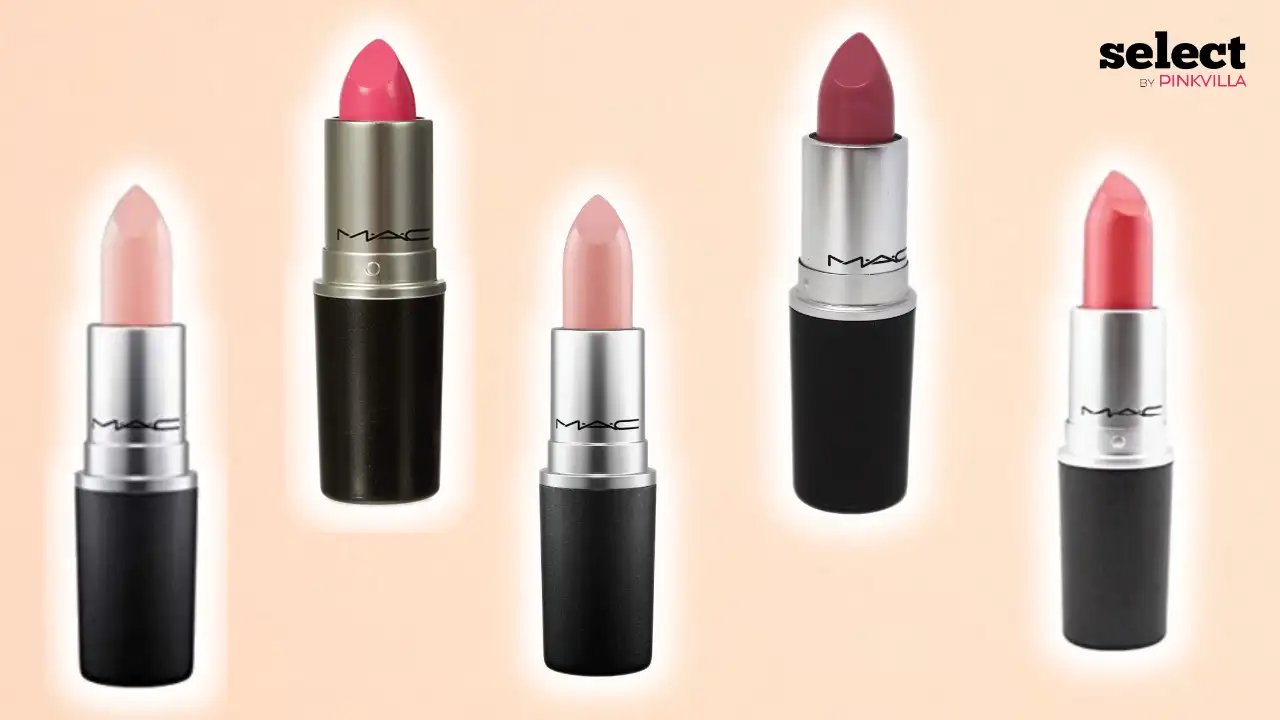 The products curated for this article are independently chosen by the editorial team. If you make a purchase through the
links
mentioned below, we may receive a commission. Check out our
product research & curation process
Women can never go wrong with pink lipsticks. Be it regular working days or midnight parties, the pink color on their lips reflect both innocence and passion. So, today, we have brought to you the best MAC pink lipsticks that will make you go ga-ga!
MAC Cosmetics is a Canadian beauty brand with a stunning range of pink lipsticks. Be it matte, semi-matte, glossy, or creamy lipsticks, you get everything under one roof. Aparna Thomas, an Indian film actress, and model says, "I love MAC's matte lipstick. It is very easy to wear. It doesn't smudge out. You can eat, you can speak, you can kiss, and do whatever you want. And, most of the MAC lipstick colors are suitable for all skin tones." So if you love experimenting with your lipstick shades, invest in one of the best pink-hued lipsticks by MAC. We bet it will never leave you disappointed.
Now, without further ado, take a look at our comprehensive list of the best MAC pink lipsticks to populate your makeup vanity by vouching for natural, nude, bold, hot, and other pink hues. After all, women's love for pink-toned lipsticks needs no introduction, and our list has cult-favorite pink lipsticks worth every cent.
10 Best MAC Pink Lipsticks That Are Perfect for AM to PM Use
Semi-gloss finish, medium coverage, and creamy texture — these are the three reasons why you shouldn't resist buying this muted neutral pink MAC lipstick. It is sure to make you look drop-dead gorgeous. It is extremely comfortable on your lips and offers buildable coverage. Its balmy formula makes it an easy-to-glide lipstick perfect for morning or evening fun. This pretty color looks great as it possesses a moist yet cream-sheen texture. If you ignore this one makeup essential, you will be at a great loss.
Pros
Instant hydration
Immediate shine
Best for everyday use
Suits every skin tone
Collect tons of compliments by gliding this Lustreglass lipstick's hug me shade on your lips. It delivers full coverage with a lustrous finish. This long-wearing MAC pink nude lipstick is light on the lips and enriched with oils. Yes, that's where it derives its luminous texture. This lipstick shade not only nourishes your lips but also makes them look a lot fuller and healthier.
Pros
Vegan
Cruelty-free
Looks flattering
6 hours of coverage
Here comes MAC's Frost Lipstick in a shade of pink that gives your lips an instant lift. It features smooth and medium buildable coverage. The light frosty coral shade compliments every skin tone. This lipstick is enriched with the goodness of vitamin E promising utmost hydration to quench the thirst of your dry lips. The creamy texture makes your lips look smooth and soft.
Pros
No scent
Long-lasting
Totally opaque
Not at all goopy
Cons
Might chap your lips after some time
With a sheer to medium buildable coverage, this twig shade of MAC's Satin Lipstick has managed to attract the hearts of makeup buffs. The soft and subtle brownish-pink shade and the satin finish make this lipstick one of the best pink MAC lipsticks for fair skin as well as brown skin. Moreover, its creamy formulation facilitates a precise yet mess-free application. It is infused with castor and jojoba oil and is thus a perfect pick for everyday use.
Pros
Blendable
Easy to glide
Long-lasting
Can also be used to contour the lips
Look, we found one more shade from MAC's Satin Lipstick collection called "snob". This lipstick too has a creamy texture but it features a little bold shade of pink. Its rich formula delivers a high color payoff and helps you define your cupid bow better. This shade makes your lips look attractive and your overall look worth staring at. This MAC pink lipstick with medium to full buildable coverage is all that you need to accentuate your beauty.
Pros
Comfortable
eightless feel
Long-lasting lip definition
Available in a plenty of shades
Look bright and beautiful with this best hot pink MAC lipstick in your makeup kit. Paint your lips with it and you are sure to elevate your look instantly. This lipstick defines your lips beautifully and amplifies your overall look. The matte finish and alluring shade make it one of MAC's best-selling lipstick. With this candy yum-yum shade, make your lips look more luscious than ever before.
Pros
Smells good
Vibrant shade
Best for parties
Available in 14 other shades
Cons
Might make your lips look dry
For all those makeup buffs who have the itch to follow the nude lipstick bandwagon, check out this creme sheen lipstick from MAC available in the shade 'Creme D' Nude. This is one of the best nude pink MAC lipsticks ideal for day-to-day use. It is as good as wearing no lipstick. Also, there is no chance of ignoring the moisturizing yet shimmery finish that this MAC lipstick provides. This lip shade ticks off all boxes – it provides a high color payoff, moderate shine, and the aromatic scent of vanilla.
Pros
Smooth texture
Glides on easily
Contains vitamin E and C
Natural-looking shade
Ideal for a no-makeup look
Matte lipsticks all together have a different fanbase and this trendy mid-tone mauve pink shade from MAC's collection is the go-to lipstick to slay some offbeat looks. Hence, there is no chance of missing this makeup essential. You can apply it directly onto your lips or use a brush for precise application. Believe us, this lipstick won't disappoint you at all. Plus, this lipstick is small in size and slips into any pocket or compartment.
Pros
Hydrating
Matte finish
Travel-friendly
Creamy texture
With intense color payoff and longevity, this Retro Matte Lipstick grabs all hearts. It is the most popular MAC pink lipstick crafted for those who love old-school charm. Moreover, it provides full coverage and lasts straight for up to 8 hours once applied. Hence, you need not worry about reapplication. Just glide it evenly and you are pout-ready at any hour of the day. It is highly pigmented and an iconic shade of pink that you shouldn't resist buying.
Pros
Fade-proof
Non-feathering
SPF 15 sun protection
Suitable for deep as well as light skin tones
Cons
Might make your lips look dry
Amplified Creme MAC lipsticks have an ultra-smooth creamy finish. They smoothly glide on the lips, promising a bold color payoff, complete coverage, and a semi-lustrous finish. Chatterbox is considered to be one of the best light pink MAC lipstick shades for its alluring finish and long-staying power. It makes one look presentable while maintaining a neutral makeup look. When you neither wish to go bold nor too subtle, this is the lipstick shade that you need in your vanity.
Pros
Moist
Glideable
Excellent quality
Beautiful texture
Doesn't make the lips look dry
This was the list of MAC's best-selling pink lipsticks that seamlessly enhance your look of the day. Now, roll your eyes over to learn how to pick the one most suitable for you.
How to Choose the Best MAC Pink Lipsticks?
Here are a few aspects to consider before splurging on the best MAC pink lipsticks.
Skin Tone: Always determine your skin tone before picking up a lipstick. While there is no compulsion to do so and you can just pick the one that you like, a little knowledge about the relationship between skin tone and lipstick can be helpful to elevate your everyday look. For those possessing a fair undertone, a cooler tone of pink lipstick will suit you the best. On the other hand, one with a warm undertone can vouch for a popping and bright pink shade of a MAC lipstick.
Texture and Finish: The next thing to consider is the texture of the lipstick. Thick and highly pigmented lipsticks are recommended for those who have deep skin tones. One can choose an amplified, matte, or satin finish lipstick for a bold look. Matte lipsticks can easily be layered with a lip gloss for a desirable shine. Whereas, you can play with creamy textured lipsticks to personalize the pigmentation levels.
Ingredients: It is always a good idea to invest in lipsticks that are enriched with lip-moisturizing ingredients like castor oil, jojoba oil, vitamin E and C. These ingredients make your lips look less chappy and prevent peeling.
Formula: Make sure the formula of the lipstick suits your lips. Never invest in or use one that peels your lips or makes them look dehydrated. Always choose a lipstick that has moisturizing properties, is highly pigmented, lasts longer, and doesn't flake, or makes your lips chappy.
Coverage: Ensure that you pay heed to coverage promised by the lipstick that you plan to purchase. There are lipsticks that offer low, medium, or full coverage. Low coverage or less coverage offering lipsticks are best for everyday subtle looks whereas you can reserve a bold or full coverage lipstick for parties.
Investing in the best MAC pink lipstick is no more a troublesome job if you take note of the above points. We are sure you must have loved the above-listed shades and can't resist your excitement in trying them out. So, without any second thoughts, pull out your cards, slide your favorite pick into your cart, and update your lipstick collection with some bright, bold, and neutral pink lipsticks. We repeat, there is no limitation on the number of lipsticks women can own! Happy shopping!
Author BIO
Sayantani is a certified hair and makeup professional turned writer with 2+ years of experience in the same genre. Ap More
Why Trust select
Our product experts study the specifications of every product we suggest and try them out to bring what's proven to be worthy of your money, time, and energy. We also have subject matter experts from various fields like Fashion, Skincare, Haircare, Home Decor, and Health & Fitness onboard to make sure our suggestions are credible and trustworthy. You can trust select to be your faithful shopping guide for all the right reasons!