11 Best Travel Containers for Hassle-free Transits
Written by
Ankita Kandade
| Updated on
Dec 31, 2022 |

106.4K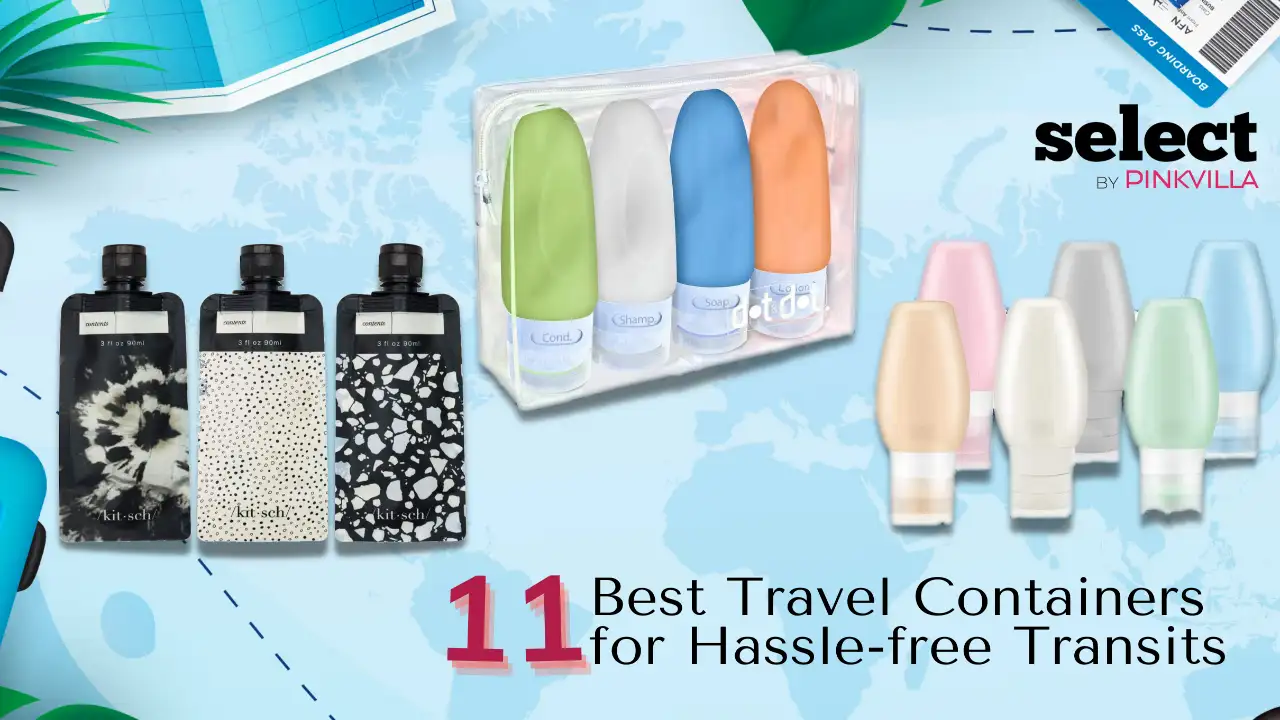 The products curated for this article are independently chosen by the editorial team. If you make a purchase through the
links
mentioned below, we may receive a commission. Check out our
product research & curation process
Keeping belongings, luggage, and apparel safe along with toiletries is every traveler's concern. But, with the best travel containers, you can resolve all of your traveling woes in a jiffy. Since it is hard to leave behind your favorite toiletries and skincare essentials, these travel-friendly bottles and tubes take care of them in the most secure manner. Just pour sufficient quantity, refill, and clean them whenever desired. Place them in a quart-size zip-locked bag, slide the zip-locked bag into your handbag, and you are ready to go!
Cybil Solyn, a skincare expert, speaks about how to carry skin care products in the most convenient way. She says, "Since essential oils break down silicone, don't count much on them if the majority of skincare products contain essential oils. She also recommends investing in reap-fillable pump containers." Talking about the sizes, she says, "Smaller ones are the most useful ones, but the bigger ones are necessary for filing in shampoo."
Renowned for their leak-proof walls and spill-proof technology, these portable, reusable, and environmentally friendly containers make your traveling journey fuss-free. Secondly, security checks throwing off your stuff is purely heart-wrenching. But with the best containers, tubes, and bottles, you can pass the security check like a breeze as they are constructed according to the guidelines of TSA. Plus, these containers allow you to meet all the laid-down travel standards for carrying liquid across boundaries or territories. No matter what mode of transportation you choose, these containers are worth being called your all-time travel buddies.
Best Travel Containers to Stay Organized On-the-go
These Leak Proof Travel Accessories from Teapile come in a fabulous set of 9 pieces. You can find perfectly shaped and compression-resistant travel-friendly bottles and tubes to pour shampoos, conditioners, face wash, creams, lotions, detergent, liquid soaps, perfumes, and also edible sauces. It allows you to organize your toiletries and make traveling a lot more convenient and trouble-free. Since these bottles are refillable, easy-to-clean, and crafted with a top-notch three-layered leakproof design, they can slip into your luggage or handbags with ease and never spill.
Pros
Compact
Multi-functional
Quart-sized bag
Self-sealing valve
Easily squeezable
Food-grade silicone
Cons
Overwhelming silicone smell
With this set of 4 Leak Proof Travel Bottles from dot & dot, you can easily bid adieu to spillage and leakage, all thanks to the convenient flip cap and anti-leak design that each bottle comes with. The drip-free dispenser valves too take care of the messiness that you encounter while dispensing your product. In addition, these bottles are reliable, convenient, and easy to refill and store. Due to the superior silicone quality, these bottles will help you carry all of your toiletries, cosmetics, and edible sauces.
Pros
Perfect size
Easy to clean
TSA quartz bag
Easy to squeeze
BPA free food grade silicone
Cons
Not ideal for alcohol-infused liquids
Travel-size toiletries are a must if you are always on wheels. And, to pass the security check like a breeze, make sure you invest in TAPBULL Portable Travel Bottles. These are 3oz travel containers crafted from heavy-duty and premium quality silicone that make your traveling experiences fuss-free. The anti-leak-proof design and reliable flip cap aid in dispensing sufficient quantity with just one soft squeeze. In addition, they have a wide mouth opening, allowing you to refill and clean with them with minimal effort.
Pros
Durable
Versatile
Inexpensive
TSA approved
Cons
Not ideal for storing oils & alcohol
These Gemice Travel Bottles offer much-needed protection to your belongings as they come with 3-layer leak-proof walls. Thus, you need not worry about leakage or spillage anymore. The bottles are 3 ounces each and are constructed as per the TSA guidelines. So, no security is going to prevent you from carrying your toiletries. Secondly, the opal shape of these travel bottles is widely appreciated, as it doesn't allow your poured liquid to cling to the surfaces or corners of the tube.
Pros
Lightweight
No drip valve
Wide opening
Easy to squeeze
Dispenses required amount
Crafted from BPA-free silicon
POLENTAT Silicone Travel Bottles are known for their TSA-approved travel-size containers. This set contains 6 silicone travel bottles, 3 jars, 2 spray bottles, 2 toothbrush covers, 1 trowel, 1 funnel, and a zip-lock bag to store and carry all of them in an organized manner. The best feature of this set is the removable labels. Stick each of them on the designated container and easily pick the one at the need of the hour. These containers are safe, convenient, lightweight, and easy to use.
Pros
Easy-to-clean
Wide mouth design
Triple-layer sealing cap
Reliable for long journeys
Cons
Can't hold salicylic acid or alcohol
To pour out a very precise amount of your expensive products from the container, make sure you snag Vitog Travel Bottle Kit. This kit contains containers of all sizes and shapes to suit your requirement while traveling. From lotion, spray, and flip-cap bottles to cream jars, a spatula, a pipette, and a funnel, this kit has it all. The considerate design, smooth zippers, durable polyethylene terephthalate, and TSA certifications make it the most portable and convenient kit to carry while on the go.
Pros
Well organized
Waterproof bag
Leakproof buckle
Written labels included
TSA-approved bottles are always the best solution to carry your toiletries and anything that is in a lotion, cream, or liquid form. And, these refillable silicone containers from Beveetio come in apt sizes. The wide mouth for easy refilling and leakproof cross valve make the set more reliable and travel-friendly. The bottles, cream jars, and spray bottles hold 2 ounces each. To carry all of them in an organized manner, Beveetio gives you a transparent bag with a high-grade metal zipper.
Pros
Waterproof
Light in weight
Identifiable labels
Compression resistance
High-quality silicone + PP material
This Toiletries Container from INSFIT is a pack of 4 multi-colored containers, so you can differentiate your toiletries with ease. With pre-printing labeling stickers, you can also label the squeezable bottles. These silicone bottles are crafted with utmost care and attention so that you don't waste a single drop while on the go. All of them are easy to refill and clean and come with a 3 layered leak-proof design like the rest. What makes this set unique is its eco-friendly TSA-approved see-through bag that features a double puller, a strong frame, and good-quality zippers.
Pros
Sturdy
Wide opening
1-Year warranty
Food-grade silicone
Clear bottles and see-through bags are the most often discussed issues among security professionals and travelers with regard to liquids and toiletries. To keep yourself away from such fuss, vouch for Chica and Jo 2oz Flip Cap Squeeze Bottles. These bottles come in a set of 6 featuring screw-on and flip-caps. In addition, they are made up of Polypropylene, BPA-free materials, and live up to the criteria laid down by FDA.
Pros
Convenient
Zip-top bag
Stand straight
Easily squeezable
Cons
Not ideal for runny liquids
These are non-toxic and environmentally friendly travel pouches from kit.sch is the most compact solution to carry your toiletries as well as your shower and skincare essentials. The pouches look stylish and occupy less space compared to those sprayers, jars, and bottles. Plus, they are reusable and reliable for a prolonged period of time. Since they are crafted from high-quality materials, they are 100 percent leakproof and light in weight.
Pros
BPA free
Flip tops
Easy to use
TSA approved
Dishwasher safe
Travel containers made up of food-grade silicone are convenient, safe, and reliable. humangear GoToob+ brings to you one such cute container that is leakproof, TSA-approved, and versatile. It features a no-drop leak loop lock to guarantee the safety of your handbag and the apparel or other belongings that you place beside it. This bottle is easily refillable and reusable. Making your investment worth it, this product gives you a lifetime warranty. Secondly, it is dishwasher safe and hence asks for no extra cleaning efforts.
Pros
Durable
Sturdy
Great locking feature
Best for everyday use
25 percent larger opening to refill
Cons
Thick liquid consistencies cling to the surface
With these good-quality travel containers, you can easily keep your toiletries safe, organized, and sorted. You need not scrounge into your handbag or luggage as these convenient bottles, tubes, jars, and pouches can easily be sealed in a zip lock bag giving you 100 percent assurance of safety and security. To help pick some really useful containers to travel with, we have jotted down a buying guide. Keep scrolling to snatch a glimpse of it.
What to Consider Before Buying a Travel Container?
Here are a few aspects that you must pay heed to before buying one.
Construction And Material: Always check the material from which the containers, bottles, spray bottles, or jars are constructed. It is advisable to snag eco-friendly, refillable, and squeezable bottles for ease of convenience. Stick to sustainable packaging and inspect them in terms of durability, quality, and portability. You may purchase containers made up of silicone or plastic.
Versatility: Pick a container that is versatile and multifunctional. Such a feature will help you to reuse and refill the container with utmost ease. You need not purchase separate travel-friendly jars or bottles every time you travel. You may pick a versatile container that can easily accommodate a wide range of liquid products like shampoos, conditioners, lotions, etc.
Size And Capacity: Make sure that you are aware of your luggage instructions before purchasing travel containers. Avoid buying heavy, large, or bulkier containers that add to the overall weight of your handbag or luggage. As per TSA guidelines, you can easily carry 3.4 ounces/ 100 milliliters of liquid in your handbag. Make sure you do not overfill your bottles as it might cause spillage or leakage. Check the instructions on the containers and then splurge on the one that suits your needs and the guidelines.
Leakproof: Always pick containers that feature three layered leak-proof walls and caps. You may pick travel-friendly tubes that come with no-drip valves and leakproof technology. For thicker or average liquid consistency, you may vouch for a bottle that features a flip cap.
Food Grade Safety: Travel containers are also meant for carrying edible sauces and liquid-based food products. So, you must ensure that the bottles are crafted from food-grade silicone and meant for filling edible items like dips and sauces.
TSA Approved: Containers approved by TSA are worth every penny, since you need not worry about the quantity and security checks. The containers are designed and approved on the basis of the guidelines set by them and hence 100 percent travel-friendly.
User-friendly: Make sure your containers or bottles have a wide opening that allows you to refill, clean, and reuse them with no effort.
Storage Bag: To neatly organize your bottles, jars, and tubes, always snag containers that come with quartz zip-lock bags. Also, ensure that the bag is transparent or see-through. You may also buy a waterproof zipper bag or pouch to keep your toiletries in one space and prevent spillage or leaks if any.
Our comprehensive list has the best travel containers to make sure that you do not miss out on some really good quality and reliable products. Since luggage and toiletries are of utmost importance when you travel, you need to take extra steps to organize them in your handbag or luggage. These containers also ensure that you carry the right quantity as laid down with the TSA. Let us tell you that investing in these sets is the best solution to prevent mishaps, spillage, or leakage. Now, you can fly across boundaries with your personal favorite creams, lotions, shampoos, and so much more.
Author BIO
Ankita is a budding journalist and a certified fashion expert. If the Fashion police were an official organization, A More
Why Trust select
Our product experts study the specifications of every product we suggest and try them out to bring what's proven to be worthy of your money, time, and energy. We also have subject matter experts from various fields like Fashion, Skincare, Haircare, Home Decor, and Health & Fitness onboard to make sure our suggestions are credible and trustworthy. You can trust select to be your faithful shopping guide for all the right reasons!