11 Best Yoga Mats for Sweaty Hands to Workout without Worry
Written by
Anoushka Sinha
| Updated on
Dec 23, 2022 |

145.3K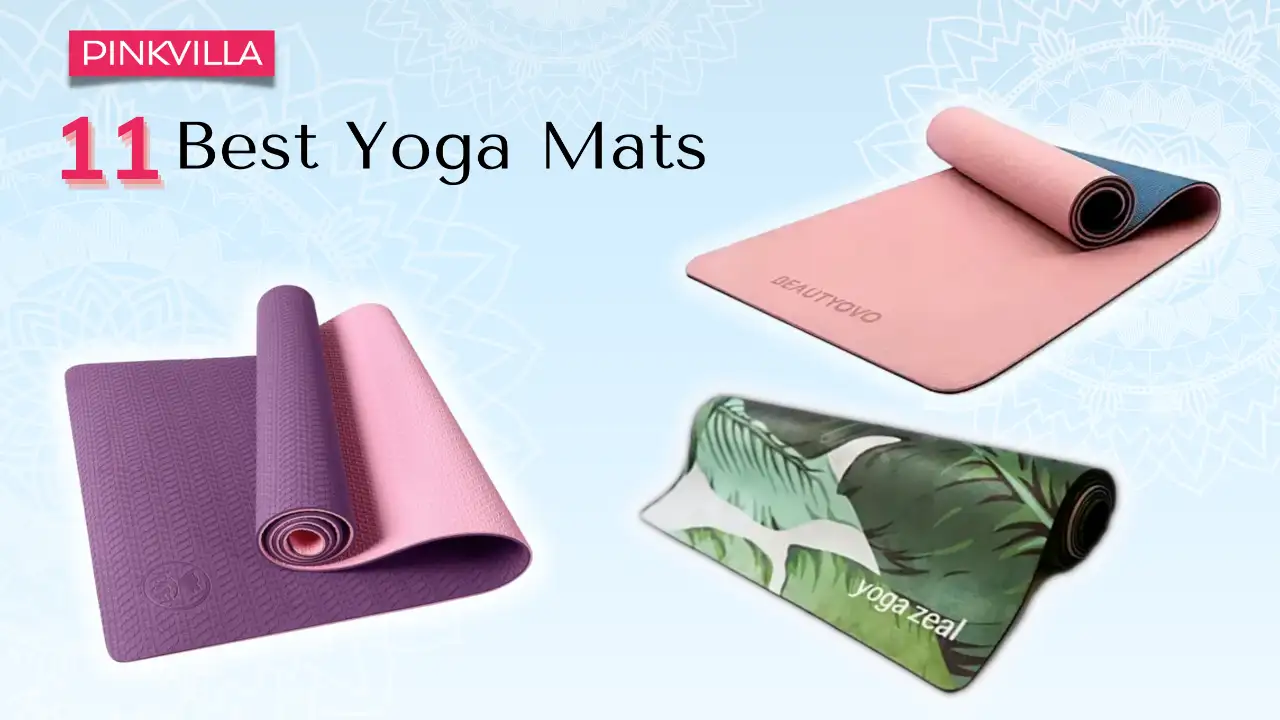 The products curated for this article are independently chosen by the editorial team. If you make a purchase through the
links
mentioned below, we may receive a commission. Check out our
product research & curation process
If you regularly practice yoga, pilates, or any at-home exercise, then sweat is a sign of victory for you. But if sweat and slippery palms are holding you back, you simply need to get your hands on the best yoga mats for sweaty hands. Poor-quality and plasticized mats pose the risk of accidental slips and jerks caused by your own sweat. This is especially true for practices like hot yoga, high-intensity interval training, and just any outdoor workout. And if you're practicing advanced poses like a handstand, headstand, or peacock pose, then the slippage caused by sweat can lead to serious injuries.
In such cases, it is pivotal to practice on the best yoga mats for sweat. Internationally renowned yoga expert Adriene Mishler says, "(In my yoga tutorials) I stand behind it when I say I have people's backs. And mats… are symbolism for that." In this article, we have curated a list of the best yoga mats that will have your back. Keep reading to find out.
11 Best Yoga Mats for Sweaty Hands That Provide a Good Grip
If you want to kick your yoga routine up a notch, this 6mm thick yoga mat by Heathyoga is an incredible choice. The mat has a tri-layered design with a middle mesh layer that prevents the mat from tearing. The base of the mat has intricate tire tread patterns to provide stability, while the cushioned upper has a diamond-shaped texture to avoid slips. The TPE mat is flexible, so you don't have to worry about overstretching it with your poses.
Pros
Durable
Odor-less
Eco-friendly
SGS certified
Easy to clean
Comes with Velcro and carry straps
This double-sided yoga mat by Gruper is an excellent choice for those who prioritize convenience. The mat has a sweatproof textured surface, which makes it one of the best yoga mats for sweaty hands. It has a high-elasticity, sticky, non-slip surface that comfortably snugs your limbs and keeps you rooted during intermediate yoga poses. In fact, this high-quality yoga mat passes a 65° tilt non-slip test, which ensures the utmost safety for people with sweaty hands. It has three TPE layers that are crack-resistant and do not deform.
Pros
Durable
Dual-colored
Eco-friendly
Well-padded
Easy to clean
Has carry straps
This yoga mat by BEAUTYVOVO has double the benefits of a regular yoga mat. It is double-sided, with two attractive colors, and has the advantages of both plastic and rubber mats. Its carry strap too has a dual function and can be used as a resistance band. The thick, high-quality yoga mat has three layers and an abrasion-resistant surface. It has a wave and laser-contoured textures on both sides that prevent slips. The yoga mat is adequately large for those who need extra space to exercise, while the sweat-proof material makes it one of the best yoga mats for sweaty hands.
Pros
Durable
Anti-tear
Odor-free
Eco-friendly
Well-cushioned
No harmful materials
This non-slip yoga mat by IUGA is perfect for you if you like to exercise outdoors. While the mat has a slip-resistant contoured bottom to maintain grip, the upper surface has a smooth texture that keeps your limbs snug without feeling too rough. The yoga mat has a well-padded surface that protects your limb joints by providing stability. It has a high-density, closed-cell surface that makes it sweat-resistant, and prevents perspiration from getting absorbed. The mat is made with natural biodegradable tree rubber, which is safer and more durable than plasticized mats.
Pros
Odor-less
Eco-friendly
Lightweight
SGS certified
Has carry straps
No harmful materials
This yoga mat by Gaiam has a smooth texture and a sleek, floral design. Its closed-cell construction prevents sweat from sinking in too much, but the moisture-wicking top coat ensures limited absorption to prevent slippage. It is one of the best yoga mats for sweaty hands and hot yoga. The soft surface and sufficient padding helps protect your joints. The rubber-free product is perfect for people with latex sensitivity.
Pros
Durable
Large size
Lightweight
Phthalate-free
This all-in-one yoga mat by Plyopic is an excellent sweat-mopping product that skips the need for a towel during your hot yoga sessions. The ergonomic moisture-wicking construction of this microfiber mat makes it one of the best yoga mats for sweaty hands. The multipurpose mat can be used on one side for barefoot yoga, while the flip side can be used for endurance training with shoes. The microsuede overcoat of the mat improves grip while giving the mat a velvety soft feel.
Pros
Durable
Eco-friendly
SGS certified
Easy to clean
Has carry straps
No harmful materials
Vegan suede material
This eKO Yoga Mat from Manduka has a smooth surface with gentle foaming agents that comfortably sink your limbs and protect your joints. It has a sleek design and a velvety grip base that prevents you from slipping during your yoga practice. The product is made with 99 percent latex-free natural rubber. The closed-cell, high-density construction prevents sweat from sinking in, but the top coat wicks some moisture so that your perspiration does not distract you from exercise. Manduka's ergonomic yoga mats are trusted by Adriene Mishler and several other yoga experts.
Pros
Durable
Eco-friendly
Well-padded
Easy to clean
Attractive design
No harmful materials
While this ergonomic yoga mat by Reetual feels gentle on dry hands, the micro-grip hold of the surface intensifies with perspiration. The product is double-sided with ultra-soft suede material that provides excellent padding and has your back during an intense workout. It has a moisture-wicking surface for you to skip the yoga towel, which makes it one of the best yoga mats for sweaty hands. The mat comes with a beautiful floral design that is anti-fade and adds style and aesthetics to your yoga routine.
Pros
Durable
Eco-friendly
Comfortable
Has carry straps
No harmful materials
This banana leaf printed yoga mat by Yoga Zeal would add the perfect aesthetic to your yoga session if you are working out on a beach, on a vacation, or simply working towards a hot summer body. The mat has a soft and gripping suede-like surface and is made with natural rubber, so you can exercise without worrying about slippage. It is one of those mats that you can double up to support your knee joints and stay erect in your pose. The mat is specifically designed to aid hot yoga, Bikram yoga, and pilates.
Pros
Stylish
Durable
Sustainable
Anti-slip rubber
Thanks to the shock-absorbing feature of this rubber yoga mat by Hugger Mugger, you can now stay worry-free about joint pains while taking your workout to the next level. The mat provides excellent cushioning to support everything from a simple child's pose to a challenging peacock pose. It has dry-grip textures on both sides, which makes it reversible and convenient to use. What makes it better is that the mat has a stylish, gradient design that is soothing to the eyes.
Pros
Durable
Eco-friendly
Well-padded
Easy to clean
This mat by Manduka is extremely slip-resistant with its contoured tread pattern at the base. The leathery upper has a smooth finish that not only feels comfortable but also keeps your hands, legs, and joints snug during your practice. It does an excellent job absorbing sweat and the airflow technology eliminates the use of towels, so you can kick it up a notch in your intense workout without worrying about accidental slips. Despite its moisture-wicking material, the mat prevents odor from settling in. It has an advanced tri-layered construction that ensures good grip and prevents slips.
Pros
Eco-friendly
Well-padded
Travel-friendly
Attractive design
Cons
Overpriced
The surface might peel
With these product recommendations, we have explained the features to look for in yoga mats for sweat in the buying guide below.
How to Choose a Yoga Mat for Sweaty Hands
Sustainable Materials: You should always avoid PVC mats, and they often contain vinyl chloride, a carcinogenic chemical. Yoga mats that contain latex are heavy, overly sticky, uncomfortable, and may trigger allergies. While EVA is durable and lightweight, it is not very soft and doesn't provide a good grip. Hence, look for a yoga mat that is responsibly sourced, vegan, and made with eco-friendly materials like TPE or latex-free natural rubber.
Moisture-wicking Features: The best yoga mat for sweaty hands must have a moisture-wicking top coat so that the wet surface does not make you slip while in the middle of a yoga pose. Plasticized mats do not have such features, and hence should be avoided.
Dimensions, thickness, and weight: The more intense your yoga practice gets, the thicker and larger you want your mat to be. However, thickness reduces flexibility and prevents the mats from rolling properly. A mat that is too heavy becomes difficult to carry and maintain. Hence, look for a product that strikes the right balance between size, thickness, and heaviness.
Easy Maintenance: Yoga mats that are machine-washable, easy to clean, and odor-free make the best choice. Also, look for mats that are easy to roll and unroll, and do not stay rigid to their previous structure.
Durability: Yoga mats are not the kind of product you want to be purchasing every day. Hence, a good-quality, crack-resistant, the peel-resistant mat is the ideal choice.
Stylish Design: If you are a sucker for aesthetics, a stylish design and unique texture can be the cherry on the cake.
Now that you have seen our recommendations for the best yoga mats for sweaty hands, it is time to get shopping. A regular yoga routine not only requires immense dedication and effort, but also reliable exercise tools to aid your fitness journey. Ensure you keep in mind the important features to look for when buying a yoga mat. Happy shopping!
Author BIO
Anoushka is certified in Professional Skincare and is a Mass Media (Journalism) graduate from Mumbai University. As a More
Why Trust select
Our product experts study the specifications of every product we suggest and try them out to bring what's proven to be worthy of your money, time, and energy. We also have subject matter experts from various fields like Fashion, Skincare, Haircare, Home Decor, and Health & Fitness onboard to make sure our suggestions are credible and trustworthy. You can trust select to be your faithful shopping guide for all the right reasons!