'Yar tu toh dara raha hai mujhe': When Sourav Ganguly spoke about Sachin Tendulkar's habit of sleepwalking
Discover the untold friendship of cricket legends Sachin Tendulkar and Sourav Ganguly, including hilarious sleepwalking tales and record-breaking partnerships.
Updated on Sep 24, 2023 | 04:56 PM IST | 367.7K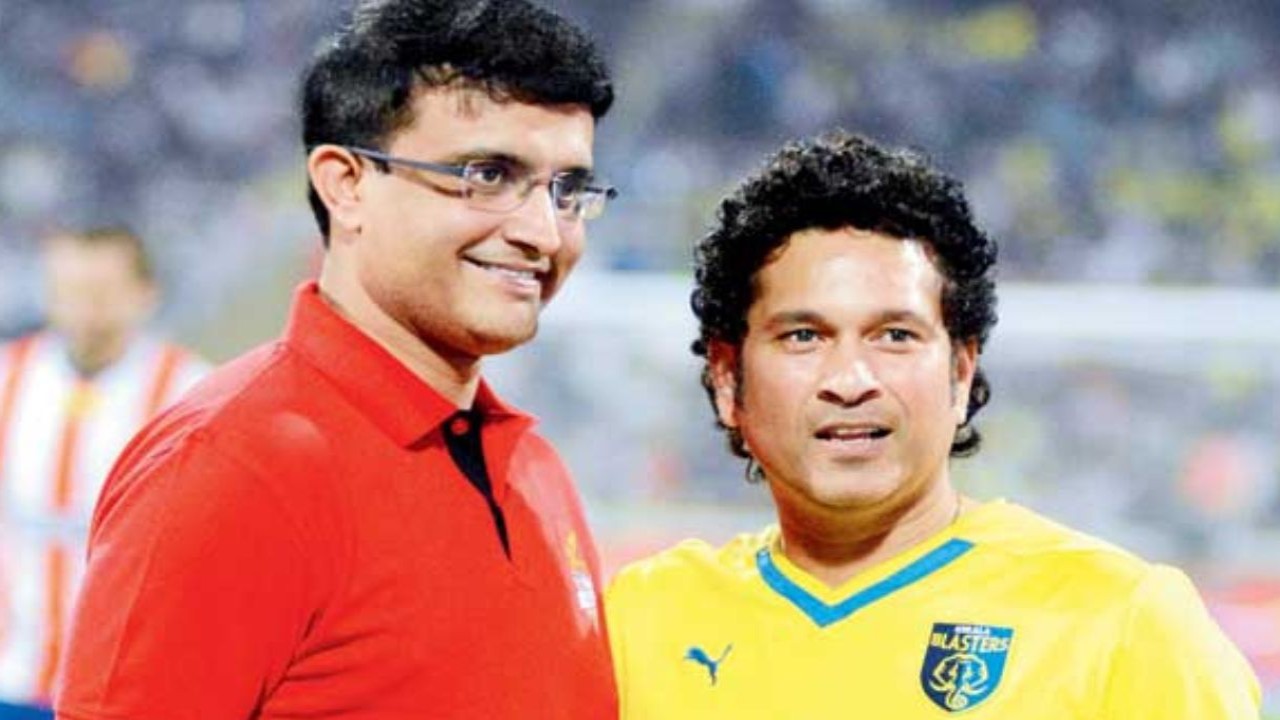 Key Highlight
Sourav Ganguly once spoke about Sachin Tendulkar's sleepwalking antics

Ganguly and Tendulkar share a close bond of friendship
The friendship between Sachin Tendulkar and Sourav Ganguly goes way back. They started as young cricketers and became one of the strongest partnerships in One-Day Internationals. During an interview on Breakfast with Champions, Ganguly talked about his close bond with Tendulkar. He shared a funny story about Tendulkar sleepwalking, which once scared him.
Sourav Ganguly once spoke about Sachin Tendulkar's sleepwalking antics 
Ganguly once mentioned, "Ek din raat ko dekha ki Kia banda na chal raha hai room m, meine kaha yaar bathroom wathroom jara hoga, m ulta side jake sogya, agla din usko kuch pucha nahi doosra din fir dekha ki ye uth k chal raha hai toh m na uth k baith gya socha yar ye karta kya h uthke raat ko 1-1:30 bhje ese na room m ghumta hai, ghum ghum k chair m baith tah hai baith k fir wapis baju m so jata hai mne usko agla din kaha 'Yar tu toh dara raha hai mujhe' tu karta kya hai raat ko, nahi nahi m raat ko chalta hu neend m, fir usko Ye aadat thi raat m chalne ki. ( So, one day I saw he was walking in the room. I told myself he must have gone to the bathroom and I slept facing the other side. I didn't ask him anything the next day. The second day, I again saw him walking into the room. So I woke up and sat thinking, what does he do at 1.30 in the night. He takes a round in the room and then sits on the chair, returns, and then sleeps next to me. So the next day I told him, 'You're scaring me, what do you do at night?' He said 'No, I walk while sleeping'...He had this habit of sleepwalking)."
Ganguly also revealed Tendulkar's habit of getting new bats when his performance wasn't great. Interestingly, he often ended up choosing Ganguly's heavier bats, even during the 1992 World Cup.
These details not only show their friendship but also make these cricket legends seem more relatable.
ALSO READ: Farewell to World Cup: Virat Kohli to Kane Williamson; Top 5 players of 2023 who mark their last stand
The legendary partnership of Sachin Tendulkar and Sourav Ganguly
Between 1996 and 2007, Sachin Tendulkar and Sourav Ganguly crafted one of cricket's most triumphant opening teams. Together, they amassed more than 6600 runs during their opening games in ODI's. The pair remains unsurpassed in ODI batting, boasting 21 centuries and 23 fifties. 
Their record-breaking 258-run partnership occurred against Kenya in the 2001 Triangular Tournament. Their second strongest showing was a 249-run partnership against England at Headingley in 2002. 
Tendulkar and Ganguly have consistently delivered, showcasing twelve test stands exceeding a century, with their highest partnership also at 249 runs.
ALSO READ: Flashback to Glory: When India secured an unforgettable triumph against Pakistan in 2007 T20 World Cup
How many century partnerships did Tendulkar and Ganguly have in Test cricket?
They had twelve century partnerships in Test cricket, with their highest being 249 runs
---
Did Tendulkar use Ganguly's bats?
Yes, often, even during the 1992 World Cup
---
About The Author
Rakesh Mehra is a passionate sports content writer at Pinkvilla, dedicated to bringing the thrill of the game to
...
Read more
Top Comments
There are no comments in this article yet. Be first to post one!