In PICS: BCCI president Jay Shah presents 'Golden Ticket' to Amitabh Bachchan for 2023 Cricket World Cup
Jay Shah, President of the BCCI recently gifted Bollywood legend Amitabh Bachchan with a "Golden Ticket" to the 2023 Cricket World Cup
Updated on Sep 06, 2023 | 07:02 PM IST | 104.1K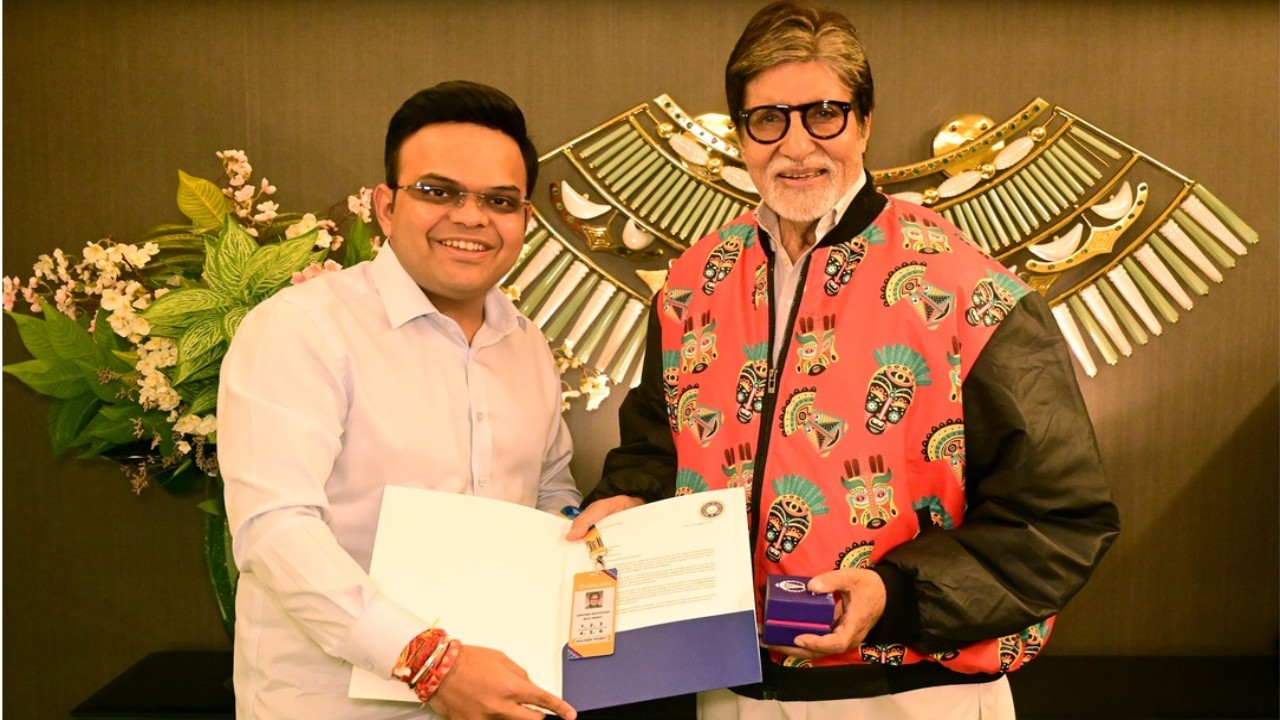 Key Highlight
BCCI President Jay Shah gifting Amitabh Bachchan a 'Golden Ticket' has generated immense excitement

The involvement of the Bollywood icon adds a touch of glamour in the prestigious event this year
Jay Shah, the BCCI President, recently presented Bollywood legend Amitabh Bachchan with a "Golden Ticket" to the 2023 Cricket World Cup. This gesture has delighted both Bachchan's supporters and cricket fans, demonstrating his relevance and influence in the Indian entertainment industry. 
What is a Golden Ticket? 
The "Golden Ticket" is effectively an honorary permit that allows Bachchan to attend all matches and festivities throughout the much-anticipated Cricket World Cup. Bachchan's presence, as one of India's most renowned and revered celebrities, is expected to add to the grandeur and excitement surrounding the tournament. 
Why Amitabh Bachchan? 
Jay Shah's choice to bestow this distinguished pass on Bachchan is solely a mark of respect but also a recognition of his enormous contribution to Indian cinema. Amitabh Bachchan, commonly known as the "Shahenshah" of Bollywood, has been entertaining millions of fans with his brilliant performances for almost five decades. His films not only have the ability to attract spectators but also to become cultural phenomena. 
Bachchan's passion for cricket is well-known, in addition to his great talent. He has frequently been sighted at the cricket stadium, cheering on the Indian side and displaying his love for the game. His contagious excitement and continuous support for cricket have earned him the respect of both fans and players. 
ALSO READ: How did Gary Wright die? 'Dream Weaver' singer's cause of demise unveiled
Amitabh Bachchan's Involvement in Cricket 
Bachchan's involvement with cricket extends beyond his role as a spectator. He became a co-owner of the Jaipur franchise in the Indian Premier League (IPL) in 2008. His participation in the team has further reinforced his affinity with the sport, endearing him to cricket fans around the country. 
Amitabh Bachchan's attendance at the 2023 Cricket World Cup will undoubtedly lend a touch of elegance and excitement to the event. Fans can expect to witness the Bollywood megastar roaring for Team India at every match, adding his voice to the chaos of support that fills the stadium. 
2023 Cricket World Cup Golden Ticket 
In addition to Bachchan, Jay Shah has extended the 'Golden Ticket' privilege to an array of prominent figures spanning various domains. This gesture signifies more than mere appreciation; it underlines the BCCI's commitment to inclusivity. By inviting individuals from diverse backgrounds, the BCCI aims to cultivate unity and collective joy during this pivotal tournament.
The 2023 Cricket World Cup holds immense significance for India, marking the nation's fourth time as tournament host. The unforgettable editions of 1987, 1996, and 2011 remain etched in the memories of cricket enthusiasts worldwide. The forthcoming event promises to surpass all expectations, with India's fervor for the sport reaching unprecedented heights. Anticipation for this spectacle is at an all-time high.
ALSO READ: Watch: Kai Cenat's rib-tickling reaction to Doja Cat's new song 'Demons'
Know more about Amitabh Bachchan
Who is Amitabh Bachchan's wife?
Jaya Bachchan is Amitabh Bachchan's wife.
---
How old is Amitabh Bachchan?
Amitabh Bachchan is 80 years old.
---
About The Author
Be it current world affairs or hearsay regarding your favorite content creator with a plethora of write-ups under her
...
Read more
Top Comments
There are no comments in this article yet. Be first to post one!