How did Lauren Sanchez react to Jeff Bezos' proposal? Former TV anchor details Amazon founder's grand plan
Dive into the whirlwind romance as former TV anchor Lauren Sánchez shares magical details of Amazon founder Jeff Bezos's grand proposal, featuring a dazzling 20-carat sparkler.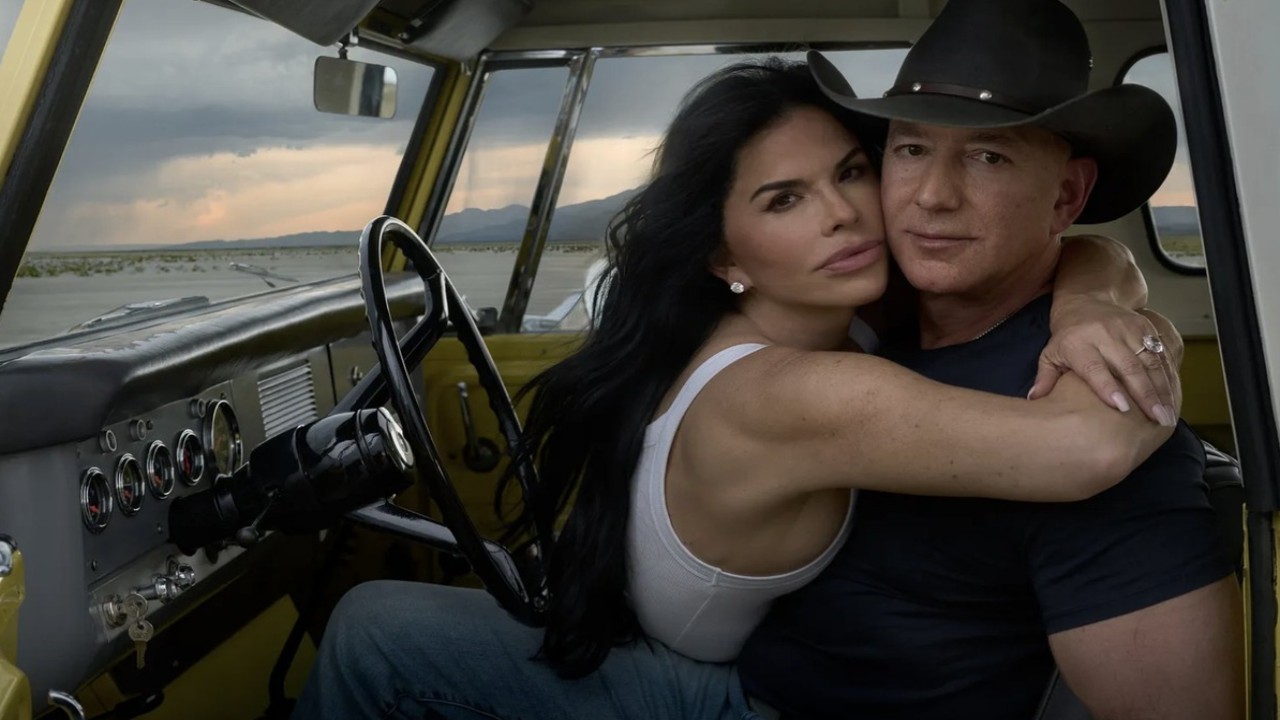 Key Highlight
Lauren Sánchez recalls the moment Amazon founder Jeff Bezos proposed with stunning 20-carat sparkle

Five months into their engagement, the couple is still contemplating wedding's scale and location
Lauren Sánchez, a former TV anchor, was whisked away on an ultra-luxurious boat excursion to the Cannes Film Festival in May when her life took an unexpected turn. Amazon CEO Jeff Bezos, the mastermind behind the great scheme, came up with a proposal that left Sánchez dumbfounded. The centerpiece of this wonderful event was a stunning 20-carat diamond sparkler worth an estimated $2.5 million. Sánchez, now 53, detailed the wonderful moment Bezos opened the package, saying, "When he opened the box, I think I blacked out a bit," in an exclusive interview published in Vogue's December edition, as per Page Six. 
A romantic twist beneath the pillows 
Jeff Bezos, 59, added a dash of storybook romance to their engagement story by placing the diamond under Sánchez's pillow. Sánchez was taken aback by the unexpected action when she realized Jeff Bezos was asking for her hand in marriage. This lovely element added a one-of-a-kind and intimate touch to their love tale, highlighting Bezos' sensitive and romantic side. Even the largest gestures appear to be personal and intimate for the billionaire computer magnate. 
ALSO READ: Gordon Ramsay welcomes baby No 6 at 57; says, 'One more bundle of love to the Ramsay brigade'
The wedding conundrum: Planning the extravagance 
The pair is still navigating the murky waters of wedding preparation five months into their engagement. The dilemma is whether it will be a major event, a destination celebration, or an intimate gathering.
Sánchez shared, "We're still thinking about the wedding, what it's going to be. Is it going to be big? Is it going to be overseas? We don't know yet. We've only been engaged five months." The uncertainty surrounding their wedding adds to the excitement, with supporters and bystanders anxiously anticipating the celebration's specifics. 
Dress dreams: Designers and decisions 
As the wedding arrangements come together, the focus shifts to the gown. Sánchez has her sights set on legendary fashion labels such as Christian Dior, Dolce & Gabbana, and Valentino as per Page Six. However, the soon-to-be Mrs. Bezos remains tight-lipped about her ultimate choice, joking, "There are so many incredible designers. Once I get a minute, I'll slow down." The excitement grows as fashion lovers and admirers speculate on which designer will be commissioned to create the gown for this high-profile wedding. 
Star-studded celebrations: A Beverly Hills engagement bash 
Bezos and Sánchez began their road toward marriage with a star-studded engagement party in Beverly Hills. The event garnered an A-list guest list and was held at the sumptuous mansion of designer Diane Von Furstenberg and media magnate Barry Diller. The event was attended by Oprah Winfrey and Barbra Streisand, as well as Kim Kardashian, Chris Rock, and Salma Hayek. Disney CEO Bob Iger gave the engaged pair a beautiful and touching speech, while Nineties phenomenon Jewel serenaded them with an original song named Legendary.
As Lauren Sánchez and Jeff Bezos' love story continues to captivate the public's attention, their engagement stands as a testament to great gestures, thoughtful surprises, and a love that surpasses the ordinary. The world awaits the next chapter in this incredible story as each element of their trip unfolds. 
ALSO READ: Who is Tim Scott's girlfriend Mindy Noce? What we know about Presidential candidate's partner
Know more about Lauren Sanchez and Jeff Bezos' fairytale engagement:
When did Jeff Bezos propose to Lauren Sánchez?
Jeff Bezos proposed to Lauren Sánchez during an ultra-luxe yacht trip to the Cannes Film Festival in May.
---
What is the estimated value of Lauren Sánchez's engagement ring?
The dazzling 20-carat sparkler is estimated to be worth a whopping $2.5 million, according to experts.
---
---