How many kids does Elon Musk have? Reports confirm new baby name to be Techno Mechanicus
People wonder about the number of children Elon Musk has. Continue reading to know about his kids as news about the intriguing name of his newest addition grabs headlines.
Published on Sep 10, 2023 | 04:01 PM IST | 114.3K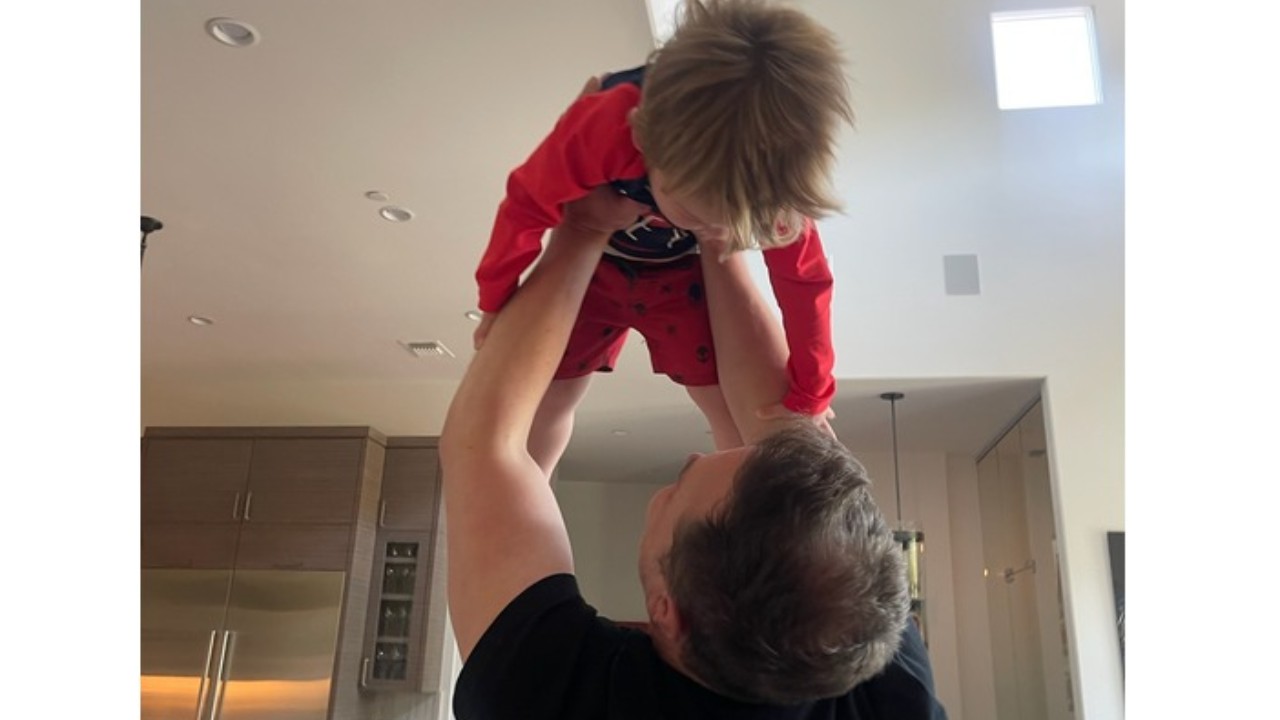 Key Highlight
Elon Musk is a proud father of 11 children

Elon Musk's personal life and unconventional choices continue to captivate people's attention
Note: This image is not of Techno Mechanicus but represents Elon Musk holding his other child. The image is taken from Elon Musk's Twitter account. It is attached just for the context.
Elon Musk, the renowned entrepreneur and CEO of Tesla and SpaceX, is well-known for his substantial contributions to the realm of technology as well as his forward-thinking ideas. Musk has achieved enormous success in his professional activities throughout the years, but he is also a family man. Many are curious to know about the number of children that Elon Musk has, and the most recent news is about the intriguing name of his newest arrival.
How many kids does Elon Musk have? 
According to reports by Business Insider, Elon Musk has been married a number of times and has 11 children.
Justine Musk, whom he married in 2000, was his first wife. They have six sons from their marriage. Nevada Alexander, their first child, died tragically at the age of 10 weeks due to sudden infant death syndrome. Despite this sad loss, Musk and his then-wife brought twins Griffin and Xavier into the world in 2004. Xavier (now Vivian) came out as a transgender in June 2022. Musk and his first wife also welcomed triplets Damian, Saxon, and Kai in 2006. 
Elon Musk began dating actress Talulah Riley after his divorce from Justine in 2008, and they eventually got married. Their marriage, however, had many ups and downs, ending in two divorces and subsequent reconciliations. According to reports by insider.com, their first marriage lasted from 2010 to 2012 before dissolving. However, the pair wedded in 2013, only to split in 2016. They had no children together.
ALSO READ: Trump's former advisor found guilty for disobeying subpoena in regards to Congress charges
Elon Musk started dating Grimes in May 2018. It was in May 2020 that the couple welcomed their first child. In an interview, Musk disclosed that he and his girlfriend, musician Claire Boucher aka Grimes, are expecting their first child in May 2020. After much speculation, according to the reports by BBC, the parents called their child X AE A-Xii. The unusual name is made up of the letter X, the compound vowel AE, and the Roman numeral A-Xii for twelve. 
In September 2021, Page Six reported that Musk and Grimes had parted ways.
It was in March of 2022 that Grimes shared that Musk and she had welcomed their second child together, a daughter named Exa Dark Sideræl Musk, via a surrogate. Little Exa was also given the nickname Y after Grimes and Musk's first child was named X.
Musk welcomed twins with Shivon Zilis in November 2021, according to a report in Business Insider in July 2022. However, the names of their twins are not known yet.
Who is Elon Musk's son Techno Mechanicus? 
Elon Musk is making headlines currently for the name of his latest baby which has piqued the public's interest. According to a book review published by the New York Times on September 9, this year for Musk's biography titled Elon Musk, the X owner secretly welcomed a third child with singer Grimes and he is called Techno Mechanicus. The newborn is nicknamed Tau. At the moment, very little is known about the little one.
ALSO READ: What did Ron DeSantis do? Florida Gov. clashes with accuser over Jacksonville shooting
Know more about Elon Musk
What are the sleeping hours of Elon Musk?
Elon Musk stated in an interview that he never compromises on his six hours of sleeping.
---
Elon Musk has invested in how many cryptos?
According to reports by The Motley Fool, Elon Musk has invested in three cryptos that are Bitcoin, Ethereum, and Dogecoin.
---
About The Author
Be it current world affairs or hearsay regarding your favorite content creator with a plethora of write-ups under her
...
Read more
Top Comments
There are no comments in this article yet. Be first to post one!