What happened to Jonathan Lewis? 8 teenagers arrested following 17-year-old's death
In a shocking turn of events, the vibrant life of 17-year-old Jonathan Lewis was abruptly cut short when he fell victim to a brutal assault by a mob of his own classmates.
Published on Nov 16, 2023 | 01:51 PM IST | 31.1K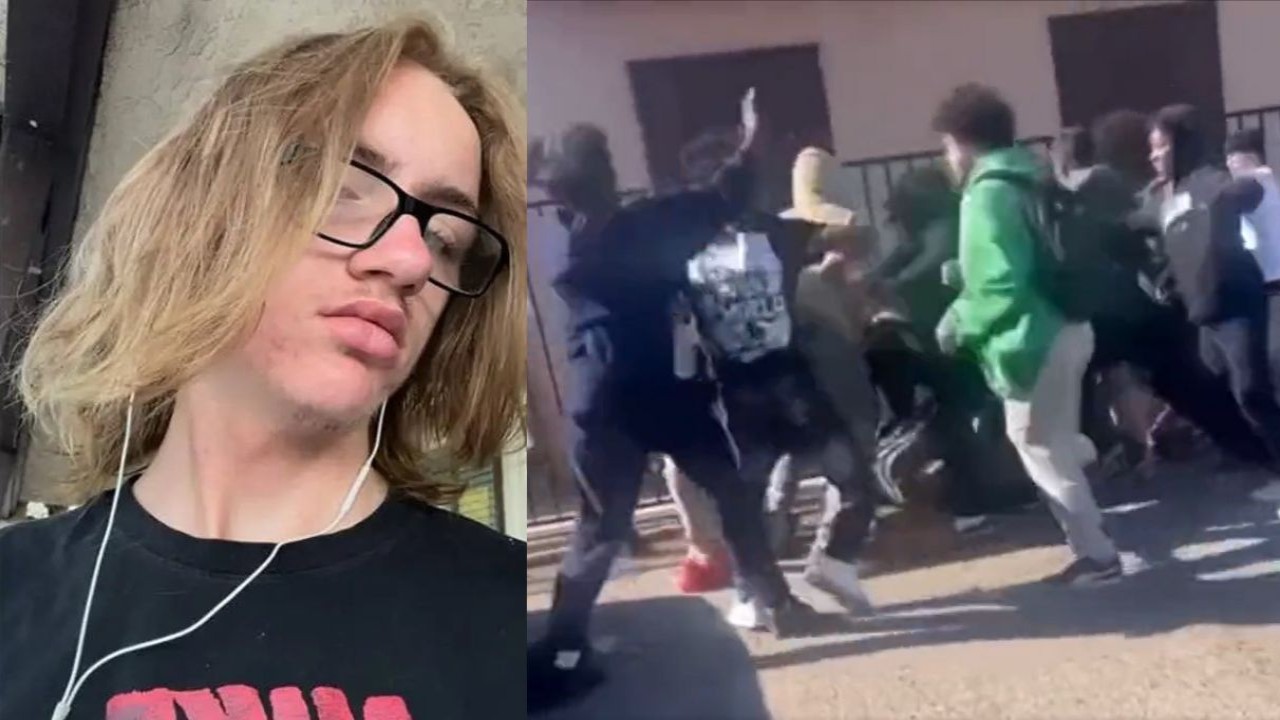 Key Highlight
Rancho High School in Las Vegas sees a mob of classmates brutally attack 17-year-old Jonathan Lewis

Las Vegas police swiftly arrest eight teenagers on murder charges connected with Jonathan's death
Trigger Warning: This article discusses a deeply distressing incident involving the brutal assault and death of a teenager
In a tragic turn of events, 17-year-old Jonathan Lewis's vivacious life was cut short when he was brutally assaulted by a mob of his classmates. The event, which occurred in an alley right outside Rancho High School in Las Vegas, shook the town and prompted officials to make eight arrests on murder charges as per USA Today. 
The fateful confrontation: A fight over headphones and vape pen turns deadly 
On November 1, students, including Jonathan, gathered in an alley adjacent to their high school to resolve a disagreement over stolen wireless headphones and a likely stolen marijuana vape pen. According to Lt. Jason Johansson of the Las Vegas Metropolitan Police Department, the things in question were taken from Jonathan's acquaintance. However, the dispute took an unexpected turn when Jonathan found himself in the middle of it. 
ALSO READ: Dan Markel Case Update: Donna Adelson arrested at Miami airport in major breakthrough; Deets inside
A swift and savage attack: Unraveling the horrifying details 
As tensions rose, the situation took a dangerous turn with the first punch thrown. A swarm of 10 people swooped on Jonathan, viciously dragging him to the ground and launching a storm of kicks, punches, and stomps. Jonathan was found unconscious in the alley by a bystander who transported him to the school after the violent assault as per USA Today. Despite the staff's earnest efforts to conduct CPR, Jonathan's injuries proved deadly. 
The revelation of recordings circulating on social media showing the terrible attack tainted the aftermath of the tragedy even further. These videos, which were described as extremely disturbing and void of humanity by police, played a critical role in identifying eight of the 10 people involved. 
Swift justice: Authorities act to apprehend the perpetrators 
Las Vegas police, working in tandem with the FBI, moved quickly to detain the eight teens charged in Jonathan's killing. Search warrants were conducted at nine different houses around Las Vegas, resulting in the discovery of clothes used during the attack and the seizure of telephones. Authorities are now prosecuting the accused as adults to pursue justice for the horrible incident that occurred in that fatal alley. 
Legacy of compassion: Jonathan Lewis Sr. seeks deeper justice 
Jonathan Lewis Sr., a devastated father, is determined to transform his son's terrible death into a catalyst for positive change beyond the headlines and court processes. Lewis is turning his sadness into action by describing his kid as a hero who stood up for his pal. He is currently in the process of developing the Team Jonathan Foundation, which attempts to combat juvenile violence through counseling, mentorships, and after-school activities. 
For Lewis, justice entails more than simply legal repercussions for abusers; it entails a significant cultural transformation toward empathy and compassion. His goal for the organization shows a desire to prevent such occurrences by tackling the underlying causes of juvenile violence. 
Disclaimer: If you know someone who is struggling with assault or abuse, please reach out and report about it. There are several helplines available for the same.
ALSO READ: Tragic twist: Hockey star Adam Johnson's death sparks arrest; fuels backing for Matt Petgrave in controversy
Know more about the Jonathan Lewis tragedy:
What exactly happened to Jonathan Lewis?
Jonathan Lewis, a 17-year-old, fell victim to a brutal assault by a group of his classmates outside Rancho High School in Las Vegas. The altercation stemmed from a dispute over stolen wireless headphones and a marijuana vape pen.
---
How many arrests have been made in connection with Jonathan's death?
Eight teenagers, aged between 13 and 17, have been arrested on murder charges in connection with the tragic death of Jonathan Lewis.
---
About The Author
Sakina is a seeker of truth and uncovers hidden perspectives, ensuring her readers are not just informed but
...
Read more
Top Comments
There are no comments in this article yet. Be first to post one!