Ganpati Bappa Morya! Here is why your favourite stars love the festival of Ganesh Chaturthi!
Updated on Sep 05, 2016 | 06:41 PM IST | 808.3K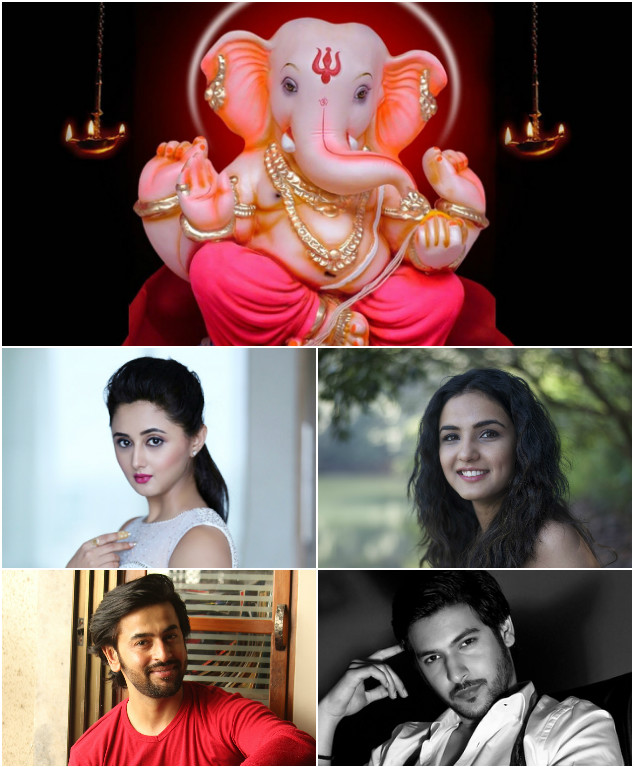 The festival of Ganesh Chaturthi brings about a fresh air of positivity and happiness. The cute divine who visits our houses as a special guest gives in a lot of memories for us to cherish until the next time of his visit! Just like all of you, even your favourite celebs consider this festival to be a special one! Here are the telly ville stars revealing their secret desire that they would want to ask Ganpati Bappa this year and also why this festival is special to them!
Shashank Vyas
Ganpati festival is full of fun and joy. It's all about having Ganpati at home, calling people to your place and visiting your friends and relatives. Ganpati is my favorite festival. I am a regular visitor of Siddhivinayak temple. He gives me energy to give my best, make me strong to fight the daily life battle with positivity. In childhood, we used to collect chandas in groups. We used to decorate the pandals, holding some competition, announcing winners on the tenth day. It was too much fun and nostalgic moments.
Laksh Lalwani
I have been seeing Ganpati Bappa in Mumbai since the time I came to Mumbai career wise. It feels great. The festive spirit can't be ignored. Few of my friends are keeping Ganpati and I would surely be visiting them. 
Shivin Narang
I am a Delhi boy and it was very exciting celebrating Ganpati there but here in Mumbai, the festival has special importance and place in everyone's hearts. I was excited about it when I came to Mumbai. People take Ganpati at home and invite over get meals, celebrate together. It's a moment of unity and love. It is considered enjoyable yet spiritual. These are auspicious days. Any good work gets start in these  days.  'Make me a good human being and keep my friends and family happy,' that's all I want from Bappa. 
Aniruddh Dave
Ganpati is the first God to be worshiped before any auspicious occasions. We always go to the temples to pray Gods but this is the only festival when the God himself comes at our place and stays for days. The whole celebration is really exciting. Success in my personal and professional life as well as blessings for my entire family. I saw true colors of this festival when I came to Mumbai. This city is known for many things among which Ganpati festival is important. It gives flavour to Mumbai. 
Rashami Desai
I feel very secured when Bappa is around. He takes care of me, he gives happiness as he is rightly named Vighnaharta. We believe him to be the eldest member of our family. We feel safe, secured, nice and blessed. I wish Bappa keeps me healthy, happy and peaceful so that I can always work nicely. I want a to create a strong aura around myself just like him. I wish he will be there to always protect me and bless me so that I won't do any wrong. Since childhood, we are getting Ganpati home and it always feels like the elder family member is coming to the house. My mom, sister-in-law and I make delicious modak for him. The whole environment of our home becomes wonderful.
Vahbbiz Dorabajee
I want my show Bahu Humari Rajni Kant to become a very big hit and an iconic show. That would be something that will make me super happy!
Shashank Vyas
For myself, I want health and wealth, as that covers it all. And for the entertainment industry, I want it to become a more organized sector because that will only help us all as artistes in the long run.
Mohammed Nazim
For myself, I only wish that my show Saathiya keeps doing as well as it has. And for my friends and fans, I wish that they be happy in every sense of the word!
Gunjan Utreja
I want people to stop sending me horrible requests for random games on social media! Also, for once, I would like to travel on pothole-free roads in Mumbai, because this city doesn't even have a kilometer long stretch of road which doesn't have potholes or bumps! This is the financial capital of our country, and the infrastructure here says a lot about our attitude towards our own country. So, I wish that would improve.
Shivin Narang
Well, I have the same 2 wishes every time! Firstly, I wish to gain good health, wealth, and happiness for myself and my family. Secondly, I wish that Ganeshji would give me the power to become a better and more responsible human being towards nature, society and the people around me.
Aniruddh Dave 
I wish that everyone around me remains happy and stays blessed with good career prospects. I also want Bappa to take care of everyone's health.
Amal Sehrawat 
I wish that the health of our planet improves and that people stop polluting mother earth. We only have one planet, and we need to make sure that we give a healthy planet to the next generation. This, I feel, would be the best wish if it comes true!
Laksh Lalwani 
I want to do really well in my career, so I wish that Bappa makes that come true. Also, for my friends, fans, and my family, I wish that whatever they wish for be granted!
Mrunal Jain
I want peace in life and also an abundance of health, wealth, and happiness. I also want Bappa to give a mentor to every actor, so they learn to live with direction and some perspective in life.
Aishwarya Sakuja
I wish that Ganeshji keeps me and my family members happy wherever they are. Also, I wish that I can maintain my faith in humanity!
Asmita Sood 
Well, I want Bappa to give me a good show. And for the residents of Mumbai, I wish they get non-adulterated vegetables and fruits the whole year!  
Dhruv Singh 
I wish that Bappa would keep India and its citizens safe and sound. Also, I wish that the wishes of all my friends and family come true, both who are in India and abroad.
Jasmin Bhasin
I want Bappa to grant me the wish so I can buy a good house of my choice. I also wish that I would go on a world tour soon!
Vibhu Raghave – 
Two things. First, I want to fulfill my dreams as a successful international actor alongside taking care of my responsibilities. Secondly, I want to always be healthy and find happiness in all possible circumstances.
Mreenal Deshraj
My wishes are very simple, nothing too much. I wish to love as much as I can and respect people. I also want happiness, peace, and success. That's it!
Krrip Kapur Suri
Well, I wish that Bappa would grant me a speedy recovery and bless me with good health. And for everyone else, I wish unlimited happiness!
Ankit Bathla
This year, I pray to Ganeshji that he would make all my wishes come true. And, if I can ask for a second wish, then it will be to make my first wish come true!
Ganpati Bappa Morya!
About The Author
Journalist. Perennially hungry for entertainment. Carefully listens to everything that start with "so, last night...". C...urrently making web more entertaining place Read more
Top Comments
There are no comments in this article yet. Be first to post one!