Rakhi Sawant's husband Adil Khan Durrani reveals TRUTH; says, 'My parents disowned me'
Adil Khan Durrani, ex-husband of actress Rakhi Sawant held a press conference after his release from Mysuru jail. In an interview, Adil revealed that his parents disowned him.
Updated on Aug 22, 2023 | 12:23 AM IST | 427.3K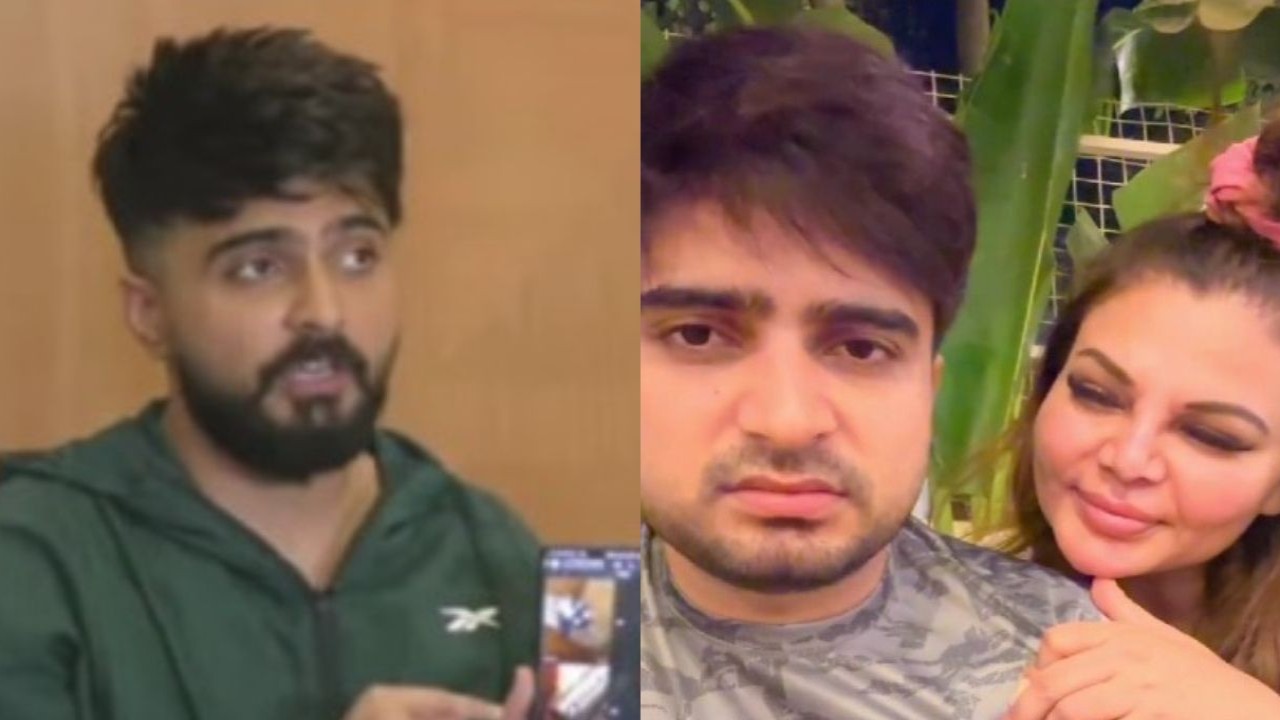 Rakhi Sawant, a prominent Indian actress, and dancer, has been grabbing attention recently with her revelation that she is married to Adil Khan Durrani, a Dubai-based businessman. Adil Khan, who is Rakhi Sawant's ex-husband, has been making headlines due to his recent appearance in Mumbai. He was previously incarcerated on charges of fraud, theft, and assault, as detailed in an FIR lodged by Rakhi Sawant. Adil Khan held a press conference to share his perspective on the matter. Following the press conference, he spoke with Zoom, where he shed light on his personal experiences. 
Adil mentioned that he had been disowned by his own family and conveyed his intention to unveil the truth about Rakhi Sawant, indicating that there may be untold aspects to their relationship.
Adil Khan shares that his parents disowned him after the false allegations:
During the telephonic interview with Zoom, Adil was asked if he hadn't told his parents about his marriage before. He said, "No, I'll tell you. One day I was fed up with all the things Rakhi was doing. I thought I would inform the media to give me 2 days, and I would clarify the situation. Remember, that was my last video before getting arrested. So you tell me, why did I feel like Rakhi Sawant felt it was necessary to file a case against me overnight and send me to jail?"
He added, "As soon as I said this, Rakhi announced the pictures of our wedding, and they went viral." Adil mentioned he had fallen asleep, so he didn't know all of this was happening. Khan further revealed how he woke up in the morning to hundred calls made by his mom. He shared receiving calls from his dad, his sister, and even his aunt who was in the UK. Durrani expressed how scared he was after calls from his family and mentioned wondering if something wrong might have happened in his family. 
Adil continued, "When I called them back, it went to call waiting." He mentioned it was right after that he opened Instagram and was instantly bombarded with notifications about his marriage with Rakhi Sawant. Khan shared, "That's when I opened Instagram, and I was bombarded with notifications - 'Rakhi and Adil got married.' And where is Rakhi? She's already holding a press conference. In that situation, what do you expect me to do? Shocked, I tweeted that I'm not married to Rakhi Sawant."
He further mentioned, "Then suddenly, my mom called and said, 'You're a big fraud. Just two days ago, you were convincing us that something wasn't right, and now you're sitting here married? Adil, you're the only son in the family, and you've taken such a big decision about marriage without us knowing? Everyone is calling my family, asking if they knew about the wedding. What could my parents say? My parents disowned me. My sister-in-law blocked me. I was actually in tears. I confronted Rakhi, and she threw my clothes out of the house and told me to leave. Because now she had made the announcement, so she knew something would happen. I said, 'Rakhi, please don't do this.' So she said, 'I will humiliate you like a dog, remember that.'"
Adil further revealed that when he was outside, he spoke to a friend of Rakhi's named Rajshree, who he shared a close bond with. He mentioned he told Rajshree "she has ruined me, she hasn't spared my family either."
Earlier this year, in January, Rakhi disclosed her marital status with Adil and even shared images from their private wedding ceremony.
Adil Khan Durrani and Rakhi Sawant's love story
Reportedly, Rakhi Sawant had Adil Khan Durrani met in Mumbai when a mutual friend introduced them. Shortly after which, Rakhi was involved romantically with Adil after her separation from her former husband, Ritesh. 
In January this year, Rakhi openly shared her marital status and showcased pictures from their private wedding ceremony. Rakhi also said that post-marriage, Sawant embraced Islam and adopted the name Fatima Durrani. 
Shortly after this, their seemingly harmonious union took an unexpected turn when the couple abruptly parted ways. Rakhi accused Adil of domestic violence, alleged extramarital affairs, and even held him accountable for her miscarriage.
ALSO READ: Jay Bhanushali and Mahhi Vij's daughter Tara is back from the hospital; watch
About The Author
Harshika Bhatia earned a degree in hospitality management but her passion for writing led her to choose a different
...
Read more
Top Comments
There are no comments in this article yet. Be first to post one!