Tere Ishq Mein Ghayal, March 8, E12 Written Update: Entry of a new werewolf confuses Armaan and Veer
Tere Ishq Mein Ghayal stars Karan Kundrra, Reem Shaikh, and Gashmeer Mahajani in lead roles.
Updated on Mar 09, 2023 | 03:13 PM IST | 70.1K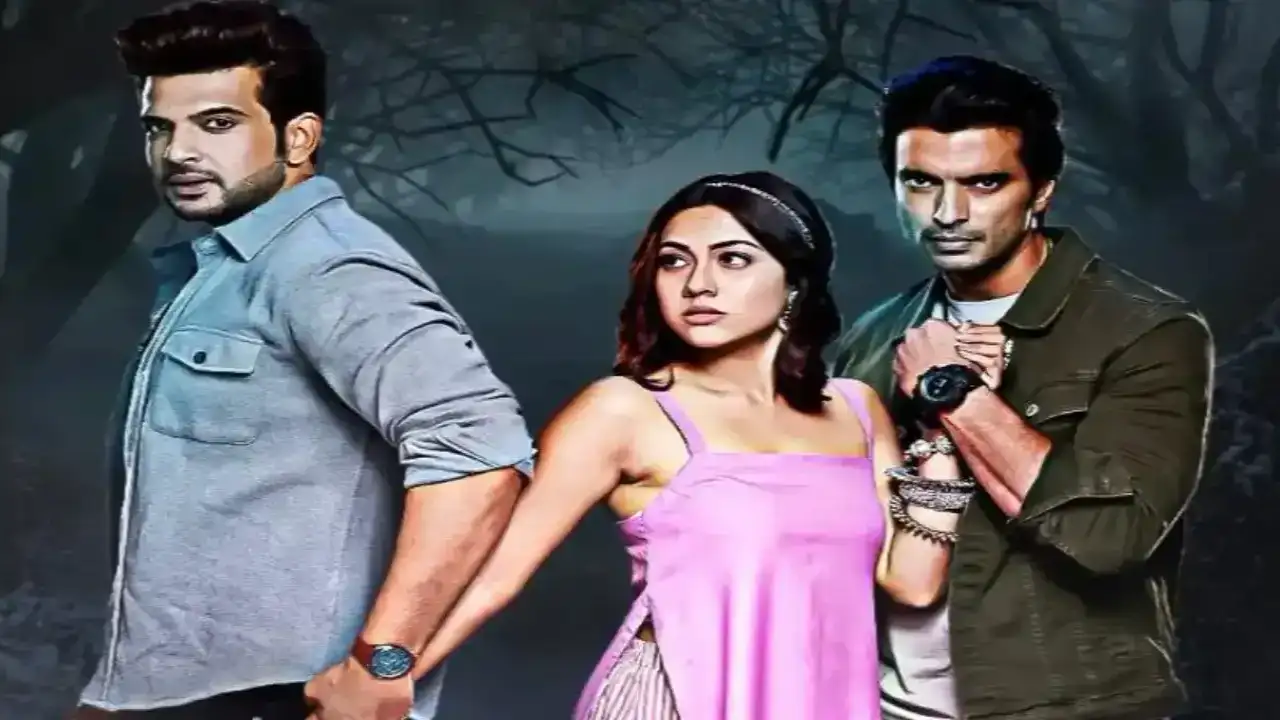 Tere Ishq Mein Ghayal, March 8, E12 Written Update: Chandrika tells Veer that the situation is changed, and she can't let her family be in danger. Veer tells Chandrika that he has always protected her family because he promised her to do so. If he wants he can kill her family. Chandrika tells Veer that she is protecting Eisha and attacks Veer. Armaan arrives and saves Veer. Chandrika tells Armaan that the people are innocent and she is trying to save them. Chandrika tells Armaan that she saved Kavya and that to save her, she had to save the other 27  werewolves also. Armaan asks Chandrika that are they still trapped there. Chandrika tells Armaan that she can't let Kavya and those werewolves out. Veer tells Armaan that they all should come, but Armaan refuses. Veer requests Chandrika to save Kavya and begs her for Kavya's life. 
Eisha arrives. Chandrika destroys the locket and gains consciousness. Veer gets angry and bites Mahek. Armaan feeds his blood to Mahek to save her life. Mahek gains consciousness. Eisha gets relief. Professor Sameer and Malini reach home. Vihaan sees them. Vihaan finds his father's old things. Laksh reaches Cherry's house and tells her that he likes spending time with her. Armaan tells Veer that Kavya manipulated both of them, and she was never real. Veer tells Armaan that Kavya never played with him and he loved her.
Mahek questions Eisha about Veer's reality. Armaan arrives, Eisha tells Mahek that she will tell her the truth later, and they leave. Armaan tells Eisha that Mahek would not convert into a werewolf. Eisha tells Armaan that she will tell Mahek everything and tells him to stay with her. But Armaan refuses and says it will be better if he stays away from her and leaves. Anant reaches Malini's home to meet her, but she tells him to go, and he leaves. Anant comes out as a werewolf and kills a girl. Vihaan reads his father's diary and starts sketching. Eisha tells Malini that Vihaan looks happy, and Malini tells Eisha that Anant met her.
Maya arrives to meet Veer. Armaan looks surprised. Maya tells Veer that one more girl was killed. Veer and Armaan get shocked. Veer asks Maya to help the officials to catch the new werewolf. Eisha and Mahek see Cherry with Laksh. Eisha tells Mahek that Armaan will leave, and she can't stop it.  After Maya leaves Armaan questions, Veer, if she has killed another girl. Veer tells him that he has not killed her and tells him that there is a new werewolf in the city. 
Cherry helps Veer to find the new werewolf with the help of a compass. Vihaan sees Mahir drawing a monster in his diary. Both start fighting after Mahir asks Vihaan about Sarah. Professor Sameer and Mayor stop their fight. The mayor then asks Vihaan and Mahir to fight it out and solve the situation but professor Sameer interrupts them and questions the mayor. The mayor and Sameer exchange a war of words. Armaan tells Eisha about the new werewolf and tells her to be safe. 
ALSO READ: Tere Ishq Mein Ghayal, March 7, E11 Written Update: Veer tries to bring Kavya back, Chandrika stabs him
About The Author
A TV writer with three years of experience in Indian drama and reality shows. With a bachelor's degree in mass me...dia, Pramila likes to gather and double-check facts to keep the readers hooked. So far, she has written over 1000 posts. When not working, she likes to journal and binge-watch her favorite shows over a steaming cup of coffee.
Read more
Top Comments
There are no comments in this article yet. Be first to post one!