Haiwaan Written Update, November 17, 2019: Ansh finds out that Randhir is alive
Today in Haiwaan, Randhir and Amrita fool Ansh to rescue Diljit and Dharampal. Later, Jia helps Ansh to blackmail Randhir so that he can marry Amrita.
Updated on Nov 18, 2019 | 12:25 PM IST | 225.6K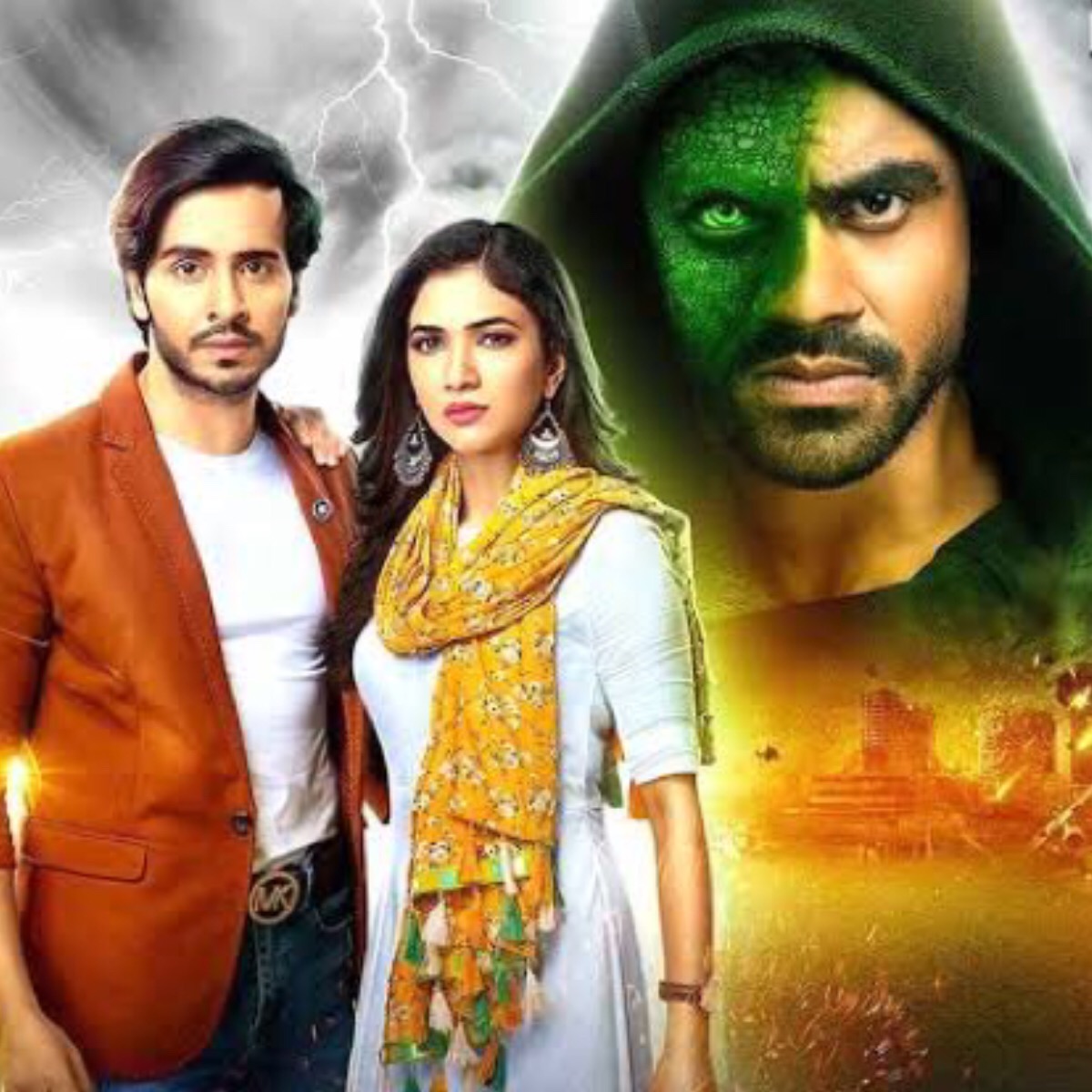 In today's episode, Jia, Ansh and Chetan wait for the blackmailer to message them. Randhir, who is standing in the disguise of an old uncle sees them getting restless and decides to message them to keep the bag of money near the exit. Jia receives the message and they all realise that the blackmailer is nearby. They decide to keep a keen eye on who comes to take the bag. Randhir calls up Amrita and asks her to distract them so that he can take the bag. Amrita lies to Chetan about a pretty girl who is trying to find her. He gets distracted and leaves to find the girl. As Amrita proceeds to distract Jia and Ansh, Nishant arrives there and begins to pester Ansh to talk to her as she has something important to say. He gets distracted while trying to ask Nisha to talk later and Jia gets distracted by their conversation too. Randhir uses the opportunity and quickly takes the bag away.
Soon, Ansh and Jia notice that the bag has disappeared. Jia follows the location of the tracker she had put on the bag. They see it going outside the venue. Randhir's assistant throws the tracker away and takes the bag to Ansh's room. Jia and Ansh leave to find the person who took the bag. Randhir in disguise stops Ansh and keeps annoying him. Jia goes into a hallway and finds Chetan there. Amrita deliberately stands behind a pillar and pretends to talk to someone on the phone. She tells the person that Ansh had planned to take Jia's money to begin a new life with her. She misguides Jia and Chetan who were overhearing her. They begin to suspect Ansh.
They come outside and see Ansh with Randhir in disguise of an old man. Jia tells Chetan that this was the same old man who came to ask her for money for his boss. They feel like Ansh is the old man's boss. They leave to check Ansh's room while Randhir keeps him busy. Randhir's assistant hides the bag behind Ansh's bed. Jia and Chetan come to Ansh's room and find the bag. They also find the teleporter tied up, lying unconscious in a corner. They wake him up and he says that he was kidnapped. They also see a footage of the Haiwaan and the hard drive explodes after they watch it. Jia realises that Ansh is the blackmailer. She decides to teach him a lesson as he tried to double cross her when she was trying to help him.
Nisha bumps into Ansh again and tells him that Randhir is alive. Ansh doesn't believe it at first but Nisha takes him to see the truth for himself. Meanwhile, Amrita removes Randhir's disguise. As she gets close to him, he kisses her on the cheek. They look at each other and get lost in each other's eyes. The assistant interrupts them. Randhir feels relieved that Jia and Ansh got separated as Jia would've never let Ansh get treated. Soon, Nisha arrives there with Ansh and he sees Randhir. He gets enraged and the Haiwaan in him begins to take over. But before he could turn into the Haiwaan, the teleporter arrives there and disappears with Ansh. Randhir picks up Ansh's phone from the ground and tells Amrita that this will help them find Dharampal and Diljit. Meanwhile, Ansh gets angry at the teleporter. The teleporter teases him and adds to his anger. When Ansh finally gets a hold of the teleporter, Jia and Chetan spot them. The teleporter disappears with Ansh again. Jia had made arrangements to track the teleporter too. Chetan and Jia follow the path to find Ansh. 
Later, Randhir goes back to his lab and checks Ansh's call logs. He sees that there were a lot of calls from Jia and some video calls from a different number. He decides to video call the number as they might have Diljit and Dharampal with them. They must've used the video calls to show Ansh how they're torturing Diljit and Dharampal. Randhir creates a computer generated Ansh so that the people he's. idea calling feel like they're talking to Ansh. He also uses a device to change his voice. He calls and sees Diljit and Dharampal tied to a chair. He, as Ansh, asks them to send their location as he wants to send Nisha there.
Randhir leaves with Amrita and his assistant to rescue Diljit and Dharampal. Meanwhile, Ansh combats the teleporter. He gets enraged by the teleporter's antics. As he finally catches the teleporter and is about to hit him, Jia and Chetan arrive there. She stops Ansh from hitting the teleporter. Ansh tells Jia that Randhir is alive and the teleporter is working for him. Jia calls Ansh a liar and scorns at how Ansh tried to cheat her and settle with Amrita using her money. She asks the teleporter to kill Ansh for double the money. Meanwhile, Randhir, Amrita and his assistant enter a godown and fight a big monster to go ahead. Randhir kills it with his arrows. Soon, Ansh gets enraged and turns into Haiwaan. He throws the teleporter around and beats him up brutally. 
The assistant finds Diljit and Dharampal. He sends a remote controlled car near the abductors and releases a gas to make everyone unconscious. Randhir and Amrita join him and wear masks to rescue Diljit and Dharampal. Amrita hugs Randhir and thanks him. The assistant teases them and they all realise that they have to leave with Diljit and Dharampal before everyone regains consciousness. After Ansh defeats the teleporter, he asks Jia to ask the teleporter to tell them the truth. The teleporter agrees that Ansh is saying the truth. Ansh tells them that Randhir is trying to create a rift between them. He tells them that Randhir must've rescued Diljit and Dharampal by now. Jia says that it's impossible to penetrate the tight security there. She asks the teleporter to take them there. They see that Randhir has successfully rescued the hostages.
Ansh gets enraged and gets determined to marry Amrita. Meanwhile, Dharampal asks Randhir and Amrita to get married before Ansh creates any more problems. Randhir tells Dharampal that it is important for them to cure Ansh first but Amrita tells him that she doesn't want to wait anymore. They begin the preparations for Randhir and Amrita's wedding. They secure the house with laser beams to stop Ansh from entering.
Ansh turns into Haiwaan and along with his monster dog, he stops a school bus to make the kids his hostages. He informs Jia that he has help the kids hostage and it is her turn to execute the plan further. Meanwhile, Randhir dresses up Amrita as he had promised her. Later, Amrita asks him if he has any method to remove Ansh's mark from her hands as she does not want to ever hear or see his name ever again. Randhir asks her to calm down as Ansh won't be able to come between them after today. Jia and Chetan get disguised as sardars and trick the security to enter the house. Randhir and Amrita arrive downstairs together. Jia and Chetan reveal themselves to Randhir and show him how Ansh has held some children hostage. She asks him to deactivate the laser beam outside the house so that Ansh can enter.
She threatens to get the children killed if he doesn't follow their command. Ansh arrives there and asks Amrita if she missed him. He wipes a tear off of her face and announces to everyone that he will marry Amrita as promised. The priest asks to take the bride away as they need to conduct rituals for the groom first. Ansh asks Nisha to take care of Amrita until then. Jia and Chetan take away Randhir and his assistant with them at gunpoint. They tie them up and Jia asks Chetan to keep an eye on them. Chetan replies to her with overconfidence so she also asks her other guards to keep a watch. Both Randhir and Amrita wonder what to do. 
About The Author
Journalist. Perennially hungry for entertainment. Carefully listens to everything that start with "so, last night...". C...urrently making web more entertaining place Read more
Top Comments
There are no comments in this article yet. Be first to post one!