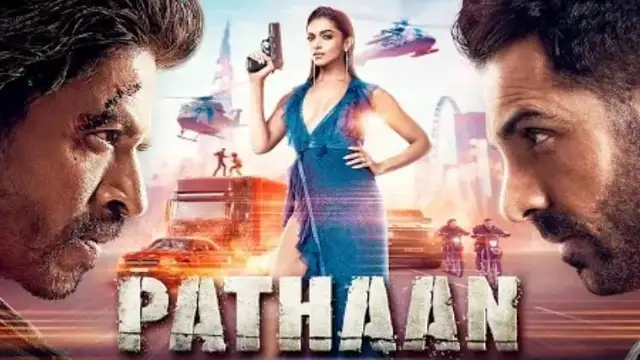 Shah Rukh Khan, Deepika Padukone and John Abraham led Pathaan on its seventeenth box office day, held rock steady at the box office as it collected around Rs. 5.25 crore nett in Hindi. Despite the reduction of shows, the film has not stopped recording good numbers at the box office. The advances for Saturday are good too and if all goes well, we might see a double digit third Sunday too, which probably can also be the last time the film records a double digit figure. Tuesday, being Valentine's Day should ensure that the film holds steady over the weekdays, before much awaited films like Shehzada and Ant-Man and the Wasp: Quantumania release.
Pathaan's Third Week Is Heading Towards Over Rs. 30 Crores

Pathaan has been trending just like any accepted film would, at the box office post pandemic. It is on course to be recording over Rs. 30 crore nett in its third week and that will ensure that the film puts one of its foot into the Rs. 500 crore nett club. The film will breach that figure in all languages and also in Hindi. What's to be seen is whether the film surpasses Baahubali: The Conclusion to emerge as the highest grossing film for the Hindi version or not.
Pathaan Has Crossed Rs. 900 Crores At The Global Box Office

Pathaan got a very long and uninterrupted run at the box office. Since the last 17 days and till its 23rd day, the film has and will be maintaining the number one position at the box office in India, before either Antman and the Wasp Quantumania or Shehzada emerge as the number one film in the country next week. At the moment, while the India cume of the film stands at Rs 446 crores for its Hindi version, the all languages total of the film has already crossed Rs. 460 crores. The worldwide gross of the film has also crossed Rs. 900 crores.
The day-wise nett box office collections of Pathaan are as follows:-
Day 1 - Rs 55 cr
Day 2 - Rs. 68 cr
Day 3 - Rs. 38 cr
Day 4 - Rs. 51.50 cr
Day 5 - Rs. 58.50 cr 
Day 6 - Rs. 25.50 cr
Day 7 - Rs. 21.50 cr
Day 8 - Rs. 17.50 cr
Day 9 - Rs. 15 cr
Day 10 - Rs. 13 cr
Day 11 - Rs 22.5 cr
Day 12 - Rs. 27 cr 
Day 13 - Rs. 8.25 cr
Day 14 - Rs. 7.25 cr
Day 15 - Rs. 6.50 cr
Day 16 - Rs. 5.75 cr
Day 17 - Rs. 5.25 cr
Total = Rs. 446 cr nett Hindi (Rs. 462.30cr nett all versions)
You can watch Pathaan at a theatre near you. Stay tuned to Pinkvilla for more such box office articles.