7 Beautiful Dresses that Make Delightful Christmas Gifts
Written by
Anoushka Sinha
Updated on
Apr 20, 2023 |

94.6K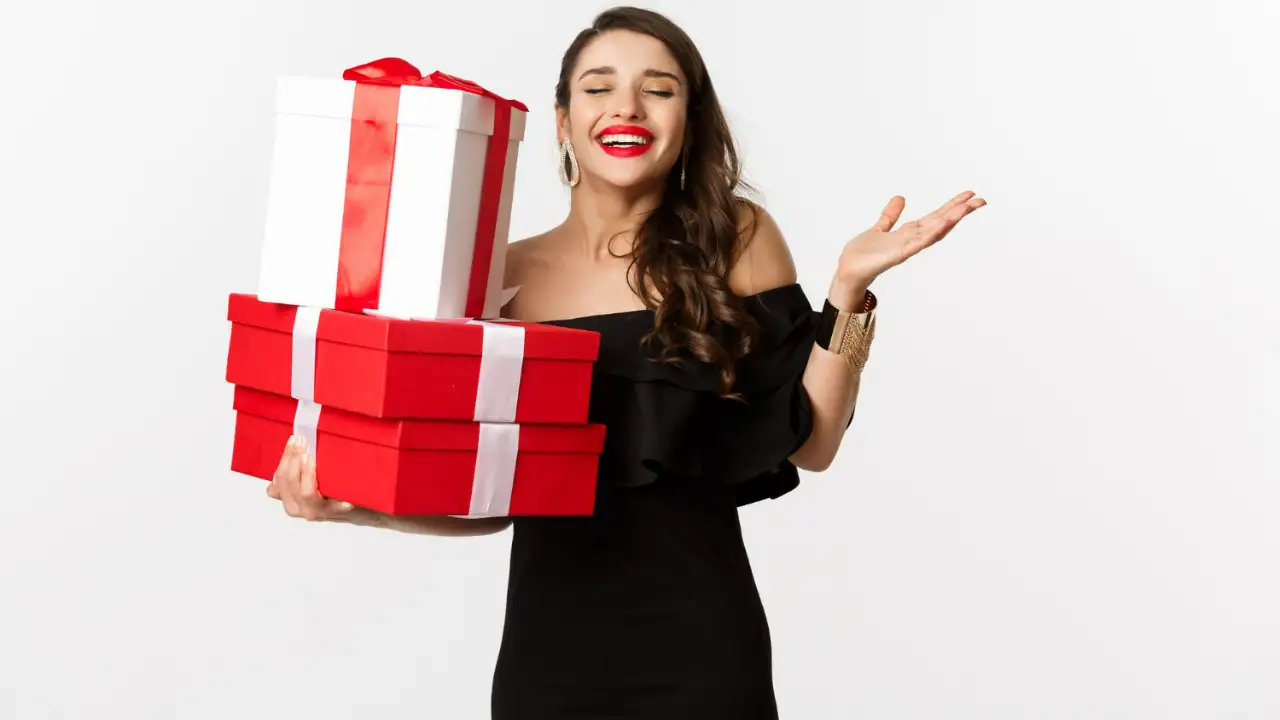 The products curated for this article are independently chosen by the editorial team. If you make a purchase through the
links
mentioned below, we may receive a commission. Check out our
product research & curation process
Tis' the season of gift shopping and Amazon offers a wide range of fashionable products that you can gift to your loved ones. And, among several gift options, Christmas dresses are an incredible way to make someone's festival jolly. When it comes to dressing up for Christmas, there are a few things to keep in mind. Red, white and green colors rule the wardrobe, and metallic themes are the cherry on the Christmas cake. We have curated a list of top-recommended dresses on Amazon that would make incredible gifts for Christmas. Scroll away to find out.
In This Article
7 Pretty Dresses on Amazon for Christmas Gifts
Christmas is incomplete without delightful snowflakes. This sweater dress by Glanzition retains the festive vibe with white snowflake designs that beautifully contrast its red knitted canvas — a perfect Christmas gift. The knee-length dress has a cute button detailing at the left hem that adds an asymmetrical touch. It has long sleeves, a bateau neck, and two pockets at the sides — perfect for a casual look. The dress looks best when paired with black leggings/skinny jeans and knee-high boots.
This cocktail dress by GRACE KARIN has beautiful lacy long sleeves and lacy floral patterns at the bottom of the skirt. The V-neckline makes it suitable for all body types and the elasticated mid-strap cinches the waist for an aesthetic figure. The scalloped skirt has a unique design that stands out in the minimalist outfit. The emerald-green dress is versatile, comfortable, and an evergreen fashion statement, which makes it an incredible Christmas gift.
Black and gold make a sophisticated and stunning combination, just like this vintage dress by Belle Pogue. The dress has a beautiful sweetheart neckline with intricately ruched fabric at the bust, that makes a style statement. The waist is cinched with a thick piece of fabric that comfortably tucks the tummy in. The skirt is loosely pleated and swings beautifully as you move. The dress is elasticated at the back for a secure fit. The polka-dotted outfit looks chic and timelessly fashionable and also makes an exciting Christmas gift.
Like most checkers, tartan print has a countryside vibe that looks gorgeous on a dress. Grace Karin Vintage Wiggle Dress has an old-school silhouette with aesthetic tartan prints. The dress has cap sleeves and a stylish Queen Anne neckline that adds to its retro charm. It is figure-hugging and provides a sophisticated saunter to its wearer. The outfit is a good choice for a daytime Christmas event, church service, or a festive season street fashion.
When in doubt, fall back on a wrap dress and stand out in style. Miessial Ruffled Wrap Dress is also one such dress that is versatile enough to work well for all occasions. The surplice neckline looks great on most body types and the ribbon tie-up at the waist is adjustable for comfort. The dress is ruffled at the bottom hem which gives it a fancy, sartorial feel. The velvety fabric is soft, glossy, and luxuriously comfortable for parties, evenings, dates, and festive get-togethers.
This knitted winter dress by OFEEFAN has a beautiful fall red color that looks incredible during Christmas. It has side pockets and a button detailing strip at the left for a casual, effortlessly stylish look. The modest outfit has a bateau neck and extra long sleeves; it looks cute when paired with black leather leggings/dark-washed jeans. The minimalist dress works as an incredible canvas for dainty jewelry like pendants and accessories such as a beanie cap.
If your loved ones love a glamorous outfit that makes them feel ramp-ready, then Floerns Satin Spaghetti Strap Dress makes an ideal gift for them. The shiny festive dress has a cowl neck followed by loose folds in the same fashion, which looks aesthetic and disguises puppy fat. The bottom hem of the skirt has wrap layers that highlight your legs and improve your saunter. The spaghetti strap dress is minimalist and can be adorned with a choice of metallic jewelry for a complete sartorial look.
Outfits are personalized gifts that show how well you understand someone's tastes and preferences. Hence, these stunning dresses make excellent gifts for Christmas. Shop for these fashionable products at discounted prices at Amazon and make your loved ones feel valued.
Why Trust Pinkvilla
Our product experts study the specifications of every product we suggest and try them out to bring what's proven to be worthy of your money, time, and energy. We also have subject matter experts from various fields like Fashion, Skincare, Haircare, Home Decor, and Health & Fitness onboard to make sure our suggestions are credible and trustworthy. You can trust select to be your faithful shopping guide for all the right reasons!
Author BIO
Anoushka is certified in Professional Skincare and is a Mass Media (Journalism) graduate from Mumbai University. As a More