8 Spooky Halloween Costumes And Accessories to Slay the Day
Written by
Ankita Kandade
Updated on
Oct 27, 2023 |

444K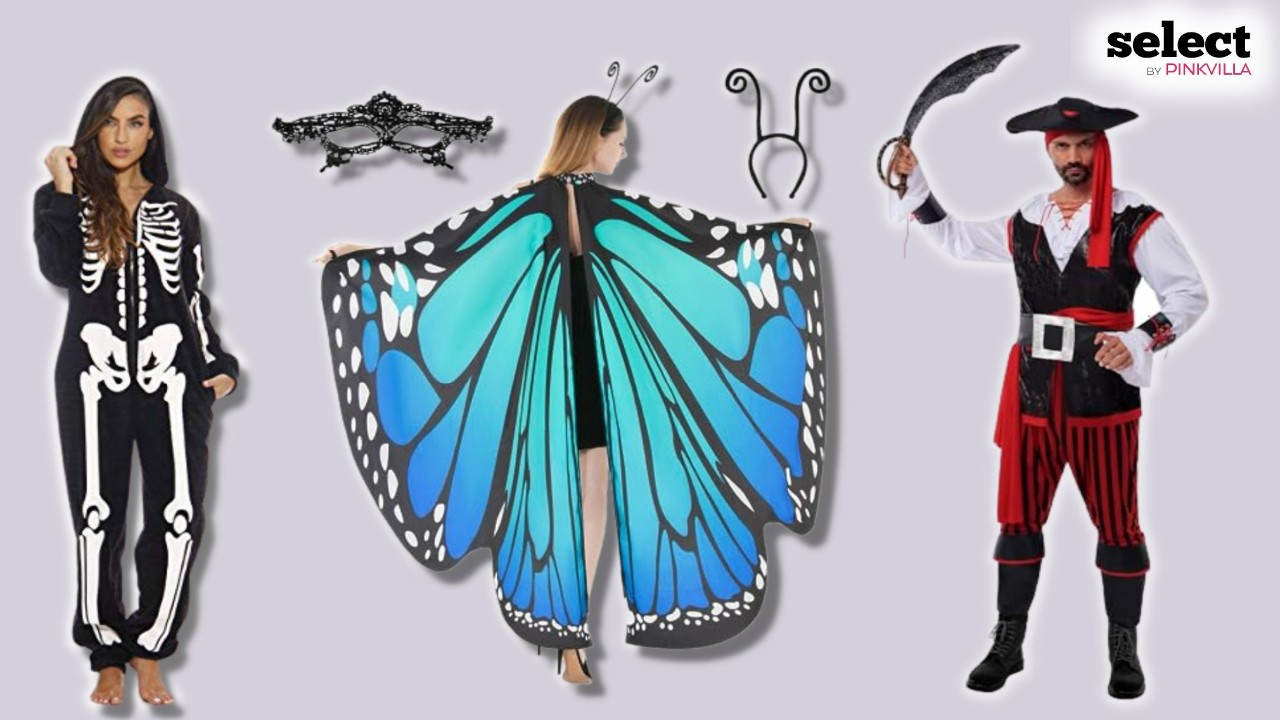 The products curated for this article are independently chosen by the editorial team. If you make a purchase through the
links
mentioned below, we may receive a commission. Check out our
product research & curation process
Halloween is the perfect time to unveil your unique personality with a dash of spookiness. Choosing a costume and accessorizing yourself reflects your love for creative and authentic looks. It's that time of the year when you can step out of the mundane looks and pull off bold costumes to create a dramatic statement. The best part about Halloween is that it's the unusual that stands out the most. You can be a Disney character, ninja, pirate, ghost, deer, or anything in this world — the costume is your key to unlocking the humongous possibilities of dressing up. You can grab the best out of the spooky lot on Amazon at great prices and transform your shopping experience. Read through this article to find what's in store for you this Halloween.
In This Article
8 Best Halloween Costumes And Accessories to Try This Year
You can ace a cool Halloween look comfortably with this onesie costume by Just Love. Crafted with soft synthetic fiber, it's an excellent pick to feel warm and cozy during cold nights. The white skeleton print stands out and creates a whimsical look effortlessly. Featuring a solid stitching pattern, you can count on these for durability. Savor compliments and slip into this onesie to rock the party without compromising on style and ease. The range of sizes sorts out your worries of finding what suits you the best. So, dress up and join in the fun.
Accentuate your charm with these goth glasses by Ovida. These rimless bat sunglasses are made of polycarbonate lenses that are light and durable. Equipped with metal temples, silicone nose pads, and a sturdy metallic frame, these stay softly on your nose and temples to offer superior comfort and flexibility. These trendy bat glasses offer UV protection to protect your eyes from overwhelming light. Strike a pose with these beauties and display your love for fashion and art.
Spooktacular Creations Pirate Costume is a spectacular pick for Halloween. This pirate costume features a headband, black waistcoat, tricorn hat with ostrich feather, belt satchel, white shirt with front placket, pants with boot covers, and sleeves with elastic wrist cuffs to create an authentic look. Designed with high-quality elastic, polyester, and cotton, it offers extreme durability and support for extended wear. Elevate your spark for Halloween as this product is designed with specific attention to detail to make your dress up special and stylish.
Stylish and trendy, these earrings by CJIAYUJEW are crafted to make your Halloween look bold and dramatic. These skull earrings designed with high-steel alloy are tarnish-proof and suitable for people with sensitive skin. Lightweight and durable, these can be paired with any outfit of your choice to enhance your overall look. You can wear these with both simple and bold attire and create a distinctive statement. So, reflect your love for gothic earrings and add a unique touch to your appearance.
Leg Avenue's catsuit costume is a stunning pick for sprucing up your glamor game. This 3 piece feline costume features a keyhole catsuit, matching cat ear headband, and attached cat tail to complete a cute and chic look. Made with polyester and spandex, it offers excellent stretchability to make your moments smooth and effortless. The buckle belt enhances the overall appeal of this body-hugging suit meant to transform your spooky dress-up experience. With this catsuit costume, you can easily display your playful side and serve glamor goals.
These appealing fox cat ears by Cedar Bright are a lovely pick to boost your innate charm and sparkle. Composed of superior fabric, these stay smoothly on your hair without tugging at your strands. Easy to style, these look super cute and go well with various costumes. The addition of bells makes it a must-have accessory for keeping your fashion game up. Owing to the anti-slip silicone design, these don't scratch your skin and can be worn all day long.
This mothman costume is designed to offer maximum comfort to make your Halloween moments enjoyable. It is designed with standing ears and red eyes to make your Mothman cosplay look vibrant and classy. The soft fabric of this costume feels light and gentle on your skin. With the loose-fitting design, you can wear it comfortably for long hours or slip it over your clothes to keep yourself warm and cozy. So, grab the spotlight and make wonderful spooky memories.
These butterfly wings by Spooktacular are a perfect addition to your Halloween must-haves. Crafted with high-quality polyester, these wings are lightweight and quick to dry. You can wear these soft and silky to look graceful and elegant. This product comes with a black velvet antenna headband to give you a polished fairy look. With such appealing detailing, this will be your favorite for all the right reasons. Tie the wings around your neck, and you're all set to rock the Halloween look.
Conclusion
With Halloween around the corner, the excitement to join in the fun is surreal. Dressing up as your favorite character or pulling off a bold look is easier when you choose the right costume and accessory. These products are specially designed to make your Halloween look special and unique. The high-quality build of these ensures you don't compromise on style while flaunting the perfect spooky look. Let the spooky times roll, as with the amazing Amazon deals, you're in for a lot more shopping time and fun.
Why Trust Pinkvilla
Our product experts study the specifications of every product we suggest and try them out to bring what's proven to be worthy of your money, time, and energy. We also have subject matter experts from various fields like Fashion, Skincare, Haircare, Home Decor, and Health & Fitness onboard to make sure our suggestions are credible and trustworthy. You can trust select to be your faithful shopping guide for all the right reasons!
Author BIO
Ankita is a budding journalist and a certified fashion expert. If the Fashion police were an official organization, A More