7 Best Drugstore Hair Oils, Tried And Tested by Experts
Written by
Alvira Dsouza
Updated on
Nov 18, 2023 |

250.3K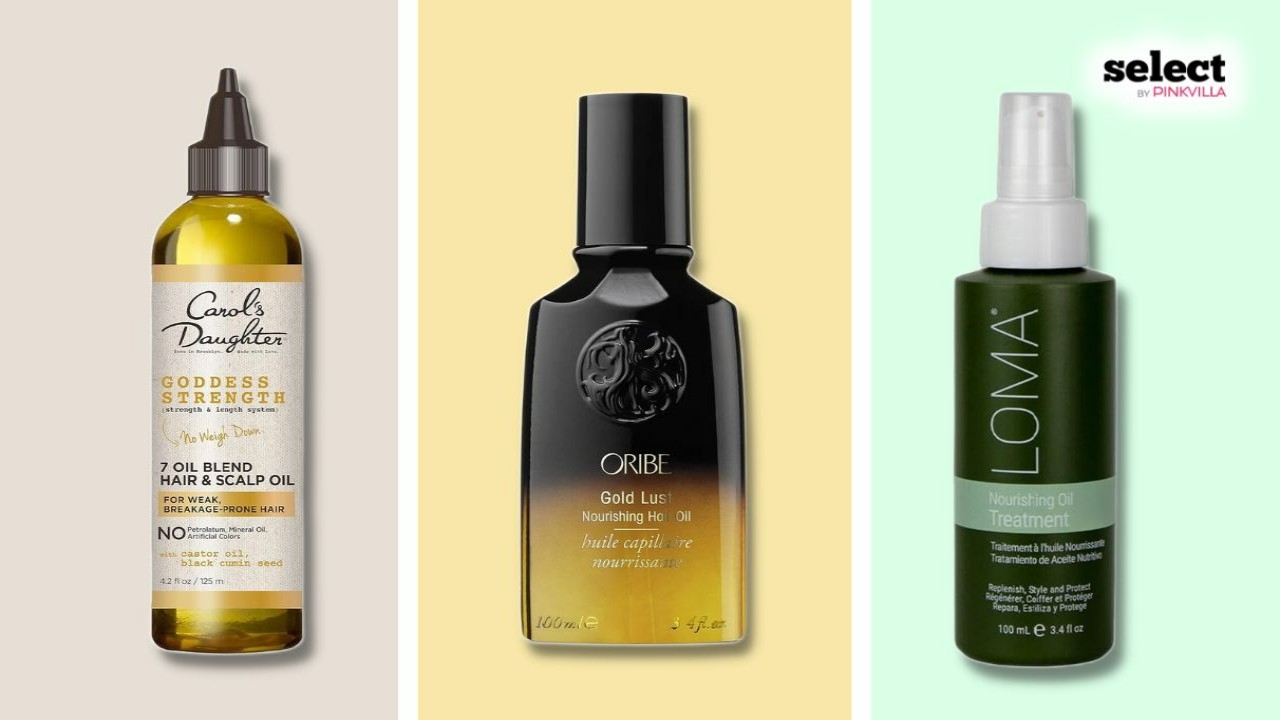 The products curated for this article are independently chosen by the editorial team. If you make a purchase through the
links
mentioned below, we may receive a commission. Check out our
product research & curation process
Taking care of your hair is crucial for its well-being, and a great way to start is by incorporating the best drugstore hair oils into your routine. Our experts recommend oils packed with natural ingredients, such as coconut, olive, argan, and castor oils. These oils provide essential nutrients for your hair shafts, promote growth, and contribute to overall hair health. A recent scientific study published in the National Library of Medicine further supports the potential benefits of such oils in trichology.
Regular oiling and scalp massage not only nourishes your hair from roots to tips but also promotes blood flow. It also fights the effects of stress, pollution, poor nutrition, chemical treatments, and heat styling. Our list of hair and scalp oils is not only affordable but also essential for maintaining healthy and lustrous hair. To make your decision easier, we've narrowed down the options, presenting the top 7 drugstore hair oils available online, backed by careful analysis and reviews. Explore our recommendations below.
In This Article
7 Best Drugstore Hair Oils to Get Gorgeous Tresses
This hair oil from VERB is an everyday product that makes your hair soft, smooth, and frizz-free, giving it a shiny look. It contains moringa oil and bamboo extract that promote healthy hair. Moringa seed oil provides essential nutrients that make your hair frizz-free and shiny. On the other hand, bamboo extract strengthens hair follicles and locks in moisture.
We appreciate how this lightweight oil blends seamlessly with your preferred styling products for optimal results. It evenly spreads, smoothing dry ends and frizz without any sticky residue, maintaining a natural and lovely look for your hair.
Pros
Enhances shine
Lightweight formulation
Pleasant smell
Doesn't make hair greasy
No harmful chemicals
Cruelty-free
This organic hair oil is infused with castor oil and nourishing ricinoleic fatty acid. This ricinoleic fatty acid is a powerful remedy for hair loss, supported by scientific evidence in a 2015 study. This organic oil undergoes cold-press extraction, maintaining its unrefined state to preserve essential vitamins and antioxidants. Plus, it is a chemical-free option, devoid of hexane. Thus, by applying this conditioning oil, you can enhance hair volume, and texture, and combat dryness without any worries. The fatty acids nourish the scalp and hair strands, making it an excellent option for enhancing lashes and eyebrows too.
Pros
Nourishes hair strands
Vegan
USDA organic certified
Good for lashes and brows
Cruelty-free
Cons
Can feel slightly heavy on fine hair
This hair oil has a special mix of plant ingredients like coconut, olive, and jojoba seed oils. It also includes essential oils like peppermint, lavender, eucalyptus, and clary sage, which give a natural herbal scent. Using this oil a few times a week can make your hair soft, easy to manage, and healthy. It works well on dry, tangled hair and also helps fix split ends and hair breakage. Plus, it helps hair grow strong and thick, no matter your hair type. To get the best results, use a few drops of the oil 3 times a week after shampooing. This even helps reduce the time you spend blow-drying your hair after washing.
Pros
Moisturizes hair
Adds thickness to hair
Softens hair
Helps detangle hair
Cons
Some might not like the smell
The essential oils can irritate some
The next on our list is a 7 oil blend from the brand Carol's Daughter. It contains nourishing olive oil, coconut oil, sunflower seed oil, jojoba oil, black cumin seed oil, castor oil, linseed oil, and soybean oil. Despite having many oils, this formulation is surprisingly lightweight, imparting strength to your hair as it grows.
The oil offers more than just superficial benefits — it delivers restorative care, shields against breakage, and effectively combats split ends. Overall, it is a rejuvenating oil that deeply moisturizes both strands and the scalp, catering particularly to dry, curly, and weakened hair (2A-4C hair types). Plus, it's devoid of harsh chemicals, including parabens, mineral oil, artificial colors, and petrolatum, making it safe to use for all hair types.
Pros
Vegan
98% post-consumer recycled plastic packaging
Conditions curly hair
Suitable for coily hair
99% naturally derived formula
This premium-grade hair oil from Aria Starr Beauty is made from pure cold-pressed castor oil, carefully extracted from the best castor seeds. Cold pressing keeps the natural goodness of the castor oil intact, and it undergoes triple refinement for top-notch quality.
This oil strengthens hair, prevents breakage, and untangles knots, reducing hair fall. This versatile oil also works wonders for the face, effectively removing dirt and makeup while nourishing dry skin. It's not just a cleanser; it helps combat acne, scars, wrinkles, and dryness, leaving your skin supple. What we like is its user-friendly dispenser pump, which makes application a breeze.
Pros
Nourishes skin and hair
Promotes brows and lash growth
Adds thickness to hair
Hexane-free
Paraben-free
This nourishing oil treatment from Loma is like a fortifying repair tonic. The nourishing oil works on the hair's surface, while the fortifying tonic seeps into the hair cuticle for repair. It is also fantastic for beards and doubles as a moisturizer, after-shave oil, or facial hair massage oil.
The oil contains creatine, which is more effective than other proteins or keratins to rebuild hair strength, especially in colored and bleached hair. Plus, it has baobab oil to strengthen damaged hair and give thermal protection up to 450°. We personally liked its delightful scent with hints of orange and vanilla beans.
Pros
Smells good
Protects from heat styling
Works as a beard oil
Controls frizz
Suitable for color-treated hair
This lightweight hair oil from Oribe is like liquid gold for your hair. It quickly absorbs to make your hair look and feel great. Packed with edelweiss flower, jasmine, lychee, sandalwood, argan, and cassis, it deeply conditions, strengthens, and smoothes your hair, giving it nourishment and shine. These key ingredients in the formula also protect your hair from damage and color fading.
This unique oil comes in a small bottle but lasts a long time. The formulation won't weigh down your hair and is perfect for dry, damaged, and colored hair. We prefer using it on damp hair or applying it to the ends after styling to get a shiny finish.
Pros
Improves hair texture
Imparts shine
Nourishes hair
Provides heat protection
Feels light on hair
How to Choose the Best Drugstore Hair Oil?
Picking the perfect drugstore hair oil might seem like a challenge, as there are tons of options. But don't stress—we've got your back! Our simple guide is here to help you make a smart choice for your hair. Take a look at these important factors to keep in mind when you're getting hair oil, whether it's online or in a physical store.
1. Ingredients to Seek Out
Understanding which ingredients are beneficial in hair oils is crucial. Look for nourishing components such as coconut, olive, jojoba, and other plant oils. These ingredients penetrate the hair, enhancing strength, elasticity, and moisture. You can also go for castor oils for hair; they are a bit heavy, but add thickness and shine and also help boost healthy hair growth. Or else consider comprehensive blends like Carol's Daughter Goddess Strength 7 Oil Blend Scalp & Hair Oil for maximum benefits.
2. Ingredients to Avoid
When it comes to what to avoid, consider your preferences and needs. Steer clear of fragranced formulas, especially if applying oil to the scalp, as fragrances can be skin irritants. Additionally, avoid chemicals like parabens, phthalates, and sulfates. Likewise, while choosing castor oils, opt for hexane-free formulas, such as Aria Starr Beauty 100% Pure Castor Oil, to minimize potential health risks associated with the chemical solvent.
3. Consider Your Hair Type
Select a hair oil based on your hair type and texture. For fine and damaged hair, go for thin, lightweight options like the Oribe Gold Lust Nourishing Hair Oil. If you have thick hair, your strands can handle a richer formula—they might even need it, especially if they're dry or damaged. Similarly, there are special oils designed for curly and wavy hair types. So choose according to your hair type.
4. Understand the Function
Determine the function of the oil you need—whether it's for scalp nourishment or styling. Scalp oils promote scalp health and may aid hair growth while styling oils are for mid-lengths to ends. Be cautious with silicones in styling oils, as they may clog the scalp.
Some of the best drugstore hair oils, like our top pick, Loma Hair Care Nourishing Oil Treatment, can do more than just smell good. They stimulate blood circulation, promoting hair growth and ensuring your strands receive vital nourishment. This is especially important during heat styling and chemical treatments that can damage your hair. The lightweight formula of the oils not only softens and reduces frizz but also suits various hair types. Feel free to pick any hair oils with nourishing ingredients, and be sure to avoid ones that make your hair heavy.
FAQ's
Can hair oil be applied to oily hair?
Yes, using hair oil on oily hair is fine. Remember, even if your scalp is oily, your hair ends may not be. So opt for lighter oils and apply them in moderation for the best results.
Do hair oils contribute to scalp acne?
Using too much oil on the scalp can potentially lead to scalp acne and even trigger dandruff. It's essential to select non-comedogenic oils and maintain regular scalp cleansing to keep things in check.
How frequently should I use hair oils?
It depends on your hair type and needs, but generally, 1-2 times a week is a good starting point.
Are drugstore hair oils suitable for all hair types?
Yes, many drugstore hair oils are formulated for various hair types. Choose one that suits your specific needs.
What's the recommended duration to leave hair oil before washing?
It's recommended to leave it on for at least 30 minutes to an hour, but some people prefer keeping oil on hair overnight for deeper conditioning.
Can drugstore hair oil be used on wet or dry hair?
You can use it on both wet and dry hair, depending on your preference. Applying on damp hair helps with even distribution.
Why Trust Pinkvilla
Alvira, our in-house hair care expert, has curated a list of the finest drugstore hair oils suitable for all hair types. She went the extra mile, personally testing various products to present you with the very best. Personally, she loved the Loma Nourishing Oil Treatment, which is lightweight and fantastic for taming frizz. You can also dive into her other recommendations and find the one that perfectly complements your hair care routine.
Our product experts study the specifications of every product we suggest and try them out to bring what's proven to be worthy of your money, time, and energy. We also have subject matter experts from various fields like Fashion, Skincare, Haircare, Home Decor, and Health & Fitness onboard to make sure our suggestions are credible and trustworthy. You can trust Select to be your faithful shopping guide for all the right reasons!
Author BIO
With a keen eye for detail and a passion for hairstyling, Alvira is a certified Hair Expert who brings the latest tre More