8 Best Hoka Running Shoes That'll Make You Feel Peppy
Written by
Ankita Kandade
Updated on
Oct 23, 2023 |

288.1K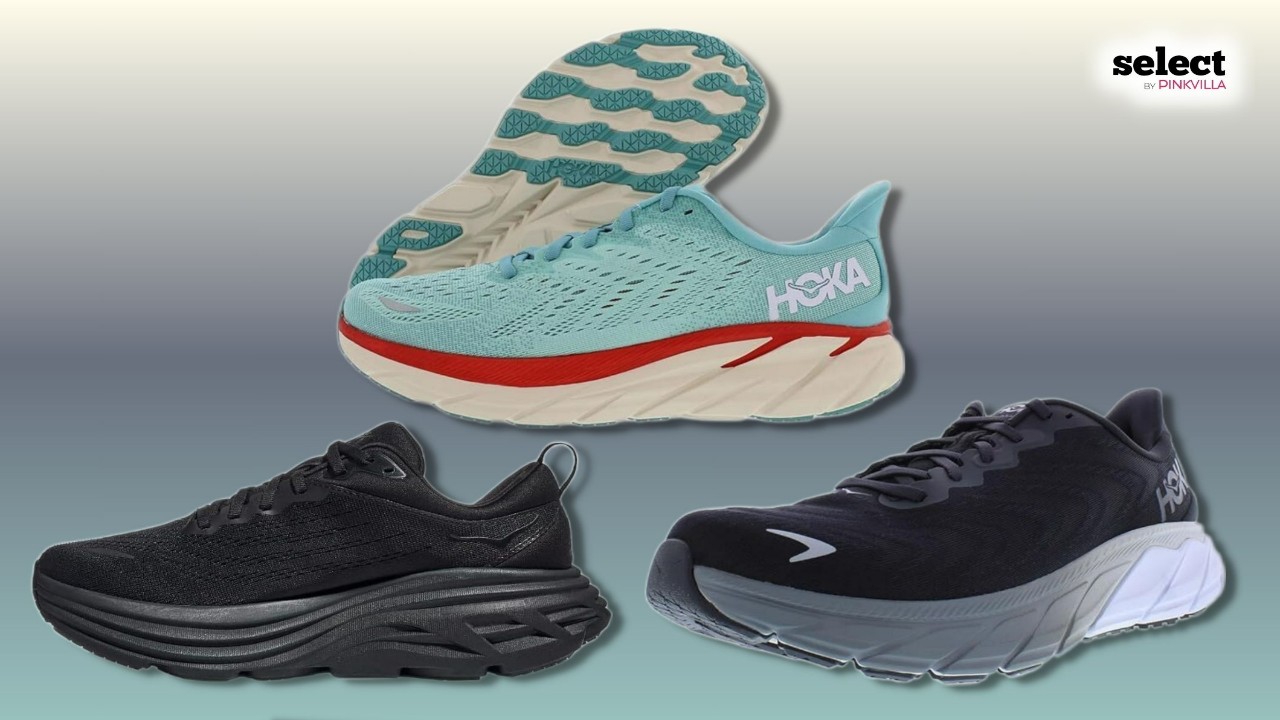 The products curated for this article are independently chosen by the editorial team. If you make a purchase through the
links
mentioned below, we may receive a commission. Check out our
product research & curation process
"Everything we do is rooted in optimism." That's how Hoka, the renowned sportswear company, speaks for itself. International athletes like Jan Frodeno, Sarah Crowley, Sam Laidlow, Daniela Ryf, etc. have also stepped into the finest pairs from Hoka and been seen winning not only medals but also hearts. So today, come along with me to discover the world of the best Hoka running shoes. After hours of research, I noticed that runners with these shoes on their feet claim that marathons for them are never about racing, rather it's all about the feeling that they can fly. All due credit goes to the impeccable features of the most popular Hoka shoes. Honestly, they are made up to perfection.
Engineered with lightweight rubber soles, cushioned midsoles, breathable mesh upper, and padded tongues, the Hoka shoes have managed to reach greater heights and gain all attention. Well, that's because they lend runners and athletes desirable stability, flexibility, support, and primarily enviable comfort. They gear up pro runners, first milers, mountain roamers, neighborhood walkers, and die-hard adventures to enhance their performance and feel peppy.
If you ask me, every pair's splendid craftsmanship, excellent shock-absorbing abilities, and maximum room for your toes to wiggle will make you one of its loyal customers. To help you experience the feeling of flying while you run, below, I have rounded up the best Hoka running shoes for men and women that are worth investing in.
In This Article
8 Best Hoka Running Shoes That Are Supremely Comfortable
Trailing through epic off-road adventures through mountain peaks and valleys will no longer be challenging when you step into Hoka's One One running shoes. This pair of shoes is engineered with a mesh upper and comes with a breathable textile lining to keep you going for hours. Furthermore, the foam-padded insoles lend you some extra cushioning and infinite support. If you ask me — are Hoka shoes good for running? Of course, YES! I promise, once you buy a pair, you will be the most loyal Hoka customer for ages!
Pros
Shock absorbent
True to size
Offer great stability
Durable full-length EVA midsole
Available in a variety of colors and sizes
To experience the brand's splendid craftsmanship and never-ending comfort, I highly recommend buying these best Hoka running shoes for women! What got me attracted at first glance is not only the pair's aquarelle color but also the impeccable benefits that it has to offer. It has a rubber sole for better stability and balance, an initial phase meta-rocker for a smooth run, and a gusseted padded tongue for a desirable fit. I bet this pair will be among your favorites just like me.
Pros
Ideal for everyday use
Lightweight
Breathable
Wide size range
Plenty of colors to choose from
Reinforced heel with extra cushioning
While researching for the best Hoka trail running shoes, I came across this one. These black and white shoes are versatile and as per my research, they can be worn by those dealing with recurring plantar fasciitis. What makes this pair worth it is its synthetic and mesh material that makes the shoes extremely light in weight and breathable. In addition, it is built on the Hubble heel with Swallowtail geometry and a new reactive foam for better amortization. Topping it off, these shoes ensure efficient pace and allow you to run miles with zero discomfort.
Pros
Suit normal and wide feet
Rubber soles
Roomy toe box
Available in 13 colors
Cons
Inside edges of the insoles are a little hard
I understand men too are intrigued to buy one of Hoka's masterpieces. Hence, my next recommendation is for all those cool dudes who wish to have fun while they run! These Rincon 3 Men's running shoes crafted from 100% synthetic are excellent choices in the category of the finest Hoka running shoes for men. They are shock-absorbent, light in weight, and primarily breathable. Plus, the pair offers enough room for mobility and leaves no place for discomfort or foot pain.
Pros
Cushiony feel
True to size
Wide size range
8 colors to choose from
Cons
Tongue slips inside the shoe
Based on my intensive research and findings, men love shoes that offer maximum cushioning while they run or tread. Hence, I feel One One men's low-neck running shoes will be the perfect option that will fulfill all their needs. These men's Hoka running shoes are engineered from rubber soles that are made to last. No matter whether you hike or run on unpredictable terrains or walk on hard surfaces, these shoes will lend you much-needed stability, balance, and grip. Overall, this pair is a sheer winner!
Pros
Mesh upper
Lightweight
Breathable
Reinforced in the heel area
Padded tongue
These One One Rincon 3 running Hoka shoes are designed for women who wish for pairs that offer maximum comfort and stability. I also glanced through the features of these best Hoka shoes and was stoked to see that they are tailored from breathable mesh upper and seamless synthetic overlays. In addition, they have a textile-lined and padded insole for 100% comfort and stability. What's more? Each shoe comes with a full-length EVA midsole that absorbs shock phenomenally.
Pros
Ideal for workouts
Durable
Plenty of colors to choose from
Rubber inserts for grip
I highly recommend this pair for women who are desperately looking for better grip in shoes to run on unpredictable terrains and hard surfaces. With a breathable mesh upper, seamless synthetic overlays, foam padded insoles, and lightweight Profly midsole, these best running Hoka shoes also lend your feet underfoot support. Let me also tell you that this lightweight pair of shoes will never disappoint you.
Pros
Breathable
Lightweight
Stylish
Very sturdy
Hoka's Bondi 8 racing shoes never let men comprise comfort over style. I mean, this is the perfect pair and the best Hoka running shoes men love for its versatility and sustainability. This one again is tailored with open engineered mesh upper with some seamless synthetic overlays. I guess the brand is dedicated to such luxe blends to lend cool dudes everything that they are looking for. For additional cushioning and support, it also comes with removable foam-padded insoles. Last but not least, these shoes are designed for daily runners as they promise to offer endless stability with great grip.
Pros
Shock absorbent
Durable full-length EVA midsole
Plenty of colors to choose from
True to size
Rubber sole
Cons
The inner part begins to peel off
That was my comprehensive list of the best Hokas for running. Now, let me run you through a detailed buying guide.
How to Choose the Best Hoka Running Shoes?
Here are a few aspects that you should consider before splurging on the best Hoka shoes for running -
Size: Make sure you analyze the brand's size chart thoroughly. Since the majority of the shoes are true to size, do not pick a pair that is too tight or too loose for you. I recommend investing in Hoka sneakers or running shoes that fit well and offer enough room for mobility, everyday training, and a responsive ride.
Material: The next important aspect to consider is the material of Hoka's best running shoes for a comfortable ride and smooth transition. The majority of the brand's collection is made of lightweight foam, and a mesh upper for maximum breathability, whereas some also are blended with seamless synthetic overlays for plush cushioning and support promising a smooth ride. So, choose cushioned shoes that suit your needs the best.
Insoles: Analyze the sole of the shoes that you are planning to buy because according to my knowledge, it is the unsung hero of every shoe that determines its durability and stability. So, ensure that you invest in the best Hoka running shoes that come with textile-lined and removable foam-padded insoles that promise to lend your feet extra cushioning and support.
Outsole: It is wise to splurge on the best pair of running shoes with ample cushioning and rubber outsoles that offer endless comfort and much-needed grip especially when you run or tread on unpredictable and technical terrains. Secondly, the running or walking shoes should possess shock-absorption soles and be backed with a reinforced heel for added comfort and better traction.
Reviews: For better purchasing decisions, you can roll your eyes over the Hoka running shoe reviews to predict their longevity and fit type. Check the color options and combination of comfort. Furthermore, feedback, comments, and reviews will give you a sneak peek of the shoes even before you invest in them.
That was all about the best Hoka running shoes that you should immediately think of snagging. Trust me, these shoes are phenomenal in every sense. They are a complete package of comfort, stability, and excellent traction and also keep foot pain at bay. Secondly, the cloud-like cushioning and breathable mesh upper make them all worth it! Be it running, walking, or jogging, these shoes will be your workout companion for ages. After all, they have enough room for your toes to wiggle, they are flexible, and primarily contour your feet just the way you like. Hence, don't think much, buy a pair or two and experience how endless comfort feels like.
FAQ's
Is Hoka a good running shoe brand?
Yes, Hoka shoes are built for high performance and lend your feet a solid foundation for your runs.
Which Hokas are best for road running?
Hoka's Rocket X 2 are the best shoes for road running.
Is Hoka owned by Nike?
No. On April 1, 2013, Hoka was purchased by Deckers Brands, the parent company for UGG, Teva, and other footwear brands.
Do marathon runners wear Hoka?
Yes, from long-distance marathons to 5K races, athletes/runners wear Hoka.
Can I wear Hoka every day?
Yes, Hoka shoes are designed for daily tos and fros.
Why is Hoka so famous?
Hoka became popular when it first introduced oversized midsoles. Today, it's still famous for its lightweight design and durable construction.
Why do doctors recommend Hoka shoes?
Doctors recommend Hoka shoes as their cushioning absorbs shock and reduces the stress encountered by joints.
Why Trust Pinkvilla
Our certified fashion expert, Ankita, owns a dozen shoes. Some are meant for walking, whereas some are for running. Lately, she has been obsessed with Hoka's running shoes and thus, couldn't resist recommending them to her readers. After hours of research, she claims that the brand leaves no stone unturned in helping runners meet their personal preferences. Personally, she is quite impressed with Hoka One One Women's Running Shoes 10.5 US that offer great stability and come with a breathable mesh upper. You too can make your runs smooth and everything fun by taking into consideration her enlisted top picks.
Our product experts study the specifications of every product we suggest and try them out to bring what's proven to be worthy of your money, time, and energy. We also have subject matter experts from various fields like Fashion, Skincare, Haircare, Home Decor, and Health & Fitness onboard to make sure our suggestions are credible and trustworthy. You can trust select to be your faithful shopping guide for all the right reasons!
Author BIO
Ankita is a budding journalist and a certified fashion expert. If the Fashion police were an official organization, A More