9 Best Japanese Eyeliners for Precise And Perfect Strokes
Written by
Sayantani Deb
Updated on
Sep 27, 2023 |

80.9K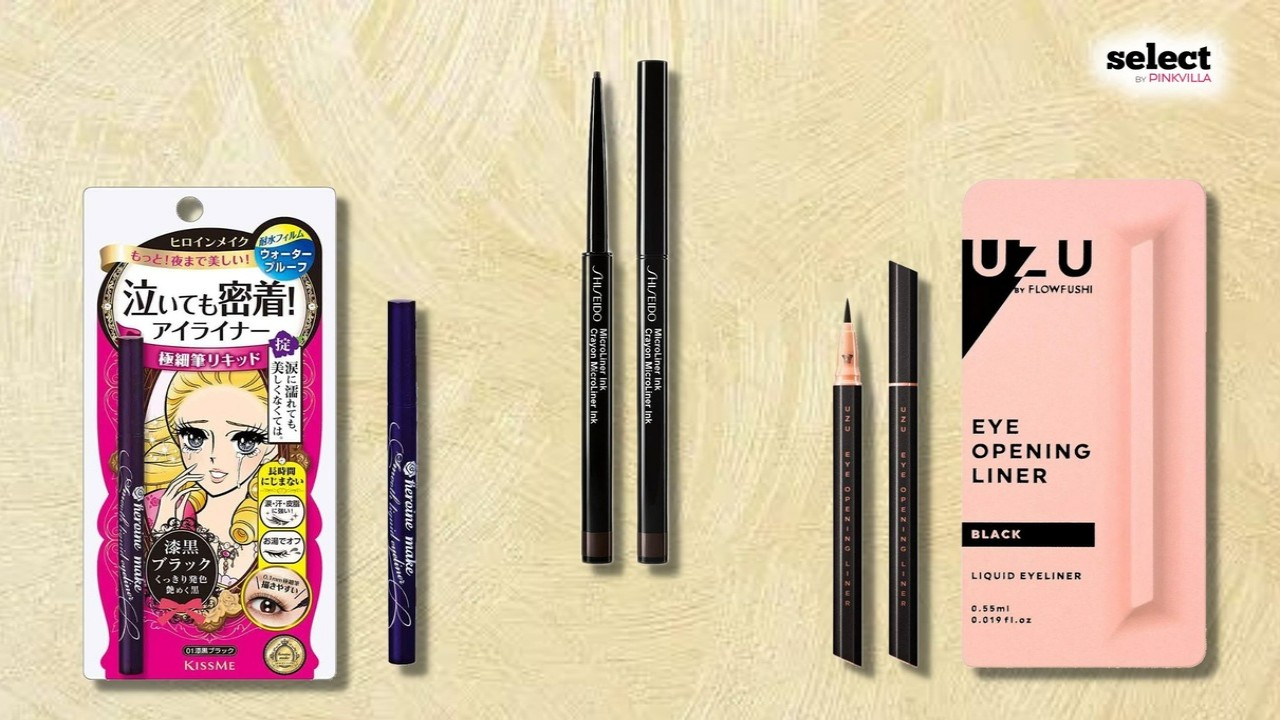 The products curated for this article are independently chosen by the editorial team. If you make a purchase through the
links
mentioned below, we may receive a commission. Check out our
product research & curation process
Is your social media FYP slowly transitioning into Kawaii makeup looks that include a soft base, round and deep eyes, plump lips, and rosy blush? You might be loving the Japanese beauty trends just as much as we do! For those freshly done doe-eyes, you need to look into the best Japanese eyeliners that we have shortlisted after thorough trial and testing and take your pick.
From intense black to smokey browns, J-beauty is all about minimal eyes with a pop of thin eyeliner and a tiny wing. While there is always some new trend going on, including shimmers, pearls, and a stroke of color, eyeliner is a must in the beauty vanity. With a flawless finish, ease of application, and high pigments, the top-rated Japanese eyeliners in our handpicked list are a must-have!
In This Article
9 Best Japanese Eyeliners for Perfect Strokes And Deep Color
Nothing compares to the ease and finish of a good old liquid liner. The Heroine Make by KISSME is a waterproof solution that comes with an ultra-fine brush tip for all the detailed strokes you need. With hyaluronic acid, collagen, rosehip extract, and panthenol, this liquid liner comes full of essential beauty ingredients. Whether you wish to draw a wing or a little flick, this product offers precise application. You can choose from the three black-brown shades or try all, for the perfect eye-look.
Pros
Easy to remove with lukewarm water
Affordable price
Stays for long
Pigmented ink
No smudging
Like a film on your eyelids, this tattoo eyeliner is designed like a pen. The K-palette's liner offers a water-resistant coat that stays up to 24 hours. The special brush tip is made to lend you a super easy and controlled application. The fast-drying formula is great for overall makeup and gives off a glamorous finish. You can enjoy clean lines and strokes that are smudge-free and need no touch-ups for a long time.
Pros
Value for money
Sweat-proof
Does not flake
Synonymous with J-beauty, Shiseido has a remarkable range of eyeliners and the MicroLiner Ink is the one straight from the Editor's favorite folders. It features a micro-fine tip in the form of an inky pencil. The weightless product offers smudge-free application and a saturated, matte finish color payoff. After the contact with your skin, this solid liner will transform into an inky liquid creating a film on the eyelids. The application is water-proof and lasts a whole day.
Pros
Twist-up tip
Smooth glide
Precise lines
Intense color
Prevents smudging
Has multiple colors
If your eye makeup mood board has a slick wing with a pop of vibrant hues, Flowfushi's UZU eyeliner is the one for the job. The sketch pen eyeliner offers immaculate and defined strokes. From classic black to timeless grays and browns, and vibrant colors, this product has a wide range of colors to adorn your eye makeup. The ergonomic and octagonal design of the brush pen makes the packaging handy for precise application. The dye-free formula is good for the skin and can be easily washed off with hot water.
Pros
Hypoallergenic
Smooth glide
Lasts long
Vegan
Cruelty-free
Sulfate-free
For a velvety and creamy texture, hop onto the pencil eyeliner bandwagon and try this offering from CLIO. This highly pigmented and waterproof eyeliner has multiple features to swoon you over. Offering an effortless glide and smooth finish, the smudge-proof formula is meant to last long. The comfortable wear pencil is best for full coverage on the lids and allows you to experiment with all the artsy strokes and eye looks. You can choose from a mix of six cool and warm shades for that perfect snatched look.
Pros
Retractable pencil
Does not flake
Smooth
Doesn't dry quickly
Cons
Tip not durable
Might not suit oily skin
Another inky pen under our radar is the silky black liquid eyeliner by D-UP. This essential J-beauty product constitutes a blend of five ingredients like dog rose fruit extract, chamomile flower extract, etc. meant to nourish and moisturize the skin. The formulation has non-staining pigments that can be easily removed after washing with warm water or with a makeup remover. It has a waterproof formula and is resistant to sweat and tears, so you can make your eyeliner art last for long hours. Even at the end of the day, your eyeliner look will remain fresh with a nice color payoff.
Pros
No skin irritation
Stays whole day
Has moisturizing vitamin E
Cons
May smudge if skin is too oily
For the smoothest glide on your eyelids, go for a gel eyeliner by D-UP. Offering that glam finish, this eyeliner has a controlled and precise application for you to draw thin and thick strokes with ease. Infused with five kinds of beauty serums, this formula is waterproof, yet leaves no stains on the skin, and is easily removed with makeup cleansers. The product also features quick-drying properties and resistance to sweat, tears, and sebum.
Pros
Can be used on inner eye rims
Smudge-proof
Stays put
Value for money
With love from Japan, this gel liner by FASIO is perfect to pop into your bag. The felt tip applicator offers a creamy and silky glide. You can effortlessly create single-stroke magic with intense color payoff for thin or bold lines. The formula is waterproof and smudge-proof, so you can cherish your dramatic wing, the whole day. Available in classic black and brown, this gel liner is an ideal addition to your makeup routine for everyday looks.
Pros
Easy to use
Soft on skin
Easy to remove
Don't we all love a makeup product in cute packaging? Putting the cherry on top, this lovely cream pencil by Dejavu not only has a great design but also delivers results. The creamy pencil has an ultra-fine tip to allow precise or bold strokes. The oval cross-section design of the tip offers stable and comfortable strokes for detailed and effortless application. The smooth glide is a delight to experience for beginners and professionals alike.
Pros
Lasts long
Easy to draw
Doesn't bleed
Japanese eyeliners are all about getting that perfect kawaii flick or a wing to achieve a J-beauty-inspired makeup look. It is minimal and classic! Now that you have gone through the top favorites, take a look at the necessary tips on choosing a perfect eyeliner.
How to Pick the Best Japanese Eyeliner?
Finish: Like any other makeup product, the finish of your application matters the most. When it comes to eyeliners, there are varying formulas from liquid to gel and creamy. Based on your preference, pick the eyeliner that offers the desired finish after drying up.

Application: Similarly, the way you can use the eyeliner is also highly important. You want an effortless and precise application. Look for options that allow seamless and smooth glide, without breaking, bumping, or flaking. The design of the product, from its grip to the tip also affects your application.
Staying power: It's best to opt for waterproof, smudge-proof, sebum-proof, tears-proof, and sweat-proof formulas, so your perfectly done strokes can last for long hours, without giving you panda-eyes. Having these features in an eyeliner is also great for someone who works in a hot environment or splashes their face with water. Some highly pigmented liners stain the skin and may irritate the eyes. Ensure that your eyeliner offers a high color payoff, yet is easy to remove.
Shades: While black remains a classic, it's always a good idea to experiment with more colors. Black and natural brown shades are commonly used for achieving a more natural look, adding boldness or sharper eye makeup. Shades of browns, greys, and vibrant popping colors add much dimension to the look. J-beauty trends include the use of colors paired with regular eyeliner to accentuate the makeup and add a dramatic flair.
For all beauty junkies and enthusiasts, who love trying out newer and trending products, Japanese eyeliners are something worth a try. With J-beauty on the surge of makeup buzz, we have lined up the list of best Japanese eyeliner that has all the features, one needs for a perfect application. From intense color payoff to the smoothest glide, these products allow for a precise and controlled drawing. Whether you wish to try a flick of winged eyeliner or are looking to blend a thin stroke for a natural finish, these J-beauty liners will fit the bill. Being long-lasting and easy to use, you can add these liners to your everyday makeup routine.
Why Trust Pinkvilla
Sayantani, the beauty expert and makeup lover always has her eyes on the new launches and fresh trends on the block. With the rise of J-beauty, she decided to try out a few Japanese eyeliners and was left impressed with quite a few. With her detailed research on numerous products and weighing the pros and cons through reviews, she sorted out the best Japanese eyeliners that you need to try. With great application and amazing finish, these products have become her favorites.
Our product experts study the specifications of every product we suggest and try them out to bring what's proven to be worthy of your money, time, and energy. We also have subject matter experts from various fields like Fashion, Skincare, Haircare, Home Decor, and Health & Fitness onboard to make sure our suggestions are credible and trustworthy. You can trust Select to be your faithful shopping guide for all the right reasons!
Author BIO
Sayantani is a certified hair and makeup professional turned writer with 2+ years of experience in the same genre. Ap More