9 Best Turquoise Nail Polishes for an Ocean-inspired Manicure
Written by
Sayantani Deb
Updated on
Sep 26, 2023 |

142.7K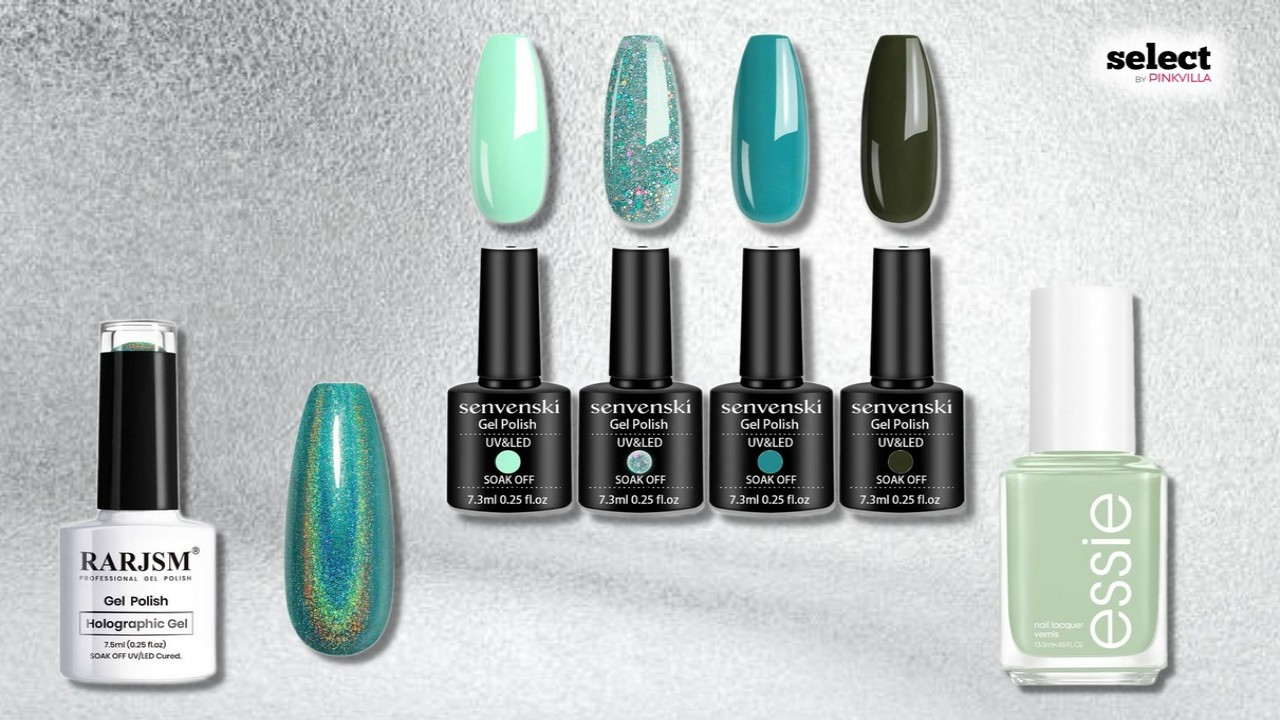 The products curated for this article are independently chosen by the editorial team. If you make a purchase through the
links
mentioned below, we may receive a commission. Check out our
product research & curation process
From the vibrant blue-green gemstone popular in Iran and Egypt to the mesmerizing oceans of Belize and Maldives, you may come to think of many beautiful sights at the mere mention of turquoise. And now you can bring the enchanting beauty of this color to your manicures with the best turquoise nail polishes. Our research indicates that turquoise nail color is currently trending on TikTok and nail blogs as the color of the season, but this obsession is nothing new.
Don't confuse turquoise nail colors with teal nail polishes. It is a beautiful and vivid blend of blue and green, which varies in shades depending on the amount of each pigment used in its formulation. The whole spectrum of turquoise nail polishes is universally flattering, meaning it suits all skin tones. Whether you want subtle tones or an exotic summer vibe, you have a lot of options to choose from. Through our practical knowledge, we can say this nail color is all you need to add a beautiful and fun pop of color to your whole look. It not only amps up your outfit but also lifts your mood with its captivating and soothing vibe. Moreover, you can wear your favorite turquoise nail polish to any occasion.
It is because of this versatility that turquoise refuses to go out of trend and is once again topping the popularity charts. So, it is time for you to elevate your manicure routine and indulge in some turquoise tranquillity. Keep reading and get ready to test the waters with our wide range of recommendations.
In This Article
9 Best Turquoise Nail Polishes for the Most Enchanting Nail Look
Let your love for the ocean show through your manicure with this turquoise nail polish from essie in the shade Turquoise and Caicos. True to its name, this shade will transport you to the beautiful sea-scapes of the Caicos islands. It has a rich formula that gives a flawless finish and salon-quality results. The applicator brush offers a smooth glide that gives a quick and even application. Drawing from our experience, this shade undoubtedly looks pretty but has more gray and green hues than blue.
Pros
Good quality
Long-lasting
Smooth finish
Has glossy shine
Doesn't chip easily
Vegan
Formaldehyde-free
Cons
May require multiple coats to get desired color
Some may be light, some may be dark, and some may even be shimmery, but what we have here is the true turquoise nail color from the house of Vishine. It is a beautiful gel nail polish made of natural resin. The pigments are so rich and intense that it will only take one coat to show its true color. It has a non-toxic formula much to the relief of regular users of polish. As indicated by our tests, there is no nasty odor typically found in gel polishes. Instead, be prepared to invigorate your senses with a subtle and pleasant fresh pine fragrance.
Pros
Easy to apply
Great coverage
Long-lasting
Color is exactly as shown
Doesn't chip
Cons
May not be easy to remove
Don't be running out of turquoise nail ideas! This beautiful holographic gel nail polish from RARJSM is here to save the day. Made with natural resins, it won't pose any harm to your skin. Cure it for a minute under a UV or LED lamp and look forward to a glittery manicure that will last you about 3 weeks. Our team discovered through using this product that you can use a black or white base coat to create different looks from the same polish.
Pros
Easy to use
Lasts long
Beautiful color
Good quality
Goes on smooth
Doesn't pop
Easy to remove
Cons
Holographic effect visible only under specific lighting
Don't settle for one turquoise polish when you can get three for the same price from senvenski. This set of turquoise blue nail polishes also comes with a black gel nail polish, making it the most perfect purchase ever! Since the shades include light, dark, and glittery turquoise colors, you can create a wide range of nail designs and looks depending on your preferences and creativity. After putting it to the test, we found this set to be an ideal match for summer, whether you decide to go to the seaside or not.
Pros
Vibrant colors
Non-toxic
Have a glossy shine
Dries quickly
Long-lasting
Budget-friendly
Value for money
Cons
May require more than 2 coats to get opaque finish
Add some dazzling drama to your nails with this color-changing turquoise nail polish from YTD Likomey. You may also call it your magic manicure. It changes color based on the temperature. When the temperature is warm, your nails will turn a light turquoise, and with low temperatures, they will turn a dark blue shade. With this nail paint, you can easily achieve flawless gradient nail art without putting in any extra effort. Based on our firsthand experience, it must be cured properly under a UV or LED lamp for optimal and long-lasting results.
Pros
Looks pretty
Quick color change
Smooth texture
Easy to apply
Glitter isn't gritty
Value for money
Cons
Color changing may not show on short nails
Get ready to flaunt some serious summer turquoise nails with this gel nail paint from Vishine. It is perfect for those who want something more than a normal glossy finish but less than the full-on glittery look. With its pearl accents, it paints a pretty elegant picture and is suitable for almost all settings. Our investigation demonstrated that it goes on smoothly and can last for 2 weeks. According to several customer reviews, it feels like a dream to paint nails with this polish because the application is just so good.
Pros
Easy to apply
Vibrant color
Offers good coverage
Value for money
Cons
Color may not look exactly as shown
Light turquoise nails are a summer mood and you must get your hands on this Vishine Soak-off Turquoise Gel Polish. Our findings show that the shade leans towards more green than blue. It has a long-lasting formula that can stay put without budging for up to 3 weeks. Thanks to its super bright color, this nail polish makes for an ideal partner to your turquoise pedicure. It has a thin consistency that makes for an easier application and zero goopy feeling.
Pros
Easy to use
Pretty color
Goes on smooth
Doesn't chip
Ideal for everyday use
Cons
May need multiple coats to show
For a formula that actually stays for long without chipping, get your hands on this turquoise polish from Imtiti Professional. This particular shade is pretty and vibrant. If you like teal nails, you will like this nail paint too. This nail polish has a bit of teal mixed in that gives it an interesting and unique hue. This nail polish comes in a new and advanced tubular packaging which makes this polish so much easier to use, especially when compared with conventional nail polish bottles. When we trialed this product, we were highly impressed with the salon-like results.
Pros
Easy to apply
Only needs a single coat
Cures under a minute
Highly saturated color
Good coverage
Travel-friendly
Cons
Dispensing right amount may feel difficult
Take this bright turquoise nail polish home today. Because this is not just a nail paint but a whole serene experience, thanks to the efforts of Sparkle & Co., the brand. From the shade to the packaging, everything screams elegant perfection. With its rich and intense pigmentation, it offers a luxe finish like no other. Aptly named, the shade, Ocean Villa will instantly transport you to the beach with frothy sea water. We have found from using this product that it dries off to give a highly glossy finish, making it a perfect find for summer.
Pros
Pretty color
Cute packaging
Goes on smooth
Dries quickly
Can last long
How to Choose the Best Turquoise Nail Polish?
Choosing the best turquoise nail polish with a formula and finish that suits your preferences and needs doesn't have to feel overwhelming. So, we have come up with this thorough guide on how to make the right choice when it comes to turquoise nail polishes. Here are a few aspects you must consider to find your ideal turquoise nail paint:
Consider Your Skin Tone and Undertones
While it is true that turquoise is a universally flattering color that looks good on everyone, irrespective of their skin tone, it comes in a range of shades depending on the blue-green ratio. They can be anywhere between light and dark or icy and warm. So, consider your skin tone and undertones as you select your favorite turquoise nail paint.
Formula and Texture
Look for a long-lasting formula that is also chip-resistant to ensure you don't have to redo your manicure every few days. No one has that kind of time. It must have a smooth consistency that doesn't feel thick or goopy for an easy, even, and flawless application.
Finish
When it comes to the finish, choose a turquoise nail polish in a finish that suits your style and preferences, whether it is matte, glossy, shimmery, or metallic.
Pigmentation and Color Pay-off
Consider the pigmentation of the turquoise nail polish. With intense pigmentation, you will get good coverage. You won't have to apply layers on layers to get a solid color with such nail polish. You may also choose a sheer nail paint if that's what you like. You must opt for something with a good color pay-off so that color appears on your nails the same way it looks in the bottle. Buy from reputable brands like Sally Hansen and OPI nails as it will ensure high quality, intense pigmentation, and good color pay-off.
Application
It is important to get nail paint with a good quality brush that makes the application easier, smoother, and precise.
Ingredients
Don't forget to read the label for the ingredient list. Ensure it doesn't contain any ingredients that can cause you a possible allergic reaction. You must avoid harsh ingredients like formaldehyde, toluene, and phthalates. If you have fungal infections, regular nail polish won't help you. Instead, opt for an antifungal turquoise nail polish and look for ingredients like amorolfine or ciclopirox. You may look for natural ingredients like tea tree oil, wheat protein, and garlic bulb extract to keep infections at bay.
Occasion
Think about the occasion or event you wish to attend, whether it is for daily use, a formal event, or a work setting.
Customer Reviews
Don't forget to read customer reviews and feedback. You may also ask your friends and family members for their recommendations. Another option is to research through beauty blogs and nail communities for more in-depth and real-life insights into the efficacy and performance of your favorite turquoise nail polish.
Painting your nails is a fun activity but you can make it more fun by adding bold and vibrant shades, particularly turquoise. You can elevate your overall look while also showing off your personality with the best turquoise nail polishes. After all, it is a color that stands out, in a good way, because of its vividness. It will remind you of the cool blue sea and its serene waters. It flatters everyone, irrespective of their skin tone, age group, and gender. Even seasons are no bar for this color. Because there exists a shade of turquoise for all your needs, moods, and occasions. Whether it's a regular day or a special event, go about with your stunning turquoise nails. Get ready to elevate your look with this color of the mystical and whimsical sea in just a few brushstrokes.
FAQ's
Is turquoise nail polish good for dark skin?
Turquoise is a universally flattering color, meaning it looks good on all skin tones, particularly dark skin tones.
Is turquoise nail polish safe during pregnancy?
Yes, turquoise nail polish is safe to use during pregnancy. However, certain ingredients must be avoided like formaldehyde, phthalates, and toluene to name a few.
Is turquoise nail polish good for toenail fungus?
Using turquoise nail polish or any other nail polish for that matter on an infected toenail can make the fungal infection worse and spread it to other toenails. If you wish to wear nail polish, invest in ones with antifungal ingredients like amorolfine or ciclopirox. Don't forget to consult your doctor.
Is turquoise a girly color?
Colors don't have a gender inclination. Turquoise can be worn by anyone, irrespective of their gender. This color is considered by many to be a unification of the feminine and masculine as it signifies the meeting of the sea and the sky, making this a beautiful gender-neutral and unisex nail color.
On which finger should turquoise be worn?
Turquoise, the gemstone must be worn on the index or ring finger of your dominant hand while turquoise nail paint has no such constraints and can be used as a regular nail paint for all your fingers and toenails.
Why Trust Pinkvilla
Sayantani, the author, loves a colorful manicure and likes to stay up-to-date with the latest trends and techniques when it comes to creating beautiful nail art. Turquoise is one of her favorite shades of nail colors, and she was thrilled when it made a comeback. She has personally tested and curated the products listed in this selection just for you.
Our product experts study the specifications of every product we suggest and try them out to bring what's proven to be worthy of your money, time, and energy. We also have subject matter experts from various fields like Fashion, Skincare, Haircare, Home Decor, and Health & Fitness onboard to make sure our suggestions are credible and trustworthy. You can trust Select to be your faithful shopping guide for all the right reasons!
Author BIO
Sayantani is a certified hair and makeup professional turned writer with 2+ years of experience in the same genre. Ap More