11 Best Shoe Insoles for Standing All Day with Zero Discomfort
Written by
Neha Tiwari
| Updated on
Dec 03, 2022 |

407.2K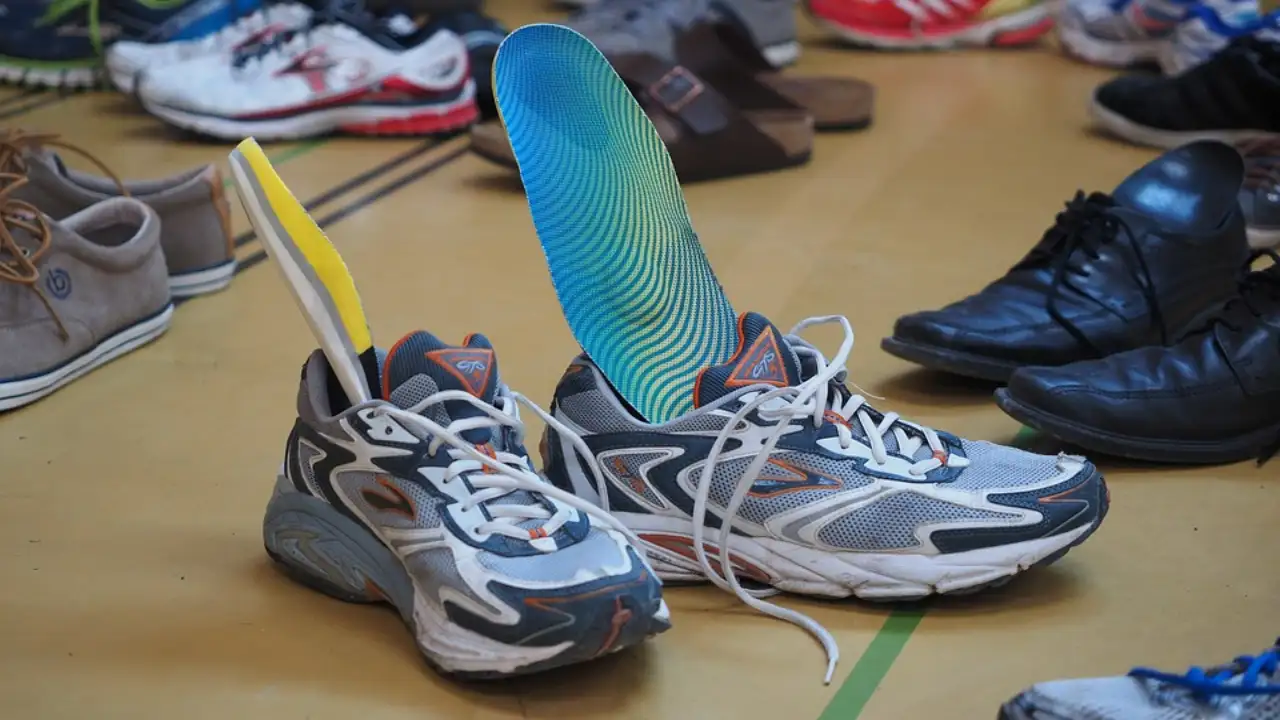 The products curated for this article are independently chosen by the editorial team. If you make a purchase through the
links
mentioned below, we may receive a commission. Check out our
product research & curation process
Being on your feet for long durations taking a toll on your body? We have a simple, yet effective remedy for you — insoles. Insoles are small fabric inserts designed to be worn inside your shoe. These inserts can help with improperly fitting shoes and enhance comfort, keep your feet warm, and in some cases even contribute to height enhancement. They come in different sizes and materials to suit your every need. Read on to find our top picks for the best shoe insoles for standing all day with maximum comfort and zero aches.
Best Shoe Insoles for Standing All Day Without Discomfort
If you're looking at a long day of standing and walking, then the PowerStep pinnacle insoles are our top pick. Made of 100% polyester, this insole molds as per your feet size and shape. The EVA foam sole provides superior cushioning, taking the strain off your joints. The PowerStep support shape provides stability to the ankle and foot thereby alleviating any foot pain. These insoles help with Plantar Fasciitis, heel spurs, and other common foot injuries by providing great heel cushioning and arch support. For men, the sizes range from a US 3 to 16, and for women, the sizing ranges from a US 5 to 12.
Pros
No trimming required
Podiatrist recommended
30-day money-back guarantee
The Superfeet GREEN insoles are great for those seeking all-day comfort. These insoles have one of the widest and deepest heel cups on the market. These give the wearer maximum support and aid in shock absorption. Made of polyester, these insoles can last up to a walk distance of 500 miles. The closed-cell foam is of high-density and provides maximum comfort and pain relief. These insoles come with odor control, keeping those sweat smells away. These are a must-have for people with flat feet for added stability and improved posture. Available in many sizes, these insoles can be used for kids, men, and women.
Pros
Does not shift
Provide enough room
Reduce stress on feet
The WALK HERO insoles are one of the best shoe inserts that help with plantar fasciitis. Made from an ethylene vinyl acetate material, this insole is very breathable, keeping you cool while preventing excessive sweating. It provides excellent shock absorption and helps in relieving foot fatigue. The semi-rigid arch support helps in improving leg and foot alignment. The deep cup helps with added support and helps counter overpronation and supination of feet. They also help with flat feet and bunions. These insoles can be worn on a wide range of closed shoes.
Pros
Easy to use
Budget-friendly
Offered in three colors
The PHYSIX GEAR SPORT Orthotic Insoles are designed to help people with flat feet, runner's knees, overpronation, shin splints, and Achilles tendonitis. These high arch insoles also alleviate metatarsal arch and heel pain, metatarsalgia, patellofemoral syndrome, and low back pain. These insoles leave plenty of room at the toe to avoid cramping. A nonslip heel keeps the insole firmly in place all day long. The material is made of high-performance EVA foam and PU, which help in controlling odor. These insoles run in sizes US 3 to 14.5 for men and US 5 to 16.5 for women.
Pros
Easy to use
High-density cushion
Ergonomic non-slip design
The next insole is from one of the most popular foot care brands — Dr. Scholl's. This insole provides true comfort by supporting the ball of the foot, arch, and heel. It provides flexible arch support that is customizable to your foot. The slim design ensures that the insole doesn't take up space and prevents crowding at the toes. These insoles provide maximum comfort and are one of the best insoles for walking and standing all day long.
Pros
Budget-friendly
No trimming required
Fight muscle fatigue
Need your insole to keep up with your active lifestyle needs? The VoMii PU memory foam insoles have a deep heel cup with a neutral arch support that helps stabilize the foot. The gel pad under the heel absorbs shock and reduces stress on the heel. This ensures the reduction of muscle fatigue and foot pain. The PU material is lined with a medical-grade velvet that is durable and absorbs sweat and keeps you feeling fresh. These insoles are suitable for men, women, and kids and come in three sizes — small, medium, and large.
Pros
Durable material
Ergonomic design
One year guarantee
If you are struggling with flat feet, the PCSsole Corrective Arch Support Insoles could be a great choice for you. These inserts have a 3 cm rigid arch support that distributes the pressure in the foot evenly. This helps with foot pain, plantar fasciitis, and overpronation of the feet. The deep heel cradle supports the foot and the multi-layer cushioning EVA helps in shock absorption. These run in US size 4 to 13.5 for men and 6 to 14.5 for women.
Pros
Durable
Fit most footwear
Help maintain shape
If you struggle with blisters, then the Spenco insoles might be the remedy you need. Made from four-way stretch nylon and neoprene blend, these insoles reduce foot fatigue, and also help with odor control. These insoles provide maximum comfort and superior shock absorption — great for a long active day on your feet. These insoles have an additional strike pad at the heel for additional cushioning and shock absorption.
Pros
Durable
Lightweight
Softens heel impact
The next insole on the list is designed exclusively for women. The option to be worn with boots is a must-have this fall and winter. These highly comfortable insoles come with gel cushions at both the heel and the forefoot. The gel cushions at the forefoot pad help protect the toes, while the cushioning at the heel helps support the arch and stabilize the feet. The rubber material makes this an extremely durable product. These insoles range from a US 5.5 to 11.
Pros
Washable
Improves posture
Moisture-wicking sock liner
The SOLE Performance Medium Shoe Insoles are a heavy hitter all around. With a deep heel cup, zero drop, and dynamic arch support, these insoles stabilize pressure and enable a neutral alignment. Made from recycled natural wine corks, these insoles are carbon-negative. With their heat molding feature, these insoles are extremely customizable. Just heat the insoles, place them in your shoe of choice and slip them on. The insoles will adapt to your feet.
Pros
Vegan
Latex free
Fight foot fatigue
The GAOAG arch support insoles help with bunions, plantar fasciitis, and pain relief. Their Dynamic Arch Technology (DAT) enhances comfort, stability and reduces the possibility of foot injuries. The soft material keeps you feeling comfortable all day, and the top cover absorbs sweat, for an optimum dry feel. The U-shaped heel cup helps rectify posture. The insoles are trimmable and can be customized to any shoe size.
Pros
Reduces friction
Ergonomic design
Breathable material
We've gone over the features of some of the best shoe insoles available in the market. There are so many types and varieties of insoles, but you must first understand your needs to choose the right insoles for you.
How to Choose the Right Shoe Insoles for Standing All Day
Here are some parameters to think about before choosing your insoles.
1. Current Lifestyle - Do you run or play sports? Or does your job require you to stand for long hours? Are you looking for insoles that will support you on a hike? Or do you just want to add that extra comfort to your regular shoes? The material, flexibility, and support required for different activities may vary. So, understand what your requirement is and choose your fit.
2. Foot Structure - Flat feet, low arch, medium arch, etc require different insoles for a proper fit. So understand your foot structure and size before placing an order.
3. Shoe Type - Believe it or not, the type of shoe could play a role in choosing the right insole as well. A casual shoe may require a thin insole. A medium insole may be a good fit for sneakers and running shoes. For boots, you may want to consider a thick insole.
It can be exhausting to be on the move all day, every day. Shoe insoles can help make it just a little easier by alleviating the aches, equalizing the pressure, and keeping you feeling dry, stable, and comfortable. If you're still wondering if an insole can help you go about your day, take your best pick from our list of the best insoles for standing all day, and see the difference for yourself. You might just fall in love with your favorite shoes a little bit more.
Author BIO
Neha Tiwari, a certified Haircare coach, an experienced writer, educator, translator, and editor, has been catering t More
Why Trust select
Our product experts study the specifications of every product we suggest and try them out to bring what's proven to be worthy of your money, time, and energy. We also have subject matter experts from various fields like Fashion, Skincare, Haircare, Home Decor, and Health & Fitness onboard to make sure our suggestions are credible and trustworthy. You can trust select to be your faithful shopping guide for all the right reasons!