7 Best Portable Home Gyms to Stay Fit in Your Personal Space
Written by
Shebna V
Updated on
Nov 10, 2023 |

162K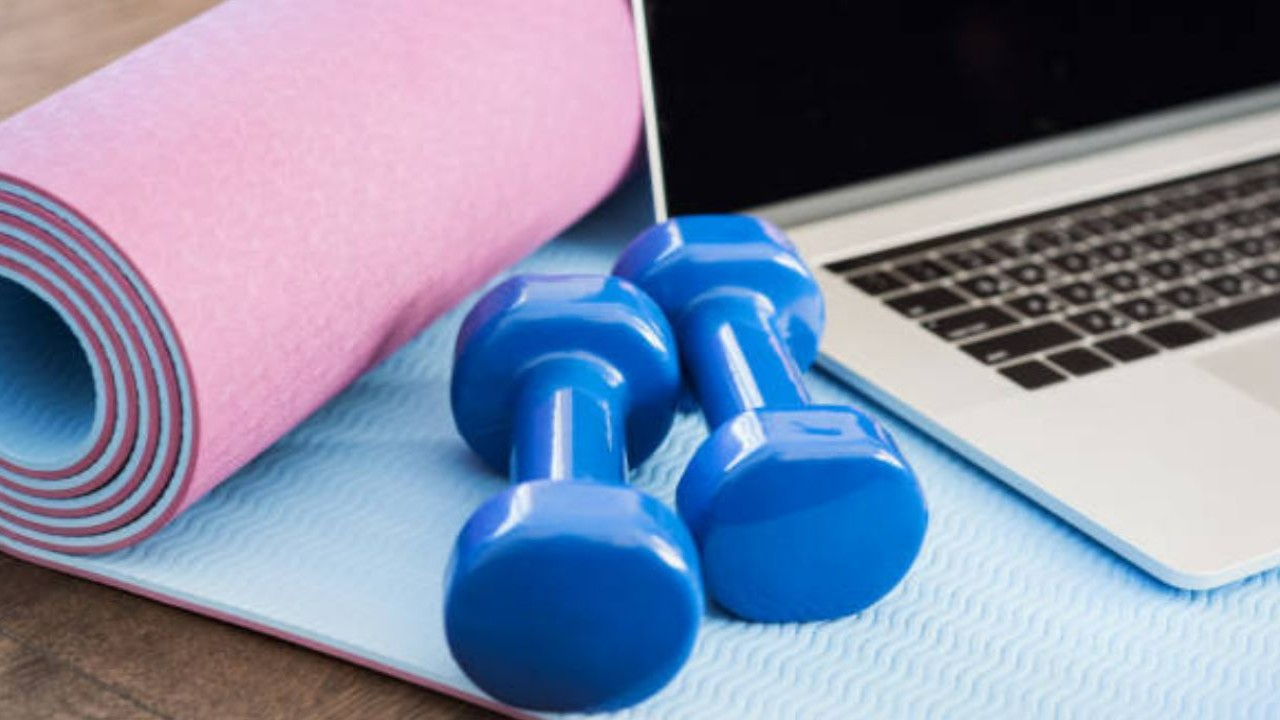 The products curated for this article are independently chosen by the editorial team. If you make a purchase through the
links
mentioned below, we may receive a commission. Check out our
product research & curation process
If maintaining a regular fitness regime feels challenging due to your packed schedule, then getting your hands on the best portable home gym would be an incredible solution. Portable gyms are designed for people on the go, or those with limited space who still want the benefits of a full-body workout at home.
They offer the convenience of performing diverse exercise routines without stepping foot in a traditional gym. Moreover, their compact size makes storage and transportation easy, helping you maintain your fitness levels wherever you are.
In this guide, we've meticulously tested and put together a selection of the best portable home gyms, ensuring you get to optimize your fitness efforts despite your space and time limitations.
In This Article
7 Best Portable Home Gyms That Help Target Multiple Muscle Groups
This all-in-one portable gym package is a SmartConnect model, equipped with Bluetooth connectivity and onboard sensors, and works in tandem with the MAXPRO App to track your workouts, monitor progress, offer valuable data and analytics, and guide you toward your fitness goals. You can engage in coach-led strength-based workouts like HIIT, suspension, and strength training, or design your personalized routines with this all-encompassing device.
Adding on, the fitness equipment provides adjustable pounds of resistance from 5 lbs to 300 pounds, making it suitable for various exercises. It's incredibly versatile, covering strength, cardio equipment, suspension trainer, plyometrics, and functional training, all while weighing less than 9 pounds (4 kgs) and folding into a compact package for ultimate portability.
Pros
Compact size
High-quality construction
Easy setup
Helps stabilize your posture
Adjustable weights
Space-saving storage
Cons
Bit jerky on higher settings
EVO Gym offers unparalleled portability and unwavering strength. It's a complete compact home gym that can be packed into your backpack, yet it provides resistance ranging from 10 to 320 pounds for a wide array of exercises. Its aircraft-grade aluminum base ensures stability, and EVO Bands maintain tension for various movements. With versatile accessories like ankle straps, a door anchor, and the EVO hook, you have limitless options for weight loss and muscle gain, making it suitable for everyone, from beginners to advanced weight trainers.
Pros
Effective resistance
Solid platform
Space-efficient design
Muscle group exercises
Portable exercise equipment
Suitable for heavy training
The OYO Fitness Personal Gym provides all you require for a versatile total bodyweight workout, wherever and whenever you want. Crafted from robust polymer and equipped with ergonomic hand grips, it's both durable and comfortable. Smooth, friction-free workout programs are guaranteed by nylon-coated stainless steel cables. With no need for batteries or additional accessories, it's all-inclusive. In addition, this portable home gym is foldable for on-the-go use, even TSA-approved, and built to endure.
Pros
Quality construction
Effective performance
Versatile exercises
Lightweight option and space-efficient
Ideal for building muscle
NYPOT's portable gym system is the ultimate all-in-one workout option for men and women, delivering over 400 pounds of weight. With accountability via YouTube sessions, it offers entire body workouts, eliminating the need for bulky pieces of equipment or traditional weights. Crafted with ease of use in mind, it's perfect for home or travel workouts and is designed to reduce joint pain through progressive resistance.
Moreover, it's made with premium materials, including aircraft aluminum bars and double latex resistance bands. This versatile system provides a wide variety of exercise combinations for comprehensive at-home workouts, making it a top choice in the fitness world.
Pros
High-quality construction
Variable levels of resistance
Compact and portable home gym system
Sturdy and durable
Travel-friendly size
This portable resistance band gym set offers a broad range of muscle-building combinations for individuals, enabling exercises like flat lifts, bench presses, squats, and more to target various muscle groups. It's ideal for strength and flexibility training, assisting in weight loss, muscle gain, and overall health improvement. The aluminum alloy detachable fitness bar, reminiscent of Olympic bars, boasts a durable, lightweight chrome-plated steel structure with a maximum load of 500 pounds.
Moreover, its non-slip knurled design enhances grip, while the robust 360° rotating high-strength alloy hanging ring ensures easy resistance band replacement. Ideal for all fitness levels, the natural latex resistance bands provide superior elasticity and durability, with 4 different resistance levels to suit beginners and fitness enthusiasts.
Pros
Well-constructed
Good quality
Complete workout package
Heavy resistance
Durable
Cons
Needs more pieces of equipment
The INNSTAR Portable Home Gym Training Set offers a versatile home workout solution, effectively replacing traditional gym machines. It facilitates classic exercises like bench presses, arm curls, seated rows, and squats, targeting chest, arm, leg, and core muscles. With a flexible design, the bench press device provides six removable resistance bands, allowing users to select 2, 4, or all 6 additional bands to match their fitness level and exercise preferences.
This makes it suitable for both beginners and seasoned fitness enthusiasts. Furthermore, the kit includes a workout bar, an adjustable bench press device, four squat bands, and two-foot straps, all constructed from 100% natural latex for durability and odor-free workouts.
Pros
Multi-purpose
Ideal for resistance training
Suitable for beginners
Compact design
Minimal space
Easy to assemble
This robust resistance band set is constructed from high-quality alloy steel with a 500 pounds+ load capacity and measures 35.4 inches. It features an ergonomic handle for a comfortable and secure grip, plus 360° rotating ball bearings. The portable workout bar set includes the bar, five natural latex resistance bands, safety buckles, handles, an extended door anchor, and a user manual, all stored in a black handbag for convenient portability. Ideal for home or travel workouts, it offers versatile combinations for exercises like pull-ups, pilates, and more, making it a valuable addition to any fitness routine.
Pros
Stainless steel bar
Heavy duty
Excellent resistance value
Durable
Pocket-friendly
Cons
Lower resistance bands may be prone to breakage
Let's now understand what factors are important to consider while buying the best portable home gym equipment.
How to Choose the Best Portable Home Gym?
Portable home gym setups have become an essential component for anyone looking to maintain a healthy lifestyle without stepping out of the house. They offer the luxury of allowing one to work out from anywhere at any time. However, with the market flooded with various models and types, choosing the best portable home gym can be challenging. To make your selection process easier, we've outlined some crucial factors you need to consider.
1. Evaluate Your Fitness Goals:
Your choice of a portable home gym primarily depends on your fitness objectives. If you aim to build muscle mass, then a gym with weight-based resistance might be best suited for you. However, if your goal is overall fitness, including cardio workout, flexibility, and muscle tone, a multi-functional home gym would be an ideal choice.
2. Size And Space Considerations:
Evaluate the space where you intend to place the home gym. If you have limited space, opt for a compact, lightweight, and foldable home gym that can be stored away when not in use. Also, ensure the gym's dimensions can fit in your designated space comfortably.
3. Weight And Portability:
The primary advantage of portable home gyms is that they can be moved easily. Thus, make sure the home gym is lightweight and easy to transport. Some gyms come with carry bags for increased convenience.
4. Equipment Quality:
Inspect the quality of equipment and construction materials before buying a home gym. High-quality equipment may be costlier but lasts longer and ensures safety during workouts.
5. Resistance Type:
Various portable home gyms offer different types of resistance — from resistance bands, and body weight, to weight stacks. Decide on the type of resistance depending on your training routine and preferences.
6. Ease of Use:
If you're a beginner, choose a home gym that's easy to set up and operate. Complex equipment may deter you from maintaining regular workouts.
By taking the time to research and evaluate your needs and preferences, you can ensure you choose the best portable home gym to help achieve your fitness goals. Remember, the best gym is one that suits your needs and keeps you motivated to work out regularly.
What are the Benefits of Home Workout?
Home workouts offer several advantages that can contribute to an individual's overall well-being and fitness journey. Some of the key benefits include:
1. Convenience:
One of the most notable benefits of home workouts is convenience. It eliminates the time taken to commute to the gym, thereby freeing up more time for exercising. Home workouts also provide the luxury of privacy and no waiting time for equipment.
2. Flexibility:
Home workouts are highly flexible as you can exercise at your own pace and time, without adhering to any gym hours. You have the freedom to personalize your workout routine according to your needs.
3. Cost Savings:
Gym memberships and classes can be expensive. However, home workouts eliminate these costs. All you need is a small initial investment in basic equipment, and you're good to go.
4. Comfort:
Some people may feel self-conscious or intimidated at a gym. Home workouts provide a comfortable, stress-free environment where you can exercise without worry.
5. Increased Focus:
At home, you're free from gym distractions and can better focus on your exercise routine. This may lead to improved performance and better results.
6. Customizable Workouts:
With home workouts, you can switch up your routine as often as you'd like. This prevents your routine from becoming stale and keeps you motivated.
While gyms have their own benefits, home workouts are a valuable alternative for those seeking a more personal and adaptable fitness approach.
The best portable home gyms offer a combination of functionality, flexibility, and convenience. They enable you to keep up with your fitness regimen without needing a large space or hefty equipment. Our top-recommended products include MAXPRO Fitness Cable Home Gym, Nomadix Fitness EVO Portable Home Gym, and the OYO Fitness Personal Gym. Compact, versatile, and easy to use, these home gyms are a worthy investment for anyone seeking a practical and efficient solution to maintaining a regular exercise routine. Regardless of your choice, investing in a portable home gym is an investment in your health and overall well-being.
FAQ's
Are portable home gyms effective for workouts?
Yes, portable home gyms can be effective for workouts, providing versatility and convenience for various exercises.
Is a home gym as effective as a traditional gym?
A home gym can be just as effective as a traditional gym for many individuals, as it offers a convenient and customizable fitness solution.
What is the typical lifespan of home gym equipment?
The lifespan of home gym equipment varies, but with proper maintenance, it can last for several years, making it a worthwhile investment.
Who should consider investing in a portable home gym?
Portable home gyms are a great choice for individuals with limited space, and busy schedules, or those who prefer working out at home for privacy and convenience.
What equipment is essential for a portable gym?
Essential equipment for a portable gym includes resistance bands, dumbbells, a stability ball, and a yoga mat, offering a wide range of exercise options.
Can you build muscle with minimal home gym equipment?
Yes, it's possible to build muscle with minimal home gym equipment by focusing on compound exercises and progressive resistance training.
Why Trust Pinkvilla
Shebna, a fitness enthusiast and expert, consistently explores the latest trends and innovations in the health and fitness sector. Since the onset of the pandemic, she has observed an increased interest in portable home gym equipment. She extensively searched the internet to identify the best portable home gyms, aiming to assist her readers in discovering their perfect workout companion.
Our product experts study the specifications of every product we suggest and try them out to bring what's proven to be worthy of your money, time, and energy. We also have subject matter experts from various fields like Fashion, Skincare, Haircare, Home Decor, and Health & Fitness onboard to make sure our suggestions are credible and trustworthy. You can trust Select to be your faithful shopping guide for all the right reasons!