Amazon Great Republic Day Sale 2023: 10 Best Kitchen Storage Container Sets for a Neatly Organized Kitchen
From mason jars to masala boxes, kitchen storage sets help to maximize your space and minimize your stress! Hurry and pick your fav to get up to 67% off!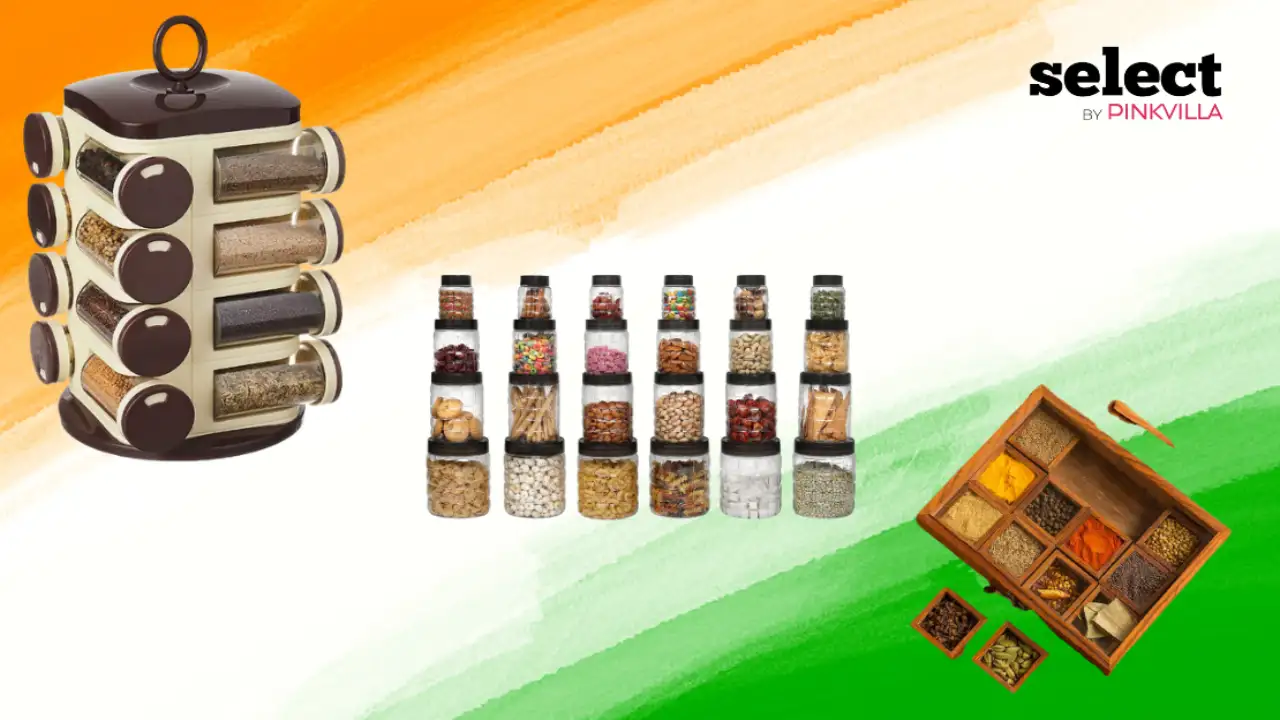 The products curated for this article are independently chosen by the editorial team. If you make a purchase through the
links
mentioned below, we may receive a commission. Check out our
product research & curation process
Keeping your kitchen organized and clutter-free can be a challenge. Fortunately, there are plenty of kitchen storage solutions — like kitchen storage container sets — available on Amazon to help you make the most of the space in your kitchen. These storage sets include stackable containers that come in various sizes, making it easy to store all of your food items in one place. Besides, the containers are made from high-quality materials that ensure durability and long-term use. Thereby, with these sets, you can easily find what you need without frantically searching through your cabinets — every single time!
Without further ado, let us quickly check out the wide range of popular kitchen storage container sets so that you do not miss out on the mind-blowing offers and deals during this Amazon Great Republic Day Sale. Get organizing!
10 Must-have Kitchen Storage Container Sets to Efficiently Optimize Your Kitchen Space
1. Cello Checkers PET Plastic Canister Small Set 24-Pieces
Made from high-quality BPA-free material, this storage set from Cello is one of the most highly in-demand kitchen essentials on Amazon. With a shatterproof plastic clear body, these jars come in assorted sizes to suit all your storage needs. You can place the smaller ones on open shelves and the bigger ones in your cabinets for maximum space utilization!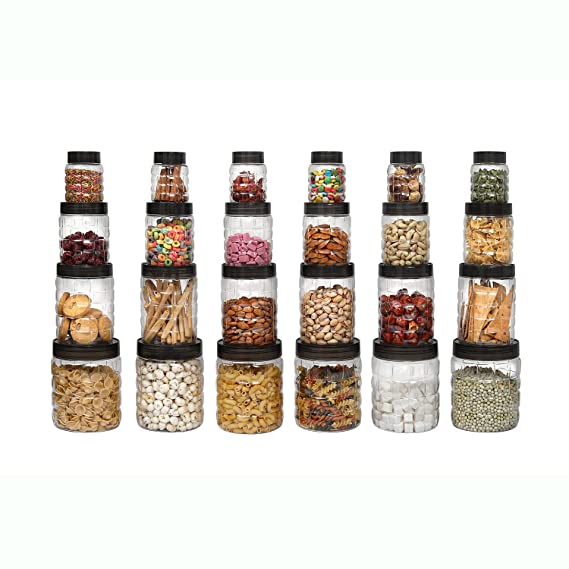 2. Amazon Brand - Solimo Plastic Revolving Spice Rack Set of 16 Pieces
This revolving rack with containers sets from Amazon Brand - Solimo, offers the ideal solution for your disassembled kitchen counter. Now store all your masalas — including salt, pepper, red chili powder, fennel, cardamom, garam masala, clove, cumin, and more — in just one place without having to worry about misplacing individual containers. Moreover, these jars are dishwasher and microwave safe!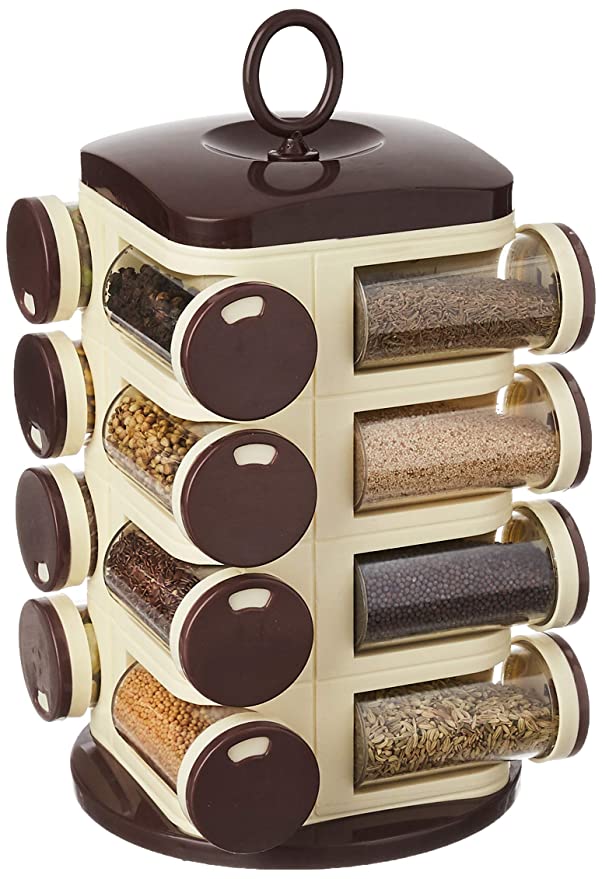 3. Treo By Milton Cube Storage Glass Jar, Set of 6
This set of mini mason jars from Treo is best suited to store your tea leaves, sugar, biscuits, and many such items in drawers and cabinets alike. Since the jar set is made from high-quality BPA-free transparent glass (including the lid), you can identify the items effortlessly!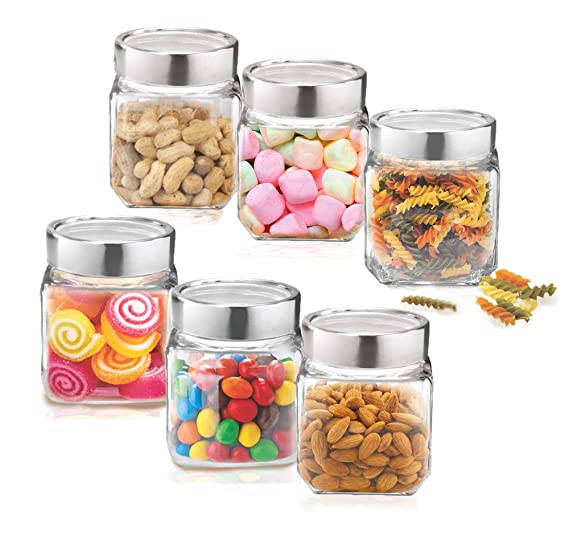 4. AmazonBasics Food Storage 7-Piece Container Set
Do you remember how much of the Maggi gravy leaked when we took it in those plastic lunch boxes? By the time it was lunch hour in school, the entire bag pack was full of Maggi liquid and odor. Thankfully, gone are those days! With these leak-proof glass boxes, say goodbye to spilling forever. This pack includes both rectangle and round boxes with silicone rings and locking lids that protect your food. You can also use these to store leftover items in your fridge to keep the items fresh until consumption.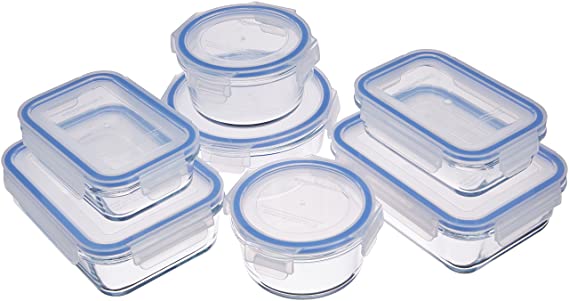 5. ExclusiveLane "Twelve Blends" Spice Box
Since Indian cooking boasts of precise masala mixes for every meal, your very own authentic "namak dani" is next on our list of top kitchen storage container sets. This Sheesham masala box from ExclusiveLane comes with 12 boxes and a wooden spoon and looks immensely exquisite. Not only can it enhance your kitchen aesthetics, but also solve all your worries about storing your delectable spices in one place.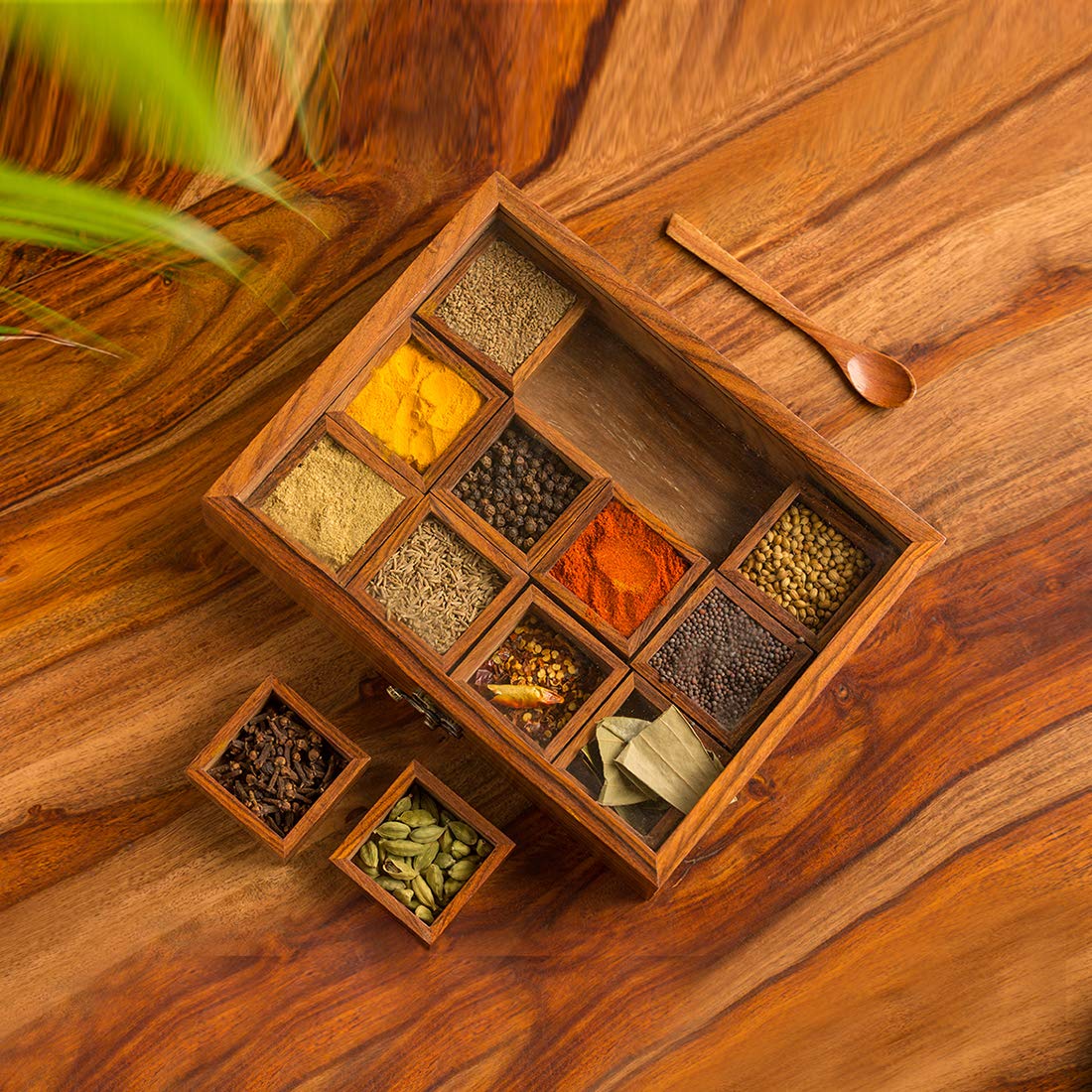 6. Milton Vitro Plastic Pet Storage Jar and Container, Set of 24
This multipurpose storage set by Milton Vitro is another item worth grabbing during this Amazon sale. With transparent bodies and wine-red lids, these jars will look appealing on your kitchen shelves. Moreover, with an assortment of sizes, you can store items as per your wish and place them as per usage and convenience. From namkeen, pulses, or cookies in bigger jars to ground masalas in smaller ones and dry fruits in medium-sized ones — this set makes for super-efficient space utilization.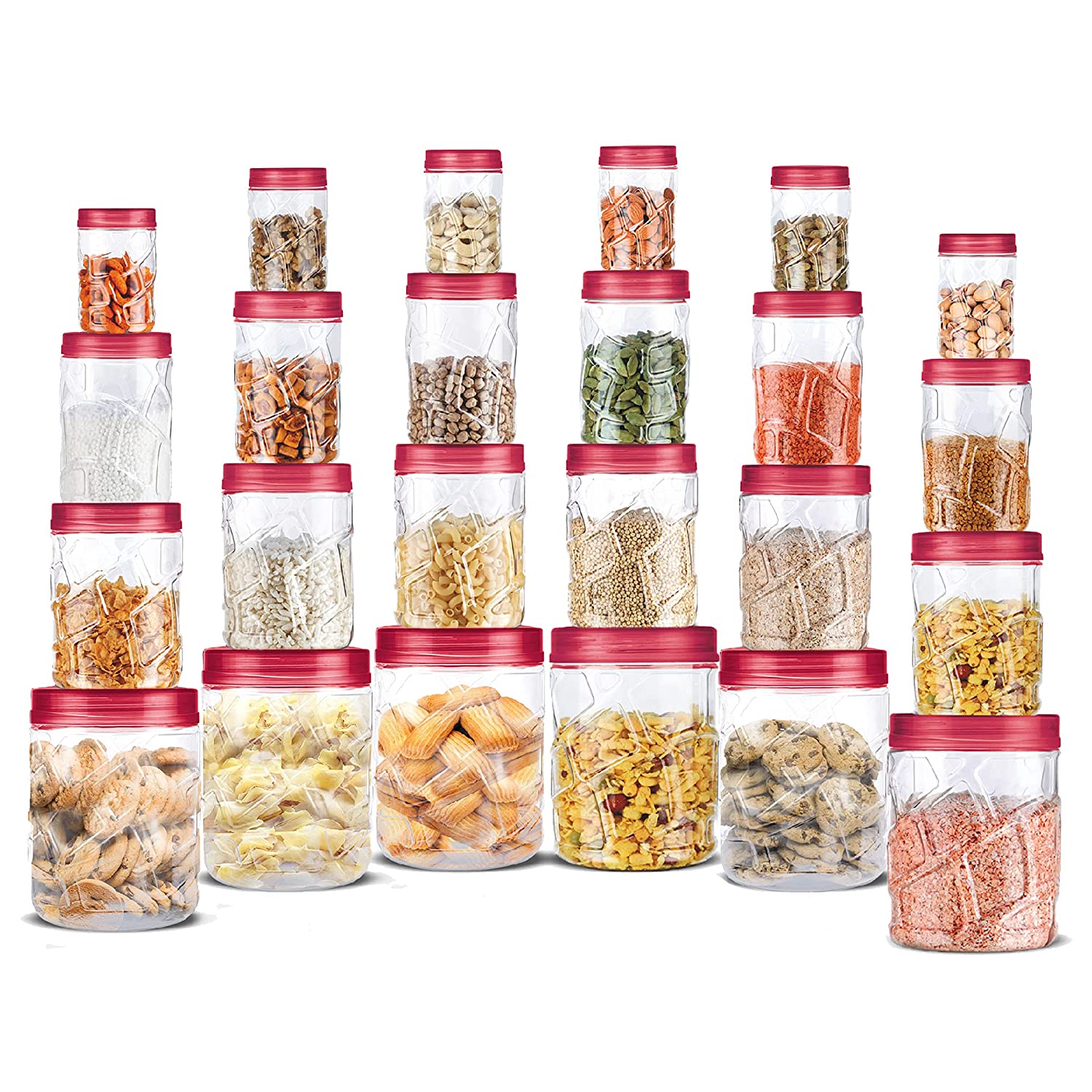 7. Cutting EDGE Modular Airtight Kitchen Storage Container Set
With assorted sizes and color variants, Amazon has a perfect kitchen storage container set for everyone. And this plastic set by Cutting EDGE is another exemplary product! It is made from BPA-free plastic, which is both microwave and dishwasher-safe (except the lids). Moreover, the leak-resistant and air-tight mechanism make these jars a highly durable and popular choice!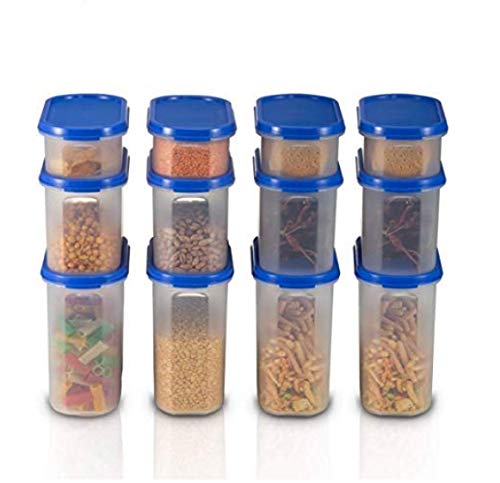 8. FineDine Food Storage Container
These leakproof glass container sets from FineDine are perfect for storing your food in the fridge for long hours. Moreover, if you have ice cream-making or baking skills, these containers will prove to be your best friend. With tightly sealed air-tight lids, these boxes are super convenient for carrying both wet and dry food items with you.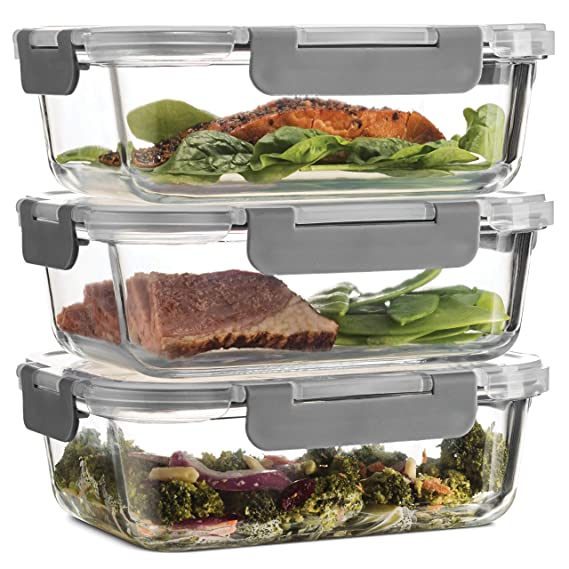 9. Amazon Brand - Solimo Twister Airtight Plastic Jar
This set of geometrically designed kitchen containers from Amazon Brand - Solimo is yet another great option for sorting out your kitchen storage needs. From pulses and staples to dry fruits and snacks, this set will perfectly sit in your cabinets to store a wide range of kitchen items. Moreover, the patterned lids make it easier to open the jar even when you have wet or greasy hands!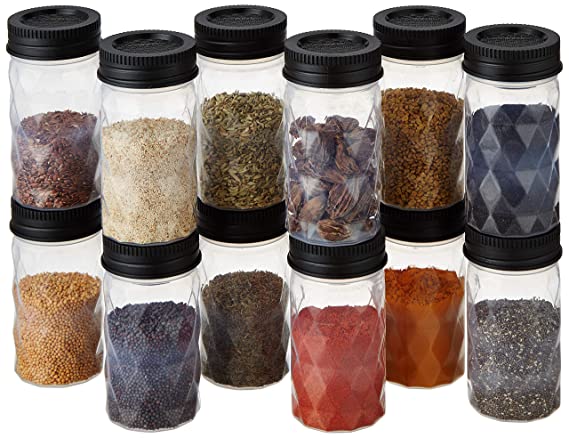 10. Piramal Glass Cubical Square 300ml Transparent Glass Jars & Containers
These storage containers by Piramal are best to grab during this sale as it has a significant discount on them! The high-quality moisture-resistant seal will prevent your food items from going stale by keeping them fresh and crisp. From dry fruits to pickles, divide your staples, store everything in these containers and relax until service time!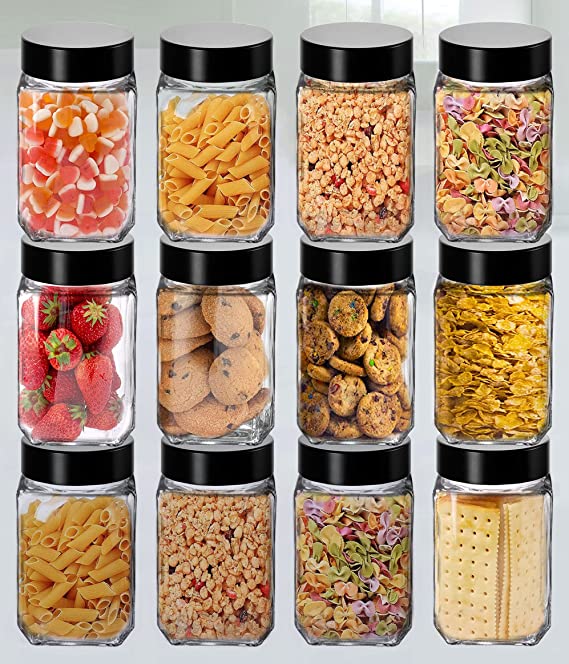 An organized, neat, and clean kitchen is conducive to a peaceful, stress-free cooking experience. So, if you too are fed up with several containers placed haphazardly or scattered all over the kitchen shelf and cabinets, go for these kitchen storage container sets that are perfect for all your needs. These sets include airtight jars, stackable containers, revolving racks, and more, making them ideal for the easy and efficient arrangement of your kitchen items. Whether you are storing spices, condiments, or leftovers, these sets have all the features to make sure that your food and spices stay fresh and secure. So, wait no more, and shop now at Amazon's Great Republic Day Sale to get the best deals on kitchen storage containers!

---