11 Radiant Skincare And Facial Kits to Grab on Amazon Great Republic Day Sale
Skincare routines are quintessential for maintaining the facial glow. Grab these skincare kits at budget-friendly deals on Amazon's Great Republic Day Sale.
Updated on Feb 01, 2023 | 04:51 PM IST | 86.9K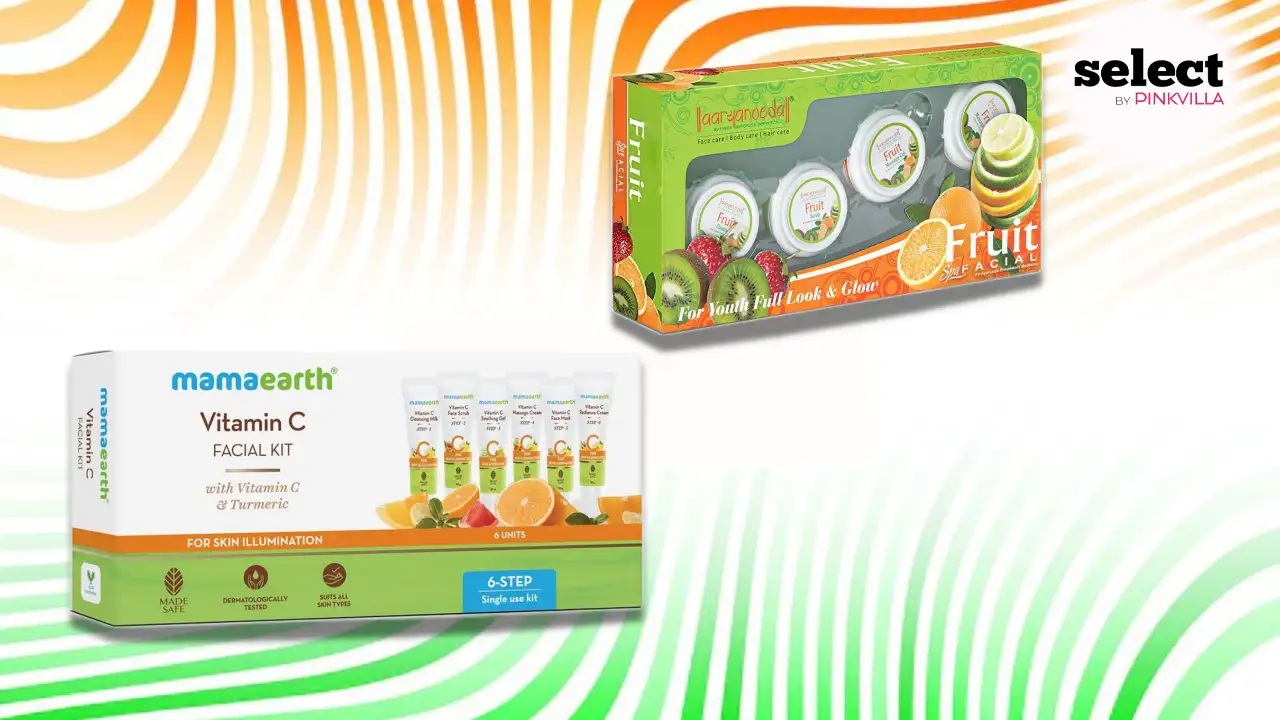 The products curated for this article are independently chosen by the editorial team. If you make a purchase through the
links
mentioned below, we may receive a commission. Check out our
product research & curation process
It's difficult to care forafter your skin when you're juggling a rigorous daily routine from work to home. We usually need to negotiate our time to take care of our skin and find an adequate product for our skin. Is achieving the best skincare goals on your resolution list, and do you want the best kit that suits you? Swipe down to read the curated list of 10 skincare facial kits for every skin type on Amazon's Great Republic Day Sale. They require minimal effort from you and bring positive results for your glowing skin and are now available on pocket-friendly prices!
11 Skincare Facial Kits for that Effortless Radiant Glow!
1. Plum Green Tea The Glow Pack
With this tea tree pack, you can get naturally glowing skin in just four easy steps.The kit contains face wash, clay mask, night gel, and facial mist. While you can remove dirt, grime, and excess oil from your skin with the skin-friendly natural face wash, the clay mask can help nourish and vitalize the skin. Apply the night gel to hydrate the skin overnight and use the facial mist to spritz a refreshing start to your mornings. This night-to-day kit creates a cohesive skincare routine and is now available at the best deal possible for the day, so grab the kit asap!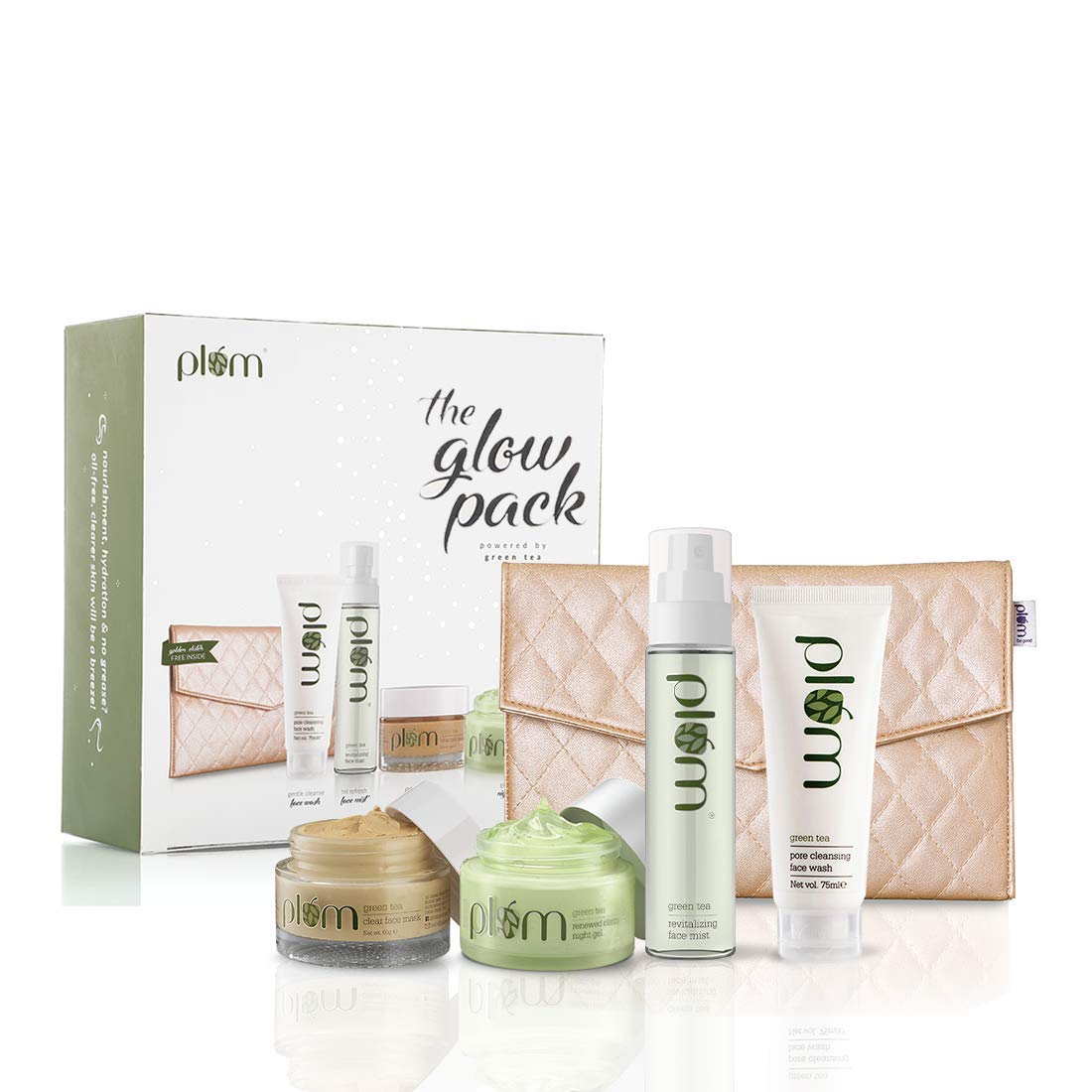 (as of 17/01/2023 12:00 IST)
2. Aryanveda Fruit Facial Kit for Glowing Skin
If you are keen on finding the natural and ayurvedic answer to your skin problems, you can give the 'Aryanveda Kit' a try. The fruits-infused kit comes with a cleanser, scrub, massage gel, massage cream, and face pack to sum up the ultimate necessities in a facial kit. Papayas, oranges, carrots, cucumbers, and watermelons help gently exfoliate and nourish the skin without leaving behind any sticky or patchy feeling on the skin. The power-packed kit is available at a steal deal now on Amazon's Great Republic Day Sale.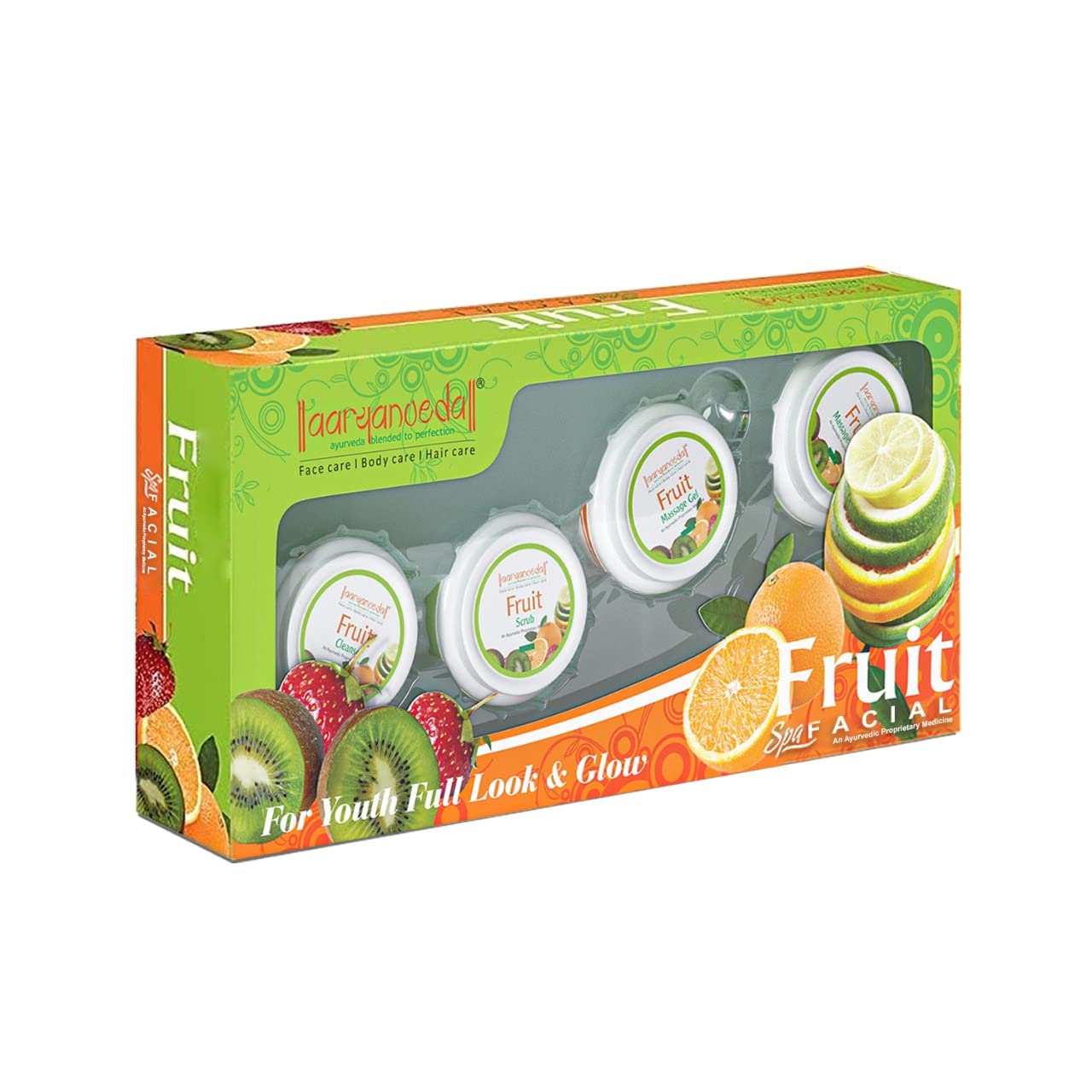 (as of 17/01/2023 12:00 IST)
3. mCaffeine Green Tea Detox Facial Kit
Detox, cleanse, and hydrate your skin with the goodness of green tea in the upcoming summer season with this mCaffeine Skincare Kit! Consisting of wash, scrub, and serum, this kit provides a convenient yet effective answer for a great skincare routine. The skin-friendly and vegan ingredients protect your skin from sun damage, reduce dark spots, and hydrate the skin making it your ultimate summer skincare regime partner that comes wrapped in a cute pouch for easy travel access. Grab it before the deal ends!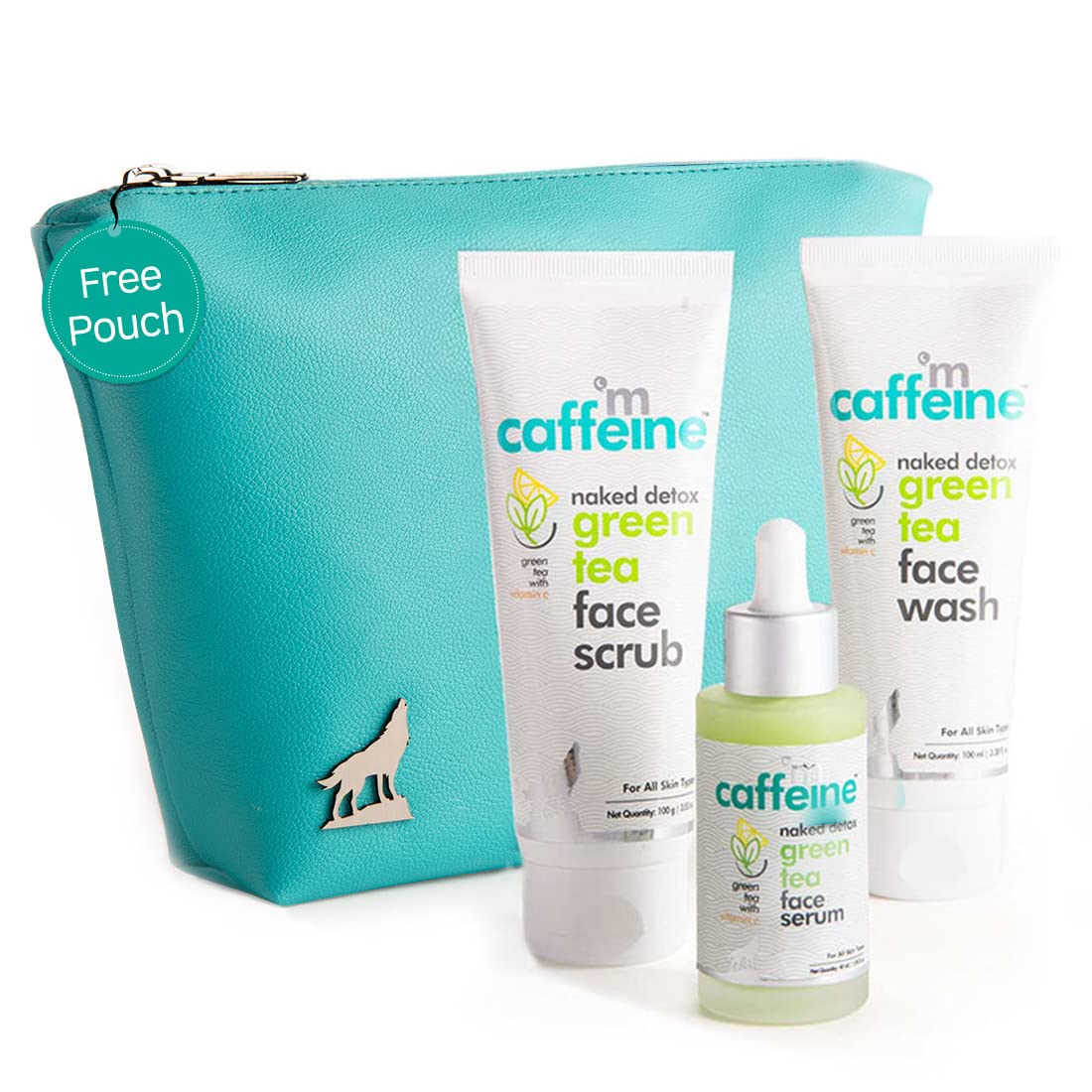 (as of 17/01/2023 12:00 IST)
4. Mamaearth Vitamin C Facial Kit
Get the most at the least price with the skin-illuminating facial kit by Mamaearth. It includes cleansing milk, face scrub, soothing gel, massage cream, face mask, and radiance cream for beginners looking to start skincare regimen. Vitamin C fights uneven texture and brings a radiant glow to the skin cells, and turmeric revives the skin's smoothness and heals the skin. What completes the benefits is that the products included are free from parabens, dyes, and silicone!
(as of 17/01/2023 12:00 IST)
5. Minimalist Glow & Protect Skincare Kit
One of the most raved-about brands for clean and transparent formulas, the Minimalist can take your skincare routine goals to a new level. This gender-neutral kit contains 16% vitamin C face serum, SPF50 sunscreen, and vitamin B5 gel face moisturizer crafted to meet everyone's needs. With skin barrier protection and non-greasy hydration, this kit is perfect for your travel in every weather and can be yours at a steal deal right now!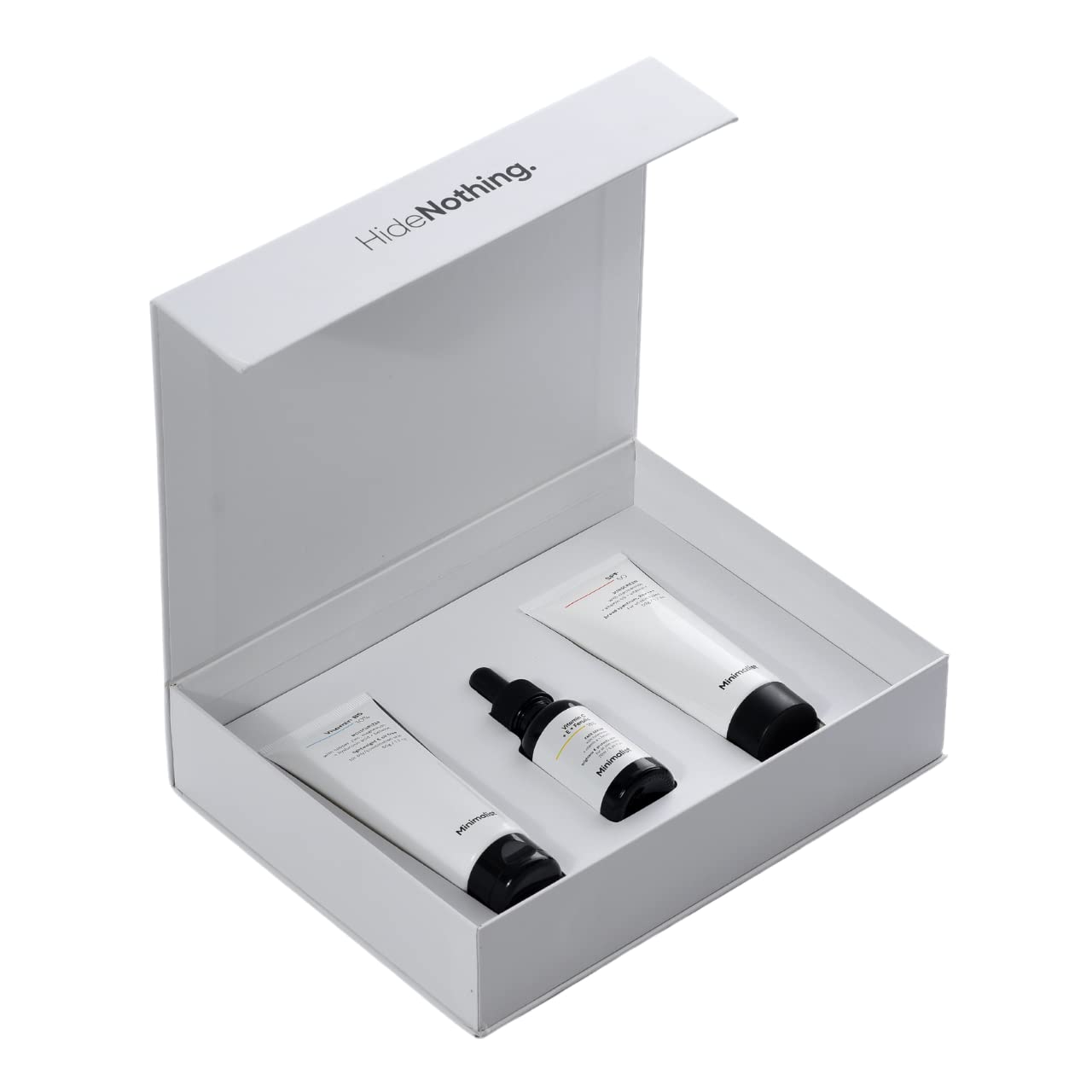 (as of 17/01/2023 12:00 IST)
Pilgrim brings the coveted goodness of Korean beauty into this marvelous skincare kit. With 1.5% Salicylic Acid & 2% Glycolic Acid present in the facewash, anti-acne serum, anti-acne gel, and oil-free gel moisturizer that unclog those tenacious blackheads and fights active acne by soothing the skin causing no inflammation or redness. Carry the kit wherever you go with a free jute bag that holds your regiment in place. Add the secrets of Jeju island to your cart for acne-free skin!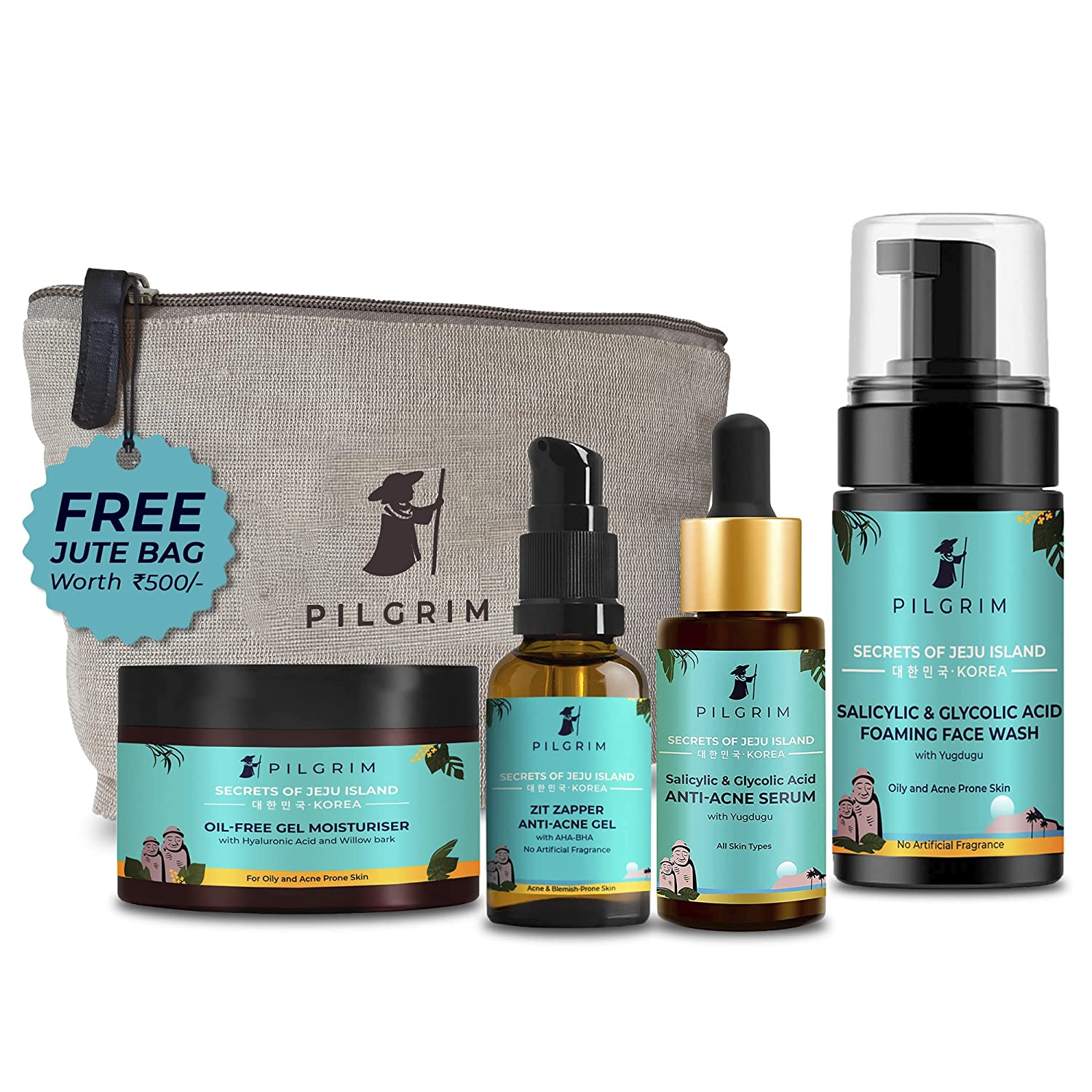 (as of 17/01/2023 12:00 IST)
7. Foxtale Minis SkinCare Travel Kit
Though a relatively new brand, Foxtale offers the best in mini size for convenient use for travelers and on-the-go personnel like flight attendants, etc. With a gentle cleanser, hydrating ceramide-rich moisturizer, vitamin C serum, and SPF 50+ PA++++ matte sunscreen packed neatly in a pretty spill-free travel pouch, you get supple, soft, and radiant skin wherever you go! Grab this potent formulation on Amazon's Great Republic Day Sale to give a boost of antioxidants to your skin!
(as of 17/01/2023 12:00 IST)
8. The Moms Co. All Day Glow Vitamin C Routine Kit
The Moms Co. kit consists of a face wash, toner, and moisturizer that naturally brighten your skin, reduces dark blemishes and spots, and provides hydration. The secret? Vitamin C and orange peel extracts counteract uneven skin tone and exfoliate the skin. Especially formulated for sensitive skin, this kit helps balance the skin's pH levels keeping it healthy and protected. So why wait? Grab this must-have kit at a superb deal on Amazon's Great Republic Day Sale.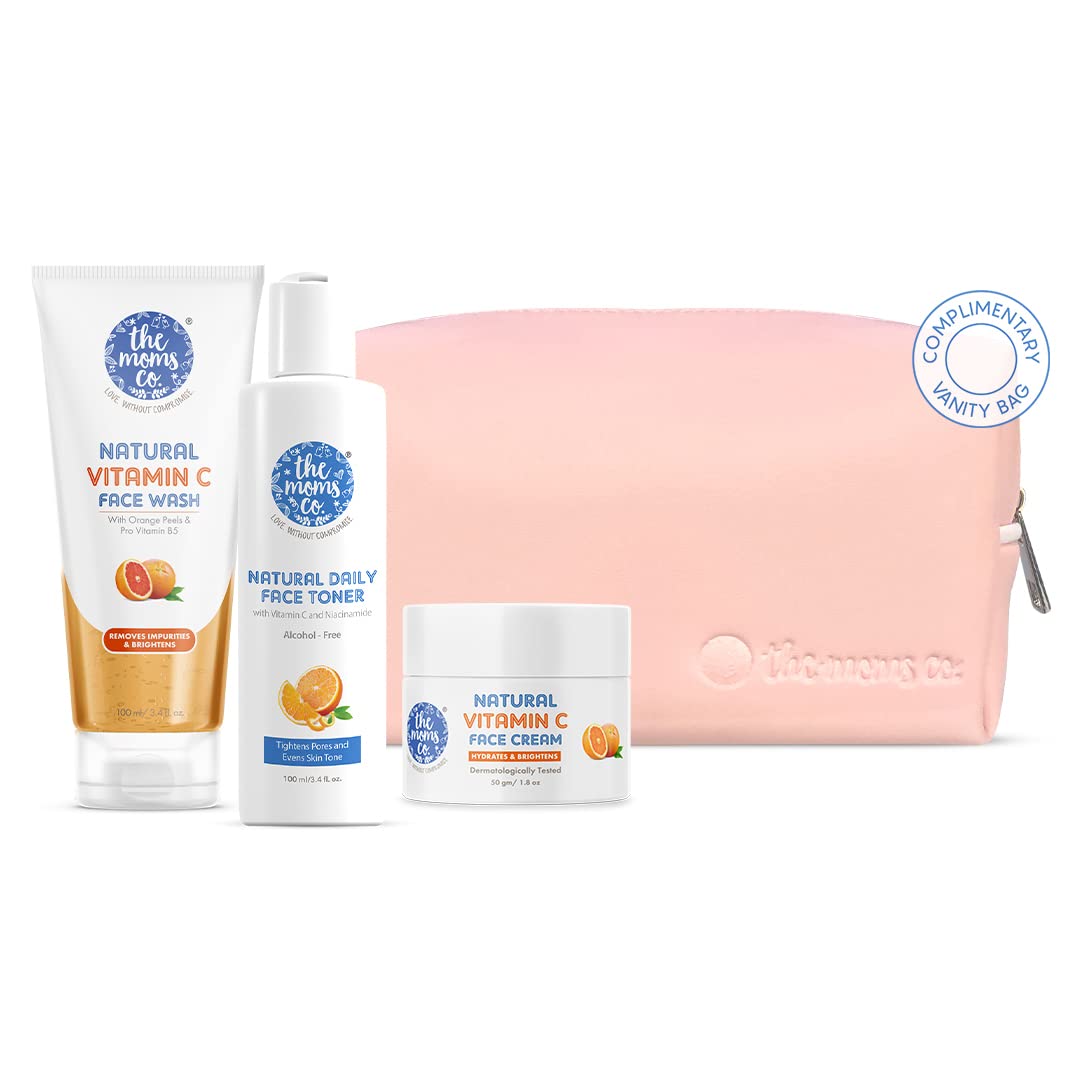 (as of 17/01/2023 12:00 IST)
9. NutriGlow Gold Kesar Facial Kit
Unlike most facial kits, NutriGlow brings advanced cellular age balancing and skin cell repairing formulation for a youthful glow. The kit consists of a deep cleanser, exfoliating scrub, nourishing gel, whitening cream, mask pack, and serum that are enriched with the goodness of gold kesar, orange extract, and turmeric, teh coveted ingredients in Indian beauty methods. Mix all of this well into your skin with the 5-In-1 face massager that comes with adjustable rotations for each cheek. It's available at half its price on the ongoing Amazon Great Republic Day Sale.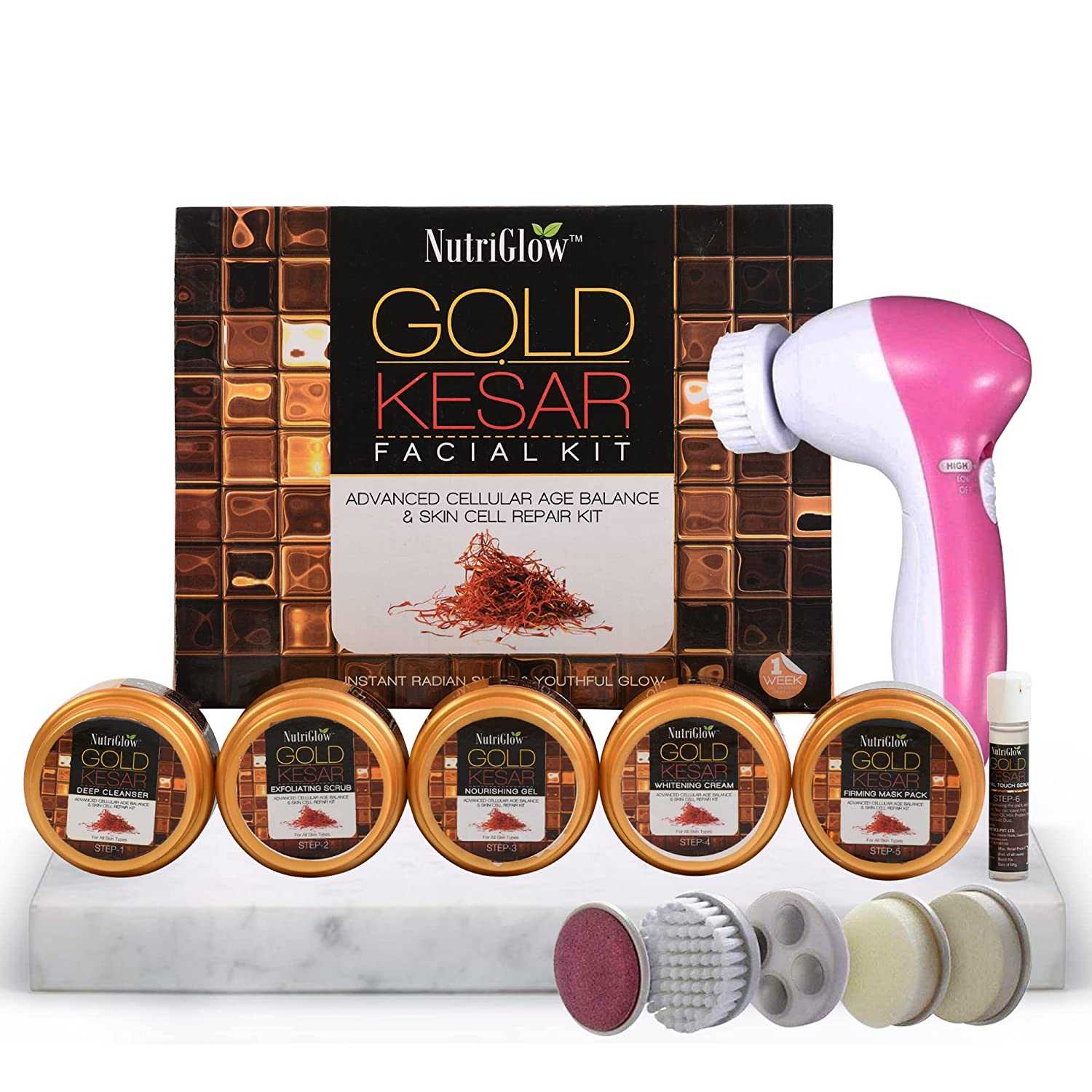 (as of 17/01/2023 12:00 IST)
10. Bryan & Candy Premium Coffee Skincare kit
Get a great start for your day with the coffee-infused skincare kit! With moisturizing ingredients like coffee, ceramides, hyaluronic acid, macadamia oil, argan oil, and oatmeal powder, get ready to cleanse, exfoliate and hydrate your skin. Coffee is a great ingredient to replenish and awaken your skin cells from top to bottom. The kit contains sugar body scrub, body butter, face wash, face scrub, and a face mask that can help you create a spa-like experience at home!
(as of 17/01/2023 12:00 IST)
11. SkinQ DIY Hydrate Facial Kit
SkinQ provides the best for Indian skin and brings chemical-free ingredients to this beauty box! It's crafted with natural actives like hyaluronic acid, vitamin E, shea butter, retinol liposomes, gluconolactone, aloe, niacinamide, and pro-B5 which instantly replenishes the skin. The dermat-approved kit includes face wash, exfoliating gel, massage butter, pre-mask serum, and peel-off mask. It works tremendously well on dehydrated, sensitive, and aging skin. Skincare becomes guilt-free with this cruelty-free DIY kit!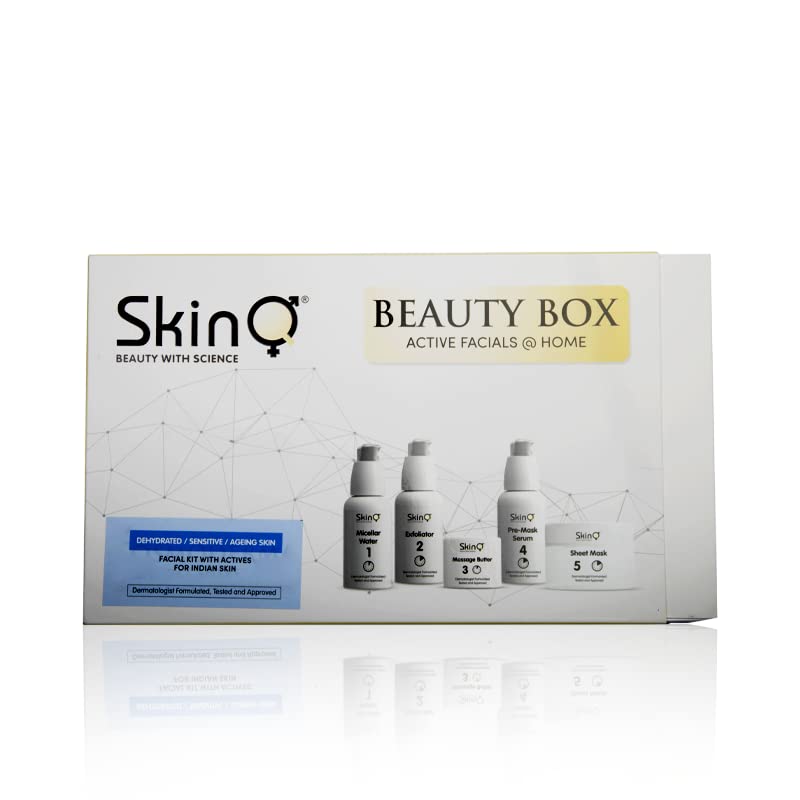 (as of 17/01/2023 12:00 IST)
Skincare routines are quintessential in our lives to bring that essential pause in our hectic lifestyle. It gives time to reconnect with yourself and provide care for your body in the best way. These kits mentioned above bring the best for every skin type and the radiant glow your skin longs for. One cannot deny the benefits, so grab them at the most budget-friendly deals on Amazon's Great Republic Day Sale.
About The Author

With a keen eye for detail and a passion for lifestyle, Alvira is a certified Interior Designer who brings the... latest trends and lifestyle talks to your fingertips. With an experience of 2+ years as a content writer, she loves to share anecdotes and write her heart out when it comes to decor, lifestyle, and makeup. This chirpy bird loves to sing and as an avid reader loves to steer up some drama. If you are interested in some mind-refreshing facts and talk about decor & lifestyle, then Alvira is the one to go to.

Read more
Top Comments
There are no comments in this article yet. Be first to post one!