Benefits of Calamine Lotion: All About the Pink-Tinted, Multipurpose Product
To soothe and treat itchy skin and address any kind of skin concerns, the numerous benefits of calamine lotion will quickly make this pink solution, your go-to!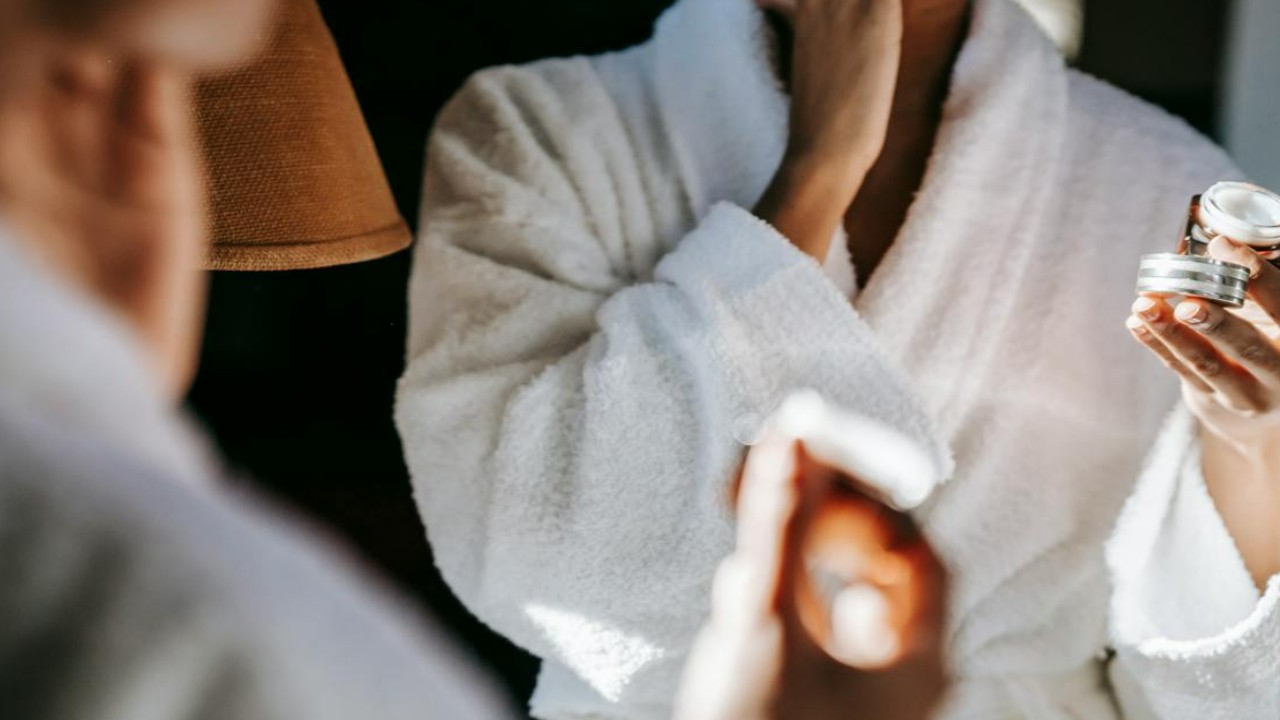 Calamine lotion has been a staple pick from the health and lifestyle aisle in many households. The pink-hued and runny remedy is used to treat numerous skin concerns. The benefits of calamine lotion include soothing and relieving itchy skin, sunburns, infections, and a bevy of other skin-related issues. This medicated lotion is a budget-friendly, drugstore option with effective results. Based on our expertise, we have given a low-down on calamine lotions, discussing their formula, benefits, potential side effects, and precautions to bear in mind. Calamine lotion has been touted as a fan-favorite remedy for treating various skin issues, read further to uncover all the necessary information related to it.  
Calamine Lotion: What It Is, How It Works, And It's Ingredients
Calamine lotion is a pink-tinted, skin-protectant emollient, used as an over-the-counter (OTC) medicine. This topical remedy is whipped up with active ingredients, like calamine 8%, zinc oxide, and 0.5% iron oxide. The iron oxide is responsible for the pink color of the lotion. This shake lotion consists of inactive ingredients like purified water, glycerine, calcium hydroxide, and bentonite magma. These ingredients have anti-itch, antipruritic, soothing, cooling, sun-protectant, anti-bacterial, antiseptic, and humectant properties (1).
When the liquid lotion is applied to the skin, its aqueous component evaporates, resulting in an effectively dried-down application and a cooling effect that enables soothing and antipruritic effects (1). This process also the lotion to cool wet and oozing skin. 
Fun fact: The World Health Organization's list of essential, dermatological topical medicines incorporates calamine lotion as an anti-inflammatory and antipruritic medicine (2). 
How to Use Calamine Lotion?
Calamine is a topical lotion that is unfit for swallowing. Before using the lotion it is necessary that you shake the bottle well. While applying the solution, pour some on a cotton swab or a soft cloth. Dab the remedy over the affected area on the skin and allow it to dry. 
Now that you have cracked the code for calamine lotion's formulation and application, here are the top skin problems that can be mitigated with it. 
Benefits And Calamine Lotion Uses
The multi-purpose calamine lotion has earned accolades for its skin-related benefits. Some of the prominent calamine effects include anti-inflammatory action, acne treatment, and moisturization. Calamine lotion treats acne by drying out the excess oil from the skin and its anti-itch properties subdues the irritation that may occur. This lotion also has ingredients like glycerine that are soothing and hydrating which instantly nourishes dry skin and even works to aid eczema (3). The presence of zinc oxide in the calamine solution is responsible for soothing and relieving any kind of inflammation, itch, or irritation. Such skin issues can be caused by various reasons. 
Some of the most common concerns that calamine can be handy with are listed below: 
Poisonous plants: Poison ivy, poison oak, poison sumac, and a few other poisonous plants can cause itching after coming in contact with the skin. The calamine lotion helps in soothing the itch, pain, or any skin irritation. Additionally, if there develops a rash with a weeping wound, the lotion effectively dries it.  (4)
Insect bites: In the case of a bug bite or a sting reaction, applying the topical calamine lotion can be highly beneficial for treating and soothing mild itching or intense pruritus caused by it (5).
Scabies: Scabies is a skin condition, caused by a human itch mite that settles into the skin and lays eggs. Scabies infestation leads to an allergic reaction with severe itching (5). To relieve the itch and discomfort caused by it, regular application of calamine lotion can be very helpful. However, it is not a solution to the skin condition; it only soothes the pruritus caused by it. 
Chiggers: These tiny red mites can cause an infestation on the skin, leading to intense itching. Topical treatments like calamine can control and relieve the symptoms (5). 
Chickenpox: Chickenpox blisters cause itching and the urge to scratch them results in broken blisters and infection. To treat and relieve these concerns, calamine application is recommended (6). Varicella (chickenpox) can occur during pregnancy, and calamine lotion is useful and safe for expecting mothers (7).
Heat rash: This is a common skin condition that is caused by trapped sweat beneath the skin. The rash tends to irritate the skin and may turn into blisters. Applying calamine to the prickly skin is advisable. Mild sunburn can also be treated by calamine emollients (7). Even diaper rashes that show up in babies can be treated with calamine. 
Shingles: Shingles is a type of viral infection that can be treated with antiviral medicines. The rash caused by shingles is painful and itchy, these symptoms can be relieved with calamine lotion (8).
Swimmer's itch: A swim in parasite-infested waters can develop an allergic and itchy rash on the skin. This skin condition can be treated and soothed by calamine lotion. 
Acne: To be used as a spot treatment, the calamine lotion can effectively dry down the acne. However, it will not prevent acne. 
Hives: Hives (urticaria) are the raised welts that occur on the skin, due to a variety of reasons. These reddish-pink blotches cause immense itchiness that can be relieved with calamine lotion (9).
When Should You See a Doctor? 
It's time to consult a healthcare professional when the topical medication doesn't show improvement in the condition, within a couple of weeks. Stop the medication if the condition worsens, or when it relapses after clearing up. If you need to apply the calamine to your infant, below 2 years of age, seek assistance from the doctor. 
Side Effects of Calamine Lotion
Generally, using calamine lotions shows no signs of allergic reaction or side effects. However, the inactive ingredients may lead to some issues if you are allergic, such as: 
Rashes
Itching
swelling on the face and mouth
Blisters
Dizziness
difficulty in swallowing, and breathing
Fever
If you have known allergies, it is best to consult a doctor or a healthcare professional before using calamine lotion. 
Even though some studies suggest that using calamine lotion is safe for pregnant women, there is no substantial research done in the field. Pregnant and breastfeeding women are suggested to seek advice from the experts.
Precautions to Take While Using Calamine Lotion
It is best to talk to a doctor for consent before using calamine lotion. Don't self-prescribe the lotion.
Do not apply calamine lotion on an open and exposed wound.
While applying calamine, avoid sensitive areas like eyes, nose, mouth, and intimate areas. 
Do not try to swallow the lotion. If you accidentally intake the medication, immediately seek help. 
Conclusion
With a long list entailing the benefits of calamine lotion, keeping this pink-tinted solution handy is worth it. Rashes, red patches, and itches are pretty common among children and adults. Calamine lotion brings you a bang for the buck when it comes to treating such skin concerns, and numerous others. The drying solution exudes cooling and soothing properties that primarily help in relieving itchiness, acne, and dryness. Having been used for decades, calamine lotion is a must in your first-aid kits. 
ALSO READ: Do You Put Toner on Wet or Dry Hair: The Ins And Outs of Hair Toners
FAQ's
Can you leave calamine lotion overnight?
Yes, calamine lotion can be kept overnight for a spot treatment for acne or other issues.
---
Is calamine lotion good for adults?
Yes, offering an array of benefits, related to skin issues that majorly concern adults, calamine lotion is a great option for everyone.
---
Does calamine lotion help heal?
Calamine lotion tends to relieve skin concerns and does not particularly cure or treat any issues.
---
Should I rub in calamine lotion?
You can gently rub and pat the calamine lotion over the affected area.
---
Can you use too much calamine lotion?
No, only use the required amount on the affected area and allow it to dry.
---
How many times should I apply calamine lotion?
Calamine can be applied 3 to 4 times a day or as directed by your doctor.
---
---