35 Stunning Jane Fonda's Hairstyles: Transformation Through The Decades
Discover the timeless elegance of Jane Fonda's hairstyles! From classic cuts to modern trends, take a look at her most iconic and mesmerizing hair looks.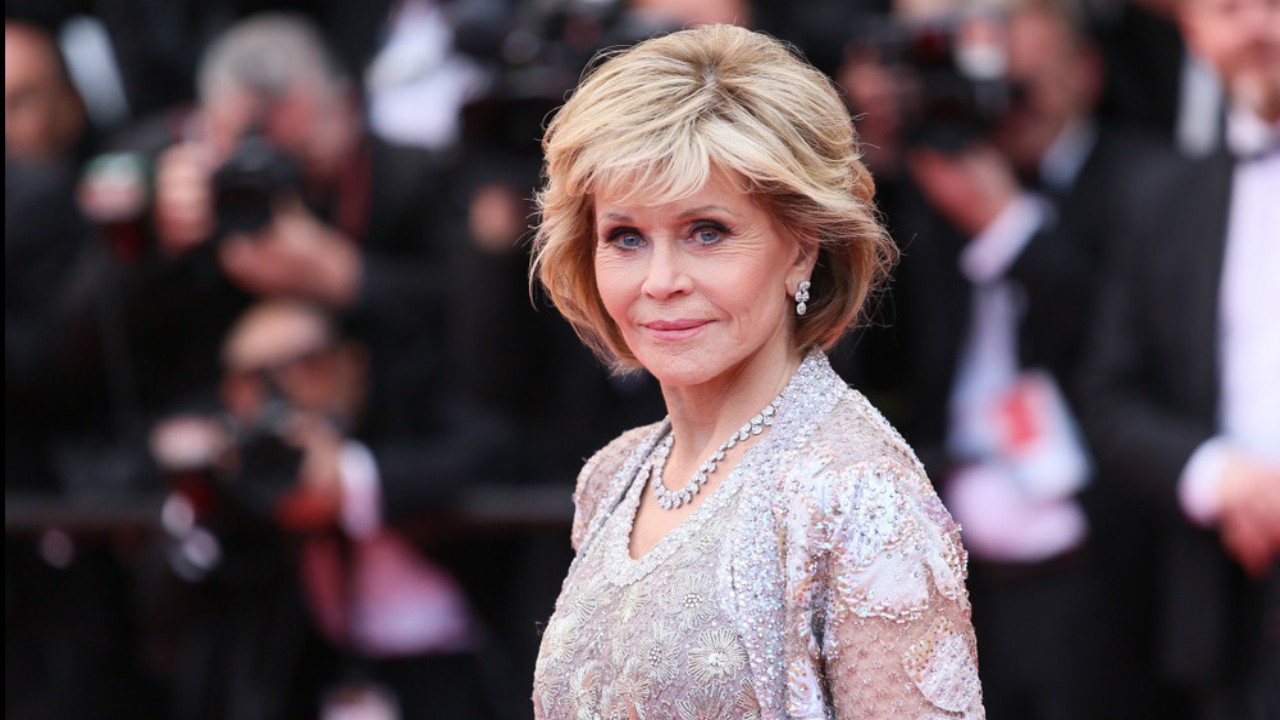 Jane Fonda, the name itself evokes images of grace, beauty, and timeless elegance. She's not just an award-winning actress; she's also a style icon who has been setting trends and turning heads for decades. From her early days on the silver screen to her recent appearances on our favorite TV shows, Jane Fonda's hairstyles have always been a source of inspiration. In this article, we'll explore the signature looks that have become synonymous with her name and the daring haircuts that have made headlines. From her voluminous layered bobs to her graceful gray locks, we'll uncover the secrets behind her hair transformations. Whether you're a devoted fan or simply someone looking for a touch of that Fonda flair in your hair, you're in for a treat. So, join us as we uncover the enchanting journey of Jane Fonda's haircuts and discover how this Hollywood icon has consistently wowed us with her alluring blonde bombshells and stunning silver fox mane.
Jane Fonda's Hair Secrets: Unlocking her Styling Tips And Tricks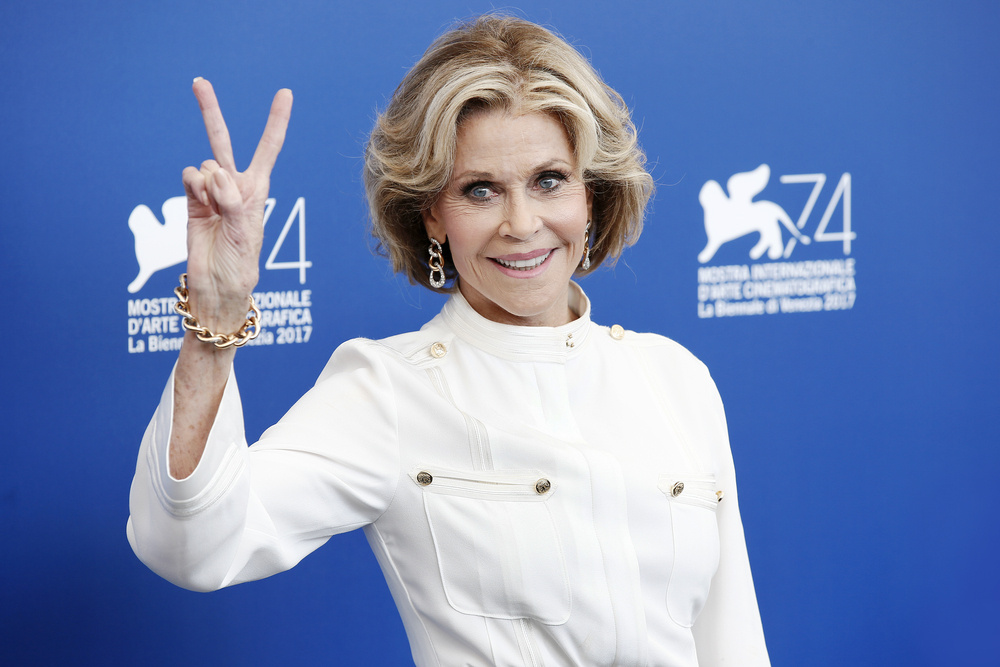 Jane Fonda, the iconic actress, has an enduring signature hairstyle – a voluminous layered bob that's achieved through her love for a good blowout. Her thick locks hold their shape well, giving her that timeless look. Occasionally, she experiments with soft, feminine lines for special occasions. From her captivating Jane Fonda hairdo in the 1970s that epitomized the era's carefree spirit to her recent role in "Grace and Frankie," where she flaunts a range of stylish looks, there's no denying Jane Fonda's hair journey is captivating.
One can't help but wonder, does Jane Fonda wear a wig? Well, for her role in "Grace and Frankie," Jane Fonda embraced three wigs to represent her character Grace's transition to embracing gray hair, as confirmed by her hairstylist Jonathan Hanousek. Furthermore, she incorporated a wig that resembles a headscarf with bangs in "80 for Brady", using it for both humor and as a representation of her health journey after Hodgkin's lymphoma remission.
Jane Fonda openly discusses her embrace of gray hair in an interview with Allure, attributing her youthful and chic appearance to her talented hairstylist. For her daily hair and skincare routine, Jane relies on L'Oreal Paris products, including L'Oreal Paris EverPure Purple Shampoo and L'Oréal's Boost It Volume Inject Mousse to maintain her signature style.
35 Alluring Jane Fonda Hairstyles from Bobs to Updos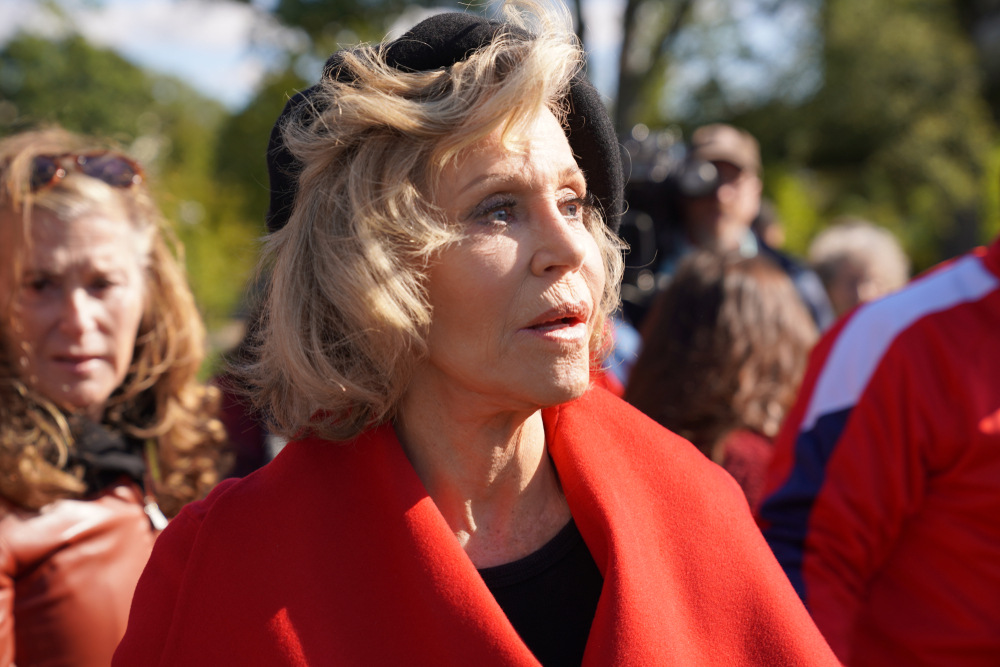 1. Modern Shag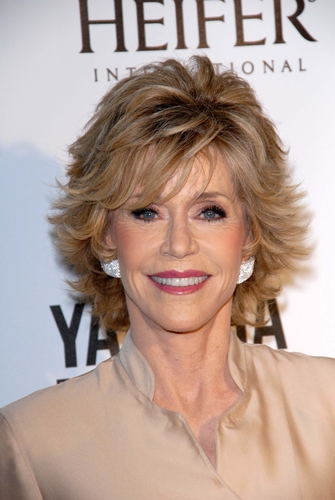 In 2012, Jane Fonda wore a modern shag hairstyle at Heifer International's "Beyond Hunger: A Place at the Table" event in Montage, Beverly Hills. This style, characterized by its textured, layered, and tousled look, features short to medium-length hair with strategically cut layers for movement and volume. 
2. Jane Fonda's Pixie Haircut
In 2020, Jane Fonda made a fashion statement at the Oscars with a classic pixie cut hairstyle. This short, cropped hairstyle, typically featuring closely cropped sides and back, with slightly longer, styled hair on the top, accentuates the face and highlights its features. She paired it with Pomellato jewelry and a red sheer dress, creating a contrast that exuded elegance and confidence. 
3. Jane Fonda Shag
As a prominent activist and style icon, Jane Fonda's new haircut was unveiled at a public event focusing on the climate crisis in June 2023. This unique haircut, known for its dynamic layers, texture, and versatility, features layered, feathered hair that frames the face. 
4. Gray Lob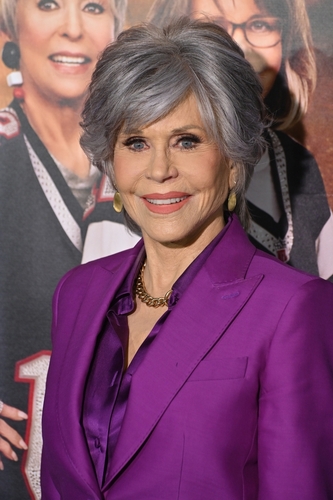 The Oscar-winning actor wore a stunning gray lob hairstyle at the premiere of "80 for Brady" at the Regency Village Theatre in Westwood. The gray lob is a versatile haircut that typically falls above the shoulders or at the collarbone. Its silver-gray color exudes sophistication and embraces the natural aging process. 
5. Textured Gray Pixie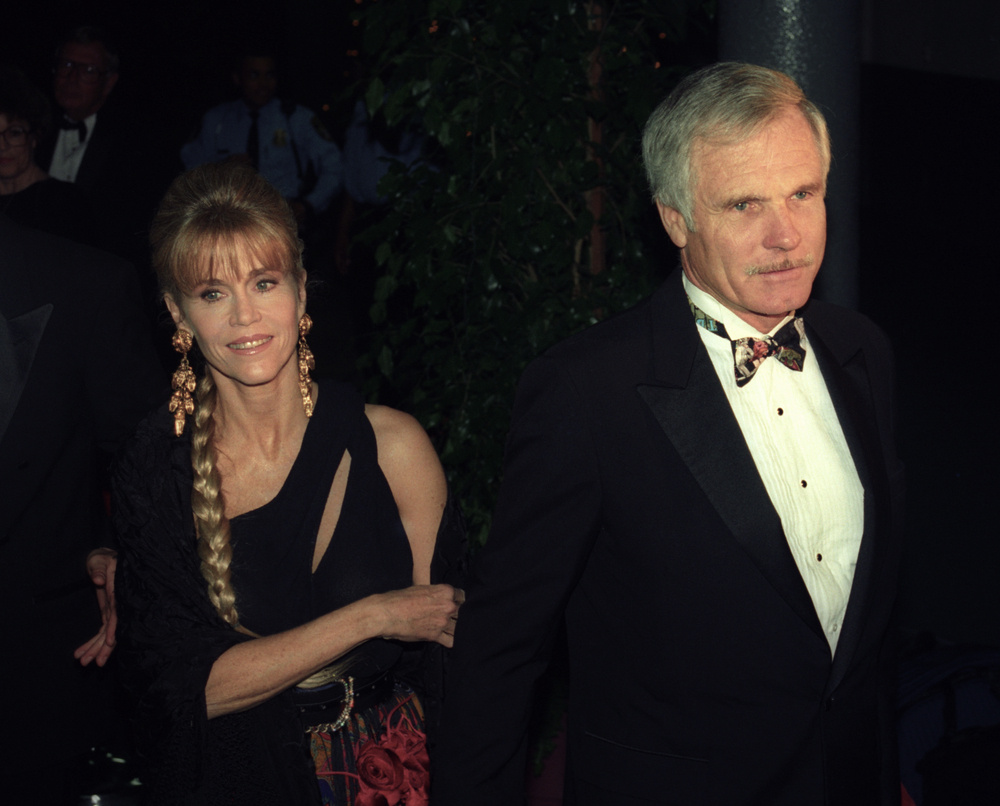 In February 2020, Jane wore a textured gray pixie haircut at a screening event, showcasing her mature silver fox hair. The short, dynamic style features a cropped back and sides, along with longer, textured layers on top. The pixie's enchanting gray color exuded confidence and sophistication. 
6. Braid with Bangs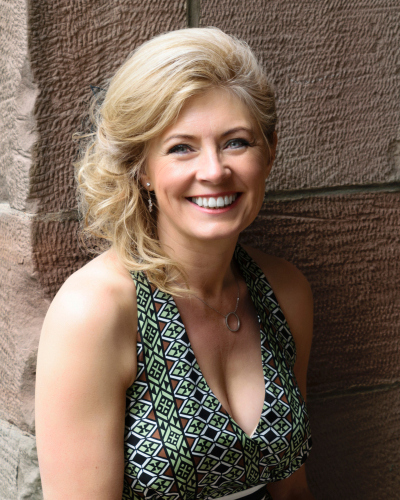 Embracing her love for vintage styles, Jane Fonda's hair in the 70s is particularly known for her iconic and mesmerizing retro bouffant. This style, characterized by a voluminous crown and carefully teased hair, exudes elegance, sophistication, and vintage charm. 
8. The Jane Fonda Bob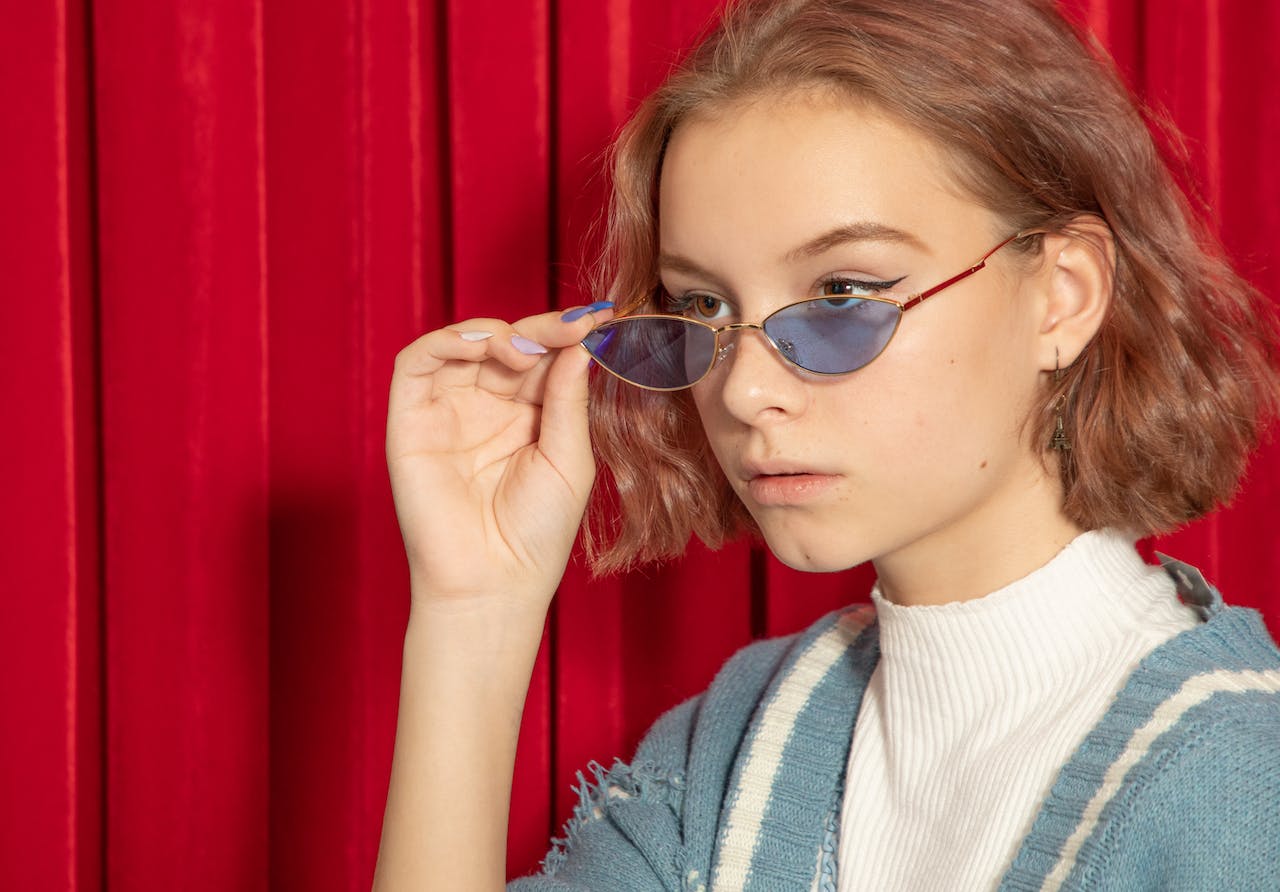 Jane Fonda's hairstyles over the years have gone through a myriad of styles, beginning with a timeless classic—Jane's bob. It typically features a chin-length or slightly longer cut with straight, blunt lines. It has transcended generations and showcased her natural beauty and grace. 
9. Jane Fonda's Long Hair with Feathered Bangs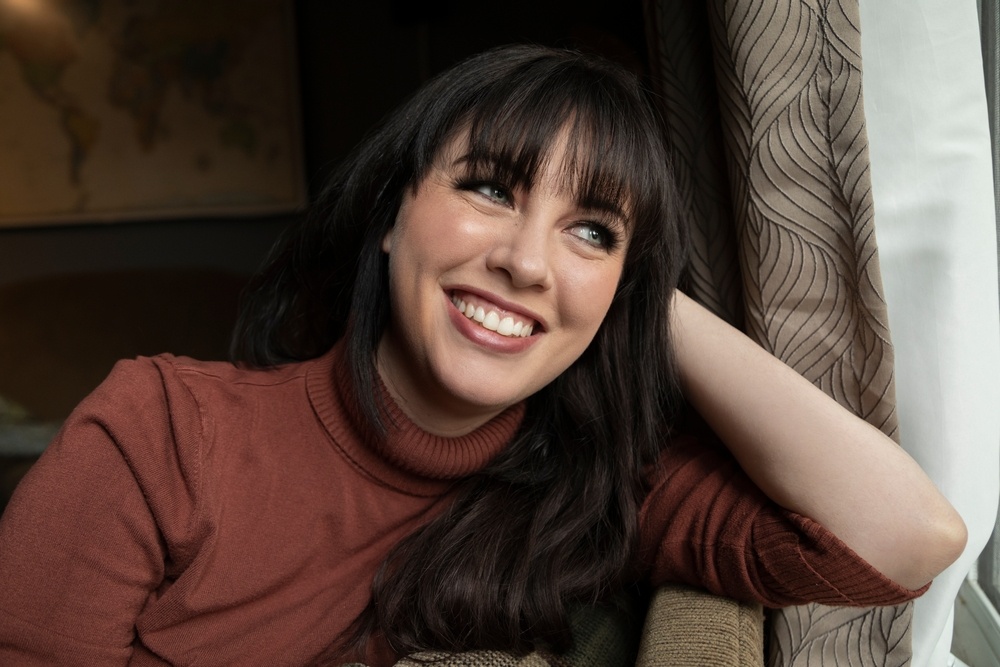 Jane Fonda's Bohemian style was characterized by her long hair with feathered bangs, adding a playful allure to her look. This style showcased her ability to blend sophistication with carefree charm. The feathered bangs not only contributed to the Bohemian aesthetic but also emphasized the appeal of textured, layered haircuts.
10. Voluminous Retro Curls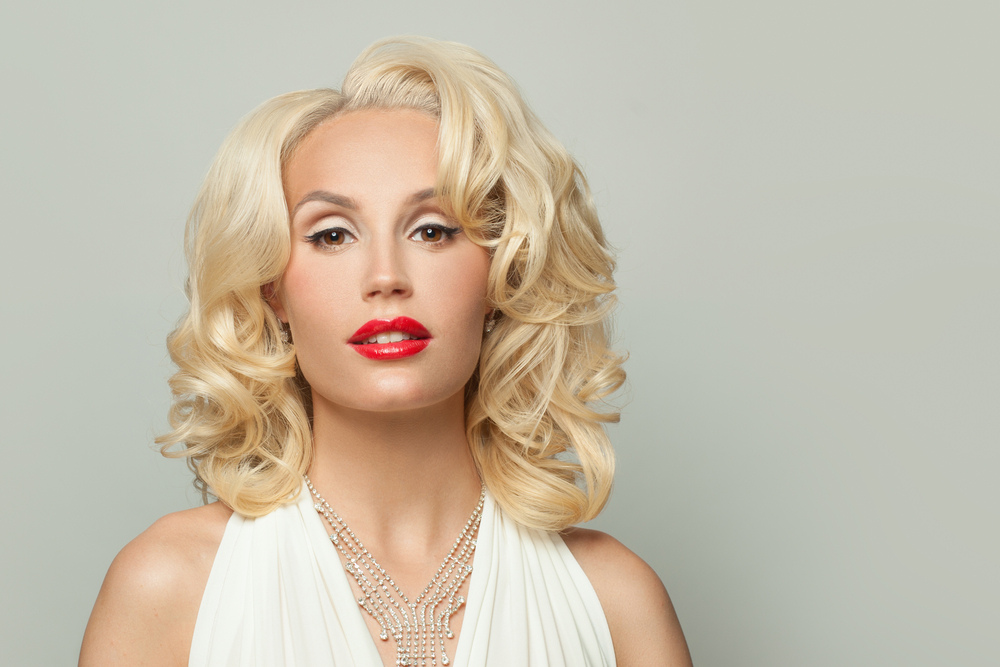 Jane Fonda's style evolution has always been marked by her adaptability and willingness to embrace different looks. In one memorable transformation, she sported voluminous retro curls, a hairstyle that injected a delightful touch of playfulness into her overall style. 
11. Messy Updo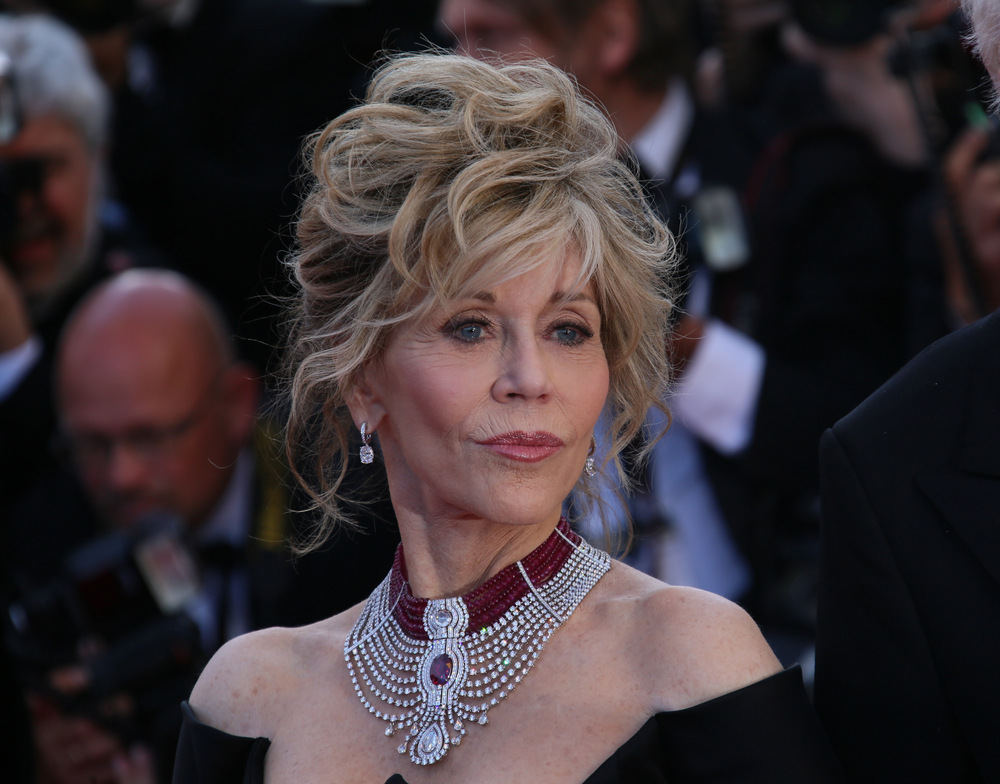 In 2015, Jane Fonda wore a captivating messy updo at the 68th annual Cannes Film Festival. This hairstyle, characterized by its disheveled and tousled appearance, exuded an effortless and chic vibe. It perfectly complemented the glamor and sophistication of the event, adding a touch of contemporary flair. 
12. Soft Permed Hair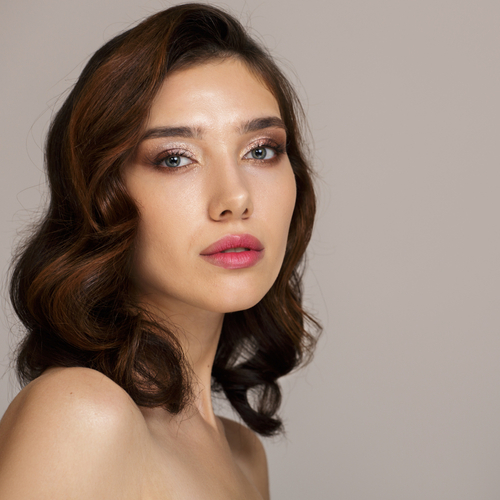 One of Jane's notable choices was a soft permed hairstyle, which added volume and movement to her hair. This style, characterized by gentle waves and curls, was in line with the era's fashion trends and showcased her ability to adapt to changing beauty standards while maintaining her signature grace. For those with thinner hair, the soft perm is a great option to infuse life and body into their locks, providing a soft and elegant touch.
13. Tousled Curly-Ended Bob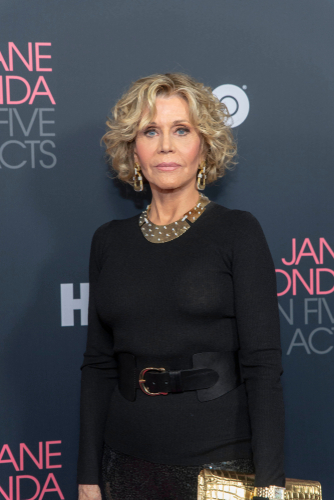 Fonda graced the red carpet in 2018 at the HBO Documentary Film "Jane Fonda In Five Acts Los Angeles Premiere" with a stunning tousled, curly-ended bob. This modern twist on the classic bob is characterized by its short to medium length and playful curls at the ends. 
14. Soft Layers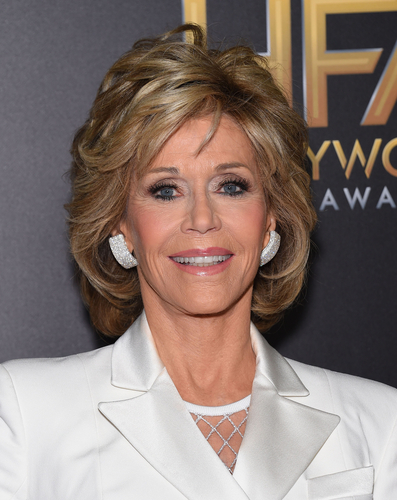 Jane made a memorable entrance at the Hollywood Film Awards in 2015, showcasing a hairstyle characterized by soft layers. This hairstyling technique involves cutting the hair into layers with a gentle and subtle approach, creating an elegant and flattering look. 
15. Tousled Updo With Lifted Bangs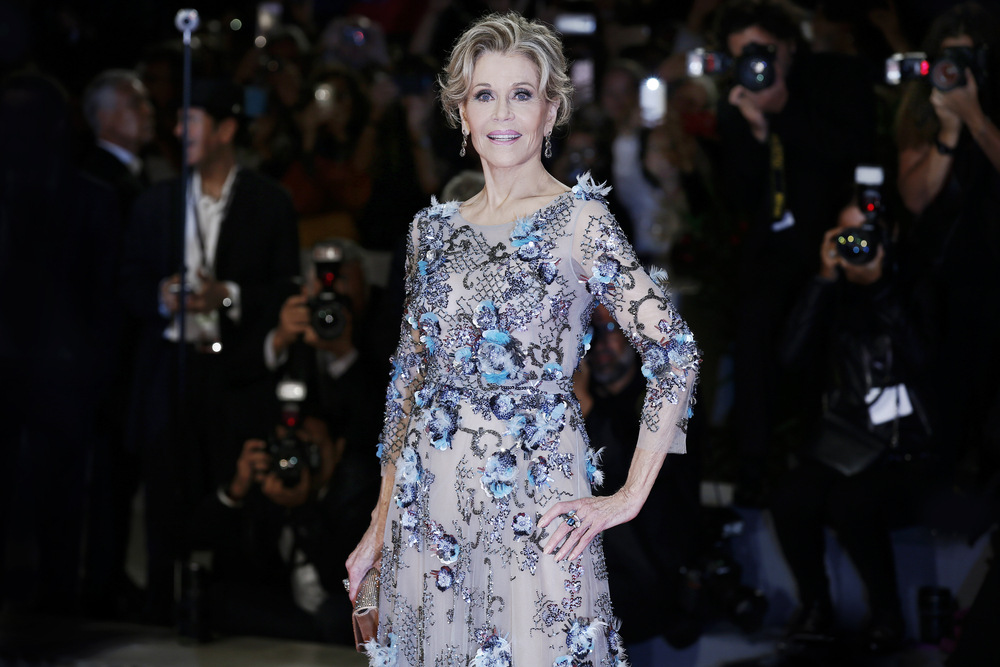 During the 74th Venice Film Festival in 2017, Jane Fonda made a striking appearance at the premiere of the movie 'Our Souls At Night,' showcasing a mesmerizing tousled updo with lifted bangs. This Jane Fonda hairdo combines an elegant updo with a touch of playful disarray, with artfully tousled and textured hair pulled up and secured. 
16. Half Updo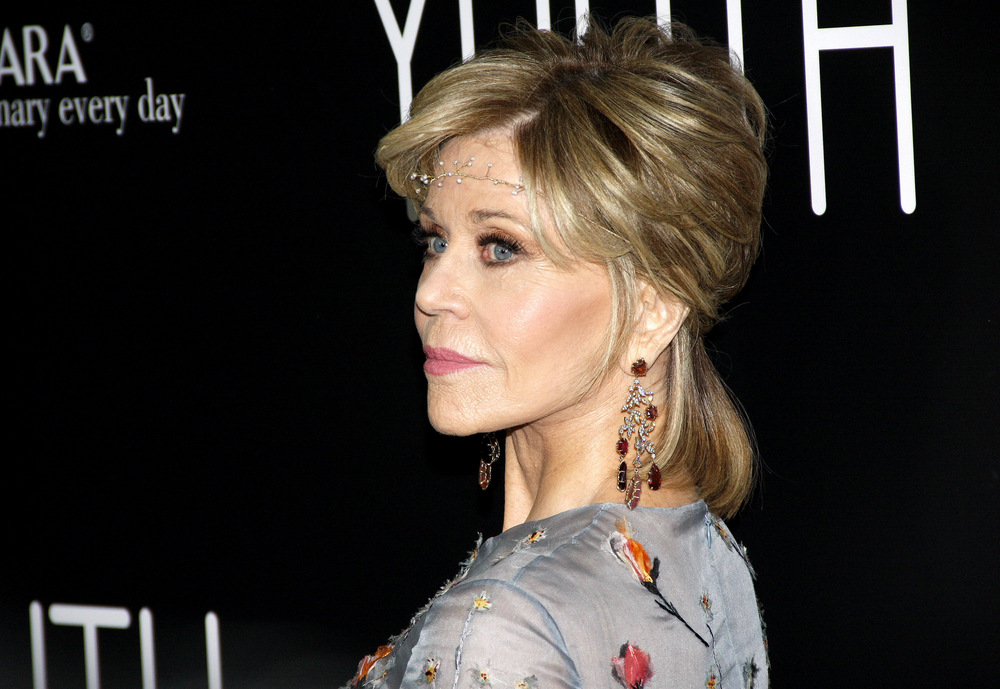 Jane Fonda graced the Los Angeles premiere of 'Youth' with a charming half-updo at the DGA Theatre. This timeless hairstyle combines the sophistication of an updo with the relaxed allure of loose, flowing hair. It elegantly swept her hair away from her face while allowing some locks to flow freely, striking the perfect balance between polished and casual.
17. Heavy Golden Layers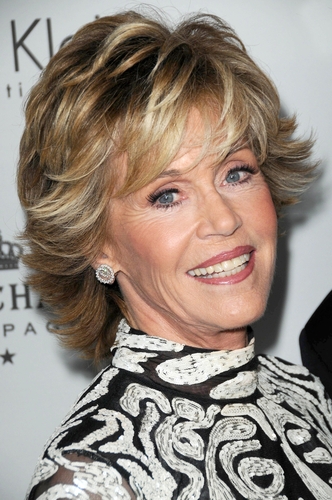 At ELLE Magazine's 15th Annual Women in Hollywood Event, Jane showcased her flair for short-layered locks with a captivating look characterized by a golden-tinted hue. Jane Fonda's short layered hairstyle, featuring heavy golden tinted layers, adding depth, texture, and radiance to her look. This classic yet versatile look frames the face and provides dimension and movement to the hair.
18. Asymmetric Bob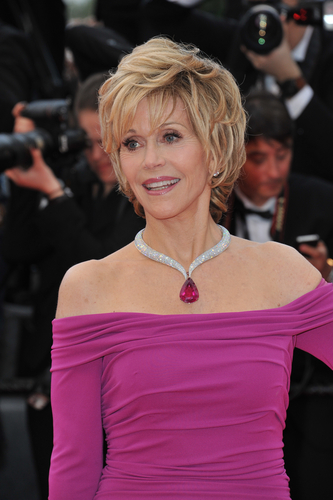 Fonda's presence at the Cannes Film Festival showcased her enduring influence in beauty and fashion, with her short hair choices inspiring and setting trends. She opted for a striking asymmetric bob, a modern and edgy hairstyle with uneven lengths.
19. Grown Out Layers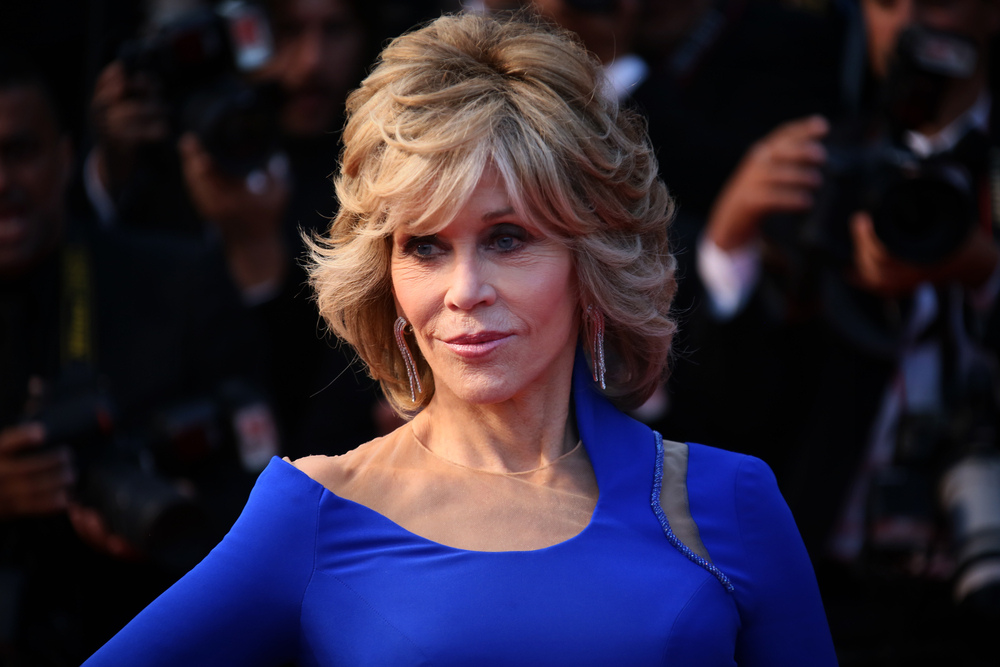 The actor made a bold statement at the 68th annual Cannes Film Festival with her iconic grown-out layers, showcasing her unique blend of elegance and effortless charm. This Jane Fonda hairstyle is a graceful choice for those over 60, which adds depth and texture to her hair, defies conventional age-related beauty standards, and is a testament to her confidence and fashion-forward sensibility.
20. Jane Fonda's Gray Hairstyle With a Long Mullet
Jane Fonda transformed into a stunning gray hairstyle with a long mullet, thanks to colorist Jack Martin. Fonda wanted a specific shade of silver that had been difficult to find with her previous colorists. In an interview with Vogue, Martin said that the transformation took a seven-hour process, with Fonda staying engaged and productive during the process. Martin used foil-wrapped sections to bleach her hair, followed by a bond-strengthening treatment like Olaplex to maintain the hair's health. A toner was applied to eliminate yellowish hues, and Fonda's hair was dyed to achieve the desired silver shade. The result was a stunning and iconic hairstyle that symbolizes grace, elegance, and the artistry of hair transformation.
21. Side Swept Curly Mane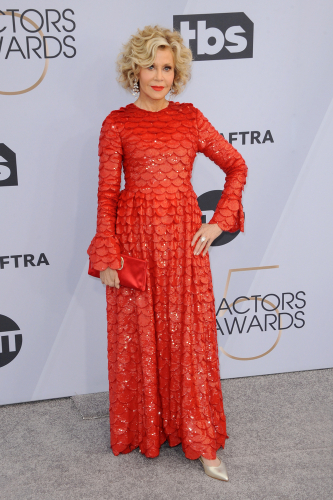 The Barbella actor graced the 25th Annual Screen Actors Guild Awards in 2019 with mesmerizing, side-swept curly mane. This Jane Fonda haircut exuded timeless elegance and charm, featuring voluminous curls cascading to one side, framing the face in a flattering and alluring manner.
22. Wavy Locks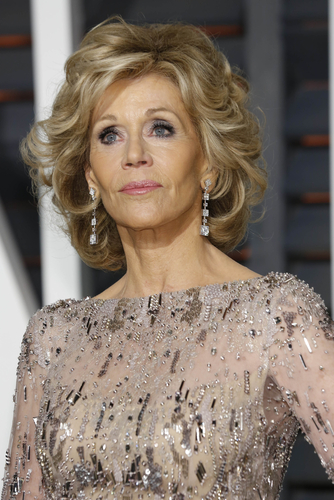 In 2015, the actor sported a captivating wavy hairstyle at the Vanity Fair Oscar Party with a contemporary trend. The hairstyle consisted of beautifully textured waves that added a touch of grace and sophistication to her look.
23. Swept Back Look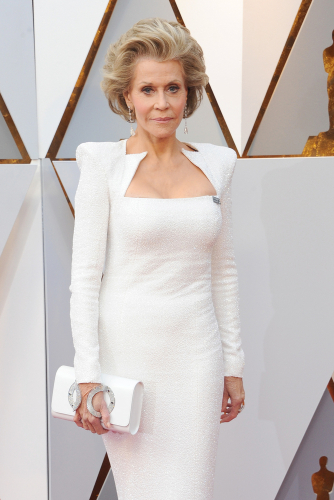 Jane Fonda wore an elegant swept-back look at the 90th Annual Academy Awards in 2018. The classic style involved brushing her hair away from her face and securing it in a chic and polished manner. This accentuated her features and her stunning gown, creating a harmonious and effortlessly glamorous appearance.
24. Voluminous Layered Bob
The activist wore her signature voluminous layered bob at the recent High-Level Event for Nature and People: From Ambition to Action, a focus on biodiversity efforts and agreements. This style, characterized by its structured yet beautifully textured appearance, features short to medium-length hair with layers thoughtfully cut to create volume, movement, and a chic, timeless appeal. Despite participating in events related to pressing global issues, Jana Fonda's current hairstyle reinforces her status as a Hollywood legend and influential style icon in both entertainment and advocacy.
25. Soft Spikes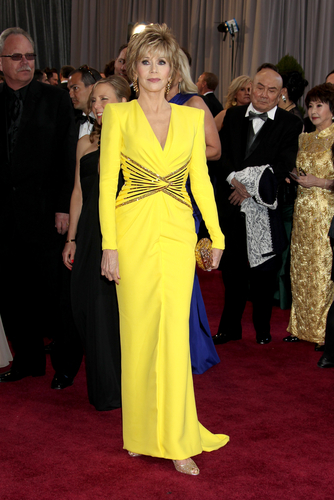 Jane Fonda has long been celebrated for her versatility in adopting various short hairstyles, and at the 85th Academy Awards in 2013, she showcased a unique and striking look with soft spikes. This Jane Fonda short hairstyle features soft, textured spikes, adding an element of edginess to her appearance.
26. Textured Lob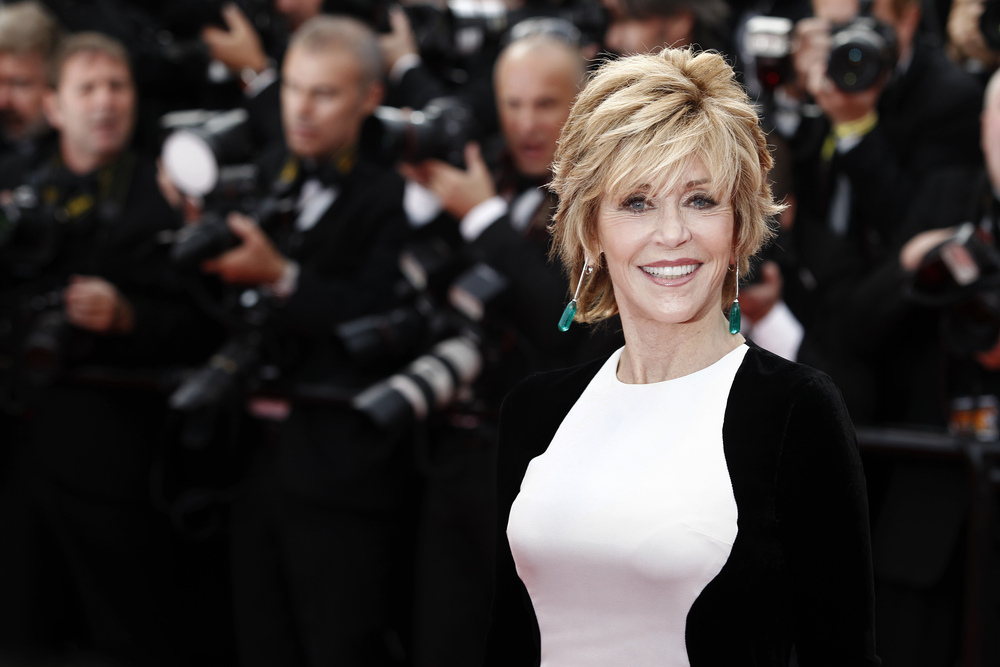 At the 65th Cannes Film Festival, actress Jane Fonda wore a trendy textured lob hairstyle at the premiere of 'Rust and Bone.' This chic and versatile haircut, typically a shoulder-length with layers, accentuated her features and emphasized her timeless style. 
27. Brunette Red Hair
Jane Fonda's hair color experimentation has been a hallmark of her ever-evolving style, including a bold and adventurous choice of brunette red. This color exuded warmth and vibrancy, complementing her features and skin tone. It added depth and dimension, creating a captivating appearance. 
28. Ponytail with Bangs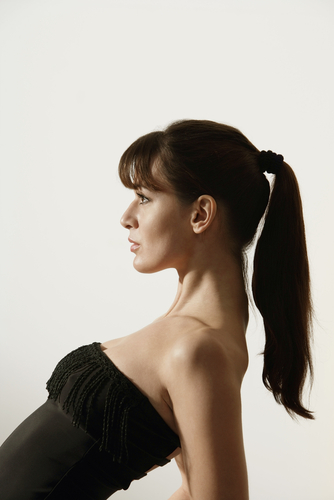 Jane Fonda's sleek ponytail with bangs is a hairstyle that beautifully marries elegance and simplicity. The sleek ponytail is characterized by its clean lines and polished appearance, elegantly sweeping the hair away from the face and securing it at the nape of the neck. The addition of bangs adds a touch of youthful charm and frames the face with finesse.
29. Wispy Bangs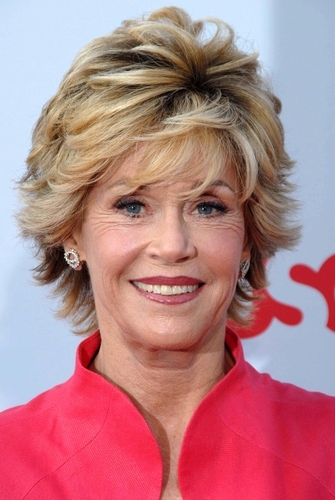 Jane Fonda, at the 36th AFI Lifetime Achievement Award Tribute to Warren Beatty, wore wispy bangs, a delicate hairstyle that combines sophistication with whimsy. The wispy bangs not only added an element of charm to her hairstyle but also subtly highlighted her facial features. This look is known for its ability to soften the face and impart a sense of freshness.
30. Sleek Modern Bob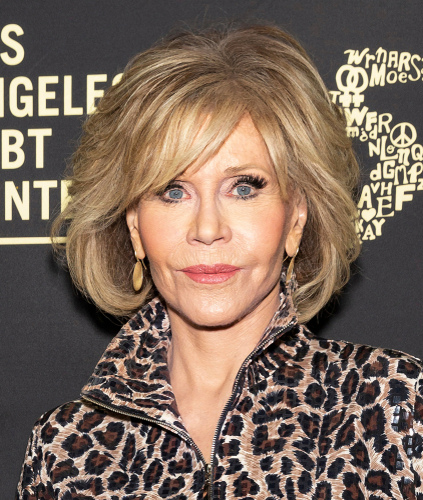 The "Grace and Frankie" actor wore a sleek modern bob hairstyle at the Los Angeles LGBT Center's Gold Anniversary Vanguard Celebration "Hearts Of Gold" at The Greek Theatre. This style, characterized by clean lines and a polished aesthetic, exemplified urban chic and set new standards for modern beauty.
31. Shoulder-length Hair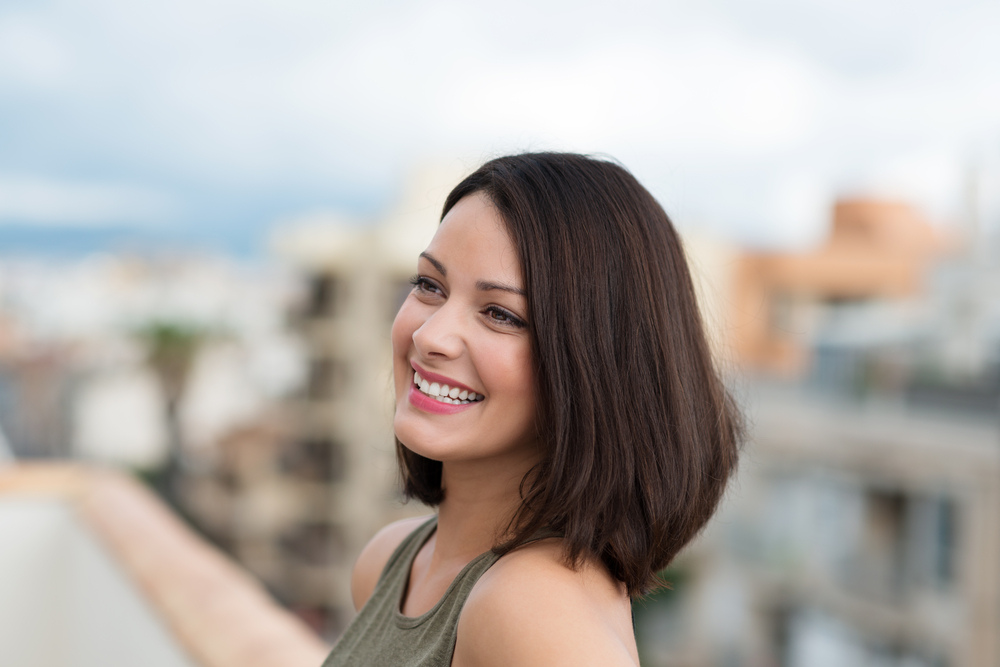 In more formal settings, Jane Fonda frequently opts for stylish shoulder-length hairdos that impeccably accentuate her features and draw attention to her neck and shoulders. These sophisticated styles flawlessly capture the essence of Jane's refined taste, demonstrating her remarkable ability to transition seamlessly from casual to formal occasions with grace and poise.
32. Classic Blonde Waves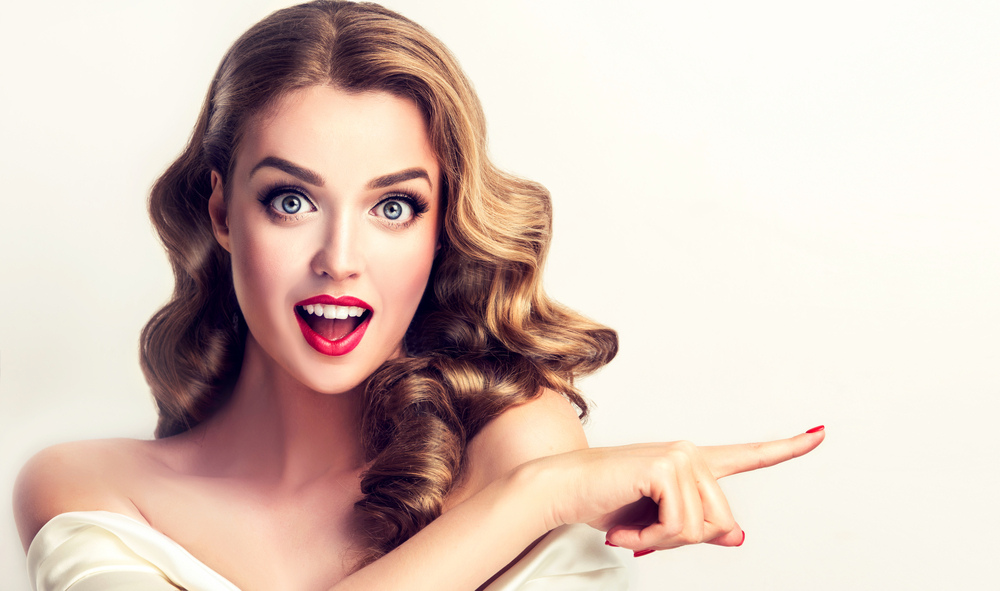 Jane Fonda embraced a timeless appearance as she transitioned into the 1960s, with classic golden curls that gracefully cascaded about her shoulders. These lush waves emanate an air of grace and charm that merged easily with the glamorous Hollywood era. 
33. Straight Hair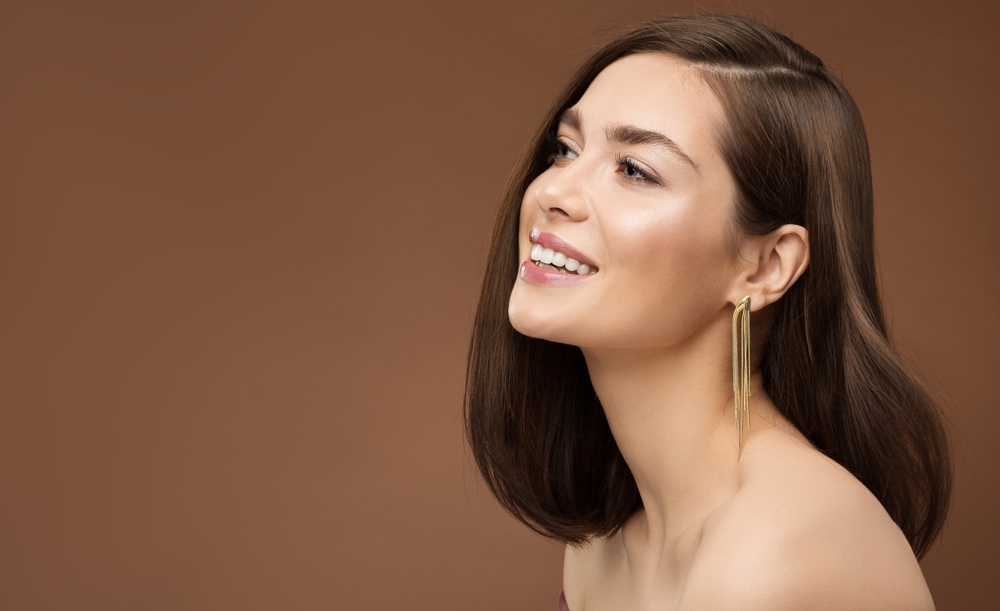 Jane Fonda in the '90s embraced a sleek, straight hairstyle that embodied minimalist fashion trends while maintaining her poise and grace. This Jane Fonda hairstyle, characterized by simplicity and understated elegance, required minimal maintenance but exuded an undeniable air of sophistication. 
34. Side Swept Pixie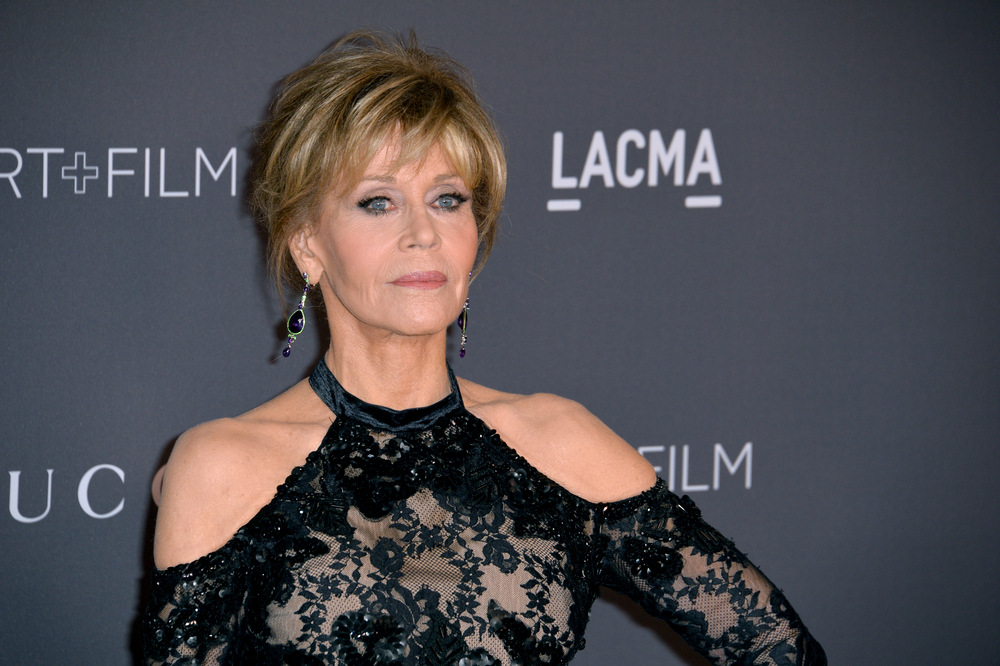 Jane Fonda's side-swept pixie hairstyle is a modern twist on the traditional pixie cut, featuring short, textured layers that gracefully sweep to one side. Fonda's choice of this hairstyle highlighted her ever-evolving style and her knack for making a statement while maintaining her timeless poise.
35. Pouf Twist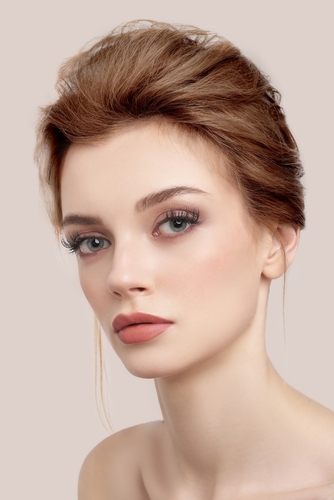 Jane Fonda's impeccable sense of style truly shines through in her Pouf Twist hairdo. This elegant Jane hairstyle not only looks amazing but also serves as a remarkable beauty secret. The French twist, with its graceful pouf, almost acts as a faux facelift, lending a touch of youthful radiance to her appearance.
Conclusion
Jane Fonda's hairstyles resonate with women of all ages, whether they're looking for a sophisticated updo, chic bob, or playful wispy bangs. Her versatility, from classic bobs to modern pixie cuts, reflects her evolution as an actress and activist. In a world often emphasizing youth, Fonda reminds us that beauty and style know no age limits. Her hairstyles encourage us to embrace our unique beauty and explore different looks with confidence.
ALSO READ: 20 Types of Bangs And Styling Ideas for a Complete Makeover
FAQs
Can Jane Fonda's hairstyles be incorporated into modern hair trends?
Absolutely! Jane Fonda's timeless hairstyles, including glamorous curls and chic mullets, are versatile and trendy. She often incorporates layers for movement and a contemporary touch. For inspiration, draw from her iconic looks and make them your own, ensuring a seamless blend with modern hair trends.
---
---