Benefits of Garlic for Hair Growth: Tips to Use Them
Garlic for hair growth can be beneficial if used the right way. Discover the pros and cons as well as the different ways to use garlic for hair here.
Updated on Sep 08, 2023 | 06:41 PM IST | 61.6K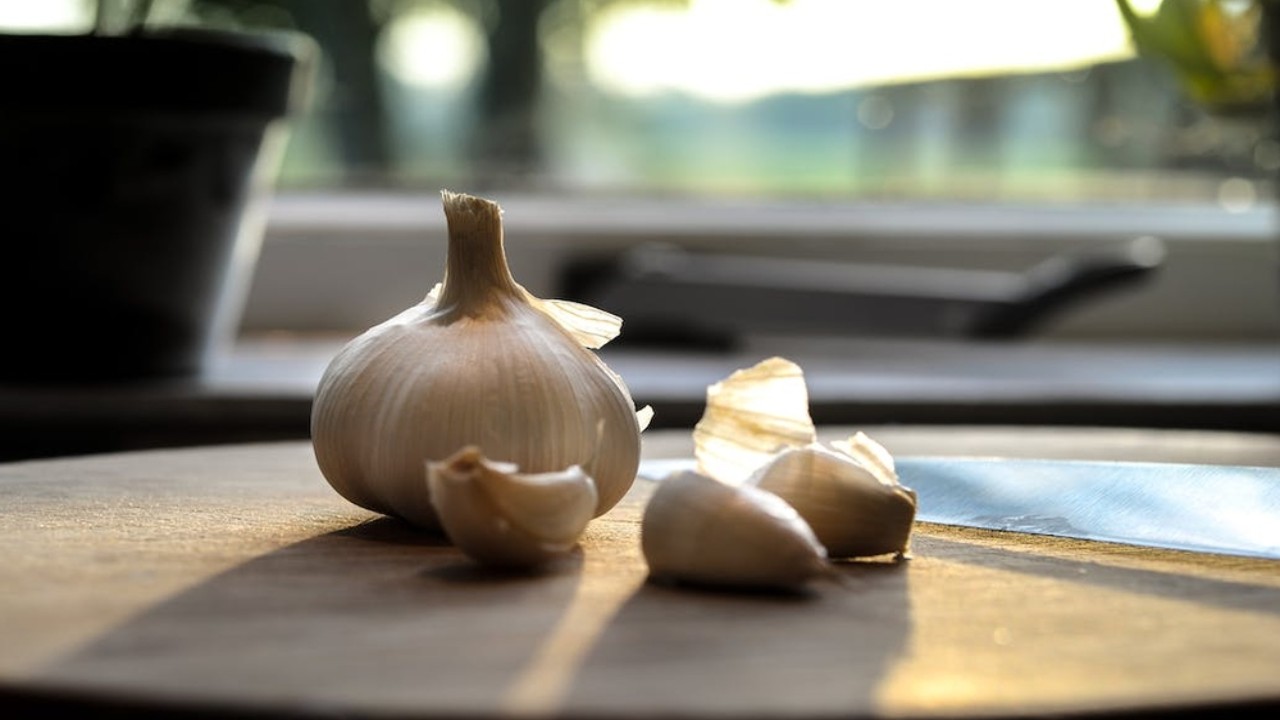 Garlic isn't just useful for repelling vampires in movies; it might also play a role in preventing hair loss. Throughout history, garlic for hair growth has been a popular home remedy for thinning hair. This plant, related to onions and shallots, has been used more than just as a flavor enhancer in food. It holds strong antioxidant properties that extend beyond its culinary use. It also has other vitamins and minerals that are essential for hair growth. But it can cause irritation in sensitive skin. Here, let's see does garlic helps with hair growth and if so how it does. 
Is Garlic Good for Hair?
Garlic is one of the best-selling herbal remedies that has been used for centuries to address various health issues. Garlic is a genus of around 500 species of bulb-shaped plants. Its constituents include sulfur-containing compounds like alliin, enzymes like alliinase, selenium, and flavonoids that can benefit humans in various ways (1). They are also widely known for their antioxidant properties due to which they gained recognition in the dermatological field.
Be it raw garlic, garlic extract, or powder, they can potentially help with hair growth. It can either be applied topically or included in your diet, but it's important to note that more research is needed to fully understand its effects.
Here's why eating garlic for hair growth is beneficial:
Nutrient-Rich: Raw garlic is packed with nutrients like calcium, zinc, manganese, and selenium. These trace minerals are also found in hair and can contribute to its health. Additionally, garlic contains vitamins C and B6, which are known to support hair health (2).
Antiviral and Anti-fungal: Garlic contains components that have been shown to possess antiviral and anti-fungal properties. This could make it helpful for addressing scalp issues caused by viral or fungal infections (3).
A scientific study found that applying a five percent garlic gel to areas with hair loss led to hair regrowth in previously bald areas of the scalp, a reduction in the size of bald patches, and an increase in hair count (4). It is also proven that the sulfur and selenium found in garlic can help strengthen the structure of hair shafts (5). This means that garlic not only supports hair regrowth but also fortifies existing hair.
In essence, while garlic shows promise in promoting hair growth and enhancing hair strength, more research is needed to confirm its effectiveness definitively. Nonetheless, including garlic in your diet and using garlic-based hair products can be a natural and potentially beneficial way to support your hair's health.
Benefits of Garlic for Hair Growth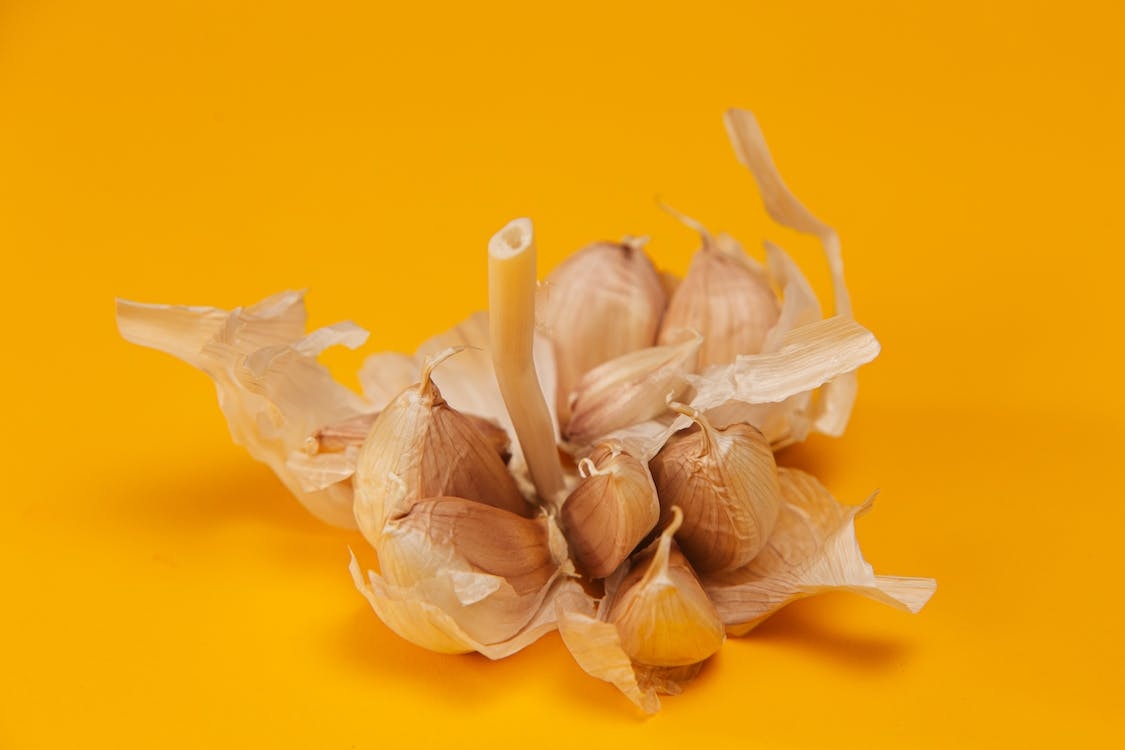 As mentioned earlier, garlic is a versatile ingredient that offers a range of potential benefits for your hair. From promoting growth to protecting it from damage and fighting against hair loss it helps in various ways. Let's see how it does that. 
1. Antimicrobial Properties: Garlic contains components that have demonstrated antiviral and antifungal properties. This makes it particularly useful for addressing scalp issues caused by viral or fungal infections (3).
2. Dandruff Reduction And Hair Growth Stimulation: When garlic powder is applied to the scalp, it can enhance skin perfusion, which means it increases blood circulation in the scalp (cutaneous microcirculation) (1). This improved blood flow as well as their anti-fungal properties could potentially lead to better hair growth and help reduce dandruff.
3. Rich in Sulfur: Sulfur is a crucial element in the production of keratin, the protein that comprises a significant portion of your hair's structure (6). It also plays a vital role in the hair growth cycle (7). Thus having enough sulfur can help maintain healthy hair.
4. Natural DHT Blocker: Dihydrotestosterone (DHT) is believed to contribute to androgenic hair loss, often associated with genetic factors. Garlic might naturally inhibit the effects of DHT, which could potentially slow down hair loss and even treat alopecia (8).
5. Protection from Sun Damage: A study from 2016 showed that the antioxidants in garlic have the potential to shield your hair from damage caused by ultraviolet (UV) rays, providing a protective effect when exposed to the sun (9).
6. Rich in Vitamin C: Raw garlic is a great source of vitamin C, which is known for its positive impact on hair health. Vitamin C plays a role in stimulating hair growth and also boosts collagen production, an important factor for healthy hair (10). 
How to Use Garlic for Hair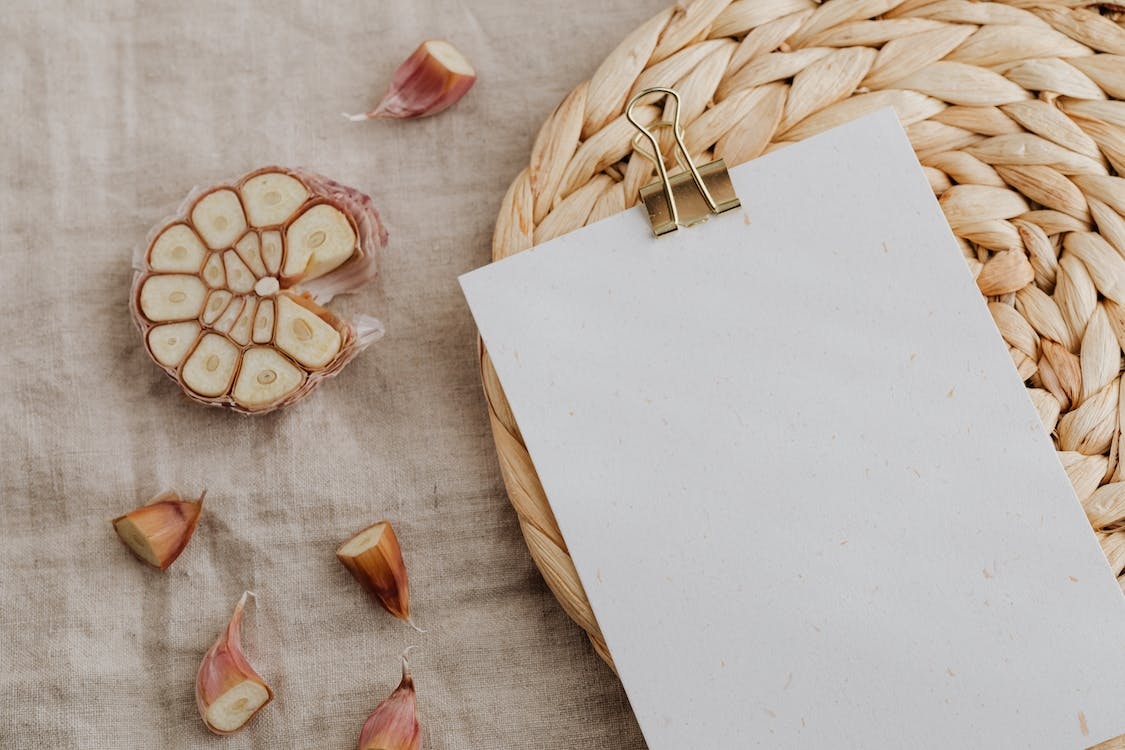 Using garlic for your hair is a fantastic idea, but it's crucial to use the right type of garlic-infused product. Garlic cooking oil and garlic essential oil are not the same. Garlic essential oil is super concentrated and often has alcohol added to it for preservation. That's why, when making your garlic hair treatment, you should mix it with a carrier oil. Carrier oils help dilute the essential oil, reducing the risk of skin irritation.
Remember, the sulfur compounds in garlic can potentially irritate your skin and eyes, so be cautious. Here are different ways in which you can use garlic for hair growth effectively. 
Garlic Oil for Hair
Garlic oil contains all the beneficial compounds present in raw garlic. Here's how you can make your own garlic oil at home.
Crush some garlic cloves or make garlic paste.
Put the garlic paste in a pan and give it a quick roast.
Add a cup of coconut oil or olive oil to the garlic paste.
Heat the oil on low for about 5 minutes.
Turn off the heat and let the oil cool down.
Once it's cooled, transfer it to a bottle or jar.
Now, here's how to use it.
Gently massage about 2 tablespoons of this garlic oil into your scalp.
Keep massaging or wrap your hair in a towel and let it sit for 20 to 30 minutes.
Afterward, wash your hair with a gentle shampoo.
For the best results, repeat this process twice a week. However, if you're allergic to garlic, it's crucial to avoid using it. Your health and well-being should always come first.
DIY Garlic Shampoo
If you are tired of experimenting with various hair care products then give this shampoo a try. This natural shampoo could be the solution to all your hair-related worries. Also, it is gentler and has fewer adverse effects compared to raw garlic extract. 
Here's how to make your own garlic shampoo.
Ingredients:
15 Garlic Cloves
1 teaspoon of Olive Oil
3-5 drops of Peppermint Oil
3-5 drops of Tea Tree Oil
Organic or Herbal Shampoo
Steps:
Begin by peeling and thoroughly cleaning the garlic cloves.
Grind these garlic buds into a paste. If you add a bit of water while grinding, the paste will become soft and creamy.
Once the paste is ready, transfer it to a bowl and add the olive oil and peppermint oil. Mix these oils thoroughly into the paste using a spoon.
Now, blend this special garlic paste into your regular shampoo. Give it a good mix.
Voila! Your homemade garlic shampoo is ready to use.
You can use this unique shampoo 2-3 times a week. It's known to help with hair loss, breakage, roughness, and thinning.
Garlic Hair Mask
If you're worried about your hair thinning, then here's a simple trick - Apply a garlic mask to your scalp. Just spread it all around your roots and let it work its magic for about 10 minutes. Then, rinse it out with your favorite shampoo. For an extra boost of nourishment, you can even add some garlic oil or conditioner to this mixture.
Here are our top 3 ways to make garlic hair masks.
1. Honey & Garlic
Honey is a fantastic natural hair conditioner. It's great at moisturizing, making your hair softer, and keeping it tangle-free. Plus, honey is packed with vitamins, minerals, amino acids, and antioxidants that protect your hair from damage and keep it super healthy (11). Thus, a good nourishing hair mask with both honey and garlic can cause no harm. 
Here's how you make it.
Take 6 to 8 tablespoons of honey (the amount depends on how long your hair is).
Add 6 to 8 tablespoons of your homemade garlic oil and mix them together well.
Now, here's what you do. 
Apply this honey and garlic mixture to your hair strands.
Let it sit for a relaxing 10 to 15 minutes.
After that, simply rinse it out.
2. Onion & Garlic
The mix of garlic and onion might seem unusual, but it's an ancient remedy that can tackle many hair problems. Onion and garlic both belong to the same plant family called Alliaceae and have lots of antioxidants, and some anti-inflammatory and antimicrobial properties.
Now, when it comes to your hair, some say both onion and garlic might help it grow better (12). But just like garlic, onion can be a bit strong and might even give you a little burn if you're not careful. So, while they're promising, we still need to use them with caution. 
If your skin is not allergic to both garlic and onion, here is how you can use them as hair masks.
Begin by blending and straining 2 onions and 2-3 garlic cloves to extract their juice.
Massage this juice onto your scalp for a few minutes.
Let it sit there for about 15-20 minutes.
Finally, wash it off with a good natural shampoo.
3. Yogurt & Garlic
Garlic juice for hair along with fresh yogurt is the simplest yet most effective way to boost the health of the locks. Fresh yogurt is known to be the best natural moisturizer for hair and scalp and effectively nourishes and conditions the hair. Additionally, it has lactic acid which is a natural hair cleanser. 
Here's what you do:
Grab 4-5 garlic cloves and mash them up into a paste.
Mix this garlic paste with about 1/2 cup of plain yogurt. Yogurt is like nature's best hair conditioner, so it's awesome for your hair.
Put this mixture all over your scalp and hair, and make sure you cover everything.
Leave it there for about 30 minutes. You can use this time to chill or do whatever you like.
After 30 minutes, rinse it out with lukewarm water. 
Side Effects of Using Garlic for Hair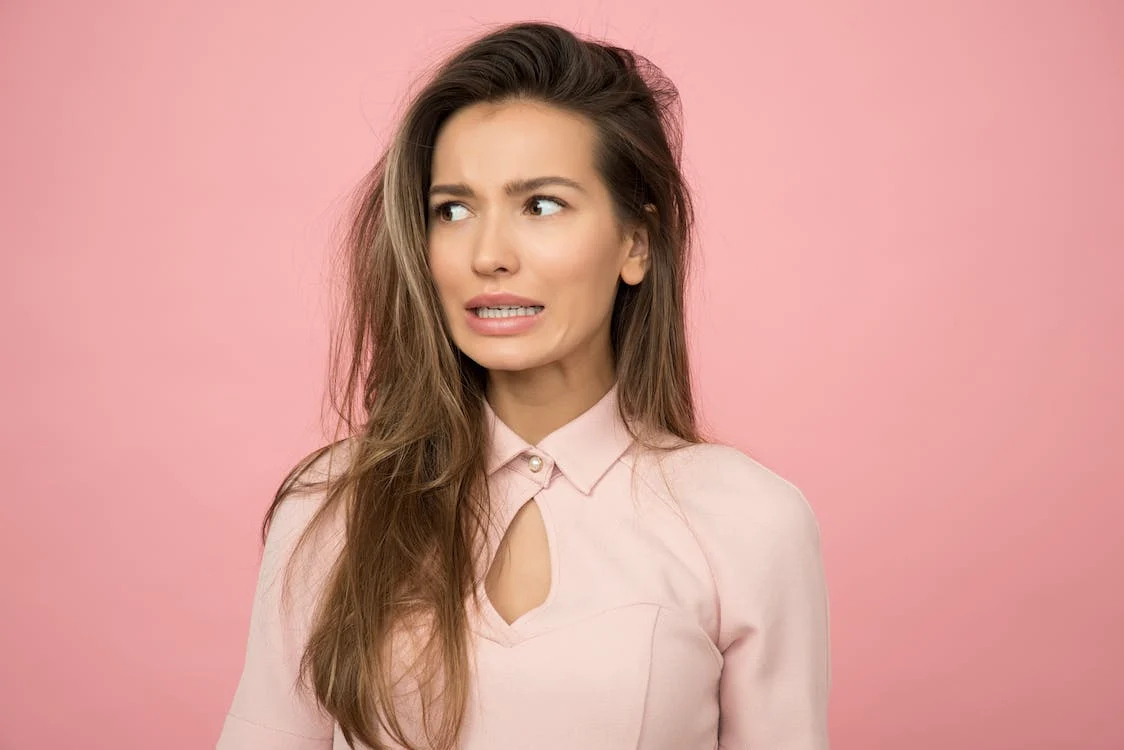 Even though garlic is often seen as a natural solution, it's important to be aware of potential side effects and risks when using it on your hair or scalp. Furthermore, when it comes to breastfeeding or pregnancy, there isn't sufficient evidence to determine whether applying garlic topically or taking it as a supplement is safe (13). It's always wise to consult with a healthcare professional in such situations. Apart from that, keep in mind the following cons while using garlic for hair growth. 
1. Garlic-induced Smell: Garlic has a strong smell that can stick around in your hair for days. This can be tough for folks with sensitive noses or those who dislike strong smells.
2. Scalp Irritation: Garlic has compounds that might irritate your scalp, causing redness and itchiness. This could be especially problematic if you have sensitive skin or existing scalp conditions like dermatitis or psoriasis (14). 
3. Allergic Reactions: Some people could be allergic to garlic. This might show up as redness, itching, or swelling on the scalp. It's smart to do a patch test before using a garlic hair mask to check for allergies.
4. Dryness And Brittleness: Garlic can dry out your hair, especially if you use it a lot or mix it with other drying stuff. Dry hair can become brittle and break more easily.
5. Discoloration: If you have light or blonde hair, garlic might stain it, giving it a yellowish or greenish tint. This is extra concerning if you've dyed your hair.
6. Excessive Oiliness: On the flip side, garlic might make your scalp produce too much oil, leading to greasy hair. This can be super frustrating if you already have an oily scalp.
7. Social Discomfort: The garlic smell can be awkward in social or professional situations. It might make you feel self-conscious about how your hair smells around others.
These possible side effects mean you should use garlic hair masks carefully and not go overboard. Always do a patch test and talk to a pro if you have scalp conditions or sensitivities. Your hair's health is important, and so is your comfort. 
Conclusion:
Garlic for hair growth might sound great, but it's not all sunshine and roses. Sure, garlic is packed with antimicrobial and antioxidant properties, still, we need more research on its benefits for hair.
Aside from using garlic, there are other things you can do to make your hair healthier, like eating right and taking care of it with the right products. Try not to use too many harsh products or styling tools that can be tough on your hair. Still, if hair problems worry you, then it's time to seek medical assistance. Sometimes, hair problems can be caused by medical conditions too, so it's best to get checked.
ALSO READ: Cinnamon for Hair Growth: Benefits and Uses for Healthy Locks
FAQs
Does garlic regrow hair?
It is scientifically proven that garlic prevents hair loss and helps with its growth. However, we need more such evidence to prove its benefits.
---
Does garlic oil increase hair growth?
To encourage hair development, garlic oil nourishes the hair follicles and increases blood flow around the head. It's also high in sulfur, which adds to its benefits.
---
How often should I use garlic for hair growth?
Garlic oil can be customized by adding other oils, such as avocado, coconut, or olive oil, and can be made to a scalp treatment which can be enjoyed no more than twice a week.
---
Can I leave garlic on my hair overnight?
Don't keep garlic on your scalp overnight. It might make your scalp itchy, red, and cause dry, brittle hair. Also, it can cause discoloration. Thus rinse it out sooner.
---
How long does garlic oil take to grow hair?
In 4 to 6 weeks of use, garlic oil for hair will result in moderately obvious results. Also, use it continuously for more than three months for better results.
---
Is garlic good for gray hair?
Garlic for combating gray hair is an age-old popular natural treatment but unfortunately, it has not been proven to stop grays from appearing.
---
About The Author
Neha Tiwari, a certified Haircare coach, an experienced writer, educator, translator, and editor, has been catering to the content
...
Read more
Top Comments
There are no comments in this article yet. Be first to post one!