20 Alluring Hailey Bieber Hairstyles: A Stylish Evolution
Discover the trendsetting Hailey Bieber hairstyles that redefine chic. From sleek buns to beachy waves, learn the secrets for ultimate style inspiration.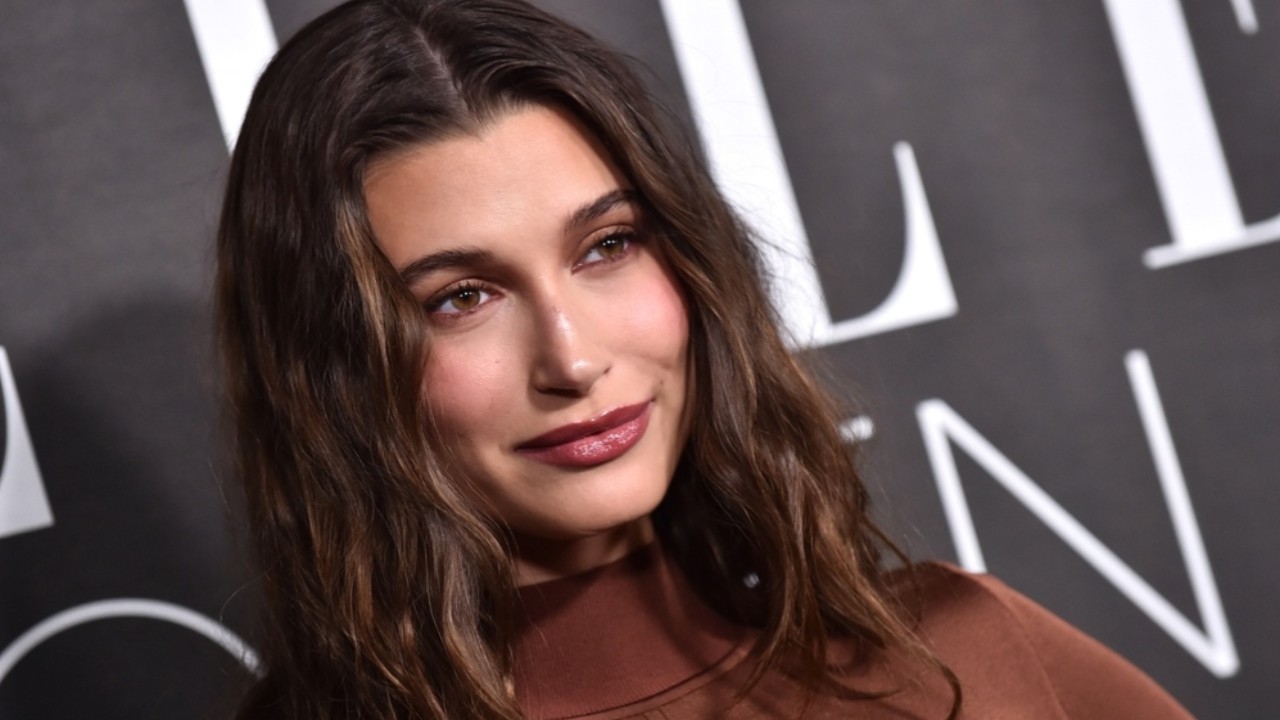 When it comes to fashion and beauty, Hailey Bieber is a name that consistently shines like a dazzling gem. Her stunning looks and ever-evolving style have made her an icon in the industry. In this article, we're delving deep into the realm of Hailey Bieber's hairstyles, exploring the artistry behind her hair transformations. Whether you're a trendsetter searching for the following big style or simply seeking inspiration for your next salon visit, we've got you covered. From casual chic to red carpet glamor, Hailey Bieber's hair journey is a treasure trove of ideas and techniques to elevate your hair game.
Exploring the Rise of Hailey Bieber, from Model to an Influencer
Hailey Bieber, also known as Hailey Baldwin, born in Tucson, Arizona, is an American model and media personality known for her modeling career and association with pop star Justin Bieber. She has worked with numerous fashion brands and has a significant following on social media. Hailey is celebrated for her fashion sense and style and has ventured into business and philanthropic endeavors. 
As a prominent influencer, she has a massive following on social media platforms, where she shares glimpses of her fashion choices and beauty routines with her fans. Her style and beauty choices often set trends and are widely followed by enthusiasts worldwide. Once, in an interview, Hailey shared that she and her husband, Justin Bieber, use UNITE Hair's BLONDA Purple Shampoo. For styling, Hailey relied on Dyson's Corrale Hair Straightener and Mermade Hair PRO Waver; her other favorite hair care products are K18's Hair Mask Treatment and OUAI Volume Spray. The Supermodel also owns a skin care beauty brand named "Rhode."
A Look at Trending Hailey Bieber Haircut 2023, as She Bid Adieu to Her Signature Crop
Hailey touched new heights in terms of her hair transformation; the model never let us down and kept us engaging with her experiments. This time, Hailey Bieber's short hair takes another leap with Blunt Bob. Her Preppy contoured blunt bob took the internet by storm as she departed from her signature shoulder-length skimmed-style hair. But not long after, rumors buzzed about her bold move; everyone was stunned and kept asking, did Hailey Bieber shave her head for the Tiffany & Co. relaunch event? Well, 'No,' and the same was confirmed by her social media post. The video, which created colossal speculation, was all a hoax. 
In fact, for this tremendous event, Hailey took inspiration from Audrey Hepburn. She wore a black midi dress from Versace's fall-winter 2023 collection, paired with glossy black heels. She paired it with a layered pearl and diamond-clad necklace and matching earrings for an elegant look. Her hair was styled in a tight, side-parted high bun, showcasing her facial features and enhancing her outfit. Recently, Hailey Bieber's hair colorist, Matt Rez, has transformed her hair with a new shade for the fall season, which he's creatively dubbed "cinnamon cookie butter." 
Unlocking the Glamours of 20 Charismatic Hailey Bieber Hairstyles
1. Hailey Bieber Baby Braids 
Baby Braids is a hairstyle where Hailey uses small, delicate, and tightly woven sections of hair to add intricacy and detail. These braids are often seen on social media and can influence hair trends. Hailey Bieber's baby braids are trendy and stylish for those looking to add a unique and youthful element to their hairdo. To achieve these braids, small, tight braids in specific sections of hair can be created and incorporated into a larger hairstyle or worn as a statement.
2. Hailey Bieber Short Haircut in Pink Hue
Hailey Bieber's magazine cover 2022 featured a bold and vibrant hairstyle, showcasing her willingness to experiment with hair and embrace unconventional styles. Hailey opted for a short haircut, a closely cropped style that can be customized to suit individual preferences. The striking pink hue she chose was a fashion statement. The vibrant pink shade added a playful and edgy element to her look, making her stand out on the cover.
3. High Ponytail
A high ponytail is a popular and versatile hairstyle where hair is gathered and secured at the top, creating a sleek and elevated look. Hailey Bieber's brown hair was styled in a high ponytail, creating an elegant and polished appearance, drawing attention to her facial features, and highlighting her chic style. To create a high ponytail, hair is typically brushed or combed upward, away from the neck, and gathered at the desired height on the head. It is then secured with a hair tie or elastic band. 
4. Messy Bun with Pink Tinted Hue
Hailey Bieber wore a distinctive "Messy Bun with Pink Tinted Hue" hairstyle at the Cannes Film Festival 2018. The bun was casual and slightly disheveled, with a soft pink tint adding a playful element. This unique red carpet look showcased Bieber's fashion-forward approach to beauty and her willingness to experiment with unconventional hair colors while maintaining an elegant and sophisticated style. 
5. Hailey Bieber Barbie Ponytail
Bieber wore the "Barbie Ponytail" at a Vogue event in 2019, named after the iconic Barbie doll. This style involves pulling hair back tightly and securing it high on the head to create a sleek, elongated ponytail. The hair is smoothed and straightened for a flawless finish. Hailey paired the chic ponytail with a peach-colored backless gown, adding sophistication and glamor to her look. The open-back design of her dress complemented her elegant neckline and back. 
6. Top Knot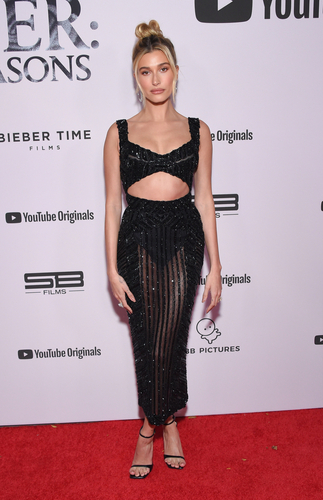 A "top knot" is a chic and versatile hairstyle where hair is gathered and secured into a bun at the top of the head. It is characterized by its high placement on the crown, creating a bun near the head's vertex. Hailey Bieber's hair was spotted in top knot style for the premiere of YouTube Originals' "Justin Bieber: Seasons" in 2020. This style can range from sleek and polished to slightly messy and relaxed.
7. Slicked Back Look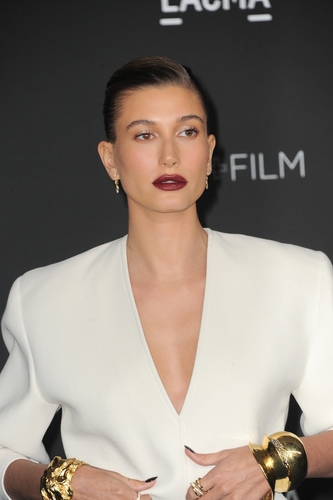 Hailey Bieber's hairdresser, Irinel de Leon, used Tancho Stick, according to influencer Arielle Lorre, to accomplish the slicked-back style for Hailey. Hailey's look at the 10th Annual LACMA ART+FILM GALA in 2021. This product is known for its ability to tame flyaways and provide a subtle shine to hair, making it a popular choice for formal events like galas. She paired the slicked-back look with a deep white V-neck dress, creating an elegant and striking look.
8. Blonde Shag with Skunk Roots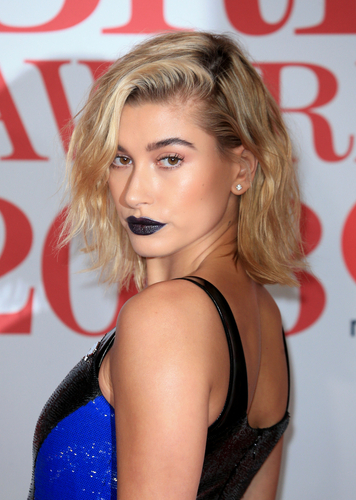 This Hailey Bieber haircut combines elements of a shag haircut with distinctive dark "skunk roots." It is predominantly blonde but intentionally incorporates a contrasting section of darker hair at the roots, creating a bold and edgy look. The supermodel sported this particular hairstyle with her short hair at The BRIT Awards 2018. The textured and layered blonde shag haircut gave the hair a tousled and disheveled effect. 
9. Wavy Lob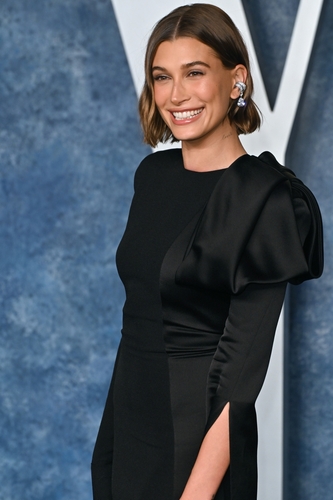 The "Wavy Lob" is a trendy hairstyle that combines a wavy texture and a lob haircut, creating a chic and effortless look. Hailey Bieber's new hair look for the Vanity Fair Oscar Party in 2023 allows her hair to frame her face elegantly while maintaining sophistication. Adding waves or loose curls adds volume and texture, giving the hair a relaxed and red-carpet-worthy appearance. Her hairstylist, Bryce Scarlett, revealed that the John Frieda haircare brand played a crucial role in achieving the desired waves and maintaining the overall shine and health of Hailey's hair.
10. Hailey Bieber Bun with Side Part
Hailey Bieber's "Bun with Side Part" at The British Fashion Awards in 2017 was a sophisticated hairstyle incorporating a modern side part, adding a touch of asymmetry and modernity. The bun was adorned with an embellished golden flower, adding luxury and highlighting her chic hairstyle. Smoky eyes complemented the look, adding a dramatic allure. A black off-shoulder dress further accentuated the sophistication of the hairstyle. 
11. Wavy Blonde Tousle
Hailey Bieber's wavy hair featured loose, relaxed waves in blonde hair, exuding a carefree and chic vibe. This style uses techniques like curling wands, flat irons, or braiding damp hair. The waves are created to appear disheveled and textured, giving the hair a natural and textured look. 
12. Hailey Bieber Long Hair
Bieber's long locks for her Vogue cover in 2019 were a significant part of her fashion and beauty choices. Her long hair, known for its versatility, could have been styled in various ways, such as straightened for a sleek, romantic, or relaxed vibe. The longer hair allowed her to experiment with different hairstyles and showcase the beauty of flowing, lengthy locks. 
13. Hailey Bieber Blonde Hair with Bangs
Hailey Bieber's hairstyle with Bangs for a fall photoshoot 2019 showcased her versatility and chicness. The style involves cutting a section of the front hair and letting it fall across the forehead, with bangs varying in length and thickness. It added a fresh and youthful touch to her overall appearance. 
14. Hailey Bieber Half-up Hair
Hailey Bieber opted for a stylish and elegant "Half-up Hair" at a Bulgari event 2019. She gathered a portion of her hair from her crown and secured it with a clip or hair tie, leaving the remaining hair down. This style combines updo and flowing locks, balancing a polished and structured look with secured hair and the natural beauty of cascading hair left loose.
15. Hailey Bieber Bob Haircut
Hailey Bieber opted for a bold and stylish "bob" for the Tiffany & Co. event 2018. This short, straight cut, often ending around the chin or just below it, is characterized by its clean and polished look, emphasizing the jawline and facial features.
16. Messy Bun
This style is famous for its effortless and carefree vibe, making it suitable for various occasions. Hailey Bieber, in a throwback picture from 2021, styled her hair in this relaxed updo. The intentional tousling and stray strands give the hairstyle its signature "messy" look.
17. Hailey Bieber's Hair in Icy Blonde with Golden Lowlights
Bieber's hairdo was featured on the iHeart Radio red carpet. The light, cool-toned blonde base was complemented by golden lowlights, which added depth and dimension. These darker strands complemented the lighter blonde, creating a subtle variation
18. Hailey Bieber's Hair Styled in Voluminous Curls
In a 2019 look for the Revolve Awards, Bieber paired her voluminous curls with a black dress and bold red lip color, creating a timeless look reminiscent of Hollywood's golden era. The voluminous curls exude confidence and vintage glamor.
19. Hailey Bieber's Updo with Braids
The supermodel's 2017 Paris fashion show featured an intricate "updo with braids" that combined the elegance of an updo with the added detail of braided elements. The hair was pulled upward and secured into an updo, typically twisting or pinning into a bun or knot at the back of the head. 
20. Beachy Waves
It is a popular hairstyle featuring loose, relaxed waves resembling hair texture after a beach day. It exudes a carefree and effortless vibe, making it a popular choice for those seeking a simple yet stylish look. On her YouTube channel, Hailey gave tutorials on achieving beachy waves using the Dyson Corrale Cordless Straightener. The key is to keep the waves relaxed and not too uniform, giving them an undone appearance. 
The Ultimate Guide to Achieve Hailey Bieber's Effortless Beach Waves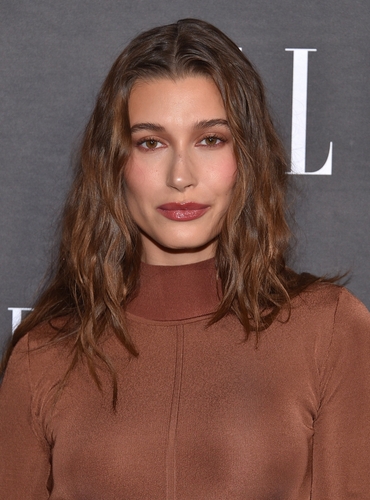 Styling your hair like Hailey Bieber involves creating those signature beachy waves and achieving a textured, effortless look. 
Start with clean, dry hair and use a volumizing spray or mousse on damp hair before blow-drying. 
Use a blow dryer to dry your hair thoroughly. You can use your fingers or a round brush to add volume while blow-drying.
Use hair clips to divide your hair into manageable sections. Starting with the bottom layers and working your way up makes it easier to style each area effectively.
Take small sections of hair and use a straightener to create gentle S-shaped waves. To do this, clamp the straightener near your roots, then twist it back and forth as you move down the hair strand. This technique mimics the natural look of beachy waves.
After waving each section, use a texturizing spray to add volume and hold the waves. Gently scrunch your hair to enhance the texture and create that effortless beachy look.
When styling the top layer of your hair, be careful not to go too high up with the straightener to avoid creating a noticeable dent.
Use a texturizing hairspray to set the style and hold the waves in place. You can also use a dry shampoo for a clean and fresh look. Apply it to the roots to absorb excess oil and add volume.
Conclusion
Hailey Bieber's hairstyles inspire confidence and versatility and embrace unique styles. From beachy waves to bold braided updos, her hairstyles encourage experimentation and stepping out of comfort zones. Her iconic Hollywood glam, relaxed messy bun, and beachy waves remind us that hair is about expressing ourselves and making a statement. Whether you're a hair enthusiast or someone looking to switch up their everyday look, there's something here for everyone.
ALSO READ: 40 Stunning Zendaya's Hairstyles to Steal the Limelight

---