11 Best Appliances That Every Kitchen Deserves
The Amazon sale has the best kitchen appliances at budget-friendly prices. Enjoy amazing offers and unbelievable savings on 11 top-rated kitchen essentials.
Updated on Feb 01, 2023 | 04:49 PM IST | 194K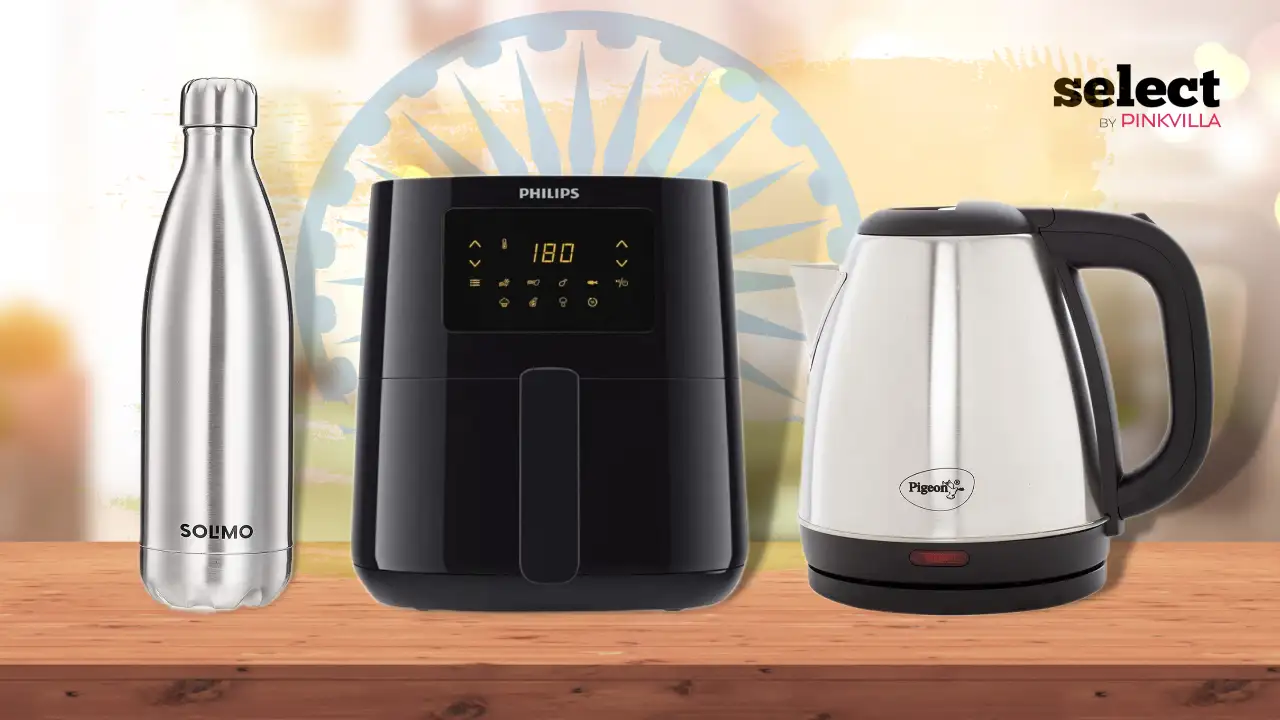 The products curated for this article are independently chosen by the editorial team. If you make a purchase through the
links
mentioned below, we may receive a commission. Check out our
product research & curation process
When it comes to equipping your kitchen, the list of necessary appliances can seem endless. From blenders to toasters, every kitchen needs the right appliances to make cooking and baking a breeze. There are so many appliances to choose from the ones available in the market. As you prepare to shop, don't forget to check out Amazon's kitchen range for some great deals. Whether you're looking to upgrade your current kitchen or just want to add some new appliances and accessories, you will find a huge variety. From stylish dinnerware sets and modern kitchen appliances to different accessories, we have curated 11 best kitchen appliances that are available at attractive deals and discounts.
11 Best Kitchen Appliances to Add to Your Collection
1. Solimo Stainless Steel Flask
Solimo Stainless Steel Flask is perfect for keeping your drinks hot or cold for up to 24 hours. Its durable stainless steel construction ensures long-lasting durability and reliable performance, while its sleek and stylish design makes it the perfect companion for any outdoor adventure. The 1000 ml capacity is perfect for packing your favorite beverage while the insulated lid provides extra protection against spills. Enjoy a hot or cold drink anytime, anywhere with it.

Original Price: Rs.1,500
(as of 16/1/2023 17:00 IST)
2. Pigeon by Stovekraft Electric Kettle
The Pigeon by Stovekraft Electric Kettle is the perfect appliance for boiling water, making tea and coffee, instant noodles, soup, and more. With a stainless steel body and a generous 1.5-liter capacity, this kettle is designed for convenience and long-lasting performance. The 1500-watt power ensures quick heating and the automatic shut-off feature provides safety and peace of mind. Perfect for everyday use, this electric kettle is a must-have for anyone looking to make quick, hot drinks or meals.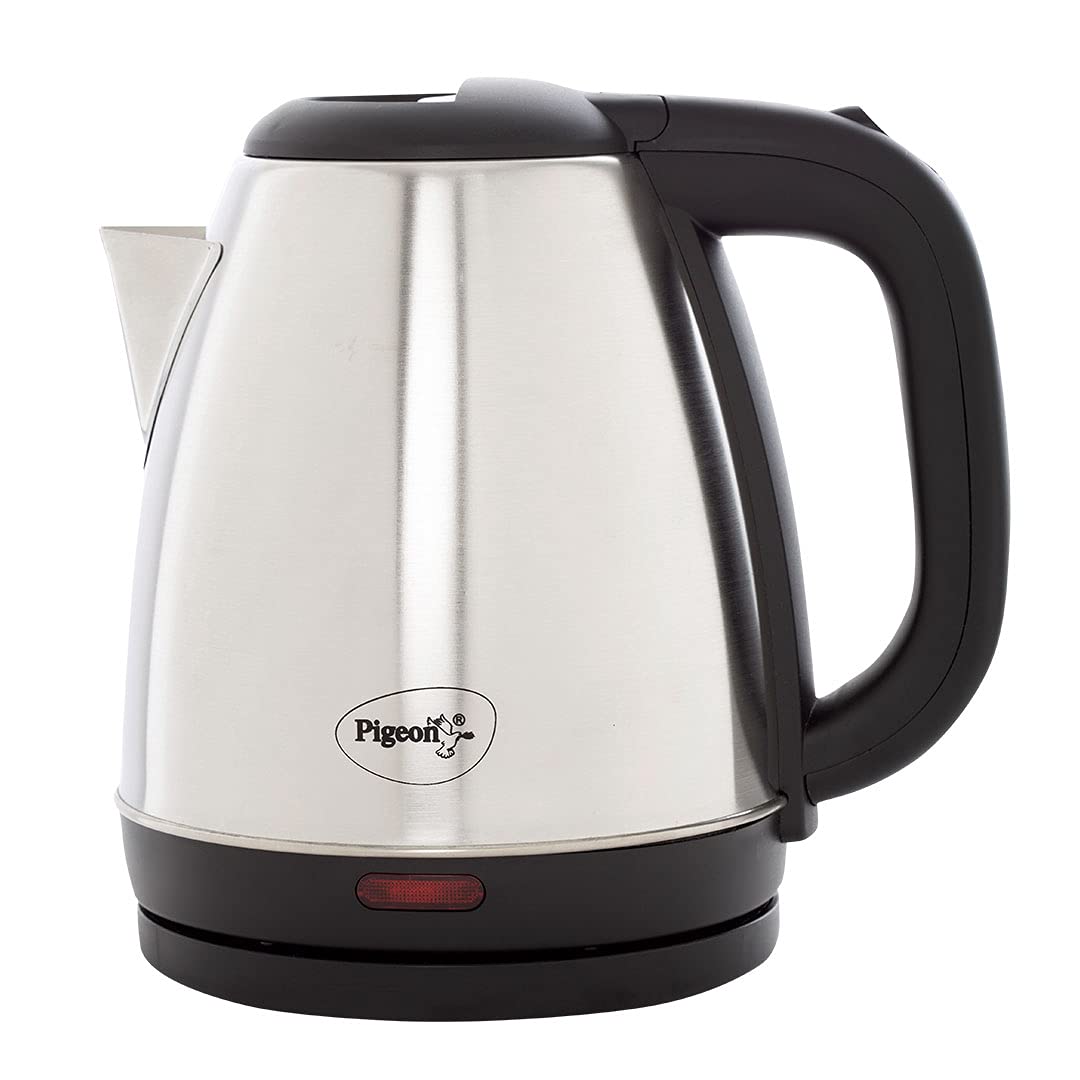 Original Price: Rs.1245
(as of 16/1/2023 17:00 IST)
3. Instant Pot Duo Pressure Cooker
The Instant Pot Duo Pressure Cooker is a versatile kitchen appliance for busy home chefs. This pressure cooker uses a combination of steam, heat, and pressure to quickly cook food. Its 9-in-1 functions provide a variety of cooking options, from steaming and stewing to sautéing and warming. With its stainless steel construction, this cooker is designed for durability and ease of use. Its outer lid design helps keep your food warm and adds extra safety while cooking. You can buy this from the Amazon sale without spending a fortune.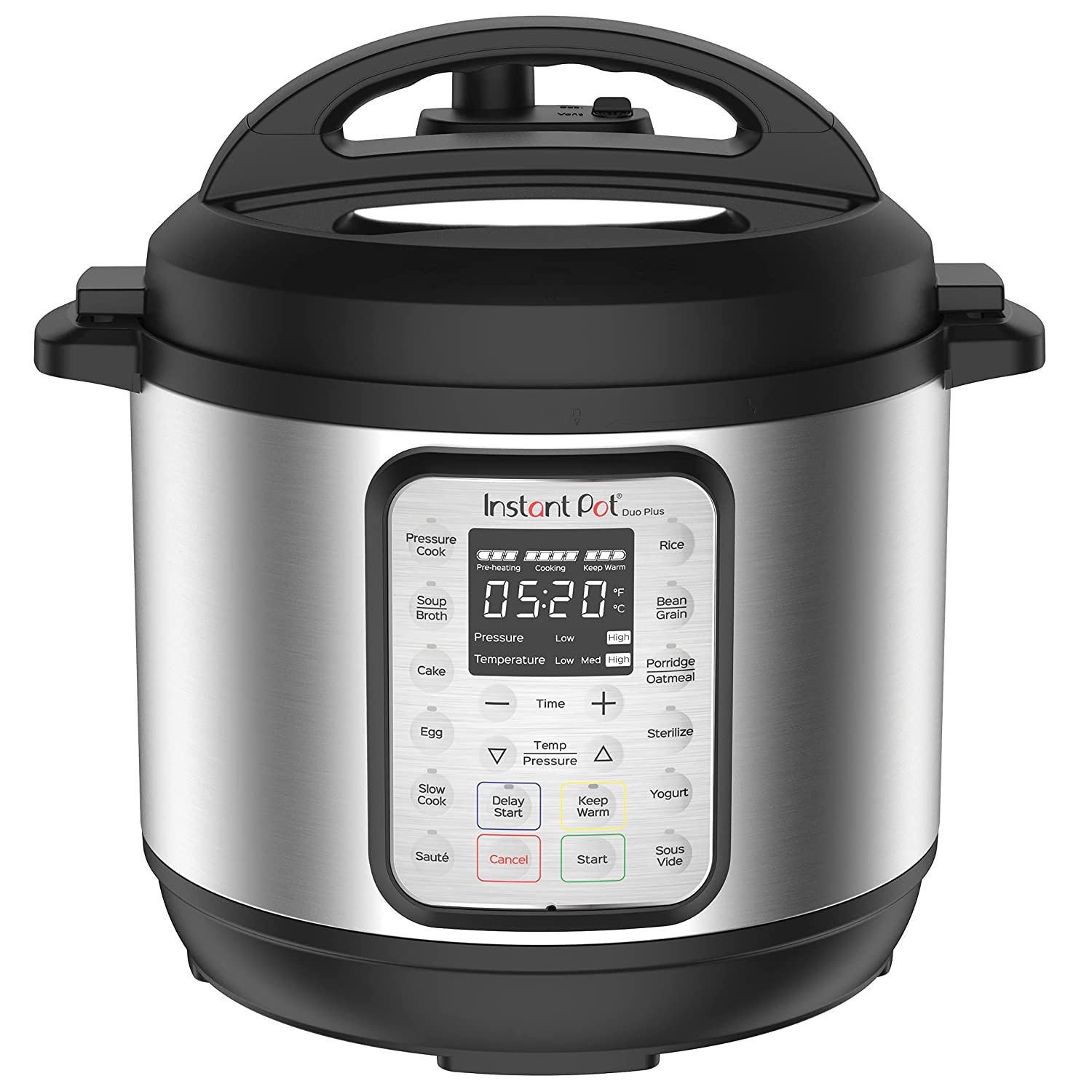 Original Price: Rs.20,699
(as of 16/1/2023 17:00 IST)
The Pigeon Mio Cookware Set is a must-have for any kitchen. This 8-piece set includes a flat tawa, fry pan, kadai with a glass lid, kitchen tool set, and more. With the non-stick aluminum surface, you can cook your favorite meals without worrying about sticking and burning. The set is also equipped with ergonomically designed handles for maximum comfort and convenience. Whether you're an experienced chef or just starting, this set makes a perfect gift for any kitchen enthusiast.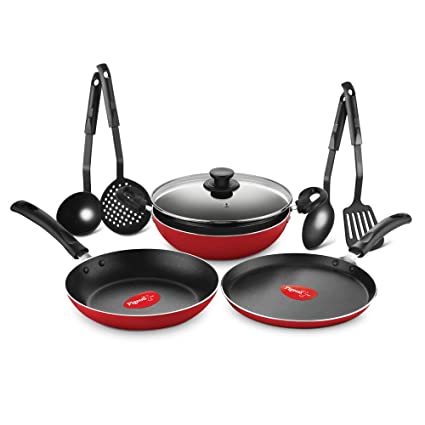 Original Price: Rs.2,695
(as of 16/1/2023 17:00 IST)
The PHILIPS Digital Air Fryer is the ideal kitchen appliance for anyone seeking to prepare delicious, healthy meals without extra fat or calories. With its advanced digital touch panel, this air fryer allows you to easily adjust the temperature, timer, and settings to customize your cooking experience. The LCD also provides an easy-to-understand indication of the remaining cooking time. This air fryer ensures even heat distribution and efficient food cooking, while its rapid air technology prevents any hot spots that could cause burning. Plus, the air fryer is equipped with a removable drawer and dishwasher-safe parts for easy cleaning and maintenance.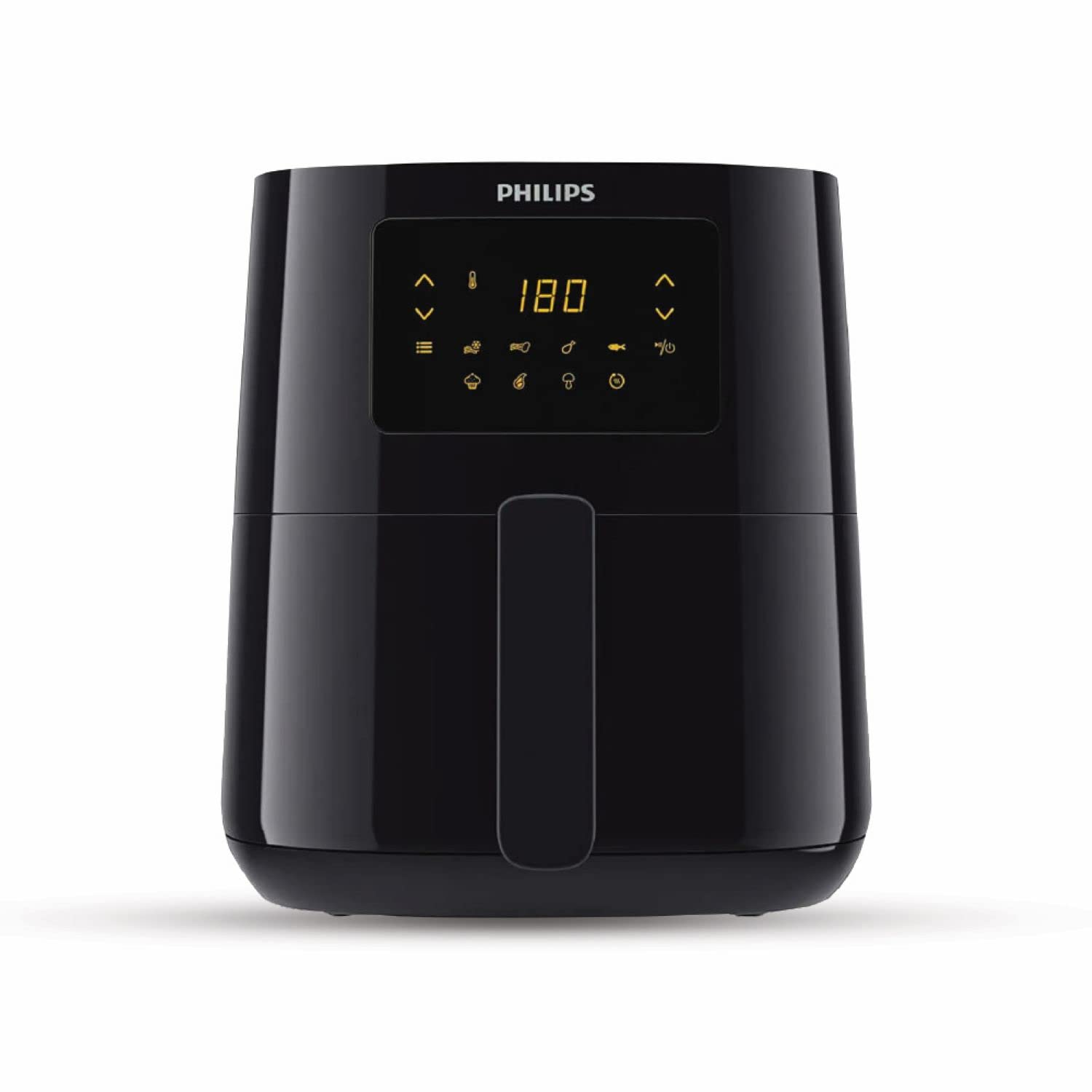 Original Price: Rs.12,595
(as of 16/1/2023 17:00 IST)
The Bosch Pro Mixer Grinder is the perfect solution for your grinding, blending, and mixing needs. This high-performance mixer grinder features a powerful 1000W motor, stainless steel blades, and four distinct speed settings that allow you to take the guesswork out of grinding, blending, and mixing ingredients. The overload protection system ensures you are always safe while using the mixer grinder. It also comes with an extra-large jar and a special locking lid that ensures easy and secure storage. The anti-slip feet ensure the mixer grinder remains firm on the countertop. To get a taste of its superior performance and superior functionality check it out on Amazon and shop it now at the most affordable price.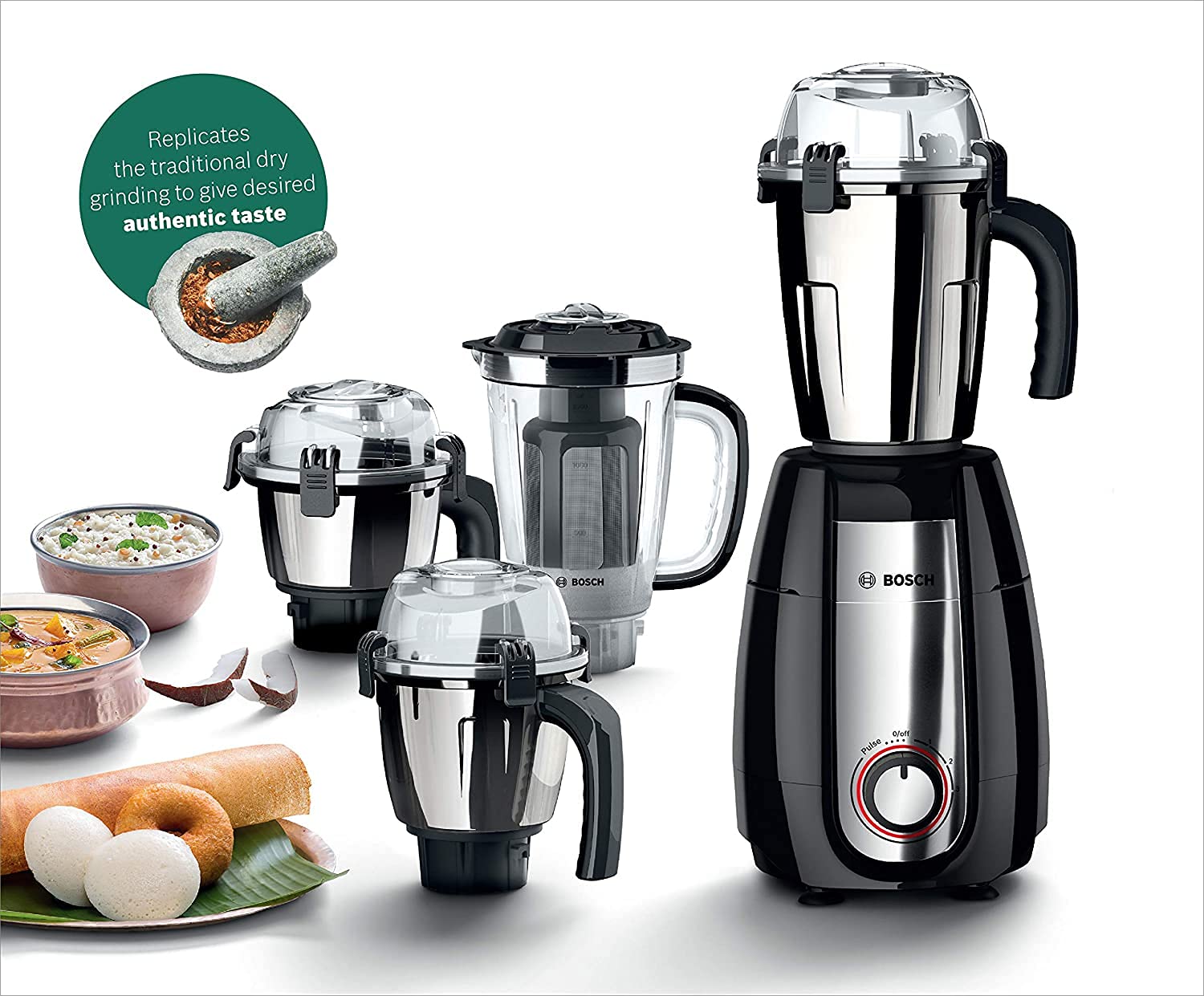 (as of 16/1/2023 17:00 IST)
7. Pigeon by Stovekraft Induction Cooktop
The Pigeon by Stovekraft Induction Cooktop is an ideal cooking solution for all your culinary needs. It is designed to provide the perfect balance of power and versatility. The 1800-watt motor quickly and evenly heats your food and the intuitive digital control panel ensures precision cooking. The easy-to-clean surface and convenient touch-sensitive buttons make it simple to operate. This cooktop is designed with safety features like heat sensors, an auto shut-off, and overheat protection, so you can cook with peace of mind.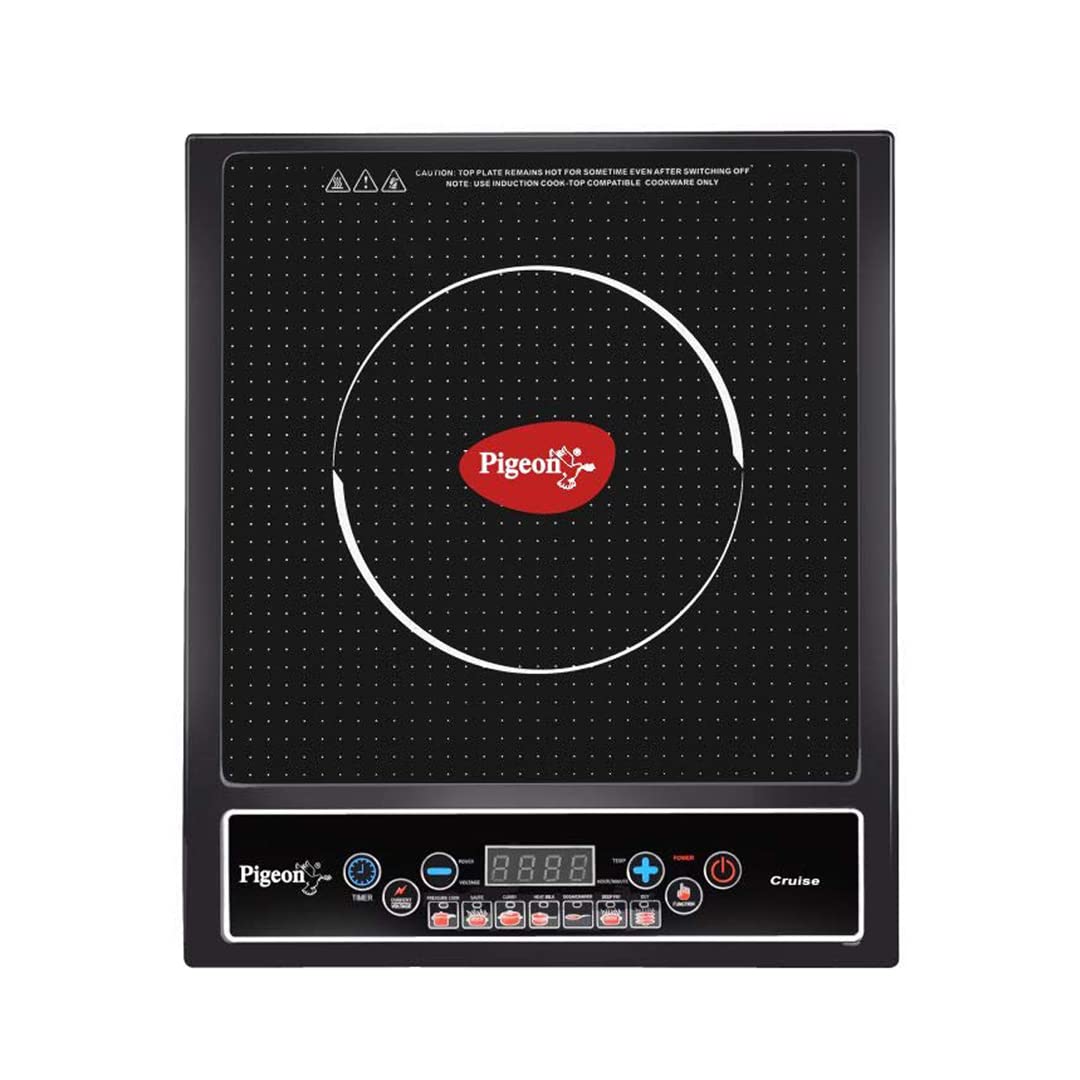 Original Price: Rs.3,193
(as of 16/1/2023 17:00 IST)
The Wellspire Instant Pot is the best tool for busy home cooks looking to create quick, delicious, and nutritious meals. Featuring seven pre-programmed functions including pressure cook, slow cook, rice cook, sauté, steam, soup, and keep warm, this 3-liter pot is an ideal size for small households and individuals. With its user-friendly design, you can easily prepare meals like soups, stews, grains, beans, and more with the press of a button. This instant pot is also equipped with a 24-hour delay timer, allowing you to prepare meals in advance, so you can enjoy them when you're ready. With its 3-ply stainless steel construction and included stainless steel steam rack, you can be sure that it will last for years to come.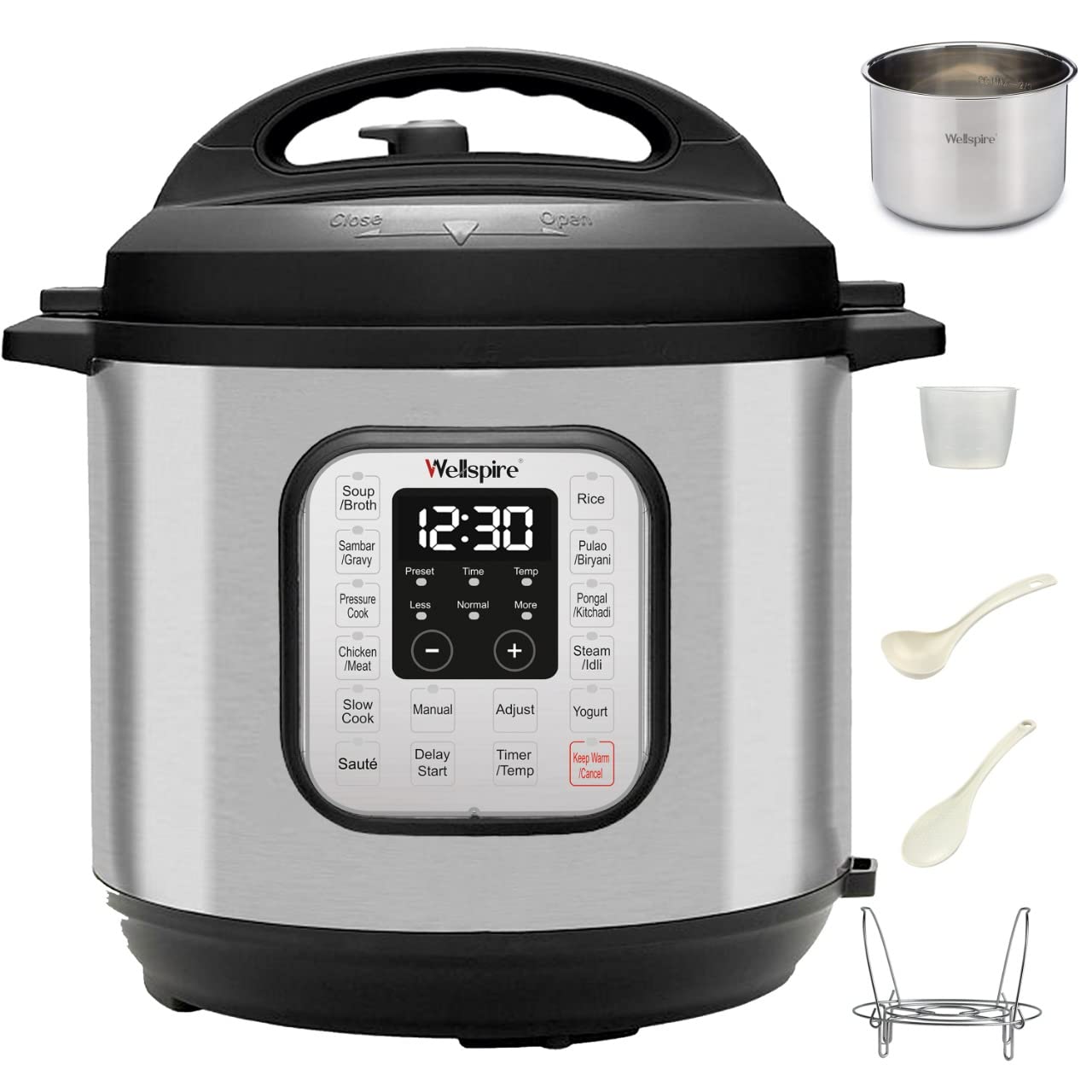 Original Price: Rs.20,050
(as of 16/1/2023 17:00 IST)
9. Pigeon by Stovekraft Outer Lid Cooker
The Pigeon by Stovekraft Outer Lid Cooker is a revolutionary product that provides a convenient and hassle-free cooking experience. This multi-purpose cooker features a durable ceramic super outer lid that is designed to keep your ingredients fresh and lock in flavor. It also features a unique five-layer base that distributes heat evenly throughout the pan, ensuring that all your food is cooked to perfection. The ergonomic handles make it easy to maneuver and the lid locks firmly in place to prevent spills.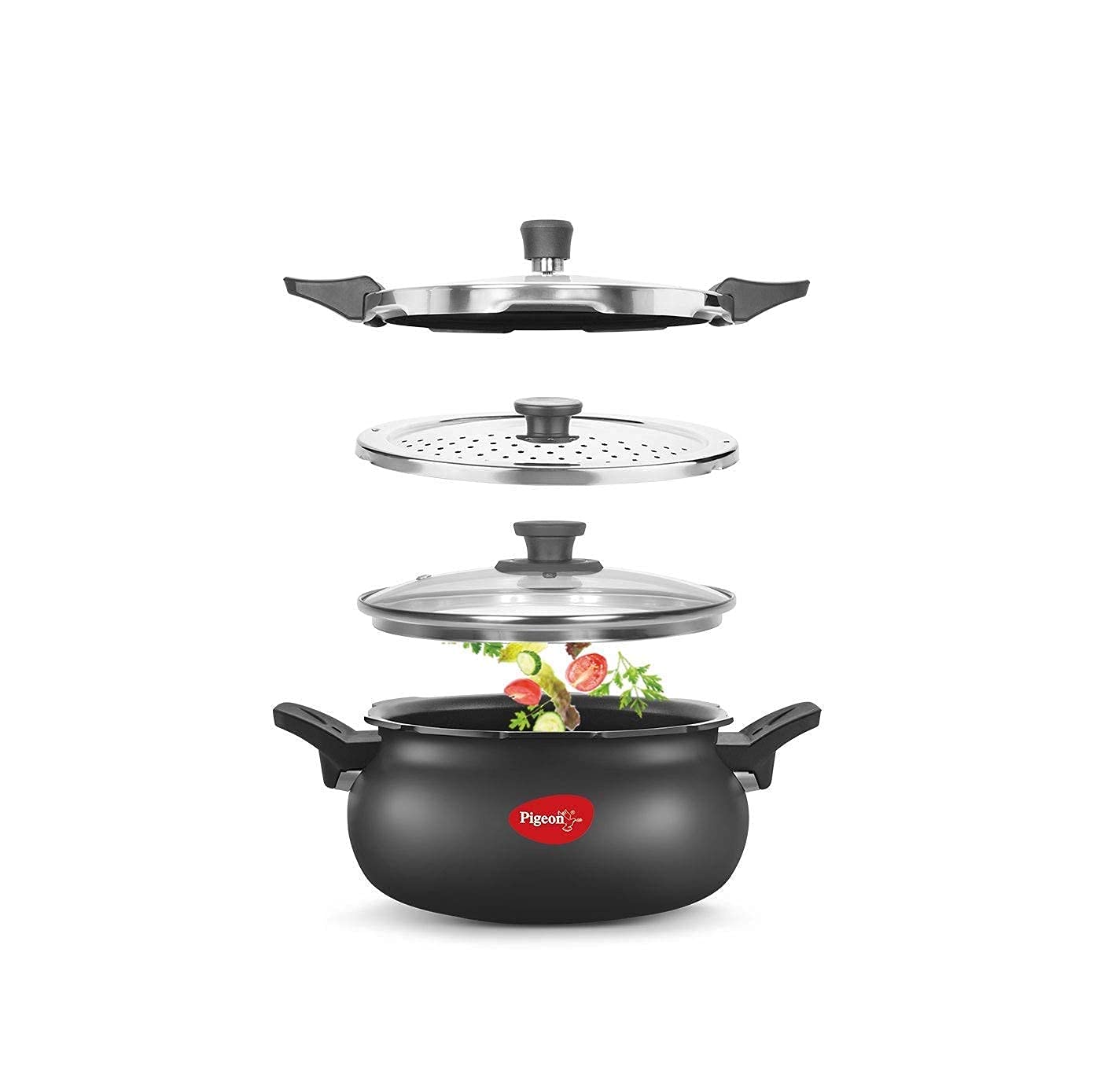 Original Price: Rs.3,955
(as of 16/1/2023 17:00 IST)
10. Instant Vortex Pot Air Fryer
Enjoy delicious, crispy fried food without the guilt with the Instant Vortex Pot Air Fryer. With its revolutionary air-frying technology, it quickly and evenly circulates hot air around your food while keeping it tender and juicy on the inside. You can fry, bake, roast, and reheat food with little to no added oil, making it a healthier alternative to traditional frying. Its compact size and one-touch digital control panel make it easy to use and store away when not in use, making it the perfect kitchen companion.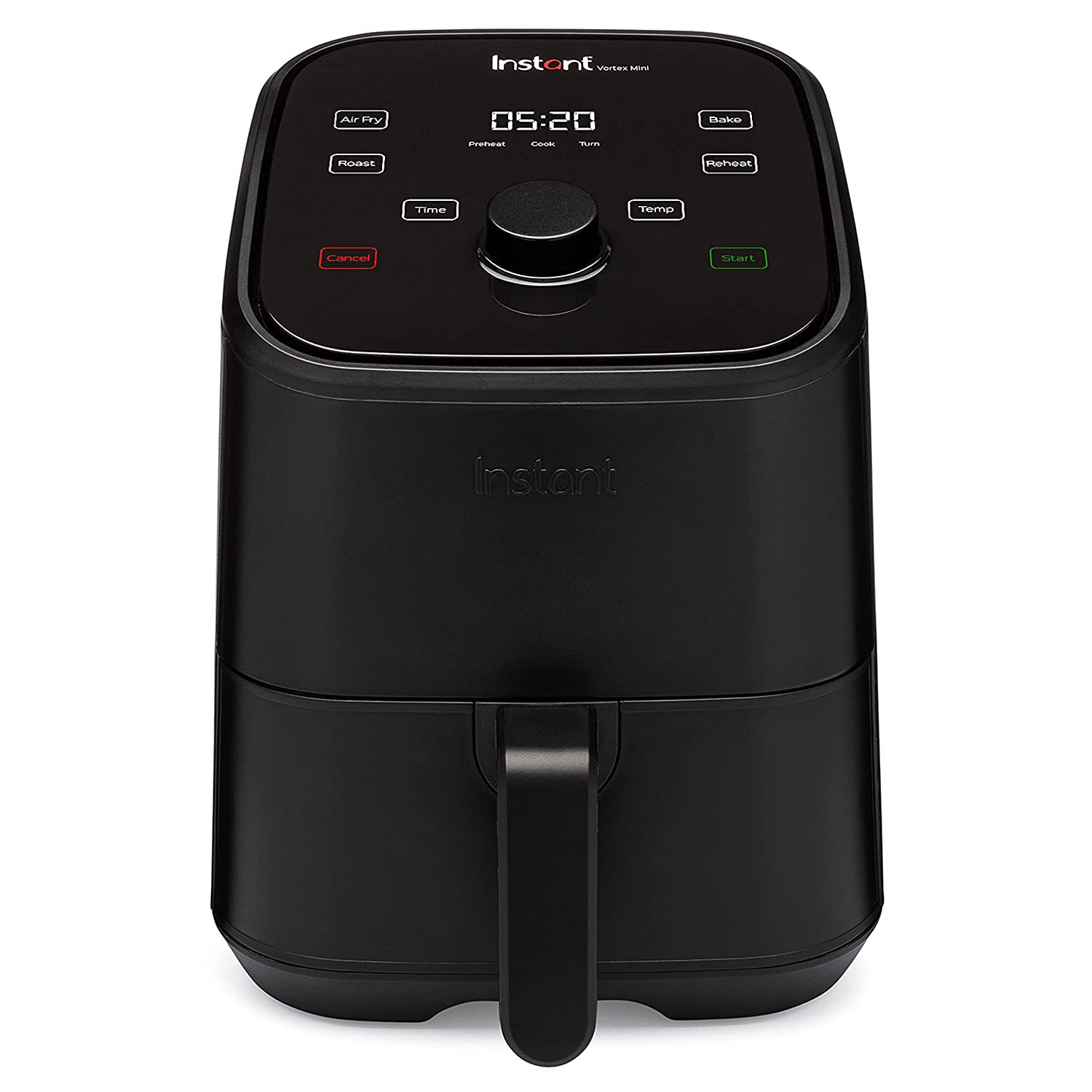 Original Price: Rs.20,049
(as of 16/1/2023 17:00 IST)
11. Larah by BOROSIL Dinner Set
Serve meals to your family and guests in an elegant and luxurious way with the Larah by Borosil Dinner Set. This stylish dinner set comes with 35 pieces and is crafted from fine-grade borosilicate glass. It is designed to be highly durable and resistant to heat and acids, so you can be sure it will last for years to come. The elegant rose red color is sure to add a touch of class to any place or setting. This dinner set includes dinner plates, soup bowls, dessert plates, and cups and saucers, so you can host a dinner party for any size group. With its classic design, this dinner set is perfect for any occasion from a romantic dinner for two to a large gathering.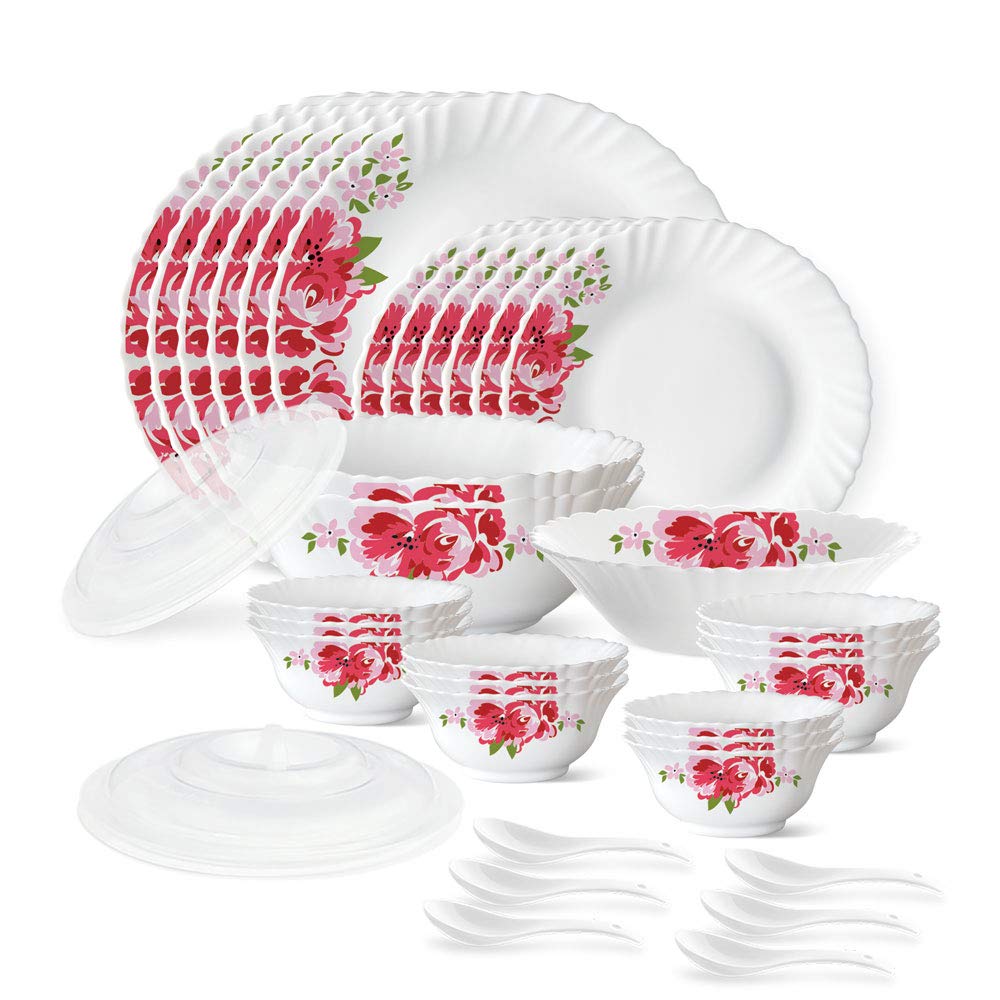 Original Price: Rs.3,640
(as of 16/1/2023 17:00 IST)
These are just some of the best kitchen appliances to make your life easier. Investing in high-quality appliances can save you time and money in the long run and for those looking to save on their kitchen purchases, Amazon has some great offers this Republic Day. With discounts of up to 80% on selected items, you can get the best deals on kitchen appliances. And with their convenient delivery options, you can have your items delivered right to your doorstep. If you're trying to stay on budget, check out the above-mentioned products and stock up on all the latest kitchen items at the best price.
About The Author
Shebna is a content creator with an experience of over 6 years and likes to delve into all things health and fit...ness. She is passionate about the ever-expanding digital world and is always on alert for trends & innovations in the health & fitness world! She enjoys story writing, especially about modern lifestyle, holistic wellness, fashion & more! She spends most of her time on the internet and social media trying to gather useful information regarding the same. She's a dog mom & a true lover of animals. She volunteers for their well-being in her spare time.
Read more
Top Comments
There are no comments in this article yet. Be first to post one!