10 Stylish Bathroom Accessories Sets to Snag From Amazon Great Republic Day Sale
Transform your bathroom into a sophisticated space with the help of these top 10 bathroom accessories sets you need to snag from Amazon Great Republic Day Sale!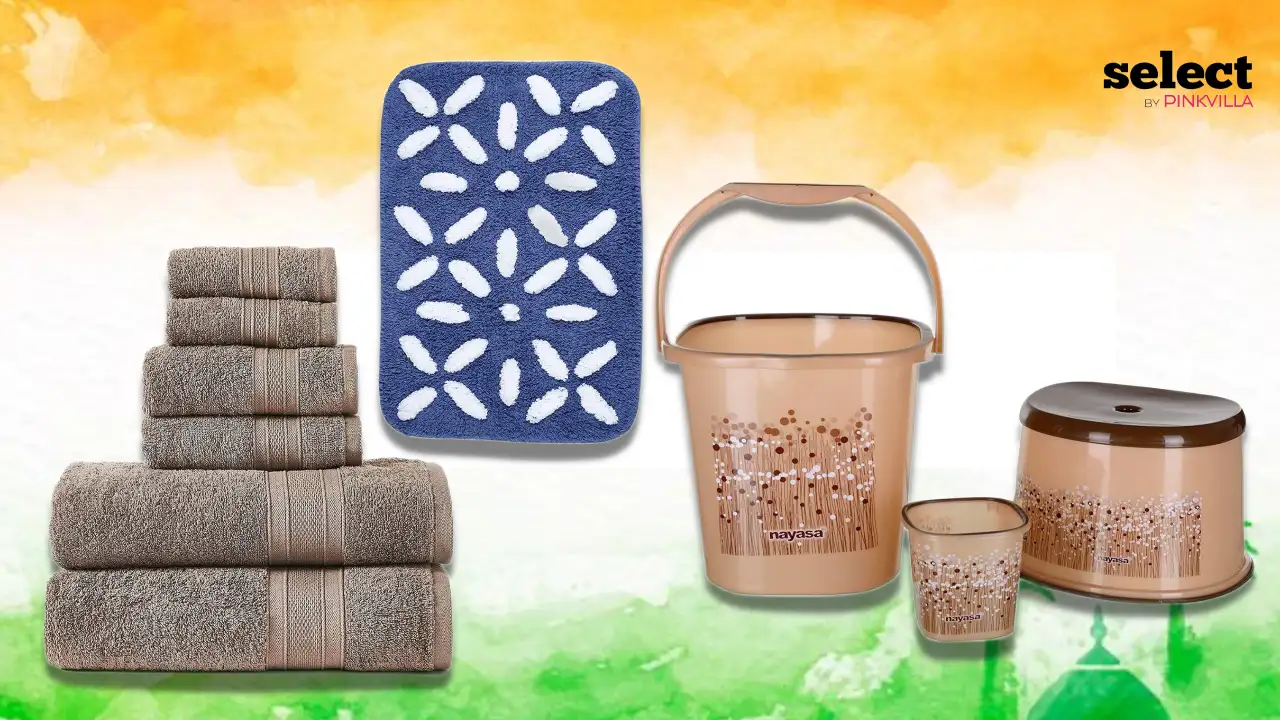 The products curated for this article are independently chosen by the editorial team. If you make a purchase through the
links
mentioned below, we may receive a commission. Check out our
product research & curation process
From brushing your teeth to taking a shower, you need your toiletries kept in a convenient space for you and your guests. From towel racks to toothbrush holders, all these utilities can be now amped up with design and style with the Amazon Great Republic Day Sale. With ongoing superb deals and sales, you must grab the opportunity to get the best for your home. Here are the ten best bathroom accessories sets that can modernize your bathroom space for the better!
10 Bathroom Accessories Set to Urbanize Your Bathroom!
1. Tapis Ceramic Dispenser Bathroom Set
Decorate your home, with this beautifully crafted ceramic bathroom set for your daily routine. This set comes with a liquid soap dispenser, a soap tray, and a toothbrush holder which can be utilized as a tumbler too! The utilities are easy to clean and use, providing no break or hassle while you freshen yourself in the morning. It can be placed near your sink or basin for optimal usage. This handmade set can bring a change of color and style to your bathroom, do snag this deal on Amazon now!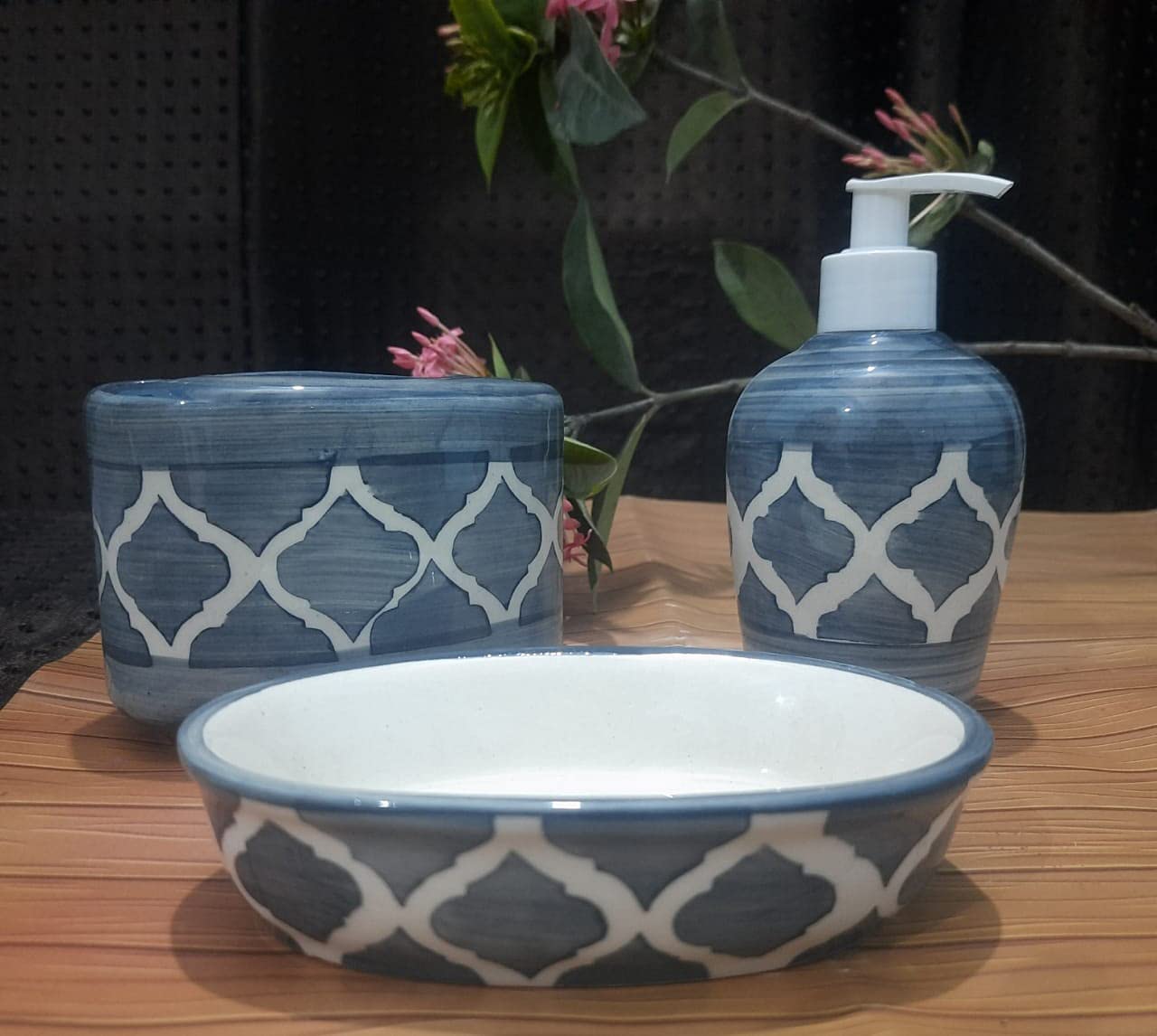 2. VRPRIME Wall Mounted Carbon Steel Shelves
This bathroom shelf set helps to organize all the shower gels and shampoos. It is made of carbon steel and designed in an L-shape, which makes the corner shower caddy hold more shower accessories, and it comes with two hooks on either side to hang your loofahs too. The shower rack won't damage your wall with its traceless adhesive, eliminating the need for drilling with tools. Amp up your space now with the Amazon Great Republic Day Sale.
Made with pure cotton, this rectangular bath mat comes in a classic blue and white pattern that offers you a comfortable place to stand while drying yourself off. It is a low pile bath mat that features a cotton anti-slip material on the back side and can be machine-washed. Useful for everyone in the family, the non-slip bathmat is a safer alternative to stepping onto slippery wet floors. Get it today from the ongoing Amazon Great Republic Sale at a roundup discount!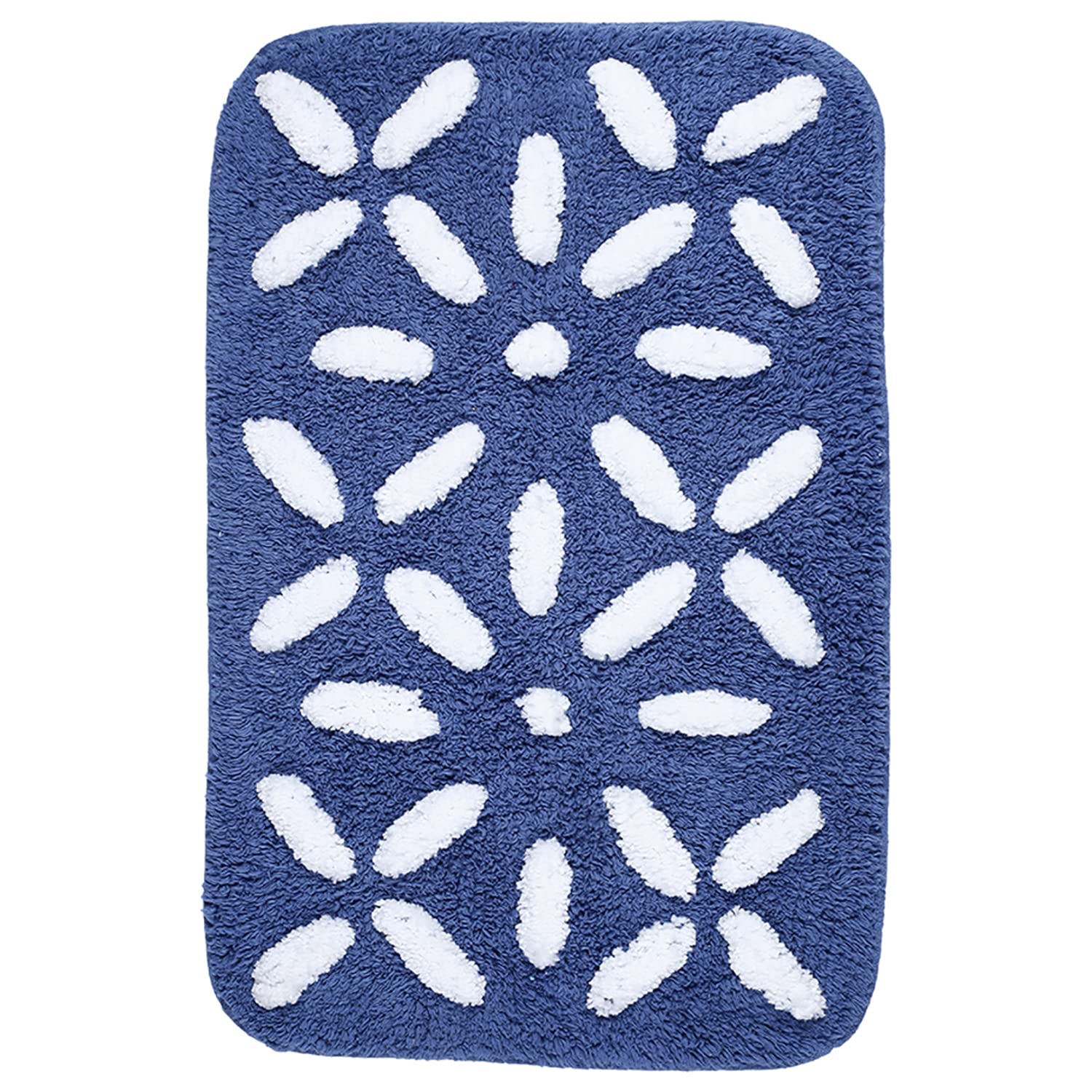 4. Kaolinite Ceramic Dispenser Bathroom Set
Complete your home decor with this handmade ceramic dispenser set. It comes with a soap tray, liquid dispenser, and toothbrush holder. The linear design and elongated shape add a touch of antique yet contemporary decor to your space and look beautiful effortlessly. You can store lotion, sanitizer, hand wash, or any other item you wish to dispense out of the bottle, and it's easily cleanable as well. Grab this antique-looking set at a steal deal before it ends!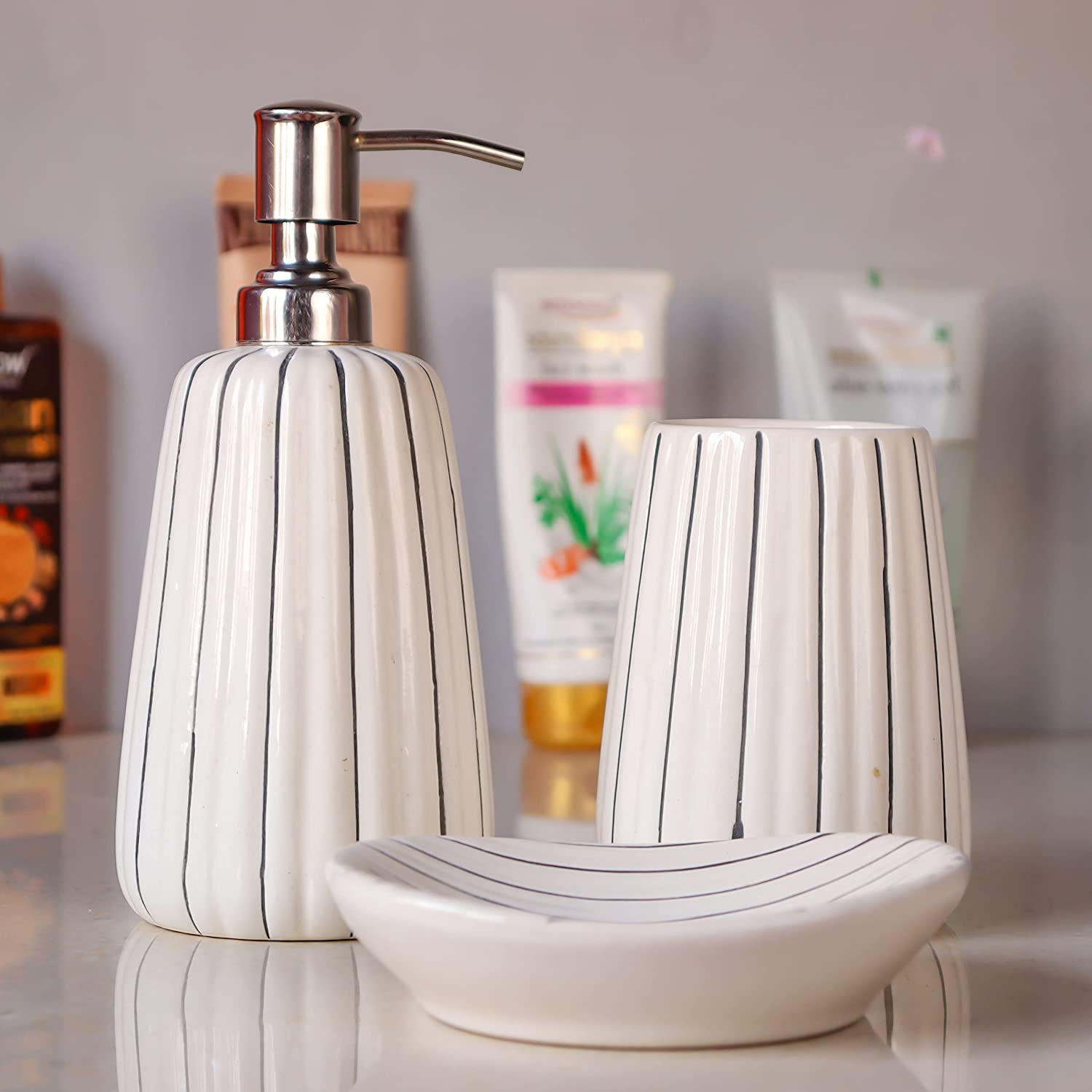 5. Plastic Wall Mounted Shelf Organizer
In need of a durable shelf? No problem. These wall-mountable shelves are as sturdy as a rock. They are convenient to use and store your bathroom essentials tidily. The shelves are waterproof, rustproof, weather resistant, and heatproof for heavy-duty last usage. They are durable and adjustable according to your needs whether in the bathroom, kitchen, or bedroom! Fit this up in your bathroom at a great deal with the Great Republic Day Sale.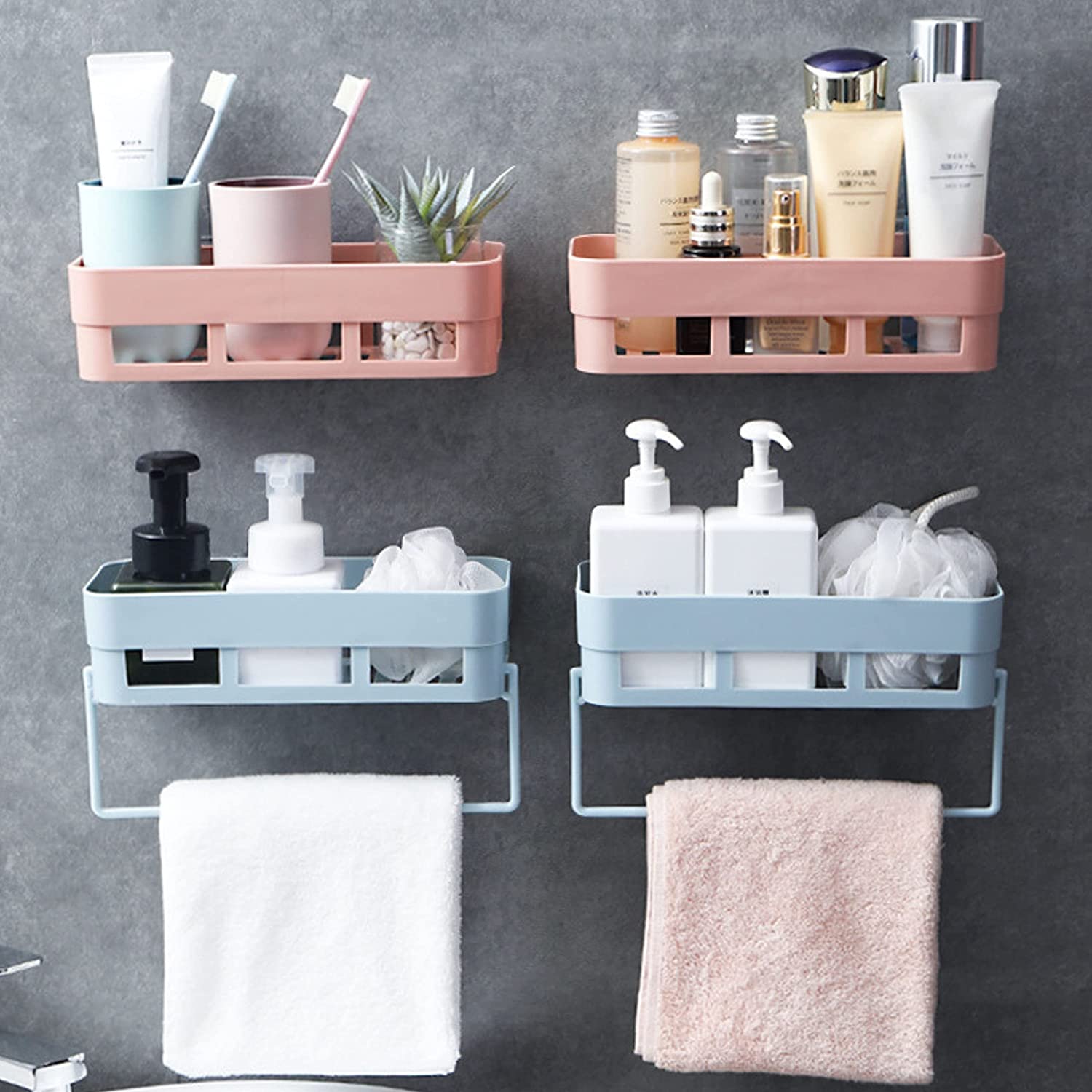 6. Trident Soft and Plush Bathroom Towels
Stepping out of the shower or bath doesn't get more heavenly than with this super-soft pure cotton towel. The set includes two bath towels (137 x 76 cm), two hand towels (66 x 40 cm), and two face towels (30 x 30cm) that are lint-free and dry quickly too. This towel set is OEKO-TEX-certified, ensures textiles meet high safety and environmental standards, and are free from harmful chemicals. It's a must-have set, so grab it before the stock runs out!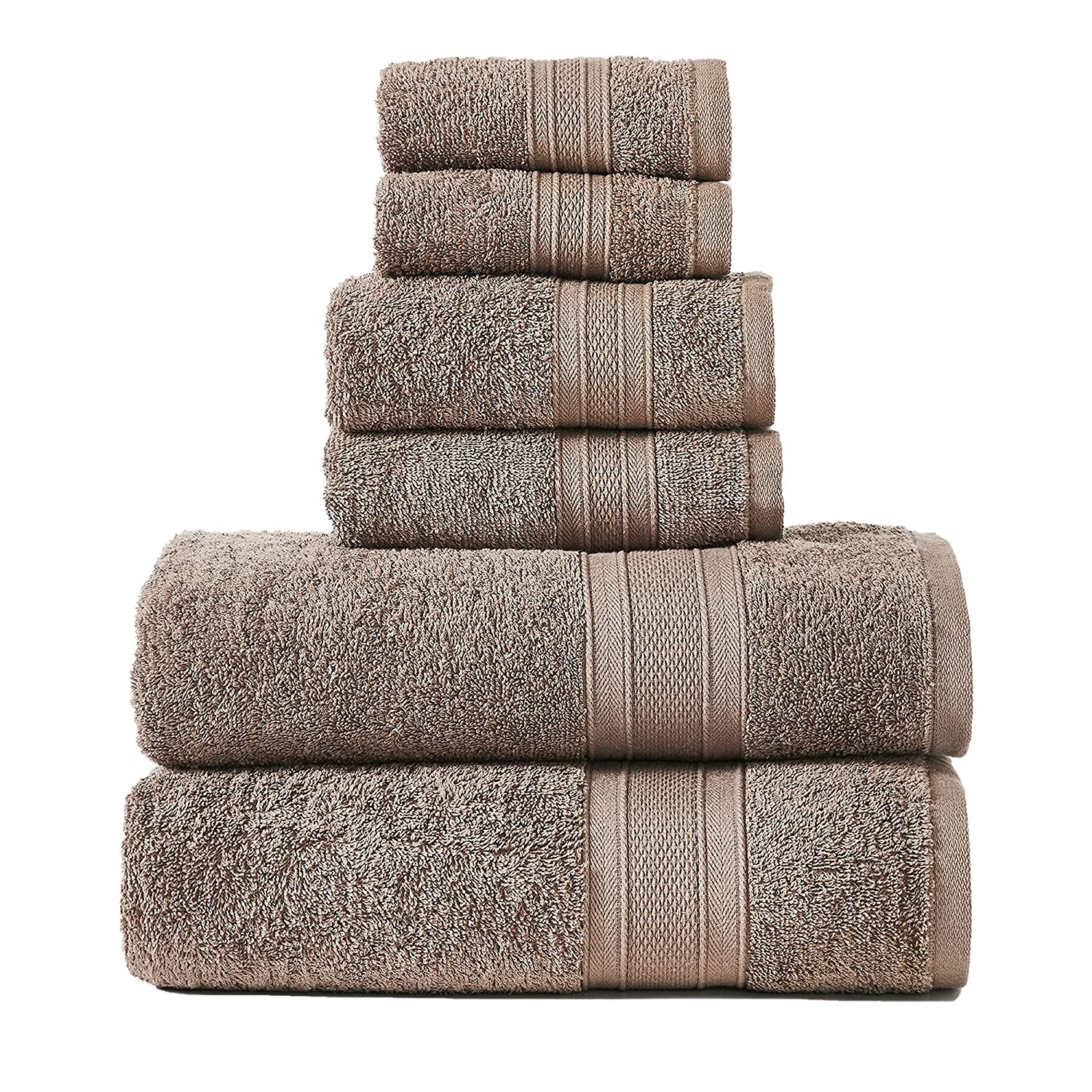 7. Stainless Steel Bathroom Set
This six-piece bathroom set is perfect for minimalists who want to renovate their bathroom space in style. With contents like a towel rack, napkin ring holder, toothbrush tumbler holder, soap dish, and robe hook in the set, you are sorted with all that you need for your daily ablutions. Made of stainless steel with an advanced nickel-chrome mirror finish, this prevents rust and corrosion in your bathroom for long-lasting durability. This bathroom set's classic look won't go out of date but this catchy deal will soon, so don't miss out on it!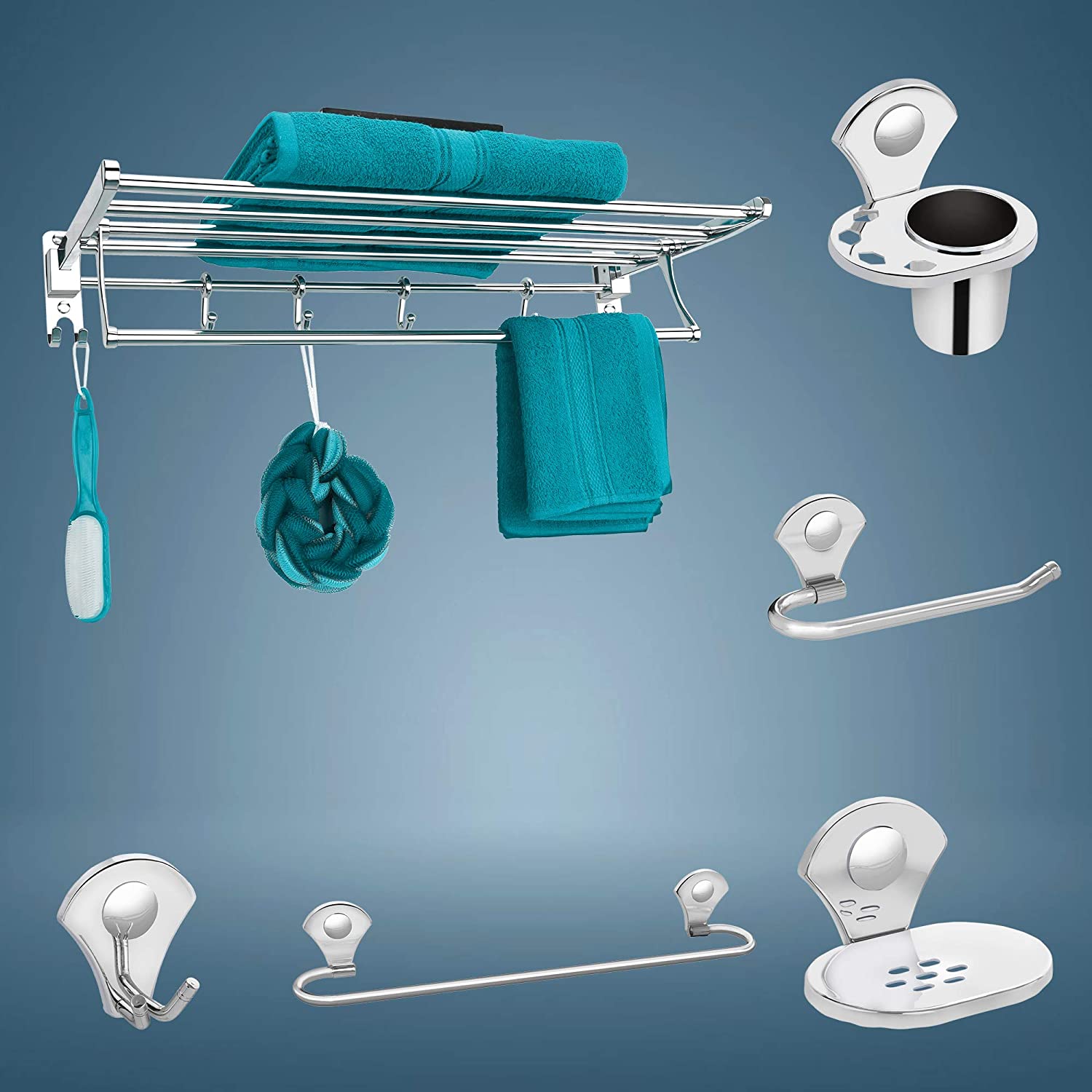 8. Premium Black Glass Corner Shelves
Keep your bathroom essentials within reach with this set of classy black conical-shaped glass shelves. It combines the modern and luxurious appearance that uplifts the style quotient in your bathroom. The corner shelf is made of durable 8 mm glass while the clamps are made up of resilient brass and the railings are made of stainless steel to avoid scratches and rusting. The purchase includes three shelves and can be snagged at a great price on Amazon now!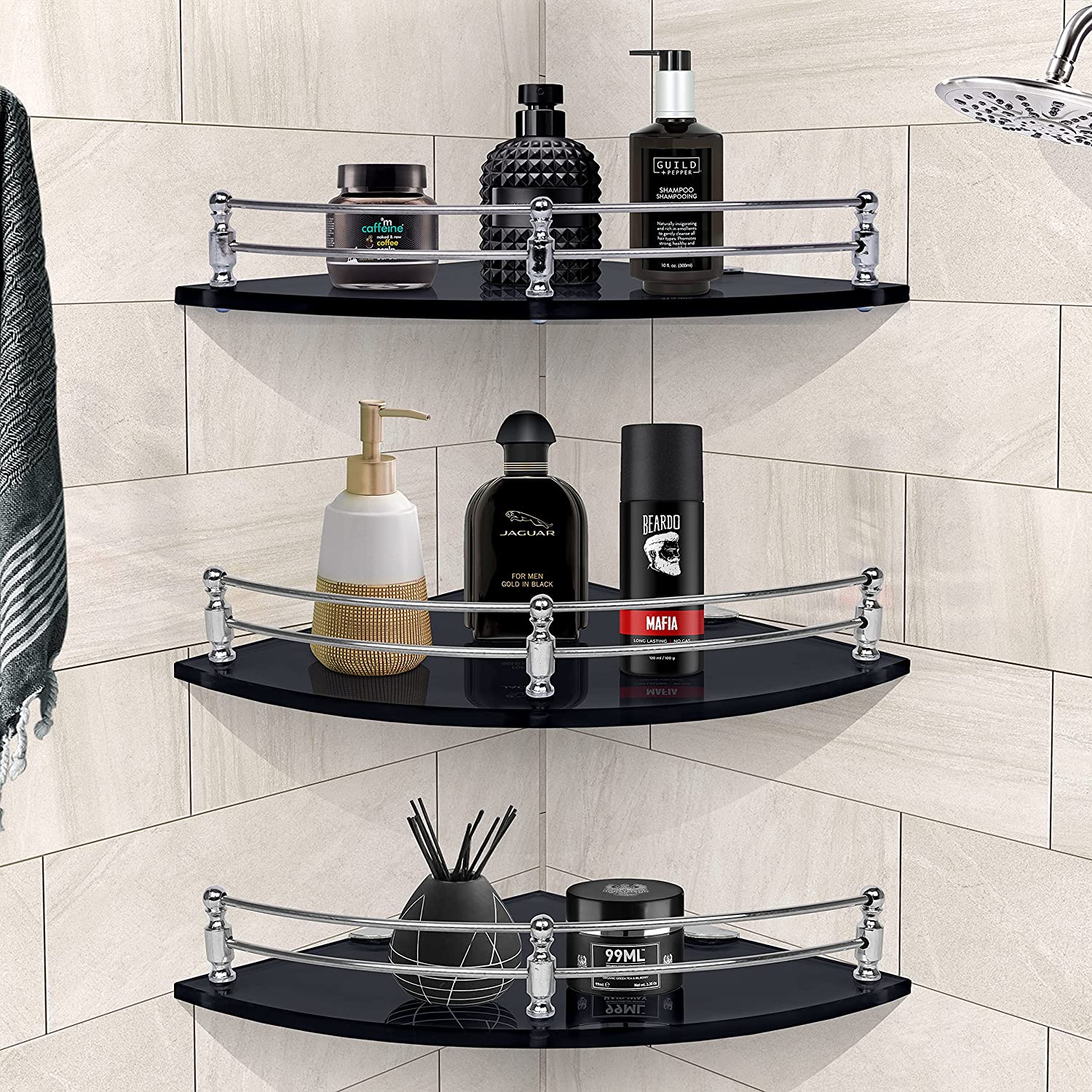 9. Nayasa Funk Square 3 Pcs Bathroom Set
A must-have at every home, this bucket set makes bathing convenient,organized, and hassle-free. The set includes a bucket, mug, and stool, with a matching simplistic design to add color and pattern to your bathroom. The brown bucket can hold up to 20 liters of liquid and the material is high-grade plastic that can endure high levels of hot water and doesn't make the glossy paint fade away. Don't miss out on this high-quality bath set on Amazon Great Indian Sale and grab it now!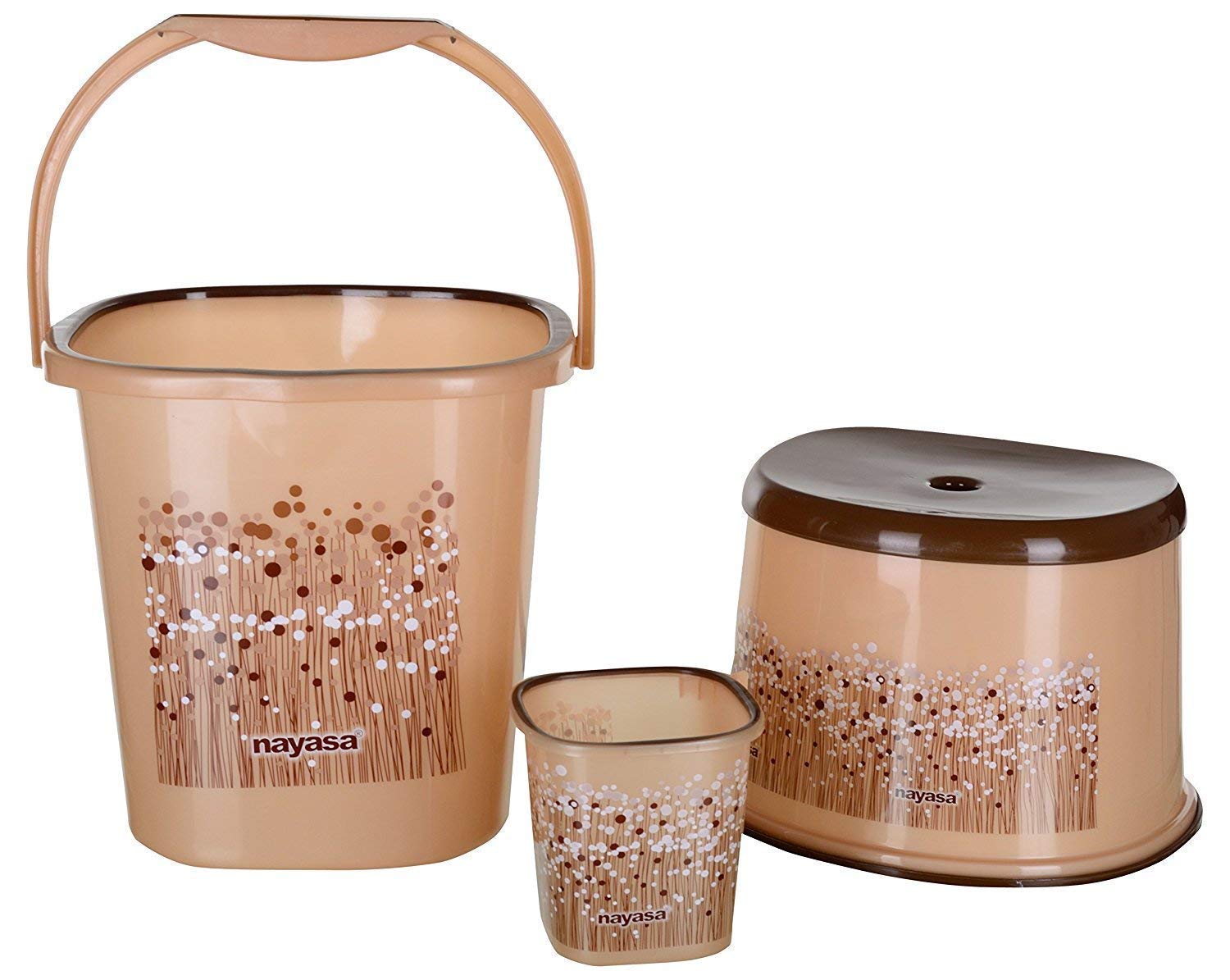 10. Stainless Steel Towel Rings
These towel rings are a perfect addition to your home when you need to hang your towels with no worries. It has a nickel-chrome finish that gives it a reflective mirror-like making it suitable to every home decor style. The ergonomic design and high-grade stainless steel make it durable and rustproof. It is designed with hassle-free installation directions that can be wall mounted with ease. Upgrade your home with this flexible towel holder at a whopping deal of 60% off now!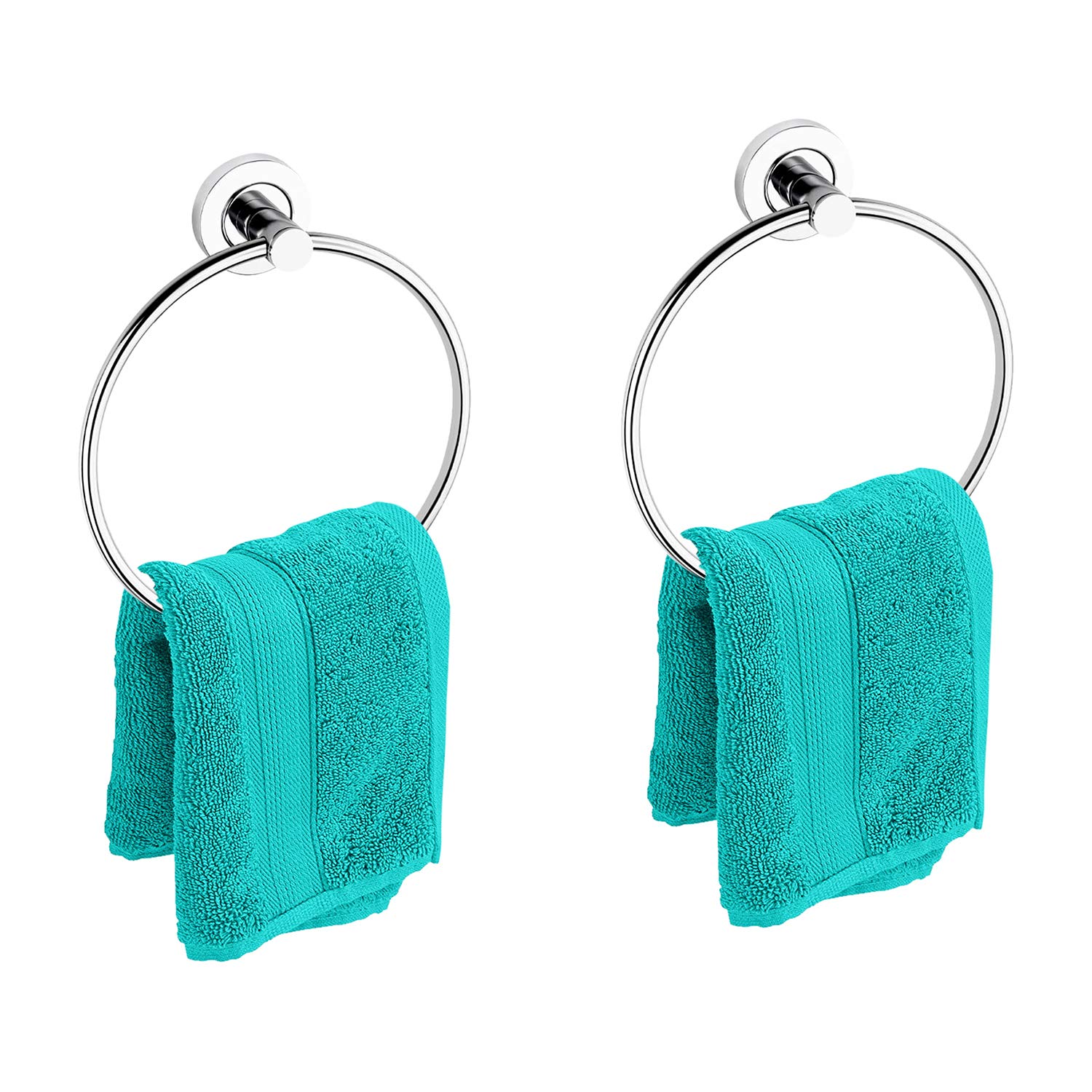 Add these eye-catchy and decorum-pleasing bathroom accessories to your home to start fresh this year. From new designs to convenient use, these products are chosen for their quality and quantity. Decorating your bathroom has never been easier with this curated list, we hope you find your favorite item today on Amazon Great Republic Day Sale.

---