Shop the Finest Kitchen Cookware Sets for Home at Exceptional Deals from Amazon's Live Sale
Feel like a professional chef with a diverse collection of cookware sets available on Amazon. Add them to your cart now to grab the deals — the clock is ticking!
Updated on Feb 01, 2023 | 09:01 AM IST | 101K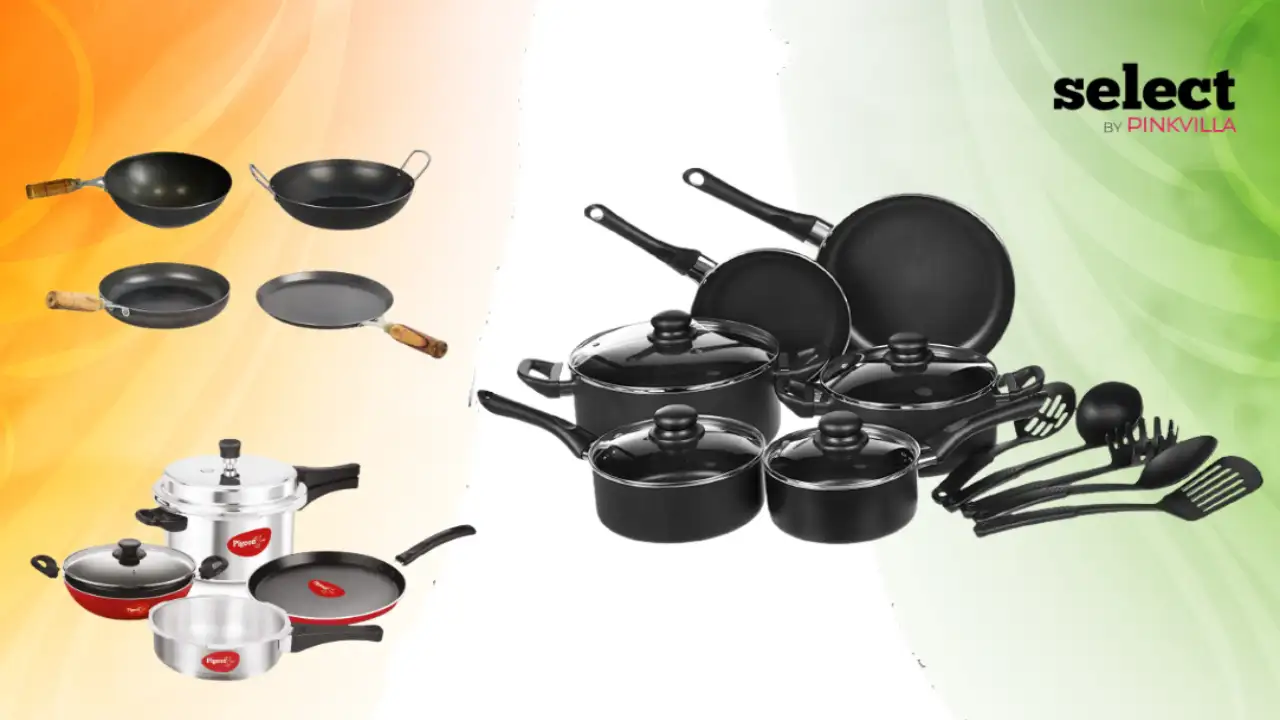 The products curated for this article are independently chosen by the editorial team. If you make a purchase through the
links
mentioned below, we may receive a commission. Check out our
product research & curation process
A cookware set typically includes all the necessary items for cooking and preparing meals, such as pots, pans, skillets, and other utensils. A good cookware combo should be made of high-quality materials that are durable and can withstand high temperatures. And what better place to get your hands on those than the Amazon marketplace?
With splendid discounts of up to 68%, now is the perfect time to pick up a cookware set that will last you for years. Whether you are looking for a complete set or just need to replace a couple of vessels, Amazon's selection and pricing are simply beyond compare. So do not wait — take advantage of this notable sale on cookware today!
10 Must-have Cookware Set for Professional and Home Chefs
1. AmazonBasics Aluminium Non-Stick Black Cookware Set
This cookware combo by AmazonBasics includes fry pans, saucepans with lids, casserole, utensil set with a pasta server, soup ladle, slotted turner, and serving spoons. Along with a fine-quality aluminum body, all the vessels have a non-stick coating, making them super convenient for cooking and cleaning. While the deeply curved bottom allows even distribution of heat, the riveted handles offer cool touch throughout the cooking process. And with a flat 55% off, this cookware set is definitely worth considering!
(as of 19/1/2023 13:30 IST)
2. Prestige Omega Select Plus Kitchen Cookware Set
This cookware combo from Prestige includes all the essentials of cooking — tawa, fry pan, and kadhai. All 3 are made from high-quality aluminum material with non-stick coating, delivering durable, sturdy, and long-lasting performance. From dosas and bread rolls to delectable curries, you can cook up anything and have a stress-free and enjoyable experience with this cookware combo!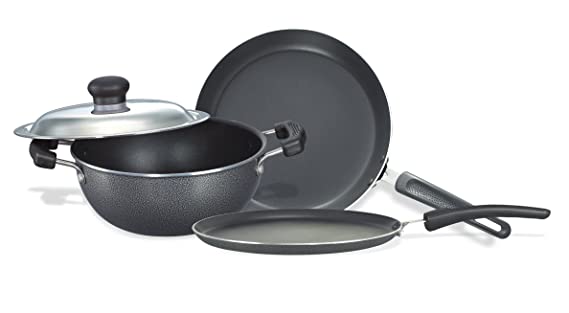 (as of 19/1/2023 13:30 IST)
This cookware combo from Cello includes a tawa, a frying pan, and a kadhai — all with the added advantage of induction-friendly bases. The cookware set is made of fine-quality aluminum with an original coating from Dupont, providing high efficiency, scratch resistance, and easy maintenance. You can use these vessels on your gas stove as well as on an induction top, which makes this set absolutely worth it at this price point!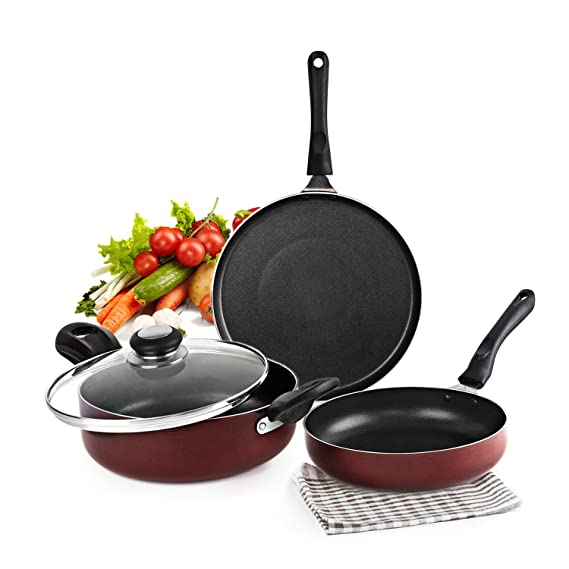 (as of 19/1/2023 13:30 IST)
4. Amazon Brand - Solimo Steamer/Modak/Momo Maker with Glass Lid
No more waiting in line or checking the delivery time to eat your favorite modak, noodles, khandvi, or pasta (and more!). With this steamer set from Amazon Brand - Solimo, you can satisfy your cravings at any time. The vessels are made of stainless steel and are also induction friendly, making them convenient to use on a gas stove and induction cooktop. Moreover, they are lightweight, easy to clean and maintain, and durable.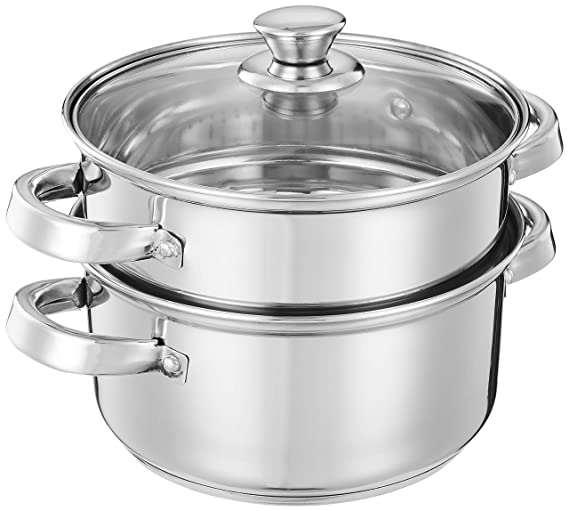 (as of 19/1/2023 13:30 IST)
5. Amazon Brand - Solimo Multi Kadhai with 6 Plates
This cookware set from Amazon Brand - Solimo includes a kadhai and 6 different plates for idli, dhokla, momos, and pathra. The entire set is made of premium quality stainless steel and the kadhai comes with a heavy-duty induction base, making it super convenient to use.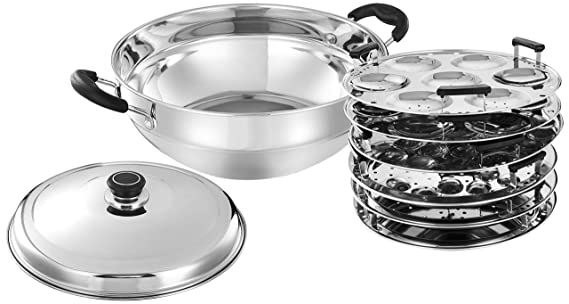 (as of 19/1/2023 13:30 IST)
6. Pigeon Basics Induction Base Non-Stick Aluminium Cookware Set
This cookware set of induction-friendly vessels by the renowned brand Pigeon is a must-have to meet your culinary expectations. With a 5-layer non-stick coating and high-quality aluminum material, this cookware combo delivers a smooth, long-lasting, and streamlined performance. From omelet and uttapam to paneer tikka and biryani, prepare your favorite dishes like a pro! Bonus: you get a whopping 65% off!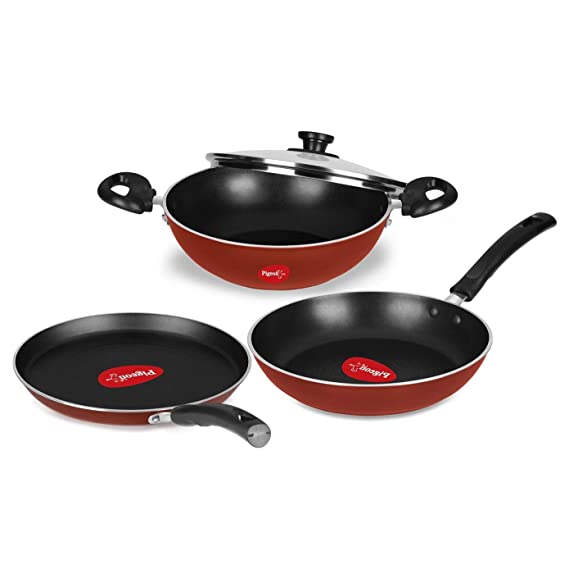 (as of 19/1/2023 13:30 IST)
This galaxy-printed black cookware set from Carote includes a tawa and a frying pan. The vessels are made of authentic granite material with an imported PFOA-free non-stick coating and an induction base, making it super convenient and cost-effective. Moreover, these have ergonomic handles that remain cool throughout the cook, so no more accidental burning. So, take your pick from the color variants, and avail the mindblowing discount of flat 68%!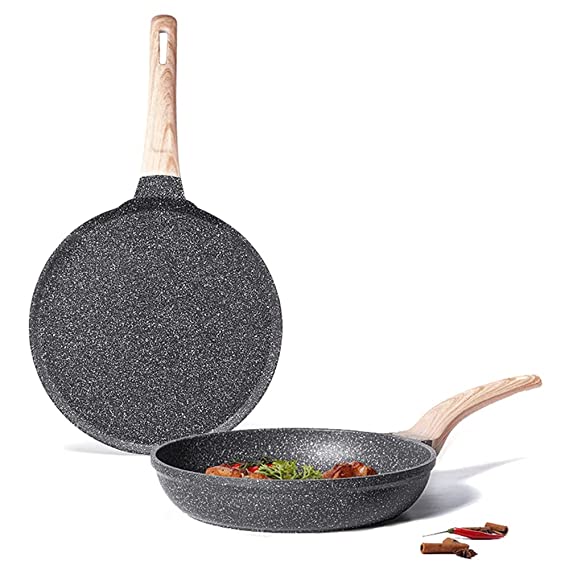 (as of 19/1/2023 13:30 IST)
8. Pigeon by Stovekraft 4-in-1 Starter Cookware Set
This 4-in-1 starter kit from Pigeon by Stovekraft — pressure cooker, tawa, kadhai, frying pan — concludes the pillars of Indian cookware sets. An induction-friendly thick base, non-stick coating, heat-resistant handles, and a high-grade aluminum body are the features that make this cookware combo worth considering. Altogether these qualities offer durability, convenience, efficiency, and easy maintenance!
(as of 19/1/2023 13:30 IST)
9. Sumeet Stainless Steel Cookware Set
You can use this multipurpose cookware combo from Sumeet for several services, including boiling milk, serving dishes, cooking kheer, and more. These containers have stainless steel bodies and are compatible with gas stoves as well as induction cooktops. Moreover, the entire set is dishwasher-safe!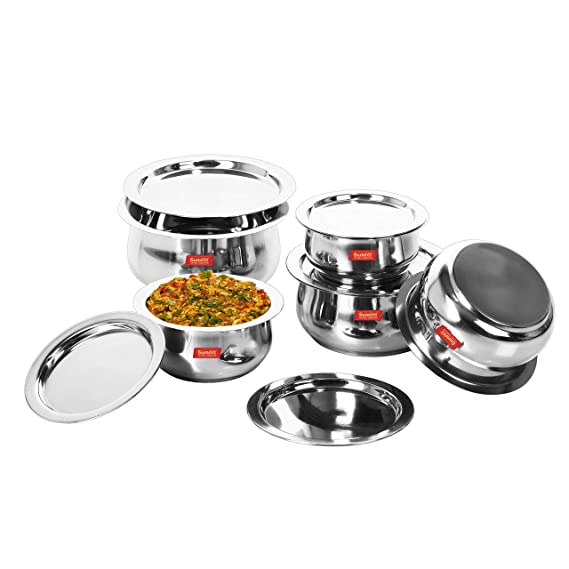 (as of 19/1/2023 13:30 IST)
10. The Indus Valley Natural Iron Cookware Set
This cookware set by the Indus Valley includes a tawa, a kadhai, a pan, and a wok and is built from heavy-duty iron. The entire combo is compatible with both gas stoves and induction. Moreover, with a fine-quality non-stick coating, the vessels provide a hassle-free cooking experience and a long-lasting performance. This cookware set is a must-buy for everyone who prefers a distinct iron or smoky flavor in their dishes!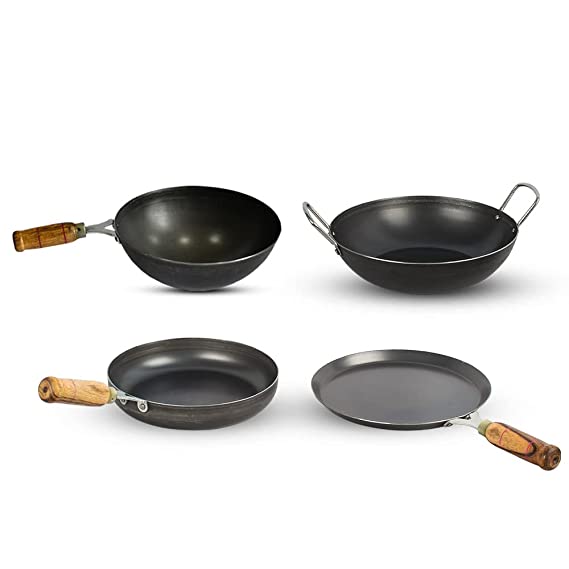 (as of 19/1/2023 13:30 IST)
When looking for vessels that come with all the necessary pieces to make your cooking experience easier and more enjoyable — you need not look any further than the incredible cookware combos on sale at Amazon right now! With a diverse range of styles and sizes available, you are sure to find something that fits your needs. Plus, with Amazon's unbeatable prices, you can get the perfect cookware without breaking the bank. Hurry and shop now to take advantage of the hefty discounts!
About The Author
With a marked inclination toward Interiors and a Post Graduation degree in Interior Design from VIFT Bangalore, Anubhuti... became a certified Home Decor writer to help people design their dreamy homes. With 4+ years of experience, she found her passion and solace when penning content backed with creativity, spice, sarcasm, fun, practicality, and a cup of strong coffee. Anubhuti is an ambivert, dog mom, traveler, critic, epicure, selenophile, nyctophile, bibliophile, and orophile! Read more
Top Comments
There are no comments in this article yet. Be first to post one!