Who is Anna Congdon? All that we know about Saquon Barkley's girlfriend
All you need to know about Anna Congdon, Saquon Barkley's girlfriend!
Published on Sep 18, 2023 | 03:18 PM IST | 92K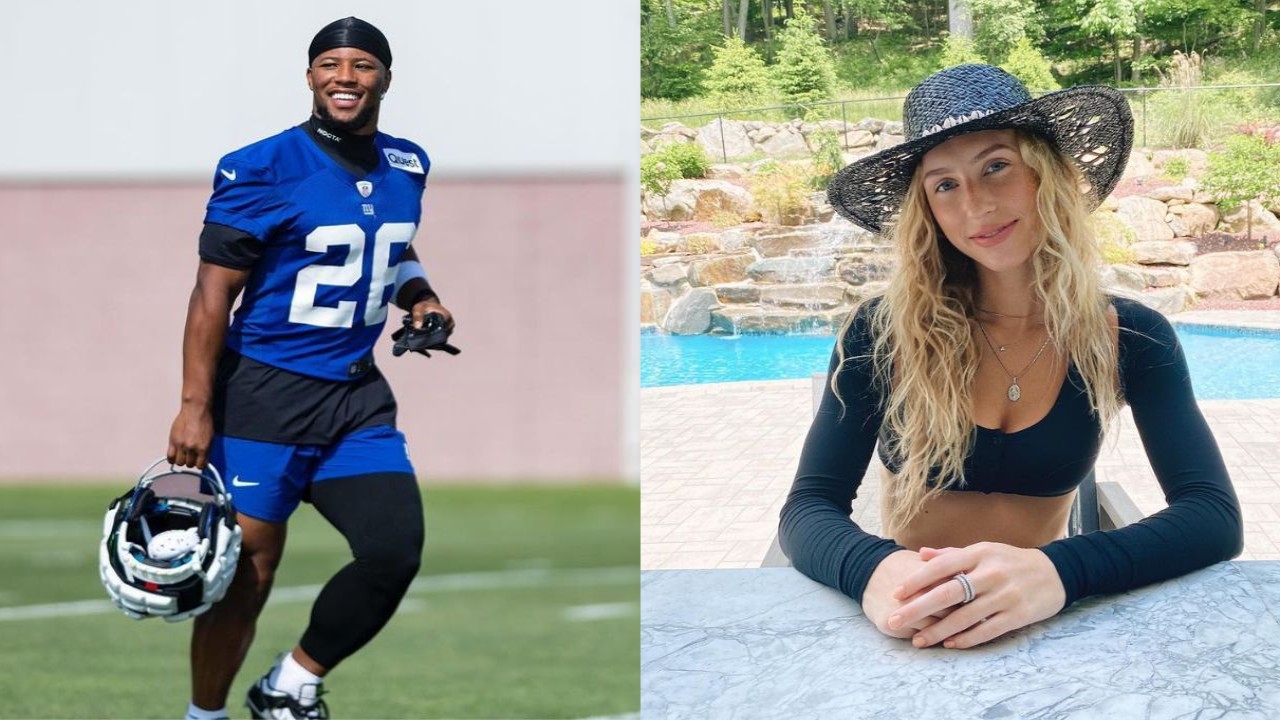 Key Highlight
Anna Congdon and Saquon Barkley officially started dating in 2017

In 2018, Saquon Barkley and Anna Congdon became parents to a daughter

Anna motivated Barkley to continue the education that he left when joined NFL
Have you heard that popular saying - "Behind every successful man stands a woman"? In most cases, it's a mother or a wife. But when it comes to Saquon Barkley, it's his 'girlfriend'. And as much as people know who Saquon Barkley is, there aren't many who know about his girlfriend. The woman who helped Saquon Barkley become who he is now is barely known by the world. But today we are going to change that! Today, we are going to talk about Saquon Barkley's girlfriend in detail. So by the end of this article, you will be well aware of who she indeed is. 
Who is Saquon Barkley's girlfriend?
Saquon Barkley's girlfriend's name is Anna Congdon and she is from the 'Forest City' in Pennsylvania. Anna completed her high school from Regional High School in Forest City, where she used to be the captain of the Girl's basketball team, in 2016. In the same year, she started the Pennsylvania State University for her higher studies and that's when she met Saquon Barkley for the first time before he became a star player.
The two went to Pi Kappa Phi together in the last month of 2016, as a pair. There's a good chance the two might be in a secret relationship, strongly hinted by what Anna's Instagram post of that day.
Sharing the picture of the two, she wrote "he's alright on the field but you should see him on the dance floor". By 2017, the two were officially in a relationship, which came to light when Anna wished birthday to Saquon, with a cute picture of the two. She wrote "Happy 20th to my two-six💙"
Also Read: What accident did Mike Williams have? Former NFL receiver passes away at age 36
From couples to becoming parents to becoming successful individuals, the two have shared a wholesome journey
After coming out as an official couple in 2017, the following year they became parents. The two became parents to a girl child, who was named Jada, in 2018. There are very few people who know that Jada came to this world almost two days before Saquon Barkley was selected by the New York Giants for the NFL, on April 26 2018. As a result, Saquon left the Pennsylvania State University, without completing a degree.
According to PEOPLE, it was Anna who influenced and motivated Saquon Barkley to continue his studies, after becoming a successful player in the NFL. As a result, Saquon Barkley got back to his studies and finished his degree somewhere around May month of 2022. 
Saquon Barkley when asked about completing his degree, as per People, said that he wanted to set an example for his kids, for them to be goal-setters. Anna cheers for Barkly publically, showing the world that there isn't any bigger support than her, in addition to the families. 
Read More: What happened to Stetson Bennett? LA Rams backup QB placed on reserve list
As per ESPN reports, Saquon Barkley has suffered an Ankle Injury during the New York Giants vs. Arizona Cardinals match this Sunday at State Farm Stadium. Even though the New York Giants won the match by 31-28, the victory came at the cost of Saquon Barkley badly injuring his ankle. The star player is going to undergo an MRI in Arizona this Monday. Let's hope the injury isn't too serious.
Is there any latest news on Saquon Barkley?
Saquon Barkley, according to ESPN, has suffered an ankle injury which is going to be checked this Monday for an MRI.
---
About The Author
I'm a sports journalist and writer at Pinkvilla, always looking forward to sharing
...
Read more
Top Comments
There are no comments in this article yet. Be first to post one!