Who is Oonagh Paige? Here's everything you need to know about Amber Heard's daughter
From the significance behind her name to her paternity, here is everything to know about Oonagh Paige, Amber Heard's daughter.
Updated on Feb 20, 2023 | 11:20 AM IST | 1.7M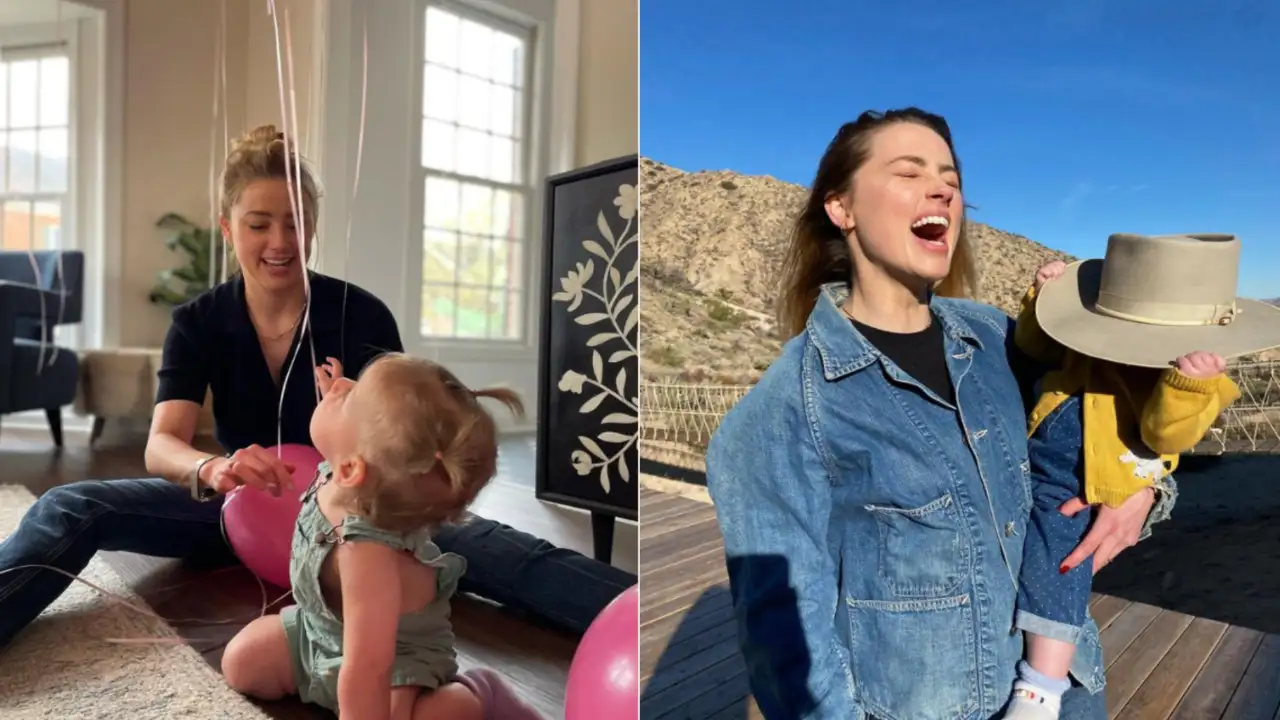 Amber Heard, the Aquaman actress is mother of one daughter – Oonagh Paige. She secretly welcomed her daughter on April 8 2021 and shared the news with the rest of the world three months later in July. Heard explained in the post that she wanted to become a mother on 'her own terms'.
Amber Heard said in her post she hopes that one day it is normal to have a child without having to get married. She wants to keep her life private but the nature of her work does not allow her to take control of keeping her life private.
Since introducing her daughter to the public, Amber Heard keeps giving glimpses of her daughter as well as her life as a single mother. In one of the Instagram photos, Oonagh Paige can be seen sitting on Amber Heard's lap while she is working on the laptop. The Aquaman actress captioned the photo that she is both a mother and father to this child but Paige is the boss. Here are more details to know about Amber Heard's daughter Oonagh Paige.
ALSO READ: Amber Heard appeals for new defamation trial after losing case to Johnny Depp
About Amber Heard daughter Oonagh Paige
1.   Meaning behind Amber Heard daughter Oonagh Paige name
As per Page Six, Amber Heard named Oonagh Paige after her late mother Paige who died in 2020. The Aquaman actress paid tribute to her mother Paige on Instagram by writing a heart-warming note. Heard stated that she was lucky to be born to such a mother who showed nothing but generosity, kindness, and support. The actress adds that her mother Paige was one of the most beautiful and gentle souls with an open heart who shone light on everyone.   
Therefore to pay tribute to her mother, Amber Heard's daughter who was born a year later was named Oonagh Paige and holds great significance.
2.   Amber Heard gave birth to her daughter by surrogacy
According to Page Six, Amber Heard decided surrogacy as the best way to have a child after the Aquaman actress was told by the doctors that she will not be able to carry her own children.
Amber Heard is also very open about the birth of Oonagh Paige via surrogacy. This is because Heard wants to support the women who feel embarrassed about their fertility along with helping them to realize there are other ways to have children even if they have fertility problems.    
ALSO READ: Johnny Depp and Amber Heard's defamation trial to be adapted into a movie
3.   Father of Amber Heard daughter Oonagh Paige  
Amber Heard's daughter's paternity has not yet been revealed by the actress. However, speculations are being made that Oonagh Paige is the daughter of Elon Musk and Amber Heard. As per Page Six, Musk and Heard were involved in the legal battle over the frozen embryos in 2020. Musk wanted to destroy her frozen embryos while Amber wanted to keep them to have a baby.
Amber Heard described her daughter as 'the beginning of the rest of my life'. During Amber and Depp's defamation trial, Heard mentioned that she just wants to move on with life and spend her time with daughter. After trial ended the Aquaman actress mentioned that she looked forward to being a full-time mom rather than juggling calls with lawyers.
ALSO READ: Johnny Depp tried to submit ex-wife Amber Heard's nude photos as evidence during defamation trial?
About The Author
A writer with 2+ years of experience, addicted to movies, coffee, and traveling. Currently curating content for Hollywoo...d, from movies to TV shows and currently making web a more entertaining place. Read more
Top Comments
There are no comments in this article yet. Be first to post one!