EXCLUSIVE: Rana Daggubati on the global recognition and support that RRR is getting: 'It is very personal'
Rana Daggubati, Venkatesh Daggubati and Surveen Chawla's new show Rana Naidu is now streaming digitally.
Published on Mar 12, 2023 | 12:30 AM IST | 112.7K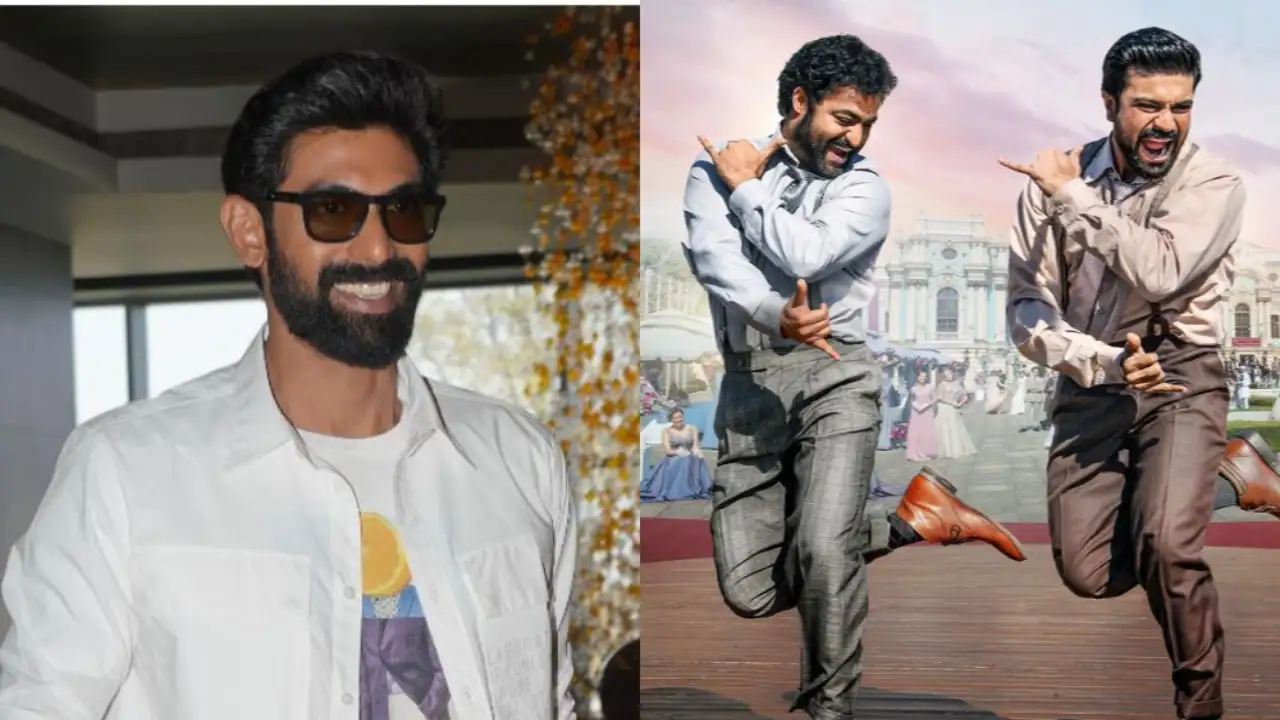 Rana Naidu premiered on OTT this Friday and it is already receiving rave reviews from those who have watched it. This crime-drama series is being appreciated for its edginess, thrill, chemistry between Rana Daggubati and Surveen Chawla and the face-off episodes between Rana and Venkatesh Daggubati. Rana Daggubati and Surveen Chawla graced Pinkvilla with an interview of theirs following the release of their successfully running show.
Rana Daggubati Talks About The Global Success Of RRR
In their exclusive Pinkvilla interview with Himesh Mankad, Rana and Surveen discussed in length about their newly released show, working with legendary Venkatesh Daggubati and the movies and shows that they are currently binge-watching. Rana was asked about what the success of RRR meant to him and the Indian Film Industry, and how it feels for Indian films to find representation at the international level. To this, the Baahubali actor said, "It is very very personal. RRR is too personal I think to me; Whether it is Rajamouli and his entire family, whether it is Charan in it or whether it is Tarak in it. And they are our films. It's Telugu, it's India, it's that kind that you will always love. In many ways, it's more than just happiness and joy for me."
Rana Daggubati Talks About Times When He Wished For Indian Films To Find International Recognition
Rana Daggubati talked about how he always wished for an Indian film to make headlines globally. He said, "I loved cinema because of what I saw globally. I saw Star Wars. I saw films like that when I was growing up and I was just hoping that we'd be able to make cinema like that one day and just that I got to be a little part of things like that. Today is a time when you can actually sit and make films when the whole world is out there to watch your films. Five years ago, we were convinced that the country would watch our films. Now I say the world watch our films. So it is step by step, in the global arena for us." 
Rana Daggubati Recalls Days When Baahubali Was An Unknown Entity
Rana was part of the gargantuan success that Baahubali went on to become. The actor shared how Baahubali was once an unknown entity and how it became a household name. He said that nobody really knew about who they were or what they had made, at the premiere of the first Baahubali film. Compared to what it was then, it is more integrated now and films are travelling farther than they ever did before. Rana then reiterated that there is a sense of belonging and pride in the global success of RRR. The success of a few more films internationally will go a long way in putting the Indian film industry on the global map.
You can watch Rana Naidu on its respective streaming platform.
ALSO READ: Exclusive: Rana Daggubati reveals best friend Ram Charan is someone who always stands by him
About The Author
A journalist who is perennially hungry for entertainment. Loves tracking and analyzing box office collections of movi...es. Also enjoys studying the functioning of different economic bodies associated with the film industry.
Read more
Top Comments
There are no comments in this article yet. Be first to post one!