15+ Most Expensive Nike Shoes in the World That'll Amaze You
From Drake OVO x Nike Air Jordan 12 to Air Force 1, check out the most expensive Nike shoes for all sneaker lovers in the world!
Updated on Feb 17, 2023 | 02:08 PM IST | 1.3M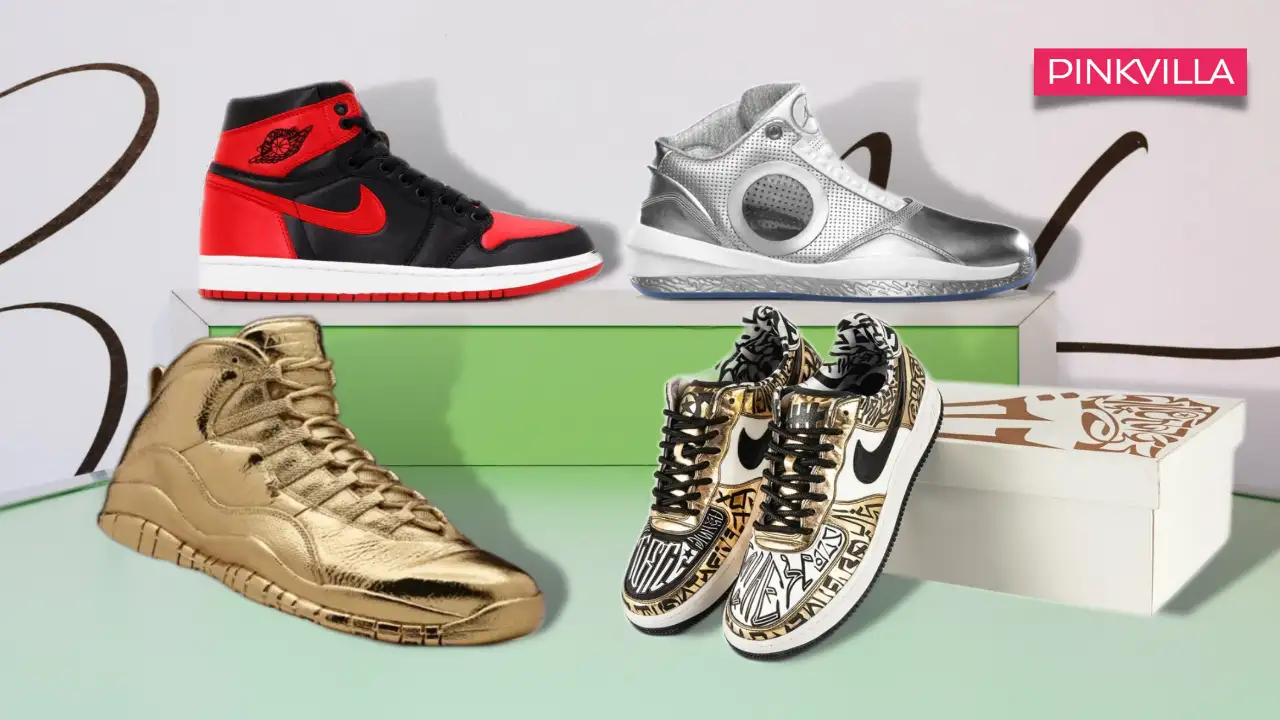 Nike shoes are indeed a status symbol. Founded in 1972 by Phil Knight and Bill Bowerman, Nike is a company known for its sporting goods and is one of the world's largest suppliers of athletic shoes and apparel. The company has been making a wide range of footwear, including running shoes, basketball shoes, football boots, soccer cleats, cross-training shoes, and other athletic footwear since the early 20th century. Fun fact: Some celebs have spent up to $25 Million to buy one of the most expensive Nike shoes!
Nike undoubtedly is one of the most popular brands due to its innovative designs, quality products, and marketing campaigns. So, it is not uncommon for people to spend thousands of dollars on iconic sneakers by Nike. In this article, we will be looking at the 15+ most expensive shoes by Nike released to date. Read on!
15+ Most Expensive Nike Shoes Released to Date
1. OVO Nike Air Jordan 10
Price: $2 Milion
Released: 18 July 2016
Endorsed by: Michael Jordan and Drake
Top 10 most expensive sneakers
A thread

1. Solid Gold OVO x Air Jordans – $2 Million
There had to be a day when a pair of sneakers were coated in 24k gold, and that day finally came when Drake collabed with Nike to make the Solid Gold OVO x Air Jordan. pic.twitter.com/s6EE2qd9YB

— Clever9_billi_hunz😈 (@clever9sing) November 14, 2022
OVO Nike Air Jordan 10 was originally tailor-made for the famous singer and rapper Drake when Drake and Jordan collaborated. These shoes were coated in 24-karat gold, becoming one of the most expensive Nike shoes of all time, and weighed about 100 pounds. Here the engraved word "OVO" represents the shoes' leather construction. These Nike sneaks were not announced to the public until Drake wore them, making sneaker lovers go crazy!
2. Nike Air Yeezy 1
Price: $1.8 Milion
Released: 10 February 2008
Endorsed by: Kanye West
Kanye West's Nike Air Yeezy 1 prototypes that he performed in at the 2008 Grammy Awards are now for sale via Sotheby's.

They have been valued at $1 million! pic.twitter.com/xCJ3i1XJ0N

— SAINT (@saint) April 13, 2021
These Nike shoes were not announced to the public until Kanye West wore them while performing at the 50th Annual Grammy Awards in Los Angeles. The shoes were crafted in shades of black leather with contrasting beige heels and a pink medallion engraved with "Y" (highlighting Nike's partnership with Yeezy).
3. Nike Air Jordan
Price: $560,000
Released: 1985
Endorsed by: Michael Jordan
1 Bred
2023年 ホリデー 発売予定!

ナイキ ウィメンズ エア ジョーダン 1 ハイ OG "サテン ブレッド" (NIKE WMNS AIR JORDAN 1 HIGH OG "Satin Bred") [FD4810-061]

2016年にニューヨークで501足限定でリリースされたモデルの再来https://t.co/GaK8wfxQRr pic.twitter.com/e1rjgAsjrt

— Fullress (@fullress) February 6, 2023
The designer Peter Moore wanted to showcase the color palette of Chicago (representing the Chicago Bulls game) and thus crafted AJ1 in bright red, black, and white. Once the game was over, Jordan autographed these sneakers, and they were put up for auction in 2020. An anonymous sneaker collector bought them for a whopping $560,000, making them the third most expensive Nike shoes!
4. Nike Waffle Racing Flat Moon Shoe
Price: $437,500
Released: 1972
Endorsed by: Bill Bowerman
The 1972 Nike Waffle Racing Flat 'Moon Shoe' smashes record for most expensive pair of sneakers ever sold — $437,500 @Sothebys. #Shoedog pic.twitter.com/HRI7zACSbv

— Robert Frank (@robtfrank) July 23, 2019
One of the most expensive Nike running shoes, Flat Moon Shoe, was crafted by none other than Nike co-founder Bill Bowerman. These running sneaks showcase a blend of off-white, white, and black colors. Did you know that Bill put the rubber into his wife's waffle maker to create the shoes' soles? Genius, right?
5. Nike Air Jordan 12 OVO Drake Edition
Price: $100,500
Released: 2016
Endorsed by: Michael Jordan and Drake
Nike Has Confirmed The Release Date For The Air Jordan 12 OVO White - https://t.co/rbDEVs55KT pic.twitter.com/10NVSAd0wP

— KicksOnFire (@kicksonfire) September 24, 2016
Yet another one of the most expensive shoes of Nike was crafted in collaboration with Drake and Jordan. Highlighting a classic and vintage fusion of white and gold, these make an ideal pair of sneakers to wear with traditional as well as formal outfits!
6. Nike Air F
Price: $88,200
Released: 2006
Endorsed by: HBO series "Entourage"
orce 1 Entourage x Fukijama Gold
Nike Air Force 1 Entourage x Undefeated "Fukijama Gold"
Estimated Price: $60,000 – $90,000 pic.twitter.com/C7AwjMPFna

— 小言 (@ko_go_to) November 1, 2021
Nike came up with an idea to fuse street style with intricate artsy vibes. So the designer crafted these expensive Nike shoes by adding elements of gold to funky graffiti-like artwork. Sneakers lovers, is the result not captivating?
7. Nike MAG " BTTF": Back To The Future
Price: $76,925
Released: 2016
Endorsed by: Hollywood movie "Back To The Future 2"
.@BrianWilson38 and his Nike MAG shoes lighting up the 7th inning. @SFGiants #BTTF pic.twitter.com/EdEsY0LY

— NikeBack4The Future (@NikeB4TF) September 17, 2011
By the mere name, we can understand that the designers at Nike wanted to bring futuristic sneakers to the sneaker industry. And what better way to do so than by crafting shoes that highlight a magical feature that can make any sneaker-obsessed person go WOW? These expensive Nike shoes make a perfect example of Sci-fi-themed sneaks with muted tones of white and grey enhanced by a glowing icy-blue effect!
8. Nike Dunk High Pro SB FLOM: For Love or Money
Price: $63,000
Released: 2004
... and the FLOM (For Love Or Money) Dunk High that featured a currency-covered upper, was limited to just 24 pairs, and resells north of $10,000. pic.twitter.com/J2y5CCDxeY

— Complex Sneakers (@ComplexSneakers) June 19, 2019
Well, the name of these expensive shoes suggests two things: money and love for sneakers. Crafted with brown leather and designed to include supporting white heels and laces, the designers only made 24 pairs of these expensive Nike shoes, wherein every pair of sneakers had the same theme (money) yet a diverse design. Fascinating, right?
9. Nike SB Dunk Low Paris
Price: $62,000
Released: 2002
Nike SB Dunk Low
[PARIS]

Now Available in;
Sizes EU 40-45 | US 6-11
Price Tag is UGX 175,000
Call/WhatsApp +256755393610 for deliveries🤝😊
This is #PayanSneakers🔥 pic.twitter.com/62EMymWe0L

— PAYAN | SNEAKER STORE ™ (@PayanSneakers) July 20, 2022
Nike SB Dunk Low Paris sneakers emphasized the artistic side of Nike, more precisely, French art by the well-known Bernard Buffet. It also means that not only were these a limited collection of Nike's expensive shoes, but every single sneaker was superbly unique in its creativity.
10. Nike Air Jordan Silver Shoe
Price: $60,000
Auctioned: 2012
Endorsed by: Michael Jordan
Nike Air Jordan 5 OG '90 – Black/Metallic Silver (2016) - https://t.co/EIviLH7Nu0 pic.twitter.com/0efTvwBCZZ

— KicksOnFire (@kicksonfire) May 18, 2016
Having already played around with solid gold accents, Nike designers experimented with solid silver and every sneakerhead would agree that the result was simply gorgeous. Moreover, the Nike Air Jordan Silver Shoe was only made once and weighed up to 10 pounds! Although, no one can wear it, having such a stunning and expensive Nike shoe in their personal collection is likely to be a dream for any sneaker lover.
11. Nike Air Jordan IV (4) Retro Eminem Encore
Price: $56,700
Released: 2005
Endorsed by: Michael Jeffrey Jordan and Eminem
http://t.co/8GNUoDYtAt Nike Air Jordan 4 IV UNDEFEATED DS 11 EMINEM ENCORE motorsports retro pic.twitter.com/EPgzNyqhoe

— 2 Legit (@2SpiritRanch) October 15, 2015
This Nike Air Jordan IV Retro was yet another limited edition collection by the brand. The story behind crafting this expensive sneaker was the release of Eminem's new album "Encore." To celebrate the success of the said album, Eminem collaborated with Nike to bring out one of the most fabulous versions of Michael Jordan's sneakers. This brand-new version displayed a dark color palette of royal blue and black with a bright red logo.
12. Nike Air Force 1 Diamond Encrusted
Price: $50,000
Released: 2007
Endorsed by: Big Boi
6. Diamond Encrusted Air Force 1 – $50,000

Not the rarest of shoes in the world, nor worn by any major ballers, instead, these shoes are covered in champagne diamonds, which is why they cost $50,000. pic.twitter.com/BqurcJRgPI

— Clever9_billi_hunz😈 (@clever9sing) November 14, 2022
You can trust Nike to play around with precious gems and bring out the best shoes anyone has ever seen! After their success in incorporating solid gold and solid silver into their acclaimed sneaker designs, the designers at Nike set out to craft another unique shoe. This phenomenal design brought together champagne gold and eleven carats of diamonds while keeping the sneaker snowy white in color. Undoubtedly, the sneaker won the hearts of many people and was auctioned by the rapper, Big Boi, who donated the entire sum to a charity!
13. Nike Dunk SB Low Yellow Lobster
Price: $42,624
Released: 2009
Which Lobster Do You Think Is The Best? 🦞🤔

Nike SB Dunk Low Concepts Orange Lobster
Nike SB Dunk Low Concepts Green Lobster
Nike SB Dunk Low Concepts Purple Lobster
Nike SB Dunk Low Yellow Lobster
Nike SB Dunk Low Concepts Red Lobster
Nike SB Dunk Low Concepts Blue Lobster pic.twitter.com/SI37gJnnWW

— 👁️ Sneaker Visionz 👁️ (@SneakerVisionz) November 24, 2022
Nike Dunk SB Low Yellow Lobster is probably the brightest sunflower yellow sneakers that you must have seen to date. The playful shoes beautifully show off a lively color palette of yellow, red, white, blue, orange, and brown. These rare shoes were actually never meant for the general public but for select 34 employees of Nike. Sneakerheads, would you have liked to buy these quirky and eccentric Nike sneakers?
14. Nike Air Jordan 11 "Jeter"
Price: $40,000
Released: 2017
Endorsed by: Michael Jeffrey Jordan and Derek Jeter
Release Date: Air Jordan 11 Low Derek Jeter RE2PECT - https://t.co/rnj6BBTU0k pic.twitter.com/TBkHb0f1wC

— KicksOnFire (@kicksonfire) April 15, 2018
If we have learned anything from this list of the most expensive pair of Nike shoes, it is that every sneaker Nike has designed has something unique and special. And when speaking about special shoes, we cannot skip mentioning Nike Air Jordan 11 "Jeter." To pay tribute to Derek Jeter (THE greatest baseball player) during his retirement, Nike crafted these sneakers in rich blue velvet with pure white heels.
15. Nike Eminem Carhartt Air Jordan 4
Price: $30,000
Released: 2015
Endorsed by: Eminem
Eminem x Carhartt Sample (2015) & Black Canvas (2022) Air Jordan 4 comparison 🔥🪙 pic.twitter.com/aISMqbju4I

— zSneakerHeadz (@zSneakerHeadz) July 15, 2022
Nike has often indulged in the concept of gifting, be it to their employees, friends, or family. These Nike Eminem Carhartt Air Jordan 4 were also born out of Nike's gifting vision. Wanting to create tougher and more badass-looking sneakers, the designers at Nike collaborated with Carhartt work gear. These expensive Nike shoes highlighted overall jet black color, leather interiors, and chrome-encrusted eyelets. Isn't the result breathtakingly sensual?
16. Nike Macklemore x Air Jordan 6
Price: $25,000
Released: 2014
Endorsed by: Macklemore
•Macklemore X Air Jordan 6, Available Now!!#OnlyKicks pic.twitter.com/ua15i0mZ01

— King_Kennedy👑🏀 (@AY_K3nnedy) November 10, 2022
Back when green was the new black, the designers at Nike took full advantage and came up with yet another brilliant and sleek design. This Air Jordan 6 was a gift to the Seattle rapper and collaborator Macklemore from the Nike brand. The company created 12 red (called clay) and 11 green (called cactus) sneakers with wax leaves and the softest leather. Not only did they look buttery and marshmallowy, but were also super comfortable to wear!
Conclusion
Even among the wide array of most expensive Nike shoes, some stand out as being the most coveted like the Air Jordan 11 or Air Force 1 Diamond Encrusted. With their signature styling, quality craftsmanship, and stylish designs, it is no wonder that Nike's shoes cost more than other brands. Moreover, all of these 15 lavish shoes have their own unique story and place in sneaker history, and each is a powerful symbol of what athletes, celebrities, and also general sneaker lovers are willing to pay for quality!
Are you, too, a sneaker lover? Tell us your favorite pair of Nike shoes in the comments section below!
ALSO READ: 7 Stylish shoes at pocket friendly prices that every sneakerhead would love to own
About The Author
A marked inclination toward understanding human emotions and relationships led Anubhuti to become a certified Relatio...nship Expert. With dual diplomas in Advanced Psychology and Relationship Counselling, she aims to help people navigate through their feelings and all aspects of a relationship. In her 4+ years of work experience, Anubhuti found solace in writing helpful content backed with creativity, spice, sarcasm, fun, practicality, and a cup of strong coffee. She aims to help her readers with her research-oriented content.
Read more
Top Comments
There are no comments in this article yet. Be first to post one!