EXCLUSIVE: ASTRO's Cha Eun Woo talks about bruising himself while working on K-drama Island
Actor Cha Eun Woo is receiving rave reviews for his latest character. The star spoke to us in an exclusive chat dishing about his action-filled role.
Published on Jan 09, 2023 | 04:20 PM IST | 1.4M
K-pop idol Cha Eun Woo has put everything and more into his role for the fantasy action K-drama 'Island' which began airing a couple of weeks ago. His acting which has been under review, all because of the typically stoic boy portrayals he received previously, gives way for people to notice just how much he has grown since the college ridden love stories where he was penned as just the handsome one or the lonely Prince on the lookout for his rightful place. In all those roles it seemed as if he was always finding ways to fit in, never fully accepting his surroundings and seeking familiarity.
In 'Island', Cha Eun Woo, snatches the plot right from the start to make it his own. He injects himself into the story as if embracing it with his whole might, and though the 25 year old plays five years younger, he makes it believable thanks to the mischief in his eyes and the sheer gut to challenge what could possibly kill him, all at the drop of a hat. Speaking in Italian, fans would make note of his increased hotness quotient while we can notice the efforts from the actor who seems to have gone all in.
What is the story of Island?
'Island' is a webtoon inspired K-drama brought to life thanks to a statement making ensemble, fairly impressive VFX and an immersive storyline. Here, the chaebol daughter of the famed Daeho group, Won Mi Ho, is sent off to Jeju Island for repenting for her actions. She encounters bloodthirsty demons on her way who she is unable to fight. A man intervenes with his dagger, hawk-like eyes, unbelievable speed and the urge to kill. Found to be Van, the suited man is tight-lipped and only appears when Won Mi Ho is in need of his help. As the old prophecy awakens and lust demons threaten to kill the unaware woman, a Priest named Yohan becomes curious about the happenings in South Korea and decides to return.
Introduction to Cha Eun Woo in Island as Priest Yohan
As he is initially introduced, Giovanni is a young boy named Kang Chan Hyeok who moved to Italy in his earlier days and returned at the age of 20 after being called upon by the pull of a prophecy. Here, he makes himself known as Priest Yohan, a popular Priest who has moved around saving humans from the wrath of spirits. His methods are none the ordinary as he channels his love for Hallyu aka the Korean wave while dealing with evil. While it may sound funny, it adds the necessary edge to Cha Eun Woo's character.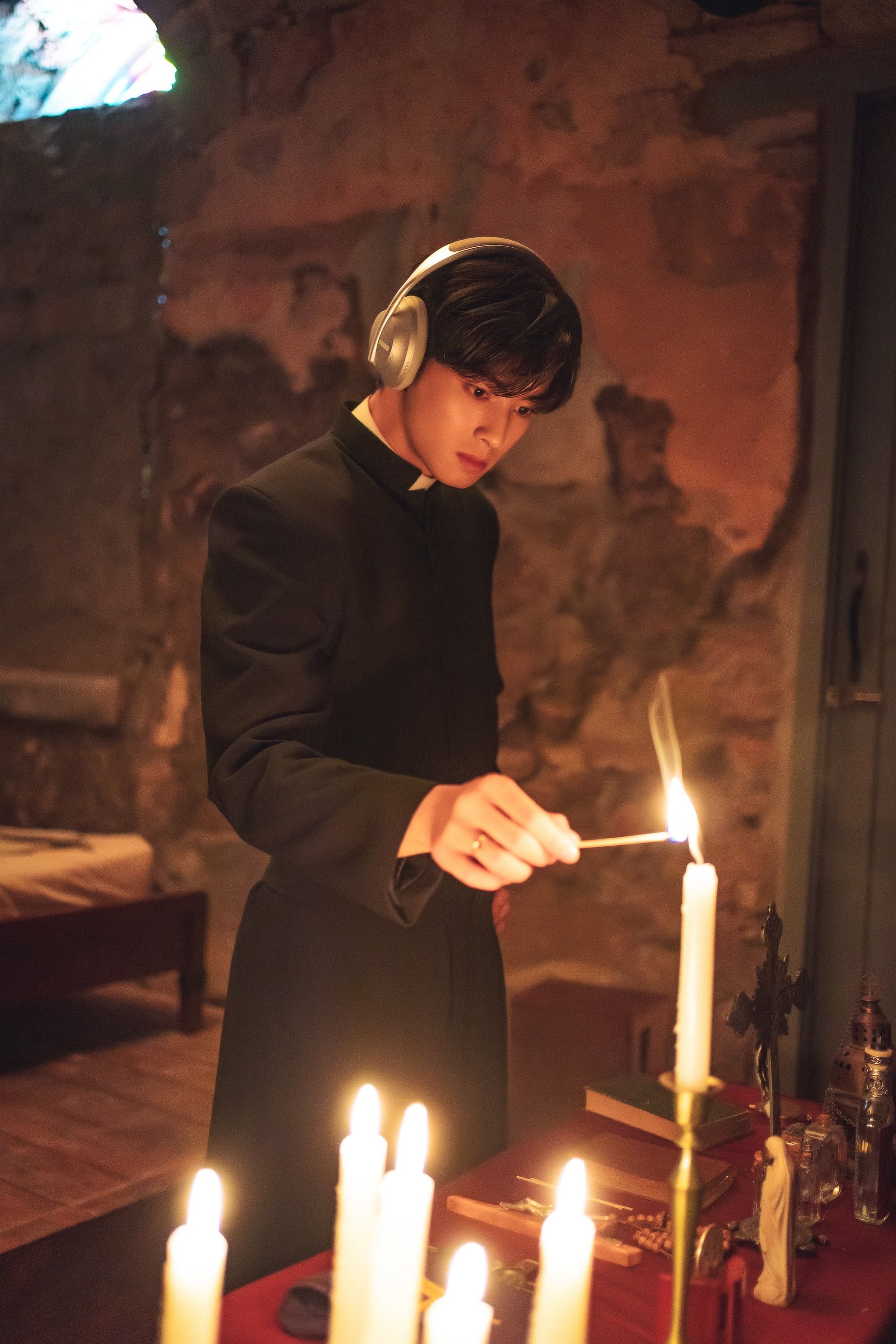 With a pair of headphones around his ears, RnB music blasting through it, he uses ignorance to fend off the evil. Ruthless, he charges ahead while chanting and using a crucifix to burn through the negative energies. With sneakers on his feet and a spring in his step, he manages to surprise you with each action.
The latest episode of 'Island' saw Yohan bring out a pointed sword-like object and use it against Van, the character played by Kim Nam Gil, who is a half-human and half-demonic presence among them, managing to hide from everyone but the Priest who is out for his blood. The chemistry between Cha Eun Woo and Kim Nam Gil as they bicker, waiting to break out into a fight any moment, is better than we expected.
Cha Eun Woo preparing for the role of Yohan
In an exclusive chat with Pinkvilla, the ASTRO member digs deep into his preparation for the character of Priest Yohan. He mentions going to cathedrals and meeting up with real-life Priests to learn the know-how of his role. On being asked what training he received, Cha Eun Woo opened up saying, "While playing the role of a priest named Yohan, I had to take Italian or Greek and Latin lessons since I had such scenes. I went to a cathedral to see a priest and learned about the basics of Catholicism. Whenever I speak, I wanted it to be more Yohan-like, I worked on it so it could be more fitting to the role."
On the other hand, since he is known for performing exorcisms, Cha Eun Woo's character takes on action scenes frequently and the actor worked on them with just as much enthusiasm, getting bruised while pulling them off with all his might. He spoke about the difficulties of working on the sets, "I used my body a lot. When I was rolling over a mountain or something like that, I got some small scars and it hurt a little. I have some wounds and those bits were difficult but, I feel proud and it was fun portraying the character."
Here's a funny interaction between Cha Eun Woo and Kim Nam Gil in our full interview with the 'Island' cast:
ALSO READ: EXCLUSIVE: Kim Nam Gil dishes on becoming a 'weapon' and fierce action scenes in K-drama Island
About The Author
After completing her engineering, Ayushi followed her passion for journalism and has been a professional writer for o...ver 3 years now. She is a K-drama binge-watcher and grooves to all genres of the K-music world. You can discuss unpopular opinions with Ayushi while she keeps looking for the next artist/show to dive deep into.
Read more
Top Comments
There are no comments in this article yet. Be first to post one!