EXCLUSIVE: Virat Kohli and Anushka Sharma Italy Wedding: One year on, Shaadi Squad REVEALS it all
From 2 am meetings, to signing NDA's with vendors to even shifting the wedding Mandap at the last moment, Shaadi Squad reveals all about the Anushka Sharma-Virat Kohli's magical Italy wedding. Read on
Updated on Dec 21, 2018 | 12:53 AM IST | 766.8K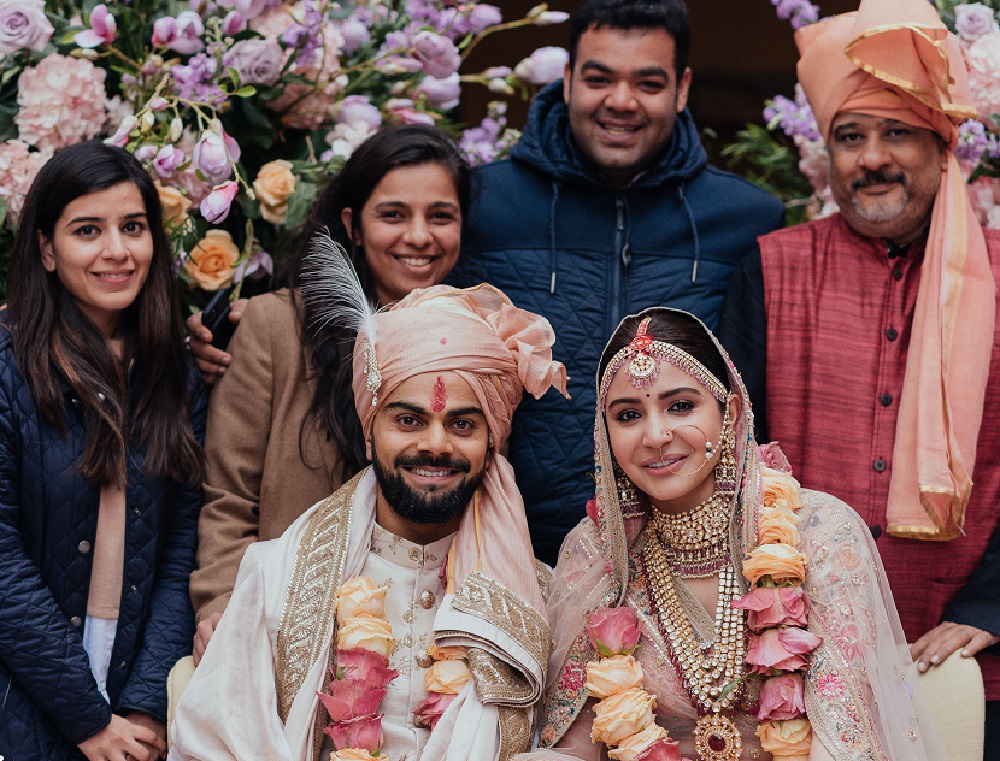 Weddings are sure a match made in heaven they say but Indian weddings need more than just heavens choicest blessings, they need an army or more to say a squad to make it happen. 2018 has been all about big fat Indian weddings. From Sonam Kapoor-Anand Ahuja to Deepika Padukone-Ranveer Singh and now Priyanka Chopra-Nick Jonas, the biggest names from the entertainment world tying the knot not only made headlines but has dominated the news for days. But all this started in December 2017 when Bollywood actress Anushka Sharma and Captain of the Indian Cricket team Virat Kohli decided to have a fairytale wedding far away in Italy.
Virushka, as the couple has been fondly nicknamed made news last year in December when they planned to take their vows in Tuscany, Italy. But they needed Shaadi Squad to organise this mammoth of an event away from heir homeland. Pinkvilla exclusively spoke to Shaadi Squad founders, Tina Tharwani & Saurabh Malhotra, who after a year opened up about what went into the making of the biggest wedding of 2017. From 2 am meetings, to signing NDA's with vendors to even shifting the mandap at the last moment, they reveal all about the Anushka Sharma- Virat Kohli's magical wedding. Read on.
It's heaven, when you don't sense time passing by ... It's heaven, when you marry a good 'man' ...
Virat Kohli-Anushka Sharma Wedding was the first-high profile wedding that Shaadi Squad organised. This wedding put you guys on the map, how one year later when you look back, how would you describe the whole wedding?
As we look back to one of the dreamiest weddings that we had the privilege to organize a year back, we still find it hard to come to terms with the fact that we did it, and memorably so! Anushka and Virat are two very powerful individuals in their respective industries and are highly loved and venerated by the masses. Organizing such a high-profile wedding and maintaining secrecy throughout was a difficult task to achieve. But the feeling of having successfully executed the wedding was surreal, and still is. All those extensive efforts made, eventually paid off in the most beautiful way possible. We were beyond ecstatic when we finally realised what a lovely wedding we put together and the great response each and every detail received from the families of the bride and groom as well as their fans, making it a special day for the endearing couple to commemorate for the rest of their lives.
What were the ideas and thoughts that Virat Kohli and Anushka Sharma had for their wedding? 
From the very beginning, Anushka and Virat did not load us with a lot of briefs or expectations. They had a simple and very clear vision—an intimate affair with a close-knit guest list of under 50 people, celebrating with their family and friends. They wanted the wedding to take place in a cosy atmosphere with lots of open spaces and greenery. Although they precisely knew how they wanted their dream moment to look and be like, they were open to and very welcoming of suggestions that we brainstormed about with our associate vendors and put forth.
The people responsible for making the most memorable occasion of our lives peaceful and beyond beautiful - our lovely wedding planners @shaadisquad
Was Italy always the choice? And what was that one thing that went into finalising the Italy venue? 
As per the brief was given by the couple, we had shortlisted a few locations across the globe keeping in mind other norms such as ideal weather conditions, the extent of privacy provided, less tourist traction, ease of accessibility, enough space for the guests etc. Through further scrutiny, we subsequently zeroed in on five destinations. Anushka had previously expressed her desire to get married in a Tuscan vineyard, so Italy came to us naturally as an option. Further, the 800-year old village of Borgo Finnochieto fit all other criteria for venue eligibility—far from the city, a limited number of rooms, several green outdoor spaces and an ample amount of privacy. This was basically everything that the couple was looking for in their wedding location, and the private Italian village was thereby finalized as the venue.
Logistics wise, what was the most difficult part to arrange or organise for the wedding? 
Shortlisting and arranging vendors for a wedding as huge as this while keeping the couple's identity a secret was one of the most difficult aspects of the wedding. Client's confidentiality is our priority and we made sure it was followed throughout the planning. Before finalizing the vendor, we would make them sign an NDA (non-disclosure agreement) drafted by our legal team to ensure not a word was spilled about the wedding during the whole planning as well as the procession. And in spite of that, the client was not revealed to them. Choosing the vendors was a mix of careful scrutiny of their portfolios and intuition. The vendors were also very supportive throughout and worked just as professionally despite knowing nothing about their client's profile. Further, while we could have flown all the materials and the vendors from India, we decided against it to avoid speculation. Eventually, we sourced them all from various parts of the world. And this is how the whole arrangement unfurled.
How many months of planning and execution went into the Virushka wedding? 
Anushka had approached us with her idea of the wedding in July, but we initially brushed it off as a joke. But when she followed up some ten days later, we realized that it was a serious affair and was indeed happening. Therefore, from August onwards, it was four months of extensive planning, sleepless nights, a constant adrenaline rush, last-minute meetings even at two in the morning, loads of laughter and warmth, and the ultimate execution that resulted in this beautiful wedding for the adorable couple to cherish for life.
One of the greatest privileges in the past few months has been working so closely with @anushkasharma She has been the source of inspiration, creation and ideation of this absolutely magical wedding. Thank you for having such faith in us and for helping us realise your dreams. We are co conspirators now and will continue to be your A Team for eternity! #virushka #avsquad #teamshaadisquad #weddingplanning #weddingproduction
Were both Virat and Anushka equally involved in deciding the theme and decor and other things or one of them took the lead? 
As far as the planning and logistics were concerned, both Anushka and Virat were highly invested and hands-on for everything. The theme was primarily envisioned by the couple and was brought to reality by us and our associates. It was not an easy task to convey the vision and its substantiation back and forth between the couple and vendors, especially since the vendors were not aware of their client's identity. However, since both Anushka and Virat were highly involved throughout the process, albeit with Shaadi Squad at the forefront, everything ended up being very seamless. 
Shaadi Squad managed to keep the wedding classy and till date, everyone talks about it. How much was the couple's involvement in the whole thought of keeping it classy? 
Keeping the wedding 'classy' was never a priority. We just wanted the wedding to reflect the couple's personalities and their vision about the same. The idea behind a picturesque location, open grounds, lush greenery and beautiful flowers was conceptualized by Anushka and Virat; and we just played our part in bringing the same to reality.
Today we have promised each other to be bound in love forever. We are truly blessed to share the news with you. This beautiful day will be made more special with the love and support of our family of fans & well wishers. Thank you for being such an important part of our journey.
Some SERIOUS couple goals Shot by @storiesbyjosephradhik #virushka #couplegoals #bigindianwedding #teamshaadisquad #weddingplanning #weddingproduction
Any last minute emergencies or anecdotes from the wedding which you would like to share?
During the days we were there, the weather unexpectedly got really bad, and we had to immediately move things around and have the wedding ceremony indoors instead of at an outdoor venue that we had originally planned.  At that point, we were all really stressed as the decor had all been planned to keep in mind the location and a lot of it had to be improvised there and then. We really had great teams and partners with us as none of the guests realised that the decor was last minute, and nor does it show in any of the images.
What about the security concerns at the wedding venue?
As you know, the wedding was an extremely hush-hush affair with no one really knowing that its happening. However, a media house did find out about it at the airport and had followed a guest to the venue and suddenly it was being splashed across media. Of course, at that time all of us were in Italy and couldn't really do too much from there. But we were quite adamant that no one would be able to see inside the venue. We contacted the Indian embassy there who barricaded the road leading up to the venue in absolutely no time. And in case such a scenario did take place, in one of our previous trips we had contacted the owner of the lands around the venue. He also immediately ensured that no one could get inside.
 
Post that you guys have organised many celeb weddings, Priyanka Chopra-Nick Jonas being one of them, does it become tough to keep one different from another? 
Honestly, it is not tough to plan weddings differently. And a lot of credit for the same goes to the clients themselves. Each couple has a unique vision of how they want their wedding to be, and our job is to substantiate their unique idea. According to us, it is extremely important for a wedding event to reflect the personalities of the couple in its ambience. And this belief helps each wedding successively stand apart from the other.
Beautiful - inside and out! Elated to have been part of this super couple's story! Seeing the love and happiness they had in announcing their relationship to the world made this even more special for us! Thank you to the always affable @priyankachopra and all round amazing @nickjonas for trusting us with such a special day in your lives. This will be a sweet memory for us, forever!
How would you describe Virat Anushka as a couple?
We lovingly refer to Anushka and Virat as a 'power' couple! Throughout the planning, they were actively involved in each aspect. Even on days when things seemed to go haywire and we began to lose belief in ourselves, they believed in us and that kept us going. You can feel the love and the warmth that they have in them for each other in the way they look at each other, and several such little gestures. In the few months that we were involved in the planning and the discussions, it became clearer to us each day how crazily in love they are. We deeply admire how they acknowledge and respect each other's individuality while striving to grow together. Most importantly, they were extremely respectful and supportive to us as their wedding planners and had the utmost faith in us, which made it a real pleasure and almost magical experience to work with them. They are a beautiful couple, and awe-inspiringly so!
We live for moments like this when clients become family #avsquad #teamshaadisquad #weddingplanning #weddingproduction #teamwork #teamworkmakesthedreamwork
About The Author
Journalist. Perennially hungry for entertainment. Carefully listens to everything that start with "so, last night...". C...urrently making web more entertaining place Read more
Top Comments
There are no comments in this article yet. Be first to post one!