Harry Hamlin on his happy marriage to Lisa Rinna; 6 revelations about the couple
Celebrating their 25 years of togetherness, the couple Harry Hamlin and Lisa Rinna reveal what it takes to have a happy married life.
Updated on Jan 06, 2023 | 06:18 PM IST | 152.1K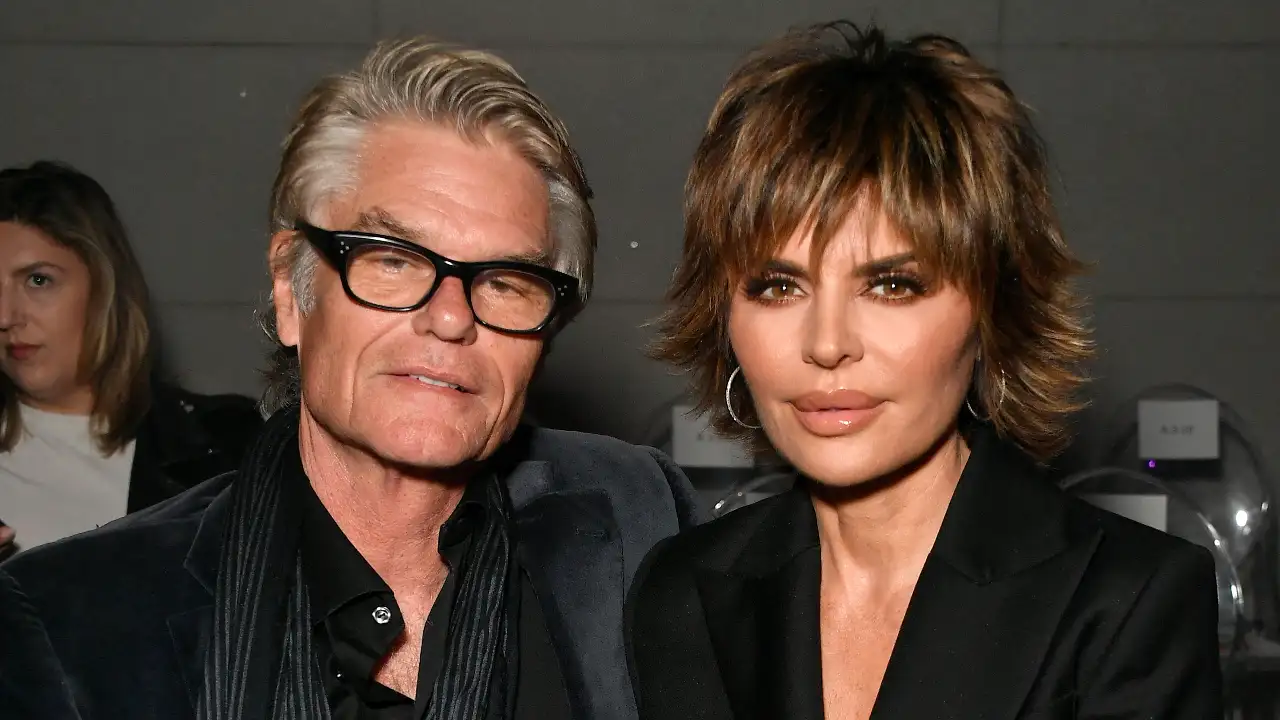 'Happy wife, Happy life' – a life mantra Harry Hamlin goes by and we don't beg to disagree. The Real Housewives of Beverly Hills couple Harry Hamlin and Lisa Rinna have been married for 25 years. Post their 25th-anniversary celebration, they have revealed the secret to their long-term marriage and the lessons he learned from his previous marriages.
Let's just say we need those secrets too!!
The secrets of married life by Harry Hamlin
Not that it was all fine and shine for Harry Hamlin when it came to his love life. Harry had two unsuccessful marriages before he met Lisa. But these two failed marriages and one successful one have only made him wiser.
It's wonderful to observe their continued, lovely passion after 25 years of marriage since it has enabled them to weather the test of time. In the end, Hamlin and Real Housewives of Beverly Hills star Lisa Rinna were able to make things work for themselves.
His motto is "happy wife, happy life." Over the years, the couple has learned that the secret to a happy marriage is mutual respect, an unflinching readiness to listen and understand, giving each other space, and allowing one other to be. Love, respect, listening, and attractiveness are the most important factors.
And, a lot of it also has to do with how different they are. They prove 'opposites attract' right and how!! They are completely and utterly opposite; while Hamlin loves the outdoors and enjoys cooking, Rinna would rather spend the day at the spa and has no culinary skills. 
Their mutual support of one another also contributes to the success of their partnership.  Hamlin has even used cosmetics from the Rinna Beauty collection previously. Additionally, he adores his wife as she is, without any glitz or glamour—just a basic T-shirt and trousers with no makeup. We do love a man who loves us for who we are.
On the other hand, Rinna posted an appreciation post in September 2020 for Hamlin while poking some fun at cheating rumors and Hamlin being gay. Lisa has also lately been a devoted wife, applauding his accomplishments and supporting him while he recovered from shoulder surgery.
The meet-cute of Harry Hamlin and Lisa Rinna
Lisa and Harry have been going strong for a quarter of a century and it all started with a fortuitous encounter and some fortunate timings. His adorable meet-cute with her was more than 30 years ago. Despite being in prior relationships when they first met in 1992, it only took a few months for the stars to align. They had their meet-cute at a restaurant where Hamlin and his then-wife were dining at a restaurant when he noticed a stunning girl walking by. He couldn't help but be struck by her beauty. After his breakup with Sheridan, they ran into one other once again a few months later. Rinna was working in the glasses business at the time. One evening after closing, she went to give her supervisor the keys, who was conveniently out for dinner with Hamlin. On this meet, the two immediately clicked, and before they knew it, they were off on their first date.
He revealed that it didn't start right away with Rinna playing hard to get. He claims that after being rejected the first time, he persisted in trying to capture her attention and we can only say that it worked out well in the end since Rinna finally fell for the actor and agreed to dinner. Rinna and Hamlin didn't hesitate to go public with their relationship shortly after, although it took them five years to be married. Soon after, they welcomed their daughters, Delilah Belle in 1998, and Amelia Gray in 2001.
The couple is very much still in their honeymoon phase. The famous pair is renowned for their social media adoration. The still crazily in love Lisa took to her Instagram to celebrate 25 years of marriage with her "hero" husband Harry Hamlin with a throwback photo from their March 1997 nuptials. She had also bought a piece of jewelry to symbolize the longevity of her love for Hamlin.
On their professional front
Since getting married, the couple has made several appearances on TV programs and at events. They starred as the married couple Aaron Lynn and Lynn Echolls in the first season of Veronica Mars and in the 2001 drama Sex, Lies, and Obsession.
Lisa Rinna, best known for her time on The Real Housewives of Beverly Hills on Bravo as well as Days of Our Lives and Melrose Place, recently made headlines for leaving the popular series RHOBH after eight seasons of dishing out sassy one-liners, drama-filled scenes, messy social media posts, and self-deprecating lip humor. She currently successfully owns and manages her fashion line, which is offered only on QVC.
While Hamlin has been concentrating on two significant projects that will be released within the next month: his AMC series Anne Rice's Mayfair Witches (premiering Jan. 8) and the 80 for Brady (opening Feb. 3). Hamlin considers "acceptance" to be one of his most important life lessons as a result of the ups and downs of his five-decade career. He has learned a lot from the concept of acceptance, letting the universe be what it is and what it will be, and accepting that it is what it is.
Their personal and professional dominance is undeniable, and our only hopes and prayers are for them to continue to be strong and in love. Ask Pinkvilla any questions you may have in the comment section.
ALSO READ: Lisa Rinna defends Amelia Gray Hamlin against trolls on her lingerie pic; Asks 'What's wrong with you?'
About The Author
Journalist. Perennially hungry for entertainment. She spends most of her time either binge watching rom-coms or ...talking about dogs. After completing graduation in Mass Media, her love for celebrity gossip helped her in making web more entertaining place.
Read more
Top Comments
There are no comments in this article yet. Be first to post one!